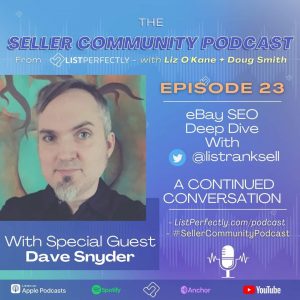 More about Dave Snyder (@listranksell)…
Main selling platform
eBay
How long have you been selling?
12 years
Your most impressive selling stat?
Increase in YOY impressions for client of 523.1%.
What platform is your favorite?
eBay
What's one thing you wish you knew when you first started selling?
A listing could be fully optimized for search, and not just conversions.
What's one hack you can't sell without?
I don't utilize "hacks."
Overview
In episode 23, we continue our conversation with Dave Snyder, Founder and Chief Analyst of www.listranksell.com a search engine optimization agency dedicated solely to the eBay marketplace. We go deeper than ever into eBay SEO!
The Seller Community Podcast from List Perfectly is the #1 resource for the seller community across all platforms and hub for information on growing your business with List Perfectly. Find out more at thesellercommunitypodcast.com/podcast, leave a message or ask a question at https://anchor.fm/sellercommunitypodcast, or email us at podcast@thesellercommunitypodcast.com.
Listen on Apple Podcasts
Listen on Anchor
Listen on Spotify
Listen on Pocket Casts
Listen on Google Podcasts
Listen on Breaker
Listen on RadioPublic
Links
thesellercommunitypodcast.com/podcast
Listperfectly.com
Seller Community Podcast on Anchor
Listperfectly Facebook Group
coloradoreworn Instagram
coloradoreworn linktree
snoop.dougie Instagram
snoop.dougie linktree
listperfectly Instagram
Episode 23 Links
listranksell.com
listranksell LinkedIn
listranksell Twitter
The eBay SEO Interview that Caused a Stir
list rank sell blog
eBay Tech Blog
keyword.io
keyword dominator
Terapeak
Transcript
Intro
Doug:
I always start with what's up Liz. So what's up, Liz?
Liz:
Not much, Doug. How's your week going?
Doug:
It's going alright. It's going alright. I saw a friend this weekend. We had a good time. Hadn't seen him for a while, so that was fun, but I did not travel to Chicago like you did.
Liz:
Yeah. Chicago was great! I got to go and see my son's new school and neighborhood. And guess who lives in Chicago, Doug?
Doug:
The Cubs?
Liz:
Yes. They live in Chicago, too. But even better Dave and Heather Snyder of List, rank, sell.
Doug:
Ah! And so you had a lunch with them. How was that?
Liz:
I did. So we just scheduled a really quick lunch. You know, I was in town visiting doing other stuff with my son and they had family in town, but we were, you know, let's just meet for lunch really quick. You learn that you have a lot in common and a really quick lunch is not really quick.
Doug:
And you didn't talk about SEO the whole time?
Liz:
Maybe for five minutes. Let me tell you, Dave and Heather Snyder are great people. Chicago is an awesome town. I'm so glad I went and I'm so glad that they took time out of their day while family was in town to meet me for lunch.
Doug:
Very nice. And is that your first time in Chicago?
Liz:
It was! It's not going to be my last.
Doug:
Chicago is a fun town. I've had some fun there and I got stuck there in a blizzard. I'll just leave it at that Liz.
Liz:
I'm pretty sure anybody that's been through O'Hare has been stuck in a blizzard.
Doug:
Yeah, probably so.
Liz:
I think that O'hare airport is notorious for that. So, I will not be flying in the winter time.
Doug:
Hot summers, cold winters.
Liz:
Yes. Yes. It was muggy. I'm not used to humidity killed me the whole time I was there.
Doug:
And was there a blizzard in Colorado while you were gone, or was everything all right?
Liz:
Believe it or not, no. We actually got off the plane and it was hotter here than it was there.
Doug:
We had a Bazaar monsoonal weather swell here the other night and I was north. So I didn't see it, but it was like some crazy bizarre thunder, lightning and rainstorm that we hadn't seen for years. And it even made the news.
Liz:
In California!
Doug:
Very bizarre.
Liz:
So, yeah. We talked very little SEO while we had lunch. I just really got to know Dave and Heather a little more and just, I mean, we talked about selling, and the city, and life and all that great jazz. Just great people. But before I went to Chicago, you remember a couple of weeks back I had talked to Dave for quite a while about eBay SEO and eBay myths. And it was a very long recording.
Doug:
So Liz got three and a half hours with Dave.
Liz:
Yeah. Yeah. He was so generous to share his time with us. And we had to cut that episode short, but we're going to bring it back today.
Doug:
We're very excited. There was so much good stuff, we didn't want to leave it out. And Dave's episodes have been so popular and everybody wanted him to dig deeper. So that's what you guys did. So we've got at least another episode, Liz, maybe two. I don't want to tease too much. You know how I don't want to be a big tease. Maybe, maybe two we'll have to see, but it's great stuff. Digging deeper and episode 23, Liz.
Liz:
Episode 23, Doug!
Doug:
So Liz, do you have any behind the scenes insights into the discussion or should we just get into it?
Liz:
I think we should just get into it.
Doug:
The seller community podcast is produced by List Perfectly every week for your enjoyment, Liz's enjoyment, my enjoyment, everybody's enjoyment. We hope! We hope you like it and have some fun. And show notes are found at thesellercommunitypodcast.com/podcast. So let's get started with our returning guest, Dave Snyder from list, rank, sell. Deeper into SEO. Dave SEO, 2.0.
Liz:
Technically Dave 3.0, yeah! Dave 3.0.
Doug:
Alight, Dave SEO, 3.0.
eBay SEO Deep Dive with Dave Snyder, A Continued Conversation
Dave:
Back to the subject. If you don't mind, people will ask, how important are these techniques, whatever they are, Item Specifics or something else to a single quantity listing versus multi quantity. It is true that a, hands-on almost always it's multi quantity, unless they've got really, really big margins. You know, someone's selling Tiffany jewelry will be worth paying for SEO because they tend to typically have huge margins. Generally speaking, the listing needs to be given the opportunity to pay for itself, to pay for its SEO. So our typical client, the SEO for a single listing pays for itself in one to three sales and then every sale after that is free. Okay. Unlike Promoted Listings, you're going to pay every time it sells. And we're a big believer in Promoted Listings for early velocity on the listings. But, it works really beautifully because then as things sell, they rank better.
Dave:
It's a back and forth process, but the question of whether or not it's applicable to single quantity listings, the answer is yes, it absolutely is. In fact, that's where I did all the testing was on our own store, which has always been single quantity listings. So we're, we are one of the traditional sellers. We don't have much in our store left, but occasionally we try to list something just to be in the practice of listing, because all we do all day is fix other existing listings. We don't do listing from scratch. And you learn things, you know, and having to ship something, you know, that sold and you don't have the right box or whatever. Just kind of the experience of selling, I think, is critical to being a practitioner because a lot of people who claim to do this are SEOs who don't know eBay at all, don't even know marketplace or e-commerce.
Dave:
We started as sellers. Well, I started as an SEO in 2005. I watched Heather selling four years later, but as far as eBay SEO is concerned, I got my start testing my wife's listings. Our background is in a single quantity listing, and we used to optimize single quantity listings. And the question is shouldn't you manually end and relist a single quantity listing so that it appears better in search? When you end any listing, you end its engagement, whatever that was. So the primary engagement for multi quantity listing is its sales. Okay? And that has the biggest impact on its ability to rank. If you're in a market that is loaded with multi quantity listings and you've only got one of them, it's going to be hard to sell it. Okay. Now, if you're selling like collectibles and pretty much, your competition is all selling single quantity listings, then it's going to be easier to rank if you end that listing. The only reason why that would be even conceivable is if no one is ever linked to it and you haven't linked to it, no one else has ever linked to it. And no one's ever watched it. When we were in the heyday of selling, we would list something at the top of the sales range for whatever it was. We weren't one of those but we started as kind of bottom feeder sellers. And we got bottom feeder buyers. We found that if someone really paid for something, we shifted immediately, shipped it in a new box. Shipping was free. We were cordial. They were our best friends. They paid us top dollar for that, but they got top dollar service and the product was in the condition we said it was in, you know, we would, we would over describe the problems with it.
Dave:
So people would be pleasantly surprised, "oh, I thought this was in worse shape than it's in." You know, we would list an item for sale and then we would leave it. We would then bring prices down after six solid months, by every three months, we would bring it down incrementally and quite frequently, right after Heather would change prices, we would see some sales and those are more than likely coming from the people watching the items, because eBay will notify your watchers. If the price has come down, if no one's, cause we used to like use our Twitter account back in the day to the one that's now List Rank Sell to our old store way back when, and invariably, if we had something that was cool, somebody would retweet it. Okay. And you know, if I would spend some time looking around, I noticed that someone had linked to the photo from Google images in Pinterest or whatever that link gets back to you.
Dave:
Okay. Anything that we listed that was of any interest we'd get at least one watcher. Okay. So the question is, is if the majority of what you're selling, like if you say, well, I get most of my sales when I end and relist. End and relist gives you a minor rank, it's a minor positive ranking signal. Okay. You will get a short term, minor boost investment. Okay. You are trading all of the benefit of SEO for those few moments. And if that's the truth, if the majority of your sales are coming from those moments, that means no one can find your listings at all. And you are doing a terrible job. Okay, great. If the vast majority of your lists or sales are actually coming from that minor ranking signal, then you wouldn't have to do a whole lot of SEO and see a pretty big improvement in general, but you'd have to leave the changes you made.
Dave:
And if you're selling single quantity listings and you know, for sure no, one's linking to you, you know that no one's watching what you're selling. What the Hell are you selling? Right. Okay. Yeah.
Liz:
People just might not be interested.
Dave:
What kind of crap are you selling if you know, for certain that no one's paying attention to you? If you're not getting any clicks, if you, no one ever watches you, what crap are you selling? Because not everything obviously that you sell is going to get a ton of engagement, but I would be shocked at the stuff people would watch. Like I think, well, I know this thing sells. Only list the stuff that you can verify has sold and sold for a decent price. Don't just list anything. You know, it you've if, if their sales behavior typically, I mean, there are certain things that people won't watch, but I would be shocked at like office supplies and people would watch it you know, maybe hoping that the price would come down or whatever, that's engagement. Someone's interested in that thing you've sold. So because if you end the listing, any engagement, including clicks, which are part of the algorithm, any engagement you get whatsoever from potential buyers on that listing will be gone. You end it so right to eBay it's a brand new listing. If by chance someone linked to it, I mean, back in the day when we were selling collectibles, we would find things that we had no idea had value, you know, this weird porcelain Sunkist bowl thing. And the white ones were real common, but we had a lime green one and it sold for a hundred bucks. Right. So we were like, "oh wow, this thing's valuable." I mean, the moment we listed it, practically someone's watching it. So if you're selling something that's actually worth selling, you're going to get engagement.
Dave:
Those people are interested in what you're selling. You end that listing your, watchers are gone. It may even show you that you still have the watchers. Okay. I remember seeing that, I haven't tested that in a while, but I would notice that we would relist something way back in the day, if something sold and then it got returned and then we had to relist it. I would relist it from the same listing. And I would notice sometimes that the watchers would be there and I'd be like, what is this? And that this was years ago so I don't know if this still applies, but it's possible that the watchers might still be there. They aren't, they've been ended.
Liz:
If I'm looking at my items and I list some, I don't know, I'm just gonna throw it out. Let's say I have a purple v-neck t-shirt, we're just going to stick with the same theme. And I have five different versions and they've been listed for six months and they each have three clicks and zero watchers. That's telling me nobody's even, nobody's even looking like nobody was even interested enough.
Dave:
That that may not be an indication of market. Market has to be, can't be measured. You can't really measure your market by looking at the performance of a listing. Okay. The market for that has to be measured on its own. Okay. And we do that for clients and it, I can't tell you, oh, it's kind of complicated, but it's a combination of looking at Terapeak's active number of active listings. Okay. You're gonna look at the number of active listings. You're going to look at gross sales for that phrase. So purple t-shirt or whatever it is, stick to as few terms as you can, to get a sense. If it's a very specific kind, let's say it's a brand and make sure to include that because maybe it's the brand that doesn't sell. You're, you're going to want to check those things, but it might not be the market.
Dave:
It might be, it might not be, the market has to be measured on its own. It might be that your listing sucks or you think that you've priced it well and you realize, you know, that one really high sale was a different shirt or it was a, what's called an, a statistical outlier where, you know, some idiot bought it for way too much just because it doesn't mean that it's going to happen again. Right. Okay. You kind of got to want to see that as a pattern before you go that high with the price, it's very dangerous to make enormous assumptions based on the performance of a single listing. We even do that like holistically, when we measure the market to begin with, we look at eBay, we don't look at one of their listings, one of our client's listings, because you just don't know why it sold or didn't sell. It's not so simple as that. In fact, that's kind of part of the problem. I remember getting contacted during the pandemic by a very successful seller of used computer parts, but he had these plastic visors, you know, he wanted to get sold and he wanted to make sure that those listings ranked, we get one listing. I wouldn't even talk to him when I found out, I said, I'm not interested. And I was done. Okay. Because it's, it's not business savvy to worry about a single listing. Okay. It just isn't. If, if what your process is, is sitting around wondering how I can change a single listing. You're not really in this for the business. You might think you are, but you aren't because if you actually are, you wouldn't have time. I mean, the clients that we work with do not have the time to worry about a single listing.
Dave:
They are looking at their stores holistically. Listen to Griff. Okay. Griff will say this time and time again, you've got to look at your store holistically. A lot of people listening to this podcast probably are, you know, worrying about that one listing that won't sell. This is what we always did when we were selling single quantity, optimizing title, optimizing category, optimizing item specifics, all apply to every listing. You're not going to get that nice relationship between sales, history and ranking if it's single quantity. But if you're in a category where pretty much everyone's selling single quantity, you're not having to compete against that. But the same principles apply. Griff would always talk about how you need to ensure that you're not in the business of worrying about single transactions like this. Isn't personal. This isn't about, people will go, "oh, I made that one change and it's sold." And they're likely to get all excited about it. You know, what you, what you need to do is do your best with the listing. Believe it. And then if you can bring the price down over time, that's what you're going to do for single quantity listings. That's not what I would recommend for multi quantity. There was like a charm bracelet in the family. And nobody wanted it. And my parents gave it to us to sell. And, these charms are fairly famous. I forget the name of them, but they're, they're sterling silver. And they're usually in the shape of a state, the South, you know, and two thirds of them are sold at the price we put them at. And then the rest sold. Except for one which is still up there. I think, as we brought the prices down, no, there were, there were a whole ton of them.
Dave:
We just listed them once we optimize them for search. And then in time they will sell. We didn't, I didn't watch them and look to see if I could find them. On and on it goes, it's not necessary to do, it will drive you batty. Okay. It will drive you crazy. If you get watching, watching your listing in search, like, especially, let's say you're using one keyword phrase, you'd be surprised at how many different phrases you can get a title to fit all those phrases in the title because they overlap each other. Okay. So there's all these phrases that in the end, you know, you might be showing up for 80, a hundred different phrases in an 80 character title because the phrases are all made up of the same types of terms. If you're testing one phrase, you know, what you think is the phrase that has to be, you have to be found or you're completely wasting your time. And most of this is about time-wasting mythology is about wasting your time. Okay. And there are lots of them. I mean, obviously there's more that we can talk about, but yeah, it's about wasting your time.
Liz:
So, and this is, this kinda just goes back really quick and think about this as you're listening, what Dave said, you know, you set it and forget it. You optimize it, set it and forget it. Right? So you're doing that when you're listing it, because as those, so let's just say you have, I don't know, it's been viewed a thousand times and in six months you go to lower the price eBay is sending out a reminder, not just to your watchers, put to everybody that's clicked on it. And if you're a seller that sends offers to watchers, which really it's seller initiated offers, they also send offers to what eBay calls heavy clickers. So if somebody clicked on your item twice because they haven't saved, right. That's another reason if you end that and give it a new item number, you're not able to do that. Right. Those people will get notified down the line.
Dave:
Right. Right, right. And so bottom line is that you have to have a static URL. It can't change. If you're interested in SEO, if you're not interested in a static URL, you are not interested in SEO. You were looking at this from the point of view of gimmicks and tricks and hacks. And that's not what SEO is. Okay. That's what everybody thinks it is, but that's not what it is. And I don't, I won't even talk to someone who thinks of it that way, because this is a science, okay. We, yeah, we do it the right way once. And we're constantly being told by the best of the best to tweak our listings. And, uh, it's a, it's a, it's a waste of time. If I decided that this particular phrase is a good phrase for search, it's more than likely going to be a good phrase for search six months from now, most markets don't change so dramatically that, you know, a phrase that you have ascertained is searched by your buyers is just suddenly going to be a bad phrase for search. That's not how it works. The search behavior is very predictable with each phrase. It repeats itself unless it's like a seasonal item or it's something that, you know, no longer exists. For some reason, you know, something significant would alter search behavior. If it's just a traditional commodity or a collectible, the search behavior for that's going to be fairly straightforward and fairly consistent.
Liz:
Let's talk about, I want to make a little shift here into tips, tricks, and hacks. So one of the time-saving hacks that I hear all the time, and I would love to hear your theory on this because I'm like do whatever you want. Right. I hate sell similar. I will not even sell similar from my own items for reasons, but is it a good idea, bad idea. Like, should you go and do like search and then click on the highest one and push sell similar and just…
Dave:
No, definitely not. I didn't even know about sell similar until a couple of years ago when I spoke at the local meetup and someone told me about it and I was "sell similar?" You know, I know what sell similar is, but I didn't know that people use it as a search technique. Okay. It is definitely not a search technique. The only time you'd ever use sell similar is if you were literally listing the exact same thing and you didn't want to spend the time filling in all the item specifics, okay. Then you can save yourself a bit of time by using sell similar. Okay. It's an identical item, but listing is exactly the same, what you don't want to do and use the same title. Okay. You don't want to duplicate the title, obviously, but it is not a search technique. The idea behind it is this one ranks. Well, it sells, well, I'm going to pick up what they've got and use it, and that's going to mean that my listings is going to rank well, no, it won't mean that listing is ranking for any number of reasons, unless it's identical. I mean, the only reason you would do it is to save yourself some time if you're doing it, because you think it's going to help you in search it isn't.
Liz:
And here's why I don't do it at all, and tell me your thoughts on this, well, there's a couple of reasons that I don't do it, but there's a couple of reasons that I caution, especially new sellers, not to do it. When you do sell similar, let's say, Dave, you have that charm bracelet in the state of Texas. Okay. And I clicked sell similar and I changed my title and I changed my pictures and I offer free shipping and I publish it. What if three of your six items specifics were not in the dropdown menu?
Dave:
You would still have to check them. The only time I've ever used sell similar is when it's our own listing and we're listing another one. I did the work. I trust the work. I would never use someone else's listing for sell similar because if they haven't completed the items, you're going to have to check it anyways. Right? So like trusting their item specifics to be right. Just because it ranks well, countless times I've seen lousy listings rank. Well, it happens. It may not rank well for long, but it will happen whether they've undercut prices on everybody, there are many ways to do it. Terapeak used to actually have an SEO tool. This was what they call it. It was a keyword tool, but it got its keywords from listings that ranked well, and Google pages that rank well for the same product and Google is even easier to gain than eBay is. Okay. So no one in SEO is getting their keywords from other pages. They're getting them from search behavior. Anyone who knows what they're doing is getting it from actual search behavior. You do not want to simply trust if, and I wasn't aware of it. So what you're saying is that people are using sell similar and just assuming that, because it's doing well, it's got everything in place and they just change what they have to change and then, okay. Yeah, definitely not.
Liz:
So, so what kind of happens in this community and, and I'm guilty. Like I used to do it. I probably promoted this method two years ago. Right. So if you're listening and you're like, "Liz, I heard you say this two years ago," guess what? That was two years ago. And we learn, right? So this is what I found. Two things that I found–go to somebody else's, let's say I had this coffee mug for sale. And there were 20 of them that sold in the last year. And I've just clicked sell similar on the highest one without doing any research. Okay. And let's see it sold nine months ago. I don't know. I just pushed sell similar. I change. I don't, I leave the title because it's sold high. Why wouldn't I? Right. I'm going to put my own pictures in. I'm going to leave the item specifics. I'm going to leave the category and I'm just going to publish it at my price. So this is what I found. I'm like, why isn't mine selling? So you go in and you go to edit listing. And I notice that this is a blue coffee mug and that seller had Navy blue in the item specifics. And I didn't change it because to me it's Navy blue. It looked great on the page, but I didn't click the down arrow to see what the actual color for the item specifics was. So anybody that clicked blue was not seeing my mug, right? So this is what happens is I found when I was going through, I was having to double-check somebody else's work, which caused me, which made my list, my listing time twice as long, because now I didn't trust it. So I'm like, why am I doing this? This is what I found on my oldest things. And especially in categories that change item specifics a lot, two quick examples. I don't want to dominate time, go through my old listings even sold. Right? Let's say I had a J crew t-shirt that I had listed for six months. I do sell similar because it sold last week, but I go in and it was a peacock sequence on it. I do sell similar. Well, guess what? In that nine month time eBay changed that the items specific for J crew from J period C R E W to J period space crew. So now that old item specific is not showing up. So it's kind of this, like, I don't even trust my own listings anymore, simply because eBay is a fast moving train when it comes to these item specifics.
Dave:
Yeah. The connection between sell similar and it's sold before. I mean, that's, that's very strange and sell similar is for one reason. And one reason only, and that's, it's the same item. Okay. Its purpose initially was you sold this item before you can sell it again. And somewhere along the line, they chose to allow you to do that with other people's listings. And then somewhere it's a hack and SEO is not about hacks. And I've had people just, I've had conversations with people who think this is the only way to go. And you know, there's, there's not a lot I can say, sell similar was not intended to get your listing to sell, sell similar was intended to save you some time because you've already done it before or someone else had, and it needs to be exactly the same thing to save you any time.
Dave:
I don't know why eBay added to other people's listings because I wouldn't trust anything in someone else's listing. I don't care if it's sold. I don't care. Item specifics change. I want to do my own keyword research. But then again, you know, I'm a professional. A lot of eBay sellers aren't. Just about every one of the myths is built around a hack. Not, not all of them, but a lot of them are. They take things that were intended for one purpose. And one purpose alone gives you this sense of, "oh, I I've, I've got a corner on it. It just doesn't work that way." I'm a professional now, but we weren't when we got started, I mean, good grief. We used to wrap priority mail boxes in brown paper to save the cost and the box, right? I mean, we used to ship in the most nasty boxes. Cause what we're told you don't have to buy boxes if you sell on eBay. And we're like, really, wow, that's great. So I remember shipping this really expensive collectible tin toy shooting gallery in a big old egg crate, you know, but like break down the sides of it and everything. And I thought, is this really the best idea? I'm like, why? You know, and it's so it's like for probably two years, at least we would wrap priority mailboxes. It's improv paper, paper. I'm thinking, well, I don't think it's legal. I mean, I know. And then what happened is at one point, either it tore or the postman tore it to see what was inside. And as soon as they can see the priority mail, then it's now priority mail. And our buyer got charged the extra. And we were very, you know, it was very, they were very kind to us, fortunately.
Dave:
And we, we learned from that, but I mean, everybody, I think who gets started selling on eBay specifically because eBay has this, you know, it's like, you can do it out of your garage. People get all excited about it and you want to save money and all this stuff. And so there's, you know, now we always ship in new boxes. We get them from U Line. I knew a guy who used to ship, he used to ship records in pizza boxes, used pizza boxes, you know, and it's like, you're kidding me. I mean, over time you kind of go, okay, uh, you know how to do this, right? eBay is great. The fact that you can, you can get a bootstrap, a business, you can have like no money. You can go to like an estate sale or a thrift store and find stuff for pennies on the dollar and make profit.
Dave:
And that was very exciting for us in the, in the, in the early days, listing became very tedious for us, just the whole concept, the whole practice of listing and SEO was already a thing for me. And it was something I really enjoyed and became, you know, a way for us to do something we actually preferred to do. And it became that thing over time, it was my intention to become an eBay SEO, not until like 2014 when I really said, "okay, I'm going to be the guy." And I just decided that it's gonna take me time. I'm going to have to learn everything. But this industry is like going nowhere, you know, because marketplace SEO, isn't even very much a thing to the SEO community. Yet, if you're going to talk about marketplace SEO, it's only Amazon. Okay. And Amazon is a whole nother beast to eBay. Okay. As far as, especially as far as SEO advertising, pay-per-click spend there for a long time. It's a completely different, different world. But as an SEO, I've, I've learned that the hacks, like the gimmicks, they were a mistake, you know, and we didn't, I wouldn't say that we used hacks in those days, but I was definitely hacking at like our title creation. I was guessing, you know, I was thinking of terms in my head, which is again, as it is, that is the ask yourself myth, ask yourself what your buyers would search. You don't actually know what they would search as far as the core terms, the entity, what the thing is. Yeah. You're probably going to get that. Right. But the terms that people search in association with it, those you have to make sure to research.
Liz:
Yeah. I mean, and here's the thing, we all learn and grow. Right. I mean, we don't just start off as sellers, knowing stuff. I've been doing this for a long time. And I learn stuff every single day that I'm like, "oh my gosh, I've been doing this for years." And I don't beat myself up. I'm like, "okay, let's just push on and we'll do it different now because everything changes and that's cool." Right. Right. So we were talking about listing, talking about sell similar, you know, change the title, double check the item specifics. So that just kind of leads into creating a listing. And there are a lot of sellers that copy and paste the title into those descriptions. And I know we've kind of had this conversation a little bit before. So talk to me about headers or copying the title into the listing. If you don't mind…
Dave:
If you have your title in your item description, it will not help you in search. The Cassini eBay search engine does not read the search, the item description, we've tested that that's also been confirmed by, by eBay. Yes. In certain circumstances you can choose to search item description, but if someone is searching Cassini directly, it is not searching item descriptions. Okay. And so also your item description is not consistently viewable to Google and the content you've created there is not consistently attributed to your listing. I won't get into it more than that, but the item description is the least important aspect to SEO. Now, however, we like to see the title in the item description when we're working with a client, pretty much any software that you use to create an item description will have a space for your title. And when we change the title in the listing, we change it in the item description as well.
Dave:
And from a conversion point of view, it just kind of confirms that you're on the same page. I just have, I've always liked this feeling of, yes, this is the description for this item. Everyone has been, had the experience where they're working with looking at a seller and especially like big sellers and they're cutting, cutting, and pasting all day long and they forgot, and they use the wrong description for a specific item. It's just a way of confirming that. You're looking at the right, that is the description for that item. So from a conversion point of view, I like to see it. It's not going to help you from a search point of view. Neither are heading tags. Okay. So this is, this is a myth, it's a gimmick and it's going to waste your time. Every HTML page should have a title tag and then several heading tags…the title tag is the keyword, the title that you see when you search for it in Google. So if you click on that listing, whatever is in the title tag is what's going to appear in that blue clickable link. Okay. Okay. You can't actually see that on the page itself. Okay. It's in the code and it creates the HTML's title, the bodies title rather. Okay. So, but it's just called the title tag and eBay uses your listing title, the visible listing title as your title tag automatic. Okay. Okay. The visible title on the page is that the H one, the heading tag, the first heading tag, and then to the right, it'll say top rated, if you're top rated or it'll say something like money back guarantee, it's a little box to the right. That is the age to tech. Okay. So the whole point of a tag is, so if I'm writing a blog post, I create a title tag.
Dave:
That title tag is going to match, generally match my visible, heading one tag. And then as I create sub headings and subheadings from that within the body of the blog post, those are the heading tags. And the biggest one, the top, most one is the H one. And that little smaller is H two little smaller is H three. Okay. That's what heading tags are a heading tags, give Google a distinct sense of what's in the page. Okay. So, okay. A very core aspect of Google's ability to tell what the page is about fairly quickly. There are several of them, but that's one of the most long standing things. Okay. So if you, if you're not creating a title tag and a heading tag in your creating web pages, you don't know what you're doing. Okay. So, but on an eBay listing, uh, the title tag is not visible, but it's the one visible to Google. And it's going to be your listing title, which is the H one, the H two is that little module to the right. And then any software program that knows what it's doing. If it inserts a title into the item, description is going to create that as an H three. So the title in your item description is going to be an age three tag. Now, John Mueller from Google said that you can have duplicate heading tags. It's not going to hurt anything, but no one would tell you to create a duplicate one. Okay. No one would ever tell you to do that. It's not what you would do. Every software program that's worth anything uses the H three, because the H one and the H two already exist. Got it. There are gurus who say, create heading tags, starting with the H one for your item description. And that will help you rank better.
Dave:
It won't have any effect on search at all. Do not worry about heading tags period. So if it's not going to help on eBay or on Google, no, absolutely not. So it's not going to hurt you, but it's not going to help you. Yeah. I mean, you, yes. You would not spend time. Like, let's say that you're not using software that already creates the tags. You're not going to go and try to figure out how to create a tag. Okay. Okay. I get it. Myths are about wasting your time. And there are so many of these because it's fairly easy to look at the source code of the page and tell it's already got a heading one and heading two. Okay. And no one would say, create duplicates for the item description. The item description is in an I-frame and online and an inline frame, suffice it to say the content once sent to eBay is not, not on the same domain as ebay.com.
Dave:
So we're not talking about the domain it's coming from. Like, let's say you're using fruition or someone to send your item description to eBay. Once it's gotten to eBay, it's not hosted on ebay.com. It's hosted elsewhere. There's actually a patent that actually describes the inline frame, which is kind of cool that I read that a couple of months ago, but this is something, I mean, I know just from looking at the code of the page, the bottom line is that Google can read them, but doesn't work with them in the same way. It works with content that's directly on the page. Google actually has to follow the link to the content to find it. I have seen unique content from someone's item description used by Google to bring up eBay browse nodes that don't even have a link to that listing on the browse node.
Dave:
Your item description is not to help you from an SEO point of view. It needs to be entirely written for your buyers. So the idea that you're going to like 200 keywords or 200 words that comes from the old, I think they were called Seller Center or Learning Center pages. I can't remember which, but uploaded to eBay in 2005, stayed on their servers for 13 years. They were taken down from like, you couldn't link to them from eBay after like 2010ish. But they were still live on their servers. And so they showed up well in Google search results for eBay SEO for about six pages, a lot of the myths come from those pages. The concept of having to word 200 words is completely arbitrary. Don't count your words. Don't, don't use Word to tell you how many words it's a waste of time.
Dave:
Describe your item. I mean, it, you know, so for the most part, you're looking at bullet points, I've worked with some sellers that could use a little bit of copywriting that kind of sells the item a little bit. I'm not into selling it, but with, with like the train horns, a few sentences about how that particular horn differentiates from others, like not just all the specs of the horn, but, you know, we found that this horn worked really well on semis, you know, for whatever reason, you know, or because you can put them on semis, you can put them on regular truck. You can even put them on a car if you want to. You can pretty much mount them anywhere. Or I worked with a client that sold these little figurines, and they actually hired a copywriter to kind of describe them in a nice way, just a few sentences that kind of sold them. And in those cases, like, I wouldn't go and try to sell some envelopes, but everything in your item description needs to be focused on the buyer, do not worry about keywords. eBay still says that you should have a keyword density and they say five to 7% keyword density. Keyword density is not real. If I'm writing an article about eBay SEO, more than likely that the article's going to repeat the phrase, eBay SEO, but you can tell when someone wants to be found for a phrase because they, they just repeat it again and again, and again and again. And I'm very, very careful in my writing to write for buyers. I mean, write for people and not for search engines. Google does look to pages for their content to tell how to, when to show them, when not to show them, but there's this whole pseudo-science behind like measuring the percent of time you use it.
Dave:
And then you have to make sure between this percent and this percent you've got to use those terms in the description and eBay still uses the five to 7% keyword density on their current page, devoted to SEO. It's a complete waste of time. So let's, let's talk quickly about the whole concept of what image alt text is. Okay. So there are even people in the SEO community, call it a tag. It's not technically an HTML tag, it's just part of the code of the page that is associated with the image itself. The full phrase is image alternative text, and it is the most longstanding source of content for an image search engine. To know what's in the image. If the image tech says, you know, purple tank top, women's, someone searches that then, you know, conceivably that that's how the search engine is going to pull up your image.
Dave:
Okay. Now that's how it used to be in terms of like, that was pretty much the only content that an image search engine we're looking at now, image search engines are looking at the content of the page. They're also getting very good with computer vision as is eBay, which actually views the image itself and can see pixel by pixel what's in the image. So eBay is telling you to use the image oh, text. And the issue is that they already are a search engine. Like Google Images is taking the images from the gallery, not taking it from your description. I'm not saying it could never do that, but that's not where it's, it will always be looking to your gallery for the images and those gallery images already have the image alt text. And that alt text is your title. So eBay inserts your title into the field that is associated with not just your first image, but every one of your images is receiving that alternate description of the image.
Dave:
And so, the idea that you're going to, so pretty much every software program gives you the option to create alt text for your listings, for the images you have in your description. Okay. You can't affect the alt text for your gallery images. Okay. The only images you could affect would be if you're using them in your, in your item description, and that's a complete waste of time because the gallery images already have them. And I can also say this. When we started selling in 2009, we didn't ever use images in our description. We never have. And it was one of the very first things I tested and our images were always in Google images. So I could test that this is where they were coming from. I now know for a fact that that's the case. But by testing, I also know that that is the case. So, your images already have all the text. There is absolutely no reason to spend time adding it yourself in your software, complete waste of time. So it's all about what is seen in the code of the page. Okay. And when you upload the image to eBay, it renames it, then inserts it into the code of the page. So the name that you gave it is gone.
Liz:
So then spend time on your title.
Dave:
Yes because exactly, your titles are then going to be used over and over again. It's your title tag, each your H one tag and image alternate text as well.
Liz:
Yeah, that's really good to hear because I hear like I get it, but I don't, I'm not deep into that, but I hear it. And I just kind of scratch my head, but it's so good to hear that, to know that I'm, I don't have to go through and worry about that alt text in my pictures. I just, just focus on my title and make it strong. Speaking of listings there, and I hear this a lot, and I don't know if you could weigh in on it. So, you know, most of the listings on eBay are fixed price. I don't know. I think the last time, 80, 85%, I mean like a high number of eBay listings are 85%, but there's a lot of talk around, well, maybe I should do like 5% of my listings as auctions to drive traffic to my store, you know, to constantly have auctions going. Is this a thing? Does that help with SEO to get you sales on to other listings?
Dave:
That one's a little complicated to answer. I'll do my best, but last time I checked in terms of percentage, we were at less than 10% are now auction on eBay. It's 90%, maybe a little bit higher. One of the big myths on eBay is that, if you want to show up in search, you need to have a mixture of fixed price and auction. So technically, and an auction will show up well, in search when you start it, and then as it's ending, it will also show up well in search, but you would never ever put something on auction that doesn't sell on auction or sell well on auction, which is really, you know, collectibles. Don't use an auction as a search technique as an SEO technique. I personally don't know why you would sell that way. I would want to get the most out of my inventory. I would only reduce prices if that were going to help my product sell better. I would not reduce a price for example, to show up better in search. I wouldn't definitely not use auction as a visibility technique. Let's say that those items never sell on auction. You'd never ever want to do that. Okay. You just, if you optimize your listings and they're all in fixed price, they, you will do fine. Okay. We do not use options as a search technique. People in very specific circumstances, do it, you know, these like volume sellers that just want to clear everything out personally, I would say spend a bit of time on those listings and you could make a whole lot more than you do. And a lot of the advice we hear is geared towards those kinds of sellers. And we don't, I don't think we've ever worked with someone in that position.
Dave:
Yeah, they may have inventory, but they want to make a profit on everything they sell. They're not interested. I mean, they may have a loss leader, which is when you sell something at cost or even under cost in order to gain some people to come to your store. You know, they may have a few of those, but they are not doing that across the board as a search technique. If I'm looking for a can of paint for my car and it's on auction, and the only reason it's on auction is because that seller wants to get some traffic, then that seller doesn't really know how to get traffic in the first place. Auctions are intended for that, you know, collectible item that's really hard to find, and you may even get a bidding war still in, when, in, in some cases, you know, back in the day we used to sell CDs and I couldn't get over how some of these really hard to find like first pressings, for example, you would see these bidding wars on them.
Dave:
And they would go for hundreds, sometimes thousands of dollars for a CD, just because the right CD was on auction, but you would never sell a U2 CD, you know, on, on auction. Okay. And you certainly aren't going to do that. You aren't going to upset that, you know, and annoy that person. Who's never gonna, you know, do you think that person's really going to come to your store and go, I wonder if they're only doing this to get some traffic more than likely, they're going to wish you sell your CDs on auction. Okay. And they're just like, they're not even going to bother to look at the rest of what you sell now.
Liz:
A hundred others to choose from that I can just click the button and get it.
Dave:
Exactly. And, and so you would only use options when it makes sense to do so. Never do so from a search, like a visibility point of view, 99.9% of sellers will not make that work for them. And having a mixture of the two has been passed around as an SEO technique, it's a myth, right.
Liz:
It's auction what it is. It just doesn't work. As far as that boost, like, I need a boost, so I need auction, right?
Dave:
Yeah. Right. If your listings are already optimized, you're not going to have to fall back on the crutch of getting some visibility from some auctions that aren't going to sell anyways, because you put them on auction, right?
Liz:
Yeah, no, I get it. I get it. It's, there's just so many myths that, I mean, as you're seeing this over and over, I think that we all need to hear it quite a bit is if your listings are optimized a hundred percent from the get go, all of these gimmicks, you don't have to do. So another one that we hear and this one's kind of a bit crazy to me. Like I can't wrap my head around it, maybe cause I'm a one person show and I just don't have time. Right. Multi quantity listings. There's a couple things there. Let's say I…cause I do multi quantity on some things and you know, sometimes they think, well maybe I should only put two out at a time because I don't want them to think that, "oh, she's got a bunch of them. I can just lowball her all day." Or should I just say, if I've got 50, I've got 50. So, there's a whole thing between this, like all scarcity.
Dave:
Most of the false sense of scarcity that I see is when they want to get that…cause you, you do actually get a boost in search. It's a minor boost in search when you've only got one left. Okay. And so we've worked with clients who have in the past, we'll have a third of their inventory showing that they've only got one left. What they don't realize is that they are consistently telling eBay that they're running out of inventory and that's a far greater ranking signal is your quality as a seller. It's a major aspect of how well you rank. So if you're constantly implementing gimmicks, eBay knows this, okay. And it is lowering your quality score. And that could be one of the main reasons why you weren't appearing. We haven't even talked about that, but best match has a quality score for each listing, but also for you as a seller.
Dave:
So like there's a component to how quickly you respond to your questions. This patent I talked about recently, the ranking factor patent, specifically cited that as one of its components, how quickly you respond to your questions. So technically that's not an SEO technique, but it is something we go over with our clients because if they're waiting forever to respond, that is actually dragging them down in search. And so, and another one is just how well you are serving not just your buyers, but how well you're managing your store. So, you know, the components like the defect rate, which is part of whether or not you're going to get top rated seller status. Those are actually considered, as they're looking at your overall quality and your quality score affects your ranking. So if you're telling eBay, we're always running out of inventory on practically everything, because we've only got one left all the time is an absolute mistake.
Dave:
Again, you are sacrificing long-term gain for this very short-term minor…in this case, it's not short term, but minor ranking signal. And this is what gimmick oriented people do is they go after what they consider to be the low-hanging fruit, but in the long run, they are telling eBay, "I don't know how to run my business." Okay. So if you've got 50 of them list 50, it is not ultimately going to affect your rankings. Okay. So this idea that you're going to keep numbers low to somehow ultimately have better rankings, or you're going to list so many per day, you send them out in little bits and that's somehow going to trick the search engine. No, that has no, this does not do that. There are people who swear by that, and I don't have a problem with the idea of not listing it all at once. My personal feeling is if it's ready to sell and you can list it, list it. If you're someone who lists periodically list it, as soon as it's ready to be listed, don't, you know, listing on a certain day of the week listing so many on a certain day of the week is not going to affect your search trends.
Liz:
So that is exactly going to be my next question. You're like reading my mind. So first, I just want to say, I can hear all the clicks right now because I'm like, I now I want to go check my messages to make sure that I've caught up with everybody, because I want to make sure that my search ranking stays out there. So I could hear everybody clicking right now. Like, oh my gosh, let me make sure I don't have any questions. Right. But it was really, you know, like the consistency of listing. And this is huge. I read this between Instagram and Facebook groups and selling groups is you have to be consistent every single day to trip the algorithm.
Dave:
I do think that there is a relationship and Griff talks about this, and he talks about how, if he lists consistently, he finds that he will sell things that he, that he listed some time ago, that if you're in the business of listing single quantity items, I do think that it makes sense to list consistently. There does seem to be kind of a relationship between getting consistent sales and consistently giving your store new stuff. If you're selling single items. Yes. Then I would say this consistently, if you only have five hours a week to list, let's say, then I would spread those out over the week. If you can, that's going to do a couple of things. It's going to kind of consistently give your store something new. And you're not just dumping it on a dumping on the store is not going to hurt you from a search point of view, but it's also going to make your work higher quality.
Dave:
Because once you get into the second or the third hour of listing, your quality is going to go down. You know, when we work on a client, we work an hour or two hour and a half chunks, and then we stop. And we oftentimes, you know, if we've got 40 hours to put in for a client for a month, we don't do those 40 hours in say five days, okay. We spread them out. And because that keeps our quality up because you just get tired and you start missing things. And so, but as far as the gaming, it, no, you're, you're not gaming the search engine. I do think that consistent listing is good from an, from a number of reasons because you, your buyers and get accustomed to seeing new things frequently. And they, and they, and they come back perhaps every day, cause they know that you're listing consistently new stuff.
Dave:
There are a number of reasons why I think that it's beneficial, but it's not going to gain the search engine. If for some reason you have to switch to another methodology and only list on a couple of days a month. That's not going to tank your search rankings. Don't worry about it. It seems more of a preference. I think it improves quality. Like I said, the destined to be a relationship between, you know, if, you sell one-off items and you haven't listed in months and you know, you've got a couple of hundred items. If you start to list new things, I have seen in our own practice. And I've heard other people say that stuff that you had before we started selling, there's a, there's a relationship there. So I do think consistent selling is important, but do not worry about the search engine from that point of view, don't think, oh, I'm going to take in search because I haven't listened to anything for a month.
Dave:
That's not really how it works. And it's, you know, there are a lot of things people do that are similar to that. And this is when you had mentioned before, and it's one on one. I want to make sure that I address this because, this is probably the worst thing you could possibly do and that's duplicate listings. Yes. Okay. So duplicate listings are different from duplicate titles, which kind of drives me crazy because lots of companies have tools. There are plenty of free ones. We use a free tool for every client. When we get into it is we do a check for duplicate titles. I wrote an article about when Target left eBay a couple of years ago and they left the ebay.com platform. But they're booming on eBay Australia because Target's big in Australia. And so with eBay, eBay is actually the biggest marketplace in Australia.
Dave:
I had analyzed their SEO, Target's SEO on ebay.com before they came down, before they left the platform. And, I definitely know why I was so interested in Target. I think one of the reasons, because my wife hates Target, which is really funny. I remember finding six duplicate titles for a set series of black wall lanterns, like outdoor lanterns that were very basic titles and they had not differentiated them. They were all from the same brand. They were fairly similar. Okay. So that's the concept of duplicate titles. That's very easy for eBay and for any kind of algorithm to find you definitely don't want those. That's separate from duplicate listings. Do list. Yeah. Go ahead.
Liz:
Really quick. I'm sorry. Duplicate titles. So let's say I have, I don't know there are four different items, but I just use the same exact title.
Dave:
Exactly. Four different items, same title. Yep. Gotcha. And that's going to hurt you. Absolutely. Oh yeah. Very easy. Very easy to detect totally against eBay policy. But duplicate listings are also detectable. This is one of my favorite topics because I, this has happened before where I worked with someone and then into the project, they say, "oh, by the way, I have another store with the same inventory. And we created two stores. Thought it would be a great idea." Yeah. In every case every, and we can't figure out, but our sales, aren't what we know. Very good. They were actually better before we did this and all of that. So it's against eBay policy. If you want to run two different stores for two different product lines and you feel like they're going to convert better, go right ahead. eBay doesn't care.
Dave:
We're constantly logging into different accounts throughout the day. And that's fine. It's not hurting our clients. However, if we were doing that. So, and they're selling the same inventory, eBay's tracking your IP. So your computer has an IP. Your internet connection has an IP, and you're being tracked by that. And if you're constantly logging in to do two different accounts and they have the same inventory, eBay knows it. And it's not the only way they're tracking you by eBay, by IP. But that's one of the main ones. It is not going to help you. It is only going to hurt you from a policy point of view and policy compliance is an SEO technique. Okay? If you violate eBay policy time and time again, we had two clients at the same time who both had duplicate listings and duplicate listings are one of two things. They're either listings from the same account for the same item, but they look different. So they've, they've tweaked the image. Like let's say they've taken the secondary image and put it as the main image they've tweaked the title. The price might even be slightly different. They haven't used the NPN. So you can't tell from that, that it's the same item, but it's the same set of six glasses. And you've listed it four times and the prices are slightly different. They look different, but it's the same product. We had a client that did this on purpose for like two-thirds of its inventory. And we spent months correcting that simply reducing the size of their inventory on the basis of removing the duplicate listings had a significant impact on their visibility overall. So what they think is going to happen is that more listings, more visibility what's actually going to happen is that the quality score, those listings is going to go down and both listings are going to go down in search.
Dave:
So instead of having the one listing that should be performing quite well for you, it's astounding how well a single listing can do if it's in the right context, any gimmick, whether it's, you know, breaking cause duplicate listings are a policy violation. Anything that breaks policy is a problem. Okay? Because it is going to affect your quality score and it is being picked up. You think maybe you'll get away from it for awhile. But we got a rave review from this seller of international products, who it was quite hard to tell at first that they were duplicate listings as we began to dig into it. And we had his inventory list for like, wait a second, do you have to click listings here? And he finally admitted to it. Once we cleared that problem up, we didn't even optimize anything yet. We saw a significant increase in impressions, suddenly just cleaning up the store made a huge, huge difference.
Dave:
Now, if you've been doing it for years your quality score has tanked so badly that it's like, if you get a manual action penalty, like eBay actually did years ago from Google and you, if you don't clean it up right away, then the search engine gets a very specific impression of you. And we'll probably stick to that. You may have to start all over again. It really depends on how bad it was, but you definitely do not want to sell the same items from multiple and you don't want to create multiple listings for the same product, the same product in the same store.
Liz:
So a lot more listings is great, but it needs to be more unique listings, not the same listings.
Speaker 3:
Over and over and over again. We're talking about gimmicks.
Outro
Liz:
So that was Dave 3.0 on this week's episode of the seller community podcast from List Perfectly.
Doug:
And so Liz, when I'm back listing, I mean, I've been listening to these obviously as well. So I'm definitely going to work on my categories, my item specifics, my keywords, all the advice that Dave is giving. And then again, we'll see where we are, but maybe we'll have some more for another Dave episode. Dave, the mini-series!
Liz:
Dave, the mini-series. (laughing) Dave 4.0! We usually don't tease future episodes, but next week might be eBay open related.
Doug:
It's a mystery, Liz.
Liz:
It's a mystery…
Doug:
But yeah, we might have an eBay open related episode. You'll have to wait and see. And so now the credits. Stick around to the end, to see if there's a teaser. You can find us at thesellercommunitypodcast.com/podcast. You can leave a message or ask a question at anchor.fm/sellercommunitypodcast. You can email us at podcast at thesellercommunitypodcast.com. You can also post a question in the List Perfectly Facebook group, use the hashtag seller community podcast and mention Liz or Doug.
Liz:
You can listen to us anywhere you listen to podcasts, and be sure to subscribe and tell your friends. You can also follow us on Instagram. I am at Coloradoreworn and Doug is at Snoop.dougie and of course follow at List Perfectly.
Doug:
And don't forget the List Perfectly Facebook group is at facebook.com/groups/listperfectly. All right, Liz, I will…
Liz and Doug:
See you next week.
Doug:
No teaser like at the end of Marvel superhero movies, Liz.
Liz:
No, not this time.