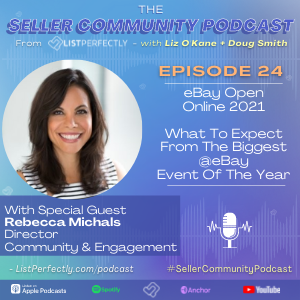 This week we talk to eBay's Director of Community & Engagement, Rebecca Michals, about what to expect during eBay Open, eBay Community, and we'll even discuss some ways for you to navigate and get the best experience from the scheduled events. Liz and Doug share their unique eBay Open memories, and we'll have the News!
The Seller Community Podcast from List Perfectly is the #1 resource for the seller community across all platforms and hub for information on growing your business with List Perfectly. Find out more at thesellercommunitypodcast.com/podcast, leave a message or ask a question at https://anchor.fm/sellercommunitypodcast, or email us at podcast@thesellercommunitypodcast.com.
Listen on Apple Podcasts
Listen on Anchor
Listen on Spotify
Listen on Pocket Casts
Listen on Google Podcasts
Listen on Breaker
Listen on RadioPublic
Links
thesellercommunitypodcast.com/podcast
Listperfectly.com
Seller Community Podcast on Anchor
Listperfectly Facebook Group
coloradoreworn Instagram
coloradoreworn linktree
snoop.dougie Instagram
snoop.dougie linktree
listperfectly Instagram
Episode 24 Links
eBay Open Online 2021
eBay Seller Events
The eBay Community
eBay for Business Podcast
eBay Open Online 2021 – How I built my agenda
eBay Promoted Listings
Transcript
Intro
Doug:
All right. What's up Liz?
Liz:
What's up, Doug?
Doug:
Guess what?
Liz:
What?
Doug:
Happy anniversary, Liz!
Liz:
Anniversary?
Doug:
Yeah. It's two years ago, like almost literally to the day, that you and I met for the very first time at eBay Open 2019.
Liz:
You're right! Happy anniversary, Doug.
Doug:
Yes. Yes. It's forever emblazoned in my mind. You and your friends Tricia and Amanda came into the booth. I walked over and said, hello. And then you asked if Alan was there, the guy with the accent on the podcast. So I introduced you.
Liz:
I'm pretty sure that was somebody else, but that's okay.
Doug:
Well, I'll have to change the narrative in my head…
Liz:
That's just cause you think about me, cause we're talking all the time about eBay and podcast and selling and moving and families and yeah, that was an amazing eBay Open all around. And unfortunately it was the last one that was available for sellers to go to.
Doug:
Yeah, they went out big. That was a good one of the three that I attended. That was by far my favorite, just so cool. So much fun. That last party night was great, but it was fun.
Liz:
It really was. It really was.
Doug:
And it's crazy now because basically it's, eBay open week, so everybody's sharing memories and photos and that's great user-generated content for eBay, but, it's kind of a bummer that, you know, we're not there. We're not going, but…
Liz:
We get to get together online.
Doug:
That's right. So, I mean, we've got a lot, we're going to try and pack in. Should we get started?
Liz:
Let's do it Doug! I'm Liz.
Doug:
And I'm Doug.
Liz:
Welcome to the Seller Community Podcast from List Perfectly. This is episode 24. As you know, the Seller Community Podcast is produced by List Perfectly every week for your enjoyment and show notes are found at thesellercommunitypodcast.com/podcast. Now let's get into the show.
Doug:
So this week is all about eBay Open online 2021. It's back, sort of, but we'll talk about that. And again, happy two year anniversary of us meeting Liz. It's an auspicious week!
Liz:
Woo Hoo! You know, it feels like it's probably been like 10 years.
Doug:
Thanks? (both laughing).
Liz:
Because the last two years have been jam packed with so much stuff! Reselling, community, you've been through so much, just, you know, with moving and jobs and me selling and us starting a podcast.
Doug:
Yeah. It's been a crazy roller coaster ride, but it's really been a really fun one. Well we'll get, I'll get more nostalgic later in the episode.
Liz:
Oh, Okay.
Doug:
I told myself I wouldn't cry. (laughing)
Liz:
eBay Open is all virtual this year, but sellers are excited still. I think eBay's done a great job, they've set up a lot of great speakers and panels, you know, even seller panels. So you can learn from people in your own community and eBay even sent out swag. And we'll talk a little bit more about that with Rebecca. Just know that we'll include the links in the show notes, but all of the information can be found at ebay.com/open. I encourage you to go and RSVP for the event because you do need to RSVP. And we'll talk a little bit about that after we talked to Rebecca.
Doug:
Yeah. And I would say, even if you can't attend everything, RSVP and attend what you can. I think that's important. And I did get my swag pack. I got my cool, little glasses. I got some snacks, which is exciting. I got a cool cup and it was all wrapped to surprise and delight. Very nice.
Liz:
Yeah. I've seen the reaction from sellers and they appreciate it.
Doug:
They should have done like a video opening, like an unboxing video.
Liz:
Oh, you're slacking Doug. So we've got the scoop and all you need to know straight from Rebecca Michaels, director of community engagement at eBay. This is a great lead up to open and all you need to know.
Doug:
And Liz, as you know, I did three eBay Opens from the eBay side and you did three from the seller side. So Liz and I will share some eBay Open memories, tips, and tricks, and more from our different perceptions.
Liz:
We'll also have the news this week, too. Let's get started with our feature guest, Rebecca Michaels from eBay, telling us all about eBay open online 2021.
eBay Open Online 2021 – What To Expect From The Biggest eBay Event Of The Year
Liz:
We're joined today by Rebecca Michals from eBay. Rebecca is director of Community and Engagement. She has been with eBay since April of 2020, and comes with more than 20 years of experience in leading large online brand communities. Rebecca's favorite hobby is gardening and she lives in San Francisco with her family.
Doug:
The eBay Community is made up of sellers, buyers, and eBay employees that come together to share, connect and learn. It's located at communityebay.com, where you can find many features such as the knowledge-base discussion board, seller news featuring announcements and the eBay for business blog and groups. On the discussion boards, community members ask questions and exchange advice and tips with each other. And eBay staff are present on the boards, but it's primarily a peer to peer support community and eBay doesn't provide direct customer support via the boards.
Liz:
But most important, coming up is eBay Open 2021 virtually. Super excited to talk about that with you, Rebecca. Welcome to the show.
Rebecca:
Hi Liz. Hi Doug. Thank you so much for having me. I'm really excited to be here talking with you today.
Doug:
Thanks for coming on. We're excited to have you!
Liz:
So if you don't mind, we can just dive right in and talk about eBay Open. We have listeners that have attended eBay events for 20 years, and sellers that are just getting started selling on eBay that may not even know what eBay Open is. Would you mind telling us what this event is?
Rebecca:
Absolutely. eBay Open is, well, it's eBay's biggest event of the year and any sellers who have been to past ones that are in person, know what a fun and engaging event it is. I will say our sellers, they absolutely love it. And you know, always are asking when's Open? Are we having Open this year? And yes we are. We're having eBay Open online, as you mentioned. You know, we did have to pause Open last year because of the pandemic and for obvious reasons. Now we're really excited to have this virtual event. eBay Open online on August 4th through 6th of this year.
Doug:
What does it cost this year to attend?
Rebecca:
This is the great news. This year, eBay Open online is totally free. All you have to pay is your time and your willingness to connect and to listen and to learn. Talk with other sellers and, you know, hear directly from eBay executives and staff members. And so here's the news is that as it's online, it's spread over three jam-packed days and it'll be fun and informative, and we think it's a great investment of a seller's time. We're expecting to have thousands of sellers, just like your listeners, showing up and taking part in the event. Listening to the content and seeing the sessions. And this is content they won't find anywhere else. It's all designed, we're working on it right now, designing it to help grow businesses and deepen seller's community connections to each other.
Doug:
Now the snacks are always big. Will there be virtual snacks? I'm asking for myself. (laughter)
Rebecca:
You know, I think snacks are going to have to be provided at home. But we will have lots of great content and we were able to send out some swag ahead of time to sellers who were quick off the mark and early to sign up. And we had such a great response to that. We actually upped the numbers of items that we sent out. So even more sellers than we originally planned, ended up getting that initial set of swag. And then, you know, there may be other surprises along the way for people who attend. So, I think it's worth your time to come spend those three days with us.
Liz:
I can tell you, I have attended three eBay Opens. Each one of them, like the very first time, I went, I paid and I'm like at the end of the event, or at the beginning of the event, I was like, oh my gosh, I don't know what to expect. I really don't know if this is going to be worth the investment of my time. And even at the time flying in, man, I mean, I left and I was like, oh wow, just overload. So for those that have never been to an event, either in person or online, I'm super excited about this event! Even though it's online, it is a commitment during my time, but it's irreplaceable knowledge to get right off the bat and to be able to get questions answered. And I love that so much. So I looked at the agenda cause I signed up as soon as I got the email, I was sitting at my computer working, probably like all those people that you said was those early responders sitting at our computer working like, oh, hurry up and sign up. And I started looking at the schedule and I see that eBay has this a little bit split up. So there's a little bit for everybody or every level of seller. So is this event better suited maybe for a new seller? Or more for an experienced seller that kind of knows what they're doing?
Rebecca:
You know, as you noted, we did actually build out two different tracks through the event. There will be some sessions that are on the main stage and are relevant to all sellers and we invite all sellers to attend. But then there also will be different sections that are either tailored to newer sellers or sellers who are ready to, or already at that next level. You know, as you said about having attended some of the live events in Vegas, and I have to admit, I'm so envious of you and everyone who's been able to go to one of those live events. And I think I have a lot of sympathy for wishing for it to be in person. We worked really hard to bring as much of those experiences into the online version as we possibly can. I know that there's just no way for it to be the same. You know, there won't be quite the same sights and sounds and snacks, Doug. (laughing) But what we can promise to provide is really rich, deep, engaging content that will be relevant for whatever kind of seller you are. And so we hope that everyone, as you did, will take a look at the agenda, find the tracks and the sessions that make sense for your goals, for your business as a seller, and attend. I will say the other thing that we did very thoughtfully is because, you know, let's be honest, we all have a little bit of, you know, fatigue of sitting at our computers all day long. And so we made sure that we prioritize really the most important, actionable, insightful content. And we also made the days a reasonable length of time. They're all about three and a half hours instead of expecting people to spend eight hours online. That is just not reasonable. So you know, we really believe that this will be a very impactful experience.
Liz:
I know I'm excited. I can't wait.
Rebecca:
I know, we can't wait to have you guys!
Doug:
I'll be there too, and I will bring my own snacks.
Liz:
Do you need me to send you some popcorn, Doug? What do you need? Whatever, text me and let me know what your favorite candies are.
Doug:
Dialing it in a little more between experienced sellers and newer sellers. What about bigger business sellers? Solopreneurs? Hobby sellers? Will there be stuff for them too?
Rebecca:
Yeah, again, we're really hoping that what we've done is design an event that's relevant for pretty much every seller. That being said, we do think that we're most likely to have the small to medium-sized business sellers rather than the Samsung's of the world. Although everybody's invited. Yeah, any SMB, any entrepreneur. I think that this is going to be a great event for that size of seller.
Liz:
Even if you haven't sold anything on eBay yet, let's say you're selling somewhere else. Really, this is going to be for you. This is a great introduction to learn the language and just to see and feel the eBay Community online. Even though it's going to be online, I have a feeling you're going to be able to really connect and feel that community. So this is a little bit different this year I'm used to going in person. Is there anything that sellers can do to prepare ahead of time to really, to make this a successful three days for them?
Rebecca:
Yeah, I think the preparation is probably the best thing to do. First of all, we are going to be using our new events platform. So it's not going to be on zoom, like a lot of our other events that we run this year, which we call seller check-ins. We will be sharing information about how to use this new platform in some know-before-you-go emails before the event, we'll have some content and videos once you've logged into this new platform to watch, please read the know-before-you-go emails. Take a look at the demo videos that we'll include there, spend a little time looking at the agenda. So you know what you want to learn and what you want to take away. And then the biggest thing that I would say is prepare yourself to get involved. It's so easy in online experiences to just sit there and listen to the content. Maybe check out a little bit. We've all second screened with our phones, you know, when we're in some kind of virtual experience or even just watching TV. I would say, this is a great moment to put down the phone, you know, close the other windows and really hone in on and focus in on the content because there's so much that it's possible to get out of it. And then the last thing I would say is ask questions, click around, to see what the tool does again, it's new. But I think it'll be fun to figure it out. And we're really excited about this new platform.
Doug:
So you mentioned asking questions. So, sellers love access and love to ask questions. So what kind of opportunities will be for sellers to ask questions during the panels? Outside of the panels? What do you have planned there?
Rebecca:
There will be a text-based chat-based Q and A that sellers can type their questions into, and we'll be doing our very best to get to all of those questions. Although, you know, I'll wink and a nod and say, there's a lot of sellers and a few less eBay employees. So please, if you come to the event and ask us a question, a little bit of patience, we will be doing our absolute best fingers flying to be able to get to all the questions that we have. So please use the Q and A, and then there's also going to be eBay boosts where attendees can go to ask questions, learn about specific topics. And that's if we think about the metaphor of online to offline, very similar to going into the center hall at a conference and going from booth to booth, only it's going to be clicking from space to space virtually. You'll be able to click in and learn content from these booths, get virtual handouts, like you would take a handout or something along those lines from a booth, if you were in an actual conference hall. So it's, again, it's going to be different, but I think that it's going to be really great.
Liz:
Bring your patience, but bring your questions.
Rebecca:
Yeah, absolutely.
Liz:
So, I've noticed, and this is just very similar to the events that I have attended in person is I've noticed some of the sessions overlap. So sellers, you may not be able to attend all the sessions. So for example, I'm looking at this date at this time and there's two of them that I'm very interested in going into, but I know that I can only choose one. Will there be any recordings of this that I'll be able to go back to as an attendee later to watch?
Rebecca:
Yes, we are planning to make some of the sessions available after the event on our eBay for Business channel on YouTube. We'll take the sessions that we think are the most engaging. I mean, they're all going to be great, but really the most engaging that we get the best feedback on and share those on our YouTube. And we will follow up with the attendees by posting it on our social media feeds, especially the eBay for business on Facebook and other places. We'll make sure that sellers know once those videos go live on YouTube.
Liz:
Thank you. I was sitting here trying to figure out how I was going to have two laptops and listening on two different ears to the different sessions. Because I really want to take it all in, but now I know I can just go to one and watch at a later date. Thank you.
Rebecca:
Absolutely.
Doug:
And you have that cool little calendar feature where you can plan out your day and the conference. So that's nice to see.
Rebecca:
This is true for any conference. There always are going to be two sessions at the same time, and you're like, those both look great. I want that content. One thing I've done in the past, if sellers out there have other friends who are sellers, you divide and conquer, and you say, I'll go to this one and take notes and I'll go to the other one and take notes. And then you meet up later and you talk about what you learned. Again, we are going to have those recordings, but really the other piece of it, I think is that pre-planning, you know, you have to look through, figure out like, what is your goal from the conference? What are you trying to get out of it? And then really hit those sessions that you feel like are gonna speak to the needs that you have as a seller and what your business goals are and the kind of growth that you're looking for, for your eBay business.
Doug:
I don't want to put you on the spot, but I'm going to put you on the spot. Can we expect any big announcements? Can you give us any teasers? Any little exclusives? Any wink, wink, nod, nod, nudge, nudge?
Rebecca:
Yeah. I think that there are going to be some surprises, but you're actually going to have to show up to find out.
Doug:
We understand There's always something!
Liz:
Through the years, I've come to learn that every time I go, we're almost expecting some cool little announcement to be revealed at eBay Open. So I can't wait to see if and what that could be. Everybody wants to get back in person. I know it, and I totally understand why we can't do it this year. I can't even imagine what it takes to put on a conference of this size, in-person.
Rebecca:
You know, right now we are still focused on virtual events through the end of the year. You know what I'll say, really candidly, is that I think that there are external circumstances that still bear watching before we make that decision. We are completely eager to be in person as well and to bring sellers back together in person. And I have been seeing that there are a few seller-led meetups that we're keeping an eye on because they're starting to meet in person, which we're keeping an eye on that, and seeing what we can learn from that about seller's readiness to be in person. And you know what it looks like in 2022 and beyond for big events. We also watch the events industry to understand how are things coming back in person? What is, I don't know, South by Southwest and you know, those sorts of large events Comic-Con I don't know, is that a thing, are these events in person? And so I think we will probably map to whatever the industry is doing. I think the headline here is watch this space.
Doug:
Is there anything else to add about eBay Open? Maybe we didn't cover?
Rebecca:
Well, first of all, head to ebay.com/open to register. Do it today, please. I mean, we are so excited to see all of the sellers to have these conversations, to enable sellers talking to each other, which is one of the best parts of any conference is that networking. We will have networking rooms for sellers to talk to each other and learn and share together. And we just are so looking forward to spending these three half days together with you guys.
Liz:
So Rebecca, in addition to eBay Open that everybody is so excited about. Can you please tell us a little bit more about the eBay Community and where we can bond outside of Open?
Rebecca:
Yes. I'm so glad that you asked. So please come to community.ebay.com and sign up, participate in the seller forums, which is where a great space for sellers to talk to each other, get information. We do have customer support, engaging on those boards. And you know, it's a wonderful way for sellers to connect and share and learn from each other. Sellers can also find each other on the eBay for Business channels. We've got great stories and videos on our YouTube channel. We've got eBay for Business on Facebook. And then of course I have to mention that we also have an eBay for Business podcast. So, I hope that sellers will listen. You can find me there every other week, hanging out with Griff. It's so fun and also interesting and informative. You know, one of the great things I think that eBay does is we don't just have a one and done huge event like Open. We have so many channels in so many ways for sellers to learn from each other, to learn from eBay. To hear from eBay execs and employees. And we just love all of the opportunities that we have to connect the sellers to help sellers connect with each other.
Liz:
Rebecca, what other areas of eBay are you involved in?
Rebecca:
So Liz, my team manages all of the different channels and places where we create community for sellers. You know, we have the Community forums, which often gets called the community, but really the eBay Community is any place where sellers are talking to each other. Like this podcast right here is kind of a part of the extended ecosystem or the universe of eBay Community. But for the work that my team and I do, it's really about all of the engagement in activities for our business sellers. And again, it's across the different channels that I mentioned earlier, the events like you may open the forums eBay for Business on and YouTube and the podcast and our goals. There are to connect with sellers across our channels to inform and inspire and educate them and to help accelerate their business and help sellers meet their business goals.
Doug:
Rebecca, if you had to pick a favorite part of your job, what would it be?
Rebecca:
That is such an easy question to answer. So my absolute favorite part of my job is the sessions that eBay runs to help teach newly joining employees to understand about our customers, to understand about our sellers as a part of the onboarding experience for these new employees. And it is like such an honor and such a privilege that I get to host these panels and ask sellers questions on behalf of employees who are watching and listening in the audience and bringing to life the experience of business sellers for people who are just joining eBay as employees. I do it every month and the chance to have those monthly conversations and to help these people joining it, just joining employee, understand, you know, there's an individual story and individual seller behind every decision that we make, to help drive that sense of purpose for the work that we do. That's my favorite part of this job.
Liz:
I love that, love that I don't think that a lot of sellers realize that does that for their newly onboarded employees to give them that personal experience with sellers, we've talked about, eBay Open, super excited and really the eBay Community as a whole, all the different places that eBay comes together. Would you, do you have anything that you would like to add about eBay Community?
Rebecca:
No, I think the thing that I would like to leave your listeners with is that again, the eBay Community is any place that sellers are connecting and sharing and educating and supporting each other. And I see our role as enabling that and facilitating that and providing the education materials and the inspiration, you know, what I'm hoping for in the future of eBay Community is to continue integrating those experiences, making sure that all of the ways in which we connect with you and help you connect each other is incredibly valuable and rich. And then also just making sure that the whole experiences are integrated with each other so that if you find us on Facebook, if you listen to the podcast, if you watch our YouTube videos, the overall message that any seller gets is how important sellers are to eBay. That this is a partnership that we're working together for success, and that we are invested in the sellers on eBay.
Liz:
So excited for eBay Open online August 4th, 5th, and 6th. Make sure you go and sign up. We'll have the link in the show notes, Rebecca. Thank you so much. I'm so excited.
Rebecca:
Such an honor to be here. Thank you so much for having me. It was a really great conversation. Thanks for thinking of having me and thanks for signing up to come to Open and look forward to seeing you and all of your listeners there.
Doug:
Thanks for taking the time. And I'm sure we'll talk again.
Rebecca:
Absolutely. Have me back anytime, I'd be glad to be here.
Liz and Doug eBay Open Memories
Liz:
Doug. That was such a great conversation with Rebecca. I tell you what, I have questions for you, because like you meant, I have questions for you. So like you mentioned earlier, we've both have three years of eBay Open experience. Me as a seller, you as an eBay staff member.
Doug:
Yes.
Liz:
I really want to know what it's like on that side. You know, sellers always share their stories. I want to see what it's like from your perspective, but first, if you don't mind, I just want to say, you know, eBay has never done this before. They've never done this virtually on this scale, but you know what they have done virtually, and I feel that they did well?
Doug:
What's that?
Liz:
The eBay upfronts. So before in person meetings were canceled, eBay had set up to go to different cities instead of having eBay Open. Well, those got canceled and they took them virtually. I was lucky to go to a couple of those and I really appreciated and enjoyed them. So we got presentations from different departments at eBay, got to hear from different eBay employees. And we got to go into rooms and ask questions and it was very well done. And so I hope that Open online has some of those similar things that I really liked about those upfronts.
Doug:
Well, I totally agree with you and I did two or three upfronts. And the cool thing about those is that was kind of a response to sellers basically saying you guys always do eBay Open in Vegas. What about something across the country? What about, you know, some of the traveling stuff you used to do? So that's kind of where the upfronts came from going to certain cities and then obviously the pandemic happened and they kind of went with these online and then they've launched the new events system. But yeah, I think if part of that bigger push still to even reach out and communicate with sellers. eBay wants to send people out, but to be honest, I mean, sometimes it's kind of a business decision. It's super expensive to do one of these events, plan one of these events or to send, you know, an eBay employee out across the country to one meetup. That's why you saw part of this, it's like when Brian and I came to Colorado, a couple of times we did multiple things. It wasn't just like a one and in and out. And then he and I actually did something. We went to the east coast and we did Boston. We did New York city and we did one other, I don't remember. But basically we did a little traveling show. We did three meetups in a week and just landed in one and then drove up. And same thing in Colorado. We did Denver. We did Colorado Springs, but that was super cool. And that was kind of where, like you said, the precursor, the online upfronts, the precursor to this, and it's going to be a huge event. It's going to be challenging. There'll probably be some hiccups because that's the way it goes. But literally thousands of sellers are going to be watching these things.
Liz:
Yeah. I listened to the eBay for business podcast last week and Griff had alluded to, they didn't say how many people had signed up, but he did say that, you know, at the time of that recording, when he had asked, it was up to their San Jose event that they held years back. I think it was an eBay radio event.
Doug:
He had told us that that was 20 to30,000 people.
Liz:
Yeah.
Doug:
And so, I wouldn't be surprised at all.
Liz:
What I really appreciate also, yes, it's over three days, but it's a couple of hours a day. You don't have to attend them all.
Doug:
Yeah.
Liz:
So you don't have to attend the entire conference. You can pick and choose where you want to come in and out of, set reminders, put it on your calendar
Doug:
And they have that little calendar tool. I know you've messed around with, to kind of schedule out your days. How did that go?
Liz:
After you RSVP and you log in, you'll have access to the agenda and you can click on the days and you can add it, the line item events to your calendar or to your agenda. And at the end you can click on my agenda. And so you can build your agenda around what content you want to consume from them. I ran into a couple of things. Like I wanted to see three things at once and you know, Rebecca and I had discussed that just a little bit earlier. I'm so glad that some of these will be recorded so I can go back. I really love that tip. And you shared it also, you know, buddy-up. Like Doug, can you please go watch seller A's panel? And I'll watch seller B's panel and we'll text at the end of the night and be like, Hey, what did you learn?
Doug:
Exactly. Yeah. Yeah.
Liz:
So I really liked that. So what I did for anybody, that's a little bit confused by this, or like, how do I build this agenda? I actually did a 14 minute YouTube video on how I built my agenda. It's on YouTube. It's Liz O'Kane, because I'm really creative with that name.
Doug:
Yeah. We should probably put that in the show notes.
Liz:
That would probably just be a better idea. If you're interested, if you are in there and don't know how you would like to build your agenda, maybe that'll give you some ideas.
Doug:
No, that's great. And I will take a look at it, but yeah, there are definitely some I want to see, but you're not going to be able to, you're not going to be able to see all of them. So, you know, just keep that in mind and not all will be archived. They tend to do the most popular ones. So, we'll see.
Liz:
I really hope that they do that. They put all of the seller ones. That would be the seller panels because I am kind of bummed. There are like every single seller that is presenting is awesome!
Doug:
Yeah, no, it's a really good lineup. And that was something I don't know, they've always done it, but that was something they really leaned heavier in. I think the last couple Opens, but a lot of these just seller run panels. So you get a lot from eBay, but you get a lot from sellers too. And sellers always love to hear from other sellers.
Liz:
When I went to Opens, I appreciated those panels. I mean, I loved all of it, but I really appreciated those panels. You know, I can give you my perspective all day, but Doug, what was it like from your side preparing for? What were the discussions behind closed doors when it came to planning Open and getting there and the content that was given to attendees?
Doug:
So when I was at eBay, I was on the seller engagement team. So I got to interact with sellers a lot. And the interesting thing is, most eBay employees don't really interact that much with sellers. And so when it comes around to eBay Open, especially it's a big privilege as an eBay employee to be able to go. So, I was lucky because I went every year and part of my job was seller events. So I was very lucky as an eBay employee. So what happens internally at eBay is it usually starts towards the end of the year before, and maybe a little bit into the year of, they put a call out for presentations. If you're interested in presenting at eBay Open, you go through this internal application process and then they have a panel that looks at stuff and they've got some ideas. They do some reach outs and things like that. Like I was asked to do, the first year I presented, I was asked to hop on a social media panel with Tracy Lee Davis. So we did that, but we had to go through a whole process where we come up with a draft of our presentation and what we're going to do. And then you go through that and then kind of works up to where they announce eBay Open. Then they announce the panels and then you go through some rehearsals before you go. And then obviously when you get there, you go through some rehearsals too, but it's definitely a privilege for eBay employees to go to eBay Open. You know, it's interesting because you, as an employee, you kind of have early access and kind of mostly all access, but it's an overwhelming experience as well. It's very emotional, very tiring, very challenging, but you know, things that stand out is just the sheer scope of it. When you walk in and it's like a rock concert, like a U2 concert. And then the exhibit hall and just all the things they do and then getting to talk to sellers and meet with sellers. And the clapping tunnel is always very emotional on the eBay side as well. And I think, for me, I mean by far 2019, my last was my favorite and it was just so cool. And by that time I had been traveling for years and I knew, actually knew so many sellers. So it was super cool, but especially cool was the clapping tunnel when people I knew were coming by and we would hug and high five. And it's that recognition is just great and fun. But yeah, I think that's the main thing. It is a privilege. Not every eBay employee gets to go and statistically not a lot get to go. And it's not really a guarantee kind of, unless you're on the seller engagement team. And then even then it's not really a guarantee that you get to go.
Liz:
So you said two things that stuck out to me. You said, we get to go as in, like, they're not seeing you go, you go and employees, you're like, oh gosh, I've got to go deal with sellers. They're excited and pumped to be there.
Doug:
Yeah. Yeah. Definitely excited and pumped to be there. It's a lot of work, but it's also a lot of fun and you get to hang out, talk to sellers. And like I said, so many eBay employees don't ever engage with sellers and it's kind of a bummer that they don't get those opportunities. And sometimes you have to step up to get those opportunities. But yeah, it's definitely, definitely a privilege.
Liz:
Yeah. I've talked to a couple of eBay employees that have gone in there, like, oh, I got picked and I had no idea. I thought it was just, you know, my first and second year I was like, well, they just told the team, come out and support the sellers, but they're like, no, I got picked to go. And then the second thing you said was the clapping tunnel. And anybody listening that hasn't experienced this or seen it online, it really is special. So what happens is every single employee that has worked. So give me a number, Doug. So the last eBay Open there were about what 2000 sellers? So this is 2019…
Doug:
Something like that. And probably 200, maybe less employees, something like that. 150 to 200.
Liz:
Okay. Well, from my end it feels like a lot more.
Doug:
Yeah. Maybe it's more, I don't know, but not too much more. And then, so this is what's interesting. So logistically what happens is, we know when, what time the clapping tunnel is going to be. So what happens is like, so usually they have like the End Note speaker or whatever's going on. So we're supposed to meet outside at a certain point. And so all the employees come out into the hallway and they start to line up and we have to be quiet because we don't want to, you know, kind of, we don't want to give it away.
Liz:
Yeah, the distraction.
Doug:
We don't want to give away. We don't want to distract. So then they give us noisemakers. And obviously if you give somebody a noisemaker, they're going to start using it. Everybody walks around and says SHHHHH. And then the funny part is, once we get closer, we're all lined up there and we've got all our stuff and we're all excited. And you get people that either come out to go to the bathroom or sellers that start leaving early and then they realize it and it's like, oh no, wait, wait, wait. So they got a little hint of the clapping tunnel. But when they release everybody, that's when it really, really goes down and it is emotional.
Liz:
It really is. So every single employee that has worked at the conference, like you said, meets outside, there's typically just a couple left onstage. We're talking last minute of the entire conference. They're like sellers, thank you. This has been a great event. This has been a great couple of days. Thanks for joining us. See you next year. We clap, we applaud loud music. You go out of the door. And the next thing you know, there's just a tunnel of employees yelling and screaming and holding signs. It's amazing!
Doug:
Yeah. And you know, and eBay does appreciate sellers and eBay employees realize that they wouldn't have a job if it wasn't for eBay sellers and buyers, but especially sellers.
Liz:
Right. So if you want to see what this is about, just to tell you, eBay Open 2019, we were led out by the UNLV marching band led us out of the conference room down this tunnel. And I don't know, it feels like it goes on for 15 minutes, but it's really pretty quick. And at the end they greeted us with glasses of champagne. So we were marched out with the marching band, amazing! Champagne at the end, so that we could say goodbye to our friends and eBay employees. But you can actually, there are sellers that have that online. So you can actually go and Google, eBay clapping tunnel, and you can see what this is all about.
Doug:
Yeah. And that's cool. And we will put it in the show notes. But the other thing, that's the other thing to keep in mind too. And maybe, maybe not so much this time, but when they have these events or when they're back in person, follow other sellers, social media definitely follow the hashtag eBay Open. You'll see a lot of cool stuff from different perspectives and you know, things like the clapping tunnel, or it may be a different view of something. And I'm sure there'll be some now they'll encourage sharing, but it's because something like that really works best when it's in person.
Liz:
Yeah, yeah, yeah. Yeah. And I mean, we've spent a lot of time on the clapping tunnel, but I mean, there's so much more to it being able to hear from eBay, from all of the different departments, whether it's shipping or seller hub, things that are coming out of the pipeline, Mohan, always, you know, I think by my third year it was expected that he was going to present something spectacular. That was up and coming.
Doug:
He's always fun. He's good. A great presenter.
Liz:
Yeah. He is. I'm going to, I hope he's presenting this year. I didn't see his name.
Doug:
But the interesting thing is, especially with the eBay panels is you get an opportunity to ask questions, not so much in like the general session, but you get an opportunity to face to face, ask questions and meet with basically the people that run these programs or run these departments and kind of those internal subject matter experts. So, you know, that's access too.
Liz:
Right. Yeah. I definitely appreciate all of that, but I've had a lot of great times as a seller. Doug, you've had some great times as an employee at these events. It's not going to be the same online, but I'm glad they're doing something and it will be very informative.
Doug:
Yeah. I'm glad they're doing something, too. And it's great. And I think it will probably be a little more robust than people realize. At least I hope, because a lot of vendors have adjusted and you know, there've been a lot of conferences that have shifted to online and they kind of really try and make it like you're at a conference. So like you can do things like travel from booth to booth. You can online chat, you can ask questions, you can interact. And you know, you don't have to, maybe you won't be as tired.
Liz:
Right from being up the night before.
Doug:
What's that? Did you say hungover?
Liz:
You won't be as tired from being up so late chatting with your new friends, so late into the morning.
Doug:
Tired in quotation marks?
Liz:
"Tired"
Doug:
Well, I did get my swag box and I got some cool stuff, but they did send snacks. So that was good.
Liz:
Have you eaten yours yet?
Doug:
No.
Liz:
Have you seen the pictures? Have you seen the pictures on social media? People are saying I was working today and I got hungry, so I ate it. I have not gotten mine yet.
Doug:
Oh no.
Liz:
I know. I'm sure. Any day now! Any day now. If not, I'll have to go on eBay and buy my own.
Doug:
I'm sure you're connected enough. You can get something.
Liz:
No, I'll just go on eBay and buy my own eBay Open coffee mug because surely there's going to be at least 5,000 entrepreneurs that got free stuff that they can make a buck on.
Doug:
Probably me!
Liz:
If you list it, Hey, if you sell it to me now and don't put it on eBay, I can save you some fees.
Doug:
How about I just send it to you?
Liz:
But anyway, I'm super excited for it. I hope everyone listening and that has signed up for it is excited too. If you have not signed up yet, make sure you do so that doesn't mean you're committed to going to a three-day conference. It means you're signed up and you have access.
Doug:
So Liz, obviously I've been on the eBay side three years and you've been on the seller side three years. So tell me a little bit about, I haven't had that perspective. Tell me a little bit about that perspective. Like how far in advance are you prepping? You know, what do you do? What was the lead-up? What are some of your favorite memories? Obviously, besides meeting me! That's the obvious, you know, greatest memory and again, happy two year anniversary, Liz!
Liz:
Happy anniversary, Doug. Yeah. So I mean, this prepping for this year is totally different than any years of the past. I don't have to go shopping for new clothes and getting a hotel room. Where are we staying? And where's the pre-party and airline tickets and putting my store on vacation. But in the past, so the first eBay Open I went to was the first event that was held that I was a full-time seller. I knew nobody. I think I was a member of maybe one Facebook group. I didn't know what to expect. I heard about it. And I told my husband, I was like, would I be, this is going to cost me a couple grand. I just started selling full time. Should I go? He's like, why not? It's an investment. It's an investment into your business. You can't be, you know, if you think this is going to help you. And I was like, yeah, but I don't know if it'll help me. He's like, well, you're not going to know if you don't go. And so I was like, that is so true. And worst case scenario, I got the slots. I can go play the slots if it's a flop.
Doug:
There you go! Make your money back!
Liz:
Right. So I went, I knew nobody. When I say I knew nobody. I mean, nobody. I walked into that conference. I felt so lost the first hour because I just wandered. And I was like, okay, you know, when you're around other sellers, they're not strangers. They're your automatic friends. They're your automatic coworkers. It's like a three-day water cooler event, really! So it was, you know, the first time I sat down you know, the opening ceremonies or the icebreaker, you sit down, people come and sit down and they're like, Hey, what's your name? What do you sell? Where are you from? You have this automatic connection. I went in thinking, I have nothing in common with anybody here. They're not going to be the same as me. They don't know my history while everybody has a history. Everybody has a career that they did ahead of time where they built these big businesses. I'm like, I'm not a big business. Is it just going to be big business sellers? Are they going to laugh at me? Cause I'm Liz with 500 items, you know, I just really didn't know what to expect. After that first day, walking down the hall, Hey, how's it going? So you do automatically just become friends. That's how Theresa and I met. If you remember all the way back to like episode four, we were at the bowling alley at a concert with, was it Barenaked ladies?
Doug:
Barenaked Ladies, Yeah.
Liz:
So yeah, we were at Brooklyn bowl, the Barenaked ladies playing a concert behind us that eBay had hired to play for us, and another seller that I had just met 20 minutes before was like, Hey, let me introduce you to Teresa Cox and Teresa Cox and I just yelled at each other over the music and swapped numbers. So when you're at these events, you all have something in common and that's selling. And it's something very easy to talk about clearly because I'm on this podcast, just yammering on about selling. So of course that made me want to go back the second year. And the second year I brought a friend of mine who also sells a little bit part time and met even more people. By the third year I was super comfortable. And I was like, do I really want to go into these meetings? Like I would have wanted to just come to hang out with my friends, but I did. And everything was valuable, both from a networking perspective, from a friend perspective and from a true business learning perspective. Everything that I learned has helped me grow as a seller, whether or not I implemented something that I learned right away, or I kept it in the back of my head. And when the time was right, I had implemented changes, but it also taught me how to network. And it taught me how to ask for help when they need help. I learned that it's not, you don't have to be shy to ask for help in this community. I know I could easily contact anybody that I've met and been like, Hey, I remember you were really good at this. I suck at this. Can you help me?
Doug:
Yeah. And people will definitely help.
Liz:
Absolutely.
Doug:
And it's interesting what you said about your first year, because from the other side, that's how I was too. It's like, I didn't know what to expect. I went and we were working the community booth. And so we're going to hang out there and talk about community, talk about seller resources. And I really didn't know that many employees, I didn't know that many sellers. And it was kind of just like you said, it's like, you're not going to get, you don't get much alone time. You're not going to sit by yourself at a table because somebody's going to come sit down with you or somebody is going to grab you and say, sit with us and then ask who you are. And then, you know, everybody, like you said, everybody's got a story. Everybody's got some kind of connection that's relatable and you'll make a lot of friends and a lot of connections. And then the second year, I did some panels and worked the eBay booth. And then the third year I did seller panels, seller influencers using social media and then also hosted them around. And so, you know, that took up a lot of time too, but the more you get, the more you go, the more people you get to know, you could go to eBay Open and not go to any of the panels. They'll probably cringe that I'm saying this and still have an amazing time and still learn a lot because so much other stuff goes on. I was fascinated too, and I don't think I knew about it as much the first year is how many sellers actually have their own events. And then they'll do stuff like they'll rent a suite and then they bring people in. And if there are some influencers that have YouTube shows or they have podcasts and they'll interview other sellers or they'll interview eBay employees, sellers getting together to talk about selling, they'll have their own, you know, own events, own off-site events before, even before or after. And I think the traditional first gathering that first night, that's not an eBay event at all, but that's a known thing that sellers and employees go to. But that's, I don't remember who started that up, but that's not an eBay event. But that's just it too. There's always something going on. And then even, you know, going out at night, you're likely going to bump into sellers out and about.
Liz:
Yeah. That first year I didn't grasp the concept that a lot of those events were open to everyone. And that first year I was like, well, I didn't personally get invited, so I can't go. And that's how I felt. And I didn't really know anybody. So I would go back to my room, which was probably a good thing because the first year I went, I was so overwhelmed. Remember what I said just a little bit ago, if it fails, I can go down and play the slots, either lose my ass or win a ton of money, right? I don't need to be a seller anymore. But honestly, I went back to my room and I just laid there for like an hour because my head, I felt like my brain was on fire with information. And I was like, I need to just jot all of this down like that. I'm starting to remember stuff. But because it was so overwhelming, I was like, this is a lot of information. It was great. Two things that I remember, I know now I don't want to do this online. Now I'm really jonesing for a 2022 Open in person. But two things that stick out to me, because this is Liz, it just went to three Opens, right? Liz, selling stuff from her basement, goes to the first Open. That's great. Go to the second Open. I'm like, okay, I got this down. Now I know which conferences to go to. I know I can go to these seller parties without a personal invite. I can hang out with people and meet more people the final year we're going and going, get done with the event. On the way home I was getting phone calls because I met an eBay employee the final night. And we talked about starting an eBay meetup in the local area. So after Open, I spent a couple of days in Arizona and on the way back was already on calls asking, do you want to set up a local meetup in your town? And that was you.
Doug:
What?!
Liz:
What?
Doug:
I was going to say, sounds like a cool guy. That's actually a funny story, though.
Liz:
It really is. And then, you know, it, however it formed. And we were able to create another meetup in the area eBay sent you and Brian out. And I remember because I think this is your favorite story because it makes you feel like a rock star. So I'll just tell it again, Doug, you know, so eBay sent Doug out and I was like, oh my God! The dude that was on stage is here in my house, talking about eBay. How cool is that? Like, he's like, hold on. I have to take a call. And I'm like, I want to peek because I want to hear what eBay has to say. But that was really cool. So that was like, I mean, all of my experiences with Open was super cool. That's how we met. So another really funny story. I sat down at a table at my first Open and sometimes I overthink things and, you know, what? I sit down at the table, never met any of these sellers before. And I picked this table because it was a lady sitting there in an eBay employee shirt. And I hadn't talked to any eBay employees. I'm like, how cool is this? An eBay employee is talking and all these sellers are listening. I want to hear what they have to say. So I sat down, everybody said, hi, she went on and we went around and introduced ourselves and she's like, okay. I was like, oh yeah. And we talked about where this employee had worked before. And I was like, don't say it Liz, don't overthink it until she's like, yeah. I used to work at XYZ company in San Jose. I'm like, okay, don't say it Liz. Oh, my sister used to work there. Do you know her? No, I didn't say it like that, but you know, in my head I'm like, don't say it that's stupid. Don't say it. She's like, what's your sister's name? My sister-in-law and she worked together for seven years. They're friends. That's why she knew the last name. So how crazy is that? Anyway, we're kind of going on about this.
Doug:
It's a small world. Yeah. Well, but no, the funny thing that Liz referenced, so there was the party on the last night. It ended a little bit early, but people went out. So Liz and her friends had asked me to go with them to a bar to get a drink and we're walking across the way. And that's when Liz and I started talking about starting up a meetup. It's like, where are you from? She told me. And then, yeah, that's what started, kind of started the whole conversation.
Liz:
It was almost a joke. It was just a casual conversation that led to this. So that is our reminiscing, a stroll down memory lane of the fun times we could meet in person and go to Vegas and not sit at the slot machines. Okay. I lied. I sat at the slot machines.
Doug:
Hopefully next year, it's back and bigger than ever. And we'll all be back in Vegas. And then, you know, just reliving memories and Liz, making new memories.
Liz:
Yes. And meeting new friends and playing the new slots.
Doug:
There you go. And if you go to one, I mean, you're going to be hooked. Just a quick tidbit. So the eBay Opens actually started as eBay radio parties, technically in Vegas. And then they just kind of grew from there. And, you know, eBay had done some bigger events and they did events that used to tour. And then they didn't do a lot for a while. And then the eBay Opens came back and even for a bit, that was the main seller outreach that eBay did. And then slowly getting more back into supporting the meetups. And then that kind of grew into retail revivals and eBay upfronts and, you know, before the pandemic, but, and I've said this before on the show, but eBay really had tons of plans to a ton of seller events in 2020 before everything got locked down. They were literally going to do twice as many seller events as they had the year before. I was in a meeting and Jordan Sweetnam had said, I want to go to every state this year, all 50 states. Let's make it happen. And then we were going to do it, but then stuff got locked down.
Liz:
Yeah. But this year we have it online. We do get to spend some time with our friends virtually. I think I'm still going to learn so much from it.
Doug:
Yeah. It's going to be cool. I'm looking forward to it. And then for me, I'm on the other side, so I'm on the seller side now. And so, I'll be listening to some of our friends. We know a lot of the seller presenters, so we'll be listening to them and supporting them and then just learning some new stuff. And then Liz, there's always a big announcement. You know they're going to be saving something.
Liz:
Ah, I know, you know, we tried to get it out of Rebecca, but she's really good at her job.
Doug:
She was tough.
Liz:
Now. I know. So yeah, every year there's normally something announced, which leads into the news, Doug.
News
Doug:
Yes, there is some news this week, a couple interesting things.
Liz:
I was kind of surprised when I opened my email on Monday.
Doug:
And what did you see, Liz, when you opened your email on Monday?
Liz:
So something pretty darn cool. eBay announced external promoted listings.
Doug:
That's one I would have saved for two more weeks! That's a big one!
Liz:
I know! I'm like, wait a minute. If they're announcing this, you know, a week before Open, what do they have planned? So external promoted listings. So would eBay says is one of the key ways we connect buyers to our site and with your inventory is through our marketing investments, which ensure that your listings appear in the external ads on partner sites and search platforms like Google and Bing. So what this email says, you know, I kind of go through, but key points, promoted listings will be featured in these external ads, expanding the reach of sellers, promoted listing campaigns and providing additional listing visibility across the web. So platforms like Google and Bing, your promoted listings will now count towards those sites.
Doug:
Yeah. And that's gonna really, you know, open you up to a lot more traffic.
Liz:
Yeah.
Doug:
That's the main thing. It really boosts those promoted listings.
Liz:
I'm going to be interested to see when now, when we do Google searches, if eBay listings will be more prevalent.
Doug:
Yeah. You know, and it's interesting there's this, this is very high level. The promoted listings will be featured in ads. So they'll kind of be, I guess, like Google ads, you know, that'll run kind of like in banners across the top. And you know, you'll probably be featured with probably be featured with other sellers. So I don't know. We don't know for sure. I don't think so. But, you know, that's kind of the way eBay ads work right now is you'll see kind of a selection of sellers.
Liz:
Yeah. So this is really cool too. So how much is this going to cost me? That's the first thing I'm like, wait a minute. So, cause we've talked about promoted listings and kind of the change that's coming up with the pay-per-click being added. So it was like, okay, so how much is this going to cost me? This is going to be an additional cost. But it's not. It's if you set your eBay promoted listings at 3%, it's the same. So if your external ad brings that buyer onto eBay and they make that purchase, then you're charged that promoted listing fee. However, if you don't want, for some odd reason, I shouldn't say that because I'm sure sellers have reasons for not wanting their items to be shown on external advertising. You can opt out of it.
Doug:
I thought you were going to say for sellers that don't want to sell, but don't want their items to sell!
Liz:
Did I say that?
Doug:
No, that would be a very Griff thing.
Liz:
Griff, did you hear that? I kind of had his voice running through my head as I was wandering. (both laughing)
Doug:
Yeah. Well, I mean, it's a great program and this just really expands it. So that's very exciting.
Liz:
Yeah, It really is. And we'll put a link in the show notes, so you can read more about that.
Doug:
Anything else on promoted listings enhancements?
Liz:
That's all for today, Doug. What do you have?
Doug:
Well, I'm super excited about this, and I know your way on this. So basically as you, if you've been listening to our podcast, you probably hear my super high level and then Liz jumps in and gets the details. So I'm like the Dennis Miller of Monday night football, and then Liz is, you're the John Madden, Liz. Sorry! (both laughing)
Liz:
So are you saying Liz just has an opinion on everything?
Doug:
No. You're the circles and the X's. "What that means is…" So, you know, I'm a fan of Mercari. I mostly sell on eBay and Mercari and even though I can't say Mercari, I say Maccari, I'm a big Mercari fan. I like it. I've, you know, I do find on there. So Mercari just announced Mercari Local. And what's awesome about this is obviously you get to sell local, expands your reach. I really think it's an answer to, you know, Facebook marketplace, no offense. They're having some issues right now, but I think it was a good time for somebody to step in. Obviously eBay has local opportunities as well. But for me, what's really interesting about this, besides the timing, is they've got that thrown in bonus where somebody comes that is contracted by Mercari, they'll pick your stuff up and deliver it. So a lot of people are freaked out. A lot of people won't sell on Craigslist or even Facebook marketplace because they've had issues, security issues, or they're concerned about those type of issues. But I think this is a brilliant move. It kind of takes out that security concern. Somebody's going to come get the stuff, they're going to deliver it for you. And then it's all done.
Liz:
Yeah. I agree with you. I have to tell you when this first came out, I was like, eh, you know, I was very quick to be like a skeptic. And I'll tell you why later, but I've since kind of changed my tune. Most of my stuff isn't eligible for local. So I didn't really, or it's eligible for local, but I don't feel a lot of my stuff people would be like, oh, I want that t-shirt, you know, delivered to my door. But I can totally see the benefit and kudos to Mercari for being the first marketplace to do this. So let's look at the name because there's been some confusion. There's been a lot of talk in the community about this and a couple issues. It's called Mercari Local, not Mercari pickup. Mercari Local, like Doug said, like you said, you know, they send an, so basically you list your item, you can add local as a shipping option and the buyers charge between $7.99. And I think I've seen it up to 25 or 30 bucks delivery fee. Depending on where you're at will depend on how your item is delivered. They're using mostly Uber. There's some cities that is a FedEx one day. So this is powered by Uber. It's mostly Uber drivers, which, okay, so I'm going to first, I just gotta stop really quick and give kudos to the hippie edit. So you can go to Instagram, go to the hippie edit, go to her IGTV she is a seller on Mercari, and she's also an Uber driver. So she kind of gives the details in her IGTV about why this is such a great idea. You know, Uber drivers are vetted.
Doug:
Yeah. There you go.
Liz:
So, you know, your packages come with insurance. So really this is great for things, small items that need to just go across town or large items. I think it's as something like up to the size of your trunk or something that can fit in the trunk of your car.
Doug:
How much junk can you fit in your trunk, Liz?
Liz:
(Laughing) Apparently Katie from the hippieedit, it really breaks it down. And she does just such a great job. I want to repeat everything that she says, because I think her video kind of changed the way I think about it. So go check that out. You list your item, the buyer pays, you set up a time for the Uber driver to come pick up your item or FedEx one day, depending on where you're at, what city. This isn't available to all cities yet. It's available to most major cities. They come and pick it up, they take it and deliver it. Your buyer rates, you and you get paid.
Doug:
There you go. Same day, hippieedits, a friend of the show. Great video. But yeah, both of those sides, the Uber side, the Mercari side. And like you said, they're vetted, so it's safe. And Liz, I did see the email and they have pictures of the driver and the seller and they both seem super happy. So obviously they're nice people too. So keep that in mind. They're smiling. (both laughing) I'm excited about that actually is like, cause I haven't really done any like local pickup on eBay, but this is I think a big one.
Liz:
Yeah. And like you said, you know, it's a safer option, so you're not having to give out your address. There's still a delivery charge. You know, I was hesitant about this at first and here's why. On Mercari I do my own shipping labels. So I offer free shipping and I ship on my own insured through a third party company and I just don't use the Mercari labels because for whatever reason, right? So you can only use local if you select local only or local plus Mercari labels. So, you know, there was some discussion about that in the List Perfectly Facebook group. Somebody is like, well, how can you do your own shipping plus local? And there's really no legal way to do it. So somebody is like, well, I'll just create duplicate listings, sellers beware! It's against Mercari's terms of service.
Doug:
Thanks Liz. Liz would come up with some technicalities.
Liz:
So I told you, Liz has just got something to say about everything.
Doug:
Overthink. That's so cool.
Liz:
So yeah! You can't have both your own free shipping through third party and local pickup because if you do two listings, one with each shipping, you risk your account, it's against the terms of service. So if you have my, for me personally, I will just have to weigh the options. You know, if I list something that I think would be a good candidate for local, I'll just use Mercari labels and either ship via Mercari labels or via local and leave that up to the buyer. Another issue that was raised was a couple accounts, their listings were taken down. A couple of people had listed saying, Hey, I've got Mercari Local! Free pickup. It's actually not free pickup. And if you allude to anything in your listing that pick up or free pickup, that can get your item shut down because Mercari doesn't allow that. Remember this is just local. You don't have to say anything about it in your listing. Once you push that button, the buyer will see that option.
Doug:
Okay. No, that's good to know. That detail is good to know Liz. Thank you.
Liz:
So with all of that, you know, people were like, my listing got taken down. I can't and I was the one saying I can't choose both my own and somebody else's. A newer List Perfectly user, thank you, Kerwin said, "I tried it last night and I woke up to a sale for a local." And he reported that he had a positive experience with Mercari local, like day one.
Doug:
Well, that's good. Well, you know, it's a new thing, so we'll just have to see how it develops, but it's very interesting and exciting.
Liz:
I agree with you. What would really be interesting to see is what platform offers this next.
Doug:
Yeah. Yeah.
Liz:
Because platforms can't sleep on this.
Doug:
That and some kind of fulfillment too.
Liz:
Yes. Hmmmm. Fulfillment?
Doug:
Fulfillment?
Liz:
Fulfillment?
Doug:
Yes. Well, Liz, I mean, there's always e-commerce news, but those are two pretty good ones. So anything else this week?
Liz:
I think that's it. Doug. I'm looking forward to eBay Open next week. Don't forget about the seller community podcast next week. Even with open going on, we will be, we'll still be releasing our regular Wednesday podcast with a very special guest that is super awesome!
Doug:
Yes, exactly!
Liz:
Because I don't say super awesome enough.
Doug:
That's right. We don't take any time off.
Liz:
No.
Doug:
All right.
Liz:
So I think that that is all we have for the week.
Outro
Liz:
So with that, Doug, and everyone listening, thanks for joining us this week on the Seller Community Podcast from List Perfectly for episode 24. This week we talked to Rebecca Michals from eBay and learned all about eBay Open virtual 2021.
Doug:
And Liz and I also shared eBay Open memories and our own unique perspectives. We laughed. We cried. What else did we do, Liz?
Liz:
We had the news.
Doug:
Oh, all right.
Liz:
Some great news. You can find us at thesellercommunitypodcast.com/podcast. Leave a message or ask a question@anchor.fmsellercommunity podcast, or email us at podcast@perfectly.com. You can also post a question in the List Perfectly Facebook group at facebook.com/groups/listperfectly use the hashtag seller community podcast and mention me or Doug.
Doug:
You can listen to us anywhere you listen to podcasts and be sure and subscribe and tell your friends. And we would love you to leave us a review on apple. You can follow us on Instagram @Coloradoreworn, that's Liz. @snoop.dougie, that's me. And of course @listperfectly that's List Perfectly.
Liz:
So can you really tell the difference in my scripted voice and my laid back laughing voice? (laughing).
Doug:
Kind of!
Liz:
Doug, are you ready?
Doug:
Yes.
Liz:
Wrap it up?
Doug:
Yup.
Liz:
And what, what are we going to do?
Doug:
We will…
Liz and Doug:
See you next week!
Doug:
Thanks Liz.
Liz:
Thanks Doug.