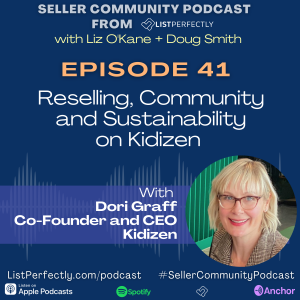 This week we talk with Dori Graff, Co-Founder, and CEO of Kidizen. Find out how Kidizen is committed to its community and sustainability. We also chat about selling kids' clothing and more on the Kidizen app!
The Seller Community Podcast from List Perfectly is the #1 resource for the seller community across all platforms and hub for information on growing your business with List Perfectly. Find out more at listperfectly.com/podcast, leave a message or ask a question at https://anchor.fm/sellercommunitypodcast, or email us at podcast@listperfectly.com.
Overview
This week we talk with Dori Graff, Co-Founder and CEO of Kidizen. Find out how Kidizen is committed to its community and sustainability. We also chat about selling kids' clothing and more on the Kidizen app!
The Seller Community Podcast from List Perfectly is the #1 resource for the seller community across all platforms and hub for information on growing your business with List Perfectly. Find out more at listperfectly.com/podcast, leave a message or ask a question at https://anchor.fm/sellercommunitypodcast, or email us at podcast@listperfectly.com.
If you are new to Kidizen, use code LP5off to get a $5,credit to your account when you sell something.
Listen on Apple Podcasts
Listen on Anchor
Listen on Spotify
Listen on Pocket Casts
Listen on Google Podcasts
Listen on Breaker
Listen on RadioPublic
Links
listperfectly.com/podcast
Listperfectly.com
Seller Community Podcast on Anchor
Listperfectly Facebook Group
coloradoreworn Instagram
coloradoreworn linktree
snoop.dougie Instagram
snoop.dougie linktree
listperfectly Instagram
Episode 41 Links
kidizen.com
Hellokidizen Instagram
Kidizen Twitter
Hellokidizen Facebook
Hellokidizen Pinterest
USPS 2021 Price Changes
Transcript
Intro
Liz:
Welcome to The Seller Community Podcast from List Perfectly. This is episode forty-one. I'm Liz.
Doug:
And I'm Doug. And Liz, I always get excited each week. I know it only increases one episode a week. I do get excited. I'm working on it. I'm very excited about episode forty one and Liz this week. I was super excited to learn about Kidizen, cause I didn't know too much about them. And we had an amazing chat with Dori, the CEO of Kidizen and I learned a ton. I'm interested in Kidizen.
Liz:
Cannot wait to share this interview with our listeners. For those that don't sell on Kidizen, or that think it's just kids clothes, please don't turn it off yet. Stay tuned. Learn more about the Kidizen platform because it's more than just selling used kids' clothes.
Doug:
It's not what you think…
Liz:
There's a lot more to it.
Doug:
Community other aspects, but let me tell you, Liz, this is going to be a surprise to you, but I do have some kids' clothes in my bins. So my wife went out, she bought some Frozen 2 shirts or something when, you know, two or three years ago when the movie came out. And so we're trying to get on the trends, Liz for what's going to sell, like the time we bought the Game of Thrones Oreos, because we thought they'd be big. Cause they were limited, but I ate them.
Liz:
They were limited.
Doug:
I checked the prices and ate them.
Liz:
Right. They were limited. They were just limited on time on your shelf.
Doug:
Yes. Limited into my mouth.
Liz:
Yes. So good week at the Smith household? Everything's good?
Doug:
Busy, you know, still, you know, adjusting stuff. So that's good.
Liz:
Settling into your new job that our community is so excited to have you in.
Doug:
Yes. That's very, very touching and flattering and I am excited about it and I appreciate all the kudos and everybody reaching out. I was actually surprised and humbled that how so many people were like, "oh, this is awesome." So it's good. We're going to do awesome stuff. So yeah. Stay tuned. I guess they would say.
Liz:
Yes. So Doug, I challenge you to be more present in the Facebook Group. I know you already post there. I know you like a lot of stuff. Good. I don't know. What do our listeners think? Should Doug participate in the Facebook Group? Should he list some stuff and share his stacks of packages on Monday morning, his platforms and your Frozen 2 t-shirts?
Doug:
My Frozen Two t-shirts that don't fit me.
Liz:
Tell me how Kidizen is going for you.
Doug:
I do know that's one of the things that definitely is on my list is like, so we moved and I, you know, I put all my stuff on hold, so I gotta get back on it and I will, I will commit to that because you know, now we're towards the end of Q4. So I will get my stuff listed for the holidays.
Liz:
Uh, before the holidays that's going to be key. I don't, I mean, I don't know about any other seller out there…Actually, I do know all the sellers out there are hustling hard and I think I've been pretty quiet this week because I've kind of been doing the same thing. I've got a lot, a lot of inventory to get listed. As a matter of fact, my husband's off today and he's like, "well, maybe I'll take pictures for you." I said," that sounds like a great idea." And he was out the door at eight o'clock this morning. "I got stuff to do. I got to go to Home Depot. I got to go to Lowe's. Maybe I can fit in nine rounds at the golf course." I was like, "okay, I'll take my own pictures."
Doug:
He'd get in the way and mess up your routine.
Liz:
He would slow me down. So you're right.
Doug:
You're right. It's trying to Old School you. "We're going to go to Home Depot, maybe Bed, Bath and Beyond. We don't want to go too crazy." Maybe play some golf. That playing golf takes a long time.
Liz:
I know. Trust me.
Doug:
He'll get home all sweaty. "All right, Liz. I can take some pictures now" and you'll be like, "I'm done."
Liz:
Maybe that's what we'll do on black Friday. We have no plans to go out shopping. We're hosting Thanksgiving at my house. So you know what? Six, nine months ago, my brother, sister-in-law, and niece moved here. My nephew was born. We're going to have them over. So it's not like I'm hosting a big Thanksgiving dinner. I'm having my family over for dinner, which I have not done. Being a military family, being separated from family for a long time. It's probably been a good at least 10 years.
Doug:
Wow. Do you need me to zoom in?
Liz:
Yeah, no, we're good. No, I was like, now I actually have to get dressed on Thanksgiving. We're just, we're like a pajama lounge around the house and eat a bunch of food all day type people. It's going to be nice. We can lounge on the couch in our pajamas.
Doug:
We're going to the in-laws. everybody else's off except me. Kids are off. Mer is off cause she works as an instructional aide now at the middle school. So she's off too. You know? What's good about that though? It's like a good catch-up time. So I think I'll catch up on some stuff. Make some plans. The Seller Community Podcast is brought to each week by List Perfectly for your enjoyment and listening pleasure and show notes are always found at listperfectly.com/podcast.
Liz:
Please stick around after this wonderful interview with Dori, co-founder and CEO of Kidizen. stay tuned and we do have some important reseller news.
Kidizen With Dori Graff
Liz:
Today we are honored to have the co-founder and CEO of Kidizen, in the studio with us. Welcome, Dori.
Dori:
Thank you so much for having me. I really, really appreciate it you guys, I've been listening to you and excited to have a discussion with you.
Doug:
Thank you, Dori. Thanks for being here. Thanks for making the time. So, let's just get right into it. Tell us what Kidizen is for those listeners that aren't familiar with Kidizen.
Dori:
So Kidizen is a resale marketplace for parents to buy and sell kids' clothing, and accessories. We do really anything kid and baby related, so it could be baby essentials or that diaper bag or a sling, you know, that you're no longer using whatever it might be. But I would say that a majority of what we have on Kidizen is apparel and footwear. All of us have stuff in our closets that our kids have never even worn.
New Speaker:
Tell us About Kidizen and how it got started. So, what's the backstory?
Dori:
Mary Fallon and I, Mary Fallon is the other co-founder of Kidizen. We worked together a long time ago at a digital agency and then we became parents at the same time. And so, this was really born out of our own experience as parents. We were kind of shocked by how much stuff comes with having a kid. They're like this tiny little being yet it requires like an immense amount of stuff, and we would have kind of fancied ourselves like minimalists prior to all of this. And then all of a sudden, our homes were like flooded with baby stuff and we recognized how quickly our kids were churning through this stuff. And so, we knew that so much of this stuff already existed and we didn't actually have family in our area. You know, we weren't getting hand-me-downs from anybody. So, we created Kidizen to leverage technology, to create a hand-me-down network of parents all across the country. Sustainability was really a huge piece of why we created Kidizen. You know, again, just there's so much of this stuff already out there as kids churn through it. And it seemed almost excessive in a way to buy all of it new. So, I'm a thrifter at heart. So, I've always been into buying secondhand and, you know, same with Mary. We just created Kidizen to create a community for all parents.
Liz:
Yeah. I love that. Parents are constantly looking for ways to, you know, swap those clothes, swap that gear. And I see it in the Kidizen economy, right? Like parents are like, "Hey, I need to get rid of this stuff." And then with that money, we'll go ahead and just recycle it all the way through, like you, I was a thrifter at heart and that's how I started reselling online is with my used maternity clothes. And my kids' clothes are what kept it all going.
Dori:
Yeah, exactly. And that's the thing that is, I think, unique about kids' stuff is that you're constantly needing to acquire more and getting rid of stuff. Whereas with women's fashion or men's fashion, or, you know, other items, you don't have to buy that, you know, that new dress or, I mean, maybe if you have an event, but I mean, I have stuff in my closet that I probably wore in college. You know, you can hold onto it, but with the kids, you know, you're going to be sending them off to school in a pair of floods. If, you know, you don't size them up, you know, so there's, there's just a much stronger need, you know, versus even a want when it comes to kids' stuff.
Doug:
Let's go a little deeper into what can be sold on the marketplace and maybe a little bit of what can't be sold.
Dori:
So again, you know, anything kid and baby related. So, we have clothing, obviously, accessories, you can do toys, books, babies, essentials, you know, like swaddling blankets and nursery decor. And then we do actually have a section it's our Mamma's section, which is women's clothing. And essentially that was the result of a lot of our sellers saying like, "Hey, we really don't want to have to go to a different platform to list her own stuff. Can you please, you know, let us list it here." So, we do have women's stuff. I would say though, our focus is always, is always going to be on kid and parenting needs, but yes, you can buy. I buy all of my clothes on Kidizen you know, in the Mama section and there's amazing, you know, wonderful stuff there, but our focus is on the kids' items. So, stuff that, you know, we prefer that people don't list, you know, sometimes we get like makeup or homeware, you know, type things that are not specific to like a baby nursery or a kid's room.
Liz:
Absolutely. I think it's always, when I talk to sellers, people are actually surprised because they think kids' clothes and like today, I just listed some crib bedding on Kidizen and I'm like, yeah, you can do nursery items. You know, crib sheets, blankets, you can do the toys, the dolls, the books, like you said, and, and then people find out, oh, well, I can list mama stuff on there too. I can list maternity clothes. I can list those jeans that I outgrew or undergrew, you know, and I think a lot of sellers are really surprised to hear that and it really gets them on the platform. And I think it's very clear when you visit Kidizen isn't that you go on and it is very kid focused, but also sustainability focused. What is the mission of Kidizen?
Dori:
The mission is really centered around connecting families so that we can support one another through sharing ultimately for the betterment of our future generations and our planet. So, I would say that it's, it really is twofold. Sustainability is a piece of it, which is important to us as parents, because we are going to be leaving this planet to our kids, our grandkids, and so forth. And then the other piece is really that connection of families through sharing so that we can support one another through this parenting journey, which is kind of crazy and intense at times. And I think that when we become parents for the first time, it can be a pretty isolating experience. And so, finding a community, yes, this is about buying and selling, but finding that community of other parents where you're getting those items, you know, by yourself, your kids, you know, a new outfit or something. And then it comes with that note from the, you know, the other family. And there's a lot of these connections that happen that is, you know, an outfit that made it through three or four different families. And then, you know, we have photos of all the kids wearing the same outfit.
Dori:
And I think that piece of it is, I mean, because we're talking about our kids, what is more, you know, connected to your, your heart that than that? And sometimes we're passing on items that were, you know, have memories associated. And so, seeing it go to another family is important.
Doug:
I love that you're building a community and you've adjusted to your community. Like I love the Mama category. So, a couple of questions. When did the Mama category come about? And then let's talk about the Hello Kidizen Facebook Group a little bit.
Dori:
The Mama category came about, we were a few years in, so we launched in 2014 originally just as an iOS app. Then we added Android. Web is kind of the third, you know, I would say, I always recommend that people download the Kidizen app because that's where the full feature set is. It's been a couple of years that we've had the Mama category, but it took us a while because we really have been adamant about staying focused on this vertical and not wanting to dilute our community by starting to add all of these other categories. I think that what people really cherish about Kidizen is that it is this community of other parents. And that feels really good, you know? So, we wanted to stay true to that. So intentionally, you know, we knew were like, okay, we wanted to add it because we were hearing from our sellers, you know, they were just, there was a strong voice from our sellers' requesting ads. And we wanted to provide that for them but needed to do it in a way that was, you know, true to who we are.
Doug:
My son is 13. So, my wife, 13, 14 years ago, connected with some moms on a message board and they still keep in touch. So, I think that dads aren't like that. It's like, I have friends that I haven't talked to in five years, they'll be fine, but moms have that special connection and the baby thing, and this is great that you are able to, you know, contribute to that. But they would do some of the same stuff as back before they could, you know, sell stuff, but that connection with moms and it stays beyond having the baby. And when the kids are grown up, they keep in touch. And it's like you said, too, you're providing a means for them to also keep in touch, develop that community and maintain that connection.
Dori:
There are so many people that will one, talk about how, you know, they came to Kidizen and for a very practical reason to buy or sell, but they have stayed because of the community. And people have friends through Kidizen, which just blows my mind. But I love hearing the stories of people having really good, strong friendships with other moms. And they met through Kidizen and, you know, pre-COVID. We would, you know, see posts on Facebook and Instagram of people getting together, you know, in-person meetups and, you know, connecting now in other ways, since we can't do the in-person quite as much or not. And it's, I love it. I love it. I love seeing that we've done meetups here in Minneapolis and it's always so great to like, you know, see the faces and it's, yeah, it's so energized and fun.
Liz:
Hello Kidizen Is, the Facebook Group and absolutely following all the other social channels. We'll put links in the show notes and, you know, even my kids are 25 and 19, so they're older, but I still just, like Doug said, you know, feel that connection with the moms or even helping out the younger moms, you know, that may look, it'd be like, oh my gosh, how did you guys do this? And you know what? I still feel that it's not just about selling stuff. Yeah. I mean, it is about selling stuff, but there is that deeper connection and there's the deeper connection on the Kidizen app too, with different groups that you've created. And I love that so much. Yeah.
Dori:
Yeah. Hello Kidizen is so fun because that is, you know, we have people in Hello Kidizen and that, you know, were started on Kidizen, and back when we launched, like in the early days, like before we even had payment processing, like, available we started very lean in the, in the beginning, and they're still with us. And a lot of them are in the Hello Kidizen Facebook group. And they, you know, over the years it's evolved, but there's a lot of activities that happen in Hello Kidizen. But also, in the Hello Kidizen app as well that our user run in generated groups, and activities of all sorts, you know, everything from, you know, share groups, which would be a common thing that's happening. That happens a lot too. You know, we have a group of users who run what they call KidConomy which is a big, you know, now it's a big deal. But it's all, you know, that did not come from, from us that was user generated and run, users get together and do giveaways. And, you know, there'll be for a long time on Hello Kidizen. And there was like a lady's night on Thursday night and like all these other like fun sort of activities that they, you know, that they do together. Yeah, I love it.
Doug:
This conversation is going on out there and you guys can participate and bring it to you. And you've got the KidConomy, you've got the Kidizen site. You've got Hello Kidizen, you've got the blog, your community. And so, you've got that community connection, but we also touched on sustainability a little bit early on, and that's something that's blown me away that I've learned so much more over the last year. So, let's talk about that. You know, how Kidizen helps with sustainability, how you got involved in sustainability and what it means to you.
Dori:
You know, it's interesting that a lot of us you know, any parent is going to have that, you know, bins or piles of stuff that your kids have outgrown. We need to do something with it. I think a lot of us have donated stuff in the past and feel like good about doing that. But the reality is that I think only 15% of the stuff that you donate actually makes it to another family. The rest is, you know, is still ending up in landfills and other places that isn't great for it, for the planet. Obviously giving it to other families is another option as well, which is wonderful if they want and need it. But I do think that oftentimes as parents, you know, you have friends that are unloading stuff and your kind of like, yeah, okay. I have enough, like it's not always the right season or the right style. And so, for us reselling is, is a way of guaranteeing it's going to somebody else who wants it, needs it, and is going to use it. And I think that that is important for people to understand when they're thinking about the options that they have when they're done with items, right?
Liz:
What stands out to me, is Sendle and the brand partners, like when you recycle, you can get those, like, those really stand out to me. Like Doug, I have never had this. Maybe I don't know why, but this sustainability mindset until the last couple of years, and it's really all stuck out to me. And those are things that stuck out to me.
Dori:
Yeah. And I think it's hitting us hard right now, worldwide the problem that we're faced with, and that we're going to leave to our kids. The shipping piece of it was important for us to find a partner. Sendle is carbon neutral. So, they offset any carbon emissions that are produced when we're shipping this stuff, which is the one downside to doing it the way that we do it, where items are shipped. It is really important to us to have that partnership that helps us to that piece of it more sustainable. And then the brand partnerships are also really critical to our mission because it's really about helping other brands, help their customers extend the life of the things that they purchase. So, we're all about buying high quality items that will last right? Fast fashion, it's unfortunate, right? You're going to, it's kind of like disposable clothes. You know, you're going to wear it once it's going to fall apart, you're going to throw it away. So, you know, we believe in buying higher quality items that will last. Most of the folks on Kidizen buying new, as well as used, you know, it's a mix of things, but we recognize that higher quality items are gonna cost more. And that's tough. So, getting people in the mindset of understanding, okay, I'm going to buy this pair of shoes and they're going to cost $50. And that's a lot knowing that my kid's probably gonna outgrow them in about two months knowing, you know, that they can be resold for $35. And that is a much better option than buying the $15 shoes that might even fall apart, you know, in the next, however long.
Dori:
So, getting people in that mindset of knowing, okay, I can buy something, I can access items that are higher quality. I can resell it to make my money back, to get a return on my investment. And ultimately that's going to be a much better process for the planet versus the other options that we have. So, working with brands and helping them tell that story about the resale value of the things that you can purchase and then making it easy for their customers to extend the life of those items. That's a big piece of where we're headed in moving forward. And then I would say the other big piece of where we're headed is a heavy focus on our Style Scout program. It is pretty unique to Kidizen. As in, again, we're leveraging our community really to take the next step, both in terms of helping other families consign the things that they have when they don't have the time, but also supporting… We have Power Sellers now, you know, all across the country who are ready to take their business to the next level, they're ready to go beyond just the selling, the items that their kids have outgrown. And so, we saw it organically happen where people were instinctively, you know, taking on items from friends or family or other people in their neighborhood. And so, we made that an official program where people can become Style Scouts, which is, you know, they're not employees of Kidizen, but they are, they are given the tools that they need to be basically a white glove consigner that will sell on behalf of other families in their neighborhoods. So, they literally go and make house calls and we'll pick up the items and they have clients. And then on the backend Kidizen supports it with all of the accounting that happens. So, Style Scouts have a certain, you know, set up in our system where they, when they list something, they can assign it to a client who also has an account on Kidizen.
Dori:
They can determine what that percentage split is between the two. And then when those items sell, the, the split automatically occurs. So, after shipping and fees and whatnot, the client gets money into her account. And then she can either use those funds to buy on Kidizen, or she can cash them out to her bank account or to PayPal. So, it makes it really easy for the Style Scouts to manage all of the accounting side. When you have a bunch of clients and you have money, yeah. You need to pay out all over the place. You know that piece of it is a lot easier. And then we help our Scouts with finding clients. We do have a Scout Finder on the website. So, if you go to Kidizen and then you go to Sell, it'll ask you whether or not you want to sell yourself, or do you want to work with a Style Scout. And we have about 150 across the country. So now we have Scouts in, you know, most kind of large areas across the country. So, you can find one that's near you. And then you connect with her through Kidizen you know, set up an appointment and whatnot, I would say, it's the easiest, most profitable way to consign your kids' stuff. If you don't want to list it and sell it yourself, plus our Scouts understand what the resale value is of a lot of the stuff that you have. Whereas, you know, you're not always sure if you take it to your local consignment store, if they understand that that's like something really nice or a really good brand, or really high-quality item, and you don't want to get, you know, $2…
Liz:
Okay, well, and not only that, I can see that, you know, some moms have the setup for it, and they have the mindset for it. They know how to, you know, I've got a picture set up and I knew that I can take pictures while my children, or at school or at their, at this to where the other mom has a lot of stuff, but they don't have the setup and they don't have the time. It's kind of that perfect marriage. I knew of Style Scouts. I didn't know exactly how it worked, but that is amazing that Kidizen, has that whole back end for both the buyers and the sellers. And what I really love. We're sitting here talking about recycled goods, but what also resonates in my head is you could just recycle that money, too. It all stays right there. Like I have a balance on Kidizen, from some sales I can go in right now and take that money and buy something, used, wear it, sell something. And it just kind of all right, it's that circular economy there on the app.
Dori:
That. Absolutely. The Style Scouts allow us to bring that to people who might not have otherwise considered selling on, Kidizen and they just don't have the time or whatever. And I think a lot of people, you know, it's not for everybody. You know, and a lot of people are hesitant to sell because, they're like, well, then I have to figure out the shipping. And then I have to like, do all of this other stuff. I think in time. So many people come on Kidizen just as buyers. And then they see how easy it is to sell. And they want to be able to fund, as their kids size up, those purchases. And so, they, they learn how to do it and it really, as you know, it's not that hard, right? But I think it can be overwhelming to some who are just not ready to do that. And then the other piece of the Style Scout program is that it helps to support our brand partnerships. Brands have a lot of inventory that may end up in landfills or other places that aren't that great. And we are happy to take that on. So, whether it's like returns, which are difficult for brands to…it's a pain point for them, right. Because they have to reinventory it sometimes it's, you know, damaged or they're no longer selling it and whatnot. So, returns are one overstock, might be samples or slightly damaged and whatnot. So, with a lot of our brand partners, we're able to channel that inventory to our style Scouts and they resell it. And it's the same setup where essentially the brand is the client.
Dori:
And so, they're selling it and doing a percentage split and the brand makes back money and our Scouts make money. And it's a great way for them to access more inventory and really good inventory. So, in a lot of locations, we're able to set up the connection between the brand and it might even just be like the warehouse person or the brand. And they do regular pickups once a month. They'll go and pick up the returns or whatever overstock inventory. They have a home and do that on a regular basis. So, we like that piece of it because it helps our brands, but it also helps our Scouts grow their businesses and access more inventory that they might not have been able to access otherwise.
Liz:
Yeah. And the customers get access to maybe some discounted things that they don't mind if the tags are removed or, you know, there's this tiny flaw because their child's only going to wear it for two months anyways.
Dori:
Yeah.
Liz:
So, it's like a whole win all the way around. I did not know that with the brands and the Style Scouts. That's so interesting. I'll have to see what's in Colorado.
Dori:
Yeah. It's tough because we don't like to overpromise it, you know, because it really is dependent on where you're located and where our brands are located and whether or not there's like that location match up.
New Speaker:
What's Next for Kidizen and for the community?
Dori:
The brand partnerships are a big one for us. I think that we're at a point when we talked to brands years ago, they're like resale, I'm not going to get, you know, it was kind of like the early days of social media when brands were like, I don't want to get involved with social media. People are going to be saying things that we can't control. And now social media is like the number one marketing platform for most brands. We're seeing that sort of evolution happening with resale right now, when we talk to a lot of brands years ago, they're like, oh, not resell that is going to damage my brand, or it's going to cannibalize my business, or it's going to, you know, the best brands out there have a really passionate reseller community. Like those are the brands we, and we can see them like brands that are doing really well on Kidizen and that have like a really passionate community around them. Those are the ones that are going to survive and thrive. And you know, we can kind of, we have like indicators of like that brand that one's going to, that one's going to do well so it's something that they really should be embracing. I mean, obviously I'm biased, but both Mary and I actually come from like a marketing brand building background. So, we're able to see a lot of what's happening on Kidizen through that lens. And we're like, this is amazing. The, the amount of brand discovery that happens on Kidizen, it's amazing. Especially parents where you're you become a parent and you're entering this whole new world, whole new set of brands that you never knew about before.
Dori:
And you have other moms telling you what the good ones are and, you know, it's perfect. It's a quick, fast way to make that introduction into the product world as a parent. So, I think, you know, brands now are starting to understand that, okay, yes, resale is something that I need to embrace. I need to support. And it is a great way for me to show our commitment to sustainability, to show our commitment to quality products, right. The ones that are getting into resale are the brands that have high quality products that can last. So yeah, where we're headed is really to help facilitate a lot of that for brands and to be their resale partner. You know, we want to take the top kid brands out there and be their resell partner and really help them because parents want that handful of brands that they can trust because as their kids churn through sizes and they're having to like, okay, buy three size, three months, then six months, then nine, then twelve month, and then, you know, and so on and so forth, you don't, you don't want to have to like, stop and think you want to just be able to go back to that, that trusted and those products that, you know, your kids will like, and that will feel good on their skin and whatnot. And so, helping brands establish that sort of, cyclical process with their customer base, I think is something that we can certainly provide and help them, thrive. And we want the good brands, like you know, the ones that are made out of good material, and that will last and that are committed to sustainability. We want to help them because it goes back to our core mission.
Liz:
I can totally see that as a mom, you know, like, hey, that brand, I, I think it's great, but I can't afford a $40 t-shirt, I'll get it used on Kidizen for $25 and I fall in love with it. And I see it. And I'm like, okay, now I don't mind spending that on their quality products because I have two kids and it can just be handed down and then I can sell it again, you know? And so, the brand, and just like you said, the brand, sees that, and I see that with Kidizen, and I see that as a mom. And I see that, you know, just in other brand fashion.
Dori:
Yeah, absolutely.
Doug:
I'm and adult-ish.
Liz:
What!?
New Speaker:
My wardrobe, I pretty much, I kind of have a uniform. It's like jeans and t-shirts, but it's interesting too, with my son recently, I mean, he's very brand conscious. So, it's like skate brands and things like that. And you know, you try to teach them about money as teenagers and all that. And so now he's, there's this pair of Air Jordans that he wants and they're around a hundred bucks, which is pretty good for a vintage Air Jordans. So, it's like that. Maybe we can, I mean, that's not too bad, but on the other hand, so I don't know if you ladies know this, but Crocs are back and they're big. I couldn't believe I never liked them. I mean, they're comfy. I've never liked them, but the kids are wearing them. I think he wore his red Crocs to school today. Then they decorate them with the little pins. There's this pair of collectible $800 Kentucky Fried Chicken Crocs that he wants that smell like chicken. No!
Dori:
No! Who wants their shoes smelling like chicken?
Doug:
Exactly. And I said, well, you know…
Dori:
Especially when you're a teen boy, those shoes all smell like sweaty chicken.
Doug:
Exactly. His feet probably already do smell like sweaty chicken. But I said, "no, I'm not buying those for you." And he said, "well, I'll save up for them." It's like, first of all, "you have no income and I'm not going to let you save up to buy $800 Crocs."
Dori:
As parents, we've got to help them not make bad choices.
Liz:
Be it sustainable, and nobody else is going to be wearing it. You know,
Dori:
That's the thing that makes resales cool. Now, in so many ways, it was stuff that you can find on Kidizen isn't for your kid is so much more interesting than going to the mall and buying the same thing that everybody else on the playground is going to have. I mean, we have people who are into vintage kids' stuff, you know, there's handmade stuff. There's just so much more variety, you know, and the parents that are on Kidizen are the ones that are like, you know, they want more unique options when they're shopping for their kids. And that's what resell can provide you.
Liz:
I love that. What you said, like the vintage brands, it just takes me back to the, to the nineties, Oshkosh bibs that are hot, that parents are going after because they wore them.
Dori:
Yeah, exactly.
Liz:
Like, oh, I bought those for my son. I should have held on to them for 25 years. But it's so interesting to see that that that is hot. And that is back in, that is what the younger parents want.
Dori:
It is cool to see like the heritage brands like that, you know, do that, like Oshkosh it's a heritage brand. And, you know, they're, they're built to last, you know, they certainly were, you know, back in the eighties and nineties…
Doug:
Well, I'll go back farther because you're triggering memories. Buster Browns and, remember Garanimals, you would match animals, right? And there's your outfit. That's great. From a brand perspective, you've built this community and with that comes that brand loyalty. And then the marketplace loyalty and, people are sticking around. The kids are getting involved. That's great. And so, we've covered a lot. Is there anything else that we didn't cover or anything else you'd like to add?
Dori:
You know, I would, I would love to hear from, you know, and anybody is welcome to reach out to us, you know, hello@kidizen.com is a great way to get ahold of us. We would love your feedback. We always love hearing from our community and what they're needing and wanting. And we have conversations with our team all the time about, you know, we have a roadmap and items on the backlog and all these, the feature set that we think is going to make Kidizen a better platform. And then, you know, we hear from our community and they're like, "really what we need or want is this…" And we're like, really, wow, I didn't know of that, but it does require us to stay very close and connected. Hello Kidizen allows us to stay close and connected and really hear what people are wanting.
Dori:
But we love those emails from people who, you know, just like, okay, Kidizen, here's some feedback. Then they just like lay it out you know, because ultimately, we want to make this easier and better, for our community. We want to make it easier for more people to start selling. I think that the world is going through this sort of transition right now, where people are embracing resale more and more, and we want to open up Kidizen to folks so that they can see how great it can be. You know, how shopping on Kidizen, it feels good. It feels good to buy from another family. It feels good, for your money to go directly to somebody else, it feels good to get something from another family that often has the handwritten note on it and to connect them. And then it doesn't always have to be, that personal, it's a fun way to shop. It really is.
Liz:
I appreciate you taking the time. I know you're busy. I cannot imagine. So, we really, really appreciate your time and coming on and sharing all of your thoughts and sharing Kidizen in with us.
Dori:
Yeah. Absolutely
Doug:
It's great to see a company like Kidizen that is doing this, creating this community that has a sustainability focus, but I love too what you said about listening to the community and putting that, "oh, we hadn't even thought about that" because that's what you have to do. You have to listen to your people because that builds into the loyalty. And sometimes it's super hard to steer that big bus. It takes some time.
Dori:
I know that a lot of your listeners are sellers, and you know, are selling on other platforms, which, you know, I think that selling on any platform is wonderful, because you're, doing a great thing. Cause I do think that you have a very captive audience here of people shopping specifically for kids' stuff. I think that we do get some misconceptions about our fees. We'll often see comments like, the app reviews saying that our fees are high, but actually they're lower than most. Our fee is 12% plus 50 cents. So, when you compare it to other marketplaces, it is a lower fee. Then the other piece that is shipping the way we've structured, our shipping is specific to kids' items, because you don't want to spend $7 to ship a onesie. So, the way we have structured our shipping is to accommodate the lighter weight items. So essentially how it works is as a seller, you can price things by saying, this is $20 shipping included, or you can price it and say, this is $15 plus $5 for shipping. Really. It's just a matter of how you want to show the price. And then when you sell the item, you're given options in terms of the different shipping labels you can purchase through Kidizen, you don't have to, you can buy your shipping anywhere and just enter in the tracking, shopping for kids. I mean, depending on who you are, it's not fun for everybody. It is a lot of fun. It's a lot more guilt-free than shopping for yourself. You know, we get so many moms of kiddos and, you know, talking about how they, they love to shop for their kids, and they will buy all sorts of like wonderful things. And then they look at them, you know what they're wearing. And when you have a kid, you turn that phone camera around and you're no longer doing selfies, you're just following the kids around and taking their photo. So, you'll dress them nice.
Liz:
Yep. And then when you're a grandparent, you're like, "oh, I can just do both."
Dori:
Now I can dress myself and the kids. And now, you know, a goal of mine is one of these holiday seasons, we're going to get people really willing to buy secondhand for gift giving. And I would say that, especially for like the younger kids, their toys don't have to be brand new. Cause they're not going to know. And it's a great age at which to get them into the habit of like, you know, secondhand is fine. It's great. It's, you know, just as good as new. Exactly. Yeah. Yeah. So, you know, I really hope that maybe, you know, hopefully this is the holiday season where people are like, yes, I'm going to buy, I'm going to consider secondhand. Well, thank you so much. You guys, this has been great,
Doug:
Thank you so much Dori. We really appreciate you joining us and taking the time and telling us all about Kidizen.
Dori:
Appreciate it.
Liz:
Thank you so much.
Reseller News
Liz:
So Doug, what a great, great time with Dori. I had so much fun talking to Dori, co-founder and CEO of Kidizen and I hope our listeners learned a lot from her.
Doug:
Yeah. It was a great chat. And I learned a ton about Kidizen that I didn't know. I mean, I knew it was more than kids' clothes, but there were a lot of things I didn't know about. I love the community aspect of it that we talked about. I love obviously it ties into the mom community, which is huge and it gives them a spot and it's just, it's a platform that goes beyond buying and selling stuff. And I love too that she talked about how they really take feedback from their community and they put it into the app because they are an app. I thought that was interesting too. And then I really loved the idea of those Kidizen Style Scouts that basically help people sell their stuff.
Liz:
But that was really interesting. I did learn a lot about that with the Style Scouts. I love how they handle all of the finances internally. That was new to me. I did not know that. You know, and, and like you said, the community, they do have quite a large community and the community has grown together. Seller initiated events like KidConomy. I don't even know how to explain this. I could probably go on for another 30 minutes. So if you're interested to learn what KidConomy is, it's essentially a big sale and buying and selling event that happens a couple times a year that the community puts on. Go to the Hello Kidizen Facebook page and just type in KidConomy. And you'll learn a lot about that. I think that there might be one coming up. We learned about the Style Scouts. You could even go and learn what a hashflash sale is to where you can maximize your hashtags in Kidizen. One of the things that you did point out is that they are an app and that they are, they have web capabilities. So they do have a website, but you don't get the full capabilities from the website.
Liz:
So they are app based, they do have a website, but you don't get all of the features on the web. So you do have to go to the app, which is perfectly fine. I'm not an API person. I do all my listing. You know, I do my pictures and stuff on my phone, but I do all of my listing and shipping and everything from my desktop, but I have no problem going to the Kidizen app and ordering a label or communicating with my buyers. It's pretty simple. They make everything pretty straightforward. As a matter of fact, they just did. I just started a promoted listing campaign. So maybe I'll report back, see what I did. I learned more from Dori. I don't have a lot of kids' clothes, so that's probably why I don't sell a whole lot on Kidizen, but I do have it. And it's literally with the List Perfectly Pro Plan. It is literally like three clicks to get my item listed.
Liz:
And one of the things that Dori did mention was their fees and that's kind of something that I wanted to point out and explain, and they have it on their website but I think some people get confused about it. It is a flat 12% plus 50 cent processing fee. Your money just goes into your little piggy bank and Kidizen and when you're ready to cash out, you can cash out, put it directly to your account. There's no fee for doing that. Or you can spend your balance in the app. Here's the thing: they charge the 12%. But if you buy your label via Kidizen, so if you use a Kidixen generated label, you're not charged the fee on that, on the shipping fee. So it's like, I had an item–here's a quick breakdown. I had an item for $40 and free shipping. I bought the shipping label. That was $4 and 10 cents, which left me with $35 and 90 cents. I was only assessed the 12% fee on $35 and 90 cents and not the entire $40. So all in all, I was only charged $4 and 81 cents for this $40 item. So yeah. Something to think about.
Doug:
So wait a minute, Liz, I think we do have a special tidbit that we can share with the listeners that's Kidizen related. So I will let you drop that special thing…
Liz:
So, yeah, if you are new to Kidizen, as in you haven't downloaded the app yet, you haven't sold there yet. You can use code LP5off. So LP the number five O F F. And we'll put that in the show notes to get a $5, credit to your account when you sell something.
Doug:
Cool. There you go.
Doug:
So we've got some news this week, Liz. It's something that's been on the horizon coming down. The IRS wants their money.
Liz:
They do. And we've talked about this and it's been talked about many times. Hopefully our listeners are very much aware that if you're selling online, if you have Zelle cash app, Mercari, any of the selling platforms, if you're selling over 600 bucks, that platform wants to know your personal information so that they can send you a 1099 at the end of the year for anything over 600 bucks.
Doug:
That's the new adjustment. I know a lot of people that have been flying under the radar for years, actually.
Liz:
Yeah. I didn't realize how many people there were until I started reading a bunch of Facebook groups and people are kind of freaking out a little bit about this. They're like, "wait a minute." You know anywhere from "I made sure that I only sold $15,000 a year, so I wouldn't get caught." Or "what if I just sell stuff from my garage now, what if I sell something for $700? You know, now I'm going to get a 1099. OK, how do I deal with that?"
Doug:
You should maybe see an accountant or a tax person, because as a small business, there are going to be plenty of business write-offs that you may not be aware of. You'd probably be surprised, the amount of stuff you can write off if you had the advice of a tax person or accountant.
Liz:
Yeah. So my whole entire advice is consult a CPA. Consult a tax person that knows about e-commerce sales.
Doug:
You want more bad news?
Liz:
Left hand, right hand, pick a hand.
Doug:
This must be USPS related…
Liz:
So yeah, Doug, there is a new fee that USPS will be implementing for oversize packages. So typically you have to put in the package dimensions and the weight when you mail an item. So say if I have a box that's 18 inches long by 10 inches tall by 12 inches wide. I don't know. USPS does have dimensional restrictions on packages. Some people do not put in those dimensions and they go over the allotted dimensional size. So this dollar 50 cent fee will be assessed on parcels that are greater than one cubic foot or with a length greater than 22 inches. If the customer did not provide dimensions or provided inaccurate dimensions in an electronic manifest file. We can put a link in the show notes of the 29 page USPS document that covers their fees because there's a lot that's going on also with priority mail express dimension, a weight and additional fees for oversized packages. If you do not indicate that they are oversized packages and pay that dimensional fee or that the price for the dimensional package.
Doug:
Poshmark is turning 10. So, you know, you turn 10, you've got to do something big I guess. This is an interesting announcement this week.
Liz:
Poshmark introduces an electronics category. And I say mostly good news because I was celebrating. I was like, "this is great. Poshmark is expanding." And I started reading different social media channels and some sellers are like, "I don't know about this. They're getting away from their core."
Doug:
Poshmark wants to grow electronics. You know, probably across the board, if you sell them, it's a huge category, good money maker, always active. People are always looking for stuff and it's such a broad category as well. I kinda think maybe there are other categories they should have added before this, like maybe books to help me out. Maybe that might make a little more sense. Maybe books, maybe collectibles…
Liz:
They have a full list of the electronics that can be listed. And when you go to list, you can see them in the drop down menus, but it is mostly things that are smaller. They've got cameras, photo and video, cell phones and accessories, computers, laptops . And then there's tablets and accessories, video games and consoles, VR, AR and accessories, wearables. So wearables are things like electronic glasses. So, you know, you've got the camera glasses, smartwatch cases, wearable chargers, body mounted cameras. And then you've got headphones and media and networking and the list goes on and on categories. Right. And it's mostly all smaller stuff. And I went through this and I looked and I'm like, well, Poshmark shipping is $7 and 45 cents as of the day of this recording, for anything up to five pounds. And I looked through this list and I'm like, pretty much, everything's under five pounds as an individual item. Here's the thing they have to grow. There are so many clothing apps and sites to sell on that are clothing specific. They have competition. And when you look at Poshmark, like we're in the US, we can only ship to the US we're kind of limited. When you look at, you know, Depop, I can ship international, eBay I can ship international. So I think that they kind of had to do something.
Doug:
But you know, also there's a lot of money in electronics and it's always a solid, always a solid seller for the marketplaces. I'm sure it still is the number one category on eBay, you know?
Liz:
But Poshmark is like Facebook, right? They keep you on the app. "Sell something. Share your stuff, style it, get in with your Posh and Sip, keep your money on the site. Oh, hey, by the way you have a credit, you can buy this. You might be interested in this. You already have free money sitting in your account." So what else do we have, Doug?
Doug:
I think that's all the news that fits this week, Liz.
Liz:
I could have talked to Dori for another hour. I really hope that she comes back on the podcast. You know, I hope that when they have something cool or breaking or something that they want to share with their community, that she sends us an email and says, "hey, let's do this again on the podcast." And that we can work with her and work with Lidizen more closely to bring that news from that platform.
Outro
Liz:
Thanks for joining us this week on The Seller Community Podcast from List Perfectly. This week, we talked to Dori Graff co-founder and CEO of Kidizen and we have some great and not so great news.
Doug:
Yeah. I always let Liz take the bad news. She's better than I am. It's total like a mom and dad thing is like, "Mom's got something to tell you. When you're done you can come to dad for comfort."
Liz:
So everybody flood Doug's inbox…
Doug:
There you go.
Liz:
For sympathy because mom doesn't do that.
Doug:
And that's true. Mom tells it like it is!
Liz:
I don't, I don't, I don't do that.
Doug:
You can find us that list perfectly.com/podcast. That's where you'll also find show notes with all supplemental information links. Anything else we add in there? You can leave a message or ask a question at anchor.fm/seller community podcast. You can also email us at podcast at listsperfectly.com. If you have a question, you can also always post it in the Facebook group, which is facebook.com/groups/listperfectly. And you can use the #sellercommunitypodcast or mention Liz or Doug.
Liz:
Since you are listening to us, you know how to find us. However we want to remind you that you can listen to us anywhere you listen to podcasts and be sure to subscribe, tell your friends. And if you're listening on Apple Podcasts, we would love it if you would leave us a review. And if you're new to List Perfectly, or if you're ready for an upgrade, you can use our promo code podcast for 30% off your first month of List Perfectly or 30% off your first upgrade. Thank you for tuning in. And we'll…
Liz and Doug:
See you next week…
Liz:
Where are you at, man? That was slow.
Doug:
That was perfect! It's like a, it's like a, it's like a delayed harmony. I'm backin' you up, I'm like your, your deeper reverb.
Liz:
I don't know. Your voice kind of goes up.
Doug:
Because I gotta match you at the end.