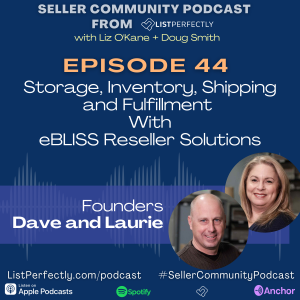 Overview
This week, Dave and Laurie Bilyeu of eBliss Reseller Solution join us to discuss selling, sourcing, and how their business helps resellers with storage, inventory, shipping and fulfillment solution options.
The Seller Community Podcast from List Perfectly is the #1 resource for the seller community across all platforms and hub for information on growing your business with List Perfectly. Find out more at listperfectly.com/podcast, leave a message or ask a question at anchor.fm/sellercommunitypodcast, or email us at podcast@listperfectly.com.
Listen on Apple Podcasts
Listen on Anchor
Listen on Spotify
Listen on Pocket Casts
Listen on Google Podcasts
Listen on Breaker
Listen on RadioPublic
Links
listperfectly.com/podcast
Listperfectly.com
Seller Community Podcast on Anchor
Listperfectly Facebook Group
coloradoreworn Instagram
coloradoreworn linktree
snoop.dougie Instagram
snoop.dougie linktree
listperfectly Instagram
Episode 44 Links
eblissreseller.com
eBliss Reseller Facebook
eBliss Reseller Linkedin
eBliss Reseller Instagram
eBliss Reseller YouTube
USPS 2022 Rate Announcement
Pirate Ship USPS 2022 Rate Announcement
Transcript
Intro
Doug:
So Liz, last week's episode, was very popular, very exciting. It's our quickest to 300 and that was just us. So what's the difference? Scientifically, just us.
Liz:
Uh Huh. <affirmative>.
New Speaker:
The new picture was taken in Las Vegas under the orange neon lights. That could be it.
Liz:
Fremont Street, yes.
New Speaker:
Fremont street, yeah. Liz was getting a lower back tattoo at the time. <laugh>.
Liz:
I think we watched somebody get a back tattoo.
Doug:
Yeah. Oh yeah. We did.
Liz:
We did, from the balcony.
Doug:
That's right.
Liz:
Wherever we were having our meet and greet party. I don't think it was doing well because it was you and I, because clearly we have some of the best guests in the industry on our show.
Doug:
That is true.
Liz:
So I don't think that had anything to do with it. You know what I think it is. Doug, sellers are super busy. They're not out running around. They are stuck in their house, packaging up a ton of orders. And they're tuned in and listening. And I'm happy. I'm happy about that.
Doug:
They need something to listen to. I am stoked now. We've had, we've had a good year. It's been a good run, Liz.
Liz:
Yeah. We're not done with the year yet though. Let's not close out 2021 yet.
Doug:
Let's not go too crazy. And I don't wanna tease it too much, but we got, we got some big stuff coming. I am excited for next year. This year's been great, but we've got some big stuff coming. Liz just asked me like, you know, what I did over the last week and you know, Liz and I do a lot together, but particularly last week we had the episode. We had our live cast. That was another hit. I think it was, I call it The Seller Community Podcast Holiday Special.
Liz:
Yeah. It was fun. Except for Liz bombed all of the answers to the questions that you asked me. Mm. I literally, we got done recording that. livecast and then I went to a List Perfectly referral meeting where Amanda talked to some of the List Perfectly referral members about things that are up and coming about some of that stuff. And then I went upstairs and John, my husband, asked, "So how did it go?" And I'm like, "I'm a loser." <laugh> he's like "what?" I'm like, I was like, "Doug was asking me, what's your favorite Christmas movie?" He's like, "oh, you don't have one." <Laugh> he already knows. We will watch a movie together. And I'm like, "I don't, what did we just watch? What was the name of that?" He totally got it. He got it. He's like, "oh my gosh, you told them about U2.
Doug:
If you didn't, you should go back and watch the live cast on the List Perfectly YouTube channel. So I asked Liz, what was her favorite holiday movie? What was her favorite Christmas/holiday song or album or something like that? And then tradition. She didn't have a holiday movie. They listen to a particular U2 album because they got it one Christmas and they liked it. And her holiday tradition is listening to a particular U2 album each year because they got it and liked it.
Liz:
Uh, so what we've learned from Liz is that my life is totally uneventful. I have no hobbies. I have no taste in music. I have no taste in it, actually. I'm not gonna say that because I do like YouTube. It's not my only genre. I listen to a wide genre of music. I don't watch TV. I have no traditions and I'm boring.
Doug:
You're not boring, but I'll bet you come up with some traditions and movies and songs this year. You can't be so specific. You're not as specific as me with U2. WhereI prefer their middle period from, Rattle and Hum up through, Achtung Baby.
Liz:
Right. But we got to learn about the same answers from Doug. So we got to listen to Doug's favorites <laugh> and since it was the live show, what I like the best is we got to hear from our listeners that joined us live in our live chat.
Doug:
That's true. Some great answers too.
Liz:
Yeah. So it was great to do that. I'm happy that we are doing our lives once a month.
Doug:
Yes. Very fun.
Liz:
So, Doug, what did you do this week after we did the live chat? How was the rest of your week? How was your week?
Doug:
What did I do? Let's see. So yeah, I worked. I planned on my relaunch. Oh, the issue and getting back on eBay. My son had his first track meet that went well, Meredith sold, this is one of those things where my wife is like, when she gets a sale, she's like, "ah! I got a sale. I was like, "that's what you want." But apparently there's a run on her, pen15 aprons. <laugh> so they're doing quite well. She's sold like eight over the last couple days.
Liz:
Nice. Good for you Meredith. Great gifts!
Doug:
On the way home from work, she has to run by the Michaels and pick up "materials."
Liz:
So that she can form and create and make these pen15 aprons. For those that don't know…what episode was Meredith on?
Doug:
She was on episode 29.
Liz:
So for those that don't know, go back and listen to episode 29, Launching a Handmade Business on Etsy and Facebook Marketplace with mertinimercantile" to learn more about what we're talking about. So congratulations on your sales Mer!
Doug:
And in this particular niche category, she is the number one search. It's a bit nichey. It's not for, let's just say it's not for everybody.
Liz:
No. Right, right, right. <laugh>
Doug:
What about…so this was very exciting. I'm gonna let Liz give you the details, but this was very exciting for me. Last week, I was very proud of Liz, and Liz, why do you think I was very proud of you? What was the big thing you did last week?
Liz:
I took two days off in the middle of Q4, two days off!
Doug:
Yes. Yes.
Liz:
Last week… Thank you. Thank you. Thank you. No, I got done Wednesday after the livecast and I shut off all social media and notifications. I shut down Facebook and didn't, I maybe got on twice in two days. Didn't get on Facebook. Didn't get on Instagram. Didn't do any work except for shipping. I didn't list. I didn't shop. I didn't do anything. And it was great. And my house is finally decorated. Nice. And I got personal Christmas shopping done and cleaned out my guest room because my oldest son is coming home next week.
Doug:
Oh, how fun.
Liz:
Yeah. So I got to get a lot of personal stuff done this week and not have to worry about, you know, being online. I mean customer notifications questions., that's fine. But I didn't, I got out of the hustle and bustle. I didn't worry about listing anything. Did it hurt my sales? Probably, but life's not just about sales for me. So it was nice. Thanks Doug.
Doug:
Every once in a while, you've gotta take some time and Liz does not take too much time. So it's good to get some downtime. And it was, it was very nice. And she hung out with friends. Yes. And everything was still here when she got back.
Liz:
Yeah, of course. Of course you held the podcast down.
Doug:
<whispering> We just haven't told her everything that happened while she was gone.
Liz:
<whispering> I heard that.
Doug:
<whispering> That's my ASMR podcast.
Liz:
<whispering> I'm pretty sure this is a whole other episode.
Doug:
<whispering> Oh yeah. Go to sleep.
Liz:
<whispering> Okay.
Liz:
So no, we don't not want you to go to sleep. We are deep into December shipping out these packages. Getting all these gifts out to our customers. Do not sleep right now. I will say taking two days off was great for me. If you're in the hustle and bustle, trying to earn all that money during Q4, it's not the best time to do it. <laugh> But sometimes you just have to and well, I could so, took advantage of it.
Doug:
It's like Liz always says "what works for me may not work for you."
Liz:
Exactly. <laugh> exactly. But this worked for me and I don't know, maybe this will be my new holiday tradition Doug.
Doug:
There you go. Take a couple days off. You should do that…
Liz:
Right in the middle of December. Definitely take time off. And with that, Doug, welcome to The Seller Community Podcast from List Perfectly. Can you believe we are on episode 44?
Doug:
Yes. It's amazing. Every week I get excited to see that number increase. Yeah. Season one is almost coming to a close. Season two's gonna be big. This is our intro album, our sophomore rock opera. We've already introduced you to everything. We can just, we are gonna be a little more creative and wacky in season two.
Liz:
Yeah. So we do have a little bit of changes coming in January.
Doug:
That's true.
Liz:
We are…Doug and I, well, I should say Doug has been hard at work. I just show up and talk. Doug has been hard at work on season two, already and I cannot wait to get our listener's reaction to what's gonna happen in season two.
Doug:
Yeah. And we'll fill you in in a week or two. We'll see. But we want to keep you in suspense.
Liz:
But since 2021 is not over yet, and season one is not over yet, you know, we will keep going strong season over season, episode over episode. So this week we get to welcome Dave and Lori Bilyeu from eBliss Reseller Solutions.
Doug:
Had a great chat. They're friends of ours. They're based in Colorado, close to Liz and they have a great solution for sellers.
Liz:
Well, just a great reselling background and story and how they've built their business and how active they are in the community.
Doug:
There are plenty of businesses out there that offer services to sellers and not all of them are sellers. And that's what I really like about Dave and Laurie too, is they've been sellers for years. They're active sellers. And they came up with a system that worked for them and they were like, "well, let's offer this to other sellers" and it might not be right for everybody, but for people that need that help it could be a good fit.
Liz:
So along with Dave and Laurie's interview, we will also bring you some news and a little bit of List Perfectly news.
Doug:
Alright. The Seller Community Podcast is brought to you by List Perfectly every week for your enjoyment. Show notes are always found at listperfectly.com/podcast. Let's get started with Dave and Laurie of eBliss Reseller Solutions.
eBliss Reseller Solutions
Doug:
Today, we are excited to interview our friends, Dave and Laurie Bilyeu from eBliss Reseller Solutions. And so what eBliss does is they help online sellers who sell mostly thrifted items with storage, shipping, and organizational needs. So I don't want to go into too much detail because we'll let them tell the story. Dave and Laurie, welcome to the show.
Laurie:
Thank you so much.
Dave:
Thanks for inviting us on.
Liz:
Welcome Dave and Laurie so I really wanna get into it because I feel like I have three hours worth of questions for you, and we're gonna try and fit it all in because I'm super excited to share your story and your possible solutions for sellers, to our listeners. So if you don't mind, give us a little backstory, you know, when did you start selling online? How did that start and where is it now?
Dave:
Right. Well, we moved out to Colorado from New Jersey, back in 2012. And when we moved out here we sold everything on Craigslist, New Jersey. And when we moved to Colorado, we couldn't get over the amount of thrift stores and garage sales and just the quantity of items that were good quality. So I think that really sparked the whole reselling thing, cuz I saw that there's a lot of potential to buy things relatively inexpensive and a good friend of mine is a full-time reseller on eBay. And somehow I stumbled upon a Goodwill outlet where I was finding North Face jackets for like $2. And I'm like, "Hey, I could sell this for $40, $50." And it really turned out to be like a fun hobby that turned into a part-time income for me, then full-time income for me. And then Laurie hopped on and we were just off and running. It was just so much fun and rewarding and as many resellers know, that's what it's all about. It's the joy of reselling and fun. But at the time I didn't know what reselling was. I thought I invented it. I thought I invented reselling because the term reselling wasn't really being used in the industry, it was called flipping or thrifting. And then over the course of the last couple years it's been reselling. So now it's reselling. So, yeah, that's how we started. And it's been great working together all during those years.
Laurie:
Yeah. He started in 2013 and was basically doing everything by himself until I joined in 2017. So since 2017, we've been doing it together. Working full time together has not been the first time we've ever worked together since we met at work, about 30 years ago, and then we worked together again when we moved to Colorado, but this was the first time we sort of ran a business by ourselves and that's a very different animal, but is also very rewarding. So we definitely love it.
Doug:
And what was it that spurred you to take that leap to go into selling together full-time?
Dave:
Well, I had demonstrated that it could be done and I was at the point where I was "working" "working on reselling" 60 plus hours a week. And Laurie was like, "well, If you could do it, if I joined you, could we replicate it?" And you know, we really looked at the numbers and I looked at the ability to source and we backed into the numbers and it really worked.
Laurie:
Right. So he essentially taught me everything I needed to know, well, almost everything I needed to know in the reselling business, but I did learn how to source. I learned how to list, I learned how to ship and we, that's basically what we did more, we sourced and then we hired two part-time people to help us list and ship. So they were our first employees. And at the time we had already finally moved out of the house. Thankfully he had gotten out of the house about maybe a year or two before that and so he was operating out of a small, well, a large storage unit. Basically, it was a very small warehouse, small storage, it had electricity, it had the internet, but not much more than that. It had heat, you know, but it was very hot in the summer. It was only about 600 square feet, but it was great not to have everything in the house, in the basement everywhere. So we just took a couple years and completely focused on ramping up our inventory. I think when it started with him, he had maybe 1200 items listed, maybe. And we quickly almost tripled that in a couple years because we were just so focused on sourcing and then we had the help to get us, you know, get it listed and to ship it. So we didn't have to do that all the time, and that really propelled us to a place where it came to the point where, well, this place where we are, we need to get bigger and bigger place. So it was constantly investing back into our business, investing in the inventory, in the people, in the space, and it was, you know, it was challenging, but we were able to do it.
Dave:
And as with many resellers, most are thrifters and we are too, we're not selling pallets of new items. Every item we got was individual, it wasn't multi quantity. So we knew that it was gonna be a volume game. And our average selling price has been anywhere from $40 to $50 over that entire time. And that's our criteria. We stick with that. We're not looking for grand slam home runs all the time, but if we come across, we'll take 'em, but our bread and butter is that sweet spot of $40 to $50. And we knew it was gonna be a volume game. And because of that, we would need help. We couldn't do it all ourselves.
Liz:
Right. So when I look at sellers that I follow, YouTube, Instagram, I'll tell you the couples that go into business together, I swear it's like this power selling duo when it comes to couples and the two of you like just went head in and straight on, and I think for a lot of sellers, whether they're couples or not, that's really an inspiration. I know you said, "oh, you know, bread and butter, $50, $40 to $50 range." That's a win. I know both of you love to source, but I know that Dave is the one that gets super excited for the hunt. Would you mind sharing, like how you source and has that grown with hiring people?
Dave:
Oh, definitely. I mean, me, I'm just very competitive, strategic, and I love sports. I love playing sports, but ever since I started reselling, I have no desire for sports anymore because the reselling component fulfills all these needs that I had, which is crazy. Right. When I source it's like hunting. I've never hunted in my life, but it's like the same rush. It's the same drive that many resellers have. And then, when we list and sell on eBay, especially, it's like fishing. So it's like, I'm like a sport outdoor sportsman without even having to leave my house. Right. So I'm getting the same gratification from reselling. But yes, you know, back to your question, yeah, I love to source because I get that dopamine effect, the adrenaline and, what has happened over the years is you know, Laurie doesn't really have the same feeling when it comes to sourcing.
Laurie:
No, I mean, I love all the backend stuff of business and that's actually one of my strengths is the organization part of it, creating the systems that have allowed us to be so successful in terms of being organized and, our metrics being near perfect almost all the time. But what Dave was saying is that because we built up to the volume level that we had gotten to, we couldn't source all that ourselves. So he created a network of people he knew at the local bins, the local thrift shops, at the flea market that he would buy from. And they learned what he liked. And that's where we got a lot of our inventory from over the last couple years now, of course, you know, that requires that our COGS went up considerably from when we were sourcing at the bins, but it all evened out because we were doing the volume. It was, you know, it made sense. That was what we were doing consistently for years and it was working out great.
Dave:
Right. And for example, like last year we sold 10,000 individual items. 2020 was a great year for us. 10,000 items. These are not multi quantity. These are all thrifted unique items. Now there's no way one person could source that many items as in a thrift store. So that's why we had to rely upon outsourcing the sourcing to some extent, and have the inventory come to us.
Doug:
10,000 items that sold last year, what kind of items are you selling? Give us an example. And how far have you expanded beyond your initial niche?
Laurie:
Well, Dave's initial niche was outerwear because that was easy, very easy to find. It sold pretty well. There was a lot of it in Colorado, but then he gravitated towards used electronics and hard goods because they were easier to process. They were easier to look up on eBay, easier to figure out what they sold for. And our criteria hasn't really changed over the years. When I first started with him, he would say, "if you look it up and three or four have sold then, and it meets our criteria for price versus shipping, then we'll take it. But if you look it up and there's like a lot listed, but not many sold, we might pass on that right now." We sell mostly used electronics, that is sort of our sweet spot. But, you know, we have an occasional clothing piece or handbags or shoes, or we won't turn down anything that will make money, but we tend to gravitate towards the black. <laugh> The smalls, you know.
Dave:
Anything black with wires gets my attention. It's so true. I found over the years, you know, Doug, it's a great question. Like how have we evolved as pickers or, you know, sources and such, I'll go to a flea market and just walk up and down the aisles and things, jump out. And that's what as resellers that are listening to, this podcast, they know it, they don't need to go and look up every item, that database is in my head, I already looked up, these items, I almost know the model numbers by heart and I don't have to look it up on the spot in the field when we're sourcing. So it makes sourcing very easy and it just adds to the ability to get more items.
Laurie:
Well, you have that ability now. It wasn't that way when you first started. And I think most resellers are like that when they first start, they have to look everything up, but not anymore. Cause you developed that skill, right.
Dave:
I'm definitely gonna have arthritis in my thumbs because I've been spending the last six, seven years pounding away on my phone, out at thrift stores. And yeah, it may get cumbersome at times, looking things up, but I know that I'm adding to the database in my head where I know that once it's in there we're good to go and I'll spot it again.
Liz:
I totally get it. Some people will ask, you know, after you sell for a while, they like, how do you know that you just can't explain it. You're like, it's just repetition, but I can see that, you know, going from clothing to electronics, I can see that model numbers, whatever numbers are on electronics. I don't know in my brain, I'm thinking of the electronics around me. I'm looking around my desk. I'm like, that has a model number on it. That has a model number on it. No way would I know now, but like Dave said, you type it in a million times and you probably look at something that's the model, A6792. And not the model, A6792B.
Dave:
Yes, totally. And especially now with Google Lens, it makes researching a little bit easier, you know, it takes the guesswork out. So over the last eight years it's evolved and it's only gonna get better.
Liz:
So over the last eight years, you have to have run across some crazy stuff. So what are some interesting items you've come across, in your warehouse that you've either sourced or that a customer has sent you? Is there anything that stands out?
Laurie:
Well, I can say that we do remember that we had…sometimes we'll get like, military helmets and sometimes, you know, there's nothing quite special about them, but there was one that had the name of the colonel inside of the helmet and we looked it up, did some research. And if I'm not mistaken, this colonel's daughter was the first female colonel in I wanna say the Army. I'm not really sure if it was the Army, but it was definitely one of the branches of the military. And so there was a history there and we put out an auction because we did not know what it was gonna go for. And it went for a pretty penny. Very surprised.
Dave:
We put it on auction. People are like, "I'll give you $800 right now for it." And what's interesting is the history behind this helmet, like how do you authenticate it? But there's so many people, you know, especially on eBay, that once you put that listing up there, they get a notification and they know it. They say, can you check this hinge? Is it a triangle or, you know, half moon and like they know. And things like that are, they're fun. It's treasure hunting. It's not, it's not our sweet spot. It's not our wheelhouse, you know, but when we do come across those types of items and we have the ability to research and get 'em up on eBay or any other platform, this is the joy of, the excitement of getting it in the hands of someone that would really appreciate it.
Doug:
And I remember one time getting a tour of the warehouse and you literally tried to give me an artificial leg, get me to take it home.
Laurie:
That is true. I'm sad to say. That was true. Do we still have that?
Dave:
No, we don't.
Doug:
I didn't take it, but…
Dave:
There's components of prosthetics that sell. It was like a hinge, like, so we won't get into it too much, but it was found at the Goodwill, it was found at the Goodwill bins. And you know, somebody's like, "hey, is this something you could use?" I'm like, "well that hinge, I looked it up, you know, somebody could use that." So yeah.
Laurie:
So it's a replacement part.
Dave:
Replacement part. Right.
Doug:
Then also, is it true that you sold a remote control to Latoya Jackson?
Dave:
Yes, that is very, very, very, very true <laugh> until, until I Googled Latoya.I Googled, it was going to Florida. I almost don't wanna believe this. I really believe it went to the real Latoya Jackson, but there's actually 50 Latoya Jacksons in Florida.
Laurie:
You know, I know there are resellers who have great stories about selling to prop stores, you know, to famous people. But we honestly have not that we know of. And honestly, as many items that we've sold over the years to this date, we still haven't sold something to somebody we know, which I find crazy because I mean, I guess our friends don't buy on eBay. But you would think like in all the years, you know, "oh my gosh, I know that person." Nope.
Dave:
But we did sell a music mixer to Fred Durst and I'm sure you know who that is. Limp Bizkit. I dunno if it's the same one. I think he was on the East coast, but Fred, Fred Durst with a mixer.
Laurie:
Yeah. I would take that.
Liz:
It's gotta be the real Latoya Jackson and the real Fred Durst. Because that's their name.
Doug:
So another thing that you do there in Colorado is at some point a bit back, you volunteered to take over the Denver meetup. And then, Liz isone of the runners of the Colorado Springs meetup. So a lot of times you do stuff together, but tell us a little bit about that, why you guys took it over, how that's going, you know, maybe a teaser of what's in the future.
Laurie:
Sure. Right after, I think it was the first eBay Open 2018, that's when we discovered that there were meetups, because I don't think we knew about them before then, and we discovered, oh, there's one in Denver. I'm like, "oh, let's go." And Dave's like, "hmm." He didn't wanna go. I was like, "we're going." So we went, I think we went like here and there are on and off for like the next year, and the leaders, it was John and Pam Dean. They had run it for many years and they were looking to get out of it cuz they weren't really doing eBay that much anymore, but they had built up a really good solid group that met usually, maybe once a month. Ee thought, you know what, we're in a pretty good position to take this on. And I have a history of doing things like this in the past, running things, you know? So I was like, you know, it'll be fine. It'll be fun. And we were doing pretty well for a while and then, you know, the pandemic hit and we had to stop things and reorganize and do things on Zoom. And we're just now being able to get it back and doing some in person events. And we have a couple scheduled for the next couple months. So we're excited and we do do a lot with Colorado Springs as it's, you know, only about an hour away, and I think we're the only two meetups that I know about in Colorado. I mean, Colorado's pretty large, but most of the people are located right where we are. Anytime anybody is near the Denver area, we always welcome them. I'm always amazed that there are people that I don't know who are resellers, who live nearby. I'm like, why don't I know you <laugh>?
Dave:
Not to plug, but even if you're in a location in the US or anywhere really and there's no meetup nearby, you could join a group, any city right. Most of the time there are zooms that they have and it's a good way to network and really feed off the energy. I can't say enough. Like I was very paranoid when it came to this because I didn't wanna go to a local eBay meetup and see other people that I source and "compete against." And I was, I got over that real quick after I realized everyone sources so many different items in categories, I have no desire to get into. And it was very rewarding. I think, you know, that's one thing that we're grateful that eBay supports, they're all about the reseller, the selling community. And actually in January, we're gonna have a combined meetup where we're gonna have some very special guests come out.
Laurie:
Yes. From eBay. They're gonna be joining us. We're so excited. That will be announced very soon but we are going to be joined by Rebecca Michals and Brian Burke from eBay. And they are excited to be here because they haven't been able to get out into the field very much in the last year as well. So hopefully 2022 will be the start of new things.
Liz:
I agree. I'm so excited for that one. They put so much work into this. They haven't gotten out, as a matter of fact, Rebecca Michals started her job at eBay during the pandemic and she has not met any sellers. So this will be her first event. And I'm super excited that she's coming to us to get to meet us first. So yeah, like Laurie said, we'll put out more information about that later. So stay tuned. So Dave and Laurie, you have a warehouse, you have employees, this is a family owned and operated business. Things are going well, you had a vision of another reseller related business because you know, clearly the two of you just weren't busy enough. So you started with eBliss Reseller Solutions. Tell us how that got started, and where you're at now.
Dave:
Laurie and I knew that we had to invest in our reselling business in order to grow, and I used the term invest, not an expense because we knew we had to get employees to help us list and ship. We knew we needed more warehouse space and I'll share with you, it was an extra $2-3,000 a month in expenses that we had to meet. Now, how does, how do you, convey sales into generating $2-3,000 a month? We had to generate an extra $6,000 a month in sales in order just to break even to have this warehouse and employees. And it was at that time, a few months afterwards when we saw it working for us, that I came up with the idea that I felt it was unfair for resellers to just plateau and be afraid to take the plunge, so to speak, to invest that type of money into their business so they could scale so they could grow and, get their freedom back. So it was my concept to come up with eBliss as a way to have resellers, use us at a fraction of the cost it would be to hire employees, get a warehouse, sign a lease, et cetera. That's very expensive. And you almost bite off more than you could chew because you have to grow and you have to get enough space where you could grow into it. So we created eBliss based on that passion to help other resellers and provide a solution for them to get their time and their space back.
Laurie:
Right. And at the time we had gotten to the point where our business, our own eBay reselling business had grown to about 4,000 individually thrifted items. And we were selling plenty every day, shipping every day. Like I said, our metrics were near perfect all the time. So we were doing something right after developing the systems that we were using. And so we said, "well, what if we took what we knew, what we're doing for ourselves and offered it to other resellers who sell very similar items that we do?" We always knew about Amazon FBA. A lot of people are familiar with that, but most people who sell one offs, particularly clothing, particularly used clothing cannot use a fulfillment option like Amazon FBA. So we researched, for about two years, probably procrastinated for the first year <laugh>. But we spent a lot of time figuring out, first of all, what out there that people could actually use, how to, to, you know, price it, how to do all this stuff. And we came to the conclusion that there really wasn't a good viable option out there. So that's where the idea for eBliss came into play. eBliss is actually an acronym. The original acronym for E BLIS was eBay listing inventory storage and shipping because our thought was, let's do it all. Nobody's doing everything right. <laugh>, nobody's doing listing storage and shipping. I mean, cuz some people were doing storage shipping, but nobody was doing it all. So we thought we'll do it all and we'll be so unique and, and we'll be great. But during our beta testing process, we found out very quickly that the process that we created for us to prepare our items for our listers was not gonna translate to all resellers.
Laurie:
And so it made a lot of sense to take that element out of the process and give that back to our clients. Now, of course, you know, how many times do you list to…? Because lot of people don't like listing , but because we are geared towards the actual reseller and not just somebody who likes to shop and thrift and flip things, we feel that it's very important for them to own that part of the process, whether they do it themselves or they outsource it to say a VA or a personal assistant or a local assistant. So eBliss kind of morphed into eBay. Well originally it was eBay Logistics. We took L and listing went to logistics, then over the year it actually changed to eCommerce Business cuz now we're not only eBay. So yeah, so it's grown a lot since we first envisioned it.
Liz:
I love that because you're eBay sellers and you saw a need for eBay sellers, because like you said, there was nothing out there. You were in the storage unit, you took on that expense and saw, I can only imagine the unexpected expenses of taking on that warehouse taking on things like insurance and the Internet being more expensive and I can't even imagine all the other things that go along with it. And I'm sure that there's more, that step from going from a storage unit to a warehouse is huge I can imagine.
Dave:
It is. It is for if you did everything individually and that's why we were motivated to say, "let's eliminate this" like, why should somebody like Liz who wants to grow be limited because she doesn't have the space or she doesn't wanna hire employees. And she doesn't wanna have to hire somebody to come to her house every day to ship. it made more sense to outsource or create a company like eBliss so people could have their listed inventory stored in a warehouse and picked, packed and shipped within the same or next business day. And they don't have to worry about it. This is the great thing we've got. We've gotten to meet so many resellers and clients that have told us that "do you realize you, you just saved me anywhere from three to five hours a week because I don't have to pick, pack and take my packages to USPS or run the risk of putting 'em on my porch where they may get stolen or not picked up." Those are just stories that motivate us and energize us and people have come to us and said, "could you do this?" And we do. We do adapt. We had a major Poshmark seller come to us and say, "I wanna use a logistics fulfillment company. I see your only eBay. Is there any way you could open it up to Poshmark?" And we worked closely with her and she was integral in getting us to the stage where now we not only handle Poshmark Sellers, eBay sellers, we handle Mercari, Facebook Marketplace, you name it. We could do that. And it was because we worked with other resellers who had the same passion to help their needs. That's what it's about.
Liz:
Kudos to that, you listened to your community, you know, you didn't start a business and say, "this is what I'm doing. And this is what I'm offering you." I mean, because you're part of the community, you know, you are the community and you listen. You're like, "yeah, I think we can do that. Let's try this out" and to see that growth and to see that expansion has been awesome.
Laurie:
We've only been in business for real, for a year but that year has seen tremendous growth in our offering and our client base. When we first started out, we were only looking to have clients who were literally in the 48 lower continental states and over the years we were contacted by potential clients in Canada, in New Zealand. And you know, we're not the type of people to be like, you know, be so firm in what we've said, to say that, "no, we can't make that work." We'll say, "hmm, they clearly have a need. Let's see if we can make this work." And so we have, so we're excited that the Canadian aspect is still kind of in a beta testing mode, but we might be able to open that up to other Canadian clients soon. I can't really speak to other countries outside of Canada, because that's kind of a special case, but if somebody is interested in using us, we could, we definitely would have that conversation.
Liz:
You listened to the community, somebody came to you and said, "hey, you don't say you offer this, but can you?" and you're beta testing it. I see such a huge potential for the Canadian market. Oh my gosh.
Laurie:
Yeah, cause if you're familiar with the process that they have to go to in order to ship things, it's very time consuming and expensive. And so for them to be able to send items to us in bulk and then ship from our location is unbelievably helpful to them.
Doug:
You've done the research. You're the experts. You've kind of told us what eBliss is. What happens when we go to eblissreseller.com and reach out? What's the informational and the onboarding process like?
Laurie:
Well, our website does have a whole bunch of information. We like to think that we've spent a lot of time trying to make that a good first step for anybody who's interested in learning, you know, what we are about what we provide, how much it will cost, much information as you possibly can put out there on a website. But if you think it might be something you're interested in, then we encourage you to schedule a call or a Zoom, either a phone call or a Zoom so we can have a conversation about your business, about what your goals are, what your needs are, what your pain points are, you know, cuz we are completely understanding that eBliss is not something that's for every reseller. There are some resellers out there that probably may not be a good fit for what we do and how much it costs and things like that. So we always wanna have that conversation and just figure out how we can help, so that would really be the process. And if it is something that they would like to proceed with, then we start getting them onboarded.
Liz:
It's so personalized. You're taking the time to learn about your customer's business before saying this is XYZ and this is what you need to do. If somebody goes to onboard and says, "yes," let's just say you and I have talked and I'm like, "hey, I want to get started with eBliss." You don't have to go into huge detail, but what does that look like? What are the next steps?
Laurie:
Well, the next steps is you would, you would sign an agreement so the legal part is taken care of and then I would work to get you your Welcome Kit, because we have two different plans. You can start with us very minimal commitment, or you can send us everything you've got right off the bat, whatever works for you. But either way I have to get you some materials. So I would send you a Welcome Kit. And once you got that, you could start preparing your items to onboard with us. So, it really depends on how big of a commitment you wanna make in the beginning. Our Startup plan only requires 20 items a month and it's $5 per item. You know, you pay for most of the inbound shipping on that one, but it's a very minimal commitment just to test the water of fulfillment because we realize that a lot of the kind of resellers that we're targeting, haven't had the benefit of like using Amazon FBA. They don't know what fulfillment's all about. They don't know if it's gonna work for them. And we're like, "you know what, fine. Just give us a try, very small commitment." Whereas there are other clients who will do anything and everything to get their inventory outta their storage unit out of their house, or they're bursting at the seams and they just wanna send us everything. And for that, we have our Freedom Plan. So it's like, yes, onboard everything. We pay for a hundred percent of the inbound shipping on that one and then you can get all your space and time back. So it's really depends on your goals, right?
Liz:
So I get the onboarding package, I follow all the steps. I will ship it to you. And then I manage my own items, but when it sells you pick it, you ship, it gets scanned. I've been to your warehouse. So for anybody listening, I am close and I have been to the, well, the other, the original warehouse before you upgraded because your clients wanted to onboard. So you had to get a bigger warehouse, which you have done, but I've seen the entire process. And you know, they have daily pickup with different carriers, and the items get scanned. It's safe, secure. Your packages aren't sitting out in the rain. It's a clean warehouse where your items are stored. If I send you my stuff, that's it. You manage customer questions and…
Laurie:
You source it, you list it, you send it to us. We keep it until it sells. Once it sells, we ship it for you within the same or next business day, between the time that we get it and you sell it, that's still up to you. That's the great thing. That's why I feel like we are partners. We almost called eBliss, eBliss Partners or something like that because we feel like we are a partnership with other resellers. We are a facilitator to that one process that a lot of resellers have issues with with just time and space. So if you take that outta the equation, it gives you more time to source. It gives you more time to list, and concentrate on the customer service aspect of your business or the marketing of your business. It just frees up more time to do other things, rather than the things that have to be done every day, like shipping.
Dave:
And every reseller has the same amount of hours in a day. So the key is really, as I mentioned earlier, to reclaim that three to five hours a week that you spend picking, packing, and shipping and use that time to go out and source more. Our clients say they can source anywhere from a hundred to $150 an hour in platform value. So when they go up to thrift stores, they can easily find that within an hour. So most of our clients are saying, "hey, I'm able to go and source an extra $2,000 in items per month." And that allows them to keep on growing. So, it's amazing to hear that story from our clients, because we know that they're, they're fully engaged and fulfilled while we do the fulfilling <laugh>.
Liz:
So Liz has sent her stuff to eBliss because I'm gonna take my eight hours a week that I save, and I'm gonna become a YouTube star. I'm gonna take eight hours a week, and I'm gonna make a million dollars on YouTube. That's my, why that's why I sent my stuff to eBliss, right?
Laurie:
Sure, Liz, whatever your "why" is.
Liz:
I'm gonna be a billionaire, YouTube star. I don't know what my content is, but I'm gonna get there. I'm just kidding for anybody that thinks that I'm serious. <laugh> So what are the other reasons clients come to eBliss?
Laurie:
Well we have some clients who literally have no place to put any of their inventory because they are full-time RVers. Okay. And they travel the country and they source all around the country. And then they send the stuff to us. Other clients, you know, actually had a warehouse and employees, and they were like, "I don't wanna do this anymore. I don't wanna manage them. I don't wanna, I don't want it." So they outsource it all to us and it's a lot simpler and easier.
Dave:
And what we have seen also, we've had a lot of clients that live in densely populated areas, you know, Chicago, LA, et cetera, they're in a one bedroom apartment in the city. And they're like, it costs $300 a month just to get a small storage unit. So we have a lot of clients that are thrilled to have their inventory out, so they could still live within the city limits and source and have fun. But you know, when it comes to reselling, there's three components, it's the sourcing, there's the prepping and listing. And then there's the storage and the shipping. Most of them prefer to outsource the backend of those three, which is the storage and the shipping, which then frees them to work on the revenue side of the business, which is the sourcing and the listing. There's a lot of value to be made in listing. And that's what we suggest. It's like, look at it that way, that being a reseller are those three component sourcing, prepping, and listing storage of shipping and outsource the storage into shipping first, and then maybe get the virtual assistant after that and scale accordingly.
Doug:
Your location is central. So that's ideal. How does that all factor in with everything?
Laurie:
That actually factors in very well and it's not something that we really focused on in the beginning, even though I kind of knew that it probably would be beneficial, but it was, it really came to light when I forget where I saw it. Dave called it a heatmap, but it's basically a, I forget where it is online, but you can put in your zip code and it shows you where all the zones are. And for USPS I believe it is. So we did that for Denver. And it was very interesting to see because of where we're located, there's very few zones, seven and eight in terms of geographic area in the country. It's mostly up to zone six and a lot of zone one to five. So if you're shipping from our location, that's the label that's going to be created and it's gonna be calculated. So you actually could end up saving some money on either first class and priority, because they're both zone based now.
Dave:
That's right and now that we have the data to analyze this, our coastal clients, people on the East Coast, West Coast that have plenty of packages going to zone seven and eight as Laurie mentioned, they no longer have that. Like they have fewer because their shipments are coming out of Denver. And now that we have the data, we calculated the 5-700 listing people based on their activity and the typical items they sell. They're saving close to $50 to $60 a month just in savings in postage using us from Denver, as opposed to the coasts, USPS and first class package and the priority, as Laurie mentioned.
Liz:
I used strictly Pirate Ship for about 10 months and they gave a chart and I could see that most of my packages were to zone four. And so I'm just an hour south of Dave and Laurie. So being centrally located my clothing that went out, the majority of my packages were zone four.
Dave:
Just to add to that, by working with Poshmark sellers, now they have also shared with us that they no longer are, you know, turned off by learning the USPS shipping model, which all eBayers have to learn. It's like part of being a reseller on eBay. As you know, Poshmark sellers get the label and they have a couple days to ship it out. That's the one added benefit we have noticed many are now taking the plunge and, and using cross-listing to eBay to gain another market and also to allow us to take that headache of shipping away from them. So it's encouraging, and we're excited about that. And not only that, but now they're going from their packages being shipped out anywhere from, you know, two to four days now, where their packages are going out the same, our next business day. And many of them are advertising that on Poshmark as a plus for them to shop their closet.
Laurie:
We are online at www.eblissreseller.com.
Speaker 2:
We're eBliss Reseller on all social media on Instagram, YouTube, just type in "eBliss reseller" and we will pop up.
Doug:
And Dave handles a lot of the social.
Laurie:
He handles all the social practically, and he's doing a wonderful job.
Doug:
Surreptitiously filming Laurie around the warehouse.
Dave:
I'm only allowed to film on makeup and hair days that get approval.
Laurie:
That's correct.
Dave:
I don't have to worry about that. Personally, I don't have to pass that test, but Laurie needs to look good. And, she always does, but it's interesting because the whole social media component, as I mentioned to Liz earlier, it's it allows you to get your creativity going. And that's what we're really relying upon. We rely upon people to get to know us, get to know what we offer and feel confident in representing us in some capacity, referring us to their friends and vice versa. And that's been the biggest challenge over the last year for us is getting the word out. And we're grateful to be on the podcast today because we know that there's a lot of people that are hearing about eBliss for the first time and whether they could benefit from it or somebody they know could benefit from it. We know eventually it'll fall into the right ears and people will have a conversation with us.
Doug:
Well, that connection's important. It's like, you know, for a couple quick examples, it's like BOSS Reseller Remix. It was the two of you, the founders there, you know, meeting with clients, potential clients. And then also, last week we did a Posh N Sip together, Rhonda pinkdivastudio. So I found out the day before that you were gonna be there as a, like, "I know them "<laugh>. You're getting out and about, you're part of the community you're going beyond offering a service. Obviously you sell and it's evolved from there, but like Liz referred to earlier, you're an active part of the community. You do the meetup, you get out to the events and you're spreading the word and fostering that connection, which is important.
Dave:
Yeah, this is definitely not a job. I've had jobs in my life, and this is not a job. This is a passion and we're just motivated. You know, if it was up to me, I would talk about reselling 24 hours, 24/7, and Laurie would say like, "can you please stop already?" You know, she doesn't like it, she needs to shut down every once in a while, but there's so much passion that we have to help others, you know, achieve their goals or reclaim their freedom and all this stuff. So that's why we do it.
Doug:
And you said earlier that you invented reselling?
Dave:
Yes. I invented it eight years ago and I'm on Wikipedia as the founder.
Laurie:
You know what's so funny about that is that the reason why he thought he invented it was because he was working in a vacuum. He didn't connect with other people with the exception of the one person who kind of got you into eBay. That was it. You both were working in vacuums and didn't realize that there was a whole world out there of other people doing exactly what you were doing, you know, different ways, selling different things. And once you were able to kind of get over that and let your guard down, it was like the whole, a whole new world opened up, I think. And it makes doing what we do a lot easier, I think, and more impactful.
Dave:
We're totally transparent. People wanna look at our accounts, we'll tell 'em exactly what our sales are, how we do it. We had a YouTube live the other night talking about eBay coupons, which we spoke last week with Liz, about as well. And we implemented a strategy that's working and we're, that's what we're doing. We're not gonna keep that hidden as our secret. We're going to let it out there and people like this work. So if your sales are slumping try this strategy, cuz it's working for us and we totally show everything on our YouTube and tell all the tips and tricks and secrets and and you name it and more.
Liz:
Go watch the YouTube video where Dave and Laurie show you and tell you about eBay coupons and then go back and watch the past episodes and join them live every Monday night. Is it still every Monday night?
Laurie:
Well, so far it has been but who knows what the new year will bring. We might, I don't know, but right now it's every Monday at five Mountain Time.
Liz:
And we're gonna put the link in the show notes. What is the name of your YouTube channel?
Laurie:
Well, I think we called it Reselling Insights with Dave and Laurie. It's like Deep Thoughts.
Dave:
But just search up eBliss Reseller on YouTube and our channel will pop up. That's the channel name–eBliss Reseller.
Laurie:
Oh, the show name. Okay. The channel name is different from the show name. Okay. See, I'm not, I don't know this stuff.
Dave:
She just shows up and imparts her knowledge, right? <laugh> yeah. eBliss Reseller on YouTube.
Doug:
Thanks Dave and Laurie for joining us, Dave and Laurie from eBliss Reseller Solutions, good friends of ours, friends of the show. They've got a great service that they offer. And I said this at the beginning when we were just, you know, catching up. But one of the things that Dave has said in the past that always stands out to me is they do some stuff to free you up to do other stuff, to free you up to source, to free you up, to do your marketing, to do your promotions, to list and all that. And they, you know, offer this great service that they've planned out. And again, they've done the research, they're experienced sellers. I love that too, that some of these tools out there are not run by experienced sellers. And it's like that gives you guys a lot more legitimacy to sellers cuz sellers want to hear with and work with other sellers and you've done the research. You sell, you currently sell and you're active in your community. You do your meetups, you attend events, you do, you know, all those types of things. So, thanks for being on the show.
Dave:
Thank you so much.
Laurie:
Yes. Thank you.
Liz:
You. Thank you. It's been awesome. Thank you, Dave and Laurie. I'll see you in January.
Laurie:
Oh, hopefully before then.
Seller News
Doug:
Now it's time for the news. What do we have this week Liz? Over to Liz at the news desk!
Liz:
This is gonna be List Perfectly news. So for those users that are using the Pro Plan, List Perfectly has just increased your PhotoRoom background limits from 1000 to 1500. And if you remember, when they started, List Perfectly had 500 background removers, and then they updated that to 1000. And now you have 1500 in the beginning, they told you we're just starting. But List Perfectly has also said they're going to release new features every week. And this week they did three. They also released that the Simple Plan will get 25 background removals and the Business Plan will get 50 background removals.
Doug:
That's a good start.
Liz:
That is a very good start. So this is kind of a gift from List Perfectly, you know, as you're in your busy time listing, trying to get those listings up last minute, Q4, last minute, you know, holiday gifting listings up. Yeah. Hopefully you can take advantage of those 25 or 50, depending on what plan you're on to go ahead and get those listings up and listed and get that background removal done fast and just get your listing process done faster. Pro tip. Yes, these expire. So this is just a little trial that they're giving for the Simple and Business Plan. If you're not listing right now, go in, upload your photos and get the backgrounds removed and then just save it. You don't have to list it in December. There you go. But this offer does expire December 31st at 11:59 PM. PST now, but the 15 hundred..
Doug:
Go ahead.
Liz:
But that's just a little trial, I don't wanna say teaser, but a little gift to help listing, go a little bit faster for those on the Simple and Business Plan. And then Pro Plan gets to keep those 1500 per month.
Doug:
And as Amanda put it, it's like a trial of HBO.
Liz:
There you go. Exactly.
Doug:
Try it out. Maybe you want to hang around.
Liz:
Yeah, it is totally done inside your List Perfectly catalog. So you can upload your photos to the List Perfectly catalog and click the eraser for the background remover. And it will just automatically remove the background right there in your listing flow, no separate account needed.
Doug:
It's important to have a white background. I mean, we could do a whole episode on this, but it's important to have a white background. Google search prefers it. It's a buyer perception thing. You wanna look professional. That's the first thing people see in your listings and white backgrounds are useful, and this is a great, great tool and a great integration.
Liz:
So last week List Perfectly also introduced that the Simple Plan now gets the price field added in the listing flow and the cross listing flow.
Doug:
Wow. So you know updates across all the plans.
Liz:
Yeah. So every plan got updates this week.
Doug:
Very nice. Is that all our List Perfectly news, Liz?
Liz:
That's all the List Perfectly news this week, Doug.
Doug:
All right, Liz. Why don't you keep this roll going, Liz? What's next?
Liz:
USPS rates will decrease.
Doug:
I just automatically think like that when I hear USPS, I apologize.
Liz:
Oh yeah, yeah, yeah. So, well, you're not too far off. I mean, here's the thing. If you've been selling for a year or 20, you know that USPS rates, you just come to expect a rate increase every January. The last couple of years, USPS has put a holiday surcharge and we've talked about this on the podcast before. So come October, USPS adds this astronomical surcharge. We talked about anywhere from a quarter to a couple of dollars per package. All of us sellers have been feeling that pain when we're selling on, you know, buying our own postage, USPS has announced a rate decrease, but it's decreased from the holiday rates. <laugh> when you look at 2021 and 2022, it is still an increase, but it's a decrease from the holiday rates. If that makes sense. Does that make sense, Doug?
Doug:
Somebody's like, how can we spin this in a positive way?
Liz:
Exactly. Exactly. Some sellers have been spinning it like that. And I mean, whatever, I'm one of those, I just know that it's gonna go up every year.
Doug:
It's to be expected. It's like a, but it's a Catch 22. It's an increase, but it's a decrease. It's a decrease, but it's an increase.
Liz:
Right? Exactly. So in our show notes, if you're interested, we'll put a link to the Pirate Ship, 2022 decreased. And I say "decreased" in air quotes, as cheesy as we can be here in air quotes, decreased shipping rates. We will have a conversation about it in the List Perfectly Facebook group.
New Speaker:
Let's wrap it up.
Doug:
Let's wrap it up.
Outro
Liz:
This week, we talked to Dave and Laurie from eBliss Reseller Solutions and we had some news.
Doug:
Seller news and List Perfectly news.
Liz:
Yes, you can find us at listperfectly.com/podcast. Leave a message or ask a question at anchor.fm/seller community podcast. You can leave us an email at podcast@listperfectly.com. You can also post a question in the List Perfectly Facebook group at facebook.com/group/listperfectly, use the #sellercommunitypodcast and mention Liz or Doug.
Doug:
You can listen to us anywhere you listen to podcasts and be sure and subscribe and tell your friends. We'd love for you to leave us a review at Apple Podcasts. We would love for you to spread the word if you love The Seller Community Podcast.
Liz:
You know what? Jump on and just tell us what you think of Doug's voice. <laugh> how soothing it is. And then what a podcasting voice it is. Leave us a review and let us know what you think of Doug's voice.
Doug:
That's opening a Pandora's Box. You can follow us on Instagram and TikTok. Liz is @coloradoreworn. I'm @snoop.dougie and of course @listperfectly. If you are new to List Perfectly and wanna try it out, you can use the promo code podcast for 30% off your first month, or you can upgrade your plan if you'd like to move up to that Pro Plan, which we recommend.
Liz:
And with that folks, we will…
Liz and Doug:
See you next week!