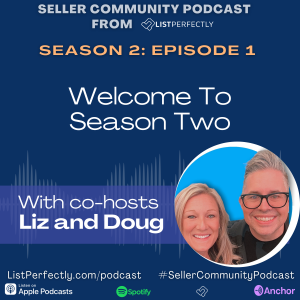 Overview
This week we welcome you to season two of The Seller Community Podcast from List Perfectly! We let you in on our plan for more episodes, our new website, and more!
The Seller Community Podcast from List Perfectly is the #1 resource for the seller community across all platforms and hub for information on growing your business with List Perfectly. Find out more at listperfectly.com/podcast, leave a message or ask a question at https://anchor.fm/sellercommunitypodcast, or email us at podcast@listperfectly.com.
Listen on Apple Podcasts
Listen on Anchor
Listen on Spotify
Listen on Pocket Casts
Listen on Google Podcasts
Listen on Breaker
Listen on RadioPublic
Links
listperfectly.com/podcast
Listperfectly.com
Seller Community Podcast on Anchor
Listperfectly Facebook Group
coloradoreworn Instagram
coloradoreworn linktree
snoop.dougie Instagram
snoop.dougie linktree
listperfectly Instagram
Transcript
Liz:
Happy New Year!
Doug:
That's right. Happy New Year.
Liz:
I get excited whenever I get put in front of this mic and I just wanna talk.
Doug:
Yes. I'm excited too. Liz.
Liz:
What Doug?
Doug:
I'm excited too.
Liz:
You're what?
Doug:
Exactly. I'm excited too.
Liz:
Yeah. Yes.
Doug:
Yes. Energy up!
Liz:
Happy new year 2022. We did nothing for New Year's Eve. Just like we do every single New Year's Eve. Just go to bed and wake up and it's a new year. A new start.
Doug:
Try to stay up. <laugh> try to stay up.
Liz:
Doesn't happen.
Doug:
Just go to bed at the usual time. Go to bed…
Liz:
I can't stay up that late.
Doug:
<laugh> I know midnight's tough.
Liz:
So, Doug, you and I were invited to consignmentchats' live last week, where we got to mingle with other resellers and kind of talk about what we are going to do for 2022 for reseller resolutions.
Doug:
Yes. When we were on with consignmentchats, we talked resolutions, seller resolutions, and we did tease as we've been teasing season two and now season two is here. So, I think we can reveal our plans for season two. I think we can with always the asterisk caveat that we reserve the right to pivot <laugh> all right, Liz lead us in.
Liz:
So first let's do a little introduction. I'm Liz…
Doug:
I'm Doug…
Liz:
And welcome to the seller community podcast from Liz perfectly. This is season two, episode one, a whole new season. So, Doug, yes, you have done such a great job of not leaking anything that we're doing from season two. And I know you've wanted to.
Doug:
I know!
Liz:
"Liz, let me tell them, let me tell them Liz, come on." But we had some things to sort out. So, tell our listeners what season two is, what these changes are and how we're bringing them more.
Doug:
All right. So yes, we've been keeping this under wraps. I'll jump in with some stuff and Liz jump in whenever you see fit.
Liz:
Tell us what we're doing this year Doug!
Doug:
All right. More than one listener asked us If we could do more. They're always like "I'm caught up. I've listened to all the episodes. And I love when, when it comes out, can you guys do more episodes?" And we laughed. It takes a lot of work to do, to do what we do, but we love it. We are committed to bringing more content. We're gonna start doing two episodes a week, two episodes a week, Liz!
Liz:
Two episodes!
Doug:
I know, I know everybody. Please, please calm down, hold your applause to the end, please. Two episodes a week, Liz. And what are those two episodes gonna be Liz?
Liz:
So, we will be bringing you a weekly eCommerce news podcast. And we will have a separate interview each week. What this will be doing is giving us more time to share the news and more time to share our guests with our Listeners.
Doug:
The podcast is pretty much unscripted. We have questions that we ask, but we kind of get rolling and we have to kind of…and Liz has actually done this. She did the research on just trying to find the optimum length of the episode where, you know, most people will keep listening and we've had some, we've had a couple that have been over an hour and you know, we've found that the ideal length is about 45 minutes. So, we've tried to keep 'em between 45 minutes and an hour. But if you've got a weekly episode where we have an interview, and then we have news and an intro and outro, that's pretty tight with the time. So, it got to the point where we'd have to cut some good stuff out of even interviews and interviews with, you know, CEOs or industry experts or sellers that have great stuff to say. So, we figured, well, why don't we break this up? Because we've always got a lot of news and then we've got the interviews. And so, it's just, you know, the interview episodes won't be longer, but there'll be more of the interview and the episodes. So, two episodes a week, Liz.
Liz:
Yes, I am excited for it, Doug.
Doug:
Yeah. That's gonna be epic.
Liz:
I know that I've said, and we've said it in previous episodes, we're like, "oh my gosh, we just don't have time to do more." Well, Doug and I have cleared our plates. We've found time to do more and I'm excited for it. Remember back in season one, Liz is not a podcaster. <laugh> what do you think now, Doug, I could put podcaster after my name now after a season?
Doug:
I think you should. You've evolved incredibly.
Liz:
A little bit.
Doug:
I'm very proud of you.
Liz:
Professional talker.
Doug:
You've moved much beyond…the student has become the master. <laugh> you're able to grab the microphone from my mouth, Liz. <laugh>
Liz:
Right. Sorry for always interrupting.
Doug:
No. Got your podcast voice. I remember when we started, you were nervous and now Liz comes to me. That's the thing is Liz is looking at the metrics. Liz is looking at SEO. She'll come to me and be like, "we need to rework the titles and consider the SEO implications." Looked at the metrics and found the optimum length of the episodes. That's Liz's stuff. And then she's just evolved. Like even Liz's interview style. I'm no expert. I mean, I tried to take what I learned, but I just gab but you have really gone next level. So, I'm very proud of you.
Liz:
Well, thank You. Thank you so much.
Doug:
You're welcome. But back to it, Liz, yes, we said we'd bring more…but wait, there's more!
Liz:
There is!
Doug:
A lot more, actually. We are also going to be getting our own website.
Liz:
Yes, we are! Sellercommunitypodcast.com
Doug:
Please. Ladies and gentlemen. I asked you to hold applause to the end.
Liz:
<laugh>
Doug:
That's gonna be big. You know, you'll have, well, the show notes will be there. And then we are also going to, um, work to kind of enhance the show notes with more info, more links, and put some more stuff in there. Now, Liz I'm hoping, and this is the thing that you've heard me, if you're a regular listener, you hear me say this fairly regularly. When I wanna try and run something by Liz, I gotta time it out. So, a little bit down the line I wanna start doing podcast related TikToks and Reels. So, Liz will say, now she'll be like, "no, I don't like video," but in a few months, wait and see, I'll be able to convince her, just keep bringing it up. But I would like to do some podcast related TikTok and Reels. You've actually done some where you promote the episodes, but I think the tie-ins are important just to help get more exposure.
Liz:
I wanna say I'm excited for the idea of it. Okay. I have to follow through on the execution for TikToks. Yes. And for Reels. So, Doug, while we're talking about it, why don't we just make a quick little TikTok behind the scenes? Let's wave.
Doug:
All right. Hello?
Liz:
Hey.
Doug:
Oh yeah, I'll react.
Liz:
<laugh> it's OK you can duet yourself later.
Doug:
Okay. I'll do it. <laugh> can you duet your own video?
Liz:
No, but I can post it and you can duet it. But you'll be on my original so you can duet yourself, just go duet yourself.
Doug:
I like that. I'm gonna do it. Now Liz, here's another thing we did last year, we did a face to face event that went really well. We were at the BOSS Reseller Remix. We recorded there. We hung out. I'd love to do more face to face events, depending upon how things go. We've seen some rumors about maybe eBay Open, BOSS Reseller Remix coming back, eCommChicago, seller events. And then also, you know virtual stuff too. So virtual meetups, virtual seller events. And I'm gonna put this out there. If you have something, if you have a show, if you want us to come to your meetup, if you want to do something, email us at podcast@listperfectly.com and it's okay if you just want Liz I'll understand.
Liz:
He will not understand, his feelings will be hurt. And I will hear about it for three weeks. "What is it? Liz." And you know what? My answer will be. "You're just too exciting."
Doug:
Oh, my ego!
Liz:
I'm just kidding. I don't know. <laugh> I'm not gonna get invited cuz I just talk over everybody. So, it's okay.
Doug:
Do you have any…this is the interactive portion of the show. Do you have any, cause I have a little list of dream guests. Do you have any dream guests or people that you'd like to get on the show? For instance, if maybe they're listening could be like "what they want me on the show?"
Liz:
I have a lot of people I would like to be on the show. As a matter of fact, can we fit about 150 interviews in this year?
Doug:
Well, it depends on…
Liz:
Cuz that's about how many people I'd love to interview.
Doug:
We're doing twice as many episodes.
Liz:
Well, I mean, let's get you booked. I have a lot of people I'd love to talk to.
Doug:
Well, let's go big first. I said this last week, I wanna get Jamie Iannone, the CEO of eBay.
Liz:
Sure thing. Let me just text him really quickly.
Doug:
Well, you do have that access. And I wanna get Jordan Sweetenam yes. I'd love to get Manish from Poshmark. I think it would be a great goal to get the CEO from every platform that List Perfectly lists on, on the show. And I'm gonna put this teaser out. We've had a couple on, and we've got a couple in the works. So, stay tuned for that. I've got some, a lot of seller guests like sellers. We know a lot of sellers that we met at BOSS Reseller Remix, a lot of sellers that have come on and started using List Perfectly. I'd love to get hairytornado on the show. I'd love to get ralliroots on the show. I'd love to get Callie on the show. She's the one that runs the show over there. <laugh> who else? Liz?
Liz:
Oh my gosh. There's so many sellers. I don't wanna say anybody because what if I forget somebody?
Doug:
That'll be terrible.
Liz:
I know.
Doug:
Like when you move on and forget me.
Liz:
Who?
Doug:
Exactly. "Doug who?"
Liz:
So, here's a little bit of off script. This is how my brain works guys. We're in the middle of an interview and I just think of something. So, I'm just gonna say it. I was at the store today and somebody said, "Hey, who's your backup cashier?" Somebody's like, "Hey, Doug's in the back." And immediately I was like, "what?" And they're like, "oh, Doug E Fresh is here." And I'm like, "what?" So, Doug, there is an imposter in Colorado of Doug E Fresh. He walked out, and he's no Snoop Dougie.
Doug:
Oh! Well…
Liz:
So, there you go. The resemblance was the glasses and that's about it. So, he didn't have the hair down. So, there you go.
Doug:
First of all, I'm touched that there is only one Doug to you. And second of all, obviously I've gotta come out to Colorado Springs and there's gonna have to be a Doug off in the parking lot at the, um…
Liz:
I was at Goodwill. So, I knew first off…
Doug:
Actually <laugh> actually no, no I like Goodwills, it's just the bins that freak me out.
Liz:
I was not at the bins <laugh> but I was in Goodwill. That's how I knew it wasn't gonna be you.
Doug:
I like Goodwill.
Liz:
Okay, okay. So anyways, back to our loosely typed out script, one thing that's not gonna change is we're still gonna be doing our monthly lives. So, it's the beginning of the month. We still will be going live on the List Perfectly YouTube channel.
Doug:
One a month. Sometimes actually we have to move it because of other List Perfectly things. But one livecast a month, we'll do some recap of recent episodes. And then we will take questions. Those are fun.
Liz:
Those are.
Doug:
Liz, I don't know if listeners know this. Some do. We've got swag. There's Seller Community Podcast swag that you can purchase or swag that we have available for giveaways. I think we'll be doing more giveaways, maybe some special stuff with swag in season two. And as you revealed to me today, there's new swag coming. So, it'll be like the new edition. Like since season one swag will be retro.
Liz:
Yes. It's gonna be vintage for all of our vintage collectors and sellers out there. But that brings up a great point in going back to the live for those that don't know during our live shows, we do give away a free month of List Perfectly and a Seller Community Podcast t-shirt.
Doug:
Oh, and as always with swag, we do have stickers. So, you can email us podcast@listperfectly.com for your sticker requests. You can put them on your water bottles, put them on your laptops, put them on street signs.
Liz:
No!
Doug:
Why? Is that illegal?
Liz:
That's illegal, yeah.
Doug:
Ooh. Don't put them on…
Liz:
Don't put them on street signs,
Doug:
Wink, wink, elbow, elbow, nudge, nudge. Your bumpers wherever you would put stickers legally in the 50 continental states. Couple quick things. Liz, we're gonna have more List Perfectly guests. Clara and Amanda will be back on. We're gonna have Patrick regularly. We've been getting better with him. Theresa Cox will be back. I'm sure she's chomping at the bit to come back, especially when she finds out the tidbit that she is our most featured guest.
Liz:
She's earning that jacket.
Doug:
Earning that jacket, yeah. One episode on her own and then three panel related episodes. We're working with the List Perfectly marketing team more closely than ever Liz to incorporate what we're doing on the podcast into List Perfectly social content and more. So basically, what that's gonna do is obviously it gets more exposure for the podcast, but it's gonna get more exposure for the guests that we have on the podcast. So that will be a good, cool thing. I
Liz:
I can't wait.
Doug:
I know!
Liz:
I don't have to wait anymore. It's here.
Doug:
It's here. Liz.
Liz:
It's here!
Doug:
Anything else regarding season two, Liz?
Liz:
And that is everything for season two…for now.
Doug:
If for now you never know, we never know the right to pivot <laugh> but as always, if you have suggestions, you can put 'em in the Lis Perfectly group. You can email us at podcast@listperfectly.com. You can message us on Instagram. You can email me, Doug@listperfectly.com. That's fine. Questions, suggestions. So, Liz, last week when we did our 2021 recap review, we focused on the podcast, but you know, we could do a quick run through of 2021 for List Perfectly.
Liz:
So yes, List Perfectly grew so much in 2021, they were able to offer us so many things throughout the year without raising prices. And I love that they were able to do that. So just so you know, we mentioned earlier that we're moving the podcast to seller community podcast.com away from list perfectly.com. It's not that we're parting ways with List Perfectly, List Perfectly is growing this podcast. So, listeners, this still is The Seller Community Podcast from List Perfectly.
Doug:
You e-commerce conspiracy theorists out there. You can post on your message boards.
Liz:
So, let's start off with January. They introduced unlimited cross posting and unlimited catalog limits, which was huge.
Doug:
That's the game changer. I mean, clearly that's the differentiator. If there's any doubt that should be the seller for you is like unlimited cross posting and unlimited catalog limits all the plans for the same price that you pay for that plan. You don't have to buy extra. You don't have to be like, "oh, for $5, you could get a bunch of extra listings." You can list as many things as you need to.
Liz:
For me, that was my pivot point. That's when I started using the List Perfectly catalog. And that's when I started saving time when I was listing.
Doug:
Even the simple plan, unlimited listings though, we do seriously recommend the Pro Plan cause you get everything. But like Liz said, it makes sense to pull all your stuff into the catalog and list from List Perfectly, cuz you can list everywhere from there. I see a lot of sellers still cross listing from other sites.
Liz:
I highly recommend using the catalog. I start all my listings there, but I totally understand why some sellers don't and that's why List Perfectly says "that's fine. You can cross post from marketplace to marketplace if you want to. Also List Perfectly right now is the only cross posting tool that offers that. So, if you wanna just go from, you know, your main platform, let's say you post on Poshmark, you wanna post to three different platforms. You can just do that if you want to. That's what I did for a year. When they opened it up they said, "Hey, don't limit your business." That's when I said "I'm in." In April, List Perfectly partnered with WorthPoint. In June, they added the platform Heroine. In August, they partnered with Size.ly. They added customizable descriptions and they partnered with PhotoRoom.
Doug:
Couple quick things there. So, the WorthPoint integration–WorthPoint's a tool that helps you with your pricing and your research. And what I really like about 'em too is they have this great library of, I don't know what you call it, basically pricing guides that you can use and it's like pricing your stuff. And it's kind of a next level research and pricing tool. Size.ly is great. I love what they do. And you know, the thing that I like about Size.ly is when I've got all my stuff listed, I'm gonna start listing clothes and it's gonna make it easy for me to do and include the sizes. And that's probably gonna allow me to expand to other platforms if I'm selling clothing.
Liz:
Yeah. And then the integration with PhotoRoom, which I'm a hardcore PhotoRoom user on every single one of my photos that goes into my listings. I was doing that bulk, removing my backgrounds, adding them to List Perfectly. List Perfectly partnered and integrated PhotoRoom into their pro plan and then fast forward to November and they added the bulk background remover, which was a huge game changer for me. And now I do all of my background removers in bulk, in List Perfectly while I'm listing. And I have integrated Size.Ly into my listing flow. Now that it's so much more easily accessible and I can do it all from one screen.
Doug:
And those PhotoRoom integrations. I know PhotoRoom does a lot more than background removal. But that background remover is insane. I know that I've said it, I'm not joking when I say I'm obsessed with it. I'm like, "Ooh, what can it do with this one? What can it do with this one?" And like you said too, the bulk tool's great. Cuz you just select what you wanna do, do it in bulk. And if you have to undo it, you can undo it as well. I've only had like a couple here and there if it's like something that's white that you're trying to photograph and you're on like a white background, sometimes it gets mixed up, but that makes sense. You just gotta, you know, photograph it on a color background and still use that bulk to switch your images back.
Liz:
Yeah. October List Perfectly went to the BOSS Reseller Remix.
Doug:
And we also went to the BOSS Reseller Remix. We've talked about it. It was a great experience. They've already announced that they're doing it again next year. So hopefully we'll be back.
Liz:
Along with the PhotoRoom background remover in November List Perfectly also permanently increased the background removers from 500 to a 1,000 background removers for their pro plan members in December. They increased it again from 1,000 to 1500. They also added 20 background removers for the simple plan and 50 background removers for the business plan for the month of December, just to give those folks a little taste of what it's like and also to just help them through the end of your push with getting listings out. And something else–simple plan also got pricing added to their plan. Which was big. And then also for December for business and pro plan members, you can add customizable marketplaces. So, let's say you list on Thrilling. You can also now track your listings and sales through a customizable marketplace right in your listing flow. So also in December, the simple plan got access to add pricing. So, when you list and cross post, the pricing now carries over. And they got access to the re-copy button.
Doug:
That's nice. I mean all these things saving you time, saving you steps. What is it you say Liz? You're a step snob, click snob.
Liz:
I am a click snob. So, less clicks, the better, you can get done with your listing faster, makes you more efficient.
Doug:
List Perfectly is constantly adding new stuff. So, this list will be out of date tomorrow, right?
Liz:
They also added something else in December, which was extension notifications. So, if you are a List Perfectly user, whether you use the catalog or not, you'll see in your extension, in the upper right hand corner, you'll see a little notification, a little number. And when you click on it, you'll see a banner to tell you about all the new updates that were released that week.
Doug:
Well, you know, it just goes to show List Perfectly is always adding new stuff. They listen to the community, they take the community feedback. They're always looking for suggestions and you know, great year. There's gonna be a lot more in 2022.
Liz:
I cannot wait until we start bringing our listeners two episodes a week. And with that, I think that's a wrap on this episode, and we can go prepare for our next episode. Thank you for joining us on The Seller Community Podcast from List Perfectly. You can find us at listperfectly.com/podcast. Leave a message or ask a question at anchor.fm/sellercommunitypodcast. You can also email us atpodcast@listperfectly.com. You can post a question in the List Perfectly Facebook group, facebook.com/groups/listperfectly. Use the #sellercommunitypodcast. Mention me or mention Doug.
Doug:
You can listen to us anywhere you listen to podcasts and be sure and subscribe, tell your friends, and if you're on Apple Podcasts or Spotify, please leave us a review. You can also follow us on Instagram and TikTok. Liz is @coloradoreworn I'm @snoop.dougie and of course follow @listperfectly. Also, you can use our promo code podcast, P O D C A S T for 30% off your first month of List Perfectly or 30% off your first month upgrading your plan.
Liz:
All right, Doug, I'll see you next time.
Doug:
Next time.