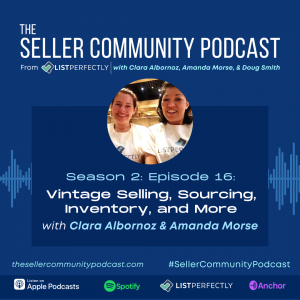 This week Doug talks with The Clothing Vault and List Perfectly Co-Founders and Co-CEOs Clara Albornoz and Amanda Morse and gets their insights on vintage selling, sourcing, inventory, research, and more.
The Seller Community Podcast from List Perfectly is the ecommerce resource for the seller community across all platforms and hub for information on growing your business. Find out more at thesellercommunitypodcast.com, leave a message or ask a question at anchor.fm/sellercommunitypodcast, or email us at podcast@listperfectly.com.
List Perfectly is the ecommerce resource for selling across multiple e-commerce platforms including eBay, Poshmark, Etsy, Mercari, Kidizen, Grailed, Depop, Tradesy, Facebook Marketplace, Instagram and Shopify.
Listen on Apple Podcasts
Listen on Anchor
Listen on Spotify
Listen on Pocket Casts
Listen on Google Podcasts
Listen on Breaker
Listen on RadioPublic
Links
thesellercommunitypodcast.com
List Perfectly.com
Seller Community Podcast on Anchor
List Perfectly Facebook Group
snoop.dougie Instagram
snoop.dougie linktree
List Perfectly Instagram
Transcript
Doug:
Welcome to The Seller Community Podcast from List Perfectly. This is season two, episode 16. This is a fun one. I am turning the mics and the tables on Clara and Amanda and having them on as guests to talk about vintage selling, selling vintage, sourcing, inventory control, repairs, research, and more. We had a great chat, and it was fun for me too, because vintage is something I'm interested in too, not necessarily selling, but I also get to talk about rockabilly. Talk about Duran Duran. Talk about that time my mom came out and washed all of my dry clean bowling shirts that were dry clean only and ruined them, but that, and so much more. So let's listen in…
Doug:
So you all know my new co-hosts Clara and Amanda, who are also the Co-CEOs and Co-Founders of List Perfectly. They are resellers and they've been doing it for years. They've seen it all. They've done it all. And they've been selling for more than 20 years, and we've touched base on their reselling adventures in The Clothing Vault episodes, which we will link to in the show notes. If you haven't listened to them yet, you have to. But today I'm excited to dig a little deeper into that journey and turn the tables on Clara and Amanda and talk a little bit about something that they are passionate about, and that is vintage clothing. So welcome Clara and Amanda, thank you for taking the time. And I know you're used to being co-hosts, but now again, the tables are turned. The mics are turned towards you.
Clara:
Thank you, Doug. So happy to be here and to speak with Amanda on a subject that we love so much and who better than Amanda, you know, to explain this because you gotta, we wouldn't be here if it wasn't because of your vision, Amanda.
Doug:
This is true. This is True.
Amanda:
Oh, wow. I mean that's…thank you. Wow. What an intro, appreciate that. We're so happy to be here and just talk about what we did and our knowledge. We wanna share it with the community and if it helps, I'm, I'm thrilled to be here.
Doug:
All right. Well, let's get started. And so vintage is an interesting term and a lot of people have different perceptions. For me, it's kind of a music thing. So I think back to like in the nineties, the movie "Swingers" came out and so swing music, and then the rockabilly scene got big again. And so I was in the rockabilly scene in San Diego, but there were a lot of people that were into the music and into the clothing. And a lot of people had all the stuff in their house, and they would kind of live this lifestyle. So there's that. And then now that we think about it, Amanda and I were talking a little bit about this before we started in terms of music, again it's like what's classic rock and what's vintage, and it's a different thing, I think, to different people. So to each of you, what is vintage, and what is vintage fashion to each of you?
Amanda:
I will talk about vintage as, you know, a particular time in history where the trends they're just trends of a different era. And so like you just mentioned the rockabilly and you know, all those different trends that were very popular at that time, you know, over time you start looking back and it's really the story. To me, it's a story. It's a story of what was happening at that time. And so it's everything from clothing to goods that you'd buy to the movies that you'd watch to the music you'd listen to. I mean, it's all in, it's just part of that era. And that's what vintage means to me. And so collecting those things is important for a lot of people because it does, it takes you back to that time and makes you think about the things that were popular back then.
Doug:
Clara, what is vintage, and what is vintage fashion to you?
Clara:
I learned vintage from Amanda, okay. I started listing with Amanda. That's how I got into ecommerce and reselling vintage for me by definition is anything that is 20 years and older as Etsy describes it, okay. Vintage from my personal perspective is the part of reselling that allows me to reduce landfills, restore products to their best condition, and then assign them or find someone that really wants and communicates emotionally with that product. That's what vintage means to me and it's just such a thrill to find it, take pictures of it, sell it, ship it. It's just, it's, it's not like a modern product or something that you have many of, so it is just so special.
Doug:
Vintage fashion of some sort is always in. Is that true?
Clara:
Yes.
Amanda:
Yep. Absolutely.
Doug:
And then, so Amanda, we kind of touched on this, but give us an overview of how you got into vintage fashion selling.
Amanda:
I had been transitioning from a business that didn't work out and I started just working for somebody selling on eBay who was selling vintage. And I learned a lot about vintage. Like I didn't even know that that was a thing to sell vintage and that pieces were, could be so valuable. Had no idea. I just started learning and it piqued my interest because I graduated with a history degree. So when I think about vintage, I think about that history, and that's why it's important to me. I never was a vintage fashion wearer myself, but I appreciate vintage from that historical perspective. And because of the story that every piece has.
Doug:
And Clara, how did you get exposed to vintage fashion?
Clara:
I met Amanda socially and I had a barbecue in my house and Amanda comes with her laptop. Now keep in mind at that time. Of course, I had very good Wi-Fi. At that time I was a banker, and for someone 13 years ago to ask you for the Wi-Fi, it was like, "You're asking me what?" So of course, you know, I asked my friends, "Hey, can we trust her?" You know, they tell me "Clara yes, you know, we know her." One of my friends literally lived right next to Amanda. So I gotta be very careful because of the job I have, you know? So I allowed Amanda to go into my Wi-Fi and there she's smiling in the corner of my house. Not drinking, not eating, just smiling big. And I'm like "Wait a second. You asked me for my Wi-Fi. I wanna know what did you do, okay, that is making you so happy?"
Clara:
And then she shows me, "Look what I sold on eBay." And she shows me this vintage nineties downhill ski polar Ralph Lauren vest with a hole in the chest. All right. Which she has repaired. This is the part that is awful. Okay. She's repairing, also she's bad at it. Okay. Amanda is bad at that. Okay. So she's repairing it. And I'm like, I'm seeing, I'm like really, I sold that. She sold it for $200, $200. Weeks go by. I see her again. And she's like, "Look, I got a five-star review on the vest that I showed you the other day." That blew my mind. That was okay, I wanna be like her, that's it. And I really like the idea of repurposing and finding a home for vintage products. And Amanda really made it so good for me and then she told me, "Clara, don't worry about it. Ecommerce is big enough for all of us." And that was it. I was in.
Doug:
That's how you learned about e-commerce and you learned about all the terms and all the terminology, but it's great because like you said, there's that with vintage clothing, there's a connection. It brings people back. Amanda, what do you think it is about a specific era that makes an impact on vintage fashion? And how does it stay relevant through the years?
Amanda:
For me, everything always comes back to the story. What were people doing back at that time? There is something about romanticizing the past, right? You think about past eras and you think about what people were doing versus the problems and the struggles that we have maybe today that take our focus. And when you start to think about history, you know, some of those struggles melt away and you just, all you do is you focus on the positive things that were going on back in the day. And I think that's what vintage means to a lot of people. It's just thinking about the fun times and the good times of the past. And it's that connection that you have when you have a vintage piece, and you get to think about that positivity.
Doug:
Clara, so what do you think in vintage, what can bring a certain style back around again?
Clara:
We went into military surplus, and we found a lot of and Mandy's very…you gotta understand she's a Marine and as a historian, okay. She was very proficient, you know, in identifying vintage uniforms and so forth. So what makes something really wanted on vintage, for example, when we went to that surplus, we found Swedish, okay military collectibles. At that time, they were literally giving it for $5. I'm like, "OK, that's it. Maybe someone in Europe will buy it." Guess what happened? Pharrell Williams used that jacket and that jacket for $100, okay, I could sell it for $2,000. And then I found zero. I sold one for $800 on my website, and one for $2,000 on eBay. It was very good. The same happened with the jacket used by Bruce Williams in the movie Twelve Monkeys. He used a Mats Larson, which is a Swedish canvas overcoat, military overcoat. Overnight, that jacket usually was like $200. If you have to be lucky if you get it with the shearling liner. And Bruce Willis wore it and literally that was $2,000, $3,000. You gotta keep an eye on what is available and what is trending because maybe a star, maybe a movie, you know, like Mrs. Maisel, the TV show is back. Okay. On women's fashion. So it's all about what's trending. You look at what is trending and in demand. Observe the demand. What yesterday in vintage could be worth $5 today is $8,000.
Amanda:
Yeah. And that's a really good point. It's similar to fashion trends today. If you see an influencer or somebody famous wearing something today, chances are that product is gonna spike in demand today. Not even being vintage, it's the same thing as vintage. If a star or an influencer wore something back in the day, it will always be on-trend.
Clara:
And let me add, I'm glad that you said that. And let me add that for example, if someone, a famous person, just whether it's an actor or politician, football player when they die, anything with their name goes off. Literally the previous day it was $10. The person died. It's like $1,000. You can sell it the next day.
Doug:
Do you think some of it is luck? Or is that something that always happens or is there a way to keep an eye on it? Or you just, you keep an eye on pop culture and what's going, and if you, I guess if you see something out there, you just grab it.
Amanda:
It's one of those things where your knowledge is going to give you the edge. If you're a vintage seller, I would say 90% of it is your product knowledge. And so when Clara and I were selling vintage, we would spend a fair amount of time on product knowledge, just, you know, looking at trends, you can't know everything, so you can specialize in your niche and then really get to know that and keep track of that. And that's pretty much what we did.
Doug:
I love the eighties. And then everybody knows I love Duran Duran. And so when they started out, they had military-style jackets with epaulets and big buttons and very military. And we recently talked with Maggie refashionedhippie, and she talked about how she's to a point where she can see a pair of jeans and she knows what it is, and she can tell you what to price it. But that's the thing is you have to know the niche. Do you think there's always an audience for certain decades? And why do you think so?
Clara:
I think there is always an audience for certain decades, because especially now, look at millennials going insane for the eighties and nineties. I never expected that one. Okay. I was like, "Really?" They're using stuff that we don't wanna, or now they're using brands. Juicy Couture is vintage. Okay. Blows my mind. Okay.
Doug:
Yeah.
Clara:
How did this happen to me? How did I age so much that Juicy Couture now is vintage and highly wanted in younger generations, sweatshirts of Juicy Couture with rhinestones that literally were sold for $50, $60, $70, like at the end? Okay. Because that's when Juicy Couture went down. Right. And nobody wanted to wear it. Now. It's like, pre-owned, with flaws a $100 Poshmark, eBay. I'm like, "Really?" I couldn't, I literally had to see it with my own eyes. So what it makes is there could be like Amanda said, an emotional connection, but certain generations that I see, for example, new generations, they will look like 20 years older and plus okay of items that they can wear, items that they can collect, items that maybe is related to their childhood. And that's how it works. And then, or childhood of the parents, maybe because the parents expose them to something cultural of their, you know, their lives.
Clara:
The most important thing is whether it is the 30s, 50s, 40s, 60, 70s, 80s, 90s, there are always audiences, always when it comes to early 20s or early 1900s, we know that those are very collectors and they're willing to pay a lot of money. These are people that could range from a young person that just became a CEO you know, and they just wanna find, maybe acquire something from that brand when the company started, which we did a lot, for example, John Deere, right? We sold so many hats. Okay. And t-shirts in deadstock condition, never worn. And it was sold to people to executives in the John Deere company.
Doug:
Oh, wow. That's interesting.
Amanda:
Yep. Vintage definitely has its cycles, depending on the era, like Clara mentioned, you know, a big motivation for what becomes vintage is what people are nostalgic for. She touched on, you know, things that remind you of your childhood, things like that, that is very, very strong. And some vintage can kind of go out of fashion a little. I'll give you a classic example of like, you know, the Beanie Babies and the Hummels. Like, you're not gonna get very many collectors for those anymore. Things come and go for that reason.
Doug:
For some people, it's a hobby and some people turn it into a lifestyle. And some people, like, I know people that do things like they will do F. Scott Fitzgerald weekends, where they go and it's, you know, the 20s and the 30s. So they're doing World War II stuff where they just go and for a weekend and they're doing these types of things with the authentic stuff that they're looking for. And then it's interesting. I hate to do it, but I gotta do it again. You've brought up Juicy Couture. So another Duran Duran reference, one of the founders of Juicy Couture is married to John Taylor, the bass player…
Clara:
No way!
Doug:
…Of Duran Duran. Yeah. Yeah.
Amanda:
I didn't know that.
Clara:
Wow!
Doug:
So it's interesting. And after a show, they were getting into a car once and I said, "Great show, John." And he said, "Thanks, man." And she was with him. Oh, I wanted to say, "My daughter has Juicy Couture glasses!" This was years ago, 10 years ago, I think.
Clara:
I love it.
Doug:
But anyway, back on track, sorry. Amanda, what's the difference between vintage, antique and retro?
Amanda:
That's an interesting question because if you ask different people, they might give you different answers, but I'll tell you what it means for me. And from what I understand for me, vintage is 20 years or older. The Antique is a hundred years or older. Okay. And retro is more of a style. You can make something today. You can manufacture it brand new today but do it in the way that it was done. So you'll see a lot of modern clothing manufacturers bringing back vintage styles and that's retro.
Doug:
And then Clara, if someone wants to find a niche, let's say somebody is interested in vintage selling, vintage clothing selling. How would you recommend they find a niche?
Clara:
First of all, I don't know if you have money. Good for you. Okay. Go and follow your heart. Don't chase the money. Follow your, do like Amanda. Nobody, nobody okay, would buy collectible, military peacoats or overcoats or field jackets. Okay. Back, we're talking about 13 years ago. Nobody, nobody wanted it. Very few people and it had to be in perfect condition. With Amanda, she stuck to her let's say her knowledge and that literally is what carried us through the days when you don't sell anything. Because we had that exclusive part of collectible militaria. Now, if you are like me, someone that came has no money. I came with no money to this country. I have to start everything by myself. There was one time that I had to even sell my mom's shearling coat and jewelry to fund, okay, the next inventory that I would be buying.
Clara:
So what I would say is first try to find a good deal. It's all about buying low and selling high. Anything first, beggars can't be choosers. Okay. So make sure, you know, you just focus on a good flip. And as you are getting better with customer service and shipping, you can start okay. Saying, "Hmm, I like selling this. The interaction with my customers is better. When I have these dialogues, I connect with them better. I'm happier answering their questions." There are people that don't like to sell clothing, they will die if they get a question, "Will this fit me." Now, there are people like myself, I don't like shipping vintage hard goods. I find it complicated for me. It's a lot of risks. Okay. I'm so used to shipping just clothing. Everybody is different. What you should do to find your niche is just focus first on finances and being profitable. A good deal, a good flip, something that you can allocate in the right marketplace, whether it's gonna be a bundle or just one single item. And then from there, learn what you like best, learn what your audience likes best, and then grow from there.
Amanda:
Clara just touched on something really important. Vintage is very knowledge-based. And so if you don't like a category, then pick something that you like, because you will have to constantly stay on top of it. And if you don't like it, you're not going to be motivated to stay on top of it. Don't chase the money. You're just not gonna sell great. If you're doing it just for the money, I mean, vintage, you can make really good money doing it, but if that's all you're focused on and you're not doing it for at least some amount of interest, it's gonna be challenging.
Doug:
So something you have a passion for.
Amanda:
Yes.
Clara:
Let me give you an example. What happens when you do, when you resell okay, and you're not connected with your product, you're gonna start doing very poor descriptions and you're gonna end up selling those products to other sellers instead of selling it to an end consumer.
Doug:
Yeah, that makes sense.
Clara:
It's all about the description. Just know that if you're not gonna describe, not take the time to describe the product, most probably you're selling to another seller.
Amanda:
Yeah. Let's say you're tuning in to a channel just on BOLOs. Right? You don't know, you don't sell vintage. You don't know a lot about it. You might have heard something that was a BOLO a year ago. And then that trend changes. And if you go out and you start buying these BOLOs that you thought and the trend changed, well, now you could be stuck with that inventory that nobody wants, because you're not keeping up with the trends. So that's where it really is important to love what you do. Love gaining that knowledge and love staying on top of it.
Doug:
Okay. So let's move to source a little bit. We'll start with Clara. And I love the sourcing stories that you've told for vintage selling. How is sourcing different? What tips do you have and share a couple of stories? I think one of the things I love is you talk about the connection it is and building a relationship.
Clara:
Yes, absolutely. So when I met Amanda, Amanda speaks English only. Okay. So when I met Amanda, we were limited to going thrifting or estate sales. And when we went to flea markets, the big sellers, they don't even pay attention to us. We wanted to buy the good stuff and like, "Oh, that's not for you." You know, they would tell us that. And I was like, "Oh." You know, it was a very man's dominated world. We were literally the only two women. Okay. Shopping at 4:00 AM on the Pasadena, okay, Rose Bowl flea market. Okay. With our little lamps. Okay. And the diving in, you know, on buys, you know, we're literally the only two. OK. I would say, first of all, what I did is I stopped trying to be like "How much come on, sell it to me." No, don't be, don't never, you will never get a good deal by begging okay, or being cute or anything like that. No. Especially if you're a woman, it's a men's world. When it comes at least where I went in Los Angeles. Okay. Back then. I'm gonna go soon. Okay. Again, to do a revisit to my old sellers and I share with all of you, but what I say is first is say "Hi" to them. "Hi, good morning. How are you?" I would be like with the biggest smile. Okay. Every, and I was determined, and I would pass several times. And, and if they said a joke, I would be like, "Oh, you make me laugh!" You know, I would be like, okay, whatever I could do to engage with them. And then little by little, I'm like, "Hey." And they would be like, "Hey Clara." "Hey," and I knew the names now. Okay. Little by little. Okay. One day. And I would tell it, and I would joke that "One day you're gonna sell me something," you know, and say three months later, I didn't know. They all spoke Spanish, but they didn't wanna speak Spanish because I speak different Spanish. I speak Castilian.
Clara:
So, and I was like, "Okay, Clara, pull your best, non-Castilian Spanish, and pull a joke about Argentinians" and I made them laugh. Okay. And I made them laugh with a very good joke. Said and done after that, you know, they're like, "Okay." They started to let us see, okay. They're like a secret stash. And then we started with their secrets. You're the first one to touch it or just someone touched it and they didn't want it. And literally, the leftovers of we're talking about vintage stores that sell the minimum price ticketed. Item's like $5,000. Okay. We're competing with those sellers. Right. And here we are, Amanda, our average sold at that time when we started was like, what? $50? $70 maybe. Meetings with Amanda. Very humble. Very, we were selling 70s. I'll never forget the 70s, acrylic, and polypin color shirts.
Clara:
She has a lot of 70s for those that sell vintage, 70s is a good category, but it's not the hottest. 50S is hot, okay. 80S is super-hot. The 90s now is an explosion. Okay. So I would say, you know, with sourcing, always build that little relationship, make yourself known. Okay. Don't worry if they don't wanna sell to you, keep saying "Hi," you know, be nice. And that just builds the relationship. And then little by little, it's like, "Oh my God, I dream of selling this one day. If you were going to sell it to me, how much would you sell it for?" Do you see? And then you start, like that.
Amanda:
I wanna back up a little bit and talk about the idea of a wholesaler, cuz it's, it's a lot different than wholesalers of new inventory, right? So every piece of clothing that's vintage is not manufactured anymore. Where do you find this stuff? It's gotta come out of people's closets or even manufacturers hold on to some of their old stock. They call it deadstock and they have it in some warehouse, you know, somewhere, been sitting there for 20, 30 years. What a wholesaler will do when you donate your goods to a donation facility, is they get way more than they can possibly process. And we talked about this on the last podcast. So what they end up doing is bundling them up. They compress them into these, like hard padded bales. Like they'll take, you know, something that would fit in the size of your closet and reduce it down to one foot by one-foot cube.
Amanda:
So everything's kind of crushed and smooshed together. And then they'll probably more than likely either try to auction it off here in the country or put it on a ship or a container and ship it off somewhere. So what a wholesaler will do a lot of times is they will go, and they'll buy those auctions. They'll even travel overseas. If that item wound up in some other country and they'll buy it and they'll send it back to the USA, they'll process it. They'll pick out what, think that they can take a gem from. Clara, go ahead…
Clara:
I love it. I love what you're saying. So imagine this Doug, Goodwill donates okay. To, and this is from my vintage wholesalers. Okay. They told me they went to Jamaica, to Jamaica. Okay. It was donated to Jamaica…
Amanda:
Honduras too…
Clara:
Yes, Honduras too. And he went to Jamaica and Honduras to buy it back from the government. So that's what they're doing. So they buy the vintage, like I said, you know donating to third-world countries is the worst thing that you can ever do. Okay. There is a lot of fraud, and it just doesn't work. Okay. So I'm loving that you brought that up, Mandy. Thank you so much.
Amanda:
Yeah. So it's important to understand the journey that vintage clothing can possibly go on and what happens to the wholesale. And this is just with a wholesaler that I'm talking about, that they have people that are sorting through the goods.
Clara:
Hundreds.
Amanda:
Just like you might do if you go to the bins and they're literally, have giant bins. They're opening up these bales and they're, and they have pickers that are finding the gems out of that. Then they ship them back to their facility. A lot of times wholesalers will be found like you can go to their warehouses. There are many of them and you can go find them, go to their warehouse, do some picking there. Then you can also go to flea markets. There's vintage dedicated, dedicated to vintage flea markets in antiques. The big one is the Rose Bowl in Pasadena, California which happens once a month, but there are others, at least in California, in Southern California and Northern California, there is some vintage market going on every week. So we would travel around a lot in the state of California to go to these vintage flea markets and just make our rounds and buy things there. Clara touched on this. Now I wanna talk about it a little. What really gave us an edge as we were not competing for the same items as everyone else. We discovered a category all on our own that most people when they go and they look, would just bypass cuz they don't wanna deal with it. You know, coats and jackets were really hot for us. That was our niche because most people look at that and they say, "That's hard to ship. It's expensive. It's bulky, takes up too much room," et cetera. We would, we focused on that niche, and we really understood what the highest-grossing items of that niche were. So it would be profitable to buy something that's heavy and bulky and ship. And it took us a few years to really nail that niche down. But once we did, I mean, we skyrocketed, our sales just went through the roof.
Doug:
You've got that niche category, but you've also got niche buyers that are gonna be into that and that is, that are gonna look for that stuff. That's interesting. I hope when you come out to do the Pasadena Rose Bowl, that's like what? Literally one of my bucket list things. I've never been. So I'd love to go with you and just watch.
Amanda:
It's great. Oh, you're gonna love it. Let's do it.
Clara:
You're coming with me. Let's go with our flashlights at 4:00 AM. Let's do it. Come on. It's fun. Then literally by 8 or 9, we're gonna eat our tacos or a burrito.
Amanda:
Yeah. You know, what's cool. Is that when you start getting out there, you start seeing like they actually charge more for early access. Again, vintage, it's hard to find. These are one-of-a-kind items. It's not like you're just, you're buying from a manufacturer. You like an item, and you can buy a thousand of it. No, you're buying one. And so first come first serve. If you get there first, you're gonna have an edge. So we would pay that advanced entry fee for that privilege to be able to go and be so…but it's hard because you're shopping in the dark, you have your headlights, and a lot of times what might look good in the dark and in the light, it doesn't look so great. Yeah. So there's a little risk in the, but yeah…
Clara:
But we did also with the estate sales, Doug, not with thrift stores, but with estate sales, we did that as well. Always arriving first and early. Important to have the first peak.
Doug:
Yeah. Just get in there and no, I love that. That's so cool. Okay. So the journey. You've sourced, you have the stuff. So now you have to keep it and store it. Are there any special considerations when you're storing vintage stuff? And do you have any inventory tips?
Clara:
Absolutely. So number one, what I did when I met Amanda, let's say I did not approve of her inventory organization. I'm the organized one. Okay. So what I did is number one, I sealed the garage. Okay. Because vintage, what you wanna do is fight moths because we had so much wool okay. And silk. So what I did is sealed the whole garage and at that time we were, and it was a one-car garage. Okay. Carpet on it. And then I put racks of clothing against the wall. And then we had some shelves for bins being like, having a lot of light. I put a lot of light because you wanna see when you're shipping, that's your last chance to do quality control and make sure that your vintage product doesn't have any flaws. Flaws are very important when it comes to vintage. Otherwise, you'll get a return. That's what I did.
Clara:
When we came to Arizona, moving, okay. At that time we moved 3,000 active listings. Okay. From Long Beach to Phoenix, Arizona, crazy Amanda driving that truck. Okay. I have to get in front of her and push the brake so she would slow down five hours from Los Angeles with a freaking U-Haul that is so big. Okay. She's used to it, because she used to drive all kinds of stuff in the military. So when we arrived in Phoenix, we packed, like for example, you pack like 30 hangers of items. And then we packed them in the contractor bags, the black bags. And when we opened them, every single bag had water inside because we lived right next to the beach and we were right next to the beach and we came here and it's so dry.
Clara:
So as soon as we were here, we were like, "Oh." So we arrived in winter. We knew we, at that time, didn't even have a house. Literally, we're living at the house of a friend's mom and we're still shopping for a house. Right. We have all of the inventory what is it? The rental U-Haul storage. And it was a non-climate controlled unit. Okay. You know, they're not sealed. And literally, my inventory at that point was average, the average price of my inventory was $200 and that was the average sell-through ratio that I had. Okay. So it was a very high-end inventory. Those were the longest three months that we had. We have to go and do shipping, you know, remotely and then go to the storage facility and then put it back.
Clara:
So when we bought the house, we got it, now we're like, "Oh, we're in Arizona. The land is cheaper. Okay. Then being by the beach in California." And that we were able to get a big house with a two-car garage, and we were able to get, you know, more bedrooms so we would have offices and so forth. So when we transformed the two-car garage, we did the same thing, sealed the garage, alright. Painted it all, and added a lot of lights. And then to those racks against the wall and in the middle, we have plastic bins for anything that was maybe not clothing or anything that wouldn't do good hanging, for example, silk or shearling with this dry weather, to have it hanging it'll dry.
Amanda:
Wow. Yeah. I wanna explain a little bit about the inventory system that we used and, put the why behind it. So with vintage, with a manufactured, good, you can pop it in a bag. It's always gonna be the same. You know, if you get a question about that item, you'll probably be able to answer it pretty easily, but with vintage, because it's been pre-owned because it's possible unless you're selling deadstock vintage because you know, it could have some unique wear and some other things about it. We discovered that it was not a good idea to bag so much, and whatever we could hang on hangers, we would do that. We're selling very high-value items and more than likely before a buyer completes a purchase, they're gonna ask you a question or two about it. So we thought it was very important to be able to pull that item right off the rack and quickly take a look at it and answer any of the questions that they had.
Amanda:
So we always kept our inventory close. If we got a question, we didn't wanna have to go to a storage facility to answer it. It was really important that our inventory be close by so that we had very easy access to be able to just quickly take it off the rack and look at it. When we devised our inventory system, we would think about what can go on a hanger, what needs to go in a bin or a shelf, what is long because our racks were configured so that they were, you know, we had high racks, we had low racks and then you'd have to have a long rack so the long things could properly hang. So we had a fairly complex, you know, inventory system for that reason. But we came up with a way to do that, that was full proof.
Amanda:
I mean, we never were missing an item. We would never lose an item. Anybody shipping for us could find everything very easily because we gave every single listing its own identifying number called SKU, stock keeping unit, every single listing had a unique ID, and you could easily find it. So our SKU would include an alphanumeric code. We would assign a four-digit code that was either a letters or numbers combination. And then we would also specify in that code, the location. So if it was on a regular rack, if it was on a long rack, if it was in a bin, we would put that in the SKU, along with the weight of the item. That just made it so easy when it came time to ship.
Doug:
Yeah. I can imagine. No, those are great tips. And so that leads to my next question. This stuff is like you said, it's pre-owned pre-worn, so what about repairs? Did you have to do repairs? Did you do repairs or do you just, and this goes back to the story that we all, and I love too. It's like with the big hole and the sweater, do you do repairs or do, did you just, you know, list and be like, here's the wear? Cuz some people like that, some of those old music t-shirts are really worn.
Clara:
After I saw Amanda's skill in repairing sweaters… You shouldn't be doing that. Okay. One of my aunts in Argentina had a sweater business and when you have a sweater business the people that put together the sweaters, okay, you have to do final quality supervision removing, you know let's say loose stitches, making sure that it's even, you know, so I learned that and repairing, maybe little holes with the same stitch pattern that they have. So I was able immediately to show Amanda, "Okay, let me do that for you." Okay. I can tell she's not, it's not her thing. And it's something that I really enjoyed. And I realized, okay, between selling something that had loose buttons, or the zipper was unsung. Okay. And I couldn't sew it manually because sewing zippers in leather, or you have the machine, or you have to do it manually. And little by little I'm starting to fix more and more stuff myself. And I realized how profitable it was, a leather jacket, even if it is hot, okay and the zipper is loose at that time I couldn't sell it for more than $150, $200. You repair the zipper, $2,000.
Doug:
Wow. I believe it…
Clara:
That was life-changing for me. So what I did is let Amanda focus on sourcing. I was doing the repairs and then I got with my dry cleaner. It is very important that you get a dry cleaner, you get an incredible washer and dryer. And then also my washer and dryer have a dry, cleaner setting, but for the higher-end stuff, I would send it to a dry cleaner. And then after the dry cleaner, I would do the repairs just to match the stitching color, the stitching pattern whether it was a tear, very common with vintage clothing sometimes to have loose seams. And if it's objects, you know, maybe sometimes there is a part that you have to glue or maybe something that you have to fix. So that's what I enjoy doing. And I realized how profitable it was just to put a little more care on what you're selling and understanding what you have to repair and what is not desirable.
Clara:
For example, armpit stains. Okay. No, that's not, that doesn't give character. Okay. Even though the shirt could have been worn, okay, by, yeah, I don't know someone or a rocker, a hairband, you know, incredible. It's just, no. Okay. So take the time. Oxyclean, remove those things. You know, there you go. But if it is, for example, several pin size holes or tears, maybe in the sleeves or maybe the pin size holes are by the side. Okay. That's hot. It's desirable. So what you could do is list something as is and observe and put a good price. If after a month it doesn't have any views, you know that "Oh, I'm gonna repair it." Okay. And then just take another course of action. Otherwise, try to, but just learn what your audience wants because what works for Doug with his Duran Duran vintage t-shirt is not gonna work for Clara, her audience that I assure you.
Amanda:
Yeah. And, and having said that it's important to know that we would also source vintage parts for that purpose. So for example, zippers, vintage, zippers, when you sell so much vintage, you start to understand what you need to make those repairs. There were times that we would even buy pre-owned something that might have a giant hole, but the zipper is intact. We might buy that item off of eBay in order to repair one that we already have, where if the garment itself is intact, it just needs a new zipper. So just, you know, when you really get into it and you're really pro at it, you start understanding, you know, what you can do to maximize your inventory and your investments.
Clara:
Yep. So you buy this zipper for like, for like what, $10 on Etsy. Buy the parts on Etsy and then you buy the items on eBay. It's just literally a moneymaker. And then you take it to your seamstress, repair, done. And then you sell it for $1,000.
Amanda:
And we would always note, you know, we were very careful. We never wanted anyone to think that we were trying to pass something off. We would say we repaired the zipper "Really well-done repair on," you know, whatever we did, we disclosed everything that we did. And when you do that, people appreciate it because they're like, "Wow, you actually put time and you invested in this item. So now I feel more confident buying from you." It is okay. There was nothing wrong with making a repair and letting people know about it. It's not going to diminish the quality or the return on your investment at all.
Doug:
So that does remind me of a quick story. So back in the nineties, when I was in the rockabilly/swing scene and had a lot of bowling shirts, probably not, I mean, not vintage, but more kind of the retro, but some of them were nice and some of them were dry-clean only. And my mom came to visit. And so I was a bachelor. So, you know, your laundry piles up, my mom came to visit, and I went to work one day, and I came home, and she had done all my laundry for me and washed…
Amanda:
Ohhhh noooo…
Clara:
I love your mom!
Amanda:
Kiss of death! No!
Doug:
And mom, if you're listening, you know, please…
Clara:
Love you mom.
Doug:
We love you mom. But yeah, she washed a lot of my dry-clean, only bowling shirts.
Clara:
I still remember the main brand of bowling shirts that we used to sell Hilton. Do you remember Mandy?
Amanda:
Oh yeah.
Clara:
And if you find the 40s or 50s Hilton, wow.
Amanda:
Yeah.
Doug:
That would be awesome. An important part of this is pricing. What would you do and how did you set your prices?
Clara:
Oh, that was incredible. So what we did is a team effort with Amanda. She would be sourcing at that time. There were no smartphones. She would call me, and I would be on Terapeak and eBay. So what I did with my pricing, I come from Argentina, which is in recession, is the normal currency. So I learned that pricing. And that's one thing that I see differently from me versus a lot of Americans. Pricing is not set just by the demand. It's also set by how much is available and the offer. And that's what I see. Sometimes people look at the past comparables to set pricing. You know, we always sold it for the highest value with Amanda, because we knew whether other people have it, but we have it in better quality. Okay. Or we have something unique about it. So pricing is a combination.
Clara:
And especially now that we are coming out of a pandemic, please don't set up prices by looking at comparisons from three months ago, the supply chain is broke. For everything, it's broke for everything. It's barely coming back. And it's gonna take a couple of years and even for vintage sellers to get to the volume that they were finding okay vintage stuff. So for pricing, it's gonna be crucial that you stop looking at comparables in the past and see what is available in the market right now. And see if it is trending, see, if it is someone that uses Google, okay. That particular garment and see if someone famous used it. That's the most important thing I would say about or a TV show. Now vintage is so, with Amanda and I, that's how we always did pricing. If you look at my listings on The Clothing Vault and you go from high to low, you see that I sold sweatshirts, exact match sweatshirts of Rocky Balboa. I sold the Pharrell Williams jackets. Okay. We sold so many things and we even had rockstar people that wore our vintage stuff and they tagged us on the concert. So that was incredible. So that's how we wanna set up that. So I knew, and she wore a Grateful Dead pattern that I had very many similar to. So of course, I went and bought a lot more. And of course, I was selling those t-shirts that I bought for $5, I was selling them for $300 after.
Doug:
Wow. Wow. So pricing has evolved. It's different now than it was back then. Not just in terms of technology, but especially like literally right now.
Clara:
Absolutely. Conditions have changed. We just came up from a pandemic. There is a recession. Whether we like it or not, whether we understand it or not, a recession is here. Okay. I'm not talking about politics, this is just a reality that America is going through. Coming from Argentina, an unstable country and seeing a recession in the USA. You see, it opens my eyes. So that's why I wanna give heads up to people, setting up prices. Please stop lowering your prices. Go the other way, please.
Amanda:
Yeah. Yeah. I can't speak enough about that because we call that the race to the bottom. You know, a lot of people just assume, "Oh, a lot of people are selling the same item. Let me be the lowest price so I get the fastest sale." You could have the opposite effect because a buyer is instantly gonna think, "Ooh, this is too cheap. What's wrong with it?"
Clara:
Or "You're hiding a flaw. I'm not sure. I'm gonna send you an offer of half of what you're asking."
Amanda:
Don't race to the bottom. Don't do that. It kills me when I see, and I see this happening a lot on marketplaces where they're emphasizing, "Set your price lower, set your price lower," and people are taking this advice. And maybe it works for some categories, but in vintage, it's not a good idea to race to the bottom with your prices because it is vintage. It's one of a kind. So it probably will come with flaws and a buyer is going to think, "Well, what flaws does this cheap item have?"
Doug:
You know, I fell into that trap early on. But I think too, especially in this niche, it can show a buyer that you don't know what you're doing. And they're gonna take advantage.
Clara:
Yeah, absolutely. You're learning and you're selling to another seller. Like I said, are you gonna sell to the end buyer? Or are you gonna sell to another seller? That's a question you wanna ask yourself.
Amanda:
And let's not discount, I mean, you might get into vintage to be a volume seller. Maybe that is your niche. You could do that. You, if you have a never-ending source of vintage, you might just wanna be like, "Let's just move this quickly." You could lot it. I see a lot of people doing big lots of vintage and selling that to other vintage sellers. That's another possibility with vintage.
Doug:
Did you sell just vintage fashion and accessories or are you into other things?
Clara:
Everything from vintage laptops, cars, her dad's car, the Jaguar, okay, that was in the garage and used for the last 20 years. Okay.
Doug:
Wow.
Amanda:
And broke.
Clara:
You name it. Okay. Broken laptops. Gosh, anything I had in my house typically, you know how we're maybe a gift that you don't even like, you know, we resellers are like, "Okay, what should I do? Oh, I'm gonna resell it." You know?
Doug:
Yeah, exactly.
Clara:
We don't regift, we resell.
Doug:
Yeah, exactly. Why not?
Amanda:
But I would definitely say vintage was our main category. It was our main, that was our primary.
Doug:
From each of you, what's the top way you've seen selling vintage evolve since you started up till now?
Amanda:
Just the trends, the trends change. "What Is vintage" changes? Every year, I'll give you an example. On Etsy every year, at the change of the year, they adjust their vintage clock. When we transitioned from 2021 to 2022, they actually said, "Okay, vintage is now from 2001 to 2002." So keep in mind, that it's always changing. Vintage is exciting in that way. It's fun to see what's vintage. Then you can just say, if you've been around, you can raid your mom's closet. You can hi dad's closet. "Hey, Look, what you have is vintage. Now I'm gonna sell it."
Clara:
Yeah. I love your mom when she comes and visits us. And she's like, "Oh, you're selling these. I gave it away. I cannot believe it."
Amanda:
So true.
Doug:
Yeah. All the stuff we've given away, or I've given away over the years that I wish I still had.
Amanda:
Yeah. It's incredible to me, a lot of people, because it is vintage clothing, especially as a niche and it is incredible. And this is true of even the professionals in the industry, they don't understand vintage clothing. So you'll go to an estate sale, and you'll go…for us, Clara and I, we would instantly go to the closet. We're like, "Ooh, you know what, what's in the closet?" Empty. They went through the trouble to empty out all the vintage clothing, send it to the donation facility and then put prices on things that they would sell for $1, $2. And we were always like, "What, why would you do this?" But then, you know, over time we started to understand that vintage clothing, especially if it's an estate sale, it's one thing when the person is going off to a nursing home or something like that, it's an entirely different thing when someone has actually passed on, it's an emotional thing at that point, the vintage clothing is emotional. And a lot of times people just wanna say, "No, I, I don't wanna see it." And "I can't, it's too hard." And so I do appreciate that end of it. But by and large, what we've seen is that there's just a lack of knowledge that there is value in vintage clothing. And so if you're running an estate sale and you can leave it on the rack, leave it for us to give you a really good price for it. Because there is a lot of value in vintage clothing.
Clara:
And I'm glad that you brought that up Amanda. I'll never forget that estate sale, one of the first ones I went with you and the lady told us, "Oh, we donated everything." And then she kept two sweaters. Christian Dior and they were acrylic. I'll never forget… She's like, "This is Cashmeres, $30 each." And you're like "Uh…I'll give you $5." And I was like, "Oh, I'm watching Amanda negotiating." Right. So it was, I'll never forget that one and how much estate sales sometimes are not educated on vintage clothing.
Doug:
What's the first step you would tell somebody to take if they wanna start being a vintage seller?
Clara:
If you're alone, you have to go in groups. Okay. Like BOSS Group or Talk About Vintage. Alright. Okay. Or if you're not alone and you're lucky like me and you meet someone knowledgeable, like Amanda, like she's military and a historian. So she will tell you the story of, she has a very nice way to lure you into vintage and make you excited about it. Imagine, I came out of banking. I had no idea, okay, what peplum waist, or wasp waist, or peplum shoulders or anything. Epaulets, I had never heard of that terminology. All my vocabulary was about mortgages. Indexes. Let's say, I don't know what it was about…I don't know if the PMI, I'll never forget. I have all the definitions, you know, the home settlement RESPA projects, you know, I didn't know anything about vintage.
Clara:
So Amanda, in the first year let me do all kinds of mistakes and misspellings in my listings. So I could gain, I guess, courage that I could do it. And then the second year she's like, "Okay, you know what? Holes are like, not explained with a w actually it's just H O L E." I was like, "Oh, oh really? The hole, why did you let me misspell it?" So she would, you know because I have to describe things. So I would say, you know, to get into vintage clothing, find yourself, someone that is passionate about vintage, whether it is a friend, your parents, anybody maybe a community, maybe the Rose Bowl Pasadena flea market, literally the energy of people there being so excited about vintage. You see, we're grabbing something dirty, you know? And we're like, "Oh, oh," everybody's like when you grab something and even in vintage and people behind you are like, "Ohhhhh…"
Doug:
Yeah. Wow
Amanda:
And you can see a lot of examples. Go to vintage shops. If you can go to a shop and feel the texture of the fabric, it's gonna be different than anything that we manufacture today. When you start up shopping for vintage, you have to be careful because there are a lot of people that will try to pass something off as vintage. And it's not. So again, this comes down to your knowledge. Spend time on your knowledge. You can look at things online, but there really is nothing like just going into a shop and feeling and touching things that are vintage. I'll give you an example. One of our best sellers was vintage peacoats and vintage field jackets. They're military. These are military coats, and the old ones have a specific feel, especially when you look at the old wool, the 1940s, 1930, that…
Clara:
Is that Melton?
Amanda:
Yeah, Melton. And, unfortunately, what we saw, we dominated these categories. We saw people got confused about what was Melton and what was kersey, there are different types of wool. And it comes down to the blends and the weaves, some weaves are tighter. It comes and it's rated in weight and Melton wool was typically 32-ounce wool. So yeah, it's like, if you took like, I don't know, a square foot of there, or a meter, I can't remember how they classified it, but you would weigh it based on a certain dimension of the fabric and Melton wool was dense. It was so dense that it could repel rain, and snow. It could repel wind, just with wool. It didn't have any treatment. Today, with manufacturing, we weave wool very loosely, but then we treat it with some kind of chemical to make it more waterproof. They didn't do that back in the 40s and 30s. And before they would just really tightly weave their fabrics and it worked. And so when you start understanding, you know, these things about vintage, the vintage manufacturing process, you know, what went into it, then you really can go out and when you go out and you try something, you can touch it and feel it. And you're gonna know right away that no, this is not authentic.
Clara:
That is so true. Amanda was so good. She could dive on a pile and literally, she would pick this one Clara this one, and she would throw it at me and I'm literally putting it on the cart. Right. And she was incredible. And then she would beat everybody else. You know, when people were like trying to determine the buttons, Amanda was just by feeling and the weight and that's an important feeling and, and she would, and then fill it with the hand, the weight, and then she would make a decision. Then Clara takes this one, Clara…
Doug:
Knowledge and knowing the niche. There you go. That's interesting. What's the future of vintage?
Clara:
Save in vintage. That's a famous saying that all of us reseller vintage, that we're not interested in letting things go fast. Okay. That's what we always say. Save in vintage. And that's what I did. I have to tell you that I have so much, I built my reselling business with our own money with Amanda and then The Clothing Vault was the runway if you please, okay for at List Perfectly to take off. So for us, this was very, very important. Okay. To always be profitable and be very accountable okay, to our customers, to each other, to Amanda, each other, and then to our business.
Amanda:
I think vintage is ever-changing. That's going to be a constant in vintage. It's always changing. What was not vintage yesterday could be vintage today. It's an exciting category because it does always change.
Clara:
And if you haven't tried selling vintage, please do. Okay. Look for something that you like and forget about the money. You would be surprised. It's not about selling vintage Louis Vuitton, Gucci. Very good. All right. They sell Levis. Okay. All those brands. Okay. They sell very well. Concert t-shirts okay. Top sellers okay. Easy to ship. Okay. But, you know, I recommend to everybody, if you see something vintage and you think the style is good, get it. And of course, if it is a good deal, okay. See how it goes, you know, try vintage. I really recommend it as a category that will never end in that it's highly profitable.
Doug:
And, and I like it too because it ties into the lifestyle and it, all this history and it's, it kind of reminds me of working in record stores. And so you're in there and people come in and they hang out and they talk about music. You talk about bands, but there's a lifestyle and a passion tied into this…
Amanda:
Yeah, there sure is.
Doug:
Yeah, definitely. Yeah. And so we've covered a lot. Is there anything each of you would like to add or any, as Amanda says, "Pearls of wisdom" to leave us with?
Amanda:
Just what you said just now. We touched on vintage from the reseller perspective, but when, when you start thinking about vintage from a buyer perspective, you're gonna learn so much about the niche groups and the niche events that people will go to with the dress-up parties and things like that. It's a lot of fun. You have a lot of fun with vintage and if you get into vintage, just think about the fun behind it. Think about your buyer and how excited, that's what I would always do. I would always think about my, the buyer when they open the package, how are they gonna feel getting this item? I want them to have a fun experience with it. When you can always focus on the fun aspect of it, it is just really enjoyable. It's an enjoyable category to sell in.
Doug:
Clara, how about you?
Clara:
Pearl of wisdom? Okay. People, if you're not doing vintage ugly Christmas sweaters, okay, you're missing out, money makers, you get it from thrift stores for like $3 or sometimes offseasons, 70 cents. If you get the 20% discount you can add lights and it's a hot seller. Again, vintage. Try vintage, it changed my life. It never goes out of style if you understand what you're buying, and I always say save on vintage. At the end, when I stopped reselling full-time, which actually yesterday was the anniversary, three year anniversary. I stopped selling full-time to come and help Amanda as the Chief Operation Officer in List Perfectly. So I did a post on Facebook with Kitty on top of my last three packages. And then I decided to, I still had approximately $40,000 of inventory which was like a hundred garments. I'll never forget that I ended up actually selling to actually Katy and Vikki, right? Yes. They came and picked up the last of the inventory so I could focus. Amanda was asking me to focus solely on List Perfectly, but to let go of that inventory. And I still kept okay. I still have five garments of the things that I couldn't let go of that I really love because they have a story. When I was sourcing, it's a unique style, it's deadstock. Andi know, for example, I have a flight jacket, a U.S. Vintage pilots flight jacket. Then I have a concert t-shirt then I have a deadstock satin field jacket from the 70s. It's…
Amanda:
Sateen, sateen.
Clara:
Sorry, sateen. There goes my…thank you, Mandy. Sateen, okay. The jacket is small and long. That's such a, I cannot even tell you what hard sizes are about everything on vintage. And that was a very unusual size to have on jackets because the standard was medium back then.
Doug:
We know you miss reselling, but a lot of us appreciate you taking the time to start List Perfectly. It's changed a lot of lives and a lot of businesses.
Clara:
Aw. But I love that. I can talk about reselling with Amanda because we were…I love… We're happy now that my reselling, there would be no List Perfectly if it wasn't because of The Clothing Vault and our incredible journey with reselling that is so, so rewarding. You know, if you haven't tried reselling full-time jump in, this is the right time. And if you haven't found a niche, try vintage, we love it.
Doug:
All right. Well, thank you, Clara. Thank you, Amanda, for taking the time to talk to us about vintage and selling and sharing your expertise with us. It was a lot of fun, and I had a good time.
Amanda:
Oh, thank you. Thank you. We did too.
Clara:
I could keep talking about this. I'm like, "Oh, I don't want this to finish!"
Amanda:
Yeah, I know because you know…
Clara:
Mandy, let's go sourcing, OK?
Doug:
Yeah. Now you're gonna go out…
Amanda:
Look at what we did, right? But there are so many vintage sellers that specialize in dress, you know, we all know, but concert tees. I mean, honestly, we could have about 50 podcasts about the different niches in vintage, maybe 50,000. I should rephrase that.
Clara:
Yeah, absolutely. Thank you for having us.
Doug:
We can do more episodes. No problem.
Clara:
Thank you. So this was so much fun. I wanna keep talking about this. OK. Let's go. Let's go and see what's going on with List Perfectly.
Amanda:
That's right.
Doug:
Well, thank you again. You know, we wanna leave them wanting more. So obviously Clara and Amanda will be back. Thank you for joining us on The Seller Community Podcast from List Perfectly. You can find us at thesellercommunitypodcast.com. You can leave a message or ask a question at anchor.fm/sellercommunitypodcast. You can email us at podcast@listperfectly.com. Post a question in the List Perfectly Facebook group at facebook.com/groups/listperfectly. You can listen to The Seller Community Podcast anywhere you listen to podcasts and be sure and subscribe, tell your friends, and if you're on Apple Podcasts or Spotify, please leave us a review on Instagram and TikTok. You can find @snoop.dougie and of course, follow @listperfectly. And you can always use our promo code podcast. That's P O D C A S T for 30% off your first month of List Perfectly or 30% off your first month of upgrading your plan. Thanks for listening. And we will see you next time.