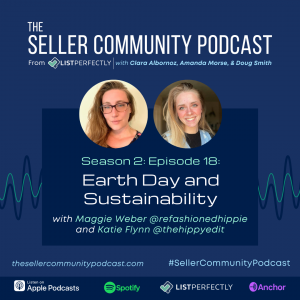 This week Clara and Doug talk with Maggie Weber refashionedhippie and Katie Flynn thehippyedit about sustainability, Earth Day, sustainable brands, and how all of us can be more sustainable overall. We also talk about List Perfectly's Earth Week donation to FABRIC incubator (https://fabricincubator.com/) , based on downloads of this episode!

FABRIC is a non-profit fashion incubator, business accelerator, design studio, academy, and manufacturer that is sustainably disrupting, redefining and reshoring the fashion industry for the modern apparel entrepreneur.
The Seller Community Podcast from List Perfectly is the ecommerce resource for the seller community across all platforms and hub for information on growing your business. Find out more at thesellercommunitypodcast.com, leave a message or ask a question at anchor.fm/sellercommunitypodcast, or email us at podcast@listperfectly.com.
List Perfectly is the ecommerce resource for selling across multiple e-commerce platforms including eBay, Poshmark, Etsy, Mercari, Kidizen, Grailed, Depop, Tradesy, Facebook Marketplace, Instagram and Shopify.
Listen on Apple Podcasts
Listen on Anchor
Listen on Spotify
Listen on Pocket Casts
Listen on Google Podcasts
Listen on Breaker
Listen on RadioPublic
Links
Thesellercommunitypodcast.com
List Perfectly.com
Seller Community Podcast on Anchor
List Perfectly Facebook Group
snoop.dougie Instagram
snoop.dougie linktree
List Perfectly Instagram
Episode Links
Rebel Girl Thrift
The Clothing Reseller's Handbook
Why I Hate Everything book
Sanctuary Village
Refashionedhippie YouTube
Refashionedhippie Poshmark
thehippyedit.com
The Hippy Blog
The Hippy Edit YouTube
The Hippy Edit Pinterest
The Hippy Edit Facebook
Thehonestconsumer.com
Goodonyou.eco
Fabricincubator.com
Sanctuary Village
Transcript
Doug:
Welcome to The Seller Community Podcast. This is season two, episode 18, and you may have noticed something different. It's Monday and not Wednesday. So this is Earth Week. So the purpose of Earth Week is to spread awareness about environmental issues and celebrate the planet Earth, leading up to Earth Day this Friday, and Earth Day is an annual event that's been around for 51-something years and demonstrates support for environmental protection. So the first Earth Day was held on April 22nd, 1970. And now there are events across the world. Earthday.org is your source for Earth Day information and these events around the world include more than a billion people in nearly 200 countries. And so for 2022, the official theme for Earth Day is "invest in our planet." So sustainable fashion is a movement and it's a process of fostering change in the fashion industry and getting the fashion system to move towards greater ecological integrity and social justice.
Doug:
Sustainable fashion addresses much more than fashion textiles or products. And since it's Earth Week and sustainability is so important to List Perfectly, we want to tell you about an organization we're supporting. List Perfectly is based in Arizona. And there is an organization in Arizona called FABRIC. FABRIC's a nonprofit fashion incubator, business accelerator, design studio, academy, and manufacturer that is sustainably disrupting, refunding and restoring the fashion industry for the modern apparel entrepreneur. So FABRIC provides guidance, no minimum manufacturing, business resources, product development, an education studio, space for events, and more to apparel entrepreneurs. So it's a one stop shop for fashion brands created by experienced apparel entrepreneurs who really wanted to make manufacturing and owning a brand more accessible. Find all the information you need on FABRIC's website at fabricincubator.com. And we will be talking with FABRIC later this week, sharing that chat on Friday, April 22nd. And you'll learn a lot more about them then, but in honor of Earth Day, Earth Week, and sustainability, List Perfectly is making a donation to FABRIC.
Doug:
So this donation is based on the number of downloads of this sustainability episode that you're listening to right now. So from 6:00 AM mountain standard time, Monday, April 18th, through 11:59 PM, mountain standard time, Friday, April 22nd, Earth Day, for every download of this episode List Perfectly will donate $1 up to $5,000 to FABRIC. So again, we need you to share this episode, spread the word, let's get those downloads up and we'll make that donation. And again, we'll be interviewing FABRIC and posting the interview on Friday.
Doug:
For now, let's get into the episode. So we've got a couple of our sustainiest sellers together to talk about sustainability, Earth Day, Earth Week, and more. So let's get to it and listen in on our chat with Maggie Weber, refashionedhippie, and Katie Flynn thehippyedit.
Doug:
All right, today, we've got a very special sustainability episode and we're gonna talk about Earth Week and Earth Day. First, I'd like to welcome back Maggie Weber refashionedhippie and Katie Flynn thehippyedit. Welcome back to the show. You've both been here before.
Maggie:
Thank you, guys, so much for having us back. We're always really excited to talk to you guys.
Katie:
Oh yeah. This is always a great time, so happy to be here.
Clara:
Aww, Maggie and Katie, so happy you have time to come and join us and talk about something that we have in common, which is sustainability. Thank you so much for being here today.
Doug:
I have to start with the obvious question that I've been wondering since I've known both of you. You both have hippie in your names, but you spell it differently. So tell us about that.
Maggie:
Oh, uh, I think I might be spelling it wrong then Doug is the answer to your question. <laugh> which had not occurred to me until this moment that the foundation of my company might be…
Katie:
I might be wrong too. I don't know, know which one of us is doing it right? <laugh>
Doug:
That's what I wondered it's like, that's the question? Who's correct?
Katie:
No idea. Honestly.
Maggie:
Now I'm Worried.
Katie:
I went with a Y because edit starts with E and I didn't want too many Es in a row. So that's my only reason <laugh>
Maggie:
Maybe one day get together and like fight it out.
Katie:
Yeah, we might have to. I dunno. Um, for me it was all about, you know, channeling what I picture a hippie, as you know, I wanted something that embodied the idea of loving our planet. So hippie just popped into my mind and I went with it.
Maggie:
Yeah, same for me. I really wanted a huge focus on sustainability and hippie just aligned with that.
Katie:
Yeah.
Clara:
I love it. That's amazing. So what does sustainability mean to each of you please?
Maggie:
Personally, it's something that I have really learned about, uh, becoming a reseller. I thought I understood it, working in thrift stores. And now that I'm back out in the real world, my business is primarily based on donations that I get from friends and neighbors. And it is astounding to me that I have an entire business based on other people's unwanted stuff, you know, because I knew in a thrift store, it's like, but that's a business they've been making connections for years. Of course they find stuff. And for me, it's like, "Nope, I'm ashamed to show you my basement right now, because of all the extra stuff I still have to get through." I think that there is just extra stuff. And we kind of don't realize that because when you wanna go shopping, when you say you, "Oh, I have this wedding coming up, so I need jewelry. I need shoes. I need a dress. I need something to do with my hair." You feel like there is this incredible need. And we somehow overlook all of the stuff that we have. And that's the basis of my business, you know, is taking that stuff you overlook. So that has been a real eye opener for me personally.
Clara:
Well, thank you for sharing that. And for you, Katie, what does sustainability mean to you and your business?
Katie:
So for me, you know, it's about making those changes, those little changes, big changes, whatever they look like for you, um, that help protect the future of our planet for next generations. Cuz, I think so many people go through life, not thinking about that. And you know, it's also, you know, about slowing the effects of climate change and all of that stuff and you know, just, but just protecting the longevity and you know, of our planet, and creating something that will last for future generations to come. I think it's pretty selfish to go about, you know, not keeping other, you know, future generations in mind.
Doug:
And so let's start with Katie. So how did you discover sustainability? And then Maggie, you can hop in.
Katie:
So I was introduced to the idea at a pretty young age, um, you know, through a magazine article actually that I was reading all about 30 ways that you can help the planet. Um, and one of those ways was planting a tree. So I asked for my birthday present for my 11th birthday. I think to be a tree and the rest is kind of history. I've just been learning ever since as much as I can.
Clara:
<laugh> that's beautiful.
Maggie:
Yeah. That's great. Kind of similar. I think my school and elementary school had, you know, like a unit about sustainability and recycling and that was just always something that really appealed to me. And the older I got, I think we've all seen the consequences of climate change. Just gets worse and worse and worse and the articles get scarier and scarier and scarier. Um, but it's nice to feel like I can have an effect. Um, and that has been something that's very empowering. And I think that's something that both Katie and I want to share with people that you can make a difference and in the face of all that fear you can do good work.
Katie:
Yeah, absolutely.
Clara:
Well said Maggie, thank you so much. What does Earth Day mean to each of you please? And Katie, what do you think Earth Day is for you?
Katie:
So Earth Day is my favorite day. It's like literally my favorite day of the year. I am obsessed with it. Um, but for me it's just about, you know, the coming together of everyone over that common goal of helping the planet, which is so beautiful to me. I absolutely love it. It expands beyond just one day or one month in the year. You know, it's all about creating and amplifying that the changes can have a lasting impact and they should have a lasting impact.
Clara:
Absolutely. Thank you. Thank you for sharing that. And what about for you? What is Earth Day for you Maggie?
Maggie:
So I completely agree with Katie. I think it is a wonderful day to bring people together. It is a wonderful day to remind people, cuz I love those holidays that are about doing some work. You know, like Christmas is a great day to get presents, but it's, it's the best day to give a present and you know, Martin Luther King Day, same thing. It's a great day to go do something to help your community. And Earth Day is a really wonderful day to just remind people how, you know, we're gonna take one day, just one day to celebrate this wonderful planet because if you take that day and connect with someone, you have them for life. So it's nice that we have that day to celebrate and to accept that we need to do some work.
Clara:
That's right. Well said, Hey and Doug, did you know? I did a little research. Okay. This is, you know, we're, we're getting real, but I researched when did Earth Day start. It was in 1970. And it was a big movement. I didn't know this because here in the USA there was DTS like insecticides and uh, you know, a lot of pollution and nothing was being done. And then a congressman here in USA, uh, started, you know, with, uh, just let's just start with Earth Day, just one day that we can acknowledge that we need to change as human beings to be more, uh, to act more conscious about, you know, taking care of Mother Earth. So that was for me, very powerful. I didn't know. And I wanted to share that.
Katie:
Yeah. The best part about that movement being started is that it was a bipartisan policy. So it was created by a Democrat and a Republican, congresspeople, um, that came together and started that movement. So we need to get back to that core belief that this is benefiting all of us and we can all, you know, do something about it.
Doug:
No, that's awesome. That's a great fact. Thank you for sharing that, Clara, that's uh, the day my wife was born, so Earth Day's her birthday and she was born on the first Earth Day.
Katie:
That's awesome. Yeah.
Clara:
Happy birthday, Meredith, it's coming soon!
Doug:
Thank you. I'll let her know.
Maggie:
We would sing, but no one wants that. That's not…
Clara:
<laugh>.
Maggie:
Ours is the gift of silence Meredith.
Doug:
That's right. <laugh> The gift that keeps on giving. So how does sustainability and helping the environment factor into each of your selling businesses?
Maggie:
I mean, it is the basis of mine. I love to go thrift shopping when I can. I love to go hunting through the bins, but I think it said before 90% of my business is based on donations for anyone who's thinking about trying to source the way that I do. Uh, let me just tell you that people always thank me for coming to pick up the stuff. And it felt really awkward at first to be like, "Hey girl, you got any extra jeans," but I, you know, as awkward as I felt, people always thank me. And truly you are performing a service for people. Oh, if you can take things that they do not want anymore and put them to good use. And a really important part of that is maintaining value because if somebody buys $3,000 worth of clothing and through quarantine, as most of us have, they got a little heavier and they can't fit in it, it feels awful to get rid of that clothing, to put it in a trash bag and either throw it away or drop it at a good way. It feels awful doing that. But if I get to tell you, listen, this, this business that I do, it's environmental, it benefits my daughter. It's gonna send her to college. I'm maintaining the value that they feel on those pieces. It's going to a good cause. And they know that their action is helping someone. So it's just good all around. And if you haven't tried asking people for their stuff, honestly, give it a shot. I think you'd be surprised at the response that you get.
Katie:
Yeah. I mean, for me, it's the same thing. It's the basis of absolutely everything I do. I try to factor it in at every single level. Um, but it comes into play for me in three big ways. Um, the first being my packaging. So I try to do all of my packaging as sustainably as possible. Um, I right now source a hundred percent recyclable, uh, packaging materials, um, which is not the easiest thing in the world to do, but it's possible. So you can make the change I promise. And it's still super cute. You can get cute poly mailers that are eco-friendly. Um, but number two is my sourcing similar to Maggie. Everything is secondhand. So, you know, I try to reduce as much waste going into landfills as I possibly can. Um, and then number three is my social media. So everything on my social media is centered around promoting sustainability, educating the masses about it and doing whatever I can to just promote that message as wide as I possibly can.
Clara:
Thank you, Katie, for bringing up the, uh, packaging. That's something as online sellers, it's such a big impact. Okay. When we're helping to reduce landfills and at the same time, keep it sustainable with packaging that is not gonna, you know, is not plastic that is gonna be affecting our Mother Earth, our wildlife and, and our, the future, uh, you know, of our planet. So thank you. What do you think Katie, speaking about that, what do you think is the biggest misconception about sustainability that you have seen?
Katie:
That it's hard or expensive to be sustainable? Because it's not shopping. Second hand is my favorite way to be sustainable and it saved me money instead of spending, you know, costing me more money. So one I'm keeping this out of a landfill and two, I'm keeping more dollars in my bank account. So, I mean, you can't really go wrong. That's a no-brainer, in my opinion.
Clara:
We were talking about the biggest misconception right, about sustainability. And you said that the biggest misconception was that it is expensive. If I'm gonna be sustainable, you know, it's gonna cost me an arm and a leg, for my business, my company, myself and so forth. Yeah. Would you like to elaborate on that?
Katie:
Well, I mean, I think you hear about all these really expensive solutions for being sustainable or more climate friendly, you know, like buying electric cars or installing solar panels onto your house, or like, you know, doing all these things, which are fantastic and not to minimize those options, if you wanna take those options, go for it, highly encourage it, but it's not accessible for everyone. So shopping, doing things like shopping secondhand is accessible for everyone, you know, and do that first. So shop secondhand before you do anything else or try and shop new, and then if you are gonna shop new, pick a sustainable brand at that point, so it doesn't have to be difficult. It doesn't have to be expensive to be sustainable. You can do so in a lot of really inexpensive ways.
Clara:
Thank you for answering that. That's a great, great way to, to see it also from the buyer perspective.
Maggie:
I just wanted to add that shopping sustainably can be really fun as well. I mean, one really easy thing you can do is just start a clothing exchange between you and your friends. You know, I mean, to go back to the example of finding a dress to wear to a wedding, ask your friends, ask your friends, because you can get that same high, that same exhilaration of having a new piece, as long as it's new to you, it doesn't have to be brand new from the mall. You rip the tag off right before you get out of the car, you can set up a clothing exchange, especially if you are like me, a new mom and your sizes are kind of funky. There's a lot of people who are willing to trade and it lets you know who your neighbors are.
Clara:
Well said.
Doug:
How have each of you seen, at a high level, the online marketplaces support sustainability?
Katie:
So at the highest level, I mean, they create or help create what's called a circular economy, you know, which is not something that we really have built in America. It's not something that we really, you know, take advantage of. Um, but that means that, you know, most companies aren't creating what's called an end of life plan for the products that they create. Um, so they have no way of disposing of them, recycling them, reusing them, whatever that looks like. Um, so these platforms help consumers create that for ourselves. So instead of, you know, throwing something out or having to donate it to a thrift store and not knowing where it'll end up, they allow people to connect across the country, across the world to extend the life of goods. Um, you know, instead of something going to the landfill, there's the opportunity to continue its life cycle.
Doug:
Wow. I had no idea. <laugh>
Clara:
Thank you for educating us on that. You know, it's very true. You know, I, as someone that was born in the third world, one of the ways we make income is by buying <laugh> a first world country trash yeah. Electronics or anything like that. And, uh, that's very well said, you know, we as first world country companies, we are not establishing a plan once the life of that product is done. Okay. How we're gonna dispose of it in a friendly way that is gonna contaminate our Mother Earth.
Katie:
Absolutely.
Clara:
Thank you, Katie.
Maggie:
And I think Katie, you can certainly speak to this on a grander scale, but it's important to look out for greenwash. Um, a lot of companies like to tell you that they're doing all of this great work or they make promises. That sounds really good. Yeah. But that's as effective as a company putting, "Please recycle me" on a plastic bag. It's like, so you're, you're nodding, but you're not doing anything and I'm gonna pick on Shein cuz they're really bad, but Shein, you know, if you ever buy from their website, it'll say at the bottom, you know, "We do our best to make sure that we're sourcing recycled materials." A recent BBC study found that less than half of 1% of their garments used recycled materials. So, you know, it's a big theme now to be green and to be sustainable, but you have to make sure that the company you're supporting is following up on their promise, not just using it as a marketing campaign.
Clara:
I mean you are so right. I'll be honest. I just bought it from Patagonia. Do you know Patagonia?
Katie:
Patagonia is one of the good ones. Actually.
Maggie:
Do you like them? We like them.
Clara:
I'm sorry. We like them, but I'll be honest. I just bought two down jackets and both of them came in plastic. I'll be honest. So Patagonia, if you're listening. Okay. I think they could improve because I have purchased from other brands yeah. For winter gear, they come with that plastic. That is degradable. Okay. Biodegradable, you know, you know, when you know what is that one that is not transparent and you know, off the bat. Okay. So I think that's something that I do like Patagonia, but Maggie, you nailed it. You're packaging it. And I'm like, it's like, oh, it's a little like, come on. You know, it's the details. So I really like that the rest of the clothing came, uh, the flee also came with a plastic bag, but the rest of the clothing came like the pants, like ski pants. They came with no, just in a very sealed cardboard box that was disposable. And I think it was like a reuse or something like that, that they recycled or something.
Maggie:
I mean, I, I, it is kind of funny when you, you know, you wanna help the environment. So you buy a bamboo toothbrush and it comes in plastic packaging, you know, it's like, we're trying, <laugh>, you know, we're trying.
Katie:
So close, but so far in so many ways. <laugh> But yeah, I mean, greenwash is a huge problem. So that's something to look out for. Um, some resources that I really love that help me gauge whether or not a brand is a good one to buy from. If I am buying new. Um, one of them is goodonyou.eco it's a website. They have an incredible blog that, uh, rates, um, companies, uh, from good to bad on whether or not they're doing things sustainably. Um, another one is thehonestconsumer.com. Um, they're fantastic as well. So those are both really, really great, um, blogs and small businesses that are doing a really good job of holding companies accountable.
Maggie:
Thank you for bringing that up cuz it's not hard to do the research. No, and it's not hard to shop sustainably. People just have it in their heads that it's gonna be really difficult and really expensive, and I don't wanna do that.
Clara:
Now speaking about this, this is so entertaining. This goes along, hey Maggie, so you're upcycling, right? Um, tell us about upcycling because we're talking about all these ways, you know, and upcycling something so incredible. I'm excited.
Maggie:
So I love upcycling. I would love to get to the point in my business where I use every scrap of fabric that comes in. I'm not there yet. I hope once my daughter is potty trained, maybe, um, <laugh>, that's its own battle right now. But upcycling is basically just taking anything old and turning it into something new. And there are really easy and really, really kid friendly ways to do that. I love taking cotton t-shirts that say, you know, "Fun Run 1996" or something that no, no buyer is going to want, um, and shredding them up and turning them into dog toys. I have a video on my YouTube channel about doing that. And that's a great way to give something a second life and still you, something you have. And a lot of us hold on to clothing because there is an emotional value, you know, like I still have t-shirts from middle school and I'm old. Like, let me make that clear to you. <laugh> But I mean, one, one great way, if it's just a cute shirt and you like having it is turn it in into a shopping bag, you know, you can tie the bottom closed, you can sew the bottom closed, cut the sleeves off, and now you have a reusable bag they're really strong and you can throw it in the washing machine if it ever gets dirty.
Clara:
Yeah. I wanna say, I wanna add something. A couple of years ago I suffered a loss of a very dear friend. Okay. And the mom, which I love her. Okay. My neighbor, she found this company that out of t-shirts they can make a blanky and I love that. It's so beautiful. And it's all his favorite t-shirts and of course we don't use it, but just hang the blanket. It's a beautiful thing. Another thing you can do to, um, you know, upcycle or recycle your clothing and make it into something new, like you said Maggie.
Maggie:
There's a lot of really easy projects that let you keep those sentimental pieces around. Even if you, if you just buy a $5 frame and stretch a t-shirt over it, you know, there, you can hang it on a wall, it's a wall decoration. You get to keep that piece that you love. You get to hold onto that personality of yours. And that piece doesn't go in the trash. And you don't have to be super skilled. That's something else that if you go on Pinterest and you type in like upcycle jeans, sometimes you get these amazing designer runway pieces and you're like, "Oh, I can't do that. The trash can's right there, I'm gonna do that." You don't have to be super amazing at sewing. I'm not, and it's my business. <laugh> Let me promise you. There's a lot of wonderful ways. And if you wanna get started, just, just go to Pinterest and look for projects for kids. That's what I did. <laugh>
Clara:
Thank you for sharing that.
Doug:
I would like a quilt of my old concert t-shirts
Maggie:
Right.
Doug:
That would be fun.
Clara:
Yeah. Doug you totally have to do it. It looks amazing. You'll love it.
Doug:
And I have a, I have a ton of eBay t-shirts so I could do an eBay quilt and just go…eBay. So I know the answer to this, but I wanna make sure everybody else hears it. How much of what each of you source is secondhand?
Katie:
So for me it's a hundred percent. Everything that I source is secondhand. Um, the only stuff that isn't technically secondhand is anything that I find that's new with tags, or what's known as deadstock in the vintage world. Again, that's coming from sustainable sources, thrift stores, or my sustainable wholesaler, whatever that looks like.
Maggie:
So awesome. Absolutely the same. Yep. I wish I had more to add, but I'm <laugh>.
Clara:
Now when it comes to sourcing, okay. Since we're talking about this, okay. What are some sustainability sourcing tips that each of you can offer to our audience, please?
Katie:
So sourcing second hand items is the biggest thing. I mean, you wanna make sure that you're sourcing from sustainable places, so contributing, you know, not contributing to overconsumption. Retail arbitrage does contribute to overconsumption in a lot of ways, unfortunately. Um, so I, that's why I stay away from it. You know, it just encourages fast fashion, even if you're shopping from places like HomeGoods and Marshalls and all of that stuff, those are not as sustainable as you may think. And if you're already, or you're ready to outsource your sourcing in a sustainable way, check out Consignment Paths, um, or there are sustainable wholesalers that do secondhand inventory out there that are popping up all over the place that work directly with resellers. Um, and if you have any questions about those, you can feel free to reach out to me. I can point you in the right direction.
Maggie:
Fast fashion is what we call it when pieces are basically produced very quickly. Um, and a great example of this is if Kendall Jenner, uh, wears a swimsuit and she's photographed in it, her followers are gonna want that, cuz she's got a ton of them, right? So a company is going to want to produce a garment like that as quickly as possible and for as cheaply as possible and companies like H&M are great at this and can go from seeing a picture on Instagram to having something in their store in 10 days. And that sounds really cool until you pull back the curtain and look at what it takes to do that. Because I want you to think about if you're buying a $5 shirt at H&M what is the real cost of that? Yeah. Because the person who made that was not compensated well.
Maggie:
Right. I mean, that's, we all know that. Um, and that's why fast fashion is so dangerous also because let's say two months from then that piece that all Kendall Jenner's fans wanted is not as valuable anymore. So a lot of what goes to landfills or a lot of what is sold to third world countries is brand new with the tag still on it from the company, but it's not valued anymore. So it's gotten rid of some companies, uh, get rid of, I think it's, I think it's 35% of their textiles right off the bat because they didn't sell during the timeline where they wanted it to sell. And when you think about seasons of fashion for you and I, that means Fall, Winter, Spring and some, um, a company like H&M can have 52 seasons of fashion. That there's this constant new thing. So fast fashion is very dangerous and it relies on you being willing to constantly buy new pieces and you don't have to.
Katie:
No, you do not. And I like that you brought up where the workers are involved here because that's something that a lot of people don't realize is that when you are buying from those fashion fast fashion companies, like H&M like Zara, like many of those other ones that are very, very popular, um, you are contributing to what is essentially modern slave labor not to get all dark, but that's basically what it is. So take that into consideration when you're buying from these companies, especially if you're buying brand new from these companies, um, and you don't need to be following every trend, you know, stick with pieces that are timeless that will last you a while and you are going to thank yourself for it. Your bank account will thank you for it. So, you know, just avoid fast fashion. You don't need it. I promise <laugh>
Maggie:
And I just, I just wanna give you one example. I looked this up about five minutes before we started recording. If you go to SHEIN's website in their new arrivals category for clothing, they have 56,972 pieces just in the new arrival section.
Clara:
Wow.
Maggie:
That's crazy.
Katie:
<laugh> yeah. The other thing to keep in mind is that many of those new arrivals have been stolen designs from small businesses that are, or putting their, you know, pieces on Etsy or other marketplaces that we work with. Um, they're creating these designs from scratch. They're trying to, you know, make them in a sustainable way and they're, you know, doing so, and then these fast fashion companies like SHEIN or any of those will come on and just steal them, the design point blank.
Maggie:
And they do it really cheaply because if you're buying from someone on Etsy, you know, a handmade piece that's made with quality and that's made to last, if you spend $3.99 on something, you don't care if you wear it one time and then you throw it away because you didn't pay that much for it.
Katie:
Yeah.
Clara:
No, that's right. I wanna put something in perspective. It takes 1800 gallons of water to make just one new pair of jeans. Let's think about that. Okay. Just one. Okay. Yeah. So it's just something that blows my mind. So, you know, trying to be, is that sustainable? No. <Laugh>
Maggie:
No, thank you for bringing that up because honestly like, like anybody else, who's a reseller. I have my down days. I have days where I'm not selling pieces as quickly as I want to, or I make a new piece and no one loves it, except me, which is the worst feeling in the world. But I have just a little clicker that I bought. And every time I reuse a piece or I sell a piece that I got secondhand, I click it. And on those down days, I like to multiply the amount of clicks I have versus that number versus the 1800 gallons of water that it takes. And it makes you feel so…
Katie:
That's awesome.
Maggie:
Just to, to say, I've made that difference in the world and that's, I mean, Katie, you know, our customers are so happy…
Katie:
So happy. They love it. Like I have customers, almost every single review that I have mentions how much they love that I do things in an eco-friendly way. And if they don't mention that, you know, they're return customers, they're coming back time and time again. And it's just, I've never had anybody complain. I'll put it that way.
Maggie:
<laugh>, and it's why thredUP, if you buy something from thredUP the little email, at the bottom, it thanks you for the environmental impact that you've had. And they try to keep, you know, historical lifetime numbers of what you've done, because people want that feeling. They want to feel good. They want to feel like "I've made a difference." So I guarantee if you write a little note in your next, in your next shipment that you send out and just say, "Hey, just so you know, here's the effect that you've had on me personally and on the environment as a whole," just see the difference that that starts to make in your business.
Clara:
Yeah. Wow. I hear your passion talking about it and this is what I always recommend to everybody to see your vision and your mission is to resell, but you wanna do it in a sustainable way. And you're so passionate about it. And this is something that I always say to everybody, stop chasing the money, focus on your mission and your vision and the money will follow.
Maggie:
Yep. I absolutely believe success comes from joy, not the other way around.
Doug:
So for each of you, what's the single biggest thing you'd like clothing sellers to know about how they are helping the environment?
Katie:
So for me, it's by running a reselling business of any kind, especially, you know, a clothing one though, um, you're helping to keep so much waste out of landfills. We've talked about it already. Um, but Americans throw away 26 billion pounds of clothing each year. That's like 81 pounds per person, which is just ridiculous. Like that's, that shouldn't be happening. Um, so you know, not to mention all the wastewater greenhouse gasses and everything else that comes with the fashion industry by starting a reselling business, you've started a sustainable business, whether you intended to or not. And I think that that's pretty cool.
Maggie:
Yeah. You have an incredible business and an incredible opportunity and an incredible platform because, you know, I love that I'm making money from this. I can't believe this is my job. I absolutely love what I do, but I get opportunities like this where I can come on a podcast that's going to reach thousands of people and share this part of my journey with them. And you have that opportunity to every single customer that you have every single time you're on social media, every single mom in the park who says, "Hey, cute shorts." And you get to say, "Hey, guess where I got them?" That is your platform and your opportunity
Clara:
Speaking about that and being sustainable. I think your parents are also doing something big, okay to help others, you know, and can you elaborate on that for me?
Maggie:
I would love to, I'm just really, really proud of my parents. And I think you'll hear it. Like I smile as soon as I, as soon as I get this chance. Um, my parents have both spent years working with, uh, people who are homeless in Philadelphia. When COVID hit everything just got so much worse because, you know, in the beginning when we didn't know what was causing it or how it was spreading, everything was just really scary. So a lot of places just shut down. A lot of, you know, soup kitchens shut down, a lot of resources for people experiencing homelessness shut down. And my father started, he just made, or he asked people from his church to just make some sandwiches so that he could bring them to the people that he knew in Philadelphia. And it started that small. The first week he had 20 sandwiches and he left them in a cooler outside of the church where they used to meet.
Maggie:
And now, today is actually the two year anniversary. Um, when this goes out on Monday, it's his two year anniversary, um, he delivered 4,500 sandwiches last week. Wow, yay. Um, they have delivered over 200,000 sandwiches. Wow. And it's all made by volunteers. It is all donated time. And my father just collects from organizations and gives to other organizations. And that is one person saying, "How can I help?" And fortunately, having the time to do that, um, my mom kind of saw what my dad was doing and said, "I wanna help." So she looked into the best ways to end homelessness and turns out it's giving people homes. So Sanctuary Village. Uh, you can learn more about it at tinyhousecommunity.org. She is working with the city of Philadelphia to build a tiny house community for people experiencing homelessness. And that is so cool. One of the best parts of this is if you look into it, cuz a lot of people say like, "Is it fair to just give homes?" The average stay in a tiny house is five months because that's the time that people need to have a home to get used to having a home. Especially people who are chronically homeless to find a job, to start saving until they can get their own affordable housing. So, you know, it's going to have 12 houses, but that's not just going to help 12 people that can help. I mean, I can't even tell you.
Clara:
Yeah.
Katie:
That's amazing. That's awesome. It's even, it's even more amazing to think that it only takes five months for someone to like to be given that opportunity to get back on their feet.
Maggie:
But think about it. I mean, if I, if I told you you're gonna have free laundry and you're not gonna have to pay rent. Yeah. What, what a difference would that make for you?
Katie:
Absolutely. That's what I mean. It's incredible. Like it's amazing. And if, if more people thought like how your parents think how many, you know, how quickly we would be able to solve the homelessness crisis.
Maggie:
But you know what, I'm obviously incredibly proud of my parents, but I'm also proud that I can help in my own way. Yeah. Because I tell myself I'm just a mom, I'm just a reseller. But if you shop on my website, 20% of those proceeds will go to help my mom. And once they're up and running and they actually have residents living in the house, we're going to do pop up shops so that people can come and shop because the ability to choose for yourself is so important. Especially for people who have been living without choice for so long. So I'm just gonna say it one more time, but resellers, what you do is important and it is powerful and you are putting clothing in the hands of people who might not be able to get it another way. So don't ever say, "Oh, it's just a side hustle." What you do is important. And it is powerful. And that is my soapbox, everybody! <laugh>
Doug:
And your site is Rebel Girl Thrift, right?
Maggie:
Rebelgirlthrift.com. Yeah.
Doug:
And then when the houses are open, didn't you say that they're gonna be able to shop there for free?
Maggie:
Yeah. Okay. Yeah. They can shop on the website for free and we're gonna do pop up shops. So I'm hoping every season we'll, we'll see how that works out. Cause, oh, I don't know that like mid-January is a fun time to come pick through clothes <laugh>
Doug:
Katie, there's something I wanted to touch on with you in particular. So, and it was the theme of our last episode, when you were on that episode, you said "My mission is to promote sustainability in all aspects of life, not just in terms of protecting the environment, but also in terms of your mental health, not experiencing burnout." So tell us what you mean by that and that, uh, portion that you went through that led to that.
Katie:
Yeah, absolutely. Um, so for me, sustainability isn't just about protecting our planet. You know that word can be applied to a bunch of different things. You know, it can be applied to your life as well in terms of living in a way that isn't going to burn you out, isn't going to, you know, make you stop surviving. Like it's, it's in a way that's like that's, you know, possible to continue for the rest of your life. And I realized a few months ago that I was not living in a sustainable way, that I was, you know, running at a hundred percent constantly every single day. And that just doesn't work for anyone. That's just not something that anyone can, can keep up with. So I realized that, you know, hustle culture had kind of taken over my mentality in my life. And I feel like it does that to a lot of people. It's done that to, you know, so many people in my life. And we all feel like we have to be productive 24/7, but what does, you know, productive even mean? Cuz it isn't it productive to spend a Sunday evening just relaxing and catching up after a busy week so that you can get up on Monday morning and start it all again, like to me that's being productive. So sustainability for me applies to absolutely everything in my life. Not just, you know, how I approach protecting the planet.
Doug:
That's awesome. Thank you for sharing.
Maggie:
That is such a wonderful point. Thank you so much for bringing that up cause I think this audience especially understands burnout. I have been so surprised how many people have that background where it's like, I was at corporate for this long and I couldn't take it anymore. Yeah. So I think a lot of people find reselling that way and that's such a wonderful way to describe sustainability.
Katie:
Yeah. And I think even in reselling, it's so easy to get caught up in that like mentality that I'm running a business. I can't stop. Like I have to go, go, go, go, go all the time. And you don't, your business will be okay if you take an afternoon or you know, a day or two off, like you will survive, your business will survive. And I think it's just about reminding people to show yourself grace and love because that matters. And you're not gonna get very far without it.
Clara:
Now that you said that is so true. Um, I was always focused on growth. Okay. I was always desperate for growth and that I could literally wake up at 3:00 AM, but the way I counterbalance that is that I only work eight months or nine months of the year. And then the rest of the year I was traveling. So I was very focused and disciplined . I think that staying focused with that and then having that reward, traveling around the world to deliver, literally I was delivering the packages in Spain, in France, everywhere that they were expensive. So for me it was such a, another way that you can be sustainable. You can travel and still take your extensive packages to your customers and then just deliver it and they love it. Okay, and then just can do like local shipping and uh, from the same country and then it gets delivered like in one, two days. So that was something that I wanted to mention. Thank you for bringing that up, Katie.
Katie:
Yeah. And that's a really good point. I think, you know, that balance, that, you know, avoiding burnout looks different for everyone. You know, you may want to work eight months out of the year and then travel the other four or you may want to, you know, work five days a week and take a normal weekend. Like whatever that structure looks like for you doesn't really matter. It's just about finding that balance so that you can do it forever if you want to.
Clara:
That's right. Wow. This is so good. Maggie let's see, I'm gonna start with you. What are some sustainability facts that you would like our audience to know?
Maggie:
The one that has meant the most importance to me is that if you give a garment a second life, you reduce its carbon footprint by 72%, which is huge. So even if you give it to a friend and they wear it one time, like even that has a huge difference. So everything you do matters.
Clara:
So that pair of jeans that I bought new, that it will, costs 1800 gallon of water to manufacture. Okay. When I regifted to a friend or something, at least I'm reducing the carbon footprint or whatever else, damage that it has done to our, uh, co-existing without with, with our, in a friendly way. And for you, Katie, what would be okay. A sustainability fact, you know, I know you have many, but in many that you would like, our audience would really be like, "Hey, this is something that you should be thinking about."
Katie:
Yeah. Um, so I have two actually, but the first one is, uh, the average piece of clothing nowadays is worn 36%, fewer times than it was just 15 years ago. So that fast fashion over consumption mindset is really taking a toll and by, you know, reselling and doing all that fun stuff, we're helping to bring that number back down. And then by throwing away clothes prematurely, consumers are missing out on around 460 billion of value every year. That's like $60 a person on this planet. That's a lot of money that you're missing out on if you're just throwing your clothes away. So keep that in mind, if you are somebody that doesn't resell, keep that in mind. <laugh>
Maggie:
I would also like to take the opportunity to apologize to my mom because I made for fun of her for about a decade for all of her mom jeans. And then about a year ago I called her and I said, "Hey babe, can I have all those mom jeans?" And she said, "No, I donated them. You made fun of me." <laugh> and I think that's an important thing to talk about too. Fashion is cyclical.
Katie:
Yes. Everything comes back around.
Doug:
Mom jeans are back.
Maggie:
Yeah. So if you like something, ignore your snot nosed daughter and keep it
Doug:
Well, and not that Clara wears mom jeans, but those jeans she mentioned, she's gonna recycle them to me when I'm out there in two weeks. <laugh> Well, let's touch on that though. So what are some brands that are sustainable that we should all be supporting?
Maggie:
Patagonia is a big one. Um, they, they really do a lot. Um, and I think, I mean, Katie, you can probably talk about this more than me, but they have a program where if one of their pieces is damaged, you can ship it back to them and they repair it for you. That's huge.
Katie:
Yeah. Yeah, absolutely. Um, Patagonia is one of my favorite, um, Stella McCartney, even though I can't afford anything on her website, <laugh> is one of my absolute favorites and she, yeah, she's leading the game in sustainable luxury, like absolutely leading the game. So I love her, love using her to promote, um, what sustainable and circular fashion should look like. She's kind of made a name for it in the luxury world, which is really cool. And it's a really hard place to make a name for it. And then Girlfriend Collective (girlfriend.com) Is another really great one. They use recycled water bottles to make all of their clothing, which is really neat. Um, they've, you know, been able to recycle something like 51 billion water bottles since starting, which is crazy that we even have that many on our planet. Like what? Um, and then Reformation (thereformation.com) is another good one that I really will like, and they're a really good one to resell too.
Maggie:
So I'm super cheap. I can tell you that. So like yeah. Stella McCartney is a wonderful dream. Yeah. But you can shop on Etsy and get really well made pieces by supporting small businesses. And a lot of people will tell you up front whether they've recycled it or not. It's not like a secret company thing where it's like in white writing on the bottom of the white screen, we'll tell you are like, they're happy to talk to you about it.
Clara:
Yeah, yeah. Yeah. One of the things I like about Etsy, I'm gonna give an example, okay. I like any Aboriginal or Navajo design from Pendleton, but I want it to be sustainable. Right. So what I did is I went to Etsy and behold, you know, there it is, one blanket, uh, they converted into a table runner and I bought the table runner, you know, which has the print from, but it was recycled from a blanket from Pendleton and I helped a small seller.
Katie:
That's awesome. Um, yeah, I mean, shopping small is another great way to be sustainable. That a lot of people don't think about shopping small versus a large corporation always helps the planet. Um, and then also, especially if you're shopping, you know, women or bipop owned, like that is great too, because those communities are disproportionately affected by climate change. So anywhere that you can boost those communities up is another great way to make an impact.
Maggie:
And I also wanna say, it's, it's a wonderful thing to normalize, even just within your own family. Yeah. Free gifting is a good thing. Not a bad thing. You know? Cause if we say "I made you a homemade meal" that feels like, oh, such great quality. And you took the time and you took the care. But if you say "I made you a gift," it's like, "Oh, it's cheap and crappy." Right? I mean that's, and I hate that it has that stigma to it. But like my entire family knows they're getting regifted stuff and they don't care. Cause they get the stuff. You know, my daughter, 99% of what she wears, comes from donations from my community. And sometimes it's awkward cuz she'll be playing, you know, with a little girl in the park and she'll be like, "That's my shirt." It's like, "Yeah. It's probably your shirt." <laugh> it's, it's such a good positive thing. So give your family recycled gifts. You know, make something for someone you love. Don't let it have that connotation of you don't care about me because you didn't buy this from a store. It means I love you more, and I love the planet.
Clara:
Exactly. Now I do have a good fact I think both of, if you are gonna like, okay, did you know that for the first time in American history, Okay. Last Christmas for the first time, all marketplaces experienced the same experience that people like you and me, we bought for the first time pre-owned stuff to give as presents in the holidays. So that's and for 64%, see that's as insane. So I'm so excited. Maggie, the change is happening. I think we're becoming much more conscious and that's, that's something that's big, I think for us as a society,
Maggie:
A lot of people are shopping resale for the first time. And I think a huge is, you know, one, it can be a lot less expensive, but two people know they're making a difference. It's easy to find the information about the difference you make when you make one different decision this year than you did last year.
Clara:
Yeah. What advice could you give to our audience, if I was someone at home that I'm thinking about reselling clothing. Okay. What advice would you give me?
Maggie:
I would say if you wanna get started, it's easier than you think. Um, a lot of people think they need to know everything before they get started and you absolutely don't. You don't need to go out right now and buy a professional camera, a lighting kit, a mannequin, you, you don't need to have everything and you don't need to know everything. There are a lot of people entering this field with just what's in their home and their cell phone. And that's where I was four years ago. And now I get to say, "This is my full-time job." So just get started. And there is a community that will help you, that will nurture you. That will educate you. And that will welcome you. That's what we love. We love this. And you know, Katie and I, I mean, I'm speaking for you, jump in here, but we don't see you as competition. We love that you're here and we want you to have what we have.
Katie:
Yes, absolutely. I mean the more resellers there are, the better off the planet is so, I mean join the club. Um, but my biggest thing is to be patient because this takes time to build. It takes time to learn, you know, not every day sourcing is gonna be a good one. You're not gonna find winners all the time. There are gonna be some days where you find nada, like literally nothing, you walk outta the thrift store or wherever you're sourcing from empty handed. Um, some days, you know, you'll feel like you're on top of the world and then other days you're gonna feel like you're the bottom of the barrel, but also do your own research by just getting out there and starting, like, you have to just start this to learn. Um, you can spend all day watching YouTube videos and trying to follow somebody else's BOLO list or advice, but what worked for them may not work for you and vice versa.
Katie:
So just get out there and learn for yourself, trial and error, you know, don't and you know, as much as you don't have to start with anything, if you want this to be a business and you want to make real money doing this, you have to treat it like a real business. So purchase your LLC. Cuz, I see so many resellers out there without an LLC. Purchase it, please, um, become a legal business, get an accountant or a tax professional to help you out with all your finances and all your books. Cuz, I waited way too long for that. And that was, Ooh, don't do it. Don't, don't make my mistake. <laugh> um, and then, you know, just find, you know, invest in those software and those systems and things like List Perfectly that will make your life easier and make running your, this easier. Don't be afraid to diversify or adapt because these platforms are changing all the time.
Maggie:
I also, I wanna really bring up a word you just said, which is investment. A lot of people are really scared to spend money in this business. And I was one of them. Same. Um, you are not losing money. You are investing in yourself, your business. And there are times where that is the correct decision.
Katie:
Absolutely. You know, don't make those decisions in an uneducated way. You know, don't buy the first course that pops up on your Instagram feed. Don't invest in the first wholesaler that you see, you know, take time and educate yourself about those choices and make them in a smart way and they will benefit your business.
Clara:
Yep. Thank you for sharing that. Amazing. Thank you.
Doug:
So how about some, uh, packaging and shipping eco-friendly tips?
Maggie:
My top one is to make friends with someone who works at Amazon. Ooh, that's what I, a woman down the street, she works at Amazon and I said, "Hey, do you have any extra boxes?" And a week later I had to go back to her house and ask her to please stop bringing boxes. <laugh>
Katie:
That's amazing. Yeah. I mean, if you're just starting out, it's not difficult to keep costs down in terms of packaging sustainably. Um, you can reuse old boxes, from your own, you know, online purchases, things like that. That was my number one way of packaging orders. When I first started out, because I didn't feel like going to the post office every time, I needed a box. Um, and then USPS offers boxes that are recyclable, but the rest of their products are not eco-friendly. So just be careful of that. Be aware of that. Their boxes are recyclable. The rest of the stuff is not, if you are a serious reseller and you're looking to make an investment in real sustainable packaging and you want to make that choice for your business. I highly recommend using a company called eco EcoEnclose (ecoenclose.com), that's what I use. Um, they're fantastic resources. Um, they have a huge, huge range of products, adorable stuff. Um, and it's pretty affordable too. So if you're already investing in packaging and you're looking to make the switch to eco-friendly stuff, highly recommend them. Um, and then on top of all that stick with recyclable versus compostable, if you are gonna invest in that packaging, um, because compostable one, it's not accessible to the masses, the majority of people are not gonna be able to compost out of their home. Um, they're not set up for it. And two recycling materials is what's recommended by a lot of the agencies and you know, certifications that are deciding what's best for our planet. Um, especially if you're selling clothing, it's just the best option for selling clothing.
Clara:
I wanna add something, sorry, Doug. Okay. I wanna add something, experience that I have with a couple of Etsy sellers that literally changed my mind. Okay. Forever. Okay. I would see the package in the, it came on a, on a box that you can tell, okay. It was dismantled and then put together again. And then it said, "I'm recycled. Please continue recycling me." <laugh> it was literally, it changed my perspective in the old days for me. I wanted everything to be a new box. Now that changed my mind. No. Yeah. Okay. We can recycle boxes.
Maggie:
I did the same thing. I turn my boxes inside out when I get them from Amazon, because then you just have the plain box on the outside. So your buyer still gets that really nice presentation. And then once they're looking at the piece they got from you, they don't care what's inside. They don't care that it's branded from a show from six months ago. Who cares? Like, yeah. They still, they get that experience. And I love what you said, Clara, if you make it cute, people love it.
Clara:
Yeah. Yeah.
Maggie:
And you draw a little turtle and say, "Thank you for keeping my house clean." Like they're happy. That's you know…
Clara:
And they wrote it with a Sharpie. I'll never forget the lavender Sharpie. And it was the cardboard, was it the normal, you know, uh, beige color and it just looked good. And I have to say the box, if they wouldn't have put that note, I would've probably been upset and disappointed. And this, please understand, this was like what? Four years ago? Yeah. For me, that was a game changer. Changed my life for more. That, that perspective, that seller, that one seller.
Katie:
That's cool. It is awesome. Yeah. I love EcoEnclose because they have these cute little cards that you can add. You buy them or you get them for free. You don't even have to pay for 'em, but they just explain, they have a QR code that explains like, "Here's how you recycle me," how everything goes down. You know, what were made out of, they use eco-friendly ink, like the whole nine yards. So that's why I love them. But like, there's so many options out there and it's so easy to do. And like you said, Clara, reusing boxes that already exist is the number one way to cut down on packaging. It's the number one way. And please reuse those poly mailers when you get them too, even if you've ripped them to treads, they can be taped back together. So do it. <laugh>.
Maggie:
Yeah. And if you're thinking about it, no one cares. Like, I was really worried that people would leave me negative reviews. Nobody cares. Cuz like you said, they rip the poly mailer. They put it aside and never think of it again. So if you can make it a nicer experience for them, that's another win for you.
Doug:
And I would just say, please don't use, uh, used pizza boxes to ship records.
Clara:
<laugh> yeah!
Katie:
No, don't use anything that has food stains on it. Um, one, because that can't be recycled and two, because it's gross. <laugh>
Maggie:
And there are some bad ways to be sustainable. I saw used shoes with used underwear as the stuffing.
Katie:
Ooh. Also not the mood.
Maggie:
Mm-hmm no.
Doug:
That's no good.
Maggie:
We're not supporting that. Take our names off of it. <Laugh>
Clara:
But no, I like what you said just to tag along in my culture for example, we don't use dishwashers. Okay. And we waste a lot of water doing manual washing. So I learned here, okay. I got myself a water efficient dishwasher and as a reseller of vintage I have to constantly wash my clothing. I couldn't believe the difference. When I switched from the old washer and dryer to the new one, how much water I was saving, life changing for me. That was for me, that was life changing. Yeah.
Maggie:
I can also tell you, same thing, you know, with the donations that I get, I'm constantly laundering clothing. There's constantly a pile that just needs to be dealt with. It's never ending.
Clara:
Oh, never.
Maggie:
I use my washer year-round when I can. When it's warm enough, I dry all the clothing outside on, on lines and just the amount of energy that, that saves and the amount of money that, that saves my family is crazy. And it is making those little changes. They really add up and they help you personally as well as helping the environment.
Katie:
Yeah. If I can maybe even save you a little bit more, um, steaming, if there's anything that you have to steam that actually removes 90% up or even more of the bacteria that washing does so removes about the same amount of bacteria that washing does, cuz it's still getting just as hot. Um, so I try to keep the stuff that I wash to an absolute minimum and I steam absolutely everything. Okay.
Katie:
Yeah. I learned that. Stop washing everything.
Clara:
<laugh> Katie and Maggie I'm gonna give you a master tip. Okay. And we all know that when you're doing upcycle and you're doing, uh, pre-loved clothing, sometimes it comes with a very intense, okay. If you please. Okay. Pre-owned love scent. Okay. So did you know that this scent is created by bacteria? Okay. And sometimes you put it to wash and it still persists, right? You wanna put it in the freezer. The freezer will kill the bacteria, so I want you to put it in a plastic bag. Okay. Reuse that bag. Okay. You put the t-shirt, you put it in the freezer, you leave it for one or two days. Okay. And then that will kill the bacteria and then you take it to the sunlight and then plus the UX light right then? And then you wash it. All right. That's how you're, you're not, you're gonna avoid rewashing and rewashing until you get rid of that scent.
Katie:
Blowing my mind.
Maggie:
That's why I love talking to hippie weirdos because we know this kinda stuff…like… <Laugh>
Clara:
Learn all the tricks to save electricity, tea, laundry, soap, you know how it is. There's always a pile of laundry. We use stuff, we love stuff.
Katie:
So much. <laugh>
Clara:
All right. So, oh, I got too excited. Okay. So one more question. Okay. From, from me. Okay. How can we all be more sustainable in our daily lives? Okay.
Maggie:
I actually have a good one that I just learned and I think it's something that I, I, I, I didn't used to think about. You know, I want strawberries. I go to the grocery store and I buy strawberries. Somebody said to me, "Look at where it's coming from." Oh. And I have no idea when asparagus is in season or when broccoli is in season. I have no idea when it's coming from down the street or when it's coming from Peru. And that was a huge eye opener for me. Because if you think about what it takes to get, you know, fresh asparagus from Peru in time for me to eat it, there's no way that that's happening in an eco-friendly way. So I mean, that's the biggest tip that I think that something that I am working on is to learn about what's in season and where it's coming from, because that makes a huge impact.
Clara:
Did you know there is a movie called I think Green Gold and it talks about the avocado? Okay. So did you notice that lately avocado is available all the time? In the old days it was just in season. So that goes exactly to what you were talking about and how that affected the economy in Mexico, really affected the economy because we're pushing the production of avocado all year-round. Thank you, Maggie. I'm sorry, Katie. Go ahead. And, and I wanna really hear your, um, you know, your suggestion for the audience, how could they be a little more sustainable with a little action or something?
Katie:
Let's see, my favorite little action or honestly taken over my life is shopping secondhand. Um, I think it's just the easiest way. And obviously if it's already out there and it's already in existence, like why buy new? Why produce more? It's not necessary. Um, for me, it's just shopping secondhand first. And then if I can't shop secondhand, I shop small and I shop sustainably.
Doug:
Anything either of you would like to add?
Katie:
Um, for me, it's just, you know, show yourself love and grace as you, you know, start or continue your sustainability journey, you're not gonna do it perfectly. None of us do. It's just impossible, especially when we're stuck in this capitalistic system, not to get on that ramp. But like when we're stuck in this system that we have to rely on, the world around us is also making the right choices. Um, just show yourself that grace, show yourself that love and doing something is better than nothing.
Maggie:
I just wanna say that sustainability doesn't have to be a chore. It can be something really fun that you do, even if it's, you know, I used to, I do a lot with my youth group and just take on a project to do with the kids. You reuse something and you've had fun and there's a lot of really great kid friendly crafts to teach kids about recycling and just start that cycle from a very young age. It can be fun and obviously very profitable as well.
Clara:
Thank you so much both for having such a great talk with us about sustainability and helping our audience, um, whether you're a reseller or a buyer, what can you do better to support and be more sustainable and be hugging our Mother Earth a little tighter <laugh>
Maggie:
Well, thank you for having us back on. And I mean, just the thought to leave you all with is I just wanna repeat again, everything you do matters, everything you do makes a difference and you have the power to make this a better world for my daughter and for everyone else's children.
Katie:
Yep. What she said <laugh>
Doug:
Well, yeah. And thank you, Maggie and Katie, we always enjoy having you both on, but um, no, very inspiring talk. Definitely learned some stuff, so many great tips and thank you so much for sharing your perspectives. And you know, when we were looking for sustainability sellers, you were the two at the top of the list. <laugh>
Katie:
Well, thank you, Doug. <laugh>.
Maggie:
Yeah. Thank you.
Clara:
And thank you, Doug. Okay. For everything. I love the podcast. I, like I said, I love doing this. Like I'm having too much fun. And thank you again, Katie and Maggie, I had a great time with you.
Maggie:
If you guys aren't following Katie, go do it right now. Thehippyedit because she has a great way of making this fun and making it funny. Cuz oftentimes when you're talking about sustainability, you feel mean and you feel lecturey and she just does the opposite of that. So please go follow her, seriously.
Katie:
Thank you.
Clara:
Instagram, and…
Katie:
I'm on absolutely everything. TikTok, Instagram, YouTube. You can find me everywhere. <laugh>
Clara:
And it's always the same handle?
Katie:
Yep. Thehippyedit. H I P P Y.
Clara:
Alright!
Maggie:
And yeah, I guess we should weigh in on which one of us is spelling it, right? Like our next appearance will be for List Perfectly to just duke it out.
Katie:
Yeah, I think so. That's right. We've gotta put it to a vote or something. <laugh>
Clara:
Okay. I'm gonna do a poll.<Laugh>.
Maggie:
Thank you, guys.
Katie:
Thank you.
Doug:
That was a great chat with Maggie and Katie. We learned a lot. I learned a lot about sustainability, always learning more about that. And remember, don't forget in honor of Earth Day, Earth Week, and sustainability, we're making a donation to FABRIC based on the number of downloads of this episode. So spread the word, tell your friends, share the link. And for every download of this episode, during the timeframe of 6:00 AM mountain on Monday to 11:59 PM mountain on Friday, we will make a $1 donation to FABRIC up to $5,000. And again, Friday, we will be dropping an episode that is a download with FABRIC. So thanks for listening. Happy Earth Week, happy Earth Day. And again, please share this episode and help us spread the word so they can also learn more on sustainability and selling.
Doug:
Thank you for joining us on The Seller Community Podcast from List Perfectly. You can find us at thesellercommunitypodcast.com. You can leave a message or ask a question at anchor.fm/sellercommunitypodcast. You can email us at podcast@listperfectly.com. Post a question in the List Perfectly Facebook group at facebook.com/groups/listperfectly. You can listen to The Seller Community Podcast anywhere you listen to podcasts and be sure and subscribe, tell your friends, and if you're on Apple Podcasts or Spotify, please leave us a review on Instagram and TikTok. You can find @snoop.dougie and of course, follow @listperfectly. And you can always use our promo code podcast. That's P O D C A S T for 30% off your first month of List Perfectly or 30% off your first month of upgrading your plan. Thanks for listening. And we will see you next time.