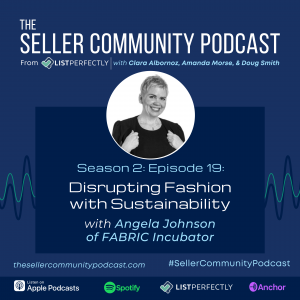 Clara and Doug chat with Angela Johnson, designer and Co-Founder of FABRIC Incubator and learn about FABRIC's mission, and how they are helping the fashion industry be more sustainable, disrupting, and innovating fashion.
The Seller Community Podcast from List Perfectly is the ecommerce resource for the seller community across all platforms and hub for information on growing your business. Find out more at thesellercommunitypodcast.com, leave a message or ask a question at anchor.fm/sellercommunitypodcast, or email us at podcast@listperfectly.com.
List Perfectly is the ecommerce resource for selling across multiple e-commerce platforms including eBay, Poshmark, Etsy, Mercari, Kidizen, Grailed, Depop, Tradesy, Facebook Marketplace, Instagram and Shopify.
Listen on Apple Podcasts
Listen on Anchor
Listen on Spotify
Listen on Pocket Casts
Listen on Google Podcasts
Listen on Breaker
Listen on RadioPublic
Links
Thesellercommunitypodcast.com
List Perfectly.com
Seller Community Podcast on Anchor
List Perfectly Facebook Group
snoop.dougie Instagram
snoop.dougie linktree
List Perfectly Instagram
Episode Links

FABRIC Incubator
FABRIC Events Calendar
Angela Johnson Designs
FABRIC Facebook
FABRIC Instagram
FABRIC Pinterest
FABRIC YouTube
Transcript
Doug:
Welcome to The Seller community podcast. This is season two episode 19. Happy Earth Day, everyone. In this special Earth Day episode, Clara and I chat with Angela Johnson, designer, and co-founder of the FABRIC Incubator. Angela is an award-winning eco-friendly clothing designer and champion of the Arizona fashion industry. She's best known as the co-founder of Arizona's fashion incubator FABRIC, and for creating upcycled ball gowns from thrifted t-shirts under her own fashion brand Angela Johnson Design. She's been featured in countless books, magazines, and television and internet programs. And today she is on The Seller Community Podcast. All right let's listen in on our chat with Angela and hear how she and FABRIC support sustainability and how they are disrupting the fashion industry.
Doug:
We're joined today by Angela Johnson, who is one of the founders of the FABRIC Incubator. FABRIC is a fashion incubator, business accelerator, design studio, academy, and manufacturer that is sustainably disrupting, redefining, and reshoring the fashion industry for the modern apparel entrepreneur. I wasn't sure I would get that all right. It's kind of a tongue twister.
Angela:
<laugh> You did it!
Clara:
So Angela, what is FABRIC?
Angela:
Basically, fashion is, it's really hard to get into when you're a designer or you wanna be a designer. Um, there's a lot of obstacles in your way, and this place is providing all the resources and the hand-holding that somebody might need if they wanna start their own clothing brand and helps them get through, um, design, development and manufacturing and all of the stuff that usually takes a degree or a team of experts that get paid a lot of money to be able to do. So it's taken away an obstacle for somebody who wants to solve a problem out in the marketplace that maybe isn't being solved by the bigger brands because they're just kind of overproducing overseas to, you know, make as much as they possibly can to get the price points down. So we're a fashion incubator that's helping fashion businesses grow.
Doug:
Let's go back. How did you get into sustainability?
Angela:
Well, um, gosh, I kind of stumbled upon it really. Um, and it goes way back. I was basically a designer in Los Angeles in the 1990s, and I had gone to design school. I had started my own brand. I had worked for other brands as a production manager and used all of that knowledge and all the connections I had to start my own brand. And I was able to actually make small batches when I first started, which is really unheard of, but I used my connections and my abilities in, um, production management to do that. So what I mean by that is I would go to a pattern maker in L.A. I would have them make the pattern. I would take the pattern to a grader to grade it into different sizes. And then I would take the marker, which is the template for cutting over to a cutting service.
Angela:
I would pick up all of my materials and trims, and deliver them to the cutters. They would cut everything. Then I would pick up the cuts and I would deliver them to different sewing factories. And the sewing factories would do me favors and make small batches of them because I was giving them larger batches from a bigger brand that I worked for. So I was able to start off with like 50 pieces and then a hundred, and then it started to grow and I was selling internationally and I was living my dream. And then I moved back to Arizona and there were no resources like that in or near Arizona. So I shut down a profitable business because of a lack of resources in 2001. And that's when I had to get creative and think about what I wanna do in the fashion industry in Arizona, you know, there are thrift stores everywhere.
Angela:
So I was like, why don't I upcycle? Why don't I start making one of a kind? And that way I don't need, you know, a factory to manufacture them, I can make them myself. And so I went and gathered a bunch of t-shirts and I made my first t-shirt ball gown is what I call them. So it took about 25 shirts to make the first one. And then it caught on and that became like my business for a while. It still is. I still make them to this day. So it's like 20 years of making these, that was my income generator. And then I started teaching at other schools and everything. And this is, you know, that's a sustainable thing already. It's, it's a, one of a kind, it's taking things outta the landfill, reusing them. But the concept of creating fabric ended up being sustainable too because I wanted to help other people be able to make small batches of unique items that weren't overproduced overseas so that they could have more control over it. And they, you know, didn't have to make a hundred thousand of one thing or whatever. So it just kind of happened. I didn't pre-plan being sustainable. It just happened that way, but it was very close to my heart anyway, because before fashion school in LA, I, I, um, went to Northern Arizona University and up in Flagstaff, you know, everybody cares a lot about sustainability and I learned a lot about, you know, just that whole industry from, from being in college. <laugh>
Clara:
Wow. <laugh> Okay. Having said all that, um, Angela, how could you summarize what sustainability means to you?
Angela:
Wow. That's a big question because there are a lot of ways that somebody can be sustainable or that something can be sustainable and there's no right or wrong. There's just a lot of, a lot of pathways. And to me, as far as fashion is concerned, cause I'm not an expert in sustainability in other industries or anything, but I think as far as fashion is concerned if you are making a product in smaller batches or that are just in time, you know, on-demand that is not overproduced in factories, in, you know, third world countries where maybe people aren't getting treated fairly or the regulations are aren't being followed, then that makes it sustainable right there. To me, that is the most important thing, cuz there are sustainable fabrics and there are all kinds of cool things like zero-waste patterns and stuff like that can take it to another level as well. But for me personally, I just think putting that ability into the hands of the designer or the brand to make small batches that are just what the customer needs right. When they need it, instead of making thousands and hoping it sells and end up having to go, you know, throw it away or put it in a landfill or burn it in incinerators or whatever is the best answer. So at FABRIC, that is really what we do. That's like the mission for, you know, how we operate every single day is to reassure manufacturing and redefine it and use technology to make it more efficient so that the price points that these smaller batches end up being can actually be more competitive and compete with those, those things that are made in the huge volume. I mean, when you make a hundred thousand of one shirt, then each shirt can be really cheap because you're splitting up the development costs into a hundred thousand pieces.
Angela:
But if you're only making 10, you're splitting up the development costs into 10 pieces, then it's gonna be really expensive. But if you can throw in some technology that takes away some of the human labor and, you know, makes it quicker and more efficient then and makes it personalized and customized, then that is the thing that helps make it. So that it's a unique product sold at a, it's gonna be more expensive, but it's not gonna be ridiculously expensive. So, sold at a competitive price point. That is something that nobody else has and you can compete on a global stage that way. So to me, that is the whole answer for sustainable fashion.
Clara:
Great answer. <laugh>.
Doug:
You're busy this week, you've got Eco Fashion Week. So tell us what Eco Fashion Week is, and what you're doing there.
Angela:
Well, every year we celebrate sustainability and highlight sustainable brands at FABRIC. And so we came up with Eco Fashion Week when we first opened the building here in 2016 and each year, we put a week's worth of events together that include fashion shows that feature sustainable brands, as well as panel discussions, to educate people on sustainability, as well as networking events and pop up shops. So you could buy from sustainable brands and just all kinds of really fun stuff. So this is, you know, the first time we're coming back since the pandemic. So we're really excited about it. And what we were able to put together was this week, which actually started on Friday already. So we're in the middle of it because Friday was the beginning and on Saturday, the 23rd is going to be the last day of Eco Fashion Week. But coincidentally, this year, it all fell together in collaboration with two other fashion weeks.
Angela:
So Phoenix Fashion Week and Tempe Fashion Week decided to do Spring shows this year, which they normally do in the Fall. And they were right around the time of Eco Fashion Week. So we all decided to get together and basically Eco Fashion Week started with Phoenix Fashion Week. We had a Fabric Friday at Phoenix Fashion Week on Friday night, and then it's ending with Tempe Fashion Week on Saturday, the 23rd, and in between are all of these other cool events like we have, um, a sustainable panel discussion called Behind the Seams about sustainability. Yeah. We like puns.
Clara:
I love no, no, no. I love that. I love it! Behind the Seams. <laugh>
Angela:
We have a lot of good puns around here. It's so cheesy, but it's the best. So, um, the Behind the Seams event is a panel discussion that's gonna have all these amazing panelists that are experts in sustainability. We're bringing in the Vice President of Marketing for Gerber Technologies, which is the CAD software program that we use to, to basically be efficient and make things, you know, in a more sustainable way, as well as all kinds of amazing other speakers. And they're gonna talk about the future of sustainable fashion. That's a free event, we're a nonprofit. So a lot of the stuff we do is actually really affordable or completely free. So that's Thursday of this week and then we're having a Refabricate Fashion Show on Friday. That's gonna take place at Tempe Marketplace and we're featuring about 30 designers. Each one has taken some jeans out of the landfill basically, and they are upcycling them into really cool dresses and other cool products that are gonna be on the runway.
Angela:
And then on Friday, we have a sustainable popup shop where you can come and shop for sustainable brands here at FABRIC. And it's in collaboration with Green Living Magazine. So inside the building is a whole like an expo basically. And, uh, it's all like health and beauty and all kinds of sustainable things going on, food, cooking, everything. And then that night is actually where it ends with the Tempe Fashion Week. We even have a, um, few satellite events like on Wednesday, you can go to the Phoenix Art Museum and meet the Arizona Costume Institute people that are doing a sustainable-themed networking event, basically as part of Eco Fashion Week. So lots of stuff to do. And it's all listed on our website on fabricincubator.com on our Events page. We have an events page where we share everything that's all fashion-related in Arizona. And basically, there's a whole dedicated, go to the Fashion Week section of that page. You can find all the details and, and RSVP and come and, and enjoy <laugh>.
Clara:
I love it. I'm coming <laugh> so talking about fabric. Okay. Let's talk about some of the services or the help. Okay. And the options and resources that fabric is offering to our community. Could you also tell us a little more about the garments that you do?
Angela:
Oh yeah. Okay. So the core thing here at fabric is that we wanna help somebody get started. And when you get started, you can't afford to make 5,000 pieces, which is normally a minimum at a factory. And nor do you probably even know anything about manufacturing. And so when you approach a factory, they need tech packs. They need production-ready patterns. They need a sew-by sample that has been sewn on industrial machines with the order of operations out of the fabric, that's gonna be manufactured and all kinds of things. And, then a production manager to actually make sure it goes through manufacturing now because most people with a good idea for a sew product have no prior experience in production management and quality control and everything that it takes. That's the core thing that we do. So we have a roadmap that's virtual, that is, is basically a step-by-step guide.
Angela:
It's kind of like an online school in a way that you can go at your own pace. And it has hundreds of videos, basically me like a talking head telling you, okay, here's what a cutting ticket looks like. Here's how to fill it out. Here's what you should look for. And here's how to submit a spec sheet. And what is a flat and how do you find your materials and, and all of that. So it's hundreds of videos, hundreds of downloadable documents and, um, instructions and checklists and everything. And it helps somebody with no experience become their own production manager so that they don't have to hire a hundred thousand dollars a year employee to be that production manager. And that's our core resource here. We actually charge money for it. It's about $350 a month to use it. But as a nonprofit, we give away 200 scholarships a year.
Angela:
So most people don't pay anything or they pay a very small portion of that, like $50 a month, if they win a scholarship and we wanna help disadvantaged entrepreneurs. So we scholarship minorities, veterans, people with a disability, and people with financial needs in this program. And it's basically just our way of giving back. Now we give back to earn our stay in this building. This is actually a city of Tempe building and they allow us to use the building without paying rent. We do pay the, we pay the maintenance and, you know, upkeep and all of that. And we invested heavily into making it pretty and safe. I mean, it had a 17-page list of safety issues to fix before we could even move in, it was the former performing arts theater. So we ended up making this arrangement with the city that we're gonna scholarship people into this program and we're gonna provide free opportunities and events like all of our Eco Fashion Week events.
Angela:
There are so many free events there. And the designers who participate in these shows don't have to pay hundreds or thousands of dollars to participate. Some of them are free. Some of them are a hundred under a hundred dollars. So it's really like a lot of giving back. You can find all the help that you need here. And most of that help is really affordable. It's a below-market rate. A lot of times it's free. We have a free events calendar. We have a free so that you could post your event or find an event. We have a free classified, so you can find a fashion job or post a fashion job. We have a free directory. So you can find all fashion businesses in Arizona and put your own fashion business there. We have all these free events. We have a photo studio here, and a hair and makeup studio.
Angela:
We have offices. All the offices are below market rate. Yeah. They're month to month. I mean, it's a 26,000-square-foot building filled with all the resources you need. So you don't have to go anywhere else. You don't have to go to L.A. You don't have to wait for the next textile show to find your fabrics because we have a free sourcing library here with all of the wholesale fabrics and trims. I mean, if you need anything it's here. And the whole thing is based on the fact that we give back to the community and that's how we're able to stay in this building. Now, the other key thing to all of this is that we have event space and the event space is where we have our runway shows and stuff like that, but we rent it out and that rental is how we generate income to provide all the free stuff.
Angela:
So it's this really unique model. We call it a public social cooperative enterprise because it's nonprofits and for-profits and community people, and the city kind of coming together to make this all happen. And when we rent out, our event space out for a wedding or a music festival or something like that, that's when that income allows us to pay the staff and to pay the utilities and to put together these events and to do all of these cool programs and stuff that makes it more affordable and easy for a designer to actually start their business. So it's a pretty unique place. <laugh>, it's hard to be a nonprofit. You have to have a full-time fundraiser. You have to, you know, know how to get grants and do all of that. So when we started this, we were like, we just wanna help people.
Angela:
And we don't wanna rely on trying to figure out how to get like a full-time grant person and go after, you know, all of that stuff. And we were like, let's just be self-sufficient. We came up with this to make it easier, you know, to be able to fund this whole thing. Now, obviously, that was really hard during COVID <laugh> renting out an event. Space is not the easiest thing to do when you're in a pandemic. So, we turned our event space into a PPE factory during that time. And we sustainably manufactured 700,000 reusable medical gowns during that time, so that we could use the space, keep everybody employed, employ about a hundred more people and solve an issue for the United States on a shortage of medical, you know, gear. So we ended up doing that and each gown can be washed a hundred times.
Angela:
So it kept 70 million disposable gowns from going into the landfill, which was a sustainable solution to the problem too. And we got a visit from the president like President Biden and Vice President Harris came to recognize our efforts. That was really rewarding and cool. And then we knew we had to turn the event space back into an event space. So we could actually continue to generate income because we weren't charging enough for the gowns. We just charged what it cost to make 'em. We just wanted to, you know, we didn't wanna gouge healthcare heroes during the pandemic. So we basically made it at cost and then you, we needed to bring money back in. So we turned it back into an event space in 2021, and we've been trying to rent events, but there's been all these COVID variants and things like that. So it's been a bit challenging. They're finally starting to come back again, though. So cross your fingers for us.
Doug:
That's amazing all that you're doing and all that you've done. So your co-founder is Sherri Barry. How did the two of you connect and how did this all come together between the two of you?
Angela:
Well, Sherri is my hero. This woman is so generous. She is so smart. She's just an amazing person. And she was, well, one of the designers that I had met before opening this place, she had her own brand and that brand, she had never done before. She actually worked in the retail side of things. She actually managed 300 retail stores and she got her MBA from ASU so that she could actually start her own brand. And she was the marketing director for the Arizona Science Center and was super smart. She should have been a contract attorney. I mean, she's business savvy and very intelligent when it comes to contracts and things. And so she wanted to start this closing brand knowing that she needed some guidance. She came to me because I was consulting and helping designers before fabric existed. And I had to send her to Los Angeles to get all the resources.
Angela:
And that's where things go wrong for people is when they are in Arizona and they try to manufacture in another state and they can't be there to like, make sure that they're doing their due diligence of checking the marker before it gets cut, checking the cuts before they get zoned and, you know, signing off on things. And, and that's why I closed my business down when I moved here is because I couldn't be in LA every day to do my due diligence. So, you know, being an advisor and helping somebody through it, I would say, but you have to move to LA if you really wanna do this correctly. And most people didn't, they tried to do it from here. And she was one of those people. She thought, well, I'm gonna do my best. And she made a great attempt at it and probably better than anybody cuz she has all of her ducks in a row.
Angela:
And she basically wasn't there when her marker file got converted from the marker to the cutter and it changed from inches to centimeters. And that means all of her pattern pieces were way too small and nobody was there to check them on her behalf. So her entire production run got like two sizes too small and sewn that way. And it came back to her delivered to her as doll-sized clothing. And she was obviously not able to sell that. So it closed her brand down and she thought, well if I can't do this, who can, I mean, she had money. She had won a grant from ASU for her, you know, efforts in her MBA program. And so she had the contract attorney brain, she, you know, like literally had everything you could possibly need to do this, had a consultant, everything, but still, something went wrong that put her out of business.
Angela:
So she wanted to solve this problem as well. And when she saw that I was trying to open FABRIC, I put a GoFundMe together and I was fishing it out there, hoping that there was somebody who could partner with me because I was the community builder. I'm a person with manufacturing experience. I'm a designer, but I didn't have the business savvy brain, you know, that kind of, that kind of brain, the left brain. I have the right brain and I have the community and she had the money and the left brain. So we reconnected and we were like, let's do this together. And it was the perfect partnership because we both bring two different things to this that is needed to be able to pull something like this off. And it's amazing how well that worked out. She is like an incredible asset to my, you know, creative community-building side of things. <laugh>
Doug:
And yeah, just, uh, that synchronicity is great.
Angela:
Yeah. The good news for her though is now she was able to start her brand again. Um, she has a new brand this time. It all worked out for her in the end.
Clara:
So happy for Sherri.
Doug:
So Angela, what's one thing you would like people to know about sustainability overall?
Angela:
Well, okay. So I think an important part about all this was, I had mentioned that in order to make something sustainable, if you can make it on demand or on time, you know, in small drops, just when somebody orders it, that's probably the most important part. And I think I'd like everybody to know that that didn't use to be possible, but it is now. And it is now because of Sherri. My co-founder here had a vision that the future of fabric would include that technology that allows it to be more efficient and to be more personalized. It's just, how do we invent that? I mean, it hadn't been invented yet. It wasn't part of the fashion industry's ecosystem yet. And eventually, Sherri stumbled upon this micro-factory in New York that was put together by a software company called Gerber, which is now Lectra company. They collaborated. That's the CAD program that the industry uses to make patterns and to grade them into sizes and all of them, the background stuff, the technical stuff, you know, that it takes to make clothing.
Angela:
And they put together this concept that is in their ideation center or their innovation center. And this innovation center has this automated system where there's a printer that can print on the fabric. It can print your pattern pieces with your actual print designs placed into the pattern pieces as an order comes in. And so you can imagine if you are a designer, you could actually engineer a dress and you could put a big octopus, let's say that wraps around this sleeve and comes down the dress and everything. And you could offer that on your website in a 3D avatar. So you don't have to sew one yet. You could literally mock it up and then people can order it. And then as the order comes in, it will get printed. And you can say, you know what? It can come in any color you want, you can order it with the octopus blue today and yellow tomorrow if you want.
Angela:
And it will print the octopus, the color that you want it to build right into the pattern pieces. It's fully sustainable because it uses no excess water. It is just a one-step process. And then that will flow into this automatic cutter, which is the Gerber Z One Cutter. So the printer is the Corny Preso Printer. The cutter is the Gerbercutter. It automatically has a camera that sees the outline of the pattern pieces. And it cuts those pieces out like super, super fast. It's really cool. Then that's eliminating the human element of the cutting process, right? And you don't have to do a stack cut of thousands at one time. You can do them one at a time in a very fast, efficient way. Then it gets sewn on demand. And then you can fill those orders as they come in and within days or a day, depending on, you know, how many orders there are.
Angela:
And that's a brand new technology that they set up in New York. And my partner Sherri was like, she visited that factory and said, okay, here's a concept of what we have been talking about that's needed in the fashion industry. There are a few parts that need to be added to make it a seamless journey from your website all the way through pack and ship, but here's a start. So she said, let's bring that to Arizona. So during the pandemic, we took the time to figure that out. And it is nowhere and at Sherri's new factory down the street, which is called The Fashioner. And it's the only factory in North America that has all of this figured out. And you can literally come into FABRIC, learn how to be a designer and a production manager so that you get everything ready for that factory.
Angela:
And then all the inputs go into that factory. And basically, you can engineer really cool, customized, personalized individual prints. You can put your own logo right here, wherever you want it. And it can just be made on-demand. And then, print, cut, pack, ship, sent to the end-user, right from that factory. And you can offer these unlimited drops. So they're kind of like pieces of art. Like this is yeah, number three of 100 or something. And that justifies a little bit higher price point. It's not gonna compete with H and M or Forever 21, but it's gonna be more affordable than if you were to hand sew each one of them yourself, you know, or have a factory do that for you. So that personalization to me is the answer to sustainable fashion. That's the thing to make it allow a brand to be able to make things personalized for people. So they're willing to spend a little bit more and keep that piece longer in their wardrobe and not throw it away like their lunch. Do you know what I mean? And basically, wear it more. That's sustainable fashion right there. So I know that's a long answer, but to me, that is really the core of sustainability.
Clara:
Love it. I love your answer. <laugh>
Angela:
I wish I could show you that factory right now. I mean, it's incredible. There are a hundred sewing machines. There's this, the printer itself is the size of a semi. It's really incredible. And yeah, and then the cutter is huge too. It's this beautiful state-of-the-art high-tech factory. It's amazing.
Clara:
Now speaking about sustainability, what is the one thing Angela, that we should all do to be more sustainable?
Angela:
I love that question. That goes back to what I just said about thinking more about what you're wearing, holding onto things longer. It's better to have a wardrobe of staple pieces that you can rework in different ways with some fashion items that are trendy and stuff too, to work in there, but not a whole wardrobe of disposable clothing. Like that's where we're at right now is everybody wants the cheapest thing, the trendiest, they wanna, they want it to cost less than their lunch. They wanna throw it away in six months from now and move on to a new thing. And we need to get away from that because that's what's killing the planet. That's the stuff that ends up in the landfill. That's the stuff that is like ruining everything. I mean, it's really bad. And the fact that it is so cheap, you should be willing to think of the humans that went into you know, creating this and did they get paid fairly for the amount of work it takes to make something, it is really difficult to make something and it should be a highly paid skill.
Angela:
It's unbelievable that clothing can be so cheap and it isn't just because they're making so many of them. I mean, that does contribute to it. You can split your development costs into a hundred thousand pieces so that it's cheaper, but it's also because we, as consumers, are forcing that price point down by demanding it to be cheaper and cheaper. So now all those poor companies are out there trying to find the cheapest labor they can overseas and they're like unable to. And so then those factories are competing with each other to make it cheaper. And then that's when the labor pool is taking the hit for everybody, you know, and that's really not a sustainable thing and something needs to change. And so this is the answer in my opinion, and we all need to think about it. We all need to be part of this.
Angela:
We're all part of this planet and we should care about all of this. So we should deliberately select things that we know we're gonna wear longer that are staple pieces, and then buy those personalized pieces that I was talking about from your local designers, you know, from people who are making these small batches of things that are unique, you know, that you might hold onto longer, but they're still the trendy or cool stuff like that. And spend a little bit more on it and that's okay. Don't buy as many pieces, buy something that is a little bit more expensive because it was made, you know, by a designer that you can see their face. You can, you know who they are and that you will wear it longer and you'll covet it longer and celebrate that person for, for making it
Clara:
That's well said, Angela. I was born in Argentina by the way. And we call it one of the slavery countries because it's slavery employment. And yes, that is very correct what you said, we're working for literal pennies and whatever you get paid. It's like mid-month. Okay. On top of that, we have inflation. So they pay you under the minimum wage. And on top of that Third World countries, all have inflation. So imagine that circle that you don't get out of. Okay. You can't get out, you know, and then that's how it starts doing knockoffs and stuff like that. So thank you for mentioning that. It means a lot that you're sharing that with people here, because here you might be getting that $3 incredible, I don't know blouse, but you know what it took for people. I've seen where they work in Buenos Aires, I've seen it, they work in horrible places, horrible conditions of employment, kids, underaged people, a pregnant woman exposed to very textile and unhealthy products that they're using for the fabrics instead of using this stuff that you said, you know, with, uh, like with Sherri and be sustainable.
Angela:
Yes. And, you know, I mean, that has been going on for way too long. And if you've ever heard of Fashion Revolution (fashionrevolution.org), that's a great movement that is trying to shed light on that for, for many years. And they do a thing where they have everybody on social media hold up little signs that say #whomademyclothes. And it just makes transparency in this industry so that the factories who are paying fair labor, you know, wages and things like that will respond, "We made your clothes" and then you know who you're working with. And, and if you can see them and talk to them and see how employees and you know, that kind of thing, it makes it, at least it's starting to shed light on all of that. So there are a lot of brands that have been called out because of all of this that are starting to make some major changes.
Angela:
I mean, I just threw H&M under the bus when I said that, but H&M is actually one of those brands that have made a lot of changes and have really responded to this. And they, you can track all kinds of, you know, steps in their process now, and they're doing a really good job. They've actually in Fashion Revolution's point score, you know, on who is sustainable and who's making those changes. They've, they've been like one of the best brands to just actually go and run with it and, and transparently manufacture. So it's starting to happen. People are starting to care.
Clara:
Angela, please, before we go, please tell us about the upcycled ball gowns from thrifted t-shirts you create for your fashion brand Angela Johnson Design.
Angela:
Oh yeah. Okay. So like I said, it was just out of necessity when I moved to Arizona, to create, to keep creating, and thought, okay, well, we have thrift stores. I'll, I'll start making these, um, ball gowns out of the t-shirts that I find at thrift stores, but it just took off. And I've been making them ever since it's going on, I guess, over 20 years now. And they come in themes. So basically my website, it's angelajohnsondesigns.com. You can go see the different, uh, options. So you can pick a floor-length ball gown that people actually order for weddings and proms and events and things like that. Or a knee-length party dress, which is, you know, a little bit more of a cocktail attire type of thing. And then there's a mini-skirt. So that's more of a fun, flirty summertime dress.
Angela:
And then, um, I make men's blazers or women's blazers as well. And they're reversible. So you get a whole set of t-shirts on the outside and a whole set on the inside and you get to pick what theme you want. So there's a dropdown where you can pick pop culture or music shirts or travel shirts or different things like that. Or you can provide your own collection of shirts. So sometimes people have their own collection, cuz they've like being a part of a team of some sort, or they have their favorite band or whatever. Like I've made a David Bowie dress for somebody who just followed David Bowie around the country for years and had all of his t-shirts. And that was a really fun one. I did a Star Wars blazer once where the outside was the dark side and the inside was the light side.
Angela:
So that was a really fun one too. And it's just, it's creative. I get to, you know, still have my own collection and be very creative while I'm helping other people with theirs. And each one is the same silhouette. So it's easy to make because it's the same style of dress that I've made year after year. So I can be very efficient about it, but it's just different t-shirts. So that's what makes each one-off, one of a kind and unique and special for the person who bought it. So it's kind of an efficient way to be an upcycle, cuz a lot of upcyclers will do a totally different design every time. And you know, that takes days or weeks to do something like that. So you'd have to charge thousands of dollars to really make it worth your time. And most people don't charge enough to make it worth their time because they don't value their own time and they just can't like sustainably, keep a business model going like that. So I found a way to sustainably keep a business model this way. I've just come up with these certain silhouettes and it's just different t-shirts every time and it's pretty quick and easy to make. So it's my creative outlet. <laugh> thanks.
Doug:
I might need that Bowie dress. I don't know. Maybe <laugh>. I could see it, maybe a blazer. I dunno. We'll see.
Angela:
I'd love that you chose the dress before the blazer though.
Doug:
Well, you know, if I could…Angela, can you remind our listeners where they can find more information on the FABRIC Incubator?
Angela:
Yes. It's online at fabricincubator.com. Oh, we're also on social media. Easy to find too at FABRIC Tempe.
Clara:
What social media channels, please?
Angela:
We're on Instagram and Facebook and LinkedIn and Twitter.
Clara:
Beautiful. Alright. You know where to find Angela and the incredible Sherri and all the beautiful things they're doing so you don't have to go for fast fashion and uh, be more sustainable and grow in a career. That is incredible. Right.
Angela:
Thank you, guys, so much. I really appreciate you sharing what we're doing and uh, allowing, allowing me to talk so much <laugh>
Clara:
The honor is ours. And just to remind you, we're gonna be donating with our episode that is gonna be airing today about, you know, sustainability and we're so honored to support what you're doing. And it means a lot to us and the honor was ours, Angela.
Angela:
Well that means a lot to us and your donation is gonna allow us to support more entrepreneurs in our scholarship program. So you guys are helping more designers be able to make their dreams come true. So thank you so much.
Clara:
You make me too happy. <laugh>
Doug:
Thank you so much, Angela, for telling us about your amazing program, and uh, yeah. Great to be a part of it and great to help spread the word thank you for helping us spread the word on sustainability, Earth Week, Earth Day, sustainable fashion, and sustainable selling.
Angela:
Thank you so much, you guys.
Doug:
Thank you for joining us on The Seller Community Podcast from List Perfectly. You can find us at thesellercommunitypodcast.com. You can leave a message or ask a question at anchor.fm/sellercommunitypodcast. You can email us at podcast@listperfectly.com. Post a question in the List Perfectly Facebook group at facebook.com/groups/listperfectly. You can listen to The Seller Community Podcast anywhere you listen to podcasts and be sure and subscribe, tell your friends, and if you're on Apple Podcasts or Spotify, please leave us a review on Instagram and TikTok. You can find @snoop.dougie and of course, follow @listperfectly. And you can always use our promo code podcast. That's P O D C A S T for 30% off your first month of List Perfectly or 30% off your first month of upgrading your plan. Thanks for listening. And we will see you next time.