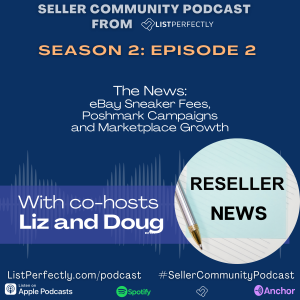 Overview
This week we launch our seller news episodes and talk about 2021 recaps, 2022 overviews, sneakers on eBay, marketplace growth, Poshmark, and more!
The Seller Community Podcast from List Perfectly is the #1 resource for the seller community across all platforms and hub for information on growing your business with List Perfectly. Find out more at listperfectly.com/podcast, leave a message or ask a question at anchor.fm/sellercommunitypodcast, or email us at podcast@listperfectly.com.
Listen on Apple Podcasts
Listen on Anchor
Listen on Spotify
Listen on Pocket Casts
Listen on Google Podcasts
Listen on Breaker
Listen on RadioPublic
Links
listperfectly.com/podcast
Listperfectly.com
Seller Community Podcast on Anchor
Listperfectly Facebook Group
coloradoreworn Instagram
coloradoreworn linktree
snoop.dougie Instagram
snoop.dougie linktree
listperfectly Instagram
Episode Links

Forbes E-Commerce Year in Review
Marketplace Pulse Marketplaces Year In Review
Bustle.com Best Clothing Items to Resell 2021
eBay Sneaker Fee Chart

Transcript
Liz:
I feel like we should have like a tagline at the beginning. I don't know why I feel weird starting this every single week.
Doug:
Well, a year later, I mean, this one's odd because it's our first standalone news ep. So, everyone, Liz is a little nervous because this is our first standalone news ep. We're trying some different stuff. It's kind of a typical ep, but it's focused on the news, but it's gonna be okay.
Liz:
No, I'm confident.
Doug:
All right, Liz is always confident.
Liz:
No, I'm not <laugh>.
Doug:
So here's the other debate that we didn't wanna reveal, but we record a bit ahead of time. Sometimes things happen in the timeline of life that, you know, you could refer to. It's kind of weird because we're recording ahead of time. So technically if you're listening to this and we know that you get up in the morning and listen right away. Technically Christmas has passed. New Years has passed, Liz's birthday, but we can pretend that Liz hasn't had her birthday. We can talk about New Years, but it's a very weird timeline thing. Wait, it's a very weird timeline thing. It's space and time thing Liz, it's the continuum. We've got a fractured timeline. Cause we could be like, " it was your birthday yesterday, Liz," but it hasn't happened yet, but it hasn't happened yet. But technically when you listen to this that's happened.
Liz:
Yes. I had a great birthday. I'm gonna predict the future in this recording.
Doug:
You will.
Liz:
And I'm gonna tell you, I had a fantastic birthday.
Doug:
That's good to hear Liz. Season two of your life. Honestly too, that's the challenge too, because we're doing news episodes and sometimes that's gonna happen in the news because we record them a bit out because we have to put some stuff together. We have to edit it. We have to put some other stuff together. So who knows? Breaking news is breaking news.
Liz:
Well, I don't know about breaking news, but we do have some reseller news.
Doug:
That's true.
Liz:
Maybe if sellers were on vacation or busy shipping out there after holiday packages, their new year's packages, maybe they missed and maybe some other just interesting things that sellers should know about.
Doug:
There you go. That's why we're doing this.
Liz:
And if you're listening to this a month from now, you missed out. I'm so sorry.
Doug:
Yeah. It's old news. It'll be old news.
Liz:
It's okay. Keep listening. You're gonna catch up.
Doug:
Well, hopefully you would learn something.
Liz:
Yes, you'll still learn something.
Doug:
You could always learn something. All right. Let's get into it Liz.
Liz:
Welcome to season two of The Seller Community Podcast from List Perfectly. This is our weekly news episode.
Doug:
All right. We need a news effect. I need to get some new sound effects.
Liz:
Oh, we forgot to say…people don't know who we are.
Doug:
Oh yeah. See, we're all thrown off. So I'm Doug.
Liz:
And I'm Liz.
Doug:
And this is The Seller Community Podcast news episode, which you already said. Yeah, it'll be fine. We'll figure it out.
Liz:
Let's get into the news
Doug:
It's 2022.
Liz:
Yes.
Doug:
Is it just me or does it? It looks weird. And I think I might be pronouncing it wrong. 20, 20, 22, 20 20, 22, 20 22. You see what I'm saying? I
Liz:
Have a feeling you've been watching too much TikTok. <laugh> listening to too muchTaylor Swift.
Doug:
She's all right. I don't know. It's like, you know, last year was crazy. We were kind of talking about this as we were warming up as we do, it was a crazy year in e-commerce. You know, massive growth in the marketplaces. Retail challenges, brick and mortar challenges, supply chain issues, online seller growth. A lot of sellers grew their businesses and you know, there's debate back and forth. Is this gonna stick around? Is it gonna change? I think things are gonna keep pivoting.
Liz:
It feels like it was so long ago that we started this podcast and we started talking about this stuff. And just when you were saying this year has seen growth and I'm like, that was all the year before, but it wasn't, that was 2021. It was a really long year. But I sit here and I think of things that we talked about at the beginning of 2021, like social commerce. That was a term I didn't even know. I learned it from you. Live commerce we've heard of is something that we probably haven't talked about on this podcast, but quick commerce. We've talked about it a little bit, but I don't think we've ever called it exactly quick commerce, but social commerce has really, really picked up a lot. And we've talked about it a lot this year.
Doug:
Yeah. Yeah. And you know, I love that term. I love that it ties into social media and I love that the, you know, the various social media sites are starting to lean into e-commerce and you know, no secret TikTok is leading, really leading that. Some of the others are trying, but that was a term we discussed early on. And what I really was really interested in is we, you knew about it, but I really started discovering live commerce through some of the guests that we had on. I became fascinated with people that are selling live via YouTube, live via Instagram. I thought it was really cool. And now it's really emerged as a trend. And I think the same thing with quick commerce, but to me, that's kind of been around a bit, but the term still seemed kind of new.
Liz:
So yeah, the term is new, but I don't think it's new. Back to social commerce really quick. So social commerce for anybody that missed the whole last year, just thinking about it–Facebook. So when you go to Facebook, there is a live shopping tab where you can go online and sell your items live. You can start live directly on Instagram, directly on your Facebook page. You can go on TikTok and sell your wares. There. You can now link your Shopify store to your TikTok for direct links to exactly shop right on the social. You can connect your Shopify store to your TikTok account with direct shoppable links. You know, we talked about TikTok in the, #TikTokmademebuyit, right. Yeah. That has influenced so much. And then we have sites that have emerged, like Galaxy. So all of that playing into social commerce that we really talked about a lot this year, which at the beginning of the year, I was like, "eh, I don't really know how that's gonna work out." This kind of sounds QVC-ish, but it's working.
Doug:
I think the pandemic kind of helped the emergence of these things. And I especially like quick commerce. It's like, at least my house now, I mean, we order, it's insane to me. It's like we order, like all of our groceries get delivered. Now a lot of our stuff gets delivered. We need something, we order it from, you know, whatever Amazon, get it next day, you know, it's, you need something for the house, household stuff and groceries. We've really made the at shift as a family, you pay a little bit more for convenience, but it's nice to get that stuff delivered straight to your house. That just kind of ties into, I mean, that's quick commerce, but that also kind of ties into with the other stuff.
Liz:
So across the board, it really does. And so when we talk about quick commerce, this is just a quick little, there is a long 2021, e-commerce year review that was put out by Forbes. They talk about quick commerce. You know, first it was two day shipping. Then we had next day delivery and now it's delivery in 30 minutes or less. It's crazy. You know, people just do not wanna wait. They talk about a startup called GoPuff and Instacart that brought quick commerce to the mainstream. And just like you said, the pandemic accelerated all of this growth. Something that's kind of eye opening that I didn't know is that, you know, Target has Shipt. Yeah. It's service called Shipt and Walmart is expanding. It's got local service with a recent partnership with Home Depot. So Walmart, Home Depot, I would've never guessed those two together.
Doug:
Yeah. I totally agree with you. It's like my wife and I were talking about something yesterday, like, "oh just go to walmart.com and we'll get it delivered" or "homedepot.com and we'll get it delivered" and food delivery too. Honestly, if you want something to eat, you can get it. You know, any meal anywhere you want delivered straight to your door. I just hope nobody takes a fry. <laugh> Liz, you know this–I'm a fan of Mercari. A fan of Mercari since way back. That's one of the platforms I've sold on. I like the simplicity of the listing. I've done okay there. But they came out with something this year that I thought was brilliant for a number of reasons. Mercari Local, if you're selling, you can get stuff delivered. It's a tie-in with Uber, it's local selling. And I like that partnership with Uber cuz it's helping people that are doing their own thing. You know, the gig economy, you know, it's not one of those, not to rag on Facebook Local, but it's not one of those where you're meeting some dude at the Starbucks or somebody in the park to exchange a laptop.
Liz:
Right, right. It's kind of a safer way to, we hope, transfer merchandise local.
Doug:
eBay struggled for years over fulfillment and how can they offer some local area like fulfillment stuff to speed it up or give those options. And they've tried different things. And so far I haven't been able to figure it out. Walmart and Amazon are looking into local area fulfillment options where they build some more giant warehouses. There's a company called NewEgg. Electronic sellers will know 'em, they started out as an electronics site and now they sell a lot of stuff, but they offer fulfillment options for sellers. And then obviously Mercari Local is like, it has to be able to fit in a trunk. So, you know, keep that in mind, that kind of stuff.
Liz:
So I didn't know we were gonna be talking about this specifically, but as you were talking I'm reminded last week, I can't remember if it was a TikTok or a Reel or somebody's YouTube and I cannot remember what seller it was, but they shared their experience with Mercari Local. And I've watched a couple of these, you know, YouTube, TikTok, whatever from our reselling community. And so far they've had decent success. I know ed theresellingwriter, one of our listeners, he made a Mercari Local sale and everything went smooth for him. So Josh, hairytornado, he documented a Mercari Local sale. I watched that one and things went smoothly and I cannot remember who this person was. It was a female. It was during the holidays. Both times they failed her, the Uber driver. Like "no, I'm not doing it."
Doug:
Bummer.
Liz:
Yeah. So I think it's really gonna depend on where you live. They're working things out. But at the end of the day, this seller was able to get their stuff delivered. But I still think back on that and I'm like, why aren't all selling platforms doing this?
Doug:
Yeah. Because you know, it's like we were talking about with quick commerce. It's like people expect to be able to get things quickly. It's still crazy to me that you can get it sometimes if you're lucky, actually this kind of goes back to what we were talking about. Amazon is expanding, like they've expanded warehouses. Like sometimes you can get stuff the same day.
Liz:
Yeah. I noticed I ordered something from Best Buy and it was just, you know, free shipping, whatever. I just picked whatever. Cause I wasn't in a hurry and it's like, it'll be there by 10:00 PM. I'm like what? So they sent it and it was delivered by a Geek Squad van. So maybe they're taking on local delivery on their own. Like, I didn't feel like parking and going inside for this one item and standing in line. I had no other reason to leave my house. It could get delivered.
Doug:
Yeah. That's smart. Cuz Best Buy frankly has been struggling. Their cell phone business does well. But if they're using the Geek Squad team to deliver stuff, I think that's a nice pivot. And that's the thing. I don't know if you're like me, it's like I'll order something and they'll say like "we can deliver it tonight." I'll be like, "no it's okay. It's cool. Don't hassle yourself. <laugh> it's all right."
Liz:
I don't even think it said something like one to three days and it was free. I was like," whatever. Okay." I just wasn't in a hurry to get it. So I really didn't care and yeah, it's like, it'll be delivered by 10 PM tonight. And I'm like, "who delivers at 10:00 PM the same day?" And yeah, sure enough. I looked at my little doorbell cam and it was a Geek Squad truck. And in this Forbes article, they kind of wrap it up is, you know, expect more competition in 2022. And that is what they are expecting.
Doug:
Small, medium business sellers. It's like not, everything's gonna work for you, but you have new options out there. We talked to Rhonda pinkdivastudio and she talked about Pinterest.
Liz:
It's Pinteresting.
Doug:
It's Pinteresting. Yeah.
Liz:
I thought that's what you were saying.
Doug:
Good Liz <laugh>.
Liz:
You're gonna leave that in there. All my dad jokes, right? That's right.
Doug:
Liz jokes. Now they're called Liz jokes.
Liz:
They're very funny.
Doug:
But think of it, I mean TikTok is obviously not for everybody, but we're seeing a lot, I'm seeing a lot more sellers on TikTok trying different things and documenting and eventually you're gonna be able to sell via TikTok. I think some bigger accounts can, and it's just, you know, the same thing with Instagram is like for me, because we know some sellers that do Instagram live and they sell that way. I mean, I would never do that, but I could see a certain market that is working and you know, the stuff they do is super cool, it's like they'll do a live and they'll have different sellers come in and show what they've got. And it's all done via Instagram. Different options if that's what you're into. It's like, I know some sellers that sell live via YouTube. Again, that's not something I'm interested in, but it's an option out there and that's gonna keep growing. And like you said, too, hopefully more of the selling platforms will figure out like this kind of local thing. Just how to get stuff delivered quickly. And then again, like I just really like that partnership with Uber because I really like the gig economy. I like that people have a lot of leeway now, they can do different things and you'll see people that do different things. Like I've known some people that work full time and they do Uber on the side for extra money. But we touched on, you know, 2021 marketplace growth. I mean there's a lot we could go into more recently. We've seen things like eBay leaning more into sneakers. We've seen eBay moving more into other collectibles. We've seen Poshmark trying to get people to come on and sell electronics, trying to kind of shift that perception of being a clothing site. I think we're gonna see more of that stuff too, like the marketplaces need to open themselves up and be, you know, open to other stuff. I think they are pivoting to seeing sellers that are selling on multiple platforms now and just realizing they need to expand what can be sold, cuz I'd love to, I'd love to, okay, well put some stuff in my closet, DVD DVDs in my closet, <laugh>.
Liz:
Some headphones, books, some portable electronic devices, some Game Boys to play some Pokemon Go.
Doug:
So particularly interesting to you Liz as a clothing seller. So some notation of some of the best clothing items to resell from bustle.com.
Liz:
So yeah, Poshmark put this out. The seven most popular fashion resell items from 2021. Poshmark shared this from bustle.com and you know, it just goes on. I'm not a huge high-end seller. I'm not big on certain brands, but I will pick up and sell anything that has a resale value. And that really goes for any category. This article I liked because it gives brands and items, so there were a lot of trends that stood out for 2021 and Poshmark has been tracking the items people have been searching for in 2021. So the brand Skims, which is the Kardashian led brand. So Skims is up there, vintage fashion just in general.
Doug:
Wait, stop the show. That's a missed opportunity there, Liz, you know, I'm not gonna let this go by. No, I knew I was trying, she's trying to get the, she's trying to keep it going, please, please, please. You gotta go. I would totally go with Skimdashians.
Liz:
Oh my gosh, Doug.
Doug:
I can't believe they didn't think of that.
Liz:
Well, it wasn't Skims to begin with and I can't remember the whole story, but I know she had another name, right? <laugh> she had another brand earlier. Somebody was gonna sue her. So she had to change the name and I cannot remember what it was for the life of me. If you're interested, you can Google Skims name change or whatever.
Doug:
Wearing Skims right now…
Liz:
They also mentioned vintage fashion. It had a 53% uptick this year, according to Poshmark.
Doug:
Wow, that's huge.
Liz:
And this kind of rolls into the next, but they do point out that vintage pieces are more sustainable than typical resale. So sustainable brands that have a focus on environmentally friendly production were also up over a hundred percent this year for a lot of different brands.
Doug:
Sustainability, I think, got really big and came on a lot of people's radars, particularly this year and realizing that resellers are so sustainable and help our environment.
Liz:
I don't think sustainability has gotten more popular. So I have to credit a lot to the couple of generations below us, Doug, for really bringing it to light and for embracing it and accepting it and really like shaking our generation into saying, "Hey sustainability, let's keep it on the forefront. Let's think about this as we move forward." Because now I can wear my Cardigan with the hole and I can feel better about myself. Like this is totally acceptable. It's true. I'm gonna wear this sweater for the next 15 years, whole or not, and it's okay.
Doug:
Have to make sure there's no stains on my hoodies. Like the hand thing, Doritos.
Liz:
Yeah. Oh my goodness. <laugh>
Doug:
I don't eat Doritos.
Liz:
So this one surprises me as a fashion seller because I've seen this brand was really popular about 15 years ago and while it still has always sold, I've seen the market just crash in my book, like Theory blazers, and jackets. So I used to be able to sell Theory way back in the day. It was just, you just could guarantee a hundred bucks if you sold a Theory blazer. And then I watched the brand kind of go down. So this is actually surprising to me. And they report that after nearly a year and a half of sweatpants ruling the roost, Theory searches, specifically blazers and suit jackets were up by 40% on the shopping platform over the year.
Doug:
I did see something like that, where people are going, they're going back to work. Some people are going back on site, depending upon what you do. And they wanna dress up a little bit, dress it up, the growth of short suits…short suits!
Liz:
But to keep it going, Telfar bags. So right now Telfar bags are the it bag. It is the bag of the moment and I think a lot of it has to do with it's the vegan brand and experienced a whopping 1100% increase in the search on Poshmark. So you're going with sustainability, you're going with vegan and it is a popular brand and that brand has grown over 1100% on Poshmark.
Doug:
Never heard of it.
Liz:
Oh my goodness. I didn't hear of it until this year to tell you the honest truth, but the article does go on into more detail. But anyways, that is the report from bustle.com that they pulled from Poshmark reports. So keep an eye on those brands, those styles, because that will carry into 2022.
Doug:
And we will include these links in the show notes. So this was actually pretty big news though. And we kind of touched on it earlier, eBay leaning into sneakers a little bit more. It stood out for me because a lot of my former eBay friends have moved over to StockX. And so StockX is really big. StockX is really big in the sneakers sphere. It's interesting to see eBay leaning in and you and I were talking about this earlier too. It's like they were starting to talk about this, you know, a couple years back when I was still there, but they've really leaned in. And I think when they really started leaning in, that's when they did the zero fees for men's and women's sneakers that were over a hundred bucks, right? Which are basically sneakers I'd never buy. My son probably would. And then they introduced authentication of sneakers and collabs and exclusive drops from some of the top sneaker sellers. So you know those collaborations, but now they have launched that 3D pictures thing, and we talked about this on the podcast a couple weeks ago. So I have a feeling you're gonna be seeing more of that across the categories, but again, like they're really leaning into sneakers. And so now tell us what the newest sneaker eBay trend is Liz.
Liz:
Oh, I wouldn't quite call it a trend, Doug <laugh>.
Doug:
Some people freaked out. Some people didn't. I've seen two sides to this story.
Liz:
Yeah. So this kind of circles back around to where at the very beginning, two years ago eBay introduced those zero fees. It should come as no surprise that eBay is ending their zero fees for sneakers.
Doug:
So is this a wah, wah, wah or is this a good thing?
Liz:
I mean, I guess it depends. <laugh> right. So bad news because I love selling sneakers over a hundred bucks. It's not my main category, but if I'm out and about, and I can find a pair of sneakers that I can get for 25 bucks and I can sell 'em for over a hundred. I know that's zero fees, right? So that's a little bit more money in my pocket. Right now, starting on January 19th, eBay will be doing away with their 0% final value fee for sneakers of over a hundred dollars. Like it had been the last two years. That's the bad news. The good news is they're still the lowest fee in the game for authenticated sneakers.
Doug:
Well, and the other good news is, so I've seen sellers say, well, StockX is dominating the sneaker market. And that's what I thought. That's how it seems. And StockX is doing really well and not to go on a tangent, but StockX is expanding their categories too. But the interesting thing is Liz, tell us about the photo thing on StockX versus eBay.
Liz:
I could go sell a sneaker on StockX along with 35 other sellers. So you would see that 36 pairs were available, but they only used one set of pictures. So you're not viewing the exact item you're buying. So if I have a three year old pair of sneakers, you're seeing StockX's photo of a used sneaker. On eBay you're seeing the exact item you're getting. Of course, if the seller is using their own pictures. But the likelihood of you seeing what you're actually going to be purchasing is higher on eBay, which is kind of where that 3D sneaker picture is coming into play, that eBay will be rolling out.
Doug:
And the question is, I'd be curious, and we don't know. I mean, I guess we could look into–it's like if you're shopping on StockX, do you know this? So if I'm looking for a particular type of Air Jordans, you'd probably figure it out. What's their return rate, what's their issue rate? How does that all work? Because if I was gonna spend over a hundred dollars on a pair of sneakers, or if I was a collector and looking for something, I would particularly wanna see exactly what I was buying, what it looked like, all the details. I watched a video this week, I think it was a TikTok. It was an eBay sneaker authentication, TikTok. The dude took it out. He looked at it, turned it all around, turned it inside, out, smelled it cuz they wanna, I guess they wanna see if it's new or used, I suppose <laugh> but lucked all around and then authenticated it. But you know, no offense to StockX, but you're not getting that. If you're using stock photos, I see it makes listing easier. But if I'm buying something collectible, and spending that kind of money, I'm gonna want to know exactly what it looks like.
Liz:
I read that article and I was like, yeah, that really makes sense. That could be an edge that eBay has over stock X or some of the other, but back to the fees. Wait, so wait, because we're talking about fees,
Doug:
They should push that. I mean, seriously, you just made a great, they should be pushing that I would, if I was eBay.
Liz:
Yeah. And they might be, I'm not a sneakerhead. So I don't, I'm not deeply immersed into the sneaker community and maybe they do talk about it. I'm not sure.
Doug:
Hmm. But anyway, back to the fees.
Liz:
So eBay still says that they have the lowest fees in the game for authenticated sneakers. So starting January 19th, eBay will have an 8% final value fee. And of course your payout, it is a 0% processing fee. Let's just run down the line here–Goat, which is another popular sneaker site, has a $5 seller fee plus a 9.5% commission fee. Plus a 2.9% cash out fee. StockX has a 10% transaction fee and a 3% payment processing fee. Stadium Goods is a 20% commission fee and a 1% payment processing fee. So those are clearly the three places that eBay has identified. So I'm taking it that these are their biggest sneaker competitors. Now of course, and this is for sneakers selling over a hundred dollars or more, including taxes, shipping, handling, and fees and applicable fees. The new final value fees are 8% for non-store sellers and 7% for basic and above store subscribers, insertion fees for sneakers with a starting price over a hundred dollars will be waived. And for sneakers under a hundred dollars, final value fee rates are unchanged. The final value fees are 12.5% for non-store sellers and 11.7% for basic and above store subscribers. And this goes on and on of course we will put a link in the show notes if you want to go into the down and dirty, but that's, that's the basics of it.
Doug:
I dozed off Liz. I apologize.
Liz:
I'm so sorry. A lot of sellers, especially eBay sellers. Hear me out, hear me out if you don't sell sneakers, why is this even important to you? eBay has invested a lot into this category because it drives business to the site. I said it once and I'll say it again. It is keeping eBay relevant to popular categories and popular searches. So if they did not invest into this trend, I wanna say trending, but it's really not. This has been a sustainable trend and you can't see me, but I just did air quotes around trend, which I absolutely hate, but I did it because it's hot and it's been hot for years.
Doug:
Trying to keep eBay relevant, trying to bring more sellers and buyers that'll hopefully come in and see other stuff. And the other thing I'll hop on with that too, with Liz is I will tell you that they are leaning deeply into this category, some of the things they're doing, you're gonna see in other categories like the 3D tech they've been messing around with for quite a bit of time. It's not gonna work with everything, but like the sneakers, with toys, with stuff like that, you're gonna see more of that across the board.
Liz:
One thing that I immediately wanna do when I read this is I wanna go to Instagram and TikTok and look up rnzynow, a huge sneaker seller. I follow them on Instagram and on TikTok when I remember to go there, but they are huge sneaker sellers and not the high end $10,000 sneaker Grailed stuff, but they sell relevant and real sneakers that any of us could go in and flip and they do a fantastic job on selling shoes. I wanna know what they have to say about it. I haven't looked it up, but as soon as we're done recording this, I wanna go see if they've put out any information.
Doug:
Yeah. That's gonna be interesting.
Liz:
I wanna hear their thoughts.
Doug:
Yeah. I know a few sneaker sellers. So it would be interesting to get their perspective and the ones that I know were, are very, or were at least very eBay loyal.
Liz:
Something that eBay conveniently left out was that StockX and Goat covers the shipping and eBay doesn't and there you have it. You have 10 days to get your sneakers listed and sold before the fees come into play. If you are a seller who has a pile of yet to be listed items that happens to have sneakers in 'em that may self for under a hundred dollars, I would probably be focusing on that right now.
Doug:
Yeah. Try it out.
Liz:
I personally have no sneakers unlisted.
Doug:
All right, Liz. Well, I think that's all the news that fits into our first news only episode.
Liz:
Yeah. I have a feeling as we get further into the year, more things will be announced and that these new segments will be a lot busier.
Doug:
There's always more news.
Liz:
Thank you for joining us on The Seller Community Podcast news edition from List Perfectly. You can find us at listperfectly.com/podcast. Leave a message or ask a question at anchor.fm/sellercommunitypodcast. You can email us at podcast@listperfectly.com. You can post a question in the List Perfectly Facebook group at facebook.com/groups/listperfectly use the #sellercommunitypodcast and mention Liz or Doug.
Doug:
You can listen to us anywhere you listen to podcasts and be sure and subscribe, tell your friends, and if you're on Apple podcasts or Spotify, we'd love for you to leave us a review. Also, please follow us on Instagram and TikTok. Liz is @coloradoreworn. I am @snoop.dougie and of course @listperfectly, and you can always use our promo code podcast, P O D C A S T for 30% off your first month of List Perfectly or upgrading your plan.
Doug:
We will see you next time!
Liz:
Week…Time.