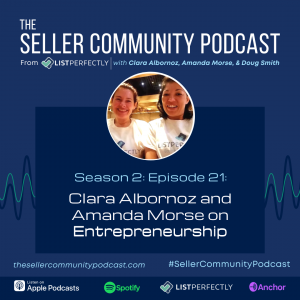 This week we feature the full interview Doug had recently with Clara and Amanda, talking entrepreneurship, growing a business, their experiences in business, selling, and even some List Perfectly!

The Seller Community Podcast from List Perfectly is the ecommerce resource for the seller community across all platforms and a hub for information on growing your business. Find out more at thesellercommunitypodcast.com, leave a message or ask a question at anchor.fm/sellercommunitypodcast, or email us at podcast@listperfectly.com.
List Perfectly is the ecommerce resource for selling across multiple e-commerce platforms including eBay, Poshmark, Etsy, Mercari, Kidizen, Grailed, Depop, Tradesy, Facebook Marketplace, Instagram, and Shopify.
Listen on Apple Podcasts
Listen on Anchor
Listen on Spotify
Listen on Pocket Casts
Listen on Google Podcast
Listen on Breaker
Listen on RadioPublic
Links
Thesellercommunitypodcast.com
List Perfectly.com
Seller Community Podcast on Anchor
List Perfectly Facebook Group
snoop.dougie Instagram
snoop.dougie linktree
List Perfectly Instagram
Transcript
Doug:
Welcome to The Seller Community Podcast from List Perfectly. This is season two episode 21. Last week, we featured some special guests, I guess you'd say. And we had an episode on List Perfectly entrepreneurship and tech innovation. So I interviewed Clara and Amanda and we talked about entrepreneurship. Clara and Amanda and I, interviewed Theresa and we talked about her List Perfectly journey, and then Clara and I interviewed Patrick and we talked about kind of his tech journey and kind of the tech innovation behind List Perfectly. And this tied into an event we did in Phoenix called Phoenix Startup, which was a place to connect with different businesses. We actually connected with sellers and potential sellers there and made a lot of connections and some local connections as well. That episode was kind of snippets from each of those interviews. And so what we're gonna do over the coming weeks is we are going to give you the full episodes, the full interviews from those. So this week we're featuring the full interview where I spoke with Clara and Amanda. We talked about entrepreneurship in general, uh, growing a business, a little bit about List Perfectly and their journey. And then, just some you know about selling in general. So again, you know, over the coming weeks, we're gonna hear from Theresa, we're gonna hear from Patrick, but for now, let's listen in on my interview with Clara and Amanda talking entrepreneurship.
Doug:
Right. So I have Clara and Amanda back today as, you know, the co-founders, co-CEOs of List Perfectly, and a whole roadmap before that. And so they're entrepreneurs. So what they're here to talk about today is entrepreneurs and how online sellers, entrepreneurs, and just give some, give some insight from their journey and then give some tips. So let's start with each and thanks, Clara and Amanda, I always enjoy getting to turn the mic around and you know, switch the tables a bit, cuz we have this opportunity and again, you're so connected and in touch with the community, which is amazing.
Clara:
Thank you, Doug. I really appreciate it because you're helping us to tell our story beyond Clara and Amanda, the co-CEOS of List Perfectly. And let's rewind back and let's go deeper. Okay. What moves us? And thank you for helping us to do this. Actually, it's an honor, you know that you're finally, you know, we're doing this, Amanda, what do you think finally, we dreamed so much of doing this.
Amanda:
Oh gosh. I, you know, I just wanna say thank you again for everything that you do, Doug, and in bringing these amazing podcasts to the community, I'm really excited to be here and share this story as Clara said, but you know, more importantly, and entrepreneurship really, it's a passion of mine. I think you know, it's such an interesting journey versus working for someone else and I, it's a topic I love to talk about.
Doug:
That's awesome. And you know, and thank you both for the opportunity and it's like, I, you know, I love it. And it's great to work with both of you and work for such a cool, cool company. Cool startup. That is so in touch with it's I don't wanna say customer base cuz it's a community cuz community is inclusive and we're all in this together. But let's start, Amanda, we'll start with you and then we'll go to Clara. So what does entrepreneurship mean to each of you?
Amanda:
Well okay. Great topic. First of all, for me, the first thing, if you ask me, what's the first thing that comes to mind when you think of entrepreneurship–freedom. That's what it means to me. It means freedom to design the business the way that you see fit. I've set up a lot of businesses in my lifetime. I worked in the corporate world, and realized that I wasn't a good fit. I'm just not a good fit for the corporate world. I really like coming up with new ideas, new plans, trying new things, and working according to my own schedule, that's the freedom part. I'm not doing and executing something because someone told me to. I'm doing it because I have a passion for it. And I love it.
Doug:
Clara…
Clara:
Oh, that was awesome, Mandy. That was a great answer. <Laugh> but for me, because of my background, it felt like I was breaking chains. Okay. And I was allowing myself to choose my own path, going into the unknown in allowing myself to make my own, mistakes, own my successes and choose the path in which that success could benefit me most financially, spiritually, and emotionally.
Doug:
Great answers. Thank you. And you both touched on this. So there's a big move right now. A lot of people are leaving the corporate world. They're leaving bigger companies. Some of them are going without even having new jobs. And, and why do you think this is?
Amanda:
I think that it's a discovery, right? I think that you have to try it. A lot of people though, they may, they may leave and then go back for a variety of reasons. But I think, I think a lot of people are really discovering that they don't wanna commute. They don't wanna deal with office politics. They don't, you know, there's, there's a lot of things that go along with working in the corporate world. You, you pay a price for that steady paycheck. And I think people are just wanting to try out what it means to work for themselves? Can I make this a successful business that can pay my bills and you know, give me a lifestyle that I really like? Because the tools are out there. There's so much more information out there about how to set up your own business, where to start, what to do, communities being formed and have been, been formed around your passions, your interest levels. There's just a lot of avenues for you to explore and like Clara always, and I always say, you know, the world, the internet, the world is big enough for everybody's ideas. So I think that that's a big, big thing.
Clara:
I think that this was for me, from my perspective I've been in the U.S. for Only 20 years. I'm an immigrant. I came here by myself and I observed very carefully, okay the changes in America, in the society, in the values in where is America going? Do you know? And, where are you guys now? And I have to say, I believe, okay, that the pandemic mixed, okay with a corporate culture that became overly greedy. I wanna say that this is the only country in the world in which CEOs are paid, what is it a million times more than the average employee? I think it is. I think it's just obscene. Okay. Hey, I am a CEO and trust me, I pay myself very well. Okay. But I make sure that my employees are getting paid accordingly.
Clara:
So what caught my attention was that that combination, I guess, of this corporate greed, let me put you down. How, because I, you, you're never gonna be enough. Never trust me. I've been there. Amanda's been, haven't you been there? So it's never enough. You're never good enough. Okay, great. Okay. Go do more. It's not enough. Okay. Tomorrow, triple that. Okay. And it's a constant and appreciation that I think that people and then ecommerce exploding at the same time, people creating this massive influx of demand. Okay. And the lack of let's say inventory and the abundance of people realizing, Hey, okay. Yeah. There is money to be made on real estate. Yeah. I could get some crypto, but let me tell you, ecommerce is exploding and I could be selling corks or even broken plates. Okay. Broken plates. Okay. They're selling for side projects. So that I think is a combination of factors that make unique changes that I don't think the American society is gonna go back to. I do not see it. It's gonna be very hard, you're gonna see more companies, more corporations changing their values in starting to increase their employee, employer relationship to make it, you know, a little more accessible and not like now that it's like, you can never get a hold of upper management.
Doug:
Sure, sure. Interesting.
Clara:
Sorry. I'm passionate about that. Okay. Working for so many big companies here in America, I'm very passionate. Sorry. <Laugh>
Doug:
No, no. Great answers. So let's talk about fear. So fear is easy. It's easy to go to fear. Change is scary. And we've talked about this amongst the three of us. It's like, don't go to fear. You know, you gotta be willing to change, but let's talk about how, how do you get past fear?
Clara:
Easy to say, easy to say, to say, you know, oh, don't be anxious, the worst thing. Okay. I have chronic anxiety. Okay. You can see it. Okay. The way I speak, you know, anybody, you know, can see it, that anxiety, all right can become a fear that is gonna give you a reaction of fight or flight. So when I quit, literally I told Citi Citibank, I told them, no bye. Thank you. I'm not renewing. You're not gonna give me $20,000. I went with an amount, like I was like, I want a $20,000 raise and that they're like, you're not gonna give it to me. I'm gone. Can I love you? I'll see you soon. Bye. Very nice. But I remember not having that first paycheck and literally doing just data entry of nothing that I understood for Amanda. I was doing the shipping. That was insomnia the first year.
Clara:
I'm not gonna lie to you. I kid you not the first year I did have insomnia a little until I got a role of, you know, the security, stability. You understand your audience, you understand your business. You understand you made mistakes already that it's making those fears, you know, make it smaller. And you realize you just gotta own it, learn it, and move forward. And that's how you reduce the fear. Its fear is just because you didn't try it. And you heard that someone else failed, or you heard that someone else succeeded, but you don't have the same opportunities. Right. And then you start analyzing, well, they did this and I don't have that. Okay. So what you wanna do when you feel that fear is, first of all, breathe. Okay. First of all, breathe, and believe in yourself. Number one. Yes. You can do it.
Clara:
Try it. Worst case scenario you go back to corporate, don't end your relationship with your former corporate employer horribly. Respect, you know, give the two weeks' notice or if they want you a month, you know, too, until you find someone, you finish that relationship. So, you know, you have options to go back. If this doesn't, entrepreneurship doesn't work for you so you need to. Fear has that power of giving you that narrow vision, which, oh my God, I'm not gonna be able to, I'm gonna fail. Okay. <Laugh> and there is no way I'm gonna be able to get out of that path. So as long as you can concentrate on breathing and knowing that you're not alone, lean with a partner if you don't have a business partner as I did with Amanda. She helped me a lot. Get yourself in the community. Make a post in the List Perfectly Facebook group. Hey, I'm scared. I just started reselling online. And I sold only, I don't know a postcard to my mom. What should I do better? Right. So let the community help you. You're not alone.
Amanda:
Yeah. And, and I wanna say one thing about fear, we've all heard the term flight or fight. Right. Well, I think there's a missing piece of that there–fight, freeze or flight. Right. So I think understanding, and I think we all have, have a little bit of that to a certain extent. I know that I do, you know, sometimes if I'm scared, I really have to like, just talk to myself and calm myself down, and then I can find the fighter in me to fight through the fear. And, and I think, whatever, whatever it is, like Clara just mentioned, how do you, how, how can you overcome your fear? Just keep that in mind. <Laugh> see. See you have, we have some input there on fear…
Clara:
Kevin. Okay. Kevin, let's talk about fear. Okay. It's fight or flight Kevin or freeze. Okay. Amanda just added. Okay.
Amanda:
<Laugh> but yeah, you know, I think Kevin's a fighter. That's, that's what Kevin is. <Laugh>
Doug:
He likes to run too.
Amanda:
<Laugh> true.
Clara:
So we have a fight-flight situation. Exactly.
Amanda:
But you know, just try to find what's gonna motivate you to turn into that fighter. I think that would be my biggest piece of advice for you.
Doug:
No, and I like adding that freeze part is like, you can stay stagnant or you can grow. Clara, you often say don't chase the money. So tell us about that. What does that mean for you?
Clara:
Well, I chased the money. I came to this country with two suitcases, actually. I was on my way to Canada. Okay. So I had the brightest idea of stopping in LA for two months. Yeah. Right. And that didn't work out like that. Okay. I stayed, you know, and the rest is history, you know, where the green card worked out very fast for me. My first job was as a cashier at Target. Okay. I still have my badge. Okay. I'm, I'm very proud. I show it. Okay. That's my badge from my career at Target. I forget I started at $6.75 an hour. I didn't speak English. Hello. My name is Clara. How can I help you? Okay. That was me. Okay. At that time, I swear. That was very hard to say. After that, I was very lucky because I was managing registers, they trusted me with money.
Clara:
So I moved very fast, you know, to be trusted with money, which allowed me to go into banking and finances. When I was there, I lost track. Okay. Of searching for stability. And I got greedy and I started to make, and I focused. I always wanted to make more and more and be the top salesperson and be the top insurance agent and be the top banker and be the top mortgage lender, everything, every, it became, I got sucked in on that. You know, it's very competitive. Okay, and banking is very…and they're always incentivized. They're giving you awards for everything. They're giving you money. And then it's easy. You start chasing the money and then little, you start seeing your friends less, you start taking care of yourself less. You start working out less. Okay. You start sleeping less. You start calling your family less and your bank account keeps growing and growing and you feel very good about yourself until one day you realize you're surrounded by people that don't care about you.
Clara:
That is just the, you are just a number. You're just a number. Okay. And as long as you deliver those numbers, you are in that club. You miss one month, I've seen it, one month. Okay. In banking, if you miss your goal, you're buried. Okay. Literally. And they give you a 30 days notice. I felt empty. The worst part is that I did it so well. That's the worst part, that I fit. And I was like, no, this is not fitting. This is, I'm giving my younger and my most energy to a corporation whose values do not align with what I believe. Thank God. You know, I gotta thank you Citi. Thank you, Bank of America. And thank you, Chase. They did allow me to do a lot of adjustments to terms instead of doing refinances. Okay. That's incredible. I helped so many people not go into bankruptcy or foreclosure, but I was still chasing the money, Doug.
Clara:
And I was empty. If you're doing that, Amanda broke me free. Amanda told me on ecommerce, ecommerce is big enough for all of us, but I was like, but when we go to the provider, well, I gotta fight with other people. And no, no, no, no. Don't worry about that, two sellers can have the same item and we can describe it differently. And we reach out to a different audience. And I was like, and that was freedom for me, that changed my life. That was something that I, you know, that was something that literally was Amanda. The one that broke me free from chasing the money. And I started to do vintage clothing with Amanda and she explained it to me. She took me to the bins. Okay. We were restoring clothing. We were, I remember she would buy like Hawaii and wooden dolls. And I don't know. And there was a demand for that. I couldn't believe it. And I would get upset because it would take so much room. Okay. And, storage. But I just wanna say…
Amanda:
She's talking about the Tiki, the Tiki.
Doug:
Oh, the big ones?
Clara:
I remember. Yeah. Yeah. I was like, you gotta be, and I was like, when he was tall, I was like, you gotta be kidding. Who buys a $100 wooden tiki doll? I didn't get it. Okay. Yeah. So for me, that was, and to see her so free. She's like, oh, I just came when I met her. That's how I met her. Oh. I just came from a two-month trip with my mom to Europe. So I started in Finland and I went all the way down to Italy. I was like, Who? That, that, when you work in corporate America, who does that? And that was, I was, she didn't sell me, she just shared with me her experience. And literally, we worked what, eight months of the year, the rest of the year we were traveling.
Amanda:
Yeah. Yeah. I can't say enough about lifestyle changes…
Clara:
Thank you, Amanda.
New Speaker:
…making Such a big difference. You know, I'm, I remember that the stress of working in the corporate world is taking a toll on my health. Honestly, I felt sicker. I felt less rested. All those things that Clara mentioned when I started out, obviously I did not make nearly the money that I did in the corporate world. Right. We all, we all have to ramp up and you gotta start somewhere. And I did not do what a lot of people do, which is ramp up, your online business and then wean out your corporate job. I just went cold turkey. Right? <laugh> so there was a massive reduction in income immediately. And I had to hustle to figure out how to pay the bills. But, you know, it all worked out in the end, even during those times of entrepreneurial stress. When I did not know how I was going to pay my bills, I still felt so much less stressed out than when I was getting a steady paycheck in my corporate stressful job. It just meant more to me. And, and I can't say enough about the lifestyle change that if you pick the right thing for you, and that's gonna mean something different for everyone, if you pick the right thing for you, you will see a difference in your life, in your stress level, in your enjoyment, in your happiness, in your gratitude. It's just, that it's a chain reaction.
Doug:
Both of you. Why do you each think that reselling is such a great option for entrepreneurs?
Clara:
Well, I'm gonna let Amanda take this one because you, you opened my eyes, Amanda. You, yeah. Oh my God. Whatever Amanda's gonna say is like double that. Okay.
Amanda:
Yeah. Well, I love it. It's my favorite path to entrepreneurship because it is accessible to anyone. Anyone has something in their house that they can let go of and start their entrepreneurial journey there. Right? So, I mean, I could look around my house and pick up anything to sell online, and there's a buyer for it. You know, short of just taking some photos you need, most people have a phone. Most people have all the tools at their disposal. You don't even need to start off with a computer. If you have a phone, you can get started listing online. Most marketplaces now require a credit card and banking information, to deposit money into your account, whether it's PayPal, Venmo, or whatever it's gonna be. But most people can access these tools. You don't have to buy a franchise and come up with the capital. You, don't have to sign long-term leases. You don't, there's a lot of things. There's, there's the lowest barrier to entry in reselling than any other industry. Even if you have gig jobs, right? Where you have a car, and you could drive Lyft or Uber or something, you don't even need a car. You can literally be in your house selling online. And a lot of you know, people that don't leave the house are able to earn an income this way. It's an incredible path to entrepreneurship.
Doug:
As part of your journey, you were very successful selling online. You've, you've started multiple companies that led up to List Perfectly. You've been very successful in business, but interestingly, you've never had investors. So why, why was that?
Clara:
Mandy, you wanna go first? Come on, tell them the true story. Okay. Come on.
Amanda:
I'll tell the true story. All right. So this is, this is an interesting topic because I've gotta give all the credit to Clara on this one. Clara opened my eyes, you know, like, as she says, I opened her eyes to reselling online and entrepreneurship. She opened my eyes to believing in yourself and being able to lift companies with your own effort. And I think, I think what, what really changed for me was breaking out of the mindset of, I had to hire people to help me figure out how to get from point A to point B. And so I can't do that without investment. You know, she believed in me, Clara believed in me and I just needed to believe in myself that, okay yeah, I can learn to code. I can figure this out. I can find the solution.
Amanda:
And once I understood that, and I understood that she supported me and, and would pay the bills while I learned to teach myself how to code, you know, it was the best decision that we ever made because we talked about freedom with entrepreneurship. As soon as you get an investor, you lose your freedom. You will just lose it. And, it's no longer your company. You have to be very lucky to find that angel investor that truly wants to stay out of your business and just give you money, to make multiples for them. They're not easy to find.
Clara:
For me, it was having experience coming from the banking and financing world. I saw how people change very fast. After they handed the check, I was like, oh my God, <laugh>, it's instantaneous. Okay. The second you grab that check, you know, the contract is sold, filled, and you cashed it. So I've seen people change dramatically. My customers come with literally putting liens on their houses to pay off these people. Because remember back in the day, there was no commercial lending. So, you know everybody was taking loans on their home equity, on their houses with home equity, loans of credit or second mortgages, or sometimes going up to 90% loan to value on a, on a first mortgage to pay off these people. So I've noticed that I want us to make our own mistakes without being judged because it's already very hard what we're doing.
Clara:
Because we're doing it in a very unorthodox way. We're breaking all rules. You can imagine there is no advertising. I have no digital marketing. Okay. There is no sales team <laugh> and we still went viral. And the way she's doing, you know, technology is also very unorthodox. So I wanted us. I knew that if we get investors, we would have a voice, you know, and naturally, if you're gonna take their money, you gotta listen to them. Right. And, and it's part of the contract. It's part of the deal. Sometimes not if you're lucky. Right. But okay. It is in our experience. Okay. You, you give a percentage of the company. Okay. You're keeping control of the company and that's what I wanted to avoid and wait for the right time until we get the right investors. We're not, we're doing great. We're not in a hurry.
Clara:
We're you know, Amanda is doing, the tech team is doing great. My side is doing great. Could we grow faster? Yes, no doubt. But why rush it when we're doing everything as we did with Amanda to be natural and, and not, and, and be very picky about this, because it was very hard to take off this company with literally, our own money. It was me. I got up to $200,000 of credit card debt. I was sleeping two hours a night. Okay. <laugh> and these are my former employers. Okay. This is Citi, Chase, and Bank of America among the banks that I owed money to. So that was intense let me tell you, and I'm so happy that Amanda trusted me, and again, it's trust. You gotta trust in who you're investing. And then that person's gotta trust in themselves that they can deliver and make mistakes. And you'll be there to have their back.
Doug:
That's a great answer. Now, and this is something that I've been thinking about too, or always thought about. So you have had, so you not only invested in yourselves, you didn't have outside investors, you didn't have outside influences, you frankly have faced some other challenges as women in tech and particularly minority women in tech. We've seen it. I mean, that is a challenge. So how has that been and how have you dealt with that?
Clara:
Well, on my side, it's been tough. Okay. Because you wanna meet investors and then they are asking you what's your marital status. So, you know, it's been tough. All right. Now, on Amanda's side, it's been even more challenging just to tell you, it was one year that Amanda was testing solutions, other solutions and that they just didn't work or they wouldn't deliver. And then it was just one person after the other telling her, no, no, you will never make it as List Perfectly. It's not possible. The rest you can tell Amanda.
Amanda:
Yeah. You know, you could look at it both ways. Right. You could look at the negative side of it, which is that other people may not have believed in Clara and me. And that's, that was clear, you know, from just about everybody that we dealt with you know it's, for whatever reason they, they saw, they saw Clara and me and they just didn't believe that we could make it. Then you can see it from the other side that nobody saw us coming. And I'm pretty proud of that. <Laugh>
Doug:
Yeah. That's the side I like. Yeah.
Amanda:
So I think that you know, in some ways it's an asset, you know, when people don't believe in, you use that as fuel, use it as fire, you know, prove everybody wrong.
Doug:
So let's talk about business goals. So basically if you're an entrepreneur, what are the basic business goals you should start with?
Clara:
All right. The number one school I would recommend is the school of your own. Okay. <laugh> don't copy anybody. All right. Watch everything, see what everybody's doing, but understand that. What works for someone else will, might not work for you, sell what you love the most. If you like, you know, like, I don't know, phones or remote or whatever it is, or stationary elements. Okay. What you're most knowledgeable about. Okay. And the rest will come along. That's just really my perspective.
Amanda:
And, and for me, and I don't mean to knock anybody's business model, I would never do that. There's value in everybody's business model, as long as you're not doing anything illegal, it's, it's all good. But you know, there are some people that launch businesses just to copy others. They're successful, you know, they can be, or, or not, but are you really gonna be passionate when you're just, all you're doing is copying someone else. Like, for me, what really gives me passion is being different and doing things differently. That gets me excited. I like being unique. I like being different. I don't wanna follow the crowd, but you have to decide what's gonna be right for you. Is your business model just to go with trends and basically copy what other people are doing. There's nothing wrong with that. You just have to make that decision sometimes.
Doug:
Well, and speaking of doing it differently, let's go back a couple of years. Okay. It maybe doesn't seem as far as it is, but maybe it does seem way back. There was a time when you were kind of at, you know, a precipice. So, and guerilla marketing, <laugh> money was tight. You went to eBay Open 2019 and it was kind of like, you know, we're gonna go all in. One of you was inside, one of you was outside and one was walking around, talking to people and one was handing out flyers. There you go. And you know, just trying to spread awareness and, you know, you had a little bit, a little bit of inside help with Theresa Cox, but a very guerilla approach. You didn't have a booth. You didn't have a table, you weren't handing out stuff. And then, so tell us a little, you know, just a little bit about that and you, again, scared, probably scared a little bit, but then that exploded. <Laugh>
Clara:
Speaking about being literally on your last fumes. Okay. Yeah. I had $1,500 left in the bank. Okay. We only had the money for one ticket. Amanda got in. Okay. I stayed out and <laugh> and we just, it was, I was in so much back pain. I cannot even explain the shoulder pain that I have. So I put on my The Clothing Vault t-shirt that was on the back. The Clothing Vault is my eBay store. And on the front, it said List Perfectly. All right. And I started handing those flyers to people that would let me, some people were horrified. Okay. They were calling the cops on me and then, you know, the eBay security, the security of the hotel would come. And I would be like, I'm a seller from eBay, you know, which I am. Right.
Clara:
But yeah. You know, I'm like, okay. And then eBay kind of looks at me and is like, okay, you look harmless. Okay. They let me, they, they kind of like, they were like, okay. So it was, it was out of necessity. It was what we had the resource that we had left. And it was the support of Theresa Cox that really motivated us to go to eBay Open and then, you know, meet the community and present our product. And then the rest was history, you know, then we went viral and it was incredible.
Amanda:
Yeah. And, and I, I wanna remind Clara that, yeah, it's, it's one thing to say that you have $1500 in the bank and, you know, for a lot of people, you can actually make that last, quite a long time. What she's leaving out is that <laugh>, We had $10,000 in debt obligations that month, that we were…
Clara:
Expenses, no, monthly expenses between the…
Amanda:
No, that was just that, that didn't even include our monthly expenses. So we were literally days away from defaulting on our debt. I mean, that's how close it was when we say that we were on the precipice, we were days away from, you know, going into collections, receivership, like you name it just didn't know what was gonna happen. It was very scary. But that's when that fear, you know, we talked early on about that fear that drove us, right? We harnessed that fear, and we did not allow it to dictate our decisions. We, we took risks and, and I think that that's, that's part of life, right? You, you have to look at everything and say, okay, this is an opportunity to connect with other sellers. This is our market. These are the people that we need to speak to, and this could make the difference. Let's go for it and let's try it and let's see what happens. Just go big or go home.
Doug:
I think that's the key is you're accessible. You're authentic. And it kind of goes back to that. And then it just super ramped up from there. <Laugh>, it's still like you're going in that RAV4, you know, a hundred miles per hour…
Clara:
One twenty, sorry. Sorry. Okay. There is a long bridge. Okay. There is no cop. So you can go one twenty, sorry. Okay.
Doug:
Yeah. No, but, and that's just all part of the story, but I think the authenticity and the accessibility, it's, it's just a big part of it. Okay. So let's say I'm an entrepreneur and I want to get started selling online. How is List Perfectly gonna help me grow my online selling business?
Amanda:
Oh gosh. What a great question. You know, we love to say List Perfectly is for everybody, every single business level. And we always say in an ideal world, a new seller would get started right away with a List, Perfectly platform, because you, you start developing good habits, right? You start learning about how to create a template to help you list faster. You can list right from your phone on our platform. You have your listing stored in the catalog automatically by default because you started listing there first, and then you crosspost them to the marketplaces that you wanna go to. You start learning best practices about how to manage your item IDs because that's another important thing. As soon as you use List Perfectly as your main management platform for your listings, doing things than on the market directly on the marketplace will affect your catalog.
Amanda:
And you learn not to do that, you know? Right. So we love when someone new comes along, they start learning about how templates can help them. They start learning about best practices. They're actually gonna have a leg up in their reselling business. And it's not that big of an investment. A new person could get started with a simple plan. It's easy. You don't have a lot of fields to think about. It's just, that it's cutting everything down to the very basics and you don't need any computer knowledge to make the simple plan work for you.
Clara:
For anybody that wants to start this business, start with, like Amanda said, with things around your house. So you can make those, you know, inevitable mistakes that we have to do in order to embrace the entrepreneurial journey. Because if you think you come to this business or to this industry to not make mistakes, then no, okay, you gotta go to the security or the blanket security of a corporation, you know, all this is making mistakes and learning from them.
Doug:
You're both very inspiring as entrepreneurs, as bosses, and as partners. I mean, we kind of, we're all kind of partners in List Perfectly. I kind of see it that way. Specifically inspiring female entrepreneurs. <Laugh> So it's we're, but we have an interesting time, and I'm a believer that females in tech, cuz I've worked in a lot of tech companies, females in tech have challenges, unfortunately, that they have to face. And then also I just watched The Dropout, which is the show now that talks about Elizabeth Holmes and Theranos. And they talk about how she, in particular, what happened with her, the fraud has made it difficult for female CEOs in tech as well…
Amanda:
Which is a shame, sorry, I gotta, I gotta just say it because how many guys out there are doing fraud and that didn't taint men, in tech at all. Anyway, I digress and go ahead with this question Doug.
Doug:
I knew it might be a touchy subject. So what advice do you have specifically for female entrepreneurs that want to get into tech?
Clara:
Behave like a man, think like a man, act like a man, own it, brag. Don't be eating humble pie. This is very competitive, you have to be strong. You have to be determined and forget about genders. It's not about genders. Let, let it go. It's not about titles. It's not about genders. It's about owning what you say, executing, delivering, and just communicating because it's a man's, it's a man's world. Literally. Technology's a man's world. Okay. It's the majority men. I've been in all banking, lawyers. Okay. You can see the pictures of when I graduated. It's all men. Okay. Giving me the degree. Okay, everybody. Okay. So I've been in men-dominated industries. So that's what I can say is forget about genders and just execute and be, you know, that's what I notice. That's what I admire about men. You know, it's like, they own it. They are like, it's mine. I deserve it. And they have that attitude and I admire that and I'm learning that every day more to be like that.
Amanda:
Okay. Yeah. I'm gonna modify what Clara said, you know, I, I think that you, you touched on something that's important and I think that's the belief in yourself part when I hear behave like a man, I don't necessarily take that literally. Right. I see it more like belief in yourself, belief in your idea. The advice that I would give is to stay true to yourself. Stay true to who you are, and believe in yourself. Because when everyone around you doesn't believe in you, you need to believe in yourself to keep going. And eventually, you will find those people that believe in you. And, eventually like for let's just take tech, right? I had to go through four, like four sets of developers before I found the group that I have. Now, these people, believe in the project. They believe in me. They believe in Clara. They believe in the company. They believe in what we're doing. And that's important because I think when you believe in yourself, it will all work out. You may have a little bit more difficulty getting there. It's not like you can just kick it with a glass of scotch and talk about what you posted on Twitch with your gaming or, you know, I mean, <laugh>, you know, maybe that is for you, you know, that's fine. Lots of women do that too, but it's just, that it's a different world. And just understand that there are people, you just, you have to be a little more perseverance, but you'll find the people that will help you get there.
Clara:
And let me add to that. Okay. Just, just to add, okay. When I say, and this is what I learned. Okay. Coming here as an immigrant, I noticed myself. Okay. Always saying, may I, can I, can I have permission to speak? Okay, that's what I said, behave. Like I literally took the model of the most accomplished in my team that would deliver the most. And they had, they all shared that same common trait. I deserve this. Mine. Pay me better. My mind just blew out of that, you know? And, and, and it was incredible. I started to do the same and I started to get raises and my contracts were better. I was like, are you kidding me? So <laugh> for me, that, that was, I wanted to elaborate on that answer.
Doug:
Yeah. And that kind of goes back to believing in yourself, having that confidence, believing in yourself, and getting past the fear. Exactly.
Clara:
Mm-Hmm
Doug:
Before we go, I want to touch on a couple more things. Now, these are gonna sound like big questions, but just high level, how's the outlook for ecommerce looking? What do you think it is?
Amanda:
<Laugh>, the sky's the limit. It's just gonna keep growing and growing and growing and growing and people got used to being in their house. Yeah. And it's not going anywhere, you know? I don't, I don't see, okay. The pandemic is gone. Now everyone's gonna go flocking to the malls and, you know, shopping all day. Some people will, but no, we're, I think we're all used to just getting that package, sitting there on the doorstep, waiting for us to open it up and be like, like, like it's a gift that you get every day that you order something online. The barriers to ordering online are melting away. It's just, that it's getting easier and easier. A lot of the friction points are being addressed. I, I just, I just see it being unstoppable.
Clara:
I think it's gonna be the sector of the industry that the government should put a, you know, a good eye on because it's gonna change the economy of this country. I think this is what is gonna bring America to help the small business owner in reverse. Okay. That outsourcing from other countries and bringing that spirit of entrepreneurialism back to the average American.
Doug:
Right. Clar, this one's for you because I know, and I love this topic too, like really like, and we're just, people are just putting the foot in the door and I agree with you on this. You were kind of early in this and kind of thinking where this was gonna go. Tell us about social commerce and how that ties into eCommerce.
Clara:
Oh, my favorite. Thank you for asking that. So I found myself, okay. That I was looking at platforms like Facebook, Instagram, TikTok, YouTube, and whatnot. Okay. I'm looking at them and I'm like, oh my God. Understanding history, and business. And of course, you know, the evolution of companies, I'm always curious about that. I couldn't believe what I was seeing when I was building my reselling business. I was like, are you kidding me? These are free tools. In 20 years these tools will not…mark my words. They will not be free. Okay. Your kids. Okay. By the time they, for example, your teenage kids, by the time they are 40 and they wanna take off their own businesses, trust me. They will need to pay for Instagram. They will need to pay for TikTok. They will need to pay for YouTube.
Clara:
Okay. And for me, that was unprecedented. And I told Amanda, that's why I was like uh uh, no sales team, no advertising. Let's do social commerce. Okay. Let's the community, okay, decide. So I started as a reseller. I did it with all my businesses with reselling, with software you name it. Okay. So with reselling, it was Pinterest, Instagram, and FacebookBusiness pages that changed my life. Okay. The first versions of Amanda sent okay the listings to Facebook pages back then. Okay. We had that, that we don't have now. Okay. It's Facebook Marketplace. But back then we had Facebook pages. We had Instagram and Pinterest. I had Pinterest. I was connected with Etsy. It changed my life. I accelerated my sales. Remember Amanda? And she was able to let go because of social commerce. When we…you gotta understand Amanda had nothing to do with The Clothing Vault.
Clara:
I was paying all the bills. She had nothing. She wasn't shipping. She wasn't doing sourcing. She wasn't doing any customer service. She wasn't, oh, the only thing she was doing, helping me to transfer the balances. Remember? So she would help me. Okay. So we have the money. Okay. It's in the bank now to go and pay these bills. Da, da, da, da. Okay. So I would say social commerce helped my reselling business to grow approximately 40% just in the first year . That's the first year on my List Perfectly business. You know, just to let you know, what is it? We have over 30,000 signups. Okay. At any time we have like 13,000, okay active users. We have no penalty for people to come in and out. So imagine how powerful social commerce is when it comes to promoting your business organically and not taking the traditional path of mailer campaigns, and digital marketing.
Clara:
And it's not that it's wrong. It's just because our product is always changing so much. I think that organic is the best option for me right now. And that's why social commerce is free. It's so incredible. I'm sorry. I can keep talking about this. We can do a whole episode about, we should, oh my God. It's sales if you're not pleasing the audience, if you're not doing social commerce, you don't have to, I don't even know people. You don't know how to use Instagram, where people tag me. I have no idea. What is a Reel, I know there is a Reel and weird stuff. Okay. I don't know anything but List Perfectly takes my listings okay from eBay or whatever, and takes it, you know, magically to Instagram and they get likes, and people like it. And I get more brand awareness. That's what it means to me.
Amanda:
Yeah. I think that there's power and community. When you are connected with the seller, that's selling the product. That's always powerful when you know who they are, when you can see what they're about, what, what they're passionate about, you wanna buy from that, that seller. And, and I, I, again, that's another one. Sky's the limit. You really, people like to connect with each other. And that just another means of having, you know, something deeper than just a casual conversation. You're actually supporting someone else's livelihood. And that's meaningful for people because a lot of people just believe that I would rather spend my money and know it's going directly to help someone than buy from a big corporation.
Doug:
Anything to add that we didn't cover?
Clara:
Just do it. Okay. Start playing with it. Okay. Just freaking do it. I'm telling you. Don't wait, just go and think of your store name one step one day, one week. Okay. Say it, go weekly. Okay. Week one store name. You have a whole week to think about the store name. Okay. Week two sourcing. What am I gonna sell? Okay. Let's go home week three. Okay. I'm gonna open a marketplace store. I'm gonna start with one. Okay. And I'm gonna test one week four. I'm gonna see if I have a sale and, and how do I ship week five? I'm gonna join a community. So I have backup and I gotta understand my options. Grab a calendar, one of those paper calendars. And don't worry if you, okay, what if you had three weeks of sourcing, forgive yourself? What if you had a month that you couldn't make up the mind of your, of, of, of your business name? So what, okay. The idea is that you're getting it done and you're holding yourself accountable.
Amanda:
Definitely community, you know, when, when you're just getting started, turn to the community, they'll help. There's a lot of helpful advice out there. And then there's a lot of bad advice. So I, I say that lightly, just be careful with <laugh> some of the advice that you get, but in general, when you hear positivity in a community, when you, when you see people truly helping each other out, listen to that. If all, if you see a community that's just going negative or talking about things that could go wrong, stay away from that. There's no need.
Doug:
I believe in List Perfectly. I love the community aspect of it. And, you know, thank you Clara and Amanda for joining us today and talking about entrepreneurship. You are Clara and Amanda, the co-founders and co- CEOs of List Perfectly, but you're also Clara and Amanda, you're very accessible. We do things like this. You know, we do events where you're right there and that's, you know, that's just all part of List Perfectly, you know, and as you can see, loyal listener, from the very beginning is like, you know, that's, that's how it all started. So, and, you know, we'll hear more from Clara and Amanda, we'll hear more about entrepreneurship and you know, obviously more about List Perfectly and you know, just being part of that community.
Clara:
Oh, thank you, Doug. Thank you again for having us today here with you and helping us share our perspectives and our story. Right, Amanda?
Amanda:
Absolutely. Thank you so much. And you know, always, always happy to share. We love, we love the community. We love being accessible. We wouldn't have it any other way.
Doug:
All right. Yeah. And thanks. And you know, you'll definitely both be back.
Clara:
Thank you, Doug.

Doug:
Thank you for joining us on The Seller Community Podcast from List Perfectly. You can find us at thesellercommunitypodcast.com. You can leave a message or ask a question at anchor.fm/sellercommunitypodcast. You can email us at podcast@listperfectly.com. Post a question in the List Perfectly Facebook group at facebook.com/groups/listperfectly. You can listen to The Seller Community Podcast anywhere you listen to podcasts and be sure and subscribe, tell your friends, and if you're on Apple Podcasts or Spotify, please leave us a review on Instagram and TikTok. You can find @snoop.dougie and of course, follow @listperfectly. And you can always use our promo code podcast. That's P O D C A S T for 30% off your first month of List Perfectly or 30% off your first month of upgrading your plan. Thanks for listening. And we will see you next time.