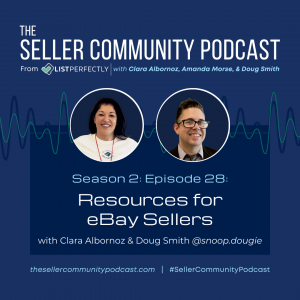 This week Clara and Doug discuss resources available for eBay sellers from eBay, and from List Perfectly including eBay Seller School, the eBay Community, the eBay for Business Podcast, the List Perfectly Facebook group, and The Seller Community Podcast and Blog, and more.
The Seller Community Podcast from List Perfectly is the ecommerce resource for the seller community across all platforms and a hub for information on growing your business. Find out more at thesellercommunitypodcast.com, leave a message or ask a question at anchor.fm/sellercommunitypodcast, or email us at podcast@listperfectly.com.
List Perfectly is the ecommerce resource for selling across multiple e-commerce platforms including eBay, Poshmark, Etsy, Mercari, Kidizen, Grailed, Depop, Tradesy, Facebook Marketplace, Instagram, and Shopify.
Links
Seller Community Podcast on Anchor
Episode Links

eBay Seller School

The eBay Community
History of the community at eBay
eBay Help and Customer Service
List Perfectly's Facebook Group
List Perfectly YouTube channel
Transcript
Doug:
Welcome to The Seller Community Podcast from List Perfectly. This is season two, episode 28. This week Clara and I discuss resources that are available for eBay sellers from eBay and from List Perfectly. We're gonna take a look at eBay's Seller School, the eBay Community, eBay customer service options, eBay seller events, and then the seller community as a whole. And then again, List Perfectly resources for eBay sellers, including the List Perfectly Facebook group, The Seller Community Podcast, The Seller Community Blog, the List Perfectly YouTube channel, and more.
Doug:
Hello, Clara.
Clara:
Hi, Doug.
Doug:
<Laugh>. Hey everybody. So I'm here obviously with Clara today, and we are, we're not doing an interview today, but we are going to talk to you about eBay seller resources, selling on eBay a bit, but basically, the resources that you have available as a seller. And then we will talk about List Perfectly resources that help eBay sellers as well and help you sell on eBay. And so Clara, as you know, I worked at eBay for four years and I was on the seller engagement team and the community team. And so I did a lot of events. I did a lot of online support and a lot of online work with sellers. And then obviously I do a lot of this with List Perfectly too. So sellers know me from this, but one of the things I used to talk about a lot at eBay was the resources that eBay sellers have available.
Clara:
That's amazing.
Doug:
Should we get started?
Clara:
Please because I think this topic, Doug, not only you are perfect for it and me, you know, just from my perspective as an eBay user, but I think it's a topic that we need to talk more about.
Doug:
I agree. And we always say this, we love eBay. eBay is the biggest platform that List Perfectly supports. eBay is one of the biggest platforms out there. Amazon came along at the same time, but Amazon started selling books. eBay was the first place, it was an early online community. It was the first place to connect people, to sell, to give people a place to sell and buy stuff online. Yeah. So, you know, a game-changer in the internet world, in the tech world, eBay even admits that it's a little difficult to learn how to use. It's a little difficult to list there. So they put out a number of resources to help with that transition. And then from our perspective, you know, we work with sellers across all the different marketplaces, and what we hear a lot is sellers are intimidated by eBay. Because it's different.
Clara:
Imagine, you know, you're new to reselling. All right. Yeah. And I'll be honest to you by comparing just the mobile experience of Poshmark versus the mobile experience of eBay. And if you have no reselling experience, all right. You've, let's not even talk about the desktop listing form of eBay, that's super scary. That's like Halloween scary <laugh> but for the new people, yes, it is. I'm sorry about that, yeah, for sure. And eBay knows this. Right. However, okay. Even the eBay mobile application to list, okay, is still a little intimidating and it's been a very frequent ask, you know, like myself as a seller and sometimes as a CEO of List Perfectly, you know, what do I think about the new listing form versus the classic listing form?
Doug:
Yeah, and it's interesting. People get used to certain things. They don't like change a lot, you know, eBay's always trying to evolve. So, you know, change doesn't come easy. And especially to sellers, you know, we were just talking about different platforms. We see a lot of Poshmark sellers that are dying to sell on eBay, but they're scared. They're scared of item specifics. They're scared of the different shipping. They're scared of international selling and shipping, and you know, those are, it's just a big learning curve.
Clara:
When you come from a more simplified platform like Mercari, Poshmark, you know, they have a different experience you know, to make it very simple. eBay is more for the medium to the advanced seller that wants to really accelerate. And naturally, they have the biggest audience. One of the things that I've noticed speaking about eBay seller resources, Doug, you know, one of the things that I notice is that now you gotta be careful with eBay, there is a new change we're gonna be talking, Theresa's gonna be talking and getting some information, you know from her perspective as an eBay user with the new image management on eBay.
Doug:
Yeah. Recent changes, resizing. Part of this too, is, is you, it's difficult to keep up on things like that. Like all the changes and it's hard for them to communicate those things. You know, it goes the other way too, if you start on eBay, I do think it's easier for you to go to other platforms. If you start on eBay, I've always said this, List Perfectly makes it easier to learn and transition to eBay.
Clara:
That's right.
Doug:
It gives you that central spot.
Clara:
Now imagine if you're a native Postmark seller or native Mercari seller, and then you go to the listing form of eBay. Yeah. I've been there, you know, I'm the non-technical co-founder of List Perfectly. Yeah. I don't code. I don't even wanna see an Excel spreadsheet. Okay. I leave that for my accountant, my bookkeeper, you know, I'll make sure I tell them which write-offs, but I have to say as a non-technical partner, it is intimidating. You're not alone. It's normal. It's common feedback that I receive as the CEO of List Perfectly. And I'm so happy that List Perfectly can bring that bridge, okay from other marketplaces. So we can make the listing experience on eBay much easier, especially because List Perfectly has a way that we play very well with artificial intelligence on eBay. So we did a lot of work to make this happen. So you start your listings in LP, then you take your listings to eBay, and you can eBay, select a sell similar or sell more in eBay, and then populate it with the List Perfectly listing, and then have an optimized listing with all item specifics already done <laugh> by someone else. And then all you do is just merge an LP listing. This is one of my favorite thank yous for giving me this opportunity to talk about this, Doug. I really appreciate it.
Doug:
Of course, what you just said brought up a couple of things in my mind. Sellers list on eBay helps sellers learn eBay, but we also help you optimize your eBay listings. We've got the sync project, which is huge. I love that. Yeah. As long as you have your listings in your List Perfectly catalog List Perfectly will go through and help you identify potential issues that you need to take a look at. eBay doesn't really do that. I mean, they might, if you leave something out, you know, they might give you a little reminder, but you don't get a ton of guidance in the listing process from eBay or any of the other platforms.
Clara:
That's right.
Doug:
That's a great feature. That sync feature it's important to optimize your listings. And another thing we do is we help you with compliance cuz you wanna be compliant. You don't want to lose, you don't wanna lose your selling account.
Clara:
In one of the eBay seller resources, we offer in List Perfectly. Remember it's a word alert, Doug. Yeah. Isn't that incredible? Let me, what is it? Share my Poshmark closet. Imagine, imagine if you leave that, you know, if you like my product, share my closet, my Poshmark closet. I don't know when the Clara97. Okay. Yeah. So that's just something that we are very strong on giving sellers resources that can help them grow their business. We understand that errors are human, but it's very important that we give resources to sellers. So you can really grow your eBay presence. Like you said, like the biggest audience, that's it, period. Yeah. Even if you have your own website, unless you are, I don't know. Adidas, not even Adidas. Okay. No, even <laugh>
Doug:
They sell it there…
Clara:
No, no, they sell on eBay so not even themselves okay have the audience that eBay does, and then you can ship worldwide. Now, Doug, what do I do if I am a super beginner, you know, and we talk about this on the, there is a List Perfectly YouTube channel where we talk about how to List Perfectly on eBay. Also, we talk about how to sell more on eBay. So we have different event sessions that we've done about eBay and I highly recommend, but one of the things that I liked the most about eBay, the eBay resources, was the seller School. Isn't that amazing, Doug?
Doug:
Well, and I know you're a fan of this, but yeah, eBay Seller School is great and it's one of the newer resources, you know? I would say even probably the last couple years, we'll go through these and you know, the eBay stuff we'll mention and the List Perfectly stuff we'll mention, the links will be in the show notes. So you can go through and click those starting with eBay Seller School. That's basically an online, collection of online courses about selling on eBay. And the, you know, the beauty of that is these courses are available 24 hours a day, seven days a week at your own pace, you log in via your eBay account and you can, and it's for sellers of all levels. You can…
Clara:
So all I need is an eBay account Doug?
Doug:
Yeah. eBay account, be logged into your account. You go in courses on getting started on eBay, yips on how to boost your sales, deeper topics like listing shipping and returns, marketing business operations, and just all that across the board. But it's a great video-based education.
Clara:
As far as I know, to open an eBay account is zero. Doug. We're not talking about subscribing to you see what I'm saying?
Doug:
Yeah, to open an account yeah. Is free. And there they are, you have stores and you have, you know, different things you can do. And there are selling fees at some point, but yeah, you can start selling for free on eBay.
Clara:
That's right. You know, opening an account on eBay is free. And then it opens a wider range of resources that you as a seller whether you are seasoned or new should be considering, especially now, Doug, what's going on with that new listing form. And then if I was maybe opted in the new listing inform, I can't go back to classic?
Doug:
Yeah. And that's always been a tough one with eBay. I kind of see their side where they want to evolve you into different things. And you know, they've got a philosophy they want to evolve and they're trying to improve these processes. But it's interesting when these changes come along, cuz you get used to certain things like I like, you know, I do like the older listing form, but at some point, it is gonna switch over and that's, you know, that's a, a business decision that not, everybody's gonna agree with. They've, you know, they wanna streamline it. I think they want to have it, you know, to where yeah. It's kind of mobile-friendly too. Yeah. So it's kind of just, you know, streamlining the process, doing what they think is gonna, you know, think is gonna improve the listing process and you know, maybe they wanna make it easier for people coming in.
Clara:
Yeah, absolutely. Absolutely. Now once I sign up, you know, I download the eBay mobile app, you know, I start listing on desktop. There comes the issue, Doug, you know of VERO. Yeah. <Laugh> yeah. Can I list, okay, Velcro, can I say Velcro <laugh>?
Doug:
Yeah. And that's an interesting one. And we did do a podcast with Julien, the guy from eBay that heads up VERO. So we'll put that link in. But the, so the interesting thing about VERO is eBay is a marketplace. So basically what they do is provide a spot for buyers and sellers to perform transactions in a safe spot. So it's like, you know, you've got some protection there. Look, brands need to have protection as well. Sometimes brands overstep their bounds, but let's say you are Velcro. In that case, there are certain terms that are copyrighted, like Kleenex, and Xerox. They don't want you to use those terms without permission because they don't, they don't want to be misrepresented. They deserve credit. They deserve sales. One of the biggest VERO violations has to do with photos. People will take photos from a company's website and use them. People slide more with it today than they used to across the board. But with something like selling online, you have to be really careful about the photos you use. Yeah. I made a claim where it's like I had some Lego, not Lego toys that would work with Lego. You can't say work with Lego.
Clara:
Lego compatible.
Doug:
That's right. Lego compatible.
Clara:
No.
Doug:
Because I was trying to get the traffic.
Clara:
Yeah. You know, even if it is a real feature that is compatible with Lego, unfortunately, the manufacturer of that product did not get a permit from Lego or that other company to use that name that is copyrighted or trademarked or both. Okay. And of course, they have applied because as a brand, what you do, let's say List Perfectly. Right. As a brand, what you do is, for example, just go and apply for being on the VERO program. And that's how it works. It's not that because automatically, you know, you have a brand you'll be on the VERO program, right Doug?
Doug:
Well, and a lot of people think there is a VERO list that they check against and there's not, but they have an area of the website where a brand can go in and list guidance. Yeah. And some brands do that. And basically what happens is if there is a VERO violation filed, eBay has to protect itself too. And so what eBay does is they connect the brand with the seller and it's like, you guys work it out. Yeah. And sometimes it works out. Sometimes it doesn't, a lot of times its misunderstandings and hopefully it can get worked out. And again, there have been issues with brands that have overstepped bounds a bit. Yeah. But a lot of people don't realize that a lot of big brands, a lot of big stores, sell on eBay because like you said earlier, it's such a huge traffic website. It's one of the top trafficked websites in the world, and its job is to get traffic to the website. So buyers can buy and sellers can sell. We'll include the VERO link to that podcast episode, our interview with Julian. My favorite part of that is he told us that he had to call his mom and say that she had a potential VERO violation based on images she was using in one of her listings. So that was funny.
Clara:
<Laugh> It happens to all of us.
Doug:
Yeah, exactly. Seller School is a great resource. You know, if that's the type of thing you're interested in is kind of some guided online education, another resource. This was my direct team at eBay and something near and dear to our heart, the eBay community and the concept of community. So let me get it, so let's segue a bit. Tell us how important community is to you, Clara.
Clara:
Oh, it's paramount. It's fundamental for the growth of the company because we don't do advertising. I don't have a sales team and what we have is a strong referral program for any List Perfectly member to get paid lifetime benefits when they refer friends, that's it. But what we really work on is the community that referral program is the result of a strong community. Sure. That is constantly giving advice to each other on what works best for their business. That has been one of the elements. Of course, we have incredible software and an amazing technology team. And then, you know, our team, you know, the business development, including you Doug, you know, we're super, we're delivering consistently. So that makes our community centered and community-oriented. And that has been the key to the success of List Perfectly.
Doug:
The seller community is an online thing and an offline thing. So you've got the online components that are like for List Perfectly. It's like the Facebook group and all the content we put out and all the lives we do and all the social media and then offline that are the events we do, the seller meetups that we do, the Seller events that we go to, and meet with sellers face to face. And those both kind of gel together.
Clara:
I can't stay away from my community. I can't look at, look at what happened, these podcasts, you know, you started so long ago and I'm so happy that, you know, I came on board and I'm having so much fun, but it has allowed me to connect with our community on a, such an intimate and deeper level because it gets very intimate. When we interview people, you know, literally we're gonna be asking them questions that are related to their business, sourcing what they really think about different topics. And it doesn't, you know, we don't go light on those questions as former resellers, and of course, you being in the reselling community for so many years and being a reseller yourself…
Doug:
It's all about connection, a place to connect in those different ways. But like you said, you know, it's a very, very intimate connection to, and it's like with us, our size affords us the opportunity to put our CEOs, our leadership right out there with sellers and direct access, you know, from top to bottom, which is important. So for List Perfectly, we'll get into this in a little bit. Our big community is our Facebook group, but eBay's community is community.ebay.com. And it's been around forever. We had Jim Griffith on the show, Griff. So we'll put that link as well. But, you know, he kind of told us about the history of the seller community and he basically helped start the eBay community. The eBay community was eBay's very first customer service and it was sellers helping sellers. That's the important part of the eBay community is you get a lot of what's called peer-to-peer support. So a lot of sellers help sellers, but you also can connect with eBay staff, and eBay executives, and then you get things on there, like direct news from eBay via announcements. And then, you know, other things like groups, discussion boards, blogs, different segmented blogs, and content, but a lot of seller content, a lot of peer-to-peer support, but also another team I was on at eBay, speaking of podcasts is the eBay for Business Podcast. Oh yes. It's also part of the eBay community. So I worked there as well and that's kind of where I really learned all about podcasting.
Clara:
Wow. Yeah. That's an incredible eBay resource, whether you're an eBay seller or not, you know, and you're thinking about eBay. I highly recommend you to like eBay for business and follow the eBay podcast. You know, and it's just an incredible resource, you know, every giving consistent information about eBay and what's coming or what has happened and very, it's a great resource, another great eBay resource, Free right?
Doug:
Definitely. And you know, a great eBay resource. Our podcast is a little different because we have the opportunity to not just be eBay-focused. Yeah. Not just be List Perfectly focused. We also focus on other marketplaces. So, you know, we do have, I guess a little bit of an advantage, but the eBay for Business podcast is an amazing eBay seller resource. A lot of eBay seller stories. A lot of that connection, a lot of tips and you know, a lot straight from eBay.
Clara:
That's right.
Doug:
And then speaking of straight from eBay. So eBay has since I moved on, they've kind of changed their eBay customer service flow online a bit. It's a lot more self-help and self-guided. The experience itself is nice. And you know, we talked about this morning. I think we mentioned it, you mentioned it in the live. Yeah. It's like, I love to be guided. Like I love this kind of stuff where I can find my own answer. Not everybody does. Yeah. Some people like to go in and they want to be able to talk to somebody to resolve their problem. But it's an interesting option. It guides you through a lot of content that they have. And so, you know, what they're doing is they're learning from their content. They're learning what people are coming in and searching for. Yeah. But the nice thing is, if you're logged into your eBay account and you need help specifically with something like a purchase or a sale, you can click on that. And it kind of will guide you through some online tools.
Clara:
And one of the things I like about eBay is that eBay, that specific eBay resource did you notice that they put, was this page, this helpful or not? That's very important. You let eBay know, they're not literally, it's not just a feature that goes, you know, really important that if you find that solution irrelevant or useful, you let them know.
Doug:
Yeah. And that's, that's a great point. And it's just, you know, they learn if, if there are certain pages nobody's looking at, or if there's certain, or if everybody's saying no to a page or something, they suggest they know that they need to modify their content. And also we touched on this. eBay has a great seller event site. They also really lean in and support seller events, you know, eBay events, e-commerce events, if they're eBay related and they have this site where sellers can come in and register to their event, manage their events, and set up these meetings. And then they also run their seller checkups through there, which are their periodic checkups with sellers that they've done now for a while. Now, in the last couple of years with COVID online meetups. Seller events are important to List Perfectly as well. We do some of these, we've done several meetups that have been so far virtual and then some bigger events and we'll be doing more this year. We've got a couple coming up this summer. eBay Open will be back online again this year. We know that we'll be there, we'll participate, but I think we're looking forward, everybody's looking forward to it being in person again.
Clara:
Yes, absolutely. Oh, the good old days of the yeah. In-person events and hopefully they're, they're coming soon.
Doug:
You're a testament to this as well is like eBay Open 2019 in particular is so almost mythological in the evolution of List Perfectly. And it wasn't that you went and presented on the big stage and it wasn't that you went and attended all these different workshops. One of the biggest things about these events is networking, meeting, and learning. And this stuff goes on around, you know, in the convention center, in the hotel outside of what eBay's doing. But it's the same thing as BOSS Reseller Remix is like sellers meeting sellers, working together, and learning. For a minute or two to refresh us on the importance of eBay open to List Perfectly its growth.
Clara:
It's incredible. It was such a big event at that time. Unfortunately, we were, I had invested all of my money in tech and I ran out, literally was down to my last $1500 so we could afford a ticket for the other co-founder of List Perfectly, Amanda. But I stayed out and I stayed out with the List Perfectly bag and I have List Perfectly in the front and my reselling store in the back, The Clothing Vault. Inside of my List Perfectly bag I have these discount cards that if you signed up with us, we will give you, you know, a discount, but you have to pay upfront <laugh> to get that discount because I really needed the money now <laugh>,
Doug:
That's fine. You needed dinner.
Clara:
And overnight, it was incredible. I was at the entrance of the event, you know, I just did guerilla marketing. Obviously eBay, you know, I played a great line there. Thank you, eBay. Thank you. Thank you. Thank you. eBay. They let me be there. You know, I passed my little flyers, and the little I know I went viral overnight. I was hoping for 200 people. I would be begging you maybe 300 and we got 1500 sign-ups overnight. And that was very overwhelming. It changed, it changed us forever. It changed the life of List Perfectly forever.
Doug:
Obviously, that's a seller event, that's an eBay event, but that helps segue into the next, you know, big resource available for all sellers is the seller community as a whole, these networking events, these, you know, industry events, but the seller community itself goes on without the help of the marketplaces meetups, Facebook groups. Um you know, different face-to-face events seller YouTube channels, seller websites, seller resources that they put out there. And some of them, you know, some of them, a lot of them do it for free, some charge a little bit, you know? Yes. And that's fine. That's the way it goes. But the seller community itself is amazing. And you know, how sellers support each other. You know, when I first learned about it, it was so interesting that all this stuff goes on. And then we, you know, all the time, like even just this week, like let's, let's look at Clara's schedule or last week on with thenurseflipper <laugh> and then we talked to Flippin Hippos last week. Oh, we talked to RNZY a couple of weeks ago. We talk to sellers all the time and we do talk about List Perfectly, but we talk about selling too. So, you know, List Perfectly. And you, you're a great part of the seller community. You do so much with the List Perfectly stuff. But so talk a minute about, you know, some of the other seller communities that you participate in…
Clara:
Obviously eBay, you know, and that was fundamental for our success, but obviously there is Etsy. There are communities done by our community members, okay. From like BOLO Buddies, be on the lookout. We have Flippin Hippos Reselling Pod. We have Katie and Vicky with their and Theresa Cox, okay with their BOSS reselling group, those are just fundamental. Paramount. What about Death Pile Destruction by Kat nurseflipper, Josh Varnell, there's so many groups out there to help you grow in the right direction. In, for me, speaking about communities as a reseller, what changed my life was building my audience, my community around Facebook business pages, and Instagram profile. I didn't even have an Instagram business page. Okay. I had a big community on Pinterest, too. That was as a reseller. Right. And then you know, it was, it was fundamental to promote organically in my reselling business. That's something that I recommend to all sellers because you can promote your online stores organically with these social media channels that already have a community built and craving for getting your content and understanding your brand, understanding your products, understanding what's your mission or a vision.
Doug:
Reach out to the seller community. If you're, if you're new, if you've been around a while, if you're feeling isolated, if you need help, look for those online and offline resources across the board, then, you know, like Clara said, there are even sellers that day to day, put out little tips. Yeah. Like refashionedhippie or hippyedit. They're always putting out sustainability tips. Yeah. It's just a little, you know, a little couple-minute post that's a little tip for you.
Clara:
Absolutely. Hey, you know, one of my, my own, I don't wanna forget to mention one of my eBay seller resources. Maybe I'm getting ahead. Okay. But this is just me and, and then, I know it has changed a lot, you know, since eBay acquired this company. But one of my favorites is Terapeak.
Doug:
I used to use Terapeakfor to help with item specifics, and categories, help with categories. So they had a good category suggestion tool.
Clara:
You're right. I forgot about that. Oh, memories are coming back then. <Laugh> the category. Yeah. Categories or elections cannot even be emphasized. We have a podcast episode with Dave Snyder, List Sell Rank. He does op listing optimization of eBay listings. Yeah. For very big companies. A dear friend of Doug came out of incredible generosity to share optimization tools for eBay. I highly recommend you to go and check those List Perfectly podcasts.
Doug:
Episode eight is his first one. And he was on two or three other times, he goes real, real deep, but eight is the one to start because he talks about, you know, just like you said, he talks about the importance of category, title. And then he goes into item specifics.
Clara:
Categories, categories I cannot even say, look like categories, you mess up the category and your listing will go to unknown limbo. And I don't know how you will get it back. Okay.
Doug:
<Laugh> yeah. And you, you can have the most awesome listing, but if it's not in the right category to start with, nobody's gonna find it.
Clara:
It's not even gonna show up in the search.
Doug:
But Terapeak's a great resource, you know, helps you research pricing, helps you research all kinds of you know, data that they have stored up.
Clara:
That's right. That's right. That's an incredible resource that I use all the time to make my purchasing decisions and make sure I had enough margin after calculating taxes, calculating marketplace fees after calculating shipping fees after calculating my time. All right. So that's one helpful, a very helpful resource from eBay.
Doug:
And Terapeak is integrated in your eBay now because eBay acquired them five or six years ago. So that's right. You have these tools available that not a lot of sellers know about not only the community but some of these internal tools like within eBay, like seller hub. Yeah. But it's the same thing with like, List Perfectly is it's like, I always encourage list perfectly users, to spend some time in list perfectly itself and look around and see what you have to use the quick start guide. If you have any questions. Yeah. There are so many resources within List Perfectly itself. Yeah. That can help you maximize your use. Yeah. Customize it, and answer your question.
Clara:
And you know, we're, we're native eBay sellers, Amanda and myself. Okay. So a lot of features of List Perfectly are inspired by the successful features that eBay has been providing to our community year after year.
Doug:
All right. So that's a good segue. So now let's move into List Perfectly resources for eBay sellers. Ooh. So List Perfectly provides so many resources to the community. And that was one of the things early on two and a half years ago. Now we talked about a podcast one afternoon and by the next morning, it was a go. And I think it was me that had to think about it. But I was familiar with List Perfectly. I'd done some research, but what I really loved is the fact that List Perfectly, obviously they're a resource for themselves, but they are researching for all the marketplaces that they work with. And so just to, you know, when I was at eBay, I was very obviously very focused on eBay. Yeah. And I wanted to stay within the seller community, but this afforded me an opportunity to, you know, really expand to all these different communities. Some I wasn't really that familiar with this started with the List PerfectlyFacebook group, which is, I think, you know, the main List Perfectly community tool. So talk about that with us for a minute, please.
Clara:
Yeah. So we created the List Perfectly Facebook page. And, but as you know, that's pretty much a one-way street and then you gotta wait, you know, for interaction and it's not the place where you can send questions and go deeper. So we needed something deeper to communicate with our community. Something that would allow us to build a dialogue and get to know better our community members that unselfishly and unpaid are constantly guiding and helping other community members. So for us, it was ideal to create a Facebook group, for List Perfectly. It was an incredible tool. You know, right now we're almost 10,000 members on the List Perfectly Facebook group and it has been growing tremendously and it's a safe place where with kindness we help each other in the, we talk about, you know, List Perfectly dos and don'ts concerns, suggestions.
Clara:
And we also talk about questions related to reselling or any of our business partners. And that's one incredible resource of a Facebook group. We started it literally the day that we came back, I think from eBay, I believe, you know, or, or we have to do it like, and then I have to make it private. Yeah. Before you could be open, but I have to do it privately because it went viral. <Laugh> okay. And I never thought we would have so many people, so it's a free resource. All you have to do is just let us know. How did you hear about List Perfectly and agree to our terms, you know, of not promoting other services and be kind and courteous and no hate speech and very basic, you know, just, just so we, our community is guarded because don't forget, we also have to reply to Facebook and that's all we request. And then you can join our community and start posting and be part of an incredible LP family that will have your back whether you're having a bad day or you're having a good day. And we're here for you.
Doug:
Yeah. And it's not just List Perfectly chat in there. You know, we talk about all the different marketplaces. We talk about selling. Clara is in there all the time. You know you get direct access to the CEO of the company right in there. Another person that's in there very active is Theresa Cox, 25, speaking of eBay, 25 years, plus eBay seller and the very first List Perfectly customer. She has a deep understanding of eBay and how List Perfectly works with eBay. And she does it weekly, we call it Listing 101. And so basically what, it's another free resource and she's available an hour a week. And it's, you know, kind of like an instructor at a school would have office hours. Like I'm here. If you have questions, come in, you can come in there. It's a zoom call. You can ask the List Perfectly questions, but a lot of eBay questions come up. So how important do you think that is as a resource to sellers?
Clara:
It's free. It's incredible. All you have to do is just show up there and she will demo. She will answer your questions and above everything. If you're shy, that's the right place to go. Yeah. Because you don't need to share your zoom camera or you could, but you can, if you don't even wanna, let's say you don't wanna do an, a question through audio, you can type your question. So it's ideal. It's not recorded. It's not a session that is gonna be cast or streamlined on social media channels.
Doug:
Yeah. And we all learn a lot there, you know, every week and Theresa even admits she learns some stuff.
Clara:
So true. We all do. I'm like, I'm always watching <laugh>
Doug:
Well, and you know, everything's always moving so quickly and evolving. So let's move on to one of my favorite resources, The Seller Community Podcast. So I'll let you start with The Seller Community Podcast. Tell us about that.
Clara:
The Seller Community Podcast is an incredible resource that started being hosted in List Perfectly and now grew out of List Perfectly. And you can go to thesellercommunitypodcast.com and you know, we're so happy because of what we do there with Doug. Okay. I'm the pretty face. Okay. Doug is doing the whole thing. Okay. To be honest, Okay. <Laugh> But what we're doing there with Doug, yes, it's a podcast, but the mission and the vision that we have with Doug for this podcast is to get on a more personal and intimate level with our community. So we can learn about your journey and where you are going, where you at in what you need in, in that way, even develop List Perfectly better. That's why it's so important for me to stay. And I'm so happy that I'm doing The Seller Community Podcast with you because it's allowing me to reach out to our resellers and our community. That is such an incredible way. You know, we just did. We just had so much fun with Starr Bryson. It's like everybody that comes ay yay ya. Yeah. <Laugh> That was a lot of fun. Okay. I think we were laughing the whole time.
Doug:
No, that was, that was fun. And they're all, they're always fun and it's great to connect and just, you know, different levels of connection, different stories, you know, but always seem to learn something too. Yeah. And for you eBay sellers. So we obviously regularly talk about eBay on The Seller Community Podcast, but we've had, you know, multiple eBay managers, and eBay execs on TheSeller Community Podcast. And we've talked about, you know, like eBay, eBay updates, eBay news, but we've had Jim Griff Griffith talking about seller community, the growth of the eBay community, Julien, the head of eBay's VERO program. And then we've had Theresa has been on to talk about eBay, seller resources, and other eBay-related topics as well. And we've got plans in the future to have more eBay people on too.
Clara:
That's right. And that we're always doing whatever we can do to reach out to our community with the right resources. So we can demystify whether it's VERO, whether it's item specifics, whether it's returns, you name it. Hey Doug, you know what I don't wanna forget about eBay seller resources is eBay grants. And I think that's so understated, eBay grants, eBay is running a very generous grant program. And if you haven't even seen Google it, it's just incredible Doug. Right?
Doug:
And I think they give away $10,000 to a selected number of recipients. And they want to help you grow your business on eBay and they want to hear your story and what you wanna do, and what you wanna have planned. And they're willing to, I don't even think it's an investment. A grant is like, they just give you the money. Cause they want you to grow and they wanna grow eBay. But they, you know, they want you to succeed. They want sellers to succeed. Yeah. That is a great program.
Clara:
Yeah. A grant means, okay. That they give you the money without the responsibility of being obligated to return that money back. However, there is a condition in which you have to explain what you gonna do with the money? And then a couple, maybe a year later, they will return and ask you, what did you do with the money? And then they might feature you on an eBay special or things like that.
Doug:
It helps them grow businesses on eBay and helps them grow eBay. It helps them to help you as sellers. And you know, they do, they come to film you, they get some content out of it. That's part of the deal too.
Clara:
That's right.
Doug:
Referencing back to the Dave Snyder episodes. So that episode number eight with Dave's intros, eBay, SEO, which is so important. And a lot of sellers don't think that's our most popular episode. That's like close to a thousand downloads.
Clara:
Wow.
Doug:
So um, you know, we talk about it so much and it's just such a good useful episode. And it's changed the way some eBay sellers have done things and they've seen some success.
Clara:
Exactly. This is down to a science again, listing optimization. It's a science, it's not a guessing game. You should not guess with your business, you know, there is a science behind it.
Doug:
And that's the thing is, it's not easy. It's a lot of work. There's so many things that you can do. And you know, you can get by with doing some of it, but there's so many things.
Clara:
Yeah.
Doug:
And like you said, it's a science that has to be learned.
Clara:
Exactly.
Doug:
All right. I'm gonna move on to another of my favorite babies and I'll have you start with this too. I'm very, we're very proud of this one. It's our newest baby, still kind of a toddler, still stumbling, maybe finding its legs. <Laugh> The Seller Community Blog.
Clara:
I am so excited about that blog, you know, and again, this is a credit to Doug, okay you're directing this, you know, and I'm so happy you took over this project, Doug, because we needed a way to make posts about topics that are so relevant. These posts that Doug is curating, if you please, are published with the logic, because it's a topic that is maybe trending or needs to be addressed in our community so we can demystify it.
Doug:
Right. The interesting thing about List Perfectly is we're a small but mighty team. Yeah. And so we are doing, you know, we're doing everything we can, but that's the thing is, we want to be able to see what the trends are. We want to be able to address them, to adjust to them, whether it's a List Perfectly thing, whether it's an eBay thing, Mercari, Poshmark across the board, or selling topics. So that's important. But we also are really focused similarly to the podcast on telling seller stories, cuz those stories are so interesting and just so, so cool and opportunities to learn and see where people come from, what they do with their business or the different things, cuz different things they sell like Flippin Hippos this week.
Clara:
<Laugh>
Doug:
Plushies. I hadn't, I don't think I'd ever, I mean I knew her, but I don't think I'd ever really talked in detail with a seller that sells plushies.
Clara:
Nope. You and I.
Doug:
Yeah. <laugh> so that was interesting. Then also, you know, the List Perfectly YouTube channel. That's a great resource for sellers as well.
Clara:
No, it's an incredible resource. Another free resource you don't need to apply for or have a subscription or anything it's open, it's free. And we go live every Friday at 11:00 AM Pacific standard time. And then we have some other pre-recorded content that is relevant. Maybe how to contact List Perfectly when locked out or locked in on or how to screen record or how to delist. We do like little teases, but again, you know it's a great resource. Youtube is just a teaser of the deeper content you will find on Guide to List Perfectly or a quick guide to LP.
Doug:
Yeah. And yeah, a ton of instructional and how-to be content there. But then the lives are great. And sometimes we go live multiple times a week. So, you know, we usually have a topic and then we'll answer questions and sometimes they're List Perfectly questions. Sometimes they're selling questions and those are great resources and all. You don't have to see it live because it's archived on the channel. That's great. So, you know, it's all built up there, but that's a great resource. And then that ties in too is, is, you know, we not only go live and have put out this instructional and how-to content and sell story content on YouTube, the podcast, in the blog. We also do it on our social media channels as well. So, and I mean like Instagram, Facebook, TikTok, even Reddit we're on. So how, how does that all factor into what we're doing to reach sellers?
Clara:
Oh, it's so fundamental. Doug, thank you for asking that. Because what we do is trying, it's like, don't forget I'm a reseller, right? <Laugh> yeah. So I have the same concept. Like I did, you know, I started on eBay, then I moved to Etsy. Then I moved to Instagram, my website, Pinterest, and so forth. The same concept is the same product exposed to different audiences. I wanna reach different audiences. So I know they're gonna be on different social media channels. So it's working so great for us. You know, too, because we don't have paid advertising. We've noticed that there was a lot of misinformation. Yeah. And that it's helping us so much to bring clarity and the right information to our community, about List Perfectly, that we're absolutely transparent. We just wanna bring accurate information and deliver that information in a way that is valuable to our community.
Doug:
Yeah. And it's like you said, all those different audiences across the board on all the socials and we'll include all the List Perfectly social links. There are a lot of resources available out there for eBay sellers. You know, eBay's got Seller School, the community, eBay customer service, and help seller events. And then, you know, separate from that, but kind of morphing over as well as the seller community as a whole and all the resources that they have and all the stuff that sellers do. And then again, List Perfectly all the resources we have for you. So we've got the Facebook group, the podcast, the blog, Listing 101, the lives that we do, and all of the social, but this, you know, ties into that concept of community, which is so key in resources for sellers, terms of eBay itself is like we understand and eBay even understands, it's a bit intimidating to learn and master, but you have these resources available and List Perfectly is happy to help you with your eBay journey. And you know, eBay's one of the biggest players in the game. If you're selling online, I think you, you gotta be on there.
Clara:
That's right. You know, you would be missing the biggest audience.
Doug:
Yeah, exactly. eBay wants you to succeed there. They want you to sell it there. Yep. They know that you have, it's like an airline. They know you have other options, but they appreciate that you would use them and they want you to succeed. And so Clara we've, we covered a lot, anything to add?
Clara:
What I would add, you know, is also, you know, when it comes to eBay resources, you know, they keep adding resources constantly. There are new features when in doubt, reach out to eBay customer service you know, or, or, you know, navigate through their customer support, but see the resources they're giving you, whether it's shipping returns, messaging with other members or customers, it's just incredible. The wide range of resources that eBay is adding constantly and providing consistently.
Doug:
Definitely. Well, thanks, Clara. This was fun. You know, what a topic near and dear to my heart, eBay community, you know, and then what we do as part of the community and what we do to help. But thanks for taking the time. I knew you were the perfect person to talk to about this and kind of expand what we did this week with the blog too.
Clara:
That's right. Thank you for having me, Doug. I'm so honored to talk about eBay with you. The pleasure was mine.
Doug:
All right. Thanks very much.