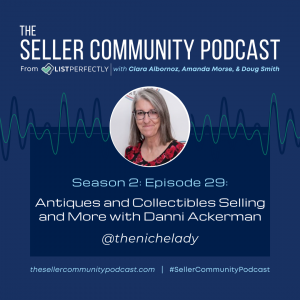 This week Clara and Doug chat with Danni Ackerman, thenichelady, and udderlygoodstuff on eBay about her history selling antiques and collectibles, the changing market, the unique challenges, as well as the content she puts out nearly on a daily basis.
The Seller Community Podcast from List Perfectly is the ecommerce resource for the seller community across all platforms and a hub for information on growing your business. Find out more at thesellercommunitypodcast.com, leave a message or ask a question at anchor.fm/sellercommunitypodcast, or email us at podcast@listperfectly.com.
List Perfectly is the ecommerce resource for selling across multiple e-commerce platforms including eBay, Poshmark, Etsy, Mercari, Kidizen, Grailed, Depop, Tradesy, Facebook Marketplace, Instagram, and Shopify.
Links
Seller Community Podcast on Anchor
Episode Links
https://thenichelady.com/

thenichelady.com/linktree

Latest video

Udderly Good Stuff eBay

Thenichelady YouTube
Transcript
Doug:
Today, we're joined by Danni Ackerman, thenichelady, and udderlygoodstuff on eBay where she's been selling for quite some time. And now I just learned on multiple platforms, but we'll learn about that. She's an antique and collectible seller, which I love. We'll get into that too. But welcome to the show, Danni. Thank you so much for joining us today.
Danni:
Thank you so much for having me.
Clara:
Thank you, Danni, for making time to talk with us and, and share your journey with our community. I'm so excited. Danni, thenichelady, Danni Ackerman, an incredibly experienced reseller has a YouTube channel, very incredibly popular YouTube channel. So many resources for our community. Why don't we get started, Doug? Huh?
Doug:
Sounds good.
Clara:
All right…
Danni:
I just have to say though, I really, the name gets said so many different ways. I think I love the way that Clara says it the most <laugh>
Clara:
I love it. I know I come with an accent. <Laugh> like, I always say, it's not me. It's you guys having an accent.
Danni:
<Laugh>
Clara:
Thank you again for joining us today. And our community is so happy to listen to you talk about your journey because you have done so much everywhere. I don't know. We need to explain to our community, how do you do it? So let's get started from the beginning. Danni, how did you get into selling online and what do you sell, please?
Danni:
Oh goodness. So my reselling story really goes back even before the days that where we had the internet. I always like to say I grew up in the back of a thrift store. I had an aunt with whom I would spend the summers living up in Carpinteria, California. And she volunteered at a little local thrift store. And so that was our thing. Like, she would take me with her to go sort the stuff. And I just, like, I remember the excitement of coming in the back entrance, where everybody had dropped all of the donations overnight and there were just bags and boxes of stuff. And it was like, oh, you never know what's gonna come out of them. And even as a little kid, that was exciting. So, you know, I carried that into my years and I grew up with a single mom. We did not have a lot of money. Yeah. So that thrift store experience really gave us great things in life. You know, we had the good brands and the good stuff, because we knew how to resource through thrift stores. So fast forward to my adult years, I knew how to buy and sell. I knew that there were ways to go buy things from people at a very low price. And originally I was doing yard sales and setting up at local antique shows and flea markets. And that's some work. I raised horses. I was plowing my arena and I had the radio on. And there was this ad talking about this thing called eBay. It was October 1998. eBay had just gone public. So it was like big news. And I ran inside the house. I pulled it up. Wow. Because by then we had the internet and it was like, oh my gosh, they made this for me. <Laugh>
Danni:
And like the rest is history. I mean, that, that took me from all of that grueling hard work of setting up all these places I still continue to do. Yeah. but now I could just sit there and list stuff and some stuff I'm like, oh, this is amazing. So I've been doing this since 1998. And then about 10 years ago-ish my mom was still working outside the home and being a caretaker for other people. Yeah. And she'd call me. And she was so exhausted and she's like, yeah, this guy had me carrying his laundry, you know, up and down the stairs. I'm like, mom, you cannot keep doing this. And she's like, well, I don't know what I'm gonna do. And I'm looking behind her. We were on Skype at the time. I'm looking behind her. She's got, she's got all of this yarn on the wall. I'm like, have you ever thought about reselling the yarn that you don't use? Oh, there's no, there's nobody's gonna buy that.
Clara:
Oh my, oh my…
Danni:
We did a couple of searches and she was like, what? <Laugh>. So I taught her through the power of Skype and you know, a platform much like we're talking now virtually cuz she lived in another state. Yeah. And within six months she was able to quit her outside job and do something that she actually really enjoyed doing right from her home.
Clara:
I love that.
Doug:
And that's when I just started teaching others. Like, if I can teach my mom, I can talk to anybody.
Doug:
<Laugh> that's awesome.
Clara:
How beautiful, thank you. It touched my heart, you know because I helped my mom to complete her high school degree. After I graduated as a lawyer, I could tell she had a chip on her shoulder and the gratification you get to give back to your parents. I have to say, you know, this has touched my heart. Thank you, Danni. You have no idea. You, you just gave me so much love. Food for the soul I call it.
Danni:
My specialty is teaching those who don't think they're teachable.
Doug:
Wow…
Clara:
Amazing.
Doug:
That's yeah, that is very interesting. And that's why I love the seller community. And that's what I always say when I worked at eBay and at some point when I connected with the community a huge like a giant switch flipped for me. And I was like, I can't believe all the lives that have been changed. And that's why I love eBay. I'll always love eBay. And I love the seller community, just all the amazing stories and all the life-changing stories that are related to eBay selling online. But eBay in particular, Clara is a great story. Danni, yours is a great story.
Clara:
And yours <laugh>
Doug:
<Laugh>
Clara:
Thank you. Thank you, eBay. By the way, we're not getting paid by eBay, but it's just a reality.
Doug:
Yeah. I'm where I am, where I want and need to be, you know, right now I'm very lucky but yeah, and I love being part of the seller community. You know, the brief several months I was away from it. I really missed it and then connected with Clara. But the seller community is amazing. It is. We're all gonna tear up now I think.
Clara:
<Laugh> yes. I hope let's hug each other <laugh>
Doug:
Danni. You're very well known as thenichelady or thenichelady. Well, first of all, I want to know the different pronunciations. You've heard of that and then where that came from.
Danni:
Yeah. I don't…you say potato? I say potato, niche, niche. I don't care how you say it. Just say it. <Laugh> When I originally started teaching people, I was known as the Danni app, and that kind of came around by accident. I was on some other podcast and I don't even remember which one that was, it was years ago and the co-host was asked, well, what apps do you use while you're out? You know, sourcing in the thrift stores and such. And he says, oh, I use the Danni app. <Laugh> and it just kind of stuck because, you know, I teach people not to have to use a lookup app while they're out. Like, you can build your niche, you can build that thing that you just know that you can pick it up off the shelf and know that that's profitable versus having to look up every single item that you're shopping for. So that's what I really teach people is like, learn something that you just know. I mean, doesn't mean you can't expand out of that, but mm-hmm, <affirmative> your niche is that your money is your niche.
Clara:
Wow. What? I love it. Okay. I've never thought about it. And I tip my mistake as a reseller, in the beginning, just reselling everything. And I stayed like that, but it's true and I niche down in clothing and that's when the big change grows. Thank you for sharing that, Danni. Incredible. Now please tell us about the NICHE Foundation please. And I'm sorry if I mispronounced it…
Danni:
As I said, I love the way you say it. So five years ago I became a single mom myself. Okay. And I had never been the breadwinner in the family, my reselling and everything I did was just our fun money. And so I found myself having to support two children on my own. And there was no job I could go get, I'd never gone and got a formal education. I'd had no training other than selling stuff online. And so reselling was really what I had to fall back on. I took some time off of eBay. I really, it was really funny because I just wanted, you know, you know, when you go through a thing you just wanna shut out the world and try to do nothing. Yeah. And so I did say I was gonna go get a job and I bounced around a couple of different things. I managed an auction house, and then I got called by a lady who owned a thrift store. <Laugh> okay. She goes, we're having some issues with our eBay. Could I just consult with you? Could you just come in like, you know, maybe like one or two days a week? And I'm like, okay, you know, <laugh> So that one or two days a week turned into me finding all kinds of problems within her organization. She fired the girl who was managing her eBay department. She says, well, can you just take this over until, you know, I find somebody else, well, she never found anybody else. And that turned into me working 40, 50 hours a week driving across town. And I started clicking to me like, why am I doing this for somebody else for 12 bucks an hour?
Clara:
Ouch.
Danni:
And then I was like, all right, Danni, you gotta get back to this. You gotta get back to your reselling. And that's what I did. Yeah. So from coming out of the, being like macaroni and cheese every night, kind of a single mom, I figured that I'm not alone. There are other women who don't even have that background of reselling to fall back on, but they can learn. Yes. And so I am founding the niche foundation, which is a nonprofit specifically that sets out to help those women coming out of bad situations that find themselves all of a sudden, not able to go out into the job market. And get a sustainable income. But we all know the sky's the limit with reselling. You can be as big or as small as you wanna be. So my heart is to get those women built back up and raise those kids as strong mamas. And there we have it. <Laugh>
Clara:
Danni, your story touches me so much. My dad died when I was nine and my mom <laugh> had to raise me. I was nine years old, my brother was 12. And yep. She had no, look I'm choking. She didn't finish high school and she had to be a cashier. She managed to get a job as a cashier. I'll never forget with no high school degree and with inflation and recession in a third-world country. And your story touches me a lot. When we finish this, I would like to make a contribution to your foundation, please.
Danni:
Thank you.
Clara:
I don't even know. Oh, I don't know what to say. No, I mean it, thank you, Danni. I'm touched. Oh, okay. Clara back. <Laugh> You're udderlygoodstuff on eBay. How did you come up with that? <Laugh>
Danni:
Well, back when I was married and I was raising the horses, so I'll, I'll try to shorten this story. So I started raising thoroughbred horses for the racetrack. Okay. And one of the things you do is when you have a young horse going to the track, it's better for them if they have a goat companion. So I started raising goats to go with the horses. Okay. Wow. And I chose dairy goats. You know me a little bit, but it's like, I don't do anything. Just this much raising goats. I'm like, oh, there's a whole world of goat raising and showing and you know, all of this. So I started raising and breeding goats to show I got all the way up to the national level with these. Wow. Yeah. So milking goats was my life 300 days a year, every 12 hours. <Laugh> so, when it came time to kind of come up because eBay got rid of being able to use your email address as your user ID and to come up with an ID. So I thought utters, oh, I'll be kind of cute and funny, udderly good stuff. But then as I was creating my branding, I was like, well, nobody is really gonna associate goats with udders. <Laugh> so that's where I brought in the cow element. Yeah. This ties into my grandmother who collected cows.
Doug:
That's amazing. <Laugh> that didn't pop up in the research. So…
Danni:
<Laugh> and she, okay. This is a really funny story. She started collecting cows. How, because she worked for Alpha Beta. If anybody remembers Alpha Beta. Yeah. She worked in the dairy department of Alpha Beta. Wow. And she had a coworker give her a gift of this little cow figurine, which, you know, she's very polite. She displays it prominently in her home. Yeah. Everybody coming oversees the cow and thinks, oh, she likes cows and then they start gifting her cows. That's just hilarious. She just had cows everywhere. Confessed to me when she was older, she goes, you know, I never really liked cows.
Doug:
Were you utterly shocked by that?
Danni:
<Laugh> utterly
Doug:
<Laugh>. So Danni, what are the unique challenges in selling antiques and collectibles?
Danni:
Learning what the stuff is and learning what's quality and what's not mass-marketed and what's still gonna sell, especially in the times that we're going into with a harsh economy. My thing has always been to cater to the people that have expendable income if you are gonna deal in stuff that is not necessary to live. Who needs a mosaic elephant?
Clara:
Love it. Okay. I have to tell you, I love it. I want it. I know. Isn't it great? It's so cute. OK. I want it.
Doug:
Sold!
Danni:
But the person that's gonna buy that is not somebody who's wondering how they're gonna put the next gallon of gas in their car. So you really have to think about those things and that there is still, even in the worst of times, there is a very large segment of people who still have money to spend and you have to gear things for them. The things that don't sell anymore are, you know, I hate to say it Precious Moments and little other Enesco figurines. And then, you know, just the little tchotchke stuff that somebody who's got some expendable income is probably not interested in. They want the bougier items. So it's a challenge to learn what is good? What is not? I put my focus on glass way back in the early two thousands. Because glass was something like, number one, it fascinated me. I love it. You know, the story behind a piece of glass that's a hundred years old that you think about was somebody's prized possession. Like they are just in the depression era. It was like the only awesome thing that they had, you know, and they cherished it, and then it survived all these years. So, I love the story behind glass, but I also started finding that. Not a lot of people know what good glass is. So at the thrift stores, glass, they price it all the same at, you know, estate sales. They don't research everything. They can only go, you know, by what they know. So you can find really good glass at really low prices and then sell it for huge margins. So that's just like one of the things that I, I found a passion in and love to teach other people how to discover it because there's, there's glass ending up in the landfills that shouldn't be. And it's just because somebody didn't know what it was.
Clara:
Thank you. Thank you. And even, I, I always say even broken glass selling for projects, you know, for mosaic projects.
Danni:
I started my personal business. I have one particular pattern of glass that I collect. It's gillinder deer and a dog, super hard to find like I'm probably the one that scoops up 99% of what comes on to eBay. But I started out buying chipped pieces cuz that's all I could afford you know, and it was, and they were still expensive. So yeah, if it's high-end glass, the chips are not gonna keep you from selling it for good money.
Clara:
Yeah. Nice. Nice to say now how has selling antiques and collectibles okay changed since you started?
Danni:
So what has happened is because we went from little local markets, you know, when I'd go set up at a show, it was a rare item. Yeah. You know, and then eBay opened it up to like, oh, now all of a sudden you've got hundreds of thousands of sellers now who can put this same item online. And now that goes back to like the precious moments and the things where if they were originally mass-marketed. Yeah. They're really saturated out there. And, and that was something and it's still something that sellers have trouble with an understanding of like, why isn't this thing worth the money. It should be worth it because I paid $25 for it. 20 years ago. And now it's only worth five and yeah. So yeah, it's, it's just been supply and demand.
Clara:
That's right. An emotional value versus real market value, you know, that's yeah. Too very…
Danni:
We've got millennials now who are your shoppers. Yes. And they don't have that same sentimental attachment to like actually what the piece was used for how old it is. They just care if it looks cool.
Clara:
Yes.
Danni:
Of it.
Clara:
What could you say is when you sold something, what is the best item that you were like, oh wow. I'm not talking about profit. I'm talking about one that was like your favorite piece and that you were so happy with the transaction and the customer that you still remember about it.
Danni:
Yeah. I have, I have a great story about that. So I used to buy storage lockers before storage wars came along. <Laugh> when it was really like, it was a treasure trove.
Clara:
Abundant.
Danni:
<Laugh> and I bought this locker. It's so funny cuz I bought this locker based on the fact that it had all this commercial shelving in it and I wanted that shelving for my garage. So I based my buy price on the value of that shelving. I, I, I had blinders on as to what else was in that locker. I was not even seeing it. Yeah. So I went to $400. I won the locker, and started going through it. It turns out the contents belonged to a woman who had worked for NASA since the beginning of the space shuttle program.
Doug:
Wow.
Clara:
Oh my, oh my…
Danni:
She never threw away anything. So there were boxes and boxes of all of these NASA pins and badges and photos and, and autographs and oh my gosh. It was wow. It was crazy. So I got down to like, I, I was kind of sick of listing and selling all this stuff and I got down to one little box full of photographs and I was like, you know, I'm just gonna donate. I'm tired. I'm gonna donate it. I've made my money. I'm you know, and, and my husband convinced me, no, you better go through it. Just, just go through it. Okay. And I'm sorting through. And all of a sudden I pulled out the holy grail of NASA memorabilia, which is an autographed picture of Neil Armstrong.
Clara:
No way.
Danni:
<Laugh> yes, yes. I put it on auction on eBay. And I started it at $19.99. And it sold for $4,000.
Doug:
That's amazing.
Danni:
Yeah. And the story behind that is Neil Armstrong never signed anything. He wouldn't even sign checks. He did not want his autograph out there. So if you get a real Neil Armstrong autograph, it's worth some money. <Laugh>
Clara:
Amazing. Wow. What a story Danni.
Doug:
Yeah, that is, that is pretty amazing. You used to run an auction house. You've done this all. You started as a little girl in this business. You've seen it all. You've done it all by hand. And then you made the jump to selling online. So think back a little bit. What have you taken from that experience in your online selling?
Danni:
It's understanding that you're still dealing with people. I and this is something I teach all the time. Set your emotions aside when, when in a transaction and just take a minute to step back and feel like how you would feel if you were in the same position, because that buyer doesn't know you, you're not a person, you know, that they can come up to and talk to like in a real-life event. And so from doing the real-life events and talking and negotiating and, and learning how people want to transact, you take that now into the online world. People get really upset by low-ball offers. And it's like, it's not personal. It's not personal. They're just trying to get the best deal they possibly can. So take your emotion out of that and be offended and go, Hey, somebody's interested in this item. Let's have a conversation and go back and forth because there's a rule of thumb for what I call the old-timers in the antique world is he who gives the first price loses. So now obviously they have to come in with something for an offer. So they're gonna come in as low as they can. So that you come back with your number that's right and start the ball rolling. So, just remember if you're selling antique collectibles, these kinds of impulse items, there is no set market value. Hmm, it's all what somebody's willing to pay and how you do the negotiation. Yeah. And it's never, never a personal assault on you. If somebody comes in low and just remembers, you're, you're just dealing with a person who's like you, they want a good deal. They want the item and it's really good for your eBay algorithm to have that interaction with the customer. So let it happen.
Clara:
Thank you. Yes. Spot on there. Top, top advice. That's incredible answering messages right away from customers. Negotiating with them will help your eBay engagement and exposure in ranking visibility.
Danni:
And here's another favorite saying of mine. Yeah. I hate to admit it. I got it from my ex, but you can't go broke taking a profit <laugh>. If that offer gives you a good profit, sell it, turn that money into something else and something else and something else and keep the profits flowing.
Clara:
What advice do you have for someone looking to get into selling antiques and collectibles? Let's say I'm new, okay.
Danni:
So it goes back to what I said, start with something either that you already know or that you're interested in learning about and just delve into it. Research learn, go over to eBay, search the sold comps sort by highest first learn what those items are that are bringing good money. I do that with every single thing I sort by highest first because then I learn something else. It might not be the item that I have, but I'm going, I've seen those out there before. Yeah. And pretty soon your database of knowing which items are really good to pick up, grows and grows and grows. I got all this stuff over here because yeah. I just did an unboxing on one of my lives, but yeah. I pick up things sometimes just because I know they're good quality. They speak to me in some way. So I bought this really pretty ashtray. Mainly cause of the color. And then I saw on the back it was signed now I didn't, I didn't research this out in the field. Yeah. yeah, but I ended up researching it yesterday. Yeah. And this is 1950. I don't even know how you say it. It's wow. It's P I S G A H forest pottery. And I'm like, oh, okay. I'll look it up. It's worth hundreds of dollars.
Clara:
<Laugh> wow.
Danni:
I didn't know that when I bought it, but because I've had my hands on so many cool things, I knew enough to know it was quality and knew that I could pay the $20 and at least double my money.
Clara:
Was it the weight? Was it the colors or the art or the design or all of the above?
Danni:
It's the weight. It's and it's not just, so there are lightweight items and there are heavy items. Yeah. So it's the weight of what the item is. Oh, so like a dainty little piece of crystal. Do you want that to be lightweight? You don't want that to be heavy, but a nice quality piece of art pottery. You wanna feel some weight? You wanna see that? Oh yeah. I can see that the technique that they used on the glaze was good. And, and then, you know, you look at the back and you see the age, the signs of age mm-hmm <affirmative>. Okay. Well, I know this has some age on it versus like a contemporary piece you'd pick up at HomeGoods. So you just kinda learn those little nuances and you'll know the stuff to start picking up.
Clara:
That's amazing. Thank you for sharing that with our community. You're so experienced about it.
Doug:
And thank you for the great segue, because you said unboxing in your lives. So let's shift over to your YouTube channel, thenichelady on YouTube. So what can sellers find on your YouTube channel?
Danni:
Five days a week I put up the content of me actually going out, sourcing the things that I sell myself. And as I'm sourcing, I'm, I'm talking to my audience and saying, why I pick something up or why I left something behind trying to teach others how to go out there and, and shop as if you don't have a phone to rely on, to look up those prices, you know, the, picking it up, the feeling the what to look for. And then I try to make it fun too. The lady who works for me, her name is Carrie. She started shopping with me on Wednesdays. We go cuz it's senior day <laugh> and we got nicknamed cheesy and spicy
Clara:
<Laugh>
Danni:
Cause she's, she's kind of spicy and I'm, I'm the cheesy one with, you know, the dumb jokes. So we make it fun too, you know? And that's, that's like my tagline goes be profitable and make it fun. Cuz that's one of the joys of this business is its work, but it's fun. And then the other days of the week, so Mondays and Fridays, I go live on Mondays. I do some type of reseller content or I have a guest on and it's related to selling online. Yeah. And then on Fridays, I do a live sale. I just take the items. I start everything at a dollar. Yeah. And sometimes things go to resellers and I'm happy about that. Sometimes I have collectors there and the prices go high. It's a really nice mix. And it's a really nice community. There's a chat. Everybody now knows everybody and welcomes in the new people. And it's just a lot of fun.
Clara:
So I was there. So that means anybody from the audience can make a bid and then you sell it to them regardless if okay, that's it. Okay. I'm attending to your lives. That's it? You know, I love your stuff. <Laugh>
Danni:
I mean, it's a really great way to sell because obviously, I'm not paying eBay, you know, 15 to 20%. Yeah. On top so I can let things go cheaper.
Clara:
Wow. Amazing. Danni.
Doug:
Clara wants that elephant. She'll be keeping an eye out for it tomorrow.
Clara:
I'm making the bid right now. I'll pay $50 for the shipping. Okay. <Laugh> I love it. It's like right. Isn't that true? When you buy that stuff, I don't care. If they tell you $50 for shipping, as long as you put it with some bobble and you make cute shipping, we'll pay it.
Danni:
So you know that you just made me think too, you asked about the challenges of selling antiques and collectibles…it can be learning the shipping. Yeah. The shipping can be challenging. You gotta learn how to get that stuff. So where, and this is like, so I do live shipping. Oh also, I do that. I have a little membership level where I, just bring you to my shipping room and you can watch me ship. But I also have a playlist showing previous, you know, I would do like what sold on eBay and I'd package it up. But here's the thing. And people hated when I did this. Yeah. After I packaged the package up, I would toss it across my garage floor onto the cement floor. And they're like, don't do that. I'm like, if you don't feel confident doing that, it's not packaged. Good enough.
Clara:
Wow, Danni <laugh> I just learned…
Danni:
That was gonna happen in the process of that last gonna, never, it's gonna get banged around.
Clara:
I never thought about it now. You're motivating me to do that if I pack delicate. Wow. That's incredible. Thank you, Danni, for sharing that.
Danni:
Yeah.
Clara:
And you also have said that you also have a members-only YouTube channel. Could you elaborate on that? You mentioned that it's about shipping and what else could I find in your membership YouTube channel, please?
Danni:
So, because YouTube does allow little membership levels. I have a $2 level, a $5 level, and a $25 level. Now my $25 level. It's like, I go in, you know, we do, we review the stores. It's like some serious one-on-one coaching. Oh. and then the $5 level is where every single week I bring everybody into my shipping room. We go over what's sold. You get to watch me package it up and ask questions and learn about the shipping end. Cuz that does seem to be the piece that causes people not to even wanna start selling. The shipping scares me. Yeah.
Clara:
Yes. So that's why I did clothing. I could, I couldn't imagine the risk of selling something and then I package it wrong and then I lose that money. And that's how I stayed in clothing. To be honest, Thank you for touching that aspect because that I think is what's holding back so many people from reselling collectibles.
Danni:
Yeah. Yep. So I help people get over that fear.
Doug:
A lot of sellers we're starting to see have little assistants, whether it's a pet or a dog, a cat, sometimes it's a child. You have a little friend behind you. Bougie your little parrot friend who, seems to factor into your videos. So tell us a little bit about Bougie. How long have you had Bougie and how did that all start?
Danni:
I got Bougie for my birthday in December. He was a baby. He was only, I think he was six weeks old when we got him. He's a Quaker parrot. Okay. And Quaker parrots come in green and blue. Well, you have to pay more for the blue. Okay. So it kind of, and I already liked the word, bougie. It's like it was already my word and I'm like, oh he is Bougie. I'm like, that's it. Right? Yeah.
Clara:
Okay. To our listeners that are not seeing this. Okay. The parrot just said yes, and nodded okay with Danni at the same time.
Danni:
<Laugh> I don't know if he's coming through, he's saying, are you a good bird? <Laugh> and he's nodding his head yes. <Laugh> he's actually on the payroll. I found out through my tax person that if you have a regular animal appearing in your video production, they can have a salary.
Clara:
That's right. And, and it's a write-off, you know, because they're really, they're helping your business. The pet is part of your reselling business or whatever you're doing to increase your profits. So, yep. H
Danni:
He pays his way, right?
Clara:
That's right. <Laugh> I love that. Boujie.
Doug:
Now my dogs sleep at my feet all day. Does that count, if they snore <laugh>
Danni:
Put a camera on 'em <laugh>
Clara:
We need to see more, Kevin and Moose Doug, and then we can make it a write-off.
Danni:
A lot of people know me for my animals. We have, I mean, almost every one of them is rescued. He's like an exception. I usually don't purchase animals. I am a rescuer. We have two dogs. We now have 16 birds. Mostly parakeets, mostly parakeets. Yeah. I have five turtles, and tortoises.
Clara:
Aww.
Danni:
And we now have an axolotl. Oh yes. We have five Guinea. Pigs. I almost forgot the Guinea pigs. Yeah. We have a little menagerie.
Clara:
<Laugh> I love it. Okay. I noticed on Facebook, that I saw one of your tortoises needed to go to the vet. How is the turtle doing?
Danni:
She's doing well. Like we finally figured out how to get the medicine in it, trying to get a tortoise to open its mouth. Yeah. That's a challenge. <Laugh>
Clara:
To say the least.
Danni:
Yeah. We've managed. I found out the formula of just how much food she'll eat in one sitting. And I put the medicine in that and now she's eating it and…
Clara:
So…
Danni:
On the path to health.
Clara:
Oh, I love it.
Doug:
And since I'm gonna have to look up the spelling of axolotl, what is an axolotl?
Danni:
<Laugh> They are like the new trendy. I think they're amphibians, but they never come out of the water. They look like a salamander with big gills that flare out. They're really cute.
Doug:
I think I saw a picture that you posted recently. And I was like, what is that?
Danni:
But they eat worms. So my daughter has to take care of that.
Clara:
<Laugh> Danni. I wanna switch subjects now. Okay. And of course, you know, as I love The Seller Community Podcast and our community, I have to bring in a List Perfectly. I would like to ask you, how did you discover List Perfectly?
Danni:
You know, it was through the community, you know, people started talking about it. So I went and checked it out, and I will honestly say I was one of the holdouts. I was like, oh, I don't need this. I can keep doing this myself. This makes no sense to me. And then as I started to more and more realize how precious time is, I thought, you know what? This is dumb. Like I need to just automate this more and List Perfectly, I, and I learned about you guys and, and your foundation and being resellers yourselves, which made it very, very interesting to me. It's like, oh, this is a company that understands what we need. And so I don't even remember how long I've been using it to tell you the truth. But like, there was no looking back. I've had issues where eBay has lost hundreds of my drafts. Because I would have people create the drafts for me. And then I would put so many up per day and then one day they were all gone. Huh. And then for me, that was like, I will not use List Perfectly because I can store those drafts now in List Perfectly. And I never have to worry about some dumb eBay glitch that wipes out all my drafts. It's all right there. So it's a really super valuable inventory management tool for me as well as for cross-posting to other sites in a fraction of the time it used to take me to do it.
Doug:
Yeah. And you mentioned inventory and crossposting and what other ways has List Perfectly changed your business?
Danni:
Oh, just being able to, you know, take that inventory that used to only be on eBay. Oh. And I can have that same inventory on Etsy, and Poshmark. I used to do Mercari, but I've cut back from Mercari. We have a little, it's like a divorce. We'll that way <laugh> we had our issues, but many, many people use Mercari very successfully. Yeah. I know there are people just rocking it on Facebook Marketplace. I personally don't use that, but that's a, it's a personal reason because of all of my niche lady branding and communities and everything is associated with Facebook, I just don't even take any chances with that. I wouldn't be on those other sites if I didn't have List Perfectly to help me manage that there would be no way I could keep up with it. And so it expands my market and people think, well, you know, aren't these same customers the same, aren't they looking at all the sites? No, no. There are completely different demographics of, of customers on every single one of these platforms. They are not the same customer. And, and as resellers, we think that, well, just everybody knows, you know, that you can go to all these places, but yeah. But they don't, people like to pick a thing that is their thing, their comfort zone. And that's where they go. So if they shop on eBay, that's what they're loyal to. If they shop on Etsy, that's what they're loyal to and different sites, different pricing. Like…
Clara:
Thank you.
Danni:
You can price up on Etsy. And I know I'm gonna put this out there. I'm still crossing my fingers for Cherish to be added to List Perfectly.
Clara:
<Laugh> you got it. It's on the list. It's on the list
Danni:
But Cherish is ridiculous how much you can mark things up. Okay. Because you're catering to people who are spending rich people's money. Yeah. Decorators, interior designers like, they're just looking for that thing. Yeah. If it fits in the budget, they're buying it. Yeah.
Clara:
So yeah. Bougie agrees.
Danni:
But even then, even the things I list on Cherish. Yeah. I have those listed on the other sites. So if I sell it on Cherish, I just go over to List Perfectly, de-list, boom, taken care of.
Clara:
<Laugh>. Do you think Danni that I oh, honest, by the way, I think you've been with us for two years and eight months, if I'm not mistaken. Okay.
Danni:
That sounds about right.
Clara:
List Perfectly has evolved a lot. Okay. And we have added so many features, but do you think you use LP the same way when you started, or have you changed the way you use List Perfectly?
Danni:
Oh, I've definitely changed. And, and a lot of that has to do with, you know, you've added such incredible features. I think the real game-changer for me was when you made the catalog unlimited <laugh>, you know because now I don't have to worry, you know, about how many things I know I can keep adding and growing my inventory and, and not worrying about watching. I don't like to watch numbers. I, I will confess like, yeah, numbers boggle my brain. So if I know something is just free <laugh> this motivation to list more, to do more, to grow more that's right. And I'm just like, I am just thrilled if List Perfectly, never did anything else different, as I would still stay and, and it would be like the most amazing thing for my business. It's probably my most important tool in managing my business. It truly is because I would have complete chaos without it, with trying to figure out, because I'm not an analytical person. I'm not really organized when it comes to keeping track of what's where, so for me, it's like, yeah, it's worth its weight in gold.
Clara:
Yeah, definitely. We'll be adding more features. And I'm excited because, with bigger sellers like yourself, we need to provide a tool that is gonna remove automatically, not semi-automatically right now, but automatically your sold listing, especially when you're growing your business so fast. We understand, and this is what we're gonna be doing before, adding more channels. And that's the only reason we're delaying a little more channels than it, but I promise you we're coming with more channels.
Danni:
I trust you guys. <Laugh>
Doug:
What are three adjectives you would use to describe yourself and your business?
Danni:
Fun? Definitely. Like fun. <Laugh> everywhere. Determined.
Clara:
Certainly.
Danni:
You know, and, and Clara, you probably know this as being a woman business owner. That's right. You have a lot of people telling you…
Clara:
No.
Danni:
You can't do this. That's never gonna work. Um, so I'm determined. I'm determined to prove 'em all wrong. And it's been a pretty exciting ride. And, and I would say I'm optimistic, you know, I've learned with all of the really bad stuff that's happened in my life. Yeah. I can now look back and go, I see the good that came out of that like I had to go through that. So I can be at a place where I can help people going through that. Mm-Hmm <affirmative> so it's just optimistic that whatever's going on, whatever trial that it comes up in life. It's an opportunity. It's a growth period. It's like, okay, something really cool is gonna happen out of this. Let's just, let's just get through it. That's right. And Dory would say, keep swimming, swimming.
Clara:
<Laugh> I love it. Just keep swimming, just keep swimming. I love <laugh>. I would add one more thing. I know you ask for three Doug, but knowing Danni, you know, and we talk very frequently, I would say you're so transparent. That's one thing that we really have in common it's so easy to get along with you.
Danni:
That's the way to connect, have a real human connection with people. Just show 'em who you are. Because I think a lot of people are afraid. They're afraid. Well, what if, what if they don't like me? Well, yeah, if they're looking at a false perception, number one, they don't know whether they like you or not. It's, that they're determining whether they like this false perception. So, yeah. And I've also grown, like, if you don't like me, that's okay.
Doug:
<Laugh> that's okay. Yeah. Yeah. Oscar Wilde said, be yourself. Everybody else is taken.
Danni:
Yes.
Clara:
That is so, so true. And thank you again, Danni. This has been, can you believe it's been like what? Almost 50 minutes. Okay. That we've been talking and it feels like five minutes. This has been incredible, Danni. Doug, thank you again because I know you organize all this, you make it happen. And, and, you know, like I always say I'm the pretty face here, you know, but <laugh>, you know, I, I'm just so happy that you made this time for us in our community. And I got to even know you at a deeper level. Thank you, Danni. And thank you, Doug.
Doug:
Yeah. And thank you, Clara. And thank you, Danni. Anything to add before we let you go?
Danni:
Ah, just wanna tell everybody, you know, keep, keep your eye on the ball, like set your goals for your business. And it doesn't matter what everybody's telling you out there. If you know, in your heart, you can do it and you can make this work. You can make this work.
Clara:
Wise words, you heard it.
Doug:
Thank you so much, Danni Ackerman, thenichelady, udderly good stuff, antiques, and collectible sellers. And I was very excited to talk to you. I didn't bring this up. I was dying to, but now I will. <Laugh> cause it's our show, my best friend since junior high, and I won't tell you how long ago that was <laugh> is an antique and collectible seller. And he's just focused on eBay and he's been selling for a long time and he used to do really well, but things have changed. And over, over the years, he's kind, he would come to me for eBay advice. And I have, you know, like the general advice and I would give he'd ask about something and I would say, blah, blah, well do this. That doesn't work in the antiques and collectibles niche. And it's interesting because I've learned that it doesn't. And one of the big things is exactly, like you said, it's like, it's a particular audience looking for particular things. They're gonna pay to get stuff shipped cuz they don't want it broken. They're gonna pay, you know, they're gonna pay premium prices for a painting or he's got some bizarre stuff. One time, years ago, he used to go to Europe and he would buy stuff and ship it back over. So one time, years ago I went up to his house to hang out and I slept on the couch. I don't even know what they're called. Basically, the giant Jesus's that are in churches on crosses. There was one of those there. And then I found out the next morning that the coffee table was a Puritan wakeboard.
Danni:
Oh wow.
Doug:
And I survived the night.
Danni:
<Laugh> wow.
Doug:
<Laugh> yeah. I, he should have told me at least that one beforehand, but
Clara:
That was my favorite thing to source around the world or delivery, delivering stuff that was expensive. I love doing that one. That's my favorite, Danni. You know, if I had an expense, anything that was about $2,000, I was like, okay done. I'm buying the airplane ticket and personally delivering <laugh>.
Danni:
Oh, cause then you get to write it all off.
Clara:
Yes and then I can go sourcing and I save on the risk of shipping internationally an expensive item.
Doug:
You didn't throw it across in your garage after you packaged it.
Danni:
<Laugh>
Clara:
I didn't do the test. The Danni test. I'm gonna call it a Danni shipping test.
Doug:
We should do, we should do a live or something or a shipping video with Danni and highlight that if you can't trust your own shipping…
Clara:
I have some big ideas with Danni.
Danni:
<Laugh>
Clara:
Oh, I wanna do it. Oh, I have some big ideas. Danni, you make it so fun again. Thank you so much for your time.
Danni:
Always, always a pleasure. Yeah. As I said, List Perfectly has changed my business and I want everybody to know just how pivotal it is in my business.
Doug:
Doug: Thank you for joining us on The Seller Community Podcast from List Perfectly. You can find us at thesellercommunitypodcast.com. You can leave a message or ask a question at anchor.fm/sellercommunitypodcast. You can email us at podcast@listperfectly.com. Post a question in the List Perfectly Facebook group at facebook.com/groups/listperfectly. You can listen to The Seller Community Podcast anywhere you listen to podcasts and be sure and subscribe, tell your friends, and if you're on Apple Podcasts or Spotify, please leave us a review on Instagram and TikTok. You can find @snoop.dougie and of course, follow @listperfectly. And you can always use our promo code podcast. That's P O D C A S T for 30% off your first month of List Perfectly or 30% off your first month of upgrading your plan. Thanks for listening. And we will see you next time.