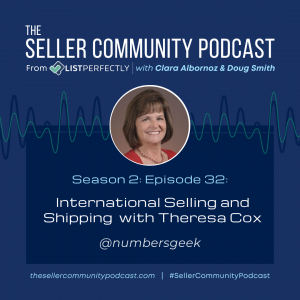 Theresa Cox returns to help us alleviate some of the myths and fears surrounding international selling and shipping, and tell us that it's OK to sell and ship internationally!
The Seller Community Podcast from List Perfectly is the ecommerce resource for the seller community across all platforms and a hub for information on growing your business. Find out more at thesellercommunitypodcast.com, leave a message or ask a question at anchor.fm/sellercommunitypodcast, or email us at podcast@listperfectly.com.
List Perfectly is the ecommerce resource for selling across multiple e-commerce platforms including eBay, Poshmark, Etsy, Mercari, Kidizen, Grailed, Depop, Tradesy, Facebook Marketplace, Instagram, and Shopify.
Links
Seller Community Podcast on Anchor
Episode Links
Pirate Ship international shipping
eBay International purchases and shipping for buyers

Selling internationally with eBay

eBay international standard
eBay International selling policy
eBay international standard delivery

eBay Global Shipping Program
Transcript
Doug:
Hello, and welcome to The Seller Community Podcast from List Perfectly. This is season two, episode 32. There is no introduction needed, but I will introduce this lady anyway. She's been on the show definitely more than any other guest we've had. I'll have to get her count. We still owe her that velvet jacket. Maybe a t-shirt, maybe, a List Perfectly. T-Shirt if she doesn't have one
Clara:
The golden watch…
Doug:
That's right. Golden watch. I laugh every time we say 25-plus year seller on eBay, cuz it's gotta be close to 26 at this point. So maybe just 26 years selling on eBay…List Perfectly's first user, community leader across the board. Fabulous host of Listing 101. Ladies, gentlemen, she needs no introduction. Please welcome Teresa Cox to the show.
Clara:
The crowd goes wild…
Doug:
And the crowd goes insane. Ladies, gentlemen, here she comes. She's got her red shirt on. We're all wearing red in honor of Theresa Cox. And today we're…
Theresa:
I appreciate that.
Doug:
…And Our topic today is selling and shipping internationally using eBay with the fabulous Theresa Cox.
Theresa:
Hey everyone!
Clara:
Welcome.
Theresa:
Thank you. Glad to be back. It's been a while.
Clara:
We're so happy to have you back Theresa and thank you again, like I said, we owe you a golden watch or a robe, okay, with your initials. It's overdue and thank you for making time to talk about such an incredible topic that is almost taboo for many sellers. Theresa, you, you have what 20? We were just saying 25 plus of reselling experience. Do you remember, when did you start to sell internationally, please?
Theresa:
You know, it was in the early days. I mean back in 95 when I started selling on eBay you know, selling international was very different than it is now, but I think that it was right out the gate. You had to, you had to learn a few things and tips and tricks about which form to use at the post office, depending on how much your item weighed. But yeah, I didn't, I don't think I had any reservations probably because what you don't know, you don't know. Yeah. And so I just decided, Hey, this is a global market. I'm gonna take advantage of all the countries and all the buyers. And I just started off selling international. It was, I treated it, I didn't treat it any differently cuz I didn't know any different.
Clara:
That's amazing Theresa that you took that challenge so early on, on your reselling journey.
Theresa:
Again, you don't know what you don't know. And back then it was very different where you had to go to the post office and it was very common for people to charge a surcharge for international shipping back in the day. I don't do that anymore. I think it's, I think it's a rip-off if you do because shipping international today is just as easy as shipping to California or New York or Florida. I mean, it's just, it's just the same thing. It's just so easy. No standing in line, no, getting a form, no filling out the form and duplicate and quad duplicate and all that sort of stuff. So I've never not shipped international.
Clara:
I'm curious, Theresa, were you back in the day doing this, the handwritten custom declaration form?
Theresa:
Absolutely. Oh absolutely. And then you have to learn because yeah, you have to learn there's one form to use if it's under four pounds and one form that you used if it was over four pounds and you know, the, it takes you a while to figure that out. And so sometimes you were doing it twice because you fill out the wrong form, so…but then you get used to it and you bring those forms home and have them filled out before you go to the post office and stand in line. And the process was very different. I mean, you even having a digital camera to take pictures was an anomaly. And I felt very fortunate because I worked for a university and I remember we had a $2,500 digital camera that I could check out on the weekends and take home. And I did. And that allowed me to take digital pictures where most people were taking them and going to the one-hour photo and then scanning them. And again, you got one free picture and then every additional picture was 10 or 15 cents. And so that played into how many pictures you had. Sellers today, don't know how easy they have it. <Laugh>,
Doug:
It's interesting you bring those things up. You're talking about early-on challenges. And even to me, international shipping is very scary. What has been your biggest challenge in shipping internationally?
Theresa:
Teaching people that it shouldn't be scary. I mean, I joke about that, but I tell people it's not any different than shipping to California or New York. And you know, today's eCommerce is very different than the eCommerce of 25 years ago. And so 25 years ago there were countries that we didn't ship to. We didn't ship to South America. They had a very high theft rate.
Clara:
Yeah, that's right.
Theresa:
And we didn't ship to Italy. Italy had a very high theft rate and your packages wouldn't make it. You know, over time post offices and, and countries, I don't know, up their security, whatever they did when eCommerce became more global, then it, those issues just sort of fell off. And so I think that for some sellers, they think that those issues are like, when people say, oh, I don't ship to these countries. Like, yeah, that was from 20 years ago. It's okay. The other thing, especially with eBay is to know and understand the different options. You have a global shipping program, which is where you ship as a seller. I would ship it to Kentucky and then eBay takes care of it and ships it out to the countries. And there's also eBay standard international rate. And that's very similar to Pirate Ship's simple export rate. And you don't need to know all this stuff. You just know that you know, you have a, you can, you can print your label and your custom forms, everything on your four by six label printer or on your piece of paper, put on your package and the post office picks it up. I mean, it's really just that easy.
Clara:
Now you are selling on multiple different platforms, okay. Theresa, where are you selling? Which platforms are you selling internationally, please?
Theresa:
eBay and Etsy. eBay by far my biggest one, I sell probably 25 to 30% of my items go international. Oh, Etsy. I have it as an option. I don't think I've ever all, I have, I have sold stuff. I sold a Mary Poppins game to France on Etsy. So I probably sold more than that, but that's what just popped in my head. Yeah. I believe that with Poshmark, you can sell to Canada, but I'm not positive. I haven't had any Canada sales, but I don't think, I think those are the three, at least the three that I use mostly that have international options. And for those that aren't, that, you know, maybe you're not as versed in selling on eBay as I am. I would say to give it a try and do not shut that market down, because think about it. If you're not selling globally on eBay, you're missing a huge market share. eBay is the second largest online platform on the internet. And the fact that they have a global reach is huge. I mean, and I don't know, you may know from your days at eBay, but I don't know how many different countries eBay is in, but it's more than Amazon…
Clara:
Doug looked that up recently. And it was, what was it, Doug? 170…
Doug:
Something crazy?
Theresa:
Yeah, I was gonna say somewhere around 180 is what would be my guess.
Doug:
In some of those countries eBay's the top over Amazon.
Theresa:
Yeah. And so, you know, you, you, do you want to miss that just because you're afraid and no, you don't. And so this is what I tell people when I teach them about shipping and a lot of people will use the global shipping program. And it works for a lot of people. It doesn't work for me. I tested it out for six months and it had zero sales using global shipping. And then, I have seller friends that sell car parts. They all use global shipping and love it. And it just depends, I think, on what you're shipping, what you're selling. But I sell, I ship international on my own, which means that I put it, I print the label out and, and do it all myself and, and not use eBay's global shipping program. And it's just as easy as there are a few things. Now you have to put a harmonization code in. And you're gonna go what's that when I ship something, I just Google har what's the harmonization code for toys. What's the harmonization code for shoes, you know? Okay. And you just make that term a very generic term and Google tells you what it is, you plug it in and you're on your way.
Doug:
So Theresa communicating with the buyers, is it more difficult to communicate with international buyers than with domestic buyers?
Theresa:
I don't think so. I mean, Google translate. That's what I use. I use Google translate to figure out what they're asking. And then I also respond in Google translate and I'll type my answer out in English and then translate it to whatever language they're in and post that, and that works really, really well. And it's a couple more steps, but it's, you know, I'm happy to have that. I just communicated with somebody in, I don't remember. They wanted to know if I had a different shoe and a different size or something like that. And sorry, this is the only size I have. Mm-Hmm <affirmative> and that's it. You know, and the other thing that I've learned about with communicating and I only speak English, I speak a little bit of French from high school, but you know, that was way too long ago. And so what I've learned is that when you're trying to communicate, you keep it very simple. You know, Americans have a lot of slang and there's a lot of this and that. And if you just keep it very simple, you know, I'm sorry, I don't have that shoe in size X.
Clara:
Okay. That's great. That is great too, that you're sharing that with our audience because I believe okay. That we are as a reselling community, uh we have like a, almost like a perspective that reselling international is gonna be much more or more risky than selling domestically. Now, have you noticed a difference between returns requests for returns internationally? And we know that eBay does not allow, as far as I know, eBay does not allow international returns, right?
Theresa:
You can have, you can, and international sellers can return. It usually depends on how your business policies are set up. I have mine set up that international actually I have mine set up to buyer pays for return shipping. Okay. Whether it's international or not. And so, you know, a lot of times, if there's an issue of, if it's, I'm not as described or something like that, you have to accept the return. And nine times outta 10, I just issue a refund because you know, most of the stuff that I am gonna be selling, isn't worth it to have the return from international.
Clara:
Got it. Speaking about international sales, I wanna ask you, what's the biggest item you have ever shipped internationally, please?
Theresa:
The first thing that pops into my head was these four-foot Christmas trees that, so it wasn't big and it wasn't heavy, but it was probably, you know, 24 inches, maybe 30 inches long, and maybe six by six. The interesting thing about that, and this is why, I try to teach sellers that don't get hung up on the cost to ship an item. These were pink cashmere, Christmas trees that I bought on clearance at Walmart. One year Walmart was selling 'em for $15. I got 'em on clearance for $2.50. I had probably 15 or 20 of 'em and I sold every single one of those. I listed 'em at $49.99. And I sold every single one of those to Australia, for whatever reason, Australia had a thing for pink cashmere, Christmas trees <laugh> and the shipping on it was $59. So, the bottom item for $50 shipping was $59.
Theresa:
And I didn't have any problem selling them all. I mean, and I'm, that's the first thing that popped in my head as far as the biggest size is 30 inches. Yeah. Anything that's over four pounds goes in a different shipping class for international. So I tend my wisdom in, I don't know, laziness, I'll call it laziness. <Laugh> I don't have a ton of stuff that's over four pounds. And so for anything, four pounds, I just eliminate that part off my plate. And I just ship only to make the global shipping program an option for those items, because then I am only responsible for shipping it to Kentucky and eBay can figure out how to get it to France or Iran or Germany, wherever it's going.
Doug:
Interesting. We just talked about size. Let's talk about valuable items. So you've shipped some pretty valuable items around the world and domestically. So what's the most valuable thing if you want to tell us that you've shipped and what tips do you have to cuz people freak out too sending in something that's worth a lot of money.
Theresa:
Yeah, yeah. You know, in 25-plus years, the only thing that I've ever lost. And I remember I shipped it to Iraq and it was a red-like sandwich maker thing that probably cost me 15 bucks and I probably sold it for $40 or $50 or whatever and they didn't get it. And I don't remember what the situation was, but it was just easier to refund it. I don't know the most expensive, but I will tell you that I do ensure every single international package and I like pirate ships insurance because they will reimburse you for the cost of shipping as well as the item. So if I sell something for $50 and the shipping is $65, I will ensure it for $115. Okay. And then Pirate Ship will, through their insurance program, reimburse that whole $115, if something happens to it, I've never had an issue with an international package getting lost or not showing up or anything like that.
Clara:
Yeah. That's amazing. No, thank you. Thank you for sharing that. And what would you say, what are the top shipping lessons that you would share with our audience that you have learned so far?
Theresa:
For international shipping know that anyone to eight ounces is one price, and nine ounces to two pounds is another price. And then you can have two to three, three to four, and then once you hit four pounds, 4.4 pounds, one ounce, it changes from international first class to international package and the cost to ship. I think it even has to go priority the cost to ship skyrocket. So when I talk about the bigger or heavier packages, everything that I have four pounds in under, not even a question goes international, if it's over four pounds, then I really look at the size and the weight and all that sort of stuff. And I will use eBay's calculated shipping for that. And only for that, frankly, I'm too lazy to figure out how much it's really gonna cost. The other big tip is don't be afraid to do it.
Theresa:
What I tell people is to turn on global shipping, international shipping, don't eliminate any countries, make it worldwide. And when you sell an item and you have a question, come to the Facebook group and ask, we will tell you, it is not that it's overwhelming right now because you don't understand. It's not so overwhelming and hard that we can't explain to you how to do it in a Facebook group. So check those boxes, and offer global shipping or international shipping. And then when something sells, don't hesitate to reach out to your fellow sellers in the Facebook group and get our help on how to do this. It's like your post is gonna be, I sold this to Turkey now, what, and then we're gonna tell you how to do that. <Laugh>
Doug:
Great tips.
Clara:
Theresa, what are the shipping essentials every seller should have, please?
Theresa:
Well, first of all, you need a scale, which is, you know, I kind of laugh, but you know, Poshmark sellers that come to eBay, they have to buy a scale because they've never had to worry about weight. You know, as long as it's not over five pounds, I tell 'em to get on eBay. This is gonna be your first eBay sale. It's gonna help with your feedback and buy a scale. You can get one for under 20 bucks. So you need a scale. And obviously, you need to have some shipping supplies, poly mailers, and boxes. I send quite a few packages to Peru. My minion is serving a mission in Peru. And one of the things that I have discovered is that I do send her a box every month. It doesn't matter the size of the box. Like I would think it did. It goes mostly by weight. So if I have a 10 by eight by six, and it's three pounds, it's the same cost as a 12 by six by six. And for Peru, what I've discovered is that there is a sweet spot and I only did this because I'm sending her a package every month. It's like, if it's a two-pound box, let's just say it's $17 or $18. If it's a three-pound box, it's like $25. So that's only a couple more dollars if it's a four-pound box that $25 jumps to like $38. Huh? So it's like, it's not worth it to me cuz frankly, I'm just sending her cereal and chocolate and stuff like that to eat. <Laugh> it's not worth it to me to send that extra pound for that extra $13. Am I gonna worry about that when I'm selling an eBay item or not, I'm not.
Theresa:
It's just gonna be, this is how much it is. And if it's under four pounds, it is what it is. Even if you have free domestic shipping on your item, it does not mean that international shipping is free as well. It doesn't default to free. I think you have to put in some sort of fee or charge or how you're gonna ship it international. I do international flat rates, same for all buyers. I have this little chart and this method that I use to figure it out. And because I'm not one that micromanages every sale sometimes. And I will tell you, it's been a long time since my little chart. I'm all about making it easy when I list has cost me more money. So if it's something between one and two pounds, I have it set price to $24.99 for every buyer, every country.
Theresa:
Yeah. And if it's two to three pounds, it's $34.99 and three to four pounds is $44.99. Okay. And it doesn't matter if I'm shipping to Japan or if I'm shipping to Chile or Russia, it fits into the, as long as the weight is correct. It fits into those things. The one country with the exception is Canada. Oh. So Canada does get a different rate because $34 to ship a three-pound package to a candidate is too much money. It would cost. Yeah, probably $18, maybe $22. I wouldn't get any Canadian sales if I didn't do that. All right. So again, this is, this is a lot. If this, if you're listening to this and you wanna learn how to do international shipping, I get it's a lot. It's a lot to absorb and you don't have to absorb it. You just have to do it.
Theresa:
I learned this from doing it for 25 years and the same thing with shipping, you know, the best thing, just domestic shipping, the best thing that somebody pointed out to me was anything that's one ounce to one pound is first class and anything, one pound, one ounce and over is priority. When you use eBay shipping, that was all that made all the difference in the world. Then I didn't have to worry about, well, how much is it? What, what, what do I ship if it's nine ounces and what do I ship if it's one pound, two ounces, and so on and so forth. So it's overwhelming because there are a lot of options. But if you just trust the system, maybe start with just close, make your listings available for the international market. And then when something sells, worry about how to ship it, then cuz it's not gonna be as complicated as you think.
Doug:
So Theresa you've used the platforms, the marketplaces, you like to experiment. You've tried different stuff over the years, nearly 26 on eBay. <Laugh> so, and you said you've modified your processes. So what are you using now?
Theresa:
So I ship from the platforms first, when impossible. So I use eBay exclusively for, you know, under a pound. If things are getting media mail, things are gonna fit in a padded flat rate envelope. Say that three times fast. But anything that's in that I can, that I know that I can get a better rate because of cubic shipping, eBay does not offer cubic shipping. Then I will ship that check that prices out through Pirate Ship.
Doug:
Okay.
Theresa:
All right. And also if it's something that I wanna ensure, Pirate Ship's insurance is easier and cheaper than what eBay offers. And so that plays a part in it. The other thing too is I do like Pirate Ship because of their simple export. I said cubic shipping earlier, but it's simple to export. And for international if you sell something on Etsy, Etsy is integrated with Pirate Ship as is eBay. And so when you log into your Pirate Ship account Uhhuh and you click import, then all the listings, sometimes I'm, I'm shipping on eBay and I'm like, oh, I sold something on Etsy. I didn't realize that because I'll see it in my Pirate Ship. So Pirate Ship is just something that I think every seller needs to have in their toolbox. I don't use it for every sale. I know a lot of people that do, but I definitely use it for eBay, Etsy, and some Mercari.
Clara:
That's amazing.
Doug:
I didn't know that about Pirate Ship. You guys are gonna kill me because I didn't know that you could import your listings from eBay. I always do. I have my Rube Goldberg cut and paste system. So don't, don't kill me.
Theresa:
<Laugh> you gotta hit that import button.
Doug:
All right. I'm gonna, I'm gonna start using that. So I love Pirate Ship too, you know, for a lot of reasons, but there are a couple of little things here and there. So to you, what are the pros and cons of Pirate Ship? A lot of sellers use it, but what are the pros and cons?
Theresa:
The biggest one is that it's integrated with eBay and, and Etsy. Okay. So that makes those two platforms very quick and easy. I like their tracking system. I like that you can cut and paste. I like that you can save. So like my minion that I send things to every month, I have her address and her package saved in there. So when I go to ship it's very quick and easy. I just repeat that same package their insurance is, I like the, for domestic, I like the cubic rate. I like their simple export rate. I like their insurance. I like the cost of the insurance. I like the fact that they will reimburse you for shipping as well as the cost of the item. And I like how easy it is when it if you have to make a claim,
Doug:
Is Pirate Ship your favorite international shipping carrier?
Theresa:
Yes. All right. Everything. I will say that everything that I ship international does go Pirate Ship.
Doug:
Okay. That's a good endorsement.
Clara:
Yeah. Now when you ship internationally, things have changed. We talked at the beginning of this session that you used to do the handwritten custom declaration forms now with Pirate Ship and these incredible platforms, making everything much easier nowadays for us resellers. Which forms do you still have to fill in the customs declarations form? Does it, you do it once I'm assuming. And you don't have…
Theresa:
Yeah. So right in the, in the shipping flow on Pirate Ship. Yeah. You have I think the thing, that will get new sellers tripped up is you have at the top of the form, you have your package weight total. Yep. So let's just say the package weight is three pounds and then you have to type in your, you need to disclose what's in the contents. And so if you download and use eBays, eBay, put your full title in there. Yes. So it'll say Nike mens, running shoes, size blue, and you strip all of that out. You make it the simplest thing that you can and you just write shoes. Yep. Or toy or doll, or you just simple, simple bowls, whatever it is, then it asks you for the, the weight of the item. And you, you just need to make sure that the package weight and the item weight match, or it kicks back to you. And then now you have to fill in as recently, maybe in the last year or so you have to fill in the harmonization code, which I don't even have, there's a chart on there. I don't even click on that. I just Google it, done.
Clara:
Back in the day, I used to be a full-time reseller. Do you still have the boxes where you have to choose a gift merchandise sample?
Theresa:
You do you, that's automatically filled out because it's a sales transaction coming off of a platform. All right. So when people message you and say, Hey, can you mark this as a gift? It's very easy to say, no, mm-hmm, <affirmative> all those things are prefilled. And I can't change it type thing, because they do have to pay import tax on. Yes. Those kinds of things where you don't, if it's a gift, which is why people ask that question. Yeah. So all of that is all filled out for you. You don't have to worry about triplets. You don't have to worry about anything. You don't even have to sign it. You just have to sign the form. Wow. And you just print it. And it prints, I have a four-by-six label printer and it just prints on that same label, like my domestic labels do, and slap it on the box and call it a day.
Clara:
Nice. Yes.
Theresa:
Put it out for the mailman. I do ship 99.9% of my international packages do go USPS. Okay. And one of the reasons is because it is reasonably priced. Yeah. And I do have a pickup that comes every day. So I just put it out on the porch and the mail carrier deals with it for me.
Clara:
Interesting. There is, you just mentioned, to keep it simple on the custom declaration forms and remove the vintage notice. Nikes, blue, orange swoosh regional 1994, model Z 1 2, 3, 5, 4. And you said to get rid of all of that and keep it as shoes. Could you mind sharing with our audience? What's the logic behind it, please?
Theresa:
I think, well, because people read that. And so if you want to keep your theft of international packages down, you don't wanna be telling people that these are vintage Nike Air Jordans from 1995. If they even made Nike Jordans in 1995, I don't know. Probably not, but yeah, you, so if you just say shoes, they don't know if it's kids' shoes, women's shoes, men, you know what? They don't know anything about that. And so it's gonna be less likely to get stolen. That's my reasoning. That's the way we still teach to just keep that short and simple. It may or may not be relevant today, but it doesn't hurt.
Clara:
Okay. Audience, I'm gonna add something to the great, Theresa, okay. One thing to keep in mind on top of what Theresa said. Yes, correct. 100%. But one thing to keep in mind is that customs officers don't speak English natively. And when they see all the, not all countries accept vintage, okay. Not all countries accept pre-owned items and it's just most, it's just because they wanna prevent illnesses. And there are other reasons they're not counting that the pre-owned pre-loved item is clean. It's been, you know, stored properly. So that's what I've learned from my experience as a reseller, when I ask myself to custom officers in France and in Germany.
Theresa:
That makes way more sense today. <Laugh> that makes way more sense. So that's, I'm so I'm glad to learn that, that, yeah. I mean, well, the first thing that you mentioned is that not everybody speaks English like duh, and so we should make it short and simple so they can read it and then restrictions on countries about the stuff that they'll accept and not accept it.
Clara:
That's right.
Theresa:
You know, we shouldn't ship items to two countries that don't accept them. Exactly. But sometimes like, as Clara said, sometimes it's because of illness or this or that, and our items are clean or whatever it might be.
Clara:
And it's allowed.
Theresa:
It's allowed. Yes.
Clara:
It's allowed. Yeah. So it creates confusion for the customs officer because all they want is to prevent money laundering. They told me, so when we're doing the x-ray of the package, they just wanna make sure that if you send a shoe, they're seeing a shape of a shoe and not a brick.
Theresa:
That makes sense. That makes very, makes way more sense to prevent theft. <Laugh>
Clara:
Well, that's coming from Argentina. I have to agree with you about South America. It's gotten better. Okay. But still, I feel I don't ship to Argentina still. I don't ship to Argentina, to my family. I still don't ship it because it could just disappear, or get stolen. And it's unfortunate that sometimes in certain third world countries me coming from Argentina right now it's ravaged by inflation 60, over 60% inflation, and the currency just dropped 30% in value. So what happens is the same custom officers sometimes will commit a crime and steal packages. The same happens with the postmen because they don't get paid. They don't get paid. So it becomes a free for sometimes. This is not a rumor. I lived it.
Theresa:
Okay. Yeah. I hear you. I hear you. It's just not as rampant as it was 20-something years ago, but I, you know, I do believe that it still exists. I absolutely do believe that.
Doug:
So, Theresa, you touched on returns a bit, but I think that's one of the big worries. So what are, what are your tips in general, you know, on how to manage returns, try and prevent returns?
Theresa:
You can't prevent returns. I think that international buyers know that if they want to return something it's on them. And most of the time, if something doesn't fit or they're buying a pair of shoes or something, they're either buying a style and a brand that they know already fits them, or they, if they're willing to take the risk, they might be a reseller and turn around and resell it themselves or something. I have not gotten a return, an international return that I can think of ever.
Doug:
Yeah. Okay. Wow.
Theresa:
Because it states that buyers are responsible for return shipping. Yeah. And so if, you know, as long as it's not, as I'm not I did not as described the buyer would have to pay.
Clara:
Have you got international items not as described?
Theresa:
No.
Clara:
Wow.
Theresa:
I don't even knock on wood…
Clara:
Knock on wood.
Theresa:
I don't even get I don't get any items not as described.
Clara:
Okay.
Theresa:
So now I've, myself, I know I'm gonna get 'em now, but yes, for whatever reason, it's not, it's not a, a big thing for me, but I know it is, it's a, it's a big thing in the community and that a lot of buyers will do false finance and that's not good.
Doug:
Yeah. Yeah. That's what I was leaning towards.
Clara:
What an incredible session talking about international sales, shipping, and international compliance with different countries about what's allowed to be shipped or not Theresa. We have talked so much. Anything else too, I know we're asking a lot because it's almost 52 minutes that we're talking about international sales and shipping, but you always have so much wisdom to share. Anything else would you like to share with our audience about international shipping and international sales?
Theresa:
I would say if you have a fear of it, reach out to your, the Facebook group, your friends, whatever you have, because it, it really, I can't reiterate it enough. It really is not that difficult to expand your business from domestic to international and you should do it. And you will see your sales increase, which is, you know, one of the things that I really liked about List Perfectly is I never took the time to do the metric system in my listings for my clothing with list perfectly. It automatically, if I type in 32 inches, it will automatically put in my listing what that metric equivalent is. So it saves me a huge step. And once I started using that, my international sales went back up again on clothing. And so that's something else to think about is that, you know, if you're, if you're gonna do that, then put your use in the section of List Perfectly, listing form to put your measurements in there and let List Perfectly auto calculate that for you. And you will see, sales increase internationally.
Clara:
Wow. What pro advice. Thank you, Theresa, for sharing that with our community, what an incredible session. This was incredible. Makes me wanna go back to reselling…
Theresa:
No, you don't wanna go back to reselling you're doing really well with what you're doing. You keep doing that.
Clara:
Oh, thank you. Thank you. But I do miss reselling, but it's beautiful that I get to help resellers like yourself build tools. And at the same time, still, be in contact through the podcast in helping us to interview incredible community members like yourself. Again, thank you Theresa for your time and your wisdom today.
Theresa:
Happy to be here.
Doug:
Yeah. And Clara, we need you where you are. Theresa, we need you where we are and then there's me. But no, we're all in the right spot, I think…
Clara:
And we need you where you are!
Doug:
Theresa, it's always fun to talk to you. We enjoy it. And I'm gonna count up the number of times you've been on the show and we'll even count the number when you're in panels. So that will count towards your tally. But I guarantee you've, I mean, it has to be at least 10.
Theresa:
How many times do you have to be on there before you get a car <laugh>
Doug:
Hundred.
Theresa:
Doug's gonna send me one of these kinda little cars. <Laugh> there you go.
Doug:
At some point, it'll be what was Mary Kay? Where do you get the pink Cadillac?
Theresa:
Pink Cadillac. I wanna red one.
Clara:
Yeah. Yeah. I love it. No, you're making me think about this. Okay. We gotta do something, but it's gonna cost you a hundred sessions. Okay.
Doug:
So Clara you could do a green and blue Camaro with the big LP logo on the hood.
Clara:
Right?
Theresa:
Camaro?
Doug:
I dunno. I like Escalades.
Theresa:
A Corvette or something like that. You know, there's a little more fun. Clara needs a little more sport, a little fancier in her life.
Clara:
I love it. Well…
Theresa:
Or we could go suburban and use it as a sourcing vehicle.
Clara:
Right? There you go. Oh, there you go. A sourcing mobile. There you go.
Doug:
A lot of sellers do it. They travel and source while they're moving around.
Clara:
It's a write-off…
Doug:
Let'S pause for a quick commercial break…List Perfectly is sponsoring a couple of seller events this year. eBay Open is online, not in person, but first of all, we've got FlipCon coming up. Flip Con 2022, which is hosted by Phoenix Resale and Hairy Tornado. So FlipCon 2022 is on August 24th and August 25th in Charlotte, North Carolina. You'll be able to hang out with Phoenix Resale and Hairy Tornado in person. Other speakers include American Arbitrage Dealing with Dalton, Profit Monsters, Hustle at Home Mom, Hustlin Hooks, Reezy Resells, Kat the Nurse Flipper, Commonwealth Picker, and more. Tickets are on sale now. Five hours of panels, three catered meals, and more. List Perfectly is the headline sponsor and we'll be there. So FlipCon 2022, for more information on that, you can go to flipcon.net. So FlipCon is on the East Coast. Doug: For you, West Coast peeps we've also got the return of BOSS Reseller Remix. List Perfectly is sponsoring that as well, a popular event put on by Katy Zilverberg and Vikki Eagan, and Theresa Cox. Las Vegas, October 10th, through the 13th, tickets are on sale at resellerremix.com. Some of the speakers there include, of course, Katie and Vikki, and the Ralli Roots, Hairy Tornado, Ken, the Hustle Bee, Trish Glenn, Super Sale Trish, Casey Rockstar Flipper, Wade Coggins of Wades Ventures, Danni Ackerman, The Niche Lady and much more. Doug: So again, List Perfectly is happy to sponsor those two events. One on the East Coast, Flip Con. One on the West Coast BOSS Reseller Remix. All those sellers will be there. Great place to network. List Perfectly will be there as well.
Doug:
Thank you for joining us on The Seller Community Podcast from List Perfectly. You can find us at thesellercommunitypodcast.com. You can leave a message or ask a question at anchor. Fm/Sellercommunitypodcast. You can email us at podcast@listperfectly.com. Post a question in the List Perfectly Facebook group at facebook.com/groups/listperfectly. You can listen to The Seller Community Podcast anywhere you listen to podcasts and be sure and subscribe, tell your friends, and if you're on Apple Podcasts or Spotify, please leave us a review on Instagram and TikTok. You can find @snoop.dougie and of course, follow @listperfectly. And you can always use our promo code podcast. That'S P O D C A S T for 30% off your first month of List Perfectly or 30% off your first month of upgrading your plan. Thanks for listening. And we will see you next time.