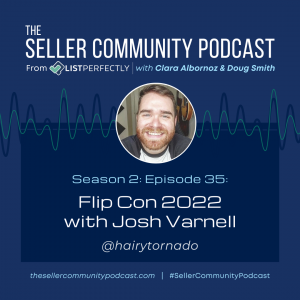 Josh Varnell, @hairytornado, joins us to fill in all the details on Flip Con 2022 (https://www.flipcon.net/), 2022's biggest in-person seller event on the East Coast, August 24-16 in Charlotte North Carolina.
The Seller Community Podcast from List Perfectly is the ecommerce resource for the seller community across all platforms and a hub for information on growing your business. Find out more at thesellercommunitypodcast.com, leave a message or ask a question at anchor.fm/sellercommunitypodcast, or email us at podcast@listperfectly.com.
List Perfectly is the ecommerce resource for selling across multiple e-commerce platforms including eBay, Poshmark, Etsy, Mercari, Kidizen, Grailed, Depop, Tradesy, Facebook Marketplace, Instagram, and Shopify.
Links
Seller Community Podcast on Anchor
Episode Links
Transcript
Doug:
All right. We're welcoming back Josh Varnell, Hairy Tornado, online seller, and YouTuber. He's been on the show before, and he's also now an event organizer, and planner, and keeping pretty busy with all that. He's here today to tell us all about his upcoming event Flip Con. We'll get right into it. Welcome back to the show Josh.
Josh:
Thank you so much for having me. I'm excited to be here. I'm excited for Flip Con, the first event I've ever attempted to plan, and I knew it would be fairly in-depth and require a lot of work, but you don't really realize how much work it is until you actually do it for the first time, but it's gonna be fantastic. I think it's 20 days away, it's August 24th through the 25th. Things are starting to fall into place. We're starting to finalize the last-minute details and again, I'm just very, very excited. It's gonna be really fun for both the people that are coming to speak, and you know, you guys are our only sponsor of the event, List Perfectly shout out to you guys.
Doug:
I know Clara is very excited. I am too, but Clara you're excited…
Clara:
And you too. I think we're both like, oh my God t-minus! <Laugh>
Josh:
Absolutely.
Doug:
Josh, how did the idea for Flip Con come about?
Josh:
You know, that's a good question. I don't, I don't remember an exact moment, of I wanna do an event. I think I was just talking to CalebPhoenix Resale. He's the guy I'm hosting the event with and he and I have been really good friends for maybe two years or so now. And just one day we were like, we should do an event. You know, we were seeing other events and I went to the BOSS Reseller Remix last year, which was great. We're gonna do that again this year as well but I wanted to do something for the East Coast people. I think there's other, like there's PoshFest and there's eBay Open and everything, but that's really specific to like only people that sell on that platform and we wanted something to kind of hit like reselling in general as well with a little twist of social media.
Josh:
So I'd say the conference is gonna be, Flip Con is gonna be probably 80% reselling in like 20% YouTube and social media. I feel like there's a lot that might not apply to everybody, but there's a large percentage of people that are coming that are interested in that. Whether they currently have a YouTube channel or it's just something they wanna do to diversify their business and hopefully increase their income. So I think we're the one event that's hitting both of those key things without like a steady laser focus on one, one selling platform. I don't know like a year ago is when we first started planning it. And then honestly, like you think it would take a year to plan, but most of the stuff that goes into the works is done within like the last three months. Like once you pick the hotel and you set up the website, there's not really much else to do until you get closer to the event. So the last, like, you know, six or seven months since the website's been up, we've just been kind of floating and selling tickets here and there, but things are really starting to pick up now. We're almost sold out. I think we've got like just under 50 tickets left and hopefully, we do sell out.
Clara:
One of the things I really like about FlipCon is the ability we're gonna have again, to see each other face to face, interacting in person. Josh, why do you think in-person events are important for our community?
Josh:
It's hard to put a value on that until you've experienced it in real life. Like, it's cool. Like, oh, you gotta go meet people, but then when you actually get there and you actually meet people, you're like, oh, this is fantastic. Or I'm gonna go to every event ever, you know? So it's just something you can't really explain until you've been there, but it's, it's invaluable. Whether it's FlipCon, whether it's BOSS Reseller Remix…we're going to a YouTube event this year called VidSummit, which is very expensive. But again like Mr. Beast is gonna be there and Ryan Trahan's gonna be there and…all these like top YouTubers, it's not a place for like fans to meet YouTubers. It's a place for people like YouTube creators to learn from these people. So like you can just walk around and just talk to them, you know, that's what they're there for. So having that experience on a much smaller scale with the YouTube resellers is hopefully gonna be very valuable for the attendees as well.
Clara:
Absolutely.
Doug:
And so let's dig in a little bit. So what can attendees expect overall at Flip Con?
Josh:
I have a very professional piece of paper here. If you're listening to this…
Clara:
Oh wow. This is the advanced encryption technology that Josh is using. Could you please translate and decode <laugh>
Josh:
When Caleb and I were doing a, like a brainstorming session the other day, I was just grabbing something to write on, ended up being this piece of paper, whatever, but that's just the kind of person I am, Hairy Tornado. I'm not very organized. My brain just doesn't work like that. So we have four different panels. So the first day is just gonna be like an unofficial meet and greet. We just put the full itinerary on the website. So if you guys are curious, you can go to the website and see, but the first-day registration starts at four, I believe. So you can come in as early as four to register, but you're gonna be on your own for dinner that night, the official meet and greet starts at seven. It goes from like seven to about nine in the hotel lobby. And that'll be just your time to meet everybody, show up.
Josh:
You know, a lot of people are coming alone and they're like, they've been posting in our Facebook group saying they were nervous and all this stuff. I'm like, it's fun. There's gonna be so many people there that are alone. Just gotta get in there and meet people. It's really fun being in an environment where everybody is like-minded, we're gonna have name tags and stuff. So it's gonna be fun to, you know, break the ice at that event. Hopefully, everybody will get a good night's sleep. Cuz the next day is a full day, starts, and breakfast is probably like 7:30 to 8:30. I don't remember the exact order, but we'll have a panel on scaling, and how to scale your business, no matter what platform you're on.
Josh:
We'll have a panel on optimization. I'm really excited for that when we've got Daily Refinement Osborne2thrift and Mark Tew, Not Your Dad's CPA. So three different people talking about optimizing your business in like three different ways. If that makes sense. I have a panel on networking and marketing, and a panel on motivation, which I'm also super excited about. We've got a lot of great speakers on there and then Caleb and I will finish it off with a panel mainly about YouTube, and a little bit about reselling, but he and I, our strong point is the YouTube side of things. So that's what we're gonna talk about for our event. And then we'll have a little bit of a break, like a two or three-hour break. People just relax, talk, change clothes, whatever you wanna do, and then dinner and after party at night. So it's, it's gonna be, it's gonna be a full day for sure.
Clara:
Who are some of the speakers that will be there in addition to the recent people you just mentioned? Anybody else you wanna mention or…?
Josh:
Absolutely. I actually reached out to my Instagram followers a couple of months ago and asked, who would they like to see at the event that wasn't speaking on a panel and a big name we had come up with was Karen Lavender Clothes Line. So she's gonna be there again, not on an official panel, but I'm sure she'll be happy to talk with whoever wants to talk with her and ask questions. Her strong point is selling things that take a long time to sell. Like she sells things all the time. I'm like, oh my gosh, how, how did that even sell? And it's sold because she had it listed for a really long time. So her strong suit is the long game items, which I think is very interesting. Not many people specialize in that.
Josh:
Another name was Art of Resell on YouTube. He's I think he's based out of Las Vegas. I don't know a ton about him. We've just started talking recently but reached out to him and, and told him to, you know, gave him a formal invite to the event. He's gonna be coming as well. So a lot of people are excited to meet him. There are a ton of people coming. I need to go through like the list and those are the big two names that aren't yeah, that I think people will be excited to meet that aren't official speakers. But again, there are a lot of people coming. I think again, we've sold about 250 tickets so far. So 250 plus the official speakers. So it's already about maybe 280 people so far, yeah with their plus ones and stuff.
Clara:
Absolutely. Seriously. All of my East Coast friends are going to Flip Con so <laugh>, we're all planning, like, okay. I have a full agenda already, so it's gonna be an incredible event.
Josh:
No, we're excited. There's actually a Goodwill Bin Outlet location, like two blocks away from the hotel. So people are excited.
Clara:
Oh, you know, we're all gonna meet each other. I love it. I've done the beans. Oh, okay. <Laugh> let me, let me show people a little what I have…
Josh:
That's right. I thought about renting it out, like just paying Goodwill, like a thousand bucks or something just to let us have it for the day. But then I was like, we can just go. And like, if we just walk in there with like 50 people or whatever, that would kind of be like taking it over, it'll make everybody else leave.
Clara:
Exactly. Oh, no. Even more fun. You know, if we, if we just take it over. No, I love it. We gotta do it, but there you have it. Okay. So have you never been in Goodwill bins? This is your opportunity. Don't be afraid!
Josh:
Absolutely.
Clara:
<Laugh>
Doug:
Like sink or swim in the bins.
Clara:
<Laugh>
Doug:
Tickets are selling fast. You say you're expecting to sell out. There are like three weeks left. So where can sellers get tickets?
Josh:
On our website. It's called flipcon.net. You can go there. You can see all the speakers. You can get tickets, you can book your hotel room. We do have a discounted room rate through Sheridan, which is where the event's gonna be. Pretty much, pretty much everything you need is on that website, flipcon.net.
Doug:
Perfect. And we'll include that link in the show notes as well.
Josh:
Awesome.
Clara:
Absolutely. Yeah. Josh, what does a ticket cost, and what is included with a ticket, please?
Josh:
Yeah. Great question. So it's $295. I think there's like a tax or sub charge or something like that. So it ends up being like $302 and that gets you a day and a half of the event, Wednesday, Wednesday night, and Thursday, all day, Wednesday night, you'll get two free alcoholic drinks and I think we'll have some, some sort of snack available. Again, you're on your own for dinner that night we'll have something, something to snack on. And then Thursday you'll get breakfast, like three hours of panels in the morning, a catered lunch, another two and a half hours, two and a half, three hours of panels in the afternoon, and then that night you'll get catered dinner and the after party, DJ, and two more free alcoholic drinks. And if you don't know, hosting an event at a hotel, basically to rent the space, you have to use them for food.
Josh:
And I'm convinced that hotel food is the most expensive food in the entire world. <Laugh> so they did let us use Chick-Fil-A for breakfast cuz their cheapest breakfast option was like $28 a person or something. And I'm like, how about you just let us use Chick-Fil-A for breakfast and we'll use you guys for everything else. And they agreed to that. But our total food cost for 300 people, which might actually be more. It's like $55,000. So it's extremely expensive. I think some people thought this event was just like a money grab. Like there's this Reddit thread where people are saying, you know, that's just a waste of money. We are not gonna make money with these folks and we might make a couple of grand or something like that, but there are a lot easier ways to make money for both me and Caleb.
Josh:
Yeah. So this is an event really just focused on adding value to the participants. I'm gonna do YouTube channel reviews for anybody that wants 'em the first night. And any other time I have, I don't, I'm not a professional, but I guess technically I am a professional. That's what I do to make my living but I don't wanna claim to be a professional. I'll just give you my opinion on what I think you could do better with your YouTube channel if you're interested in that. And again, everybody else, whether they're speaking on a panel or not, everybody's gonna be willing to, you know, sit down and answer questions and bounce ideas off of each other. And the whole point of the event is just like networking, like being in the same room with 300 people that do what you do for two days or a day and a half. You know, that's just that alone is worth the ticket price, not including the three meals and four alcoholic drinks.
Doug:
<Laugh> yeah, exactly. Exactly.
Clara:
That's amazing. You have planned, okay, Flip Con to be, let's say not an extensive event, you know, it's gonna be like, you know, in and out pretty much, okay, and packed with a lot of information. What opportunities are attendees going to have to network? Okay. Besides the incredible, happy hour, the party and the meals and the incredible drinks, you know, of course, it's an ice breaker when you don't even know each other. So what are the opportunities will we have for networking?
Josh:
I would just say making, making contacts with people. Like you may not have time to speak with everyone. You know, there's gonna be, you know, people that are really popular and everybody wants to talk to them. So you may not have, you know, I probably won't have time to have a 20-minute conversation with every single guest, but I think you could at least get people's contact information, like find people that are from your state or sell the same thing as you on the same platform as you, and like make friends with those people. Cause especially if they live on opposite sides of the country, they're not really your competition. Like you could learn from each other and they're not gonna be stealing your sourcing spots anytime soon. You know, talking to people in person is important, but even if you don't have time to talk with everybody, make sure to make those rounds and see as many faces, introduce yourself to as many people as possible and really make those contacts stay in touch after the fact.
Clara:
Smart there you have it. That was smart.
Josh:
It was so funny at the BOSS Reseller Remix when we, when we got there, I could see people like looking at us, you know, like people recognized us, but I think people were like nervous to say hi and, and it's real on both parts, cuz like people probably are just polite and they don't wanna bother us. And I'm not gonna go up to somebody like, Hey, do you wanna take a picture with me? Like I'm not gonna offer that. Cause then I look arrogant, you know? So it's like weirdness on both sides, but then the second, second or third night of, of the BOSS event, like one person took a picture with us, and then there was just like a line forming, like, okay, now that, now that I'm seeing everybody else do it, I wanna, I wanna do it. So everybody at the event, nobody's like a, we're not gonna have any security or anything like that. Like we want to talk to everyone. So don't feel bad. Don't feel shy about talking to us or wanting pictures. Like there's not a single person there that's gonna be annoyed with you wanting to talk with them or take their picture. That's what, that's what they're there for. So don't be shy, just say hi to anyone.
Doug:
And I'm Clara's security. So I mean…
Clara:
<Laugh>,
Josh:
Don't mess with her.
Doug:
I'm a pushover.
Clara:
Thank you, Dougie.
Doug:
You're welcome. I got your back and I'll keep an eye on you too, Josh. Don't worry.
Josh:
Thank you.
Clara:
<Laugh>
Doug:
So you mentioned that List Perfectly is the sponsor of the event. So how did that all come together?
Josh:
I don't really remember the exact details. I know I met Clara and Amanda last year at the BOSS Reseller Remix and our relationship kind of started there. We were looking for an event sponsor cuz again, the food's…so basically the ticket price covers food, and like we have like renting the microphones and AV equipment was another $5,000 and the DJ was 1100 bucks. There are a lot of extra expenses that come along with these events. So we have that. Some events…I didn't want to spread the attention out over multiple companies. It's kinda like a YouTube video. If you do a YouTube video and you ask people to hit the like button and subscribe and go check your, go check out your List Perfectly affiliate and go check out your Whatnot affiliate and ask them all these different things, they're probably not gonna do anything. But if you just ask them to do one thing multiple times in the same video, your conversion rate is gonna be a lot higher. So I was really excited to have just one event sponsor, List Perfectly. Whatnot was planning on coming, but they're not gonna be able to come now they've, they're doing BOSS Reseller Remix instead of our event, which is fine. I'm, that's fine. I wish they could do both, but whatever. But I'm excited cuz it's just gonna be, again, just a really focused event. I think I just asked you guys if that's something you'd be interested in. I think we had already established that relationship, and have been an affiliate with you guys for like almost a year now.
Clara:
And we didn't talk about it. Remember in Vegas to be honest, you know, we kind of…we were like, wow, wouldn't it be great you know, if like there was another event, you know, like in a covering another demographic and you know, we were like, oh yeah, you know, you can count on us, you know? So it was very big, but it was like that foundation of our relationship that made it so easy to just grow together.
Josh:
Absolutely. And it's a great product, you know, when you're hosting an event and you're putting your name on something, you wanna make sure that your sponsors align with your values and I've loved working with you guys ever since the beginning it's been, you've been actually our only like ongoing sponsor on YouTube. We've had a lot of sponsors that come in for one video or a month or two and then drop off, but you guys have been our only ongoing sponsor so I greatly appreciate that. Hopefully, the event goes well.
Clara:
That's right. That's right.
Doug:
So Clara, do you want to give us a preview of what you have planned for the event? What can sellers expect from List Perfectly, who's gonna be there?
Clara:
Absolutely. So I'm so excited because we're gonna be going of course with you Doug, our incredible Director of Content. And then we're also gonna have user number one, an early adopter of List Perfectly, Theresa, our own Theresa Cox. Okay. She's gonna come. She's gonna be…also our incredible Trish Glennyou know, coming to represent the incredible early adopters of List Perfectly in what we have prepared for our, for the incredible Flip Con event is not only things are gonna be necessary as a reseller, but also okay, preparing with information and a welcoming event where we can explain not only where List Perfectly has been, where we're going, but all the new features we have just been releasing and give an incredible summary of all the things List Perfectly is doing, big things are coming and I can't wait. Amanda is working day and night to have that released, okay, so I can announce it for Flip Con. So definitely an exclusive also we can expect, okay, team List Perfectly and team The Seller Community Podcastmaking sure we're reaching out to our community as always and getting that beautiful feedback from our community from different topics and especially, you know, with so many great people that are gonna be speaking about some incredible topics. So we have that Doug, and also, okay, you bet we're gonna be in those incredible networking sessions, ready to speak and answer questions from anybody and meet as many people as we can.
Doug:
Yeah. I'm excited. I know a bunch of the speakers, I know a bunch of people that are gonna be there and we're portable with The Seller Community Podcast. So we'll be touching base, and getting interest for future episodes. And I will do a follow-up episode, you know, interview some people that are there and just looking forward to it. It's gonna be fun. And I'm excited too, that it's, you know, the first big event back, it's the biggest event on the East Coast, and as you said, it's not just focused like, yes, PoshFest is coming, eBay Open is coming. Not as big as it usually is, but it's like, as those are very marketplace focused and this is community focused and I like the spin too, that you've got like you said, this social media aspect as well.
Josh:
We're very excited. We're trying to just be a little different, you know I don't want people to pay 300 bucks to come here, you know, stuff they've been hearing on YouTube for the last three years, you know, so we're trying to avoid like the elementary stuff. Like if you wanna learn the basics of reselling, you can do that for free on YouTube. You don't have to pay for an event like this. So we're trying to focus on talking about things that we've either never talked about or rarely talked about. I've got a few things that I've learned in the last, like five to six months on the reselling side of things that I haven't shared in a YouTube video yet. I've been specifically saving it for Flip Con. So I'm trying to make the event as exclusive as we can.
Clara:
What else should sellers know about this event Josh?
Josh:
Nothing, just buy a ticket <laugh> you don't have to learn anything else. I mean, it's, like I said, a lot of the information is on the website. The dates and times, and apparently it's the biggest event on the East Coast. I don't know if that's a big achievement. I don't know how many other East Coast events we're competing with here but we are very excited. It's gonna be well worth the money, well worth the time it's gonna take to travel out, take a couple of days off work and just get out there. And again, just surround yourself with like-minded people and you know, bounce ideas off each other and, and try to learn something to help your business in some way.
Doug:
Bouncing off a couple of things you said is like, once you go to something like this, you'll be hooked. If you haven't been to one, this is a good one. This is a good way to start. And then the other thing is, it's understandable that people that haven't done this before, or maybe are coming by themselves would be nervous, but everybody's gonna be cool. Just go up and say hi to people. People will come up and say hi to you. You're not gonna be able to, you will not be able to hide in a corner or sit at a table by yourself, cuz sellers will come over and talk to you and introduce themselves. So don't be nervous. It's gonna be an awesome event and the community is amazing. And again, if you haven't done something like this, if you're thinking about it, really do it. Usually Ecom Chicago's pretty big, but they canceled this year. Okay. And so, yeah, as far as I've seen and we keep pretty close tabs, you're the biggest seller event on the East Coast this year.
Josh:
Awesome.
Doug:
And then the first, I think the biggest one so far this year as well.
Josh:
We probably will sell out. I mean, we've, I think Reezy Resells, he's gonna be one of the speakers and he just posted a video on his YouTube channel, promoting it, and Hustle at Home Mom promoted it a couple of weeks ago and we saw a nice influx of ticket sales from her. I don't, I don't think I've promoted it as much on my YouTube channel as I should. I'm doing this week that we're doing the charity auction and Whatnot for our Honduras charity but then after this is after this done for the last two weeks, I'll probably start pushing on our channel as the last, the last push, you know, try to get those last 50 tickets sold. A lot of people are waiting for some reason. Like we get asked on our Facebook group, how many tickets are left? How many tickets are left? I'm like, why does it matter? Just buy one, like one, there's one left. You should get it. You should get it right now.
Clara:
I was gonna say, we're almost sold out. They're all reserved, done. Yeah. <Laugh>
Doug:
So you are, you are doing this Whatnot charity donation. Do you wanna mention that?
Josh:
Yeah, sure. I'm not sure when this podcast will go out, but we're doing a…Haley's home now, but last week she went to Honduras on a mission trip. It was like Tuesday to Tuesday and while she was gone, I wanted to do something back home with the YouTube channel that I could kind of help with, the Honduras efforts you know, whatever I could. So I did a seven-day vlog series where I went out, basically doing what we normally do, just going out, looking for profitable items but then instead of flipping them for ourselves, we were gonna sell everything in a big Whatnot auction at the end of the week. We just posted, I think day four, day four, or five today. So we got, I think, two more days of vlogs to go up.
Josh:
And then our Whatnot auction will be Monday, August 8thstarting at 5:00 PM and going until who knows? Probably like midnight or so it's gonna take us a while to get through all the items. But it's been awesome. It's funny cause I'd asked Whatnot to just donate like $25,000 to the charity and I would let them sponsor all seven videos. And they were like, well, that's kind of a lot. So why don't we just give you an affiliate bonus? We'll give you like 50 bucks in cash for everybody that signs up for Whatnot and actually purchases it. So we've had a lot of people sign up, but they never go through the process of, you know, verifying their phone number and putting in their credit card information to actually buy something. And I was like, okay, I feel like we could probably make more money that way since it's for charity.
Josh:
Yeah. And we've had, since, since we started the vlog, we've had almost 1100 signups. So if those all buy something that would be like almost $60,000in referral bonuses. So it's, I personally think it's funny when companies underestimate influencer marketing a little bit like, oh, we can't afford $25,000, but I'm like, well now you might have to pay 60 <laugh> you probably should have taken, but it's all for charity. It's all fun. I'm actually very motivated. It's very difficult to do daily vlogs, a lot of editing, a lot of filming, a lot of…Whatnot actually gave us a special affiliate code specifically for this week to get that $50 credit. And we actually had so many signups that it broke it and now people are getting, they're supposed to get $15 in credit. And now they're only getting $10 and some people are saying that they're not getting anything. And so it's been today, especially been kind of a headache, but good problems, good problems have hopefully everything gets sorted out and we'll be able to donate a lot of money to this charity.
Doug:
That's awesome.
Clara:
That's incredible. Thank you for sharing that.
Doug:
Yeah, absolutely. And thanks for doing that.
Josh:
I love it. We've had some success on YouTube over the last couple of years, so it's been due. Like we've wanted to do something big, you know, to give back to somebody that needs it. And the charity is called Mi Esperanza. They're based out of Honduras. Give a man a fish, feed him for a day, teach a man to fish, feed him for a lifetime. And so I try not to get behind anything that's just like an expensive bandaid on something. There are a lot of charities out there that just like, you know, let's feed homeless people and I'm like, that's great, homeless people need to be fed, but once this money runs out, are there still going to be homeless people? Like it's important, but like we need to do something that actually solves the problem and not the symptom, you know. This charity's called Mi Esperanza in Honduras and there are three aspects to it.
Josh:
So they have employees that work at Mi Esperanza that make jewelry. They have like purses and leather, things like that. And they sell those on their website to generate income, to support the business. So they employ people full time. They have a school where they teach women hard skills they can use and get like gainful employment to help their families. So these women don't have any education. They don't have any hard skills for the most part but they can come to the school and take free classes about sewing nails like nail technician, nail technician, and cosmetology. English as a second language, computer literacy totally for free. And Mi Esperanza is actually making the daycare on-site. So the women can bring their kids. Their kids can stay in the daycare for free while they take classes. I really see it as a charity. That's again, teaching a woman in this case, teaching a woman to fish, instead of giving her a fish they're empowering and equipping women to generate income for their families, ongoing, not dependent on further donations. Like if charity was just like, we're just gonna find poor women and give them some money like that, doesn't always fix the problem. You know, there is a microloan program. So once the women graduate from whatever classes they're in, if they have to take a sewing class and they want to get a microloan to start their own sewing business, to make uniforms or school uniforms or something Mi Esperanza does offer microloans for that. But that's about as close as they get to just giving money away. They've realized that giving, just giving money doesn't really help most of the time but teaching hard skills really does help.
Clara:
I couldn't agree more with all of the above that you just said, you know coming from Argentina Definitely I've been there, you know, and the funniest part is that those donations never reach to all of us that were poor. Okay. They are being resold. Okay. They're being resold because there is fraud and a scheme system and then it gets shipped back to the USA. So back to the USA, it's just incredible. So it's just a cycle. Yeah. And like you said, it's not teaching you trade, so thank you, Josh, for sharing that, it means a lot to me, everything you said is very close to my heart.
Josh:
Absolutely. I really like giving when you can really see the impact of your money, like Ryan Trahan, a big YouTuber, who just raised over a million dollars for feeding America, which is great. You have to really think about it. Feeding America probably gets millions of dollars in donations every single month. You know? So in the grand scheme of things, it did help, but it's hard to see your donated dollars at work. But when you give to a very small organization like this, like, you know, if we can raise $50,000, that would be huge. You know, they can finish building their daycare. They can fund the daycare for probably two years. When you give to small organizations, it's very easy to see your money at work and that usually motivates people to continue giving in the future. There's nothing worse than giving money to something and then seeing it wasted or not seeing anything ever happen to it.
Clara:
Because you're creating an independency system and you are helping that local economy. You're helping the locals, okay to actually trade their own services or products instead of reselling, maybe something donated. You see now you're competing with and putting local businesses out of, out of business. So it means a lot, you know, it really, it's proven what you're saying. It's proven that it's the most helpful thing you can do for the third world, third-world countries.
Doug:
Absolutely. Anything to add before we close out and let you get back to planning?<Laugh>
Josh:
I can't think of any details that I've left out. Again, we're just really excited to get everybody together and meet all these people in real life and just help each other. You know, it's gonna be a big event on the East Coast. Everybody's really excited to get help, give, help, and learn from each other. I wish I knew how much experience like collectively everybody on the panel had because we've all made so many mistakes. And literally, if you just come and just avoid one mistake that could cost you thousands of dollars or a year of wasted time or something, that alone is gonna be a huge value. Sowe will definitely do our best to share all of the mistakes that we've made in business to help everybody else avoid them. Yeah.
Clara:
Yeah.
Doug:
No, this will be huge for the seller community. And thank you for doing this. Thank you for what you do for the seller community. We've been joined by Josh Varnell, Hairy Tornado, talking about Flip Con. One ticket's left ladies and gentlemen, so you better go get it. <Laugh> There are some tickets, but it's selling fast. You can get tickets at flipcon.net, on August 24th and 25th in Charlotte, North Carolina at the Sheraton Charlotte airport hotel, which is right by the airport.
Josh:
That's why we picked Charlotte specifically because it was cheap to fly into you and because that airport was right there, I wanted to do it in Greenville, South Carolina, cuz it's really pretty there. But it was pretty expensive to fly there.
Clara:
Okay. I heard about Greenville. Okay.
Josh:
Yeah, it's great. I think it's the fastest growing county, like one of the fastest growing cities in America, but definitely the fastest growing in South Carolina. It's beautiful up there. Beautiful, safe, good schools. Good income. Low cost of living.
Clara:
Nice.
Doug:
All right. So FlipCon…Josh. Hairy Tornado will be there. Clara will be there. I'll be there. Tons of sellers, tons of YouTube personalities, and a bunch that I know. I'm excited to see Reezy again, Hustle at Home Mom, and some of the others yeah, looking forward to it. And thanks Josh for joining us again today.
Josh:
My pleasure.
Clara:
Thank you, Josh. Thank you for your time. And it was a pleasure again, speaking with you and we'll see you soon.
Josh:
All right.