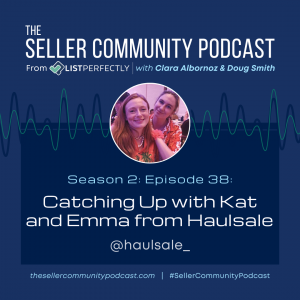 Kat and Emma from Haulsale return to chat with Clara and Doug, updating us on Haulsale's growth, participation in Techstars, attending seller events, future plans, their new partnership with List Perfectly, and more!
List Perfectly is the ecommerce resource for selling across multiple e-commerce platforms including eBay, Poshmark, Etsy, Mercari, Kidizen, Grailed, Depop, Tradesy, Facebook Marketplace, Instagram, and Shopify.
Links
Seller Community Podcast on Anchor
Episode Links
Haulsale Resellers Connect Facebook Group
Transcript
Doug:
Our friends, Emma and Kat are returning today. Emma and Kat are the co-founders of Haulsale, and they've been connecting sellers and buyers with wholesale options for quite a bit. And there's quite a buzz. They've got a ton going on. They're gonna do some seller events with us. We're super excited to welcome Emma and Kat back to the show.
Emma:
Thank you so much for having us back.
Kat:
Hello, hello.
New Speaker:
We're so glad to be here.
Clara:
And welcome to the new List Perfectly partners as well, right?
Doug:
Yes, that's true.
Kat:
I'm so excited.
Emma:
We are really, really excited to be working with you guys. And throughout the last six months, since we launched, you've been extremely instrumental in helping us get our ball rolling. And yeah. So we're super excited to catch you guys and everybody in the List Perfectly fam on what we've been working on.
Doug:
Awesome.
Clara:
Thank you, Emma. Thank you.
Doug:
So last time you were on, you were still kind of in beta mode, just rolling out. So high level, how are things going for you?
Kat:
Sure. Yeah, so we've, we've been experimenting like crazy to make sure that we are building the kind of business that people want. The beta was our first experiment. Is there any interest in anything in this field at all? Looks like there was. And then we've been steadily rolling out new kinds of product updates and new kinds of inventory been trialing, everything from boxes to pallets, and now we're quite geared towards, you know, actually expanding this recipe that we know works for, you know, resellers selling to other resellers. We have some liquidators on there with excess inventory and we're also doing some really exciting trials with just regular people in the community who might have a bit too much stuff who could also benefit from this really easy way to sell.
Emma:
And we've been continuing to meet new sellers of all different stripes. We've been learning so much about like, as you guys know, and kind of the thesis of this podcast is like, there are so many different ways that people sell. And so it's been an awesome couple of months of learning about how so many different independent businesses work and we're finding all different types of ways that Haulsale can fit into kind of the chain of reselling, you know? And so we've been really excited to learn different sorts of applications about where we can fit in. And as Kat mentioned, you know, we've been building out sort of new features and testing new things with those users. But ultimately the core thing has remained the same of helping anyone sell in bulk and helping resellers source in bulk from the sort of maybe non-traditional sources.
Clara:
Yeah, no, it's what a great idea I have to ask though. I'm curious, the name Haulsale who came up with it?
Emma:
Okay. So I actually, Kat's very generous. What happened was we used an AI name generator, and I picked that from the options <laugh> I wish that I could say that there was fantastic, it came to us in a dream moment. Yeah. But in fact, we were, we were really, we knew we wanted to focus on the ease of bulk selling. And so there are some, the machines are really, they know what's up the control of language that machines have of these days. It's pretty impressive.
Kat:
The whole process took about 15 minutes. The domain name was available. It was easy to spell. It was catchy. Great. Let's just do it. <Laugh>.
Emma:
Pronunciation is maybe a little concerning, but we've come to love the name and we're really leaning into it. And so Haulsale it is. And yeah, it's, I, I think it fits us pretty well. You know, we all know about like hauls, that's like an exciting term that people use, in the social media context. Just, you know, the verb works for us, and then it's been the brand we've come to love. <Laugh>
Clara:
That is so smart. Okay. to be honest, it took me quite a while. Okay. Without AI to come up with the names for my businesses. So I'm taking notes here. Thank you. <Laugh> so what did each of you do before wholesale, please?
Emma:
Well, I've got kind of maybe the less thrilling background so I can go first. But I actually had a background in business development, kind of like a general sales sort of space. I worked for a higher education company for a couple of years and it was not a passion for me, but I definitely enjoyed working with people you know, like building sort of communities. And I ended up really not enjoying working in a corporate structure, so I actually ended up going back to school for a web design degree. So that was right before the pandemic. And at that point, I started focusing on e-commerce sites and doing design for independent business owners. Mostly kinda in like the arts space. And I really found that I really enjoyed learning somebody's business and, and trying to design solutions for them. And, um, Kat's experience is in the same domain, so…
Emma:
Kind of, yeah, so I yeah, my career started off I studied marketing and I always kind of had some jobs like day jobs and marketing. But for a long time, I worked as a fashion photographer <laugh> that was a whole, whole other chapter of my life. But through that, I was kind of frustrated with how the process of getting gigs was as a photographer. It's incredibly frustrating for both the photographer and the client. And then, I happened upon some people who had the same idea as me and we had a startup. It still exists, and it's still all across the U.S. now. And it's called Shootts with two ts and it lets you book a photographer for free. You only pay for the photos you like, so check it out. But yeah, so I mean I left that company about a year ago and I was doing some consulting work. I knew that ultimately what I wanted to do was start another business and I wanted it to be something I really believed in. And resell kind of fell into my lap specifically because I personally hate selling. And, I wanted a solution for myself so that I never had to do it. And instead, I could, I could help other people take my stuff, please <laugh>.
Emma:
And at that point you know, Kat had identified, that she wanted to work on something new in the space that had to address secondhand. And, obviously in that manner, like dealt with sustainability, and like, you know, environmental sustainability specifically. And she knew that I knew a little bit about vintage resale just because she knows I'm addicted to thrift stores and have been for a long for my whole life <laugh> I am however,I was kind of like I was amateur hour for sure. But I knew enough to know that, it was possible to really get good at it. So we set out to learn how to get good at it. And that's how we came to meet so many other resellers. And we really identified that there was a need for a product like Haulsale to facilitate sales between resellers and to facilitate, resellers' ability to source in bulk easily, ideally from their community or from the comfort of their own home.
Doug:
And so for those that don't know what is Haulsale? So give us the elevator pitch. So we're getting on an elevator…
Emma:
Bang it away.
Kat:
So Haulsale is a place for resellers to source in bulk. We're a little bit different from other platforms though. Because we don't just have liquidation goods and we don't just have any one kind of inventory. We're kind of like, eBay in that sense, anyone can sell their goods with us. But what our platform does is it kind of guides sellers through what the wholesale rate should be for their stuff. We make it really, really easy for them, just, you know, list very quickly and then resellers can see what kind of a margin they can expect to get and what their potential profit is and quickly determine if a deal is right for them. So they get access to inventory that they might not have access to otherwise. And it's extremely transparent what you're getting.
Emma:
And it's really, we're trying to tap into non-traditional sources like Kat said it's typically bulk buying online up to this point has really been pure liquidation goods through major companies. Or it has been sourcing in very small and far-flung communities between resellers. And we really saw that there was so much potential for that type of sale to grow because of the proliferation of like Facebook groups of mystery boxes on Poshmark. We saw that that type of sale and resellers really wanted to do that type of exchange in between one from one or the other. And we set out to make a dedicated platform for that. So it's really meant to be a one-stop shop for sourcing vintage goods, and collectibles things across all categories. Whereas previously, if you want to find bulk, you'd only get new with tags. So we definitely have new tags. It's definitely there. You can actually filter and search exclusively new with tags on the site if that's what you want to do. But we are definitely trying to be a place where anyone can sell in bulk and resellers can source in bulk from all different types of people out there, but real people.
Clara:
I love it. I love it. Now I wanna go into a little, this is your second time around on our Seller Community Podcast. Okay. I think we should give our audience the breaking news of something very, very special that just happened to Haulsale. Me, myself as developer and co-founder of software. Okay. I am so excited about the news. Would you mind sharing that with our audience?
Emma:
Well, your audience can be the first to know actually. And so we were accepted into a startup accelerator called Techstars. And we have actually, thank you so much. That program is a real sort of boon to our project. We're really excited about it because not only do they offer us investment, but there's an investment in training and mentorship and a curriculum that can help us sort of really maximize the groundwork that we've laid in the last couple of months. And we've really reached a stage of trying to spread the word to the entire reselling community, that Haulsale is open for business, where we want to see you on the site. And we believe that this program is going to be a great sort of structure for us to follow as we, as we try and really expand and grow. So we're moving into growth mode and, uh, we are super excited to do Techstars. Is there something you'd like to add?
Kat:
We have moved down to Texas In order to participate in the program. So we are presently in Austin.
Emma:
Yes, we are actually usually based in Montreal in Canada. Yeah. And we have made a big climate adjustment and a long journey to come down here for the next three months. So we're coming to you from Texas right now. It's a really rigorous program where we're on-site in person with the cohort of selected companies every day and working with the mentors who are also investors in our company every day. And so they definitely want you to be there in person. So we're down here so far so good. We've kind of, haven't really left the house too much except for a trade program. And other than that, we've been glued to our computers, but we are really happy to be down here. And one of the best parts of it is that coming down to Texas means that we are a lot closer to a lot more sellers. So like any Canadian seller knows that it's, it's not as big, it's not as big a phenomenon up there and there's a number, I could get into all the reasons why. Okay. But it means that we actually have the ability to go see so many more people in person and, really meet people from the community, get real-time feedback, make relationships with sellers who are invested in our journey too. And we're very happy to be local to a great selling community in Texas. So definitely reach out to us if you're in the Austin area, we would love to meet you.
Clara:
Congratulations. What an incredible congratulations, what <laugh>, I'm so proud of you. That's great news.
Emma:
Thank you.
Kat:
Thanks so much.
Doug:
Yeah. Congratulations. That is amazing. It's gonna be awesome to, you know, continue to follow that journey too. And interestingly, you're in Austin and you have posted a list of things that you're looking for because you're living very minimally. So <laugh>, and that's in the Haulsale Facebook group.
Emma:
It is. So love that we can plug the wholesale Facebook group because we would love to have anyone listening who's interested in following our journey or offering their feedback, join our Facebook group. And we'll hopefully put a link to that somewhere in the description. But yeah, one of the things we've been doing in that group is trying to solicit we need some stuff in this house that we rented. There's really not very much <laugh>. And so there are a couple random, weird things that we were like, I would, I mean, both of us would so much rather be able to source that secondhand from somebody who's a seller in our community than to go to Target. So yeah definitely check it. It's really a little request, but it's just
Kat:
You know, if you have this stuff, you, you have a buyer, so yeah.
Clara:
I love it. That's how we do it. So you've launched a referral program. Tell us about this incredible opportunity for Haulsale members.
Kat:
So yes, we have launched a referral program. It's open to anybody who signs up with an account you can go into your dashboard and you can set a little referral code. And then anytime that you share Haulsalewith any of your friends or followers and they make a purchase or they sell something, you get $10
Clara:
Wow. And, is there a minimum amount of items or does it apply per product?
Kat:
It applies to their first sale or purchases no matter what that's on.
Clara:
Oh, that's amazing. So exciting. So exciting.
Emma:
I look at Kat to explain it because she is the crafter behind it. So in terms of, you know, what we work on Kat really has built our platform from the ground up. Everything you see there is, is handcrafted by her. And the refer a friend thing was a really, we were super proud to be able to launch that. And yeah. And so we've, we are hoping that it will help people share it with the community, bring in the sort of other trusted sellers. And yeah, you can definitely, if you have any questions about how to use it if you're an active member, reach out to us anytime, but it's certainly it can add up if you're bringing some friends onto the platform. If they're active you'll have $10 ahead. <Laugh>
Clara:
I love it. I love it. What a great concept. Use Haulsale to sell, buy, and at the same time, get a credit for you know, Hey, as a token of participating with the platform. That's incredible.
Doug:
And speaking of that plan, I mean, you have your refer-a-friend program, you have your active Facebook group, and you're both very active out in the seller community. So tell us a little bit about what you do in the community and how important the concept of community is to what you're doing.
Emma:
Well, I mean, we touched on it a little bit when we were sharing about our backgrounds, but we don't necessarily come from a place of tremendous experience with online selling and everything that we have learned has come from other sellers who have been super generous with their time and expertise. And it's been my favorite thing to observe in the List Perfectly community and the various sort of circles that have cropped up is how free with the kind of like educating people, the reselling community is. And so that's, I think such a powerful thing that we really want to tap into and be able to also cultivate similarly amongst wholesale users. So we've been learning from the people who joined us in the sort of early access phase back when we were first on your show. And we've been collecting feedback from them at the end of the day. Whatever it is that we are building, it has to work for our users, and the best way for us to find out about that is by talking to people. People have been great about giving us honest feedback and offering fantastic ideas, too. So many instances of things that we've added have come straight from the community as suggestions, and we wanna continue to develop the platform that way. So it's been a huge help to us and really a pleasure to meet so many different people from the community. And we wanna continue to grow it.
Kat:
Yeah, I would, I would add to that. We want to be a community-based business. We don't want to be a transactional platform. Not only is that kind of boring, but it doesn't work. It really needs to be community-based. You're not just some anonymous person posting something on wholesale that you can develop a reputation there of following a personality that you can interact with people that you can meet people. And we're working, you know, that's kind of the roadmap from here on out is to be more and more community focused. So you have like user profiles now, star ratings, and you can message anyone. And, this is just the tip of the iceberg in terms of the features we're building. We want you to be able to grow your business with us, not just do these random transactions.
Clara:
No, that sounds super, super exciting. What you're saying. I couldn't agree more Kat. What you're doing, you know, in Haulsale is really, really bringing a different perspective when it comes to transactions on marketplaces. Now I'm curious. Okay. Getting off the script, I'm curious, what's the mission of Haulsale, please?
Emma:
Well, I think you just mentioned that we want you to be able to grow your business with ours. And the mission is to help resellers be able to grow their business by making access to inventory sources, reliable, trustworthy inventory sources, even easier. And also by providing sort of a new stream of income for sellers, we are a new way that they can sell. So we've been seeing sort of we've talked to a number of sellers who really are excited about using our platform as a way that they can quickly sell stuff that they source. And they maybe previously didn't have an outlet where they could be selling in bulk if they're not the listing type. Yeah. So we are hoping that we can develop and open up a new revenue stream that people can tap into a new way of selling. And also that we can make it easier for resellers who maybe haven't had the opportunity to buy in bulk or source in bulk previously make it much easier for them to take advantage of wholesale rates and, and, you know, the efficiency that comes with that so that they can grow their business.
Kat:
The other thing that we wanna do is if you look at, you know, not naming names, just, just broadly reselling experiences, buying wholesale, you hear so many horror stories. Whether it's, you know, some guy sells you a truck full of what ends up being hand sanitizer, and then you have nothing to do with it, which is what happened to us. Actually, that's another fun story <laugh> or, or just, you know, on some platforms where it, you know, there's no, there's no buyer protection, there's no, you know, there's, there's a better system. We, we really, you know, customer service is our number one priority. Like you, you need to be happy. That's, there's no point in this existing if you're not. So we feel that we could kind of, you know, help the community in bringing kind of a trusted platform to the forefront.
Clara:
Absolutely, absolutely. Now having said that, what do you think is the biggest misconception you have faced right now and you would like to clear about Haulsale please?
Emma:
I guess there's sort of a misconception about who can sell on the platform, like, or were sort of the sources are coming from. And I think that it's important for like our biggest thing we wanna make sure people know is that it's, it's coming from private individuals who we have, you know, they're a member of the community.
Clara:
So Kat, what do you think is the biggest misconception we hear about Haulsale that you would like to clarify?
Kat:
I don't dunno if this counts as a misconception, but just on the back of the last answer when we first approach people with this idea and they haven't, you know, met us in person, they think, oh yeah, just another scam site. And I think there's just such a bad reputation around platforms entering the reselling space that it takes so long for people to trust us. And, you know, we sent a survey some, some months ago to our users and asking, you know, have you sold or bought, if not, why? And the number one reason was I just wanna see what happens. I don't know if I trust you yet. So I mean, that's, if we can clarify, you know, this is us, this is, this is fall sale. We're really available. Come ask us anything at any time. We'll be so happy to help. We do. In fact, have buyer-seller protection. We're trying our hardest to make it very, very clear exactly what you're getting. So please, it's fine. <Laugh> yeah. And if there are any questions, like, you know, we are, like I said, we are here to answer them and, and it's very important to us that we hear what questions are out there. So yeah, just where it's us, please talk to us.
Clara:
You have a hundred there you have it, a hundred percent legit company. Okay. Funded in Canada and now invited to participate in an accelerator that is here in Austin, Texas America, and what an honor you know, again, they hand-pick very few people for these kinds of events. So I'm so happy again they picked you and what an honor.
Emma:
It's true that it was a pretty selective program that we were able to get into. And that's part of why we feel like it's worth devoting our time and energy to going through the program because they have a fantastic reputation for helping companies grow. And I really think that the thing that made us sort of stand out for them is because we've been able to grow the community we have, and it's really exciting to us. And it's really exciting to you know, other leaders in business. They really see the potential for growth in the resale space and, you know, we firmly believe in it. And it's, our mission is to continue to, we want the entirety of reselling as a profession to continue expanding in a sustainable and, you know, safe way a protected way <laugh>. But we are definitely we were thrilled that other kinds of people in different industries when they, they might be foreign to this idea, but when we tell them and they see the excitement in the community, and we tell them about the, really the, like the power and the potential that resellers have to continue to expand and continue to power our circular economy, which is like everybody's goal these days, they were very into it. <Laugh> so it's cool.
Clara:
Congratulations. You have been able to converge on what I struggle to. Okay. And that's incredible you know, and to explain how big and abundant eCommerce is, it's just, it is the gift that keeps giving. And I always say one of these safest investments, because there is such a low barrier to entry, right, for anybody.
Kat:
Mm-hmm <affirmative> yeah, absolutely.
Emma:
Hopefully, we can make it even easier to enter and grow the business.
Clara:
Yes, you are. Yes, you are.
Doug:
Yeah, I think so. Okay. So this is a question for each of you, for each of you, what has been your single biggest learning lesson since launch?
Clara:
Ooh.
Emma:
Oh my gosh.
Clara:
What a great question, Doug.
Doug:
Thank you.
Emma:
I would say that my learning lesson is that I love meeting new people and I'm like, I've been so excited and learning so much from so many people, but I learned, I think that I have a certain limit on my brain power of being able to manage so many different relationships. The lesson I learned is that I, there, if I could do it again, I would've been using, I think, really robust organizational tools to help me manage and keep all of those relationships so that I can respond in a really timely manner. And you know, it's, I've been able to build up so many wonderful friendships and meet so many sellers that I'm so excited and passionate about talking to, but if I'm too excited and don't make a note then that's a problem. <Laugh> so I would say that if I could do it again, yeah, I would, I would rely more heavily on, I would've trusted that the growth would be as expansive and, and rapid as it was. And set myself up a little better to take some of the burdens off just pure memory and, and do a little bit more on tech. So yeah, I guess I've learned the lesson that there are software programs out there that can help <laugh>
Clara:
Well, you know me. Okay. I'm all about that okay? I couldn't rely more on tools, but I couldn't agree more with you Emma. Now, Kat, what has been for you okay? From your perspective.
Emma:
Today, Emma and I had a long chat about this. So I, I might be biased just, just by that conversation, but it's, it's how to run a business. In my last one, I was more like, oh, I just do the tech, you guys do the businessy stuff. Whereas here, you know, whether you are a reseller or you have a startup, it's, you know, what is a business? A business is a series of experiments. And then if you find an experiment that keeps that, that works, you keep doing that and you find out how to automate, and then you keep doing more experiments to grow the thing it's constantly we are, do we have our experiments set up correctly? Are we tracking the right things? How do we know what success is? What is realistic? What is not? And that's a learning lesson I'm going to keep learning. Definitely. <laugh>.
Clara:
Yes. And that's the definition of success. What a great answer. I couldn't agree more. That's exactly what we say all the time. Thank you for the great answer. Now you are starting to go to seller events. Can you tell us a little more about that?
Emma:
Well, you sound excited and we are very excited cause we are actually gonna be, you know, the first one, the first of the season, if you will, Flip Con's coming up so soon, actually, by the time this comes out, it will have passed. And I'm sure we'll have plenty to report on <laugh> after. But we are super excited because again, we love getting out and the opportunity to hear about so many different businesses and it's going to be a really fantastic opportunity there. We are in Austin and eBay Open is having an Austin event. And so I hope you guys will stay tuned or join our newsletter or Facebook group because we're definitely going to be planning an in-person sort of Austin-based meetup close to that. So that we can take advantage of people coming into town and really get to know and share ideas together in real life. And then we're gonna hit Poshfest as well since we're down here in Texas. And then it's kind of the last one for now that we've got on the books that we're also extremely excited about is the BOSS Reseller Remix. So we've got a lot of friends that put an awesome job organizing that, and it's only in its second year and yet it's really, so it's grown, we're super excited to join and we'll be speaking at that one too. So we're yeah, we're very pumped.
Clara:
Wow. How exciting. That's super exciting.
Doug:
And we're gonna introduce you to a ton of sellers for you to track.
Emma:
Yes, and I'm ready. I've got that.
Doug:
All right.
Emma:
Yeah. It's well, and it's, it's definitely like it's, it's a huge priority for us to be able to make those relationships in the community and it's gonna be a great opportunity to do it, to, to get to meet people in real life.
Doug:
Okay. So you're the newest List Perfectly partner. Congratulations. So how did that come about?
Kat:
Really from the beginning before we had launched anything, we knew List Perfectly, you know, you, you were very much on our radar, the level of devotion, <laugh> the spirited community. I mean, it's just, it's, it's a good thing after. Good thing. And so we were, we were just waiting when, when could we even reach out? You know, we're just, we're so small and List Perfectly is just so established and a pillar, of the reseller experience. And then eventually we just thought, yeah, okay. It's time. It's time. Let's, let's introduce ourselves and Clara, and Amanda. I mean just the nicest people in the world. And instead of saying, okay, come back to us. When you have something to show us, we, we, with our tiny little website, you know, just, just right away. Oh my God, this is so exciting. Ua, a lot of advice, a lot of help, and…
Emma:
Um yeah, it is, as I mentioned, kind of like the beginning of our like. My journey into this was trying me trying to really learn, you know, what it takes to be an established and like high performing seller, and the List Perfectly community was an incredible resource for that. So I was watching List Perfectly. I remember very early on as I had said, we really, it was on the radar. I had, I was like, Kat, this is a business that has really grown a reselling community that has tapped into a serious need. And, the way that you guys grew the business too felt so smart and, and organic. And we said like, we, whatever is going on over there is, is something's going right. We all know their formula for it. Exactly. And, and, but the thing is the fact that when we first introduced ourselves to you, that you know, you immediately looked at us and, and said, what can we do to help? Which was so encouraging for us too, because we were so, so early then. And yeah, it's not, it's not easy to start a business. And, Clara, you knew that, and, and you really took when, when you, when you saw what we were working on and met us, you really took us under your wing. And, you've been extremely generous with your time and your expertise. And, and that's been true of so many different people in the List Perfectly network as well.
Clara:
Yeah, no, you, you are dedicated, you have the right idea, you from day one, you want it to be community oriented and anytime you speak that, I'm like, okay, in, okay, I know you're going somewhere. You know, there's gonna be bumps along the road, you know, and it's embracing making mistakes in learning from standing up from every time you fall faster and that the rest, you figure it out, you know, that I'm so excited for you. Having said that, what is next for Haulsale?
Kat:
So we are going to continue building out the part of our business that's reseller to reseller because it is a key need. And, you know, yeah, we've barely scratched the surface there, but on top of that, we want to experiment with other sources of inventory. And we wanna be kind of a one-stop shop for sourcing for resellers, which means we need a lot of selection and a lot of different ways of going about getting that. So without revealing too much, we are developing lots of partnerships that we think are gonna be really exciting. Both in the kind of used kind of community sourcing direction and in the kind of new inbox liquidation direction.
Clara:
Okay. That's oh, wow. I mean, okay. You heard it. Okay. This is me <laugh> I love it. This is just, that we resellers have been asking for this for so long, and I'm so glad that you've listened carefully and you're providing a solution that is highly like you, you both said, okay. Back in the day, that was an idea that was mostly a scam. Okay. But you guys are making it legit and happening and structured with the process. And now with investors with an accelerator. Congratulations again.
Emma:
Thank you so much. And you know, for interviewing us today for asking us awesome questions, and giving us the opportunity to give an update to your audience. But of course, also for all the support behind the scenes that you guys have given us, and we're, we're so excited to be working with you going forward and all of your listeners as sellers and buyers on our site, hopefully.
Clara:
<Laugh>. Yes. <Laugh>
Doug:
Awesome. Anything to add that we haven't covered?
Kat:
I think that was pretty thorough.
Emma:
Yeah. I'm wondering if there's anything in the what's next category, but I don't know. I feel like, yeah, we got, we got through a lot. They were great.
Clara:
<Laugh> I do have one question. How did you two meet?
Emma:
How did we meet? Okay, so we have a mutual friend. We went to the same university at the same time in Montreal and a mutual friend of ours who was quite a character introduced us back then. And we definitely sort of knew of each other and were in sort of similar circles. And then faith just kind of had it that after many years after graduation, we all kind of moved back to Montreal at the same time. Kat and I ended up very much in the same neighborhood and we really were able to develop an awesome relationship, but the relationship was exclusively talking about business all the time. <Laugh> it was like, this is normal. People have other subjects that they speak on <laugh>. And because actually at that time, Kat was in the midst of scaling her, last company Shoott. And I was like, wow, this girl's a rockstar, like, they felt like it's incredible to be watching this so intimately watching somebody experiencing this. Yeah. And I thought it was fascinating. I was sort of on a different path. I was returning to school. Well, actually at that point, I guess I was still doing the corporate work and she, I found her to be so inspiring and so we really became great, great friends living together in Montreal, like, you know, the last, I don't know what, six years, seven years I, but yeah, it was really that our relationship always ended up being yeah, help ourselves talk and strategy in business. And so KA kind of approached me because she knew I was super interested in, in the second-hand and reselling space. And cuz we knew that we have the capacity to talk for 12 hours a day about this
Clara:
And why not make money since you're at it, right?
Emma:
Sure. Why not?
Kat:
And, and when I, when I approached Emma, her answer was no.
Speaker 4:
<Laugh>Really?
Kat:
And I thought, okay, well, well I tried, you know, it would've been great, but I, I guess I can't force her into it. And then about a week later she calls me and she says, Kat, I've changed my mind. We're doing this!<Laugh>.
Emma:
It's true. And then that's history. Yeah, I think it's very much new for me. And, and I, while I was working independently in the kind of web design domain for a few years, it is definitely a daunting thing to take on the project of building a business. But I think in that period of time, after I said, no, you know, you're crazy. I really considered you know, who do I have an opportunity to be partners with here? And Kat does have the experience of, of growing and it's, it's an experience that's so that few people have. And I definitely, you know, I trusted her kind of guidance around the project and I know how, you know, when she sets her mind to something it's happening. So yeah, I quickly changed my answer and then we've been, we've been going hard at it since <laugh>
Clara:
I love it. And you know what, when it comes to startups, can you believe that's the most important ingredient that I find between success and failure? The relationship between the co-founders, is it one that is bonded on money or is it one that is bonded on a business idea or maybe friendship or maybe a hobby? Thrifting? So that's why I asked you that question and I think that solidifies even more, how legit Haulsale is and you're here to stay and you have a big future for the reseller community.
Emma:
Thank you so much.
Kat:
Thank you.
Doug:
Thank you so much, Emma and Kat, for joining us and updating us on what's going on with Haulsale they can be found at haulsale.com and in their Facebook group, and congratulations on Techstars and best of luck in the future. But I have a, I mean, we're gonna be at all the same events for the next couple of months, so we will literally be seeing you soon. <Laugh>
Emma:
Yes.
Doug:
Yeah. See you in a couple of days
Emma:
Really at this point. Definitely. So we're, we're so excited for that too. Yeah. We will see you very soon in person. Can you believe that?
Doug:
What you're doing is so cool and unique and exciting and it's, I've even been like, should I look into Haulsale stuff maybe, but if I do, it'll be with you.
Emma:
I would love to have some records on there that really scratched the surface, so that's interesting. We'll talk, we'll talk <laugh>.
Doug:
We have plenty of time, but thank you so much.
Clara:
Aw, thank you again Emma and Kat.