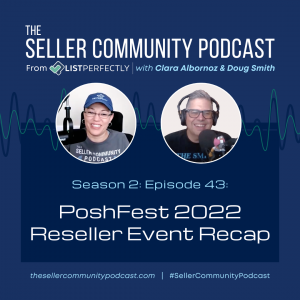 This week Clara and Doug recap PoshFest 2022 and discuss the breaking news of Poshmark's acquisition by Naver. We also include clips of interviews with sellers and attendees from PoshFest including Nina Osollo, Manal Saad, Suzie Eads, Emma Theroux, and Chris Torres.
The Seller Community Podcast from List Perfectly is the ecommerce resource for the seller community across all platforms and a hub for information on growing your business. Find out more at thesellercommunitypodcast.com, leave a message or ask a question at anchor.fm/sellercommunitypodcast, or email us at podcast@listperfectly.com.
List Perfectly is the ecommerce resource for selling across multiple e-commerce platforms including eBay, Poshmark, Etsy, Mercari, Kidizen, Grailed, Depop, Tradesy, Facebook Marketplace, Instagram, and Shopify.
Links
Seller Community Podcast on Anchor
Episode Links
Transcript
Doug:
Hello, Clara.
Clara:
Hi, Doug.
Doug:
So I just saw you last week at the amazing PoshFest.
Clara:
<Laugh>. Wasn't that incredible? The team List Perfectly directors you know, myself, and then we have an incredible young team, and then we had some people with an incredible experience. What an event for List Perfectly, but hold the presses. Okay. Because wow. Poshmark. Okay. We're gonna be talking about so much going on with Poshmark. Doug, I don't know where to start. Where do we start?
Doug:
This? Well, I would, So it was great, it was an amazing event. My first PoshFest, technically my first Posh event overall. I did a couple of online ones but I have a ton of notes from that. But like you said, there's hot off-the-presses breaking news, so I'd love to bounce some thoughts off you on this.
Clara:
All right, let's do this. Let's dive in. Right?
Doug:
All right, let's dive right in. So, if you haven't heard, and hopefully by now that you have a company out of South Korea called Naver that has bought Poshmark, It's, it's amazing. And I think I've read about it. I think it's gonna be really good, I think it's gonna be a really good thing in the long run. The main thing is they're not changing the leadership. That's always good. They're not changing the location, there's no mention of layoffs or anything like that. But there's a lot coming to the table with this company Naver that I hadn't heard of before this, but
Clara:
Absolutely.
Doug:
Yeah. Absolutely. So Naver's gonna combine some of its existing things that they have with Poshmark and grow Poshmark. So one of the big things is Naver has existing communities that they're gonna integrate with Poshmark.
Clara:
I did not see this one coming Doug, did you see this one coming? Or did you have any let's say suspicions that maybe Poshmark was going to be acquired or merge with some other entity?
Doug:
I had no, no inkling of acquisition, but, and we'll talk about this later, but stuff like Posh Live and some of the things that Manish said on stage really is leaning towards a platform, being the platform being integrated with a community, which is the future of e-commerce.
Clara:
Absolutely. And so Naver bought Poshmark 1.2 billion in cash. So, Incredible. I'm just, I'm in shock, you know? So one of the things that you were saying, you were talking about combining Naver with their already existing solutions. And one of them said that was going to be integrating with an existing community. And I know, you know, the name of this community, what is it called Doug?
Doug:
Naver Cafe. It's an online forum. So it's gonna be online message boards, things like that. Something like, that's actually a pretty common component to a community. You'll see that in, you know, our Facebook group. But there's a lot more that can be added to a community as well. A lot of like live interaction opportunities, things like that. But this is exciting. It's a good move in the right direction.
Clara:
Absolutely. Absolutely. I have to say you know, first of all, congratulations to Manish and Tracy. I had never met Gautam and Chetan. I never met them. But, incredible. Congratulations. This is a big recognition to any of us that are entrepreneurs, especially when, you know that Manish started this with the other co-founders in Manish's Garage. With the profit that he got from another successful company that he was able to, make again, you know, a great business. So that's just very inspiring, <laugh> now, you know, that you can go from there, you know, the American, American dream, right?
Doug:
Yeah. And you'll hear about so many huge companies that were literally started in a garage, and it's, you know, it's just, you gotta do it. Just do it. Everything started with an idea and you just gotta do it.
Clara:
I love it. Yes. Windows, Google, you know, so many companies, right?
Doug:
Microsoft.
New Speaker:
List Perfectly we didn't literally code it in a garage. But you gotta remember that The Clothing Vault was in the garage. Everything was in the garage. So, you know, so <laugh>,
Doug:
Exactly.
Clara:
Congratulations to them. It was very inspiring to hear this news from Poshmark. So the good news is that I think that all the incredible features that we're gonna be talking about in this session it's what made the investment of this company so wise and the Poshmark team so humble because literally, they were playing poker face in PoshFest. Okay. <Laugh>. And that deal was…no wonder Manish showed up, okay, the last day of Poshmark in the morning with golf shoes. And I said, and I know Manish. I know he's always working the floor in the crowd. He was not that he wasn't okay, he was always being Manish, and then, you know, so popular and social, but he was just incredibly relaxed. And with the golf shoes, which were beautiful, You know, hey, by all means, Poshy is very classy, but his relaxation I was like, This is interesting. Just, you know, I couldn't see it coming, you know, And then, you know, just, just incredible. It was just so humbling for them to be all over there in the, in the floor of the at the, at the lobby and, you know, and the at the bar of the hotel all the time. Mingling with resellers in talking with different people in the always receiving feedback and asking, you know, Hey, what do you think about this feature? To have executives of Poshmark asking me, what did I think about live shows that Poshmark shows? Okay. That's just incredible. You know, and Secondhand Sunday, that's, it's, it's just those initiatives are just…Posh Show and the Secondhand Sundays are just incredible. I'm so glad. And we're gonna get in detail what these are two initiatives, right, Doug?
Doug:
Yeah, we definitely will. And you know, as you said, it was great to see Manish and Tracy just, and, and their CFO just at all the events the whole time. At the party the whole time. And, you know, I love accessible executives, accessible CEOs, so I think that's the smart way to go. And not every company does that.
Clara:
And, can you believe their CFO you know, let's say hi to their CFO, Rodrigo is from Brazil. So I was born literally like, I'm 45 minutes from Brazil, and then I'm five minutes from Paraguay. So it was, Brazil is something, I speak Portuguese. So it was, well, at this point it's Portuno. Okay. <Laugh>. We call it a mix of Portuguese with Espanol. We call it Portuno. So <laugh>. But it was just incredible, so humbling. I got to know him, I got to speak with him. He was so excited to meet the community and hear back, and you could tell he was just, you know, his eyes were really big and so excited to hear the feedback and everybody being so happy at that event.
Doug:
Definitely. And no, that accessibility is great. And he was, he was a nice guy. But before we roll into that, let me bounce another couple of things off you with this, What Naver is gonna bring to the table? They're gonna help Poshmark improve search, which is a big deal, especially for Poshmark right now. They are gonna help them with image recognition, and so they're gonna add, which is gonna be huge. They're gonna add what's called discovery and recommendation services that are gonna allow you to search by color, by designs, by materials. And then ads, you know, ads are part, are part of the game. Some of the sellers don't like ads, but they help platforms grow. And then interestingly, Naver has an existing payment service. So it'll be interesting to see where that goes.
Clara:
Exactly. And also they were speaking about increasing Poshmark's international exposure to different solid markets. So that's gonna be big okay for their expansion. So I think they have a great growth plan. They've been really researching what to do, how to do it, when to do it, and well done, well done. And to see them now I understand. Okay. you know, <laugh>, you know, the event was like and, and, and it was just incredible to see the team Poshmark just being so authentic, so humble. So that was so, so…it really nurtured my soul. It was really good, Doug, for me, especially being an entrepreneur bootstrap company that literally, we didn't start maybe in the garage but it's kind of similar. So it's, it's exciting. That was an incredible experience. And, congratulations, 80 million users for Poshmark. Go Poshmark.
Doug:
Yeah. Yeah. Poshmark's doing well. And you know, as you said, everybody was available. Everybody was so helpful, and it was a very nurturing environment. Great to have the whole, not the whole, but a lot of the List Perfectly team there and engaging with Poshmark and sellers.
Clara:
And learning. We learned so much. Oh, wow. Those, there were some incredible things. I have to say that there was a presentation about Google shopping, they made an incredible presentation. That was one of my favorites. One of, and of course, you know, Tracy speaking about data leverage. Okay. That was incredible. Tracy is incredible.
Doug:
Yeah, that was great. And then sharing about community and the power of community, talking about that, that was a running theme. And then the data presentation was very deep, but data's important. And so many sellers don't use the data options they have. So it's always great to see those options that you have on platforms and just…
Clara:
Yeah. The innovations that Poshmark introduced were okay to their data analytics. Okay. When it comes to rendering, you know, important data for us resellers to grow our businesses in the right direction, with the right category, with the right product, with the right pricing you know, with the right margins. So I really like to keep all the additional features they have included, and they have made downloading that data so easy into a CSV spreadsheet. So that was really good.
Doug:
You know, what really stood out to me though, was Manish's opening address. And he started it with basically saying, Hey, we are a community-based company. We're with you, we're listening to you. I'm announcing that we heard your feedback on the algorithm change. We're gonna roll it back. And so that was a good move. That was, you know, that was applauded.
Clara:
Remember the crowd on <laugh>, It was just, Okay. For those of you that were not there, it was certainly an incredible celebration when Manish said that. So it was so welcome. But at the same time, one of the things that I really liked about Poshmark before Manish even spoke, is that they took into consideration that unfortunately the incredible weather was out of control on the East Coast. And what was going on, what, what started in Florida or, or, you know, progressed, or I can't remember, it progressed to Georgia, South Carolina, North Carolina, then a little Virginia. Then went inland, it was unpredictable. So, you know, to those people, if you were affected and if you had no electricity, thank you for listening today. I know we were celebrating there, but we also were thinking of you and you know, really thinking and sending our most beautiful thoughts to you and your family, and hoping that everything was going to get restored. And then they made these available online on Poshmark's YouTube channel, and it was going streamed live as Poshmark CEO Manish Chandra was speaking. So I thought that it was very nice that they improvised on that, or, or if they had planned ahead, that was a great move.
Doug:
Yeah. We have a lot of seller friends in Florida that we checked on, kept an eye on, and you know, it's tough. Those things happen, and we hope everybody's okay. Sending thoughts and prayers.
Clara:
Yeah. Absolutely. Absolutely. And so I thought that that was a great move from Poshmark, you know, making this available to be watched at any time, just in case you didn't have electricity, or we were just hiding. We have Danna. Okay. She's an incredible director for a partner company called WorthPoint, their incredible search company for the value pricing history of an encyclopedia of knowledge. Again, Danna definitely, I dunno if you saw on Facebook, but Danna was hiding in the bathroom of an Airbnb that lost the roof.
Doug:
Oh, I did not.
Clara:
Yes. So I'm so glad that she is safe because she was safe. You know, so that was scary. So we just wanted to put, I just wanted to put this out there, that yes, you are in PoshFest, but you're not or not aware of what's going on with the nation, and that it was unanimous that everybody was talking a little about it, and we all had someone that we knew and love in that area.
Doug:
Yeah, no, definitely in thoughts and minds and still in thoughts and minds.
Clara:
Absolutely.
Doug:
You know, some other things that stood out from Manish's presentation, and it kind of tied into themes of the weekend or the week. The event focuses on people growing together with the platform, but a big, big focus. And he said the word secondhand many times. . Secondhand today is mainstream. And I think that I think that's true. I think that's true. Not just on Poshmark.
Clara:
No, absolutely. So there's been, you know, an increasing trend of higher demand for secondhand, pre-owned, pre-loved, like I like to say clothing. That was, that's my expertise. And that was nice that they were embracing the concept of sustainability. And Manish said many things that I embrace wholeheartedly, and that it was okay to reduce fast fashion. He didn't say the word fast fashion, but he was talking about buying clothing. Okay. That we can reduce several times so we can reduce the carbon footprint of the clothing and that it is more sustainable, and at the same time provide incredible tools to the Poshmark community to keep growing this segment of eCommerce. When I started doing this with Amanda literally many years ago, we started together 13, but Amanda was doing this 17 years ago. People thought we were selling dirty clothing. And you know, even me, I thought that that was not legal to do. Okay. If something had a hole, I thought that you couldn't sell it. So, to see that now Poshmark is gonna be offering, even a specialized solution for this, and it's called Secondhand Sunday. That doesn't mean that you can only sell pre-loved stuff on Sunday. That means that it's gonna be a day that is dedicated to supporting second-hand sellers' circular fashion, which is the opposite of fast fashion. Okay. And support. Okay. The planet. How do we do that, you know, by being more sustainable and making better choices with what we wear constantly, or also the things that we have around the house: sheets, accessories, et cetera.
Doug:
That's a great push, and I think it's gonna help grow from there. And it kind of goes with, you know, another thing that Manish said is he said that Poshmark is all about connections and connecting people. And then he moved into the amazing Posh Shows. And how that is new and still rolling out, but they showed some examples.
Clara:
I couldn't, I have to say as a CEO. Okay. I have to say that I have to interrupt you there because I love how he bragged <laugh>, how fast his tech team released the live stream because that's what it is. Okay. It's a live stream sale, you know, that you can do. So I just, Sorry, but I have to tell it to our audience if you were not there, you know, to see they were humble all the time. But that was the one time Okay. That I could see Manish as really bragging and being so proud of the team that was able to pull it off by invitation only to us only Poshmark sellers. They're growing that invitation or that segment of users for that feature daily in what it's currently been doing is not that it's gonna be implemented. It has already been implemented. So that was the one time I saw Manish bragging. So, Sorry, Dougie, Go ahead.
Doug:
No, no, that's Good.
Clara:
It was just too much fun to see that.
Doug:
I'd brag. I'd brag about it too. And I think it's a smart move. You know, there's a, like, not Instagram sales, You know, there's a lot of live selling capabilities now, and I think it's a good move. It's gonna grow. I talked to our friend Manal Saad. She's, she was one, one of the people they reached out to, and she's an LP user, so she talked about that a little bit. And the interesting thing too, they said this a couple of times, Manish emphasized individuality, and he said, embrace your weirdness. So, I thought that was interesting.
Clara:
That was just incredible. You know, and, and they even have like a display and embrace, embrace your weirdness and what he meant with that to be more specific is embrace your uniqueness. Let it out. Don't copy others. Be yourself. And I think one of the breakout sessions that I did was to set something like you to take, you learn and you absorb, you get rid of what you don't need and what is not useful anymore, and then you incorporate once you make it yours. So, I don't know. I think I heard it. I, I'm pretty sure they said it in another, you know, with more eloquent words, but that's how I got it. And that, that was very inspiring to me, you know, to you know, to, for us resellers to hear those words.
Doug:
I think that's accurate. And I think it's really good to kind of individualize that concept with, with their, with their sellers. One other thing he said that I thought was interesting, and I don't think he was saying specifically about other e-commerce platforms, I think he was referring to all different kinds of companies, all different kinds of platforms. He said authenticity lacks in some platforms. And I think that's true right now on some of the social media platforms. And I think Poshmark is very, it's about connection. And they're trying to grow those capabilities, and obviously, it makes sense. They want everything, everybody to come to Poshmark and do everything there to connect, to buy, and sell.
Clara:
You are Right. He did say, and in one of the workout sessions, they said, Don't focus on the brand. Focus on style. So I think that they're trying to branch out of like, you don't have to have Louis Vuitton Okay? Or Tom Ford Okay. Or whatever it is. Okay. To sell on Poshmark. Okay. You don't, As long as it's beautiful, And I heard that consistently with the good Google shopper, amazing presentation. And I also heard it on a breakout session that, you know, resellers were chatting about what works best when it comes to sourcing and so forth.
Doug:
To a degree, it's about brands, but it does, you don't have to always have the high-end brands. It's kind of like adapting to what's selling and what people are buying and what people are looking for. Could be Target one day or Costco, as I call them.
Clara:
<Laugh>, but no, it's like y2k. Okay. Something that is very popular right now. And especially also, I think it's a very strong keyword also in with a younger crowd. And, of course, I think the main audience, Poshmark, targets a very wide audience, but I'm mainly talking about a younger audience sometimes, or an audience with a very, very refined taste that is looking for some specific style. And I, I think that explanation made it so clear for me. Okay. To make them self-differentiated from just brand oriented.
Doug:
You know, I love that there were huge sellers there, but there were sellers of all levels. A lot of small-medium businesses, a lot of new sellers. Yes. And Manish dressed that as well. He said We wanna reinvent the future of fashion together in your closet. Yes. I like that a lot. That was great. The future of fashion is in your closet, so kinda ties back into secondhand and things like that.
Clara:
That was very powerful when he said that because as you know, Doug, I even have to dive into my closet. And I had some stuff from my mom that I have to sell in order to continue funding List Perfectly on all the other ventures that I was building. So you know, I love that he said the future, Yes, it is absolutely right. The future is in your closet and you gotta start there. It's in your home, it's in your closet. It's in things that you might think that is not that much worth it to you, but there you go. You know you can, you can list it and sell it on Poshmark. That's, you know, and then it's an incredible platform that makes it easy. They have a desktop application. They have a mobile application. The mobile application. If you don't have any experience, reselling is the one that I always recommend, because I have to say, they have made the listing process very easy when it comes to mobile. Um you know, of course, you know, Hey, I love List Perfectly mobile, you know, But I have to say, they have made it very simple. So their listing form was inspired, the List Perfectly business plan. So that's where we got the inspiration from. And then when it comes to our more advanced plan, we got it inspired by eBay. So that's what we did. You know, so I have to keep the kudos to Poshmark. I love both applications and they're very well maintained. And of course, last year they went through some hiccups and that was amazing, they managed to address it right away, right away.
Doug:
And it's always good to listen to the feedback and you know, make those adjustments. Even a big one like that. And you know, in retrospect, we know now that this, you know, the company acquiring them is also a big search company. So that might have, maybe there was a little advice there. But it's good to listen to your community.
Clara:
Always. And that's what Manish wanted to communicate, I think, with the audience. And he was very firm and adamant about it, that Poshmark is a community-oriented company and will continue to do so.
Doug:
Always love hearing terms like community and intersecting those concepts. And I think community oriented e-commerce platforms. A platform that incorporates a community that's the future, ties into social commerce, and that's where things are moving.
Clara:
Yes, absolutely. Now, and, and definitely Postmark is seeing the future by releasing Posh Shows. That's just, they, they have many, many I'm pretty sure I, for, I'm forgetting many things. Okay. But these were my favorites in that's just, that's just the feature. That is a great investment and that for the community. Well done.
Doug:
We talked to a lot of sellers while we were there, and so we're gonna include some clips later in the episode, but that was great to get that perspective. And just, again, the different levels of people that sell and buy. I always try to include the buyers, cuz a lot of people buy, sell and buy on Poshmark.
Clara:
So my last PoshFest was in 2019 when List Perfectly was going viral. So at that time, I was not very literally was not even known in Poshmark. I'm not a big seller because I wasn't, I'd never been a Poshmark ambassador back in the day when I tried to, 13 years ago when I tried to resell them. Teaching Poshmark wasn't, wasn't that good, unless it was a particular brand and style, but it wasn't big for that audience. And to see that that has changed, it's like, it makes me so happy, so happy, well done. What it, what a great retargeting you know, and capture of a different segment for the Poshmark community.
Doug:
What I love too is, in talking with a couple people, I think you and I actually also had this conversation. It was interesting to see versus the last PoshFest, how much more diverse the attendees were.
Clara:
Yeah. I have to say. And to see, okay. So many men, Okay. And these are not just husbands. Okay. Because we have the Posh hubbies. Okay. We now have them. Yeah. So <laugh>, this was incredible. You know, so these are Poshmark Sellers, and then, and they had their own like, like manage, set their own uniqueness, their own particular touch. And that, that was really nice to see the diversity and a very, very, very different crowd, different ages, different races, different different accents. Incredible the amount of people that I met. And then finally I got to meet him in person. So many people. Thanks Manal. Nina, that was incredible. So many sellers oh my God, Dylan … And so many others Okay. That it was just so nice to see our community, our Poshmark community. And these are people that I know for years so incredible I got to catch up with them.
Doug:
Obviously I come from eBay, so I have that kind of experience. I saw some eBay sellers that I knew also sell on Poshmark. That was great. But what surprised me too is the number of people that I talked to, that we talked to, who, when you get down in the conversation a little bit, they, Oh, you're from List Perfectly. I use List Perfectly. It's like, Oh, okay.
Clara:
It was very unanimous. It was really nice. It was very nice. I felt like a rockstar, you know, because two, three steps and someone is stopping me and Hi List Perfectly. Thank you. You know, so that was really nice. So it was incredible. I felt very welcome. I didn't think we were that big in the Poshmark community until you go there. I think honestly, Doug is my own chip on my shoulder. I feel like I have catered a little more solutions with Amanda to eBay, because that's our comfort zone. So to get out of our comfort zone and have the whole list, part of the List Perfectly team going, attending the events so we can learn and understand at a more advanced level. Poshmark tools, Poshmark community, Poshmark solutions. That was very enlightening. So we are. I'm so excited as team List Perfectly, and I did promise this to Tracy and Manish, you know, on PoshFest 2022, I did promise them that we're coming with incredible solutions. We're gonna help them with sharing tools that will not overload their server. And we're gonna do it the List Perfectly way. You know, as always, making sure that we're about listing optimization and that that was something very big with Poshmark. So I'm, I'm so excited that we share so many things in common. You know, even though we might be a small business at List Perfectly, it's incredible that they inspire so much for us to keep growing at a healthy rate and in the right direction.
Doug:
And obviously compliance, which is important too.
Clara:
Ab a hundred percent thinking about compliance. Me, I always have a magnet. I met the only reseller. Okay. She's a full-time FBI agent. I have those amazing conversations. Okay. She is amazing. And she does Poshmark two unwind, to unplug. Okay. So she has to do it, and she enjoys it so much. Of course, I'm talking with her, you know, and, and I told her, you know, I took some training with an FBI agent here. You know, I love it. You know, I love that stuff. <Laugh>, you know, of course not training physically, you know, as training, you know, with the knowledge and the tools that they are learning from the bureau. So that was just, I had the greatest conversation, I think we went to Poshmark. I was so happy to see that somewhat with so much responsibility, you know, enjoys doing eCommerce and finds. Okay. An outlet with Poshmark so she can unwind and in just, you know, it regenerates. You should see her when she speaks. She likes the FBI, but you should see her, you know, how happy she was there, you know, with her outfit and, and so forth. It was really nice, Doug.
Doug:
Oh, that's cool. That's a great story. I like it. <Laugh>. Now I was gonna tell you it's like obviously, I'm, you know, I've done a ton of events. I've done a lot of seller events. Mostly eBay. I was a little nervous about this one cuz I'd heard how different it was. But it was great. The outfits were a little nicer overall, <laugh>, but that was probably the only thing. Otherwise, it was, you know, everybody was cool. I knew some people had a great event overall. I relaxed after a bit. I was fine. I wore a tie for a few hours. It was okay.
Clara:
You did great. Thank you for wearing a suit. I love it, we have a picture together. That looks great, Doug. Thank you. You looked amazing. I really like your suit. For those of you you know, Doug used, okay, a suit for one of the, let's say, what do you say, soirees or meetings that we did for List Perfectly and with eBay. And I was like, No, no, no, no. If you're using it for eBay <laugh> No, no, no. You're using it for Poshmark. So I asked Doug if he could wear his amazing suit for Poshmark. The PoshFest party. Not for the whole event. Okay. So, thank you. And then it was amazing how well you surprised me. So you were walking with these, I don't know. I call it the mobile podcast studio. Okay. I don't know. I don't know. My team bought it. Doug said what do I have to buy and then the team makes it happen. And then I see him walking with, in the internal pocket of his blazer. He has Okay. What it is approximately like very thick, like, do you remember the cell phones that we had back in the night? Okay. So kinda now, but half of the way, but still thick. Okay. And antennas. Okay. So, can you, can you help our audience because you were walking with this, We were interviewing on-the-fly people and having so much fun with people that were so thankful to be in our List Perfectly community. And they love The Seller Community Podcast.
Doug:
It's called a portable digital recorder and has microphones on it. It can take inputs. Bands can use them. You can plug into 'em, you can take input directly from a speaker and it's got a lot of different options. But it's handheld, it's not light, but it's not too heavy to weigh down a jacket, which is good.
Clara:
I don't believe it. Okay. It's very heavy <laugh>. I'm not gonna have that thing in my blazer, no way to do that. Okay. But yes. Okay. I think it's a matter of perspective to say. Right.
Doug:
I'm used to it. We used them at eBay. I'll have mine. Yeah. The only thing is, sometimes the TSA doesn't like it because it looks like a taser <laugh> sometimes it gets pulled out and looked at.
Clara:
I'm glad you made it with the and it's not the $25 Panasonic portable recorder. Right.
Doug:
It's not. It's a good one. It's one of the best you can get.
Clara:
I love it. Well, thank you for doing that because we were able to just go to a corner where the conference is going and interview Poshmark, sellers incredible, incredible members of our community and having their experience. We even have Poshmark speakers sharing their experiences. And even Nina is gonna share with you. Incredible. At one moment she says that she stutters and you know, and, and, and of course, you know, I'm all because I had a stutter. I stuttered until 20. I felt the empathy going to me and I was so impressed with Nina. What an inspiration. Her speech. And then again, you know, thank you for the support to List Perfectly.
Doug:
Yeah, definitely. She was very well-spoken and you wouldn't have been able to tell. But it, you know, thanks to her for sharing her story. It's always inspiring when you hear things like that. But we will definitely hear from her and some other sellers. Anything to add, Clara, before we move on?
Clara:
I would say, you know, we are very lucky that this event was held. If, for those of you that have never attended a PoshFest, one of the things that Poshmark does very differently from eBay is that they include the event in the hotel. So you don't have to leave the premises. So you can attend the event, take a break in your room and then go back to the next session. Then you go to the hotel restaurant, but you don't have to, you're not missing anything of the session because you are literally steps away. So well done for the Royal Sonesta, I thought their team, I thought the event was very well planned. The third-party company, I don't know. Okay. But I did ask Manish it was very well done organizing the PoshFest event from audio capacity capabilities, from video, from the tables, from the banners they have to put on the hotel because they only have, you can only put it for a certain amount of time that you can, you know, literally put it in at night, you know, and then, you know, you'd have to take it out, you know, the next night, something like that.
Clara:
Right. So it was very well done. Great choice, great investment. I asked the community, they loved it. Everybody was happy. I could say that breakfast, on the first day wasn't ideal. Okay. But I think they made it the following day. So that was amazing. You know, and then the first day we had some sandwiches. They were very good. The food was great. And then they gave us, you know, a lot of, they give you Okay. The opposite of Okay. They, or I don't know, it was an open bar, but I wasn't in L.A. Okay. But they give you, I couldn't even do that, they gave me four coupons for alcohol, which I only could do two. Okay. But okay. If you order sparkling water, that counts also as one of your tickets. And then they have a food truck in the back that I went to see, there was a little line Okay.
Clara:
For being just, you know, who were like, what, maybe 200 people on or more on that, on the PoshFest. So I thought that maybe one food track wasn't enough. Alright. But other than that, you know, it was great. The line was not impossible, Doug. So that was great. So that would be, that would be something that I would love to add, you know, that was, was very convenient and well done with the party. It was well done and you had a very nice room. If the music was, which, you know, you know, I'm almost 50. Okay. So <laugh>, that's what I was gonna say. So if you think that the music is too loud, Okay. You could still have a conversation on an open patio. Okay. Or you could go to the front and you still had a hallway.
Clara:
And you could still take pictures with like Poshmark. Oh, what about the Posh booth that, we are on the Poshmark page? Doug, we are on the PoshFest. Can you believe the team LP is there? I couldn't believe that was amazing. Thank you. That was, I feel so happy. You know, we were being goofy ourselves. They had such a fun booth where you could choose your props and then, you know you could take pictures. But of course, at LP uh we decided to take a team picture. So that was amazing. Now another thing, they have a 360 camera and these cameras are rotating around you. So it was really nice, the additional things they have. Okay. When, when you attend the event, it's worth every penny.
Doug:
The closing party was great and fun and as you said, I would've preferred more eighties music, but that's always me. <Laugh>. I did dance with some sellers to a Britney Spears song. So…
Clara:
Oh, you're courageous. Okay. You are. Yes. You're still brave. Okay. No, no, no. I can't do I did it again. Okay. No, no, no, no. I can't do it. Okay. That's, there is a limit. Okay. <Laugh>,
Doug:
You did it the first time. You don't need to do it again.
Clara:
<Laugh>, but no, that was fun Doug, yes. Okay. Poshmark people, if you could please help us a little. Okay. At least five minutes, maybe, you know, in the beginning of the party and all. But that was nice because they did put Okay earlier music with the fashion show They did. Secondhand successful. I loved it, I loved it. That fashion show was incredible, Doug. And they did put retro music on that show.
Doug:
There you go. Yeah, that was good. That was fun. That was a nice touch. Very Poshy.
Clara:
Yes. We couldn't dance to it, unfortunately. So next time we want the fashion show on the secondhand fashion show, we wanted it on the dancing. Okay. At least five minutes, 10 minutes. Okay. Maybe one from the eighties, one from the nineties. So we can make everybody happy. Right. <laugh> a couple songs, <laugh>. Hey, you know, we can start with one, you know, and then we can increase it. Right.
Doug:
Well, All right. So PoshFest 2022 was great. It was a success. I think things are looking good for Poshmark. I'm looking forward to next year. And it was good to get outta my eBay bubble.
Clara:
Me too. I hope that next time it's not gonna be in Houston, Texas, because wow, there is so much construction on the airport, Doug. There it says I have to take off from gate E, but gate E is under construction, so nobody tells, there are no signs. Nobody tells you. And the new signs, Okay. It stays very, very, very hard to see in that. Nobody tells you that you cannot even get from D to E, so you gotta go to C. So I have to <laugh>. Oh, man. Oh, Dougie. I was so lucky that I went early. And that was no problem, but it was a little complex. Something that should take 30 minutes. Ended up taking like literally one hour and 10 minutes to figure it out. And I was so lucky that I have an incredible driver you know, being very patient because I have to go asking now. And you have to have, you really have to have like your driver, you know, because you're leaving all your stuff there. So I have to, and it wasn't even close to where you can park and get in because there is nobody, nobody from the airport at the at, at the sidewalk. So it was challenging. I'm glad that I left at 5:50 AM, my airplane took off at 10.
Doug:
You never know with some of these airports how much you're gonna have to walk. And sometimes it's a surprise and some of them have trams. And I did a couple of airports on the way back and the first one was tough. It was a lot of walking. The second one had the tram. So that was good. Thank you, Clara. Thank you, Manish. Thank you, Tracy. Thank you to the whole Poshmark team. PoshFest 2022 was an awesome event.
Clara:
Congratulations. What a success! And can't wait to see them next year. And all of you, whether you're a Posh seller or a Posh ambassador or a Posh you know, supporting a Posh seller you know, we'll see you next year. What an incredible event. If you haven't attended, it's worth the investment. It's just an incredible opportunity to feel the energy. And it's not about maybe just everything about the presentations, but the power of networking of these events. Like manage, set. So community, community, community.
Doug:
And everybody stay tuned for some insights from some of the attendees we talked to atPoshFest.
Clara:
Thank you Doug.
Doug:
Thank you, Clara. Now we'll hear from some of the chats we had from some of the attendees at Posh Fest. You'll hear from a conversation Clara had with Nina Osollo, Manal Saad, Susie Eads, Emma from Haulsale and Poshmark seller Chris Torres. Now let's listen in on Nina Osollo talking with Clara. Nina spoke on stage, she shared her inspiring story. And listen in.
Clara:
Hi Nina. Good morning Nina. How exciting it is to be here with you in PoshFest 2022. And thank you so much for your time. You know, many things are happening this year with PoshFest. How do you feel about this event?
Nina:
Oh my gosh, I'm so excited. This is actually the very first in person PoshFest that I've ever been to. And so I, so I didn't know what to expect really, but so far I'm having a blast. They just announced all these new features and I'm so excited about that.
Clara:
How long have you been selling in Poshmark, please?
Nina:
On Posh, I found Poshmark in 2014. Yeah. So I've been selling since 2014. Well, yes, I listed a Coach purse or Coach wallet back in 2014 cuz I found Poshmark, I listed it, left it there, forgot about it for two years. Yeah. And then in 2016 I got back on the app and that's when I started listing stuff consistently. And so pretty much since 2016 I've been active on the app.
Clara:
That's no wonder your incredible reputation cuz I saw you on stage giving an incredible speech and inspiring so many in our community. I almost jumped off my chair and said, You're amazing. So how did that happen? How does it feel, you know, to get invited by Poshmark to speak on stage and then address so many people and everybody cheering you? How, how did it feel? How was that for you?
Nina:
Oh gosh, I was so nervous. But at the same time, it was so exciting being up there and seeing everyone and then actually hearing applause and laughter. You know, cuz you always want to make sure that you're getting your point across. Yeah. And it was, it was just so exciting that Poshmark reached out to me and they felt that, and they felt that I had, I guess they thought I had stuff to say that would impact.
Clara:
You have knowledge, experience, you've been, you've done it part-time and now you're doing full-time Poshmark. Is that right?
Nina:
Yes, yes. Full-Time since 2019.
Clara:
Oh my. So is this related to the pandemic maybe? Or how did it happen? Coincidence with 2019?
Nina:
Sort of coincidence. I was laid off from banking. Oh, you were in banking before? Yes.
Clara:
Because 10 years I've been with Chase, Citi, and Bank of America.
Nina:
<Laugh>, 11 years. I worked for different banks, credit unions, and…
Clara:
Oh, you did credit unions?
Nina:
Yes.
Clara:
You are an angel <laugh>.
Nina:
So I was in the banking industry for 11 years and then I went through a bank merger in 2015. Yeah. And so then I left, went to a different bank, and then three years later, or yeah, three years later, they merged, they merged with another bank. So I went through two bank mergers back to back. Yeah.
Clara:
Oh my God Nina you know, then for those of you audience <laugh>, I don't think you understand banking is tough and stressful in, in the acquisition and hanging in there for two acquisitions. That's, I don't wonder you're so happy reselling, right?
Nina:
Oh my gosh, yes. When I got laid off, Yeah. I think most people would say, Oh man, I've gotta find another job and I'm kind of depressed because this is going away. You know, my full-time income went away. Yeah. And I, and, and a lot of people would wonder, what am I gonna do next? I decided you know what, let me try this resale thing full time because I had already been doing it part-time. And I kind of took a leap of faith, cashed in my 401k, took my severance pay, and I threw it all into the business. And I said You know what? People are telling me I'm stupid. I shouldn't have done that. But you know what, it worked out.
Clara:
Nina, the same thing. My family thought, what? And I, at that time, I was doing vintage. So they're like, What You invested $30,000 on dirty clothes? That's what they told me. <Laugh>
Nina:
My stepdad was like, Don't quit your day job. I was like, Well, I literally got kicked out of my day job. Yeah. So I said, So I've gotta find something else to do. And, and he was like, Well, you already know banking. I said, But I'm so miserable. " I need something different. And so I just, I kind of put all my chips on the table Yeah. And I had to believe in myself.
Clara:
Yes. So you, I I, I have to see from my perspective, as much as banking was stressful, it gave me such a backbone and background to take off my reselling business on a very strategic level. You know, we have contingency power tools, you know, savings, 401K, and so forth. Do you feel that those years in banking are helping you a lot with reselling, your reselling business now?
Nina:
Oh, absolutely. I think it helped me a lot with discipline because in banking, I mean, it's pretty much a strict schedule. You know, you're nine to five, you have deadlines for things like, it's no nonsense. You can't slack that. So it gave me a sense of discipline. And then it also gave me the motivation to do my own thing because I didn't wanna be in banking for the rest of my life. Yeah. And I could. And I, at the time, I got to a point where I had just settled in life Yeah. And getting laid off. Although it was bad, it was the best thing that ever happened to me.
Clara:
That's beautiful. Well said to our audience. I have to say it, it might sound like a cliche, right? But when a door closes right, another one opens. And I love that you saw, instead of focusing on what was in the past, you focused on looking at the future. And here we are, successful reseller Posh speaker. Okay. Poshmark called you to inspire other community members. You have such an incredible story and I have to say thank you for everything you do for believing in List Perfectly, thank you for being part of our community. And thank you for being your awesome self.
Nina:
Oh, thank you. Thank you so much. List Perfectly has been essential in me growing from my 700 listings back in 2019 to now over 2000 <laugh>. So I've grown more than double.
Clara:
That's amazing. Nina, congratulations. Thank you for being here at PoshFest 2022. Let's have fun. And tonight is an incredible party and I'll see you there.
Nina:
I'll see you there.
Doug:
Here's a little bit from my chat and catch-up with our friend Manal Saad.
Doug:
Great to see you again. You've been on the podcast before you talked about so refresh us on that because last year you spoke at PoshFest, and you presented.
Manal:
Yeah. Great to see you again, Doug. Yeah, I spoke last year at PoshFest. It was on Zoom. This year I'm attending in person. I decided to just sit back, enjoy the show and listen to my fellow resellers give talks, and see what I can learn through their eyes. So that's what I'm doing this year.
Doug:
And How's the event for you?
Manal:
This far? It's pretty good. It's so nice to see everybody back in person. I haven't seen a lot of people in a while and within the last like two, or three years I've made some new reselling friends online, so now's the first time that I'm getting to see them. And it's great to kind of jump in through the different panels and chats and see what new insights that people have, especially post pandemic.
Doug:
Okay. Okay. And what are you excited about that's coming for Poshmark?
Manal:
I think the number one thing I'm excited about, which kind of started is the Posh Shows. So they went into beta testing. I volunteered to be in the first week of shows, so I did my first show on the second day that they started that. And honestly, I think, not just me, but in general, the shows were doing really great. I've been seeing some Instagram live shows and Whatnot and the Posh Shows are doing really well. So I'm excited to see where they take that further. I know it's still in the beta testing phase, but I'm hearing there's gonna be a lot of updates and improvements to that part of the app as well.
Doug:
Yeah, it's really cool. And it seems like you said things are really leaning that way with WhatsApp and you know, even eBay's starting something up. And so that's just super interesting. And what, what else have you done in that area?
Manal:
That was actually the first time that I did live shows. So I've been just a spectator on some of the other platforms. And then Poshmark said they were gonna release one and I'm like, Okay, you know, I'm used to Poshmark, let me get started. I know a lot of people, in the Poshmark community, so I'll go there. And it went pretty well. So my show took about two hours. I sold almost all my inventory. It was kind of like a way to sell everything really quickly and I think it really spoke to different buyers that wanted to see items. Like in person they get to ask questions, and you read the chat and like get feedback or get their question answered pretty quickly. So they're there to shop in person but through an app. So I mostly sell women's clothing and fashion accessories. So half my closet is about clothing so like dresses, pants, things like that. And then the other half of my closet, which is a really big part of it, is women's shoes. Okay. and <laugh>, as Doug looks at my shoes, <laugh> Uh so women's shoes, and I buy these wholesale through boutiques. Every pair. I get it in 12 sizes. So I mostly or half sale shoes. My last show was just clothing. I try to just focus on one category or a couple few categories. But I think I'm gonna try, try Shoes next in my next Posh Show.
Doug:
Why do you recommend seller events like this?
Manal:
I recommend seller events like this because there are some things that you might not learn on your own. And even if you try to learn on your own, there's things that you might not realize you're missing until you kind of like see it and you're exposed to it and something that maybe works for you or doesn't work for you, somebody else might have a different insight that you didn't think about. And kind of having that in person experience, you're more likely to remember it and you're more likely to kind of tag on a face with it. So when you go back home and you're working on your business, you're like, Oh yeah, this person told me that this kind of inventory system works. I remember them talking about it. Maybe I took a picture, I took a video. And then you'll go home and you're more likely to implement it.
Doug:
Well thank you so much for taking the time.
Manal:
Thanks so much, Doug.
Doug:
Here's a little bit of my conversation from Suzie Eads, an eBay seller I've known for a bit.
Doug:
What do you think of the event so far?
Suzie:
I love it. I came to learn a lot of, you know, to learn the ins and outs of it and I'm really learning stuff.
Doug:
And how long have you been selling on Poshmark?
Suzie:
Just about six months.
Doug:
Okay. And how's it going for you?
Suzie:
Slow. But I'm hoping that learning the ins and outs will get my stuff moving cuz I didn't know that I was supposed to send an offer to a liker.
Doug:
<Laugh>. Okay. All right. And what do you sell?
Suzie:
I sell swimsuits. Okay. Bras, underwear, pajamas, loungewear.
Doug:
And so what, what was it that got you into selling online?
Suzie:
So we have 40 acres and I wanted to build a house and my husband said I had to, we had to pay off the acreage. And so I started selling on eBay to pay off the acreage. Oh wow. And Ripley's Believe It or Not, put me in a book and said that I was The eBay Queen and I have the house that eBay built.
Doug:
That's amazing.
Suzie:
Which is true.
Doug:
What does the concept of seller community mean to you?
Suzie:
Well, it means a lot. I mean, especially here at PoshFest. You know, I asked a question and I said, So what's the deal when people like something? Am I supposed to tell 'em thank you, What am I supposed to do? And they didn't treat me like I was dumb. They said, Hey, you're supposed to send out a message or send them an offer. And so community means a lot when you're just starting out or when you have a couple questions that I always try to be that for other people when I know.
Doug:
And so what are you doing? How do you help sellers now?
Suzie:
So now people still message me questions cuz I still have my blog. And they message questions to me about stuff and I either point 'em in the right direction or I answer their question or and so hopefully I'll get good. I'm pretty good at that. At eBay. I'm not so sure I'm great at it at Poshmark, but I'm learning now.
Doug:
Where can we find your blog?
Suzie:
It's asktheebayqueen.com.
Doug:
Very nice. Okay. What would you say to somebody who's never been to a seller event and they're considering going?
Suzie:
So, you know, the drawback for me was always the price. I always thought, Oh my gosh, it's this much money. And you know, plus you gotta, you're gonna fly there, you're gonna drive there, you're gonna spend a hotel, but it really is worth it because the connections that you make with people, they're always good. Yeah. I mean, you meet these people, you understand what they're doing and you have a sense of community and you know, where could you go so that you could talk to this CEO of a company? And you can when you go to one of these seller events.
Doug:
All right. Thank you.
Suzie:
Uh Huh.
Doug:
Now we'll hear from Emma from Haulsale catching up with Clara.
Emma:
Ready from Poshmark 2022. I can't believe it's the 10th one. That's insane to me that it's been a whole decade of Poshmark. And I'm very impressed with everything that I've seen so far. I can't help but feel inspired by the talks this morning and seeing Manish talk today was awesome. And it's giving me ideas for the eventual Haul Ball is the name I'm throwing around. Instead of PoshFest. I think we can come up with something a little better, but someday, very soon, hopefully, we'll be able to do something similar for our users. And yeah. Get up there and give a talk about our values and priorities and, you know, watching Manish, you know, have grown this thing from in just a decade into something so tremendous is really, really inspiring. I'm sure you feel similarly.
Clara:
Absolutely. And for our audience, this is Emma, Emma, the Red <laugh>. Okay. Incredible Haulsale marketplace that we're so excited to have you as a partner. And thank you for sharing your enthusiasm in how Poshmark is inspiring you and Kat to drive your product. Okay. And make your marketplace definitely a fit to our community, right?
Emma:
Absolutely. Yeah. I think it's really interesting to see all these conversations today about, particularly how people's livelihoods have been so impacted by Poshmark. It became a source of income, it became a new sort of job, and I really see we have the potential at Haulsale to do that as well. If we can build something that works for resellers. Yeah. And I think so far we're really proud of how we've been able to work with the community of users we've built to really listen to their needs and try and develop something that works specifically for them. And so yeah, watching Poshmark's journey is definitely hugely inspiring. Yeah.
Clara:
Now I have a question for you. Did you hear the part, the part of Posh Shows, right? So what's your input on that? Can we hear, can you share with our community? What are Posh Shows and what do you think about it?
Emma:
Sure. So Posh Shows were just announced, I believe they're like super new. I feel like in the last week Poshmark sort of answered to live selling and it's such a huge trend. Manish was speaking about how this really took off in Asia first, and it's sort of starting to come to the U.S. Obviously there's a number of people in this space and I think it just makes a lot of sense that Poshmark would do something internal and sort of like native to their own platform and audience. And there's so many charismatic sellers here today that just watching them interact and the style and the sort of like, you know, the je ne sais quoi that's going on with the Posh community, it totally makes sense that you'd want them live and engaging in selling their product. Personally, at Haulsale, I'm not sure that we see too much live selling in our future. Instead we look to be a place where people can source for those live shows and be able to get lots of inventory at once. Or people who are perhaps looking for maybe a more passive way to auction and sell lots of things at once. So while it might not be Haulsale the place for live selling, it's beautiful to see it happening at Posh. It's beautiful to see it happening in all these different areas within the reselling community. I think it makes sense. It's popular.
Clara:
Well said. Wise words Emma, you know, and we're missing today, Kat. And we're saying hi to Kat from here, from Texas. And you know, what an exciting event to be together and be in contact. We just met again in Flip Con, now we're doing PoshFest and you're gonna be in Texas until when Emma?
Emma:
End of November. And I know that Kat would love to be here. She is the Posh queen of the two of us. She's, she's, she's a little bit more, yeah, she's a consumer of high end fashion, that is for sure. And I know she would love to be here and, and really like whip out all the great clothing she's gotten on Poshmark over the last couple of years. So unfortunately she couldn't join. But I'm so stoked to be here. I'm so stoked to be here with you. And thanks so much for finding me, for talking with me about, you know, what we're seeing as both of us as business owners. It's really interesting to watch how companies can interact with their users and I think both of us are really interested in tha, so So Very good to talk with you.
Clara:
Absolutely. Thank you. There you have it. Poshmark with PoshFest 2022. So excited at List Perfectly in our team attending. And thank you for listening.
Doug:
Now we've got Poshmark Seller, Chris Torres.
Doug:
What's up? I'm here with Chris Torres at PoshFest, his first PoshFest, he's Popular Brand. So tell us, Chris, what brings you here and what do you sell?
Chris:
Mainly here to network and meet people. And then I sell mostly clothes, cards, collectibles, but a little bit of everything. But I've been selling on Poshmark, I believe since 2020.
Doug:
So what do you think of these seller events?
Chris:
So far, so good. I would say Poshmark is a lot more elaborate than eBay. Okay. But the same vibe for the most part.
Doug:
Now, how'd you get into selling cards? Tell us about that.
Chris:
So the cards, it was during COVID. Me and my friends realized that the stores were not shut down, but no one was going to them. Okay. So we decided to just buy as many Pokemon cards as we could, and it turned out to be a hit because now they're super popular.
Doug:
All right. Well, Chris, thanks for taking the time.
Chris:
Thanks, Doug.
Doug:
All right.
Doug:
Thanks everyone for listening to The Seller Community Podcast, PoshFest 2022 recap, featuring Clara and of course, myself, Nina Osollo, Manal Saad, Suzie Eads, Emma Theroux, and Chris Torres. We'll see you next time.