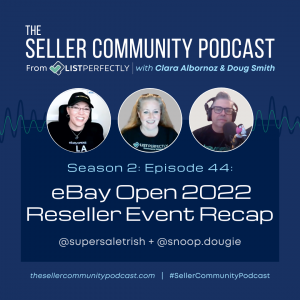 This week we dive into all of the news, sessions, and behind-the-scenes of eBay Open 2022. Clara, Doug, and Trish discuss it all! Clara sold for over a decade on eBay and has held close relationships with eBay executives for years. Doug is a former eBay employee, and Trish was a breakout session host for eBay Open 2022!
The Seller Community Podcast from List Perfectly is the ecommerce resource for the seller community across all platforms and a hub for information on growing your business. Find out more at thesellercommunitypodcast.com, leave a message or ask a question at anchor.fm/sellercommunitypodcast, or email us at podcast@listperfectly.com.
List Perfectly is the ecommerce resource for selling across multiple e-commerce platforms including eBay, Poshmark, Etsy, Mercari, Kidizen, Grailed, Depop, Tradesy, Facebook Marketplace, Instagram, and Shopify.
Links
Seller Community Podcast on Anchor
Episode Links
New England Area eBay Meetup Facebook Group
Transcript
Clara:
Hello, Doug. Hi, Trish.
Trish:
Hey.
Doug:
Hello ladies.
Clara:
So welcome Trish and Doug, but especially Trish. Doug, Okay. No, you're old news. Sorry, that's Trish. Sorry. But Trish is news breaking news. So Trish, again, tell us, you know, so incredible. You did something very special for eBay. Can we do a teaser of what you did for eBay Open, please?
Trish:
So, Diane Lassonde and I run the New England Area eBay Meetup, and we had a watch party and there were about 50 people there, and we had it in a restaurant, and we were there from two in the afternoon to almost nine o'clock at night. <Laugh>
Clara:
I love it. Okay. More to come people, more to come. We're gonna be telling you in detail OK. I was on eBay Open LA with Doug Smith. Trish hosted herself and an eBay Open watch party and in-person event. Right. And this was in, I can't remember, was it locally in your town, or did you do it in Boston?
Trish:
No, we did it south of Boston. Much cheaper.
Clara:
Oh, <laugh> I love it.
Trish:
20 minutes, 20 minutes south of town.
Clara:
I love it over there. I love the East Coast. Everything is pretty close. But that was exciting. And then we also had team List Perfectly, our incredible marketing team and our video, and more team members attending even our digital designer's incredible art and Annie's incredible attending eBay Open in Texas. And then the only event that we did not attend as team List Perfectly, but of course, we have Libby and Molly Consignment Chats in eBay Open New York. Okay. That was incredible. So that was exciting. I'm so excited. I'm getting to see the team so much. eBay New England Sellers. So that was the event that Trish and Diane hosted and teaser, teaser. We're gonna tell you, more, come on. Did you get your drinks? Did you get your snacks? Okay, let's make sure you're listing, and let's make money, and let's have fun.
Clara:
And let's talk about eBay Open today. Next week we come with BOSS Reseller Remix, a lot of eBay executives, and eBay team members going to BOSS Reseller Remix. We're gonna have the presence of Whatnot executives. There is also going to be Mercari for the first time, Mercari executives, and Mercari team members. And also we're gonna have the presence of Grailed. That's just an incredible Reseller Remix. You cannot, you cannot attend in person, don't worry. You can attend virtually just like eBay Open. All right. So what is important, okay, is that today we're focusing on eBay Open, you know, we're gonna be talking from the West Coast, and then Trish is gonna give us an East Coast update. And we're gonna give you the nitty gritty, the incredible perspective and insight that we got from attending these events. Doug, you are a former eBay employee team member. How was that experience for you, please?
Doug:
This is the first time I've been on the other side of it, so I was looking forward to it. I was a little nervous.
Clara:
Yes. I never thought of it, yes, it's your first time.
Doug:
So my first time on the other side as a seller, not as an employee. The last time we did LA UpFront was in that same venue. So, the Hudson's Loft. So I'd been there before and it was funny. I saw some of the same sellers that I saw last time there and then, you know, saw some of my old eBay friends. But it was a great event. It was fun. They did a good job. It was classy and informal. There was a lot of time to talk, a lot of time to network food and drink presentations were good. And you know, we talked about this last week when we were talking about PoshFest. I love to see leadership execs that are there the whole time mingling in the crowd. Adam Ireland the new VP…
Clara:
Adam was there, the whole time, mingling all over.
Doug:
Yep. Taking pictures, talking to people, and taking feedback. Several other high-level executives were there, but Adam is, he was my director for a bit at eBay, but he runs US operations now. So he's a cool guy. Brian Burke was there, and we'll talk about all this. We spent some, good one-on-one time with some eBay people.
Clara:
Yes. Yeah.
Doug:
But it was interesting to see the other side of things. I liked that venue. I liked the event. I think they did a really good, good job. I was impressed.
Clara:
Me too. Regarding eBay Open. So we're gonna get started just to warm up. Okay. With eBay Open in Los Angeles, I have to say, I was impressed, very impressed also by the organization of the event and the speakers, the choice of speakers, and the sellers. I was, I was very happy to see our selling community and to hear them you know, Oh my God. And, and then, you know, we have our own Diane, you know, speaking you, Trish, you did a breakout session on eBay, and this is eBay Open the virtual one so, so much to talk about. So right now, let's focus on eBay in person first. Okay. eBay in person in Los Angeles. So we arrived Okay. Team List Perfectly. We arrived in Los Angeles, right? And, we of course get in contact with Team eBay. And we had the chance to have an incredibly good time. Relaxing and just chatting, eating great food, having some fun drinks, and getting ready for eBay Open the next day, the first day. So that was incredible. We had a bonding time with the team and it was just again, you know, we love talking about eCommerce. So I <laugh> that's, that's all we talk about.
Doug:
<Laugh>. Yeah. It's yeah…
Clara:
We had some sellers that joined us, okay, that was incredible. It was just so incredible. So we have some sellers joining us. We had eBay executives, team List Perfectly, what an incredible time. And that was our, what would you say, the warmup party, okay, to the eBay Open Los Angeles 2022. And then the following day we arrived. The registration process, I have to say, the choice of the hotel in the choice of the venue, is very convenient. You know, it wasn't that hard to find it, and the registration process was so smooth, so easy. You know, of course you have to choose your pins, you get your buttons. I loved it. You know, I was very happy with that. And then as soon as you walk in, it is like a sea of sellers and eBay teams and executives. And this is the part that we divided with team List Perfectly, it's like we're all getting, you know, distracted and going to different sections because it was like different rooms.
Clara:
So you have different rooms. My favorite room was where they have eBay Open Los Angeles, these small tables, and they would have different eBay team members. And of course, you know, I was talking to all the teams, you know, eBay, shipping, even legal and compliance you name it. Okay. community. I missed Rebecca, for some reason she had to change at the last minute. Rebecca, Rebecca, Michal. So I was you know, I was excited to meet her, but I can't wait to meet her again, in BOSS Reseller Remix. And Doug, you know, we were networking. You know, how was that session in the networking?
Doug:
I thought it was great. You know, again, I saw some old eBay friends and some eBay people that I had heard of but didn't know at the time. And so we talked, we touched base. You know, we always start with selling. We talk about selling, you know, what's your story, where you're from? And then I bumped into some sellers that I knew, Orlando from the Pure Hustle Podcast. I like those guys and some other seller friends. But it was cool to touch base. And you know, there've been some new things at eBay since I left. So that was good. And it was nice to bring you around and introduce you to some people that I knew. So that was good. They always have an emphasis on community and seller community that comes up a lot. Even a little bit more now than when I was there. I think when I was there it was still building up, but now they're very conscious of the seller community and involving sellers, it seems to me.
Clara:
Yes. Yes. Another table that I liked during the breakout sessions they had was, Okay. It was the eBay ads, like the growth advisor team. Okay. I'm very excited. Thank you so much for being so thorough and for listening to my concerns and suggestions. The cherry on top for me was to meet Lucan in person. Okay. The founder and CEO of Terapeak guys. Okay. I cannot even, it's like we were talking, we nerded out, Okay. We talk about data, you know, and then AI and what to do and whatnot. So that was just, that was just incredible. Very humbling to speak to someone that was so, that is so successful in working and telling me how happy he's to be team, part of team eBay. So that was very, very reassuring. You know, especially as a CEO of List Perfectly, you know, it's nice to hear that when a company gets acquired okay by a bigger company, you know, many years later they're still happily working together. And you can take that. I have an incredible picture with Lucan and I have to say, Chuck Van Pelt, incredible, you know, he is incredible, so much knowledge, so dedicated to our community. He's the product marketing manager for eBay. So that was incredible listening and, and, you know, learning, you know, and, and, you know, understanding what we do the way we do it with List Perfectly, Alan in, I can, I, Okay, Alan K I'm gonna say because I cannot say his last name, you know, but he's the global policy manager. So that was incredible. I talked to more people about, you know, it, it was just such a deep conversation and rewarding for me as a CEO and then Clara, the reseller, okay, Glad the reseller exploded.
Clara:
Okay? when eBay, you know, confirms they're gonna be supporting what, 24 images. You know, so that was for me too, because we took that gamble Doug many years ago when we built List Perfectly initially. We started I think with gosh, 16 images, and then with Amanda were like, let's take it to how many, And then we said, let's take it to 30. You know, we knew that marketplaces would add more. And that's the thing, when you, when you have that hypothesis confirmed, and you have a big marketplace like eBay coming and supporting 24 images, and we are ready for 30 images, all plans at no additional cost that I cannot even tell you Doug and Trish it's like, as a CEO of a software company, it's like you get so much validation so much confirmation that you're going in the right direction that you're leading the community and the customers that are loyal and the new customers to do it the List Perfectly way with eBay.
Clara:
So that was like, thank you when Jamie said that. Jamie, okay, you made my day when it's just, I just wanna say, I know Jamie might not watch it, okay, But, you know, maybe someone in the legal department might tell, you know, to Jamie, okay, someone will tell, thank you so much. You made my day, my year, my business, my, the value of my company went up, you know, Incredible. You know, So that was from that standpoint. You know, it's incredible. You need to start. Yes, you bet that we're gonna be supporting the video with List Perfectly. You know, that was another thing that eBay is doing strongly with 3D, that was insane. Did you see guys, if you were not there if you didn't watch this virtually the 3D technology they're using, okay. For tennis shoes and they're gonna expand these for more, Okay? Yeah. It's just insane gnarly. You gotta take, It's like, it's like when I remember it's like, kind of like when Facebook introduced a 3D for social media, you know, we're like, we were capable of just, you know, that was just, so, I'm just telling you that's an incredible tool. Videos, the 3D expanding to 24 images. I did ask Adam myself, when are they gonna implement this? And he promised by Fall this year.
Doug:
That is super cool. They've been working on that 3D bit for a bit. But that is pretty sweet. And you know, it's like, I've seen some feedback as some sellers think 24 or 30 images is too much. But it depends on what you're selling. It depends on what you're selling.
Trish:
Oh, absolutely. What if you have a very old collectible or something that has a ton of parts? Those extra photos could be totally, I mean, a game changer for them. You know, if you're selling a sweater, 30 photographs probably aren't what you need.
Clara:
<Laugh>. Let me correct you there. Okay, This is the assumption, but what about a sweater? Okay, that is intricate, because that was one thing that I took a lot. It's all about style. Back in the day, consumers were brand oriented. That's switching right now. It's style oriented. So sometimes, okay, we can have this t-shirt and you wanna take pictures of the stitching and the color. You wanna take pictures of this stitching of the sleeve? You wanna take pictures of the maybe extra pictures of tag? You wanna make it, you wanna make it big, okay, maybe I'm buying from a phone. So if you're listing from LP to eBay, instead of listing, let's say from Poshmark to eBay, because then you're not gonna have the zoom, the incredible zoom feature that you should be taking advantage of okay? So when you list there, you know, you can have all these incredible features and benefits that offer and make it easier for your buyers.
Clara:
We don't, I don't wanna be zooming in, you know, and I just make it easy for me. So I, as I slide okay there and then by now, that's it. Make it so, yes, try to, if you're one that is doing 12 pictures right now, why don't you challenge yourself? Okay. To do 18, just just do six more. All right. It's just six more pictures. Maybe one picture you know of. I don't know how to hold the t-shirt. I don't don't know if the item, whatever it is, you know, with the hand, just like you really are showing that you really have the product. Okay? And that's just to show position. What about maybe a picture, you know, hey, you can put it that you prefer, you recommend, I don't know, so and so batteries, you recommend Duracell batteries, right? Batteries not included. You know, you see, or batteries are included, you know, you can do so much with, I'm sorry, I'm so excited. You know, you can see my excitement is like, warning is just use it. You know, they're not charging you extra. You have to, that's how I did it. That's how I cover myself within whether it's expensive or not expensive. Okay. You know, imagine now the more benefits, Trish, especially because you're a volume seller. Now you can imagine if you do the bundles or you can do different pictures or anything when you're grouping things. So the, I thought that that was even for volume sellers would be necessary.
Trish:
Oh no, I agree with you. I mean there are definitely tons of clothes that need extra pictures that we will definitely need. But I just meant to say that you think they're useless. I think it's very shortsighted for a seller, cuz it's definitely gonna be useful.
Clara:
Yeah, yeah. No, absolutely. Absolutely. So there you have it confirmed by Adam. Okay?
Doug:
Adam Ireland, his exact title is, I think, I'll have to look it up, but it's US operations.
Clara:
He's a big, big head. He's a big guy. He's eBay U.S. Ok. He's the big head of eBay U.S. Okay. So confirmed to me by Adam, Okay. In public, Okay. Wasn't like shh, Clara don't say it okay? So no, he's in public. Okay. I'm not violating any disclosure agreements. You know, he confirmed to me that it will be released this Fall, 2022 Fall.
Doug:
<Laugh>, the eBay dude with the last name Ireland and a British accent. <Laugh>. But he's a super cool down to earth nice guy. Also, Clara, a couple of other things. So I was excited to hear the announcement that there's a new eBay podcast coming that's gonna focus on seller stories. You know, I know another podcast that's been doing that for a couple of years, but I'm not gonna say <laugh>.
Trish:
I never heard of this other podcast.
Clara:
No, you never?
Doug:
The Seller Community Podcast.
Clara:
Never heard of The Seller Community Podcast?
Doug:
Ya know, I don't wanna brag, it's got a couple of listeners.
Clara:
I know the co-host, right?
Doug:
I know the pretty face. But seriously, eBay has been focusing on seller stories for a while, doing it more online in the community and video. But now they're gonna move that over to the podcast. And I thought it was exciting to see them talk about the eBay Vault too. That's a super cool thing. Those cards are huge. The cards are big. We know a couple of card sellers…
Clara:
By that point. I'm doing cartwheels OK, <laugh>. eBay is decentralizing the authentication process for cards and then having the vaults, like they got every freaking piece of the puzzle. I know we're gonna have a special, All right? Yeah. Doug, if you can include, you know, for those of you, if you're not taking advantage of sports or gaming cards, okay, like yes, I know. Okay. was it Pokemon or whatever, you know, all that Pikachu. Okay. I don't know. So <laugh>, I never thought there was such a big margin on that business. And no wonder eBay invested heavily on that. And I'm investing in that. I already got my team, I got a team. This is how much I love that, that I team up myself with two sellers, that very experience on a gaming carts and that I'm gonna be there to investors and I'm gonna be sure that we utilize all the incredible benefits at eBay now it's offering okay. For sports and gaming cars. For me, that's just my…Amanda, funny enough. She's not a big fan of that one. I am a big fan of that one.
Doug:
<Laugh>. And you reference this, we did an episode a little bit back with Josh Gutierrez. And it was, I thought it was gonna be fun. It was enlightening and it was so interesting. And then I loved eBay Vault. It's literally a vault where they would take this card and they'll put it in there and ownership can transfer, but it's kept there safe. It's, you know, certified and validated and all that. I asked Josh at the end of the episode, what's one of his Holy Grail cards? My favorite team is the Chargers. So he said Justin Herbert, the Chargers quarterback rookie card. And I think they're going for a million dollars on eBay.
Clara:
There you go. So this is the podcast that we told you that we think we know about, right? Well you know, just in case you haven't heard about it, you know, so, you know, you go to the episodes. Okay. You can see, will it scroll down a little? Let's see where it's, there it is. So season two, episode 36, selling and collecting cards with Josh Gutierez. We are also welcoming Josh Gutierez to team List Perfectly. You know how I love to hire resellers Okay? For team List Perfectly. So yeah, that's a thing that I have. Okay, <laugh>. So <laugh>, thank you. So, you know, this is an incredible episode about collecting pieces where you can get started, right Dougie?
Doug:
Exactly. Yeah. Get started there. Some great info on Pokemon. Pokemon's back. Pokemon Go is back. You can catch a Pikachu down the street. Magic the Gathering's still big. Sports cards are huge, I think too is, you know, I've, I've talked to some sellers recently, and is like the pandemic helped to source a bit cuz people weren't going to the stores, but the card sellers saw that opportunity and they would go out and buy up the cards. Little Pikachus everywhere. The trouble with Pikachus.
Clara:
Yes, you will be affected if you're using optimized or compressed images. We all know that there are some services that just do very basic crossposting. Be careful because then when you're going from eBay from Poshmark or Mercari or any other marketplace to eBay and Etsy, you're taking an image that is approximately 600 pixels and now eBay will demote you, you will go to limbo and not be found. I kid you not, this was confirmed to me by the eBay team. So if you're using, make sure you're not using those cheap services or free services, Okay? Yes, they will get you, okay, cross post, but then the image is not optimized. And now eBay will demote you. Literally, they don't want bad-quality pictures. It's not about the quantity that eBay is after. It's the quality. So they understand this is a process.We don't want you to get, you know, 24 images today. You know, and otherwise, you're gonna, you know, I will sell better than Trish and Doug because I have 24. You know, that doesn't work like that. Okay? I can have 24 images with 400 or 600 pixels, which is what happens when you go from Poshmark or Mercari to eBay. You know, without importing to List Perfectly or just going with any services because that's, that's what they're doing. You know, the second upload, Okay, those, those marketplaces are betting that their audience is on mobile. That's the thing. That's what they compress. It's not designed for you to be crossposting from marketplace to marketplace. And then, you know, you're gonna be like, Oh, we, it doesn't work for me. Well, where you have it, you know, it's not working for you because you know you're doing things. Okay. It's important that you understand that quality is above quantity. Whether it's gonna be listing, whether it's gonna be description items, specifics, same concept, right? I'm sorry, I get excited about this. I'm monopolizing the as you said like a monologue. Clara shut up. Okay. <Laugh>.
Doug:
But you know, the thinking is, and I know this, the thinking at eBay is, is quality listings contribute to a quality marketplace and a quality experience. And that's gonna bring buyers because of Amazon. Prime buyers have certain expectations and, there are certain things they expect. There's a lot of competition, there are a lot of different marketplaces. And so that's why eBay pushes for all these standards. And you know, if you come in and somebody comes in and you have bad pictures, poor quality pictures in your listing, Yep. They likely have, unless it's something super rare, they likely can go down to the next one in the list. And eBay knows that you're shopping from your phone. They're one of the few companies that have 25 years of eCommerce buying and selling data and tons of data. Tons more than Amazon. Amazon's been around, but they don't have the extent of that data on both sides that eBay has and utilizes.
Clara:
Absolutely.
Trish:
I also think that when you are a seller who started on, let's say Poshmark, which is such an easy platform to list on. Yeah. And you go over to a platform like eBay, it becomes overly intimidating. And eBay is a completely different monster. eBay takes more, but in return, eBay gives you more back. eBay is a bigger platform by far. Yes. And so learning, if you're somebody who's new, I would suggest learning eBay. Know eBay. Because eBay is gonna give you the tools to do much better on these other platforms. Because if you're a great eBay seller, when you cross post, you're a great Poshmark seller. You're a great Mercari seller. It doesn't necessarily go, it just takes a lot. The learning curve is big when you come from Poshmark.
Clara:
Exactly. So it's important, you know, to understand that eBay is very different. Okay. But there is a reason like I said, guys, you know, there would be no List Perfectly without eBay, I am a, I built this perfectly with my eBay sales. You know, that's, that's how I built List Perfectly. So it's a hundred percent built, if I did it, so can you, That's always my speech. You can choose to be reselling on eBay can be your destination or can be the passport to something bigger. You choose, the choice is yours. Okay. So yes. I even made a post talking about whether was it always perfect. Can I say in 15 years of reselling on eBay, You know, I never had a problem. Of course, I had issues. Oh, it's, it's understandable. When I made what I didn't know, I had multi-million dollars in sales on volume on eBay. So, you know, it's understandable. It's part of the business. You have to make it work. There is no perfect platform, right?
Trish:
No, absolutely. Yeah. And, to me, it's eBay's sandbox. And so I try to think of it as just a tool for me to use and I have to adhere to their rules. And I, I don't get hung up on this. They've changed this, so I'm gonna not wanna do it. I think LP did absolutely take away some of the fear of eBay. I think that is a hundred percent true. eBay is the big dog. You know, you've gotta be on eBay and that's why eBay Open's so great. Cause it just showcases how great of a platform it is, how vast it is, and how much money they have back into its product. I sound like a, you know, a cheerleader. But I am a little. Ebay's just a great platform.
Clara:
Yes, absolutely. Now I wanna show something. I think it's time to show the little video that eBay did as gratitude to sellers. This is just impressive. Don't worry, I got you guys. But if you haven't seen this, it's incredible. So go to eBay for Business. This is their Facebook page.
eBay Open Video:
Our purpose here at eBay is to connect people and build communities to create economic opportunity for all. And we do this by working together every step of the way with you, our seller community.
eBay Open Video:
Hello and welcome to eBay Open 2022. Being able to spend time with all of our sellers over all three days. Being able to learn, connect with each other is what it's all about.
eBay Open Video:
This year I'll be sharing my experiences as a seller as well as giving some tips to other sellers out there as well. My favorite thing is when people know what something is that I have no clue about, I can just go ask the community and someone always knows exactly what it is and when it was made, it's really cool.
eBay Open Video:
The eBay seller community is fantastic. There are so many smart, capable and experienced sellers who really look out for each other.
eBay Open Video:
You saw our vision of eBay's tech led the imagination, our plans to build a better marketplace for your business to grow. How you simplify your platform, building better, more exciting and sticky onsite experiences and making sure your inventory is always showing up. Always running, always available to our buyers.
eBay Open Video:
We only win when you win. You are all our partners on the and and thrive on our platform.
eBay Open Video:
The passion, the drive, and the magic that happens through our platform is really, really special.
Clara:
Wow. Sorry.
Trish:
You did a great job. And that, that thing of you A you look so happy and B…
Clara:
My god, I can't believe it.
Trish:
Just like glowing, like you just looked so enthralled with the whole thing. It was great.
Clara:
Oh, that was like, I can't believe it, I'm so humbled. Thank you eBay. You know, I'm so humbled. I can't believe I'm showing there. That was an incredible experience to be on Open and you know, to be part of our community and be there, you know, that was, that was just very humbling. Very humbling. I'm like, wow. Sorry, <laugh>. Yeah,
Trish:
That's great. It really was. It was a great video.
Clara:
If you would've told me 13 years ago, Clara, you're gonna quit banking, you're not gonna practice law, you're gonna go to e-commerce, you're gonna start selling on eBay, you're gonna meet eBay executives and you're gonna have a business that is gonna help eBay businesses grow and yourself. I would've never guessed that one. So I'm just, sorry, I'm just so humble and full of gratitude because there would be no List Perfectly again without eBay.
Trish:
Yeah, it's very awesome. I mean it's just great. It really is.
Clara:
Why don't we move now to the east coast? OK, we talked a little about eBay Open eBay LA on the west coast. But now Trish, this is, tell us everything about what was going on on the East Coast, please? Sure.
Trish:
<Laugh>. So East Coast started with Diane Lassonde. We did a breakout room with eBay for the first day. We did a regional room, which was great. We had a lot of people actually, I mean over a hundred at one point in the room. And it was Kathy Terrell and Michael Swope also. So it was all the Northeast. It was great. We got to see a lot of people from our area. We tried to get more people to come to our in person event. We answered questions. It was great. That was the first day. And then the second day we both just stayed home and did our, you know, watched like everybody else on the computer. And then the third day we had an eBay Open watch party and they were all sponsored by eBay. So eBay sent extra swag. Ebay went out of their way to give everybody who was gonna attend some extra things. It was really great. So Diane and I rented a restaurant. We rented a room in a restaurant. We ended up with about 50ish people at the end. And anybody can join us, you do not have to be in the Boston area. Please join. We have a Facebook group. You do not have to be from here. It's great for new sellers.
Clara:
I'm from Phoenix and she let me in. Okay.
Trish:
Not just cuz she's my boss either. <Laugh> Starr Bryson came from Florida. She spoke, which was great. She was really good. Starr came and so did Cheryl Hinton. She came from Florida also, which was great. Bill and Dave, they drove up from Pennsylvania, and then everybody else was from here, you know, around here. And it was great. So we watched the keynote and then we had dinner and then we had a meeting. So Starr spoke, we asked questions, we had giveaways…
Clara:
What was the topic that Starr talked about please?
Trish:
She talked about being fearless and not allowing your fear of a situation to get in the way. So she talked about being physically, if you have physical stuff wrong, if you have something like Diane has a disability, it's about not letting those things get in the way. She talked about some mental stuff about anxiety if you were afraid to come to these meetings. And then she did it in more practical terms about are you afraid to ship internationally? Why? Let's talk about it. Let's figure out what we could do. Should you use the global shipping program? Should you just go to, you know, the country specifically. So they, and then they talked about other things, other niches that you were afraid to try something and things like that was great, it was a great talk.
Clara:
No, that's incredible. I'm so glad that that was a topic that was addressed because it's such fear. You know, I guess that when you quit corporate America and you come to be a reseller and you have to be an entrepreneur or you're gonna use fear as a deterrent and the reason of why you shouldn't be doing things or it's gonna be the fuel, there's gonna propel you take that risk but make it in a calculated way. You know, you can't just throw yourself at an empty pool. You have to have, you know, a plan A and B and C and I think that's, that's the, the most. I'm so glad that this topic was talked about, and this is actually a topic that we talked about with Theresa Cox and one of the biggest fears for us sellers is in the beginning to sell internationally. And there you have it, season two, episode 32, The Seller Community podcast, International Selling and Shipping with Theresa Cox. What did you think about that one Dougie?
Doug:
I totally agree with that. I'm still scared of international shipping, even talking about futures. And I know that they've changed it to supposedly make it easier. Back to what we were saying earlier, I started selling on eBay and then totally next I went to Mercari and I'm like, this is it. It's so easy to list here. <Laugh>. But shipping always scared me from every step of it. Like, what if I measure it wrong? What if I weigh it wrong? What if this and this and this? And then, but international shipping is like, I hate to admit it, but I'm still scared of it. But that was a good episode and it's, you know, Theresa's philosophy is always like, just do it. Yeah. And then like you had talked about too, from your experience, it used to be a lot scarier than it is. Obviously, there are some places you still shouldn't ship to, but overall, if you're not shipping internationally, you are losing out on sales. And I will commit, ladies and gentlemen, Clara has made millions in her online selling business. I have made hundreds of ladies in general, tens of dollars. I'll commit. I will commit to starting to sell internationally someday.
Clara:
Yes. At one point would you believe, 60% of my sales were international because it was such a high end price. Right. So I could get, you know, mostly okay from it was Germany, France, Australia, Great Britain. Great Britain. I cannot…oh, Canada for sure. Okay. That's that. You know, it's just a neighboring country, so it's hard to, you know, we're still on the same continent. So, but that was something that I'm glad that you talked about and I'm glad that you know, you were talking because it's so scary sometimes and it's deterring us from progress and the more we talk about it, the more we can demystify it, right?
Trish:
Well, and I also think that about the emotional and the physical stuff. Diane, Diane Lassonde, who's my partner in crime, and you know, my best friend, so we're kind of attached most of the time. She got diagnosed with cancer a year ago. So her whole philosophy this year has been fearless. Like whatever she was afraid of, she was just doing it. She wasn't gonna stop. She was just doing it. So that has been her mantra For a year. And because of that, it's really like shown in other parts of our lives. Because if she's not gonna be afraid of that, how dare I be afraid of, you know, not wanting to buy something because I think, you know what I mean? Like, there are things that we just need to accept and move fast and, you know…
Clara:
No, absolutely. Should I take the risk? What should I do? You know? Right. Am I qualified to take this risk? Is this the right time? We also have an incredible episode about reseller mental health and that's important. Okay. On this episode with Starr Bryson. All right. And Kimberly, it's an incredible, incredible position episode. Okay. We have it also on YouTube and that we have it on the podcast if you like to listen. But it's so important to address reseller mental health.
Trish:
It's one of those things. We work alone. So yeah, most of the time we're alone. We don't have that social interaction. We'll go into the bubble and talk to somebody and figure out, you know, Oh, how did your day go? Did you watch that TV show last night? So we don't have that. So that I think makes this stuff that we do well, not really me, what you guys do. <Laugh> more important. That's why the podcast is so important. That's why YouTube is so important because it is like our social work atmosphere where you can, people can help you with things.
Clara:
Yes. Yes. Absolutely. I love it. Did you have other speakers as well?
Trish:
Well, Diane spoke. I spoke a little and then Starr, and then it was mostly then we all kind of just spoke to each other and figured out things. So it was great. It really was. It was great.
Clara:
No, it's incredible.
Doug:
I'm surprised that Diane and Trish have ever been scared of anything. <Laugh>. I think nothing scares or phases you ladies and you're from Boston.
Trish:
I'm not afraid.
Doug:
Did you say we can't, did you say we go, we can't go out to the buuba. What did you say?
Clara:
Oh, the bubblah.
Trish:
I said the bubblah.
Doug:
<Laugh> the bubble. What is a bubble?
Clara:
Is that the fountain, the water fountain?
Trish:
Yes.
Clara:
Okay, I learned that one. Okay. Amanda is from Rhode Island. Okay. And from 20, what is it? An hour away from Trish. So, you know, I get it. You know, I get it. You know, they speak weirdly over there. They speak, the remote is called the clicker. Okay. So yeah, no, things are very different over there.
Doug:
Now Clara, I don't wanna interrupt you, but some people do have slight accents and they can be a challenge to understand.
Trish:
Now Clara, we don't even notice.
Doug:
Saw this shirt the other day that said, I'm bilingual. When I laugh, I say haha and jaja.
Clara:
I love it! The bubblah.
Trish:
The bubblah. I'm sorry. The water fountain.
Doug:
Bubulla is different. And I'll just say real quick is like, I love, I love Diane, I love Trish. I was on the East Coast with Brian Burke and we were doing a little mini-tour of the East Coast. We were driving up the coast. We went to Diane's house, and met her for the first time. She was so sweet and welcoming. And Trish of course too. And I teased Trish cuz at the end of the night I said, you made me stand out in the cold. And she said it was like 60-something. But so welcoming, welcoming us into her house and just so sweet, giving me the tour. I saw the Wizard of Oz collection, on the back patio. She had said, if you guys ever need to have an event, we can do it here. But just two very sweet ladies that do a lot for the seller community.
Clara:
Yeah.
Trish:
She does. I just tag along.
Doug:
Two, two peas in a pahd. How do you say pod?
Trish:
Peas in a pad.
Clara:
Anything else you wanna add?
Trish:
No, I thought the event in New England went great. I really did. I thought that you know, people were really excited to get back together because since the pandemic we've only done one or one meeting maybe. And so it was really great to get people back together to see what, you know, they had done in so long. It was really nice. And I do think people missed these and, you know, these events where you can actually see somebody and touch them and say hello.
Doug:
So from eBay's perspective with things like this, obviously everything shut down in 2020. So I left with some other people in January 2020. But I was there planning for 2020. And after eBay 2019, eBay had planned twice as many in-person seller events for 2020. And Jordan Sweetnam had said that he wanted to go to every state in the country and meet with sellers. And a couple of months later everything shut down.
Clara:
Yes, absolutely. No. Who could have thought, Right?
Doug:
I mean, if you told me…
Trish:
That was like blindsided.
Doug:
I don't think I'm the cheerleader type, but I probably sound like an eBay cheerleader. I love eBay. I worked there for four years. You know, I would tell you if they didn't, but everybody I worked with sincerely cared about sellers. And especially, you know, people like Brian Burke and you know the seller engagement team, the community team. They do what they can, they advocate for sellers and you know, they care about sellers. They love seller events, they love things like this. But Trish, how did you get selected, how did you get selected?
Clara:
Yeah, that's a good question. Oh, and before we answer that question real quick, I wanna share if you missed eBay Open, don't worry, go to their YouTube channel. This is eBay Open 2022 and you can see the keynote Welcome, growing and winning together. Understanding enthusiasm, buyers, a conversation with Stef Jay the present, and future of eBay marketing building, connecting, growing a conversation with Dawn Block, Create the perfect listing. Of course. I love that one <laugh> with List Perfectly. Okay, eBay with List Perfectly. But anyway, so I decided to share that one. Okay, go ahead. How did you get selected? Sorry, Doug. So yes, before I forget, how did you get selected for that?
Trish:
So last year Diane and I did, we spoke at eBay Open. We were one of the sellers who did a talk and that we had to, we suggested a topic, we wrote a little thing about ourselves and people did that last year and certain people got picked this year. They asked us because we were regional leads. So this year they asked us because they wanted a regional area. So they asked us to do it because we run a meetup in Boston. And we're, we, we always, Diane and I both do eBay. What do they call it Doug? Onboarding…
Doug:
Becoming eBay.
Trish:
So Diane and I have both done Becoming eBay a couple of times. We've also done other things Brian has asked us to do when they need a seller. So I think we're just kind of on their radar because we were in the northeast.
Clara:
Exactly. You build a relationship, you know? Yes. You establish a relationship, you nurture it, which is something that we always recommend to everybody, whether it is with you know, a marketplace with sourcing with your, you know, the person that is doing shipping with the postman. Okay. <Laugh>. So that's so important.
Trish:
Diane I will go anywhere though. So we're really not the best to ask.
Clara:
And I have to say, whoever did that eBay Open virtual Wow. They nailed it.
Trish:
Well they switched platforms. And it really made a difference. I thought this year was much smoother than last year.
Clara:
I didn't have a single hiccup to get into. Remember I, I know software, so I know, you know, <laugh>, I, we can go on the developer side, you know, and see what's going on. And then just, so in the other years, I was able to get, because I knew software and literally I could see, I knew that I was kicking someone out to get in. Right? Yeah. Yeah. So, so, you know, it was incredible to see that that was not an issue this year. So I thought that was very well done. Again, you know, YouTube, eBay channel, you need to watch it, subscribe like it because you have all the sessions there. There is really no excuse now. Everything that we've been asking for years, they made it happen. So there is no excuse for us to get educated and take our reselling businesses to the next level.
Clara:
They have the most data they want you to sell because they're charging you a fee. We all know that Eva is not a place, you know, with one fee. You know, it's like the fee structure is insane. But the thing is the number of benefits that you get, it's just in the protection that you get. Especially when you sell internationally. I always say how I lost $5,000 by shipping to Malaysia when I opened my website and I fell for it. Do you know? So when you realize you're not under the umbrella of eBay, you're like, okay, okay, I'm gonna learn faster. That one hurt. Yeah. <Laugh>,
Doug:
I'll give you a little eBay insider tip here. Yeah. So what a lot of people do is for email notifications, they opt out of a lot of those notifications. I recommend opting into all the email notifications and getting on the text messages cuz I get text messages from eBay with updates and all that. And then regularly go to the community, community.ebay.com and check the announcements cuz that's where they make a lot of the announcements. So they try to put these things out in different ways, but a lot of people are still surprised, like, where's the, I didn't know about eBay open, I didn't hear about this. And we, or they had, tended to find out that people had opted out of a lot of the notifications so they wouldn't get updates or news or things like that.
Clara:
I wanna say special, special recognition to Diane. Okay. I wish Okay. Some hosts: Okay. Could have given a chance to people to speak a little more. I thought. Okay. So I just wanna say thank you. You know, because Diane's incredible, she's been a speaker. She's been with eBay for years, you know, so it was just something that was very, I wanted to bring that up. Okay. Because she's so community oriented. I got the pleasure to meet her in person years ago. So, you know, I can't wait to hear more about Diane, you know, and I can't wait to go and visit you, Trish and be part of the New England group of and your meetup. And I'm very excited and you know that anything is okay that you need. Of course, you got the backup from eBay. Of course, you know, <laugh> at List Perfectly, you know, but you know, anything you need from us, Of course.
Clara:
Well, I appreciate it, Diane appreciates it too. <Laugh>.
Clara:
No, you're amazing. Thank you. Thank you. I had to go through so much hard stuff early in life. It was really challenging to save the least. I learned that depression is a waste of time. You know, too much energy. I mourn and I grieved the loss of my parents severely. Seven years of misery. Okay. And I got tired. I just got tired. I choose happiness and I, yeah, there are days that I have so many, you have gotta be kidding me. So many issues going on. But I remind myself that if I keep looking at things from a positive perspective and I focus on the part that I can control, which is me, all right? And no matter if it is life is throwing you lemons, lemonade, or, you know, whatever it is, right? But, you know, you keep that, that positive attitude.
Clara:
And when I used to be a reseller, I could challenge myself and I kid you not, I don't know what's up with the universe that you keep that positive attitude and you're thinking of yourselves and I don't know, I, I don't know. You can, you can think I'm crazy, but I'm telling you it's just, it's like a magnet. It works like a magnet. And, and you really gotta be honest about what you're asking to the universe. You know, I want more amazing customers that I'm gonna love my product and not return it. Be specific, Be specific because the growth is there. You know, that's where I was talking with the executives and team members. You know, I did it. I did it. Nobody, nobody invested in my company. When I talk with investment firms, okay, I respect them a lot, but I believe okay, the, the way they're, you know, they're getting funding and the process, you know, I, you know, who am I to challenge, you know, I never got an investor, but point is that reselling can open the, the doors for you for everything.
Clara:
And now you can be protected with eBay, the biggest marketplace that we support, the biggest audience internationally and domestically. You got support here. You got a Facebook group for List Perfectly. You got Teresa Cox, the first user of List Perfectly and incredible support that she works with different teams of eBay, make sure you're going today and, and get those, upload your listings to eBay if you haven't tried to upload your LP listings with a sell similar from eBay okay, I challenge you that, Okay. Cherry pick on eBay a listing that already has the item specifics. Make your life easier. Okay. Try to skip that part because item specifics are very important, but there is, they're giving you so many tools so you don't have to do this manually. Right?
Doug:
Yeah…
Trish:
Absolutely.
Clara:
We're always fighting for you guys who have the best solutions. Anything we can do to communicate to different marketplaces and in this case to eBay to make our reselling journey better, easier, and so rewarding? Right.
Doug:
Exactly.
Trish:
So rewarding and, List Perfectly does make that big giant of eBay much easier to tackle. So really, if you are not somebody who's doing it, you absolutely should. It's much easier to learn within LP than straight on.
Clara:
Exactly. So use software smarter and not harder. Right?
Trish:
Right. Exactly.
Clara:
Thank you, Dougie. Thank you, Trish. Bye.
Doug:
Thanks, everybody. We'll see you soon.