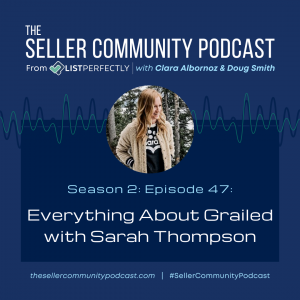 This week, Grailed's Associate Director of Business Development, Sarah Thompson, joins us and tells us everything we need to know about Grailed, including some exciting announcements, and what's next for Grailed.
Links
Episode Links
Grailed is bringing back womenswear with a fresh approach (Vogue Business)
Transcript
Doug:
All right. We're excited to be learning more about Grailed on the show today, one of the platforms that List Perfectly supports. We're going to get into everything about Grailed and more with our guest from Grailed, Sarah Thompson. Welcome, Sarah. Thanks for coming on the show and joining Clara and me today.
Sarah:
My gosh, Thanks for having me, Doug, and Clara, I'm so excited to be here.
Doug:
Well, we're excited to have you, and we get a lot of questions about Grailed. People wanna learn more, so let's get started. So, Sarah, please introduce yourself and tell us what you do at Grailed.
Sarah:
Cool. So I'm Sarah. I am the Associate Director of Business Development with Grailed. I started about six months ago, so I'm still pretty fresh at the company. But prior to Grailed, I worked for RealReal for seven years, and I led the Southwest sales team there. So I have quite a bit of experience in the secondary market with a big focus on luxury handbags, jewelry, all of that fun and shiny stuff that we love to see come across marketplaces.
Clara:
Let's help our audience that maybe they haven't heard of Grailed yet. What is Grailed, please?
Sarah:
Yeah, absolutely. So Grailed is a peer-to-peer marketplace. So sellers come from all around the world to come and list their items on Grailed. We were notoriously aimed into our platform up until about two weeks ago, and we officially launched our womenswear on the site, which is so, so exciting. Our sellers really came out to support us for that. And we just hit a quarter of a million listings of womenswear on the platform yesterday. So we have some really amazing inventory on the platform and we're super excited about it.
Doug:
That's amazing.
Clara:
Okay, wait, congratulations about that quarter of a million listings. Wait a second. Ok, that's incredible. Congrats. That's big numbers and that shows, okay, that Grailed is moving in the right direction.
Doug:
So Sarah, to you, what makes Grailed different from other marketplaces out there?
Sarah:
A few things. So what is, I think a huge value for us is that we have really, really competitive fees. So our take rate is 9%, which is incredibly competitive. It's lower than a lot of other womenswear-centric marketplaces. We come under the gun under Depop and Poshmark and all of those places. And in addition to that, we do have what we call digital authentication. I know that we'll get into that a little bit more later, but it really does provide peace of mind for both the seller and the buyer. In addition to that, our average selling price is over a hundred dollars, which is hard to come by on unmanaged or peer-to-peer marketplaces. So we've really done a lot to ensure the trust of our buyers and our sellers so that they are able to sell those higher priced harder-to-find items on Grailed.
Clara:
So pretty much, Doug, pretty much, you know, like, I gotta do it. I think I got a sale on Grailed. Okay. <Laugh> already…
Doug:
Already…
Clara:
What can you sell and what can you not sell on Grailed, please?
Sarah:
We focus a lot on fashion, so apparel, shoes, accessories, handbags, leather goods, all of that good stuff. We have been known for finding what we call our grails, so our hard-to-find items that you might not be able to find anywhere else. And the only things that we stay away from right now, but that doesn't mean we won't in the future, are luxury watches. As you know, for authentication, you have to take the back off of a watch, and doing that digitally is, well, impossible. So we do stay away from watches at the moment as well as some other items that are harder to authenticate digitally–trading cards, things like that. But otherwise, if it has a designer name attached to it or a brand, sometimes we see some fun things like Supreme chopsticks or we currently have a Chanel basketball on the site, so really fun and interesting things for sure.
Clara:
That's very unique
Doug:
Yeah. Super interesting.
Clara:
Mm-hmm. <affirmative>.
Doug:
So who's the ideal Grailed seller? Who should be selling on Grailed?
Sarah:
Everybody should come and sell on Grailed. We put the seller at the forefront of all that we do. So, you know, I think a seller might be listening to the podcast and they might think, oh, I don't, I don't have a Chanel basketball. Well, not many people do. We call it the mix of high and low. So if you ever were to look at our sold feed, you would see not only the high-value items that are what we call our grails but also things that we call our basics. So there are Levis or even Gap or Lululemon has been popular since we launched women's things. Like, so we do like to mix high and low just as you do when you go shopping and where, and the things that are in your closet.
Clara:
What about maybe a more average brand like Adidas or Nike? What is the posture of Grailed about it, please?
Sarah:
Nike is one of our top-selling brands, and of course, Jordans, which is I think more of a streetwear-centric brand, but Nike is a huge seller for us. And then we do have our, I think biggest womenswear brand and earned demand right now, like in our midst, high and low. So we cannot keep Telfar in stock. I would think that's quite the same for any marketplace. Goldie is incredibly popular, and premium denim, so a Goldie redone and Mother, but then also Birkenstock has been flying off of our virtual shelves, New Balance, Nike, Levis, and the North Face. And then of course we do love luxury. So Prada, Dior, of course, that who doesn't, but of, you know, the everyday brands, we still sell very well.
Clara:
There is a miscellaneous category on Grailed, if I wanna do like maybe home accessories, is that possible?
Sarah:
Yeah, so typically any home accessory is going to be something that sells best with a designer attached, to be honest. So we do a lot of Hermes teacups or Hermes plates. Tiffany Sterling does quite well. So as much as we love to mix the basics with the designer for our apparel and fashion-oriented brands, the miscellaneous category does very well with anything with a designer attached to it. And as a blanket or pillow, as I said earlier, the Supreme chopsticks or the Supreme, have so many different things. They have like a Supreme cash gun, which is hysterical, which you have sold before. So, yeah. So the miscellaneous category is kind of our niche where a seller would do very well if they did have branded home items.
Clara:
That makes sense when you recommended the brands, because it goes into a miscellaneous category, so if it doesn't have that catchy brand, it might get lost right?
Sarah:
Exactly.
Doug:
Is it true that the Supreme chopsticks do a better job at picking up sushi and the Supreme gun shoots cash better than other cash guns?
Sarah:
Well, I would say that the cash gun probably does shoot cash higher, but the chopsticks I've not personally tried them. I wouldn't be able to comment on the efficiency of the chopsticks.
Doug:
Good to know. Good to know.
Clara:
Sarah, let's get really real with the breaking news, okay? To our audience, this is big. Grailed. You asked for it and Grailed delivered. We now have womenswear on Grailed. Tell us how important that is.
Sarah:
Oh my gosh. It's the biggest thing we've done since launch. So we are so excited about this. It is something that has been a discussion for most of the year. We used to have a sister site called Heroine, and we officially did sunset that last year. What made the most sense for us is for us to have it all on one platform so a buyer could shop, men's wear for womenswear, whatever they were interested in looking at was right there on Grailed for them. So we're so excited about it. And if you live in New York or Los Angeles, you are gonna start seeing billboards with our new womenswear launch, and you'll see yes, it's so exciting. There might be downtown Los Angeles, there's, we'll have like a huge block takeover. So there if you live in a major city, please go check it out. There are a lot of really fun things to see alongside our womenswear launch. We were also featured in Vogue last week to celebrate its launch. And you can find it on their Vogue business website to talk more details and a few quotes from our CEO.
Clara:
Okay. Now, Grailed is super famous, Doug. Okay, I'm glad. Okay. So I, I guess, you know, next time we do a podcast, there is gonna be like a line, you know, know we're gonna be, you know, with all our events, you know, <laugh>
Sarah:
Signing autographs…
Doug:
Yeah, we had to get Sarah in while we could, ladies, these gentlemen.
Clara:
Congratulations. So that mention in Vogue, that's huge. That's incredible.
Sarah:
Thank you. Thank you.
Doug:
And so we touched on brands a little bit, but let's dial into the womenswear brands. What womenswear brands can be sold on Grailed?
Sarah:
Yeah, so I think that like, one of the most important things that we wanted to drive home when we launched womenswear was what was available to women and in the natural way that they would shop their closet, right? So, you know, you could pair a vintage t-shirt with premium denim and a designer bag, or you could pair Levi's with a designer top and Birkenstocks. Women naturally mix this like high and low in their closets. I can tell you right now I have designer jeans on, but I'm wearing Birkenstocks. That is a natural way that women shop. And so we wanted to make sure that when our womenswear shoppers came to the platform, they could shop for everything for their closet, not just particular things that they would have to kind of pick out here and there. So the brands that sell really well for us right now, our, of course, our marquee brands are Louis Vuitton, Chanel, Hermes, Dior, Prada, Balenciaga, all of that shiny, exciting luxury, and then kind of our next subset of brands that sell really well is kind of our mid-tiers. So we do a lot of contemporary, so we have Ghani and Zimmerman and Marc Jacobs, those kinds of things. And then we have our more everyday brands that I think a lot of resellers would probably have readily available to come and cross-post over to Grailed from List Perfectly. So we have our, you know, your Levi's, your Nike, and New Balance. Adidas, and Lululemon leggings is something that we're doing really well with. And like I said, other footwear too. A lot of accessories are doing really well. So jewelry even of course like fancier costume jewelry from Dior and, and Givenchy and things like that, but also Kendra Scott jewelry kind of that mid-tier line is doing really well. Yeah, so again, like a total mix. And so I think that one of the biggest things for us is that Grailed is for everybody. It's not just for sellers or buyers that are only looking to come on the platform and spend $2,500. Somebody could come and get a really cool vintage t-shirt for $30 and be really excited about their find, so…
Clara:
Right, right. Now you did mention, I don't know if you gave us a little teaser, but you did mention that when I search for something, a specific brand, Grailed will have a system in which you can pair or match against, make suggestions, maybe based on what I'm searching, how is the women's category in Grailed different from the menswear, please?
Sarah:
It's going to be similar in that we have really great tools on our site for a browser so they can set up preferences on the platform. So if they have a designer or a brand that they're excited about, they can follow it so that any time a new brand-new item from that brand owns up, they can follow, they can also follow sellers, which is fantastic. So anytime they have a seller that they've really enjoyed working with, they can hit the follow button, and then the top, it comes up right at the top of their shopping feed, so they can personalize their feed just as much as they want. And we do that for men's and we also do that for women's and so, but I think that the difference between men's and women's is that our men's branding, you know, I think is we do a lot of streetwear with men's. That's what we, how we started, that's what we're known for and we do have really fun, cool streetwear for women as well. We really are focusing on that mid-tier contemporary that is more, I think available and easier to find and more aware and very wearable for the modern-day secondhand shopper.
Doug:
Interesting. Alright. No offense, but many of those womenswear brands you've mentioned I've never heard of, so…
Sarah:
Well, Doug, we can help educate that.
Doug:
That's true, that's true. So we've talked a lot about sellers. So let's, on the other side, are the buyers. So what buyer protections does Grailed offer?
Sarah:
Yeah, so we do full buyer protection. So we do it two ways. So we have Grailed payments, which I know that we'll get into in a little bit where Grailed, our team does offer the full Grailed protection, and we, you would work with a Grailed representative essentially If you were to get an item that you know, you felt was not as described or if you never received it things like that. Unfortunately things don't happen very often, but we wanna protect them when they do. And if it's a PayPal purchase, we do work with the PayPal team by utilizing their protection. I think one of the great things about buyer and seller protection that we have at Grailed is that we have a live customer service team, our CX team, we do not use any sort of automation, no chatbots, no anything like that. Anytime you open a ticket or send an email or put a chat on the Grailed website, you are going to talk to a real live human being, which is great and is not as common as it used to be. So…
Clara:
Wow. Okay. Beautiful. Audience, are you hearing this? You heard it right? Okay. There is a real person, not a canned answer, not a thank you for sharing your concern with us, we'll be right back. Yours, what is it? Your message is very important to us. Please continue to hold. So that's just incredible, Sarah, what uniqueness nowadays where everybody's trying to manage everything with artificial intelligence, and here comes Grailed saying, no, we're gonna be more in touch okay? With our customers and whoever is, whether it's a seller or a buyer, right? And provide that live, like you said, live customer care, kudos. Wow, congratulations. That's something that List Perfectly also does so we share that. I have to say, it's a great investment from my perspective as a person, as a CEO in eCommerce, I can say that's a great investment. It just blows my mind that not more companies are doing it.
Sarah:
Yeah. And I think one of the other, you know, to talk about our support team from the seller perspective is that we also have our high volume sellers, so our full-time resellers have a premium support team where it's a team specialist that specializes in working with our top tier sellers, which is great. And so if, you know, essentially, like right now it's all established sellers that utilize it. But if you are new to Grailed and you come over from List Perfectly and you start having a high volume of sales, then that's something that you would have access to as well, which is really exciting.
Clara:
A hundred percent super exciting. Now, how do the authenticity checks work on Grailed, please?
Sarah:
Our authentication is essentially like a full end-to-end approach. So we do assess every listing before it hits the feed. So what is kind of like, I think our perfect sauce in the way that we, that we, that we protect our buyers and our sellers with our authentication checks is we use a combination of a human again. So we are real live authenticators and our machine moderation. So our human moderators are really the driving force behind our digital authentication. We review all risky listings before they hit the feed. And you might be thinking, what's a risky listing? Well, it's a few different things. How susceptible the brand or style is to being replicated and how a listing price a listing is priced in comparison to its value. So if something is really, really underpriced or really, really overpriced, that might be a little bit more risky. Our data shows that our digital authentication is comparable to physical authentication. And, the reason why we think that digital is so important is because it saves money. So we are able to have this great 9% fee because we aren't shooting our high, high risk or high-value items anywhere else to have them viewed again and authenticated in person. So it saves the buyer and the seller fees and it also is more sustainable for the planet and its a faster payout for the seller. And then also you get your item faster as the buyer, which I think is huge, you know, if you're buying from other platforms, it could go somewhere else before it comes to you, and then you could have to wait a while before you get it. And we also have on the platform, a user at any time if they see something that doesn't seem right to them, they could always submit it to our authentication team for a second review.
Doug:
You touched on this a little bit, back, Grailed payments. So tell us how Grailed Payments work.
Sarah:
So Grailed Payments are a new payment processing platform. So we partner with Stripe which is fantastic and it provides a secure way for users to come and pay with a debit card, Apple payments, credit card, kind of whatever they want, their choice. As it stands right now, if a buyer would come and not wanna utilize PayPal for whatever reason, they could use Apple Pay Or whatever their choice is and so the way it works for the seller is as soon as the seller adds a tracking number to our interface it automatically disperses from Stripe and it comes via ACH deposit into their bank account, which is nice. Yes. So, the seller does not have to wait until the buyer receives the item. It's when the tracking is added.
Clara:
Wow, that's big.
Sarah:
Nice. Really big. Yeah. So they, you know, a seller is paid much quicker than they are. They would be the buyer who had to receive and accept the order. They do just need to ship it within seven days of the order completing.
Clara:
Wow. That speaks about expediting their reselling process, right.?
Doug:
Yeah, I do like that. It sounds good. Getting paid quicker is always nicer.
Clara:
Now, what tips do you have for success on Grailed, please?
Sarah:
Yeah, so we have a lot of great selling tools that a seller really should adapt when they come over and sell on Grailed. And a few of those are, they can bump their listing every seven days. So the item goes to the top of the feed, which is fantastic so that's a big one. We do have offers enabled and highly encourage anyone that's gonna come list to have their offers turned on. One of the biggest ways to start getting sales quickly on Grailed is by accepting offers and that at least will start a great conversation with a potential buyer. So it's those. And then also really clear, concise, great photos. I think that kind of goes without saying on multiple platforms for resellers. If there is something that has a serial number, make sure you have a very clear picture of that. It will make its way through the authentication queue very quickly. If you have everything that you need already ready to go for our authentication team to get that through the queue. And then, of course, just standard etiquette for any platform is a profile picture, update your bio, and all of that good stuff. People love to buy from other humans. And that's why buyers come and buy from marketplaces as they get to have this really fun e-commerce peer-to-peer experience. And so the more that you, I think, humanize your account, right, the more likely you are to get new buyers coming over to see what you have for sale.
Clara:
That shows that you understand your audience very well because it's small businesses. And when you are a buyer, you wanna know where you're buying from. It's not about the brand, it's who you're buying from. So well done. And then providing automation tools for sending, for reducing prices, and then sending those notifications, that's big. I don't, you know, all we have to do is enroll and then you set a floor. That's incredible. Sarah, well done. I'm very excited, that's big. When you said that, I was like wow, I wish I would've had those tools back in the day.
Sarah:
Totally. And we also do seller-initiated offers. So you can send an offer out. I know that some other marketplaces would do something similar, where if you have likes on an item, right? If you have a handbag that has 15 likes, you can send an offer out to everybody that's liked your item.
Clara:
Nice.
Doug:
So we've talked about a lot of the seller side of things. Again, how important is the seller community to Grailed? It's huge for List Perfectly, you know, sellers love their community. How important is it to Grailed?
Sarah:
Oh my gosh. We put the Grailed community at the heart of everything that we do, In every decision that we make we think about users, both buyer and seller. I can speak for my team in that, my team, we are essentially seller advocates. So we are responsible for bringing new business onto the platform, but then we are responsible and perhaps most passionate about ensuring the success of the sellers once they make it over to us. I think one of the other things that is really special about Grailed is that a seller has access to myself and to my team. So we love to provide some tips and tricks on how to like and help you be successful. We've done reviews of people's accounts before by request of them. And so we can give them tips on how to improve, how to sell more. Perhaps their pricing looked a little high. We can help them come up with better pricing, reminding them to bump and to price drop and all of that good stuff that makes a grow seller so successful. And so we're constantly iterating on the tools and the things that we can provide to our sellers to ensure their success too, which is great. We have whole teams that are working tirelessly behind the scenes to ensure the success of our sellers.
Doug:
I love the term seller advocates. That's great to hear.
Clara:
Now, how does Grailed engage with sellers?
Sarah:
A few different ways. So we do have some great marketing emails that go out that I and my team work in conjunction with our marketing department. And it could be some tips and tricks. It could be what's in demand. So a seller could be receiving a marketing email where it talks about what is in high demand from our buyers this month. And so if it's a professional reseller, they might kind of be on the lookout for that as they're sourcing their product. So we do that. We, myself, and my team do individualized outreach based on the exciting things that we have coming up which we can talk about in a little bit, but our most, our busiest time of the year is coming up. And so we have some exciting things for our sellers.
Doug:
So surely there are some misconceptions out there about Grailed. What are some of these misconceptions that you would like to clear up?
Sarah:
So, you know, I think that Grailed is not just for streetwear, it's not just for luxury. Grailed really truly is for everyone. And I think that you know, that's something that a seller could think, oh my gosh, I don't, I don't have a Chanel bag to sell. Or oh my gosh, I don't have the newest Air Jordans to sell. And that is okay. And we encourage a healthy mix of products. We encourage sellers from all over the world to come and sell what they have and what they are excited about and what is selling well for them. And so I think that might be really the only misconception is that, you know, a seller might think that their items aren't valuable enough, but we disagree.
Clara:
Guilty. I thought you were like maybe American Europe, and when you, you just said worldwide, right?
Sarah:
Mm-hmm. <Affirmative>.
Clara:
That means that if I'm from Argentina. Let's say I'm in Argentina, I can list something on Grailed?
Sarah:
I just made a purchase two days ago, a really cute little jacket, and it's being shipped to me from Ukraine. So we…
Clara:
Wow.
Sarah:
And it does say, the nice thing is so that a buyer or a user can be fully prepared it does say where your item is coming from. So if you have an event in a couple of days, if you found something, but it's clear across the world, you can plan accordingly and adjust your wardrobe choices based on where you're ordering your item from. So it does tell you where it's shipping from, which is great.
Clara:
That is incredible. Now, what about if I'm a seller and I can, I can sell worldwide, right? Without restrictions?
Sarah:
You can sell worldwide without restrictions. Now if some sellers choose to ship only domestically, that's also fine. So in their settings, on their page, they can choose what countries they do ship to and don't ship to.
Clara:
So that was gonna be my question. Can I select, for example, certain countries that I might not wanna ship to?
Sarah:
Yeah. Yep. Absolutely. And you know, I think that sometimes, you know, international shipping can be difficult if you use USPS. We all have had crazy stories of you know, trying to get an item out of the country, which can be difficult. So we always suggest trying, perhaps DHL if you're gonna ship internationally. But realistically where your item goes is up to you. So if you would like to keep it domestic, that's great. If you would like to ship worldwide, that's also great too.
Clara:
Good advice, I have to say, yes, as a seller, I always, honestly, I always use USPS internationally. The problem is that there is a big delay between the data entry of where the package really is versus where actually it physically is. And that creates a lot of confusion for the seller and the buyer. Whereas DHL has diligently nailed that aspect worldwide. But again, you know, my heart, you know, a little is with USPS, but I do understand DHL, incredible logistics, great company. Now you did give us a little hint okay, about the blog from Grailed. So it's called Dry Clean Only. Can you please tell us a little more about that, please?
Sarah:
The best thing to find on Dry Clean Only is the seller's tips and tricks, in my humble opinion. So there are currently, one of the best informational blog posts, so we just launched a couple of days ago, is our Womenswear What to Sell Hub. On there you can find our in-demand designers and brands, our in-demand categories. We are looking for outerwear. We want boots, we want raincoats, we want anything that is Fall, Winter. So that's up, that's on there. All of our different really popular in-demand listings. So you can see at the bottom of like the items that are selling really well, which is, if you're new to Grailed, that's a great way for you to kind of go and see how other sellers photograph their items, how they describe their items and all of that good stuff. And all of that is available on that blog post, which is a fantastic resource especially if you're a new womenswear seller coming to Grailed.
Clara:
That's a great resource and congrats on managing that, Sarah. Blogs are such a great asset to companies to communicate, you know, with more flexibility in whatever you need to create awareness of. And, I think, you know, helping our community with brand, picture techniques, okay, what is the desire for certain items or what is trending? And in certain seasons that's just crucial. It's another tool that Grailed is offering our community for success.
Doug:
So obviously a lot of growth and success for Grailed recently. So give us a teaser, what's next?
Sarah:
Cyber Week. It is coming! We've got Black Friday, and Cyber Monday. We have some really exciting things that are happening for sellers throughout the month of November. I can't talk about all of them yet, but if somebody comes and they decide to come and, you know, cross-list from List Perfectly over to Grailed they'll start to get our emails and see what is coming. And I think that, like, one of the most exciting things that I will talk about a little bit is that we are going to help you be successful in November, and we're gonna tell you all the things that our buyers are looking for to buy for the holidays. That's coming in a couple of weeks and then we have some other tools that are special for November for our sellers if a seller has started listing with us, they'll start to hear about it via email in the coming weeks.
Clara:
All right. So you heard it. Go ahead. Listers start listing in Grailed, but if you really wanna maybe receive something special, we don't know. Okay. Something is gonna be announced very soon and we promise we will announce it on all social media channels. But again, you have incredible social media channels as well. You know, we're tiny compared to you <laugh>, but you know, we will know, you know, for sure we'll communicate what Grailed is bringing special for motivating our community. And as always, you know, stay helping our community stay, you know, motivated. And that's crucial for us sellers that sometimes reselling could be a lonely job, and could be sometimes very monotonous. And I think that contests or sometimes recognition of something goes a long way.
Sarah:
Totally. And I think that what I do love about Grailed is that we do celebrate the wins of our sellers. And, you know, something that's really important to me and my team is making sure that we get a seller, a new seller that comes to Grailed, onboarded quickly. And you know, we want them to make their first sale quickly. You know, we have to make sure that they're getting their feedback. Because the more feedback, as you know, the more feedback you have, the more items you're gonna sell, the more items you're gonna sell, the more items you can bring to Grailed. And so it is a priority of our team that if we have a new seller that is coming to us from you all, or if they naturally make their way to the platform we are really our resource for them in helping them to be successful. And so anyone from the List Perfectly community can always reach out to us if they need anything. And, you know, I think that, like, as you said, a little recognition for resellers is always really important because they are really the heart of the Grailed community, so…
Doug:
Anything to add before we go?
Sarah:
I will say exciting things are, you know, we just launched womenswear and more exciting things to come. And if you haven't tried Grailed I would really encourage you to try, bring a few items over, and see how we do. And there's always a resource in myself and my team as well as Clara and Doug at List Perfectly.
Doug:
Thanks so much, Sarah, for joining us today and telling us everything we need to know about Grailed.
Clara:
Thank you, Sarah, thank you so much for being with us here today.
Sarah:
My gosh. Of course. Thank you, Clara and Doug, for having me. This was really fun.