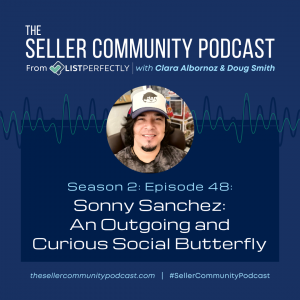 This week we're joined by Sonny Sanchez: (Sonny Las Vegas), and learn why he refers to himself as an outgoing and curious social butterfly. We'll also talk about how he started selling, and why selflessness, mental health and support systems are important.
List Perfectly is the ecommerce resource for selling across multiple e-commerce platforms including eBay, Poshmark, Etsy, Mercari, Kidizen, Grailed, Depop, Tradesy, Facebook Marketplace, Instagram, and Shopify.
Links
Seller Community Podcast on Anchor
Episode Links
Transcript
Doug:
Right. Today we're welcoming our friend Sonny Las Vegas to The Seller Community Podcast. I met Sonny at Boss Reseller Remix. We had a great connection. He's done a listing party with us. His bio on Instagram says he's a full-time reseller, a character illustrator, and a YouTube content creator, and his bio on YouTube adds that he's a treasure hunter, reselling, entrepreneur, and grown kid at heart, which I believe. And then also very important to me and Clara as well, former military, so service to his country. Thank you for that. And uh, we're gonna get into all that. But welcome to the show, Sonny. Thanks for joining us today.
Sonny:
Thank you for inviting me. It's, this is a huge opportunity. Uh, people may not see it and realize it, but every little thing that I'm able to get out, other people are able to find, not only myself but List Perfectly and people behind it. So it's like a history timeline that we're not looking at yet. How I see it, is that it's gonna play a bigger part in the future for everybody.
Doug:
Everybody that meets you loves your enthusiasm and uh, we do too.
Sonny:
Oh, thank you. Appreciate it, everybody.
Doug:
For those that don't know, tell us what do you sell and how did you get started selling online.
Sonny:
Well, it started with my wife. When we moved here to Las Vegas, I was having trouble finding a job, um, because I had just got an associate's degree in digital media and the companies I was trying to work for were actually gonna underpay me big time to pretty much run the company. So, although my dreams were to be a character illustrator and design logos and t-shirts and banners, my wife got a job easier than being a nurse. So when she was going to work, she was meeting new employees, new peers, new coworkers, and soon-to-be new friends. She came back home one day at our apartment and said, Hey, my, my friend does reselling. And I said, What's reselling? Cuz I come from a very small town, population of a thousand and we didn't have, yeah, we didn't have that. We don't even have towns connected to us.
Sonny:
Um, and it took around 15, or 20 minutes to get to the nearest Walmart after driving through ranches and the countryside. So when my wife told me about reselling, uh, she was driving on the road here in Las Vegas and said, thrifting is something people do to resell. So I was like, What is thrifting? So she's breaking down everything within a few minutes and there happened to be a Goodwill across the street. So I said, You mean like that Goodwill? And she was like, Yeah, that was like, can we go inside? So we were there for probably about an hour or so and I ended up finding a little toy for around 80 cents, less than a dollar. And it sold for around $20 to $24 in a few days. And the light bulb went on and I just thought, how much more of these $1 items can I sell for this much cuz that's so many times more than what I paid for it.
Sonny:
And then I started learning about shipping and then I ended up getting into working with the post office, USPS. So as I was getting orders, I was scanning in my orders before clocking in. So my orders were always on time the following day. So little things played out that way. And my wife was the one that got me into reselling just her little story about her coworker. But then it got into, you need to stop reselling cuz you're getting too much stuff. <laugh> it came full circle. But I'm doing very, very well doing that, and I, I wanna do so much with it to where she doesn't have to um, do what she's doing and, and get her back on YouTube cause she used to do content creating as well.
Clara:
That's just incredible. So it blows my mind that on top of everything you worked for USPS. What advice do you have for our audience? Okay. What suggestions do you have for them? Okay. Regarding, um, a relationship that you have with your USPS mailman or maybe the office, the postal office?
Sonny:
Morgan is my mail lady, so, not a mailman, a malelady. And I know I know her so good and she knows me so well that if my garage is open even a foot, she knows I'm in there. So even with USPS having, um, this is one thing I would like for them to change. So at midnight, the time cuts off to have a scheduled pickup. Um, so you can't do that. If you do then it's actually 42 hours later or 48 hours later. So she knows what I do because I've introduced myself to her and I'll come out with packages when I'm gonna go to the post office and she's right outside rather than driving half a mile to the post office. So she asked me what I'm doing and immediately she said, Well I have stuff if you wanna buy it and I need to get rid of all these toys.
Sonny:
So right there and then she was already interested in cleaning out a house and that could be a service to her. But she's very friendly and checks up on me. So I would say get to know your postmen and women. Um, another thing is just when you list items for the post office, have a really good label. Don't have it sideways. Have it perpendicular or parallel to the box. Um, especially with cylinder-type tubes are another thing people get caught up on. Um, and don't do things last minute because there are so much more packages coming into the post office than the one or two clerks that are there that take from the drop-off box. So when I would show up at four 30 or four in the morning, I used to go with another coworker. We were the first ones to open up the post office, take off the alarm and do the magazines.
Sonny:
They come in pallets. So that is really hard manual labor. And it reminds me of when I used to pick watermelons when I was a teenager. So when we used to do that, you'd separate the magazines and then get it to the cubicles of the men and women and then they separate it of where it goes to by their people through there…So if you drop off something at the last minute, there's a cutoff time to when everything has to be scanned. And if it's not scanned in time, like the boxes of mail and you go to the post office, your own personal mail, there has to be a time when that's put in there because if it's scanned in late, it goes to the big wig USPS and they get fined that post office would get fined. Wow. So some resellers I would see try to get over and say, I turned this in.
Sonny:
Yeah. And you're not gonna go back and look at the footage, but it is your responsibility, to be honest when you're turning stuff in. Okay. And do not complain about the post office if you're last minute and it didn't get scanned in time. So it's a really integrity loyalty thing of this is a company that works with us. It's a service. Just like eBay is a pretty huge platform that's already established. You just have to follow the rules and be honest. If there's ever any conflict from your buyers, your customers just say, Hey, I had an issue. If it's honest, just be truthful. People just want an answer and communicate most of the time. And it doesn't have to be a big long story. It can be really simple.
Doug:
And then if you work at the post office, it's good to have yourself as a connection. We've learned that too.
Sonny:
I would always get, uh, the employees would always ask me, Sonny, what are you doing with those packages? Because they thought I was grabbing the packages from the bins because they come in with packages. And I said, No, this is my package. Like this is my name here. That was before I changed to actually having a PO box. It took a while to get one. Um, but I was like, No, this is mine. This is what I do. And little by little people would come in and it was pretty cool to graduate from that part. But then to also do the passports, work at the registration, work at the Dutch door is what it's actually called. That two-way door where you go to take your slip to pick up an order or um, pick up your mail, mail that's too big for your box. It's pretty cool seeing people. And other resellers, it was just cool to learn from them at the same time. It's like, Oh, what'd you find today? And it just becomes more personable and you get to learn, you know, your customers and then how you could help them with shipping too, so I learned a lot that way.
Clara:
Yeah. I forgot once I got big enough, uh, because the shoot is so small for all the packages we have, they sent us to the back of the postal office where you guys have those big, big tall bins. It's almost like six-foot-tall metallic bins and that's where you drop your, like I was shopping, shipping what, 30 packages a day. So, they were sometimes with volumes. So, uh, we would drop it there and like you said, they would come from those doors and then wheel in the uh, the bin with all the packages and…
Sonny:
Yeah. That's another thing too. They do bring in bins here at my location, the tall six-footer ones. Um, but a lot of people don't know how to put in that bar across to where it latches on. So they leave it low when everything's kinda falling out and it's like everything's up at an angle to the back. So it, it's a…
Clara:
Guilty, guilty, guilty. Do you know what I would do? I would look for a new one. And I thought that that was, and I was like, what is silly construction of this? Guilty. So I would look for a new bin and just load it to the bottom of whatever was allowed before raising whatever. I did not know. I felt that you guys were only allowed to do that. No wonder the person looked frustrated. Okay. I get it now.
Sonny:
But it's a funny thing because you would think it's just the bar and you, you push it across. It's actually you put it into your left and then press into your right. It's like a latch. Oh, it's like a puzzle type of thing. It's pretty easy once you understand it. But what I would recommend that if you have that amount of packages to where it doesn't fit inside the drop off um, door thing, the little fold out loud thing that everybody hates cuz it clings so hard. <laugh> and ears and irritates the people behind you. But what I would do is ask the people there, the employees say, Hey, I usually have this amount of orders. Can I get one of the white bags? Or one of the bins. Because some people have letters and small toys…
Clara:
The bins, the white bins. What is that material that is kind of flexible?
Sonny:
The nylon or some kind of corn bag.
Clara:
There's a corn bag and then you have the white bins that they're like some plastic that is very flexible.
Sonny:
We would often give, and I would do it more, uh, that I know of when I was, it was my shift, I would ask the customers that would bring in it was like, Hey, do you want a bag? This makes it easier. You have this much on eBay that I know if you could create a manifest, create that manifest to where I just scan it. But just know. And I would give 'em information this way too. Just know when I scan it, I have thousands of packages I gotta sort so it's not hard to read right away. Yeah. And this particular hand scanner is gonna be plugged in and once it plugs in, then it shoots up the information to wherever it goes. Wow. Yeah. So there's that little stuff and if you have wanna take it to the back, just ask permission. Just say the last thing they could do is say no. So you could say, Hey can I take this around back? So you don't have to deal with anybody. You throw it in the bin. Uh, don't just throw it on the ground. Make it easier on them to make it easier on you.
Clara:
Yep. Aw, thank you, Sonny. That's beautiful words. Pearls of wisdom. We got a little off the script Dougie but…
Doug:
Yeah, a little inside info…
Clara:
This was amazing. I love, I love because I think this is such an important, uh, part of our reselling business and sometimes it's almost taboo because these are like the tips that we don't get that are written nowhere. And uh, I'm so glad that you Sonny are so, uh, unselfish to share your time and your experience with this matter.
Sonny:
Oh, thank you. And you're welcome
Doug:
Sonny. Let's talk about, uh, the seller community. So how important is the seller community to you? How do you participate? You've almost got your own little seller community there in Vegas. How important is that to you as well?
Sonny:
It's everything I've dreamed of but didn't know at the time until I became a reseller and started learning through YouTube of this community. Well, when I was an entry-level person, I was trying to get out of entry-level to become a career person because to me there was a difference. There was a scale, there was a pay grade that I wanted to get into because if I could get there, I know it would help me and my wife more than anything. What I'm in right now, it's our, our home. And that's a huge accomplishment to have and just know that I don't need to move anymore and settle. Cuz I, being in the military, I've moved so many times and trained to where I felt like it was hurtful to me to get attached to people because as soon as I felt like I was having friends, it was time to go somewhere else.
Sonny:
And it's hard to keep communication whether in the military you're just super active training and sometimes doing nothing. But at the same time, I'm moving. It is not the same. I'm very strong and am a people person face to face and yeah. Doing things together. So the community, as it grew for me and as a reseller, I saw that if I became a full-time reseller, this is what I wanted it to do. Yeah. I am more involved not only online, but in person with people here in the local community. And I think it's been working out really well. But I know for the boss reseller remix, I met a handful of people from there that were planning on meeting together and in time getting everybody else who I call the reseller cartel. Me and Mikey bags are my <laugh>. So that's everything I've dreamed of and more now that I'm here, I just wanted to grow more and more and more. And I know that if that grows for me and, and what it helps me in personally, mentally, and physically, it could help other people as well in the system and the goals that they're trying to reach.
Clara:
Selflessness is important to you and you talk about it and you mention it a lot. Tell us about this selflessness.
Sonny:
It starts out when you're a kid when your parents or mentors start telling you about morals and they don't tell you what morals are. They just say, Hey, when a woman comes to the table, you stand up. When uh, somebody's going to the door, you leave the door open, you hold it for them. But then as you become an adult, things start to change to where you open a door and this happened to me in Virginia, um, this elderly lady goes, um, don't expect a thank you. And I was like, Wow, you know, you just shut me down when it's just me wanting to do this. So I'm gonna be a little mean here. So as we finished the restaurant, I saw she was coming up behind me, so I closed the door. Well, I didn't purposely close it. I opened it, I went out and it closed on its own.
Sonny:
Yeah. Didn't hurt her or anything, but she kind of looked at me and said, Hey, why didn't you keep the door open? I said, Don't expect people to hold the door for you. So as she did that, her husband was walking through I opened the door and he kind of nudged me. He was like, Yeah, as if I did him a favor, maybe he was dealing with her too. But it's kind of like those little lessons of selflessness could be twisted in a way to where sometimes you gotta teach people, remind them that, you know, we could help each other out or not. Yeah. So with that, um, that was one I've been carrying for around probably a decade, uh huh. But with selflessness, it starts off little. And when you realize you could do more just naturally it's just giving without receiving. If people are rude, it's fine.
Sonny:
You're not bothering me. And I've learned growing up, um, the past five years, and although I'm 42 years old, I think I believe that we learn through the steps of things that are good and things that are bad. Yeah. How are things that are bad gonna take from me to help me learn from them even though it already happened? Yeah. So, people, everybody goes through stuff, and regardless of how much people share their life with you, you still don't know what they're going through. So I do think about that even though at times I'm human and I'm just like, I, I get mad. It's just I remind myself if I get mad, what would happen and how can I hurt myself? And if there's somebody crazy out there to an extreme level what can that do to affect the people that I'm with as well because I'm responsible for them? And it goes a long way. Selflessness is just doing your part to just do something effortlessly and just being happy with what you do. And it doesn't matter what other people think of you.
Doug:
Similarly, you and I talked a bit about seller mental health at Boss, and then, um, when we were at the, uh, listing party, we talked a little bit about seller mental health. So give us your perspective on that a bit. Please.
Sonny:
I fight with my demons and for me to struggle and to finally admit that I have issues was something that I've been hearing for years throughout that time from my wife. Baby, you need to get help. You need to go talk to somebody. Oh. And I'm like, I got this. I know what's wrong, but I don't know what's wrong. I just know that I have an attitude but I don't know where it's coming from. So to be able to actually reflect on yourself and know that something is wrong is the first step to do something toward it and not feeling like you're being pushed. And I think as a male, for me speaking for myself is that when I'm told I'm doing something wrong, I also wanna know why I'm doing something wrong. Yeah. And what do people see? And I do my best not to let my attitude get in the way and be defensive because that's just my natural instinct from my own past.
Clara:
But that's, I think what you just nailed it, Sonny, because that's a natural reaction. We're humans. We are humans. Pain is, pain is suffering and is painful. So I was very touched by the part that you were so honest by saying that sometimes you know, you're aware okay. Of what's going on, but you don't know how to reach out for help. And I think that awareness, I always hear, okay, that awareness is 90% of the bottle, but I can always tell you that awareness could be frightening, could make you feel that you're isolated, that you are maybe alone in this situation. And uh, for you to express, okay, you know, how you dealt with this. You know, I just wanted to bring that up. That awareness could be scary, but the fact that you reached out for help and you overcame those voices telling you no, you will not make it.
Clara:
It's not necessary. You don't need it. You can do this, be patient or you're getting it wrong, you should try harder. Uh, you're not doing it. What would they teach you to deal with? You know, it could be so it could be negative, you know, depends. Okay. What is it? 80% of our thoughts are negative, and this is by neuro sci neuroscience research. So I was very thankful for sharing. You're welcome to make it real. I'm a big, big, big person talking about mental health. I've been labeled okay, like defective, okay. For having chronic anxiety. I have to deal with vertigo. I fell from the second floor when I was only a year and a half. I have vertigo by three, I got agoraphobia. I couldn't get out of the house by four. So you see, I am tired of hiding that. And the fact that we're talking about it just makes me more powerful. I'm not alone. Yeah. And I know our listeners that you're there. You're not alone either.
Sonny:
It's also an inner strength when you're able to just bring it out. I used to be afraid of talking about suicide and issues with me and being, being depressed and that I'm going to therapy. And then I said, Why, why do I care about what other people think? Cause this is for me. Yeah. And if people need to hear this and, and I hope that they would hear it, they could see like, hey, you are not alone. Like you said earlier, a lot of people feel that way no matter what age you are. And the older you get it is really sad when you could say, I have all these subscribers and all these people, and feel alone. I don't feel that way at all in this community. I feel like sometimes it's like I can't keep up with everybody <laugh> and I do my best and it's a good thing.
Sonny:
And I'm getting like what they say in Hawaii, like, uh, chicken skin, goosebumps. And it's just, it's, I love where I'm at and I, I love what's working out. It's things that I used to only imagine, what if I could do this? What if I could have this little bit of money? You know, what if I could take my wife out and get a large popcorn for herself and myself? Because we struggled financially when I got out of the military. And people come up with, how are you struggling when you get out of the military? It's like, you're, you're so, you still gotta work and put your resume. Nothing's given, everything is earned. And that's
Clara:
Okay. Wait son, I'm gonna stop you there. Go ahead. You guys are not made without your respect. And I have the utmost respect for the military, you guys, because I did so many loans, uh, whether it was houses, unsecured car loans, I learned the income brackets of everybody here in the USA. And no, I think you guys are honestly very underpaid, especially for the kind of training and exposure you're doing and the dedication that you have and the little breaks that you have between tours and so forth. So I'll be honest, you know, it's underpaid, if anything, uh, son, sorry, I have to get that out of my chest. No,
Sonny:
I, uh, a lot of people agree with you. And I think to fill in that gap would be more education within the military system from when I was then they could say, you could do anything you want, just like your, your parents, if you have kids, I don't have kids, but I was told me being my parents' kid, you could do anything you want. But then where does that go? What if I wanted to be an artist and I was a natural born artist, but I never had anybody say, Here's an artist, this is what you could do with your life. It was just when you became rich, I want to keep your drawings. And teachers did that with me growing up. They just kept my art because they said I would become rich. I thought it just happened. I didn't know that there was a path that you Yes. Had to go to school, learn styles, and become published. You know, I didn't know that. It was just very, very vague. And I, now that I've been reevaluating my life and me and my wife talking for years now, wanting to have kids, I think about that stuff to where it's like, how can I change up this information to be better, to guide them to what they wanna do and not just, you could do whatever you want, go do it.
Clara:
Yeah. But art has changed a lot with technology and I think that having a hobby like that is okay and getting your art out there, it could be easily done, um, in a very digital way. Uh, I have friends, I'm not talking about these literal friends that are brothers and they were born in the same little city in Argentina. It is very challenging to make any kind of money. I come from a lot of poverty and uh, he's right now in Australia, he's been in New Zealand and uh, he's been selling his art okay. All over the world. And literally, it's just sometimes a boat, but they're paying you $500 and then you have a hotel that boat, you know your boat and they're paying you for a variation on the boat. And it's like literally 15 pictures that you're selling. And it's just a hotel that wants original paintings.
Clara:
And this comes to my knowledge. So to those of your audience resellers, like I always say, make sure you save time. Make sure you use the right tools so you can get these hobbies. My hobby was building List Perfectly. That was my hobby when I was being a reseller. I knew that I was testing to be, to build something bigger for my community. I felt it. But of course, you don't wanna go and say it to anybody because you're not gonna be like, okay, you know, you gotta walk before you do a talk. Right. So I just wanna say, you know, um, think of that and, and, and again, congratulations. Thank you for sharing this. Incredible, Your heart is, I feel your heart hiring. You're so, you're such an incredible person to talk to Sonny.
Sonny:
Thank you.
Clara:
That's the power of our reselling. Yeah. And the selling community. You are not alone. Don't let labels define you. Don't let that anxiety, depression, whatever you're going through, make you feel that you're alone and nobody's gonna understand you. I promise you, you can reach out maybe on Facebook groups, maybe on reseller events, maybe on Instagram, maybe whatever platform in the seller community podcast, listing party, you name it. But reach out because someone will give you a hand and say, Hey, I'm there too.
Sonny:
There's a lot of us there. And um, one of the biggest big, uh, statistics when it comes to resetting is that we have a lot of issues. Yeah. And that's why we don't want to be around other people. Um, but we do at the same time. And that's just to me, part of life that, that people call homeless people crazy when they talk to themselves because people have shut 'em out. Um, and I'm basing this off of my brother who went through this and started talking to himself Oh. Of self-neglect. So when you shut your mind off, uh, mine wants to belong. They wanna of course be loved for the most part. And they just wanna be a part of a community. And it could be anything just walking. And when homeless people are kicked to decide because of how they look or how they dress, because they can't afford to look like you.
Sonny:
Yeah. People just shun them and they're like, No, they're crazy. They do drugs. Not every homeless person does drugs. And there are some really good ones. I had homeless people working at the w looking for me by name and giving me flashlights because when I was a bike officer, my light was off to my bike and they stopped me. This guy's name was Arturo. And he and his wife were both homeless and said, Hey, why are your friends' bikes have lights but not yours? And I said, Well, mine's busted. And they're, they're going to supposedly get me one. And I think I still have it.
Clara:
Wow. Sunny that's, that's incredible what a powerful story.
Sonny:
It might be dug inside my little thing, but I know it, Here it is. It's a red one. I still have it after three years. <laugh>. Yeah. So it's not working now the battery died. But, um, homeless people gave me somebody who has a job and a home and a life and there you go. Let's say that they don't. But they were hunting me down to gimme a light to help me when I'm riding around. And it's just like, you never know how big people's hearts are and what they have, but they were able to think of me even though their struggle, I'm gonna say is worse than what I'm going through. But it was just amazing. And it opens your eyes like, you know, you don't have to be looking like any type of way to have name brands or anything. And we could still work together and think about one another and do our parts. We just make somebody's life a little better. At least for that day.
Clara:
Sonny, you're very strong about, you know, explaining about, you know, mental health. You are very courageous to share because it takes a lot of courage to do this. And uh, I know the audience is absorbing this right now and, and feeling okay, your courage. But you also mentioned that to do, maybe to do this, you need a support system. Can you tell us what you mean about a support system or how is that helping you?
Sonny:
If the people are watching this, say on YouTube, for example, there's already a platform here that you're interested in and you're hearing information that may work for you or things that you may not have thought about. Whether it's reselling, packaging items, or mental health. And if you don't wanna put it into comments for other people to read because you just want more privacy, you could message any one of us in a DM or an email, something that other people aren't seeing. And you could say, Hey, I don't want other people to know about this. And that's your step forward to just say, Hey, not so much. You need help. You are not a victim for going through what you're going through. You just need to move forward and help figure out what's going on. So it's, it's really easy just to, yeah. Let go of how you feel and what people are gonna think of you if you feel confident in a person that you're gonna reach out to.
Sonny:
Cuz you can't reach out to anybody. You can't complain to any, just anybody. Same thing with venting. You can't, you gotta watch how you vent. Cuz some people take it as yes, it's, you're going towards them and you're attacking them. And that's one thing me and Doug talked about. But with that, just a simple hi, build yourself up to get a little confidence in talking to somebody. And even if I'm brand new to you, um, I've, I've been going through this for a long time and the strength comes from me just knowing if I am strong enough for myself to admit that I have flaws, maybe you'll encourage other people to open up and say, Hey, I do too. And I could go find somebody to help me figure out what's going on. And it's baby steps. I've been going to therapy since 2016, but it's taken since 2011 for me to finally get assistance in helping me. And by helping me, it also helps my wife. So it's a team effort and I can't, she doesn't deserve for her to go through what I'm going through. Yeah. So she deserves and earns so much more. So that's why I do my part because she also scares me. Like I tell people.
Clara:
And I wanna just expand a little. Also, this applies to business partnerships. Make sure that you choose a business partner okay? That they understand your condition. Like I would've never made it with Amanda when I had chronic pain. It was just unbearable. I literally, I was so. I left the USA, went to Argentina, and said, I don't wanna do this anymore. Get a better partner. I'm just, I'm not even a refurbished part, I'm defective. Literally, all I could see is the seal of defective and disability. That was the advice. Okay. That I got to go to, uh, disability because of the condition I had. And that label was just so, I was only 41. I was only 41 and, uh, I did everything. I run marathons. I quit smoking, I did all the right things that you were supposed to and it was just a challenging thing to go through. But to get out of that and to be able to believe in yourself, reach out to the right support system so you can get out of that label. And then having the right support system. Amanda goes and flies to Argentina and she tells me, Hey, no worries. No need to come back to the USA. I'm just coming and checking on you. You know, and then, and by the way, I'm gonna do a webinar, you know, and, and I hear her doing a webinar and I'm in pain, right? I don't even know how to manage pain. And uh, and that's how I started to do it again at List Perfectly. But I got to a point where I felt that I was so defective. I wasn't worthy of a business or a partnership or my company or even my business partner. And that's how low I touched the floor. And it takes a support system to bring you back up.
Sonny:
Yeah. Even a support system could be one person. It doesn't have to be multiple people. It could just be that one person that you know is gonna tell you how you need to be told. Yes. At the same time.
Doug:
Let's talk about seller events a little bit. I know Sonny, that you're kind of new to seller events. You were at Boss. How was that for you, and why do you think seller events are important?
Sonny:
This is exciting to say because just yesterday a rep or the day before yesterday, a representative from eBay reached out to me to help 'em join in on the live research for their live auctions. And that was done because of Boss. Cheers. Shout out to eBay. Shout out to eBay.
Clara:
eBay, go eBay!
Sonny:
Pernilla of eBay, Pernilla. She's very shy and quiet and I'm just a people person. So I saw her upstairs at the table. We gotta do the little stamp and try to win some prizes and also get some gifts from you and other people that were there. It was amazing. And Pernilla was one where when she came downstairs the following day, I knew who she was and I spoke to her the day before. Everybody's at the same spot. So just talking to her, she was a little shy, so I was like, I'm gonna try to make her laugh and I'm gonna joke with her. Because I felt like I could, I felt comfortable doing that. So we talked for probably like 30 minutes and I, they probably were the ones that Katy and Vikki told us to be quiet. Like, Hey, you're talking too much in the back. We're probably that reason, but if, from what I know of Pernilla, she's not that way. But she was comfortable enough to just have fun with me and get in a little trouble just talking to her for that. 30, 35 minutes, a few weeks later I get an email on eBay and I first I thought it was a scam and I was like, Hey, you, uh, Pernilla recommended me to you that you do live auctions and have done it on whatnot and we're doing, trying to do, figure out how to make eBay live auctions work. Would you be interested? So I said, hell yes. And then I checked with Pernilla…
Clara:
Well done Sonny!
Sonny:
And I have, I have her on Instagram and I have her card and I also have her on Facebook. So I reached out to her and said, Hey, uh, this gentleman reached out. And she said, Yeah, that's my colleague. He's an amazing guy. I was like, Okay, this is legit. Let's go <laugh>. Yeah. So just that little thing, those little things, whether it's a big event or small event, Yeah. Reaching out to people in your community as I talked about earlier could go a long way. And it's not that I wanted anything to happen, it's not like I look more than anything just getting to know somebody there at the moment. But you never know who you're talking to and what could be carried on either for your name or how you could take other people's information and share it with other people. It may not work today, it may not work tomorrow, it might not work a year from now, but it might come at the time that you need it the most. That helps you just take a little more, uh, grasp on what you're trying to do and help other people as well. So I'm really excited about Tuesday. Yeah, yeah. Tuesday is coming up.
Clara:
Oh, so exciting. And I have to agree with you the power of networking of these events and uh, this is what makes Doug such an incredible part of, uh, at List Perfectly. Because when it comes to networking, you know, you have to have that personality, you know, that you can really mingle with everybody. And I have to tell you that I'm really impressed how you can because we've been in so many, I took him out of his comfort zone with PoshFest that was entertaining, to say the least <laugh>. And uh, that was incredible. And oh, I can say I agree with you, about the power of networking. You never know who you're speaking to. And that's well said, Sonny, thank you for saying that.
Sonny:
You're welcome again.
Doug:
Definitely, definitely. Connections are everything.
Sonny:
They are. And networking to me is more now or not so much. When I started, um, back in Hawaii having a clothing brand, I thought networking was like, I need to meet you, and let's work together. And I didn't know any better. But becoming a reseller and talking to people, I've learned that networking first comes from just being friendly and getting to know somebody, and then it ends up coming, coming up. If you're not in a space like the Boss Reseller event where, you know, we're almost all alike in some way, we all have different paths, but we're all trying to grow. But if you're out just wandering around and running into somebody, just talk to them as you would a friend. Yeah. Doesn't mean you have to be their friend, but be friendly. And that could grow into a friendship and then network. So I, that's one thing for me that I've learned networking is just being friendly and just being yourself and not looking for anything. Just be open to just knowing somebody.
Clara:
Be transparent because people can see these through. You're talking to resellers. Okay. You can't sell a reseller. Like I constantly keep saying that.
Sonny:
Very true.
Clara:
So, right. So if with your transparency, with your incredible experience and you've been like what we call in Spanish an orchestra man, because you have played every instrument, Okay. In the orchestra, what would you say? I'm a new seller right now. Okay. Almost Q4 2022. Okay. Where do I start Sonny? What should I do? What's the advice you would give me? Maybe beyond, Okay, what platforms, but what should be my mindset?
Sonny:
Your mindset should be to give yourself a chance to succeed. That should be your first mindset. It's not so much that I wanna make thousands of dollars. Start small. Start for yourself and say, I'm just starting. Where do I need to start? Invest yourself in. If it's a particular thing, and I believe this reselling is more than just for resellers who wanna resell, reselling to me can be for somebody who says, wants to be an artist, but they don't have supplies. Yeah. And the stuff that they want. It's something they can't afford. But say they could afford to buy something for $5. Yeah. They go through a thrift store, they learn some stuff and find an item for $50 and they look at it and say, for example, I could throw this on the Facebook marketplace or Offer Up because I don't have shipping supplies, I don't have a scale, but maybe this works for me locally.
Sonny:
And you start to know and realize what's in your environment that would work well or not. And that's where it starts to base off. And then say you sell it for $50, now you're $45 up because you're probably gonna get cash. And then you try to find other items for $5 for around 20 to $50 and start investing and saving in the things that are quality and not just affordable. Because sometimes affordable will have you pay double for a ring light. Yes, I'm gonna get a ring light and it's only 40 bucks, but this one's 150 and it has like 2 billion lumens. I don't need that one. And then you get home and you're like, I should have saved say a couple of dollars more and bought a better one rather than trying to be cheap. So you get what you pay for at times.
Clara:
All right. I love that part. Invest in yourself there you have it from Sonny Las Vegas. Very important. I cannot even say use tools and buy hardware or software that will help you save time in, sell more. Keep it simple, you know, and, and what works for Sonny or Doug might not work for me. And vice versa. See what's best for your business. Right, Sonny?
Sonny:
Right. And with that you could say, I heard Sonny say this, or I heard Doug and Clara say this, but I could do better. Maybe you caught something that we didn't say you are not doing and you could run with that too. It's not to be better than us, it's just so you found something Yeah. That works for you. And then you just, you just own it and run with it and give yourself a chance from the very beginning. You don't have to tell the world, but say, if you're a content creator, I recommend people who wanna start into content creation, share your story. I'm one person that likes to see people grow and I don't like it. I like to see people at the top, at their top, but I also want to know the story. So for me to follow you from the beginning, I'm gonna become even more passionate about being a fan. And I get to know you more personally to where when I share you with other people, I'm invested in my heart. Like, you need to follow these people. This is why. And if they have questions, I already know most of your story. I'm invested, I'm a hardcore fan. Like the Raiders, Raiders fans are they got from hardcore people and it's because they've been following them forever, regardless of what state and county they go to. It's just that kind of way with resellers and artists and entrepreneurs. Tell your story. Let people know what you wanna do. It's okay to fail. That's one of the things. It's okay if you don't go where you want to in a year and you're struggling. People are gonna be there to encourage you as long as you don't stop. Once you stop sharing your stories and making yourself out there in a way vulnerable. Yeah. Then it's hard to communicate with you because you have old posts other than how are you doing? What's going on? What do you need help with? And it is just those little things too. Like I said, if I follow you from the beginning, I'm gonna be invested in you. So when I don't see you, I'm gonna feel something's wrong. And I want to check on you because I feel in the way you're family. Right.
Doug:
Goes back to what we've been talking about, building relationships, and networking. You've touched on social media, you're talking about following, and you're talking about content creation. You just hit 7,000 followers on YouTube, right? So congratulations on that. Now you're growing your social media presence. So give us a couple of top social media tips from Sonny Las Vegas.
Sonny:
Start recording now. Even if this is with your phone. For years I've been recording, just using my phone. I used iMovie. Now they have things like Capcut as a very good editing tool, especially for reels. Um, which is really good. You keep the original file and you can share it on TikTok, and Instagram. YouTube. But I would say start recording now. And like I was telling Lori last time with the listing party that we had, uh, Lori popped up in there. She messaged me on some things and I'll, I'll just give you a few simple goals long way when it comes to editing. But start recording now and when you're ready, start editing them. And when you're ready to unleash them, do it. Then you don't have to record now and put it out today. Don't put that pressure on yourself because it's new. You still have to learn the tools through the programs, whether it's a free app or not. But if you wanna just dive in first, do an intro. That's one thing I wish I would've done when I started have an intro of who I am and say once every year have another intro. This is where I started, This is where I'm at now. And you keep giving another intro to show your growth and how things are working and what you've accomplished. It's like a live self-reflection that you're sharing with people about where you started. Cause there's always somebody new that's coming along. And they don't know the past. So that's why at the end of most of my videos, I say go and check out my old videos from where I started. And then I get comments saying, Hey, I see Sonny with short hair. You look so different!
Clara:
<laugh>.
Sonny:
And then I see people like, Oh, that I didn't know you did that. All right, you found that. So I try to encourage my old videos to be looked at so that way people could see I'm not brand new. I've been doing this for years. Yeah. And I'm just now starting to take off because I've been resilient in a way to not give up on myself because if I did that I also give up on things that I want for me and my wife. So it's not just for me.
Clara:
Powerful. Very powerful. What are the three adjectives you would use to describe yourself, please?
Sonny:
Um, social butterfly, other than being a social butterfly. I guess it's kind of almost the same, but I am outgoing. I love to venture out and take people along with me. Open-minded towards everything. I'm just curious about everything. I just wanna know and see what I could use for myself and figure things out.
Clara:
Okay. You're a tryatarian. Okay. I love it. So you try not to preconceived notions before you try something or at least observe if it would be, um, ideal for you. That's incredible. I think that's one of the most incredible gifts we can have. So we can evolve, right?
Sonny:
Yeah. I feel like being open has helped me. And, and this took a while to transition from the military to civilian life because in the military I believed in you gotta be on time every time. Oh. Being with my wife, that was never the case. Yeah. But when it's on my terms by myself, I could be on time every time. But learning with my wife, that's not gonna happen. So either I tell a white lie and say, we have to be there earlier than we are. Or if we show up and nobody else is there, even though we're on time, I get in trouble with her. So it's one of those funny things that you gotta be careful about what your significant other does, but it's, yeah, I've learned to open up and not limit me to the opportunities of what's around me and just soak it all in.
Doug:
So before we go, Sonny, tell us what's next for Sonny Las Vegas.
Sonny:
Another big one. So this is big, but Danni The Niche Lady offered, she's gonna start a…The Good Stuff thrift store here in Las Vegas has been one of her dreams, um, that she's talked about and has worked it into fruition, not just wish for it. She is a very resilient, hardworking person and invited me, Mikey Bags of Money, uh, Carrie Snyder, who's, uh, one of her our friends and also works with Danny as well as Tiffany, Thrifting Vegas who said, Hey, she has these sections. Do you wanna rent one? So me and Mikey Bags of Money are small-timers, but to us, we could be bigger than what people see because we just have that imagination. So, um, we're gonna share a section there, a boutique, and it's gonna be a mesh of a thrift store, but high-end as well. Something for everybody. And we got some big plans for what we wanna do. And it's exciting because we don't know what we're doing, but they do. So we're definitely gonna take their advice on pointers on how to be successful and just grow bigger than this. And I do have a video out on that. Um, a sneak peek into Danni's Good Stuff thrift store.
Clara:
Oh, we certainly will. We'll make sure we mention that. Okay. Absolutely. In that what, what an exciting, Wow. I was expecting exciting news, but that's just incredible. Thank you so much, Sonny, again. And I wanted to say thank you again for your service and dedication and thank you for everything you do for our community.
Sonny:
You're welcome. Especially yourselves. You're, you're doing something. I feel that before c companies out there that were saying, Hey, I have this, uh, say a promo video, you would see something of an app and it's just a business. Here's my app, this is what it does for you. But it was kind of bland, but that was the way you do things at the time. And then when the world shut down and it reopened during that time, everybody was locked in and they wanted to get out and meet people. So for what you do, I feel it's huge because now there's a connection that wasn't there before as well as companies like what not and eBay's catching on and saying, Hey, there's something here, we need to work with it. And they're trying to figure out how to connect with people. And that is big for what we're doing here in the reseller community.
Sonny:
But other companies should take part and not be, I don't wanna show my face because I don't wanna be pointed at and Clara is one. Um, and all of you all share videos. Thank you. Um, Clara said earlier in today's video with the grilled video, she said, You could look at my eBay store, you could look at all this other stuff. I am an open book and I am an open book too. So for people to say, How is it working neatly for you, not for me?" Go look at that stuff, what she sells. Maybe you'll find it in your area. Go look at what she's done. And I think that's really good that you are transparent and you are open to talk to individuals like myself and many others because it's not just, Oh, I get to sell you a service. I don't feel you're selling me a service.
Sonny:
I feel like I own a service of my own that I was willing to invest in. And it is not for you, it's for me. But I have the bonus of meeting friends and becoming more of a community and full circle of what I've been dreaming of like I said earlier. So all these things play a key part in my life and I know that if it's been beneficial for me, it could be even more beneficial for others who don't know these sources are there for them. But you do have to invest in what you want and make sure that what you're doing works for you as well as for those around you. But it comes a lot with just putting in every effort that you can and figuring it out because once you do it becomes a lot easier. It's easier to maintain. You learn how to source easier, you learn how to look for items better and you learn how to not pick items for whatever reason. And when you share those items as well, people who didn't learn to, oh, that's why you didn't pick it up. Maybe I'll look at it, it might be worth it if I get it for something cheaper. Um, but it's different things to think about and so many different variations that you could make things work for you that didn't work for other people.
Doug:
Thanks so much, Sonny. This was a great chat and uh, you know, thanks for everything. Thanks for joining us and uh, I'm sure that we will be talking again soon.
Sonny:
Anytime I'm, even if you want me in the background, I'll be there.
Clara:
<laugh> And to those of you audience maybe you wanna see Sonny in person, don't forget to go to Listing Party. Sonny will show up and have specials here and there with Listing Party. Um, thank you, Sonny. Thank you for everything and thank you, Doug, for always making the podcast such an incredible, beautiful thing for our community.
Doug:
Oh, thank you too. Thank you too.
Sonny:
Thank you both.