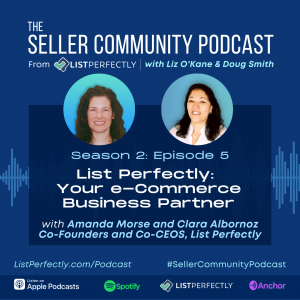 Overview
This week, we welcome back List Perfectly Co-Founders and Co-CEOs Amanda Morse and Clara Albornoz, and talk about the growth of List Perfectly, our seller community, and the future of e-commerce. We also discuss what's coming in 2022, including some exclusive List Perfectly announcements.
The Seller Community Podcast from List Perfectly is the #1 resource for the seller community across all platforms and hub for information on growing your business with List Perfectly. Find out more at listperfectly.com/podcast, leave a message or ask a question at anchor.fm/sellercommunitypodcast, or email us at podcast@listperfectly.com.
Listen on Apple Podcasts
Listen on Anchor
Listen on Spotify
Listen on Pocket Casts
Listen on Google Podcasts
Listen on Breaker
Listen on RadioPublic
Links
listperfectly.com/podcast
Listperfectly.com
Seller Community Podcast on Anchor
Listperfectly Facebook Group
coloradoreworn Instagram
coloradoreworn linktree
snoop.dougie Instagram
snoop.dougie linktree
listperfectly Instagram
Transcript
Intro
Liz:
Hey, Doug. Well, welcome back to another week of the podcast. How are you?
Doug:
I'm doing well, Liz, how are you?
Liz:
I'm doing well also.
Doug:
And welcome back to you as well.
Liz:
Thank you.
Doug:
Couple weeks in, doing good. We got the new syncopation.
Liz:
Yes. Season two. We have gotten some great feedback.
Doug:
Yeah. And you know, frankly, the numbers are good. We look at that. People are listening, people are responding, so it's good.
Liz:
So Doug, do you know what is even more exciting than this podcast?
Doug:
What's that Liz?
Liz:
I think, you know, I wanna see if you can guess it.
Doug:
I can't read lips.
Doug:
<laugh> the live cast?
Liz:
The live cast.
Doug:
Oh yeah. We did the live cast last week.
Liz:
Yeah. The live cast streamed live on the List Perfectly YouTube channel. Joined quite a bit of our friends, and got to talk about some cool stuff that they're doing, that we're doing. And we even got maybe an episode idea out of it.
Doug:
Yeah. Yeah. And speaking of bigger and better, we had a bigger crowd, more questions, more live activity. We barely talked about past episodes. It was mostly live interaction, which is great.
Liz:
Yeah. I had a great time. So thank you, all that showed up to the live cast.
Doug:
We'll do it again.
Liz:
Every month.
Doug:
Just enough to leave you wanting more. We hope, right. <laugh> as always, there's a lot going on with List Perfectly and Liz, that's why we are here today.
Liz:
Yes, we are here with season two, episode five of The Seller Community Podcast from List Perfectly. And today we are happy to have Clara and Amanda, co-founders and co-CEOs of List Perfectly in the studio.
Doug:
Two ba dumps! Like a very special episode, Liz.
Liz:
It really is. I don't wanna give too many spoilers, but you need to listen to this all the way through.
Doug:
I agree.
Liz:
Because they have some special little tidbits and announcements that you and I learned are in the works with List Perfectly.
Doug:
Yeah. We didn't even know yet. Some exclusives, some breaking news, a look past, a look forward and some revelations Liz. That's for Clara. It's her favorite sound. Maybe we should just get it straight to it and let the cat out of the bag.
Liz:
Meow.
Doug:
Yeah, exactly. I have no cat sound.
Liz:
I have no cats. I'm allergic to cats.
Doug:
All right, here they are. Clara and Amanda. And of course Liz and Doug.
List Perfectly – Your e-Commerce Business Partner
Liz:
Clara and Amanda are the co-founders and co CEOs of List Perfectly. We wanted to take some time and have them do a quick overview of List Perfectly's amazing 2021, and give them a chance to preview what's coming for List Perfectly for 2022. So first off, Clara and Amanda, welcome and Happy New Year!
Clara:
Happy New Year, happy New Year!
Clara:
Happy new year. Thank you so much for having us.
Doug:
Yes. Happy New Year. Thanks for taking the time to talk with us today.
Clara:
We're so excited to be here. Thank you for having us. It's an honor. Congratulations to you Doug and Liz. I love what you're doing with the podcast and thank you for having us here. We're really, really, really happy to be here, it's new, huh? It's about time.
Doug:
It's about time and thank you so much.
Liz:
Yes. Thank you. We have a lot to cover in this episode and if you don't mind, let's just get into it. Is that okay? I'm looking back at 2021. It was such an interesting year for e-commerce sellers, you know, for List Perfectly as an eCommerce solutions business that helps sellers every day. What stood out to you with online selling last year?
Clara:
Wow. I mean, you can't ignore the pandemic, right? I mean, it was kind of like we are coming out of 2020 and everyone so excited, like, you know, "pandemic's behind us" and you know, then we found a lot of the surges and, you know, people were still coming out of the pandemic with death piles and that was still a thing. And so people were still at home listing. They were still, they were starting to get more sourcing, but still very much, you know, a lot of home based, kind of businesses springing up, more and more business, small businesses were launched in 2021 than any other year, I think.
Clara:
Absolutely. And just to tag along on what you said, Amanda, 2021, I think it was from looking at it, you know, from a foreigner. Okay. That I wasn't born here. Okay. And looking at USA with objective eyes, it was a surprise to me, Liz and Doug, how many people decided to quit their jobs or go part-time so they could start reselling because they realized, "Okay, Hey, you know, I can work for the man, but I also, I can start my own business." So many people in our group. Okay. On all of our channels, "Hey, I just quit my job. It wasn't, you know, an atmosphere that was productive for my development or growth. So I wanted to do something where I can grow." And that was for me, incredible to see more and more people doing what I did once. Okay. Remember, List Perfectly was founded because I have to sell my mom's jewelry. My mom's shearling coat. That's how I continue doing business. You gotta do whatever it takes. And for me to see this after seven years later, to see people going, you know, big groups of people and talking to each other, you know, this is for me, it's like, "thank you." For me, the growth of eCommerce, you see access to a dignified job and the opportunity, not that you have to, but it's the opportunity of being your own boss or maybe partner with someone else. That's what it stood out for me in 2021.
Doug:
How did 2021 challenges like the pandemic and supply chain issues affect List Perfectly? Was there an effect within the company?
Clara:
Yeah. The effect was that the tech team had to grow big because the demand for List Perfectly has grown so much. So we gotta make sure we're still not doing sales. We're still not doing advertising, you know, because I wanna make sure we exceed the expectations of our existing members. And that's been very taxing on Amanda. You know, Amanda is up with the tech team at 5:00 AM and thank you, Amanda. Again, it's incredible what you're doing. That for us to do a lot of features that our audience and our members needed. So I think it's been thank you again, you know, to our tech team led by Amanda, the credit goes to her, I'm just here announcing the features. I'm making sure, you know, we have a beautiful community, but at the end of the day, the one that is putting like 12 hours in coding and all that stuff is Amanda and our incredible tech team. Go List Perfectly! <Laugh>
Clara:
Yeah. That kind of segues into what we were looking back at 2021 and the things that we developed and we added. And, I think the biggest by far that we worked on was our image manager because, you know, we built everything from the ground up. That was a very customized image manager. We wanted it to do everything that it could possibly do. And, so it took <laugh> nine long months of constant development, constant tweaking, but we were able to integrate PhotoRoom so you can get your backgrounds removed. And,there's just a lot of things that, that a lot of opportunities that are open up to us now, because we developed everything from scratch. We even created our own algorithm so that it is able to efficiently, you know, crop in, in any mode that you need, whether it's square, whether it's just…there was a lot going on behind the scenes with that image manager. And it was definitely a lot of work, but worth it in the end.
Liz:
As a user, I can say, yes, thank you. It was worth it in the end definitely because I am a huge cheerleader for that. <laugh> You know, especially, and, I've mentioned it on the podcast. We talked about it. Not only did you do that, but you integrated that bulk feature into that. Not only was PhotoRoom a huge game changer, but then that bulk, that changed the way I listed. Oh, that changed my process. And it saved me so much time. So now that I have you here, I can personally say, thank you, Clara and Amanda for that.
Clara:
Oh, you're are so welcome. We knew that something needed to be integrated into the listing flow. And That is our whole idea with List Perfectly, you know, we started List Perfectly with the idea that you could build your descriptions and your listings faster yet provide your buyer with the most relevant content they need to make that purchasing decision and images are so key to that. So we knew very early on the background remover was gonna be a game changer for everyone. And, and that was definitely part of our plans early on that we wanted you to have that. And so I'm glad, I'm glad it's working so well for you.
Liz:
It is. And I hope our listeners are able to go in and test that if they don't do their listings on List Perfectly, you know, give it a shot. It took me a while. I'm not embarrassed, but with you both here, I will say, it took me a while to come around to using the catalog. I was hesitant. I kept telling myself, "nah, I have a process. It's great." I thought I had it all down and you guys went and changed my game and saved me some time when I finally got it into my head that let me try something new and try this out. So it's kinda like, "well, yeah, that saves time. Let me continue on with this."
Clara:
And that's what we're about Liz. We're not about imposing one certain way of listing, because we know as resellers ourselves, full-time resellers that that's not the way it works. And the reselling work, you can't impose a certain way of listing. So you have to have a software that adapts to different listing styles, whether you wanna import your listings to List Perfectly or you don't wanna import the listings. So List Perfectly, whether you just wanna use it maybe for the background remover, you know, there are so many different reasons you might wanna use List Perfectly differently. And that's what we wanted. So thank you for sharing, you know, because we read that a lot, you know, "should I bring all my listings to List Perfectly? Shouldn't I?", So I say, yes, List Perfectly is the safe place, okay, for you to leave your listings. And even if you cancel services, we will not delete your listings because we don't have a post service. If we don't have it, we've gotta build it, but Amanda's very busy building, like, for example, we're gonna do de-list and sold, you know, to remove sold listings from different marketplaces, so you don't have to oversell or double sell something. So we, it is our commitment to you that we don't have post services. But if you cancel with LP, we do not delete listings.
Doug:
There's so many ways to use it, and different sellers use it in different ways. And we always say, if it works for you, it works for you. Like I like to list in the catalog. I love the background remover. I love the internal image management stuff as well. So I go back and forth with that. Well, what's really interesting now is you have all these options, sellers use it differently, and we're starting to see sellers coming up with their own little hacks and things like that. Like Stewart White with scanning his receipts, and then people are starting to use the, you know, list your own platform for tracking. It's just such a versatile tool for sellers.
Clara:
Thank you for bringing that up. You know, I was like, so impressed. Okay. So he takes a picture of the receipt. Okay. And then he uses the columns that we have, it's like a listing of your receipt, and he's using that too for accountability, because remember you can download all this data and then give it to your accountant or tax person. So I'm very excited. Thank you for bringing that up. The many ways you can use List Perfectly to make it customized to your business needs.
Clara:
And that was always the vision. Sorry. I just had to, I had to tag along that that is absolutely 100% a philosophy at List Perfectly. We never wanna tell you how to, how to do your listings. That's always in our mind, as we take on these development projects, we wanna make sure that it will work the way you want it to work. And so what we find a lot of times is that, you know, initially when you can absolutely sign up and, you know, just dive right in and start crossposting, which is what a lot of people do. But over time they develop their own rhythm and we find that it's different for every single person. And we love that.
Clara:
<laugh> We do <laugh> I must confess. Yes. <laugh> we love it. It's so educational, you know, like for example, soon I'm gonna be, I don't think I told you, Mandy, but, you know, I got the okay from Liz. I wanna shadow her when she's listing, you know, stuff like that. We love seeing what you're doing, you know, with your listing process and making List Perfectly, even better to fit your needs. I love it.
Liz:
Okay. I really wanna get into this and really wanna talk about it cuz you touched on some things that are coming up and I do not wanna gloss it over cuz I'm super excited for it. I wanna finish talking about 2021, if that's okay with you. We talked about PhotoRoom. That was huge, but there were so many other cool and exciting things that came out in 2021. List Perfectly, definitely grew with the selling base in 2021. Would you share a little bit about List Perfectly's growth this previous year?
Clara:
Oh my God. Yeah. <laugh> we're about to do our accounting. Wow, wow.
Clara:
I can tell you that we, we, more than doubled. That was interesting. Considering that we came out of such a strong 2020, and to see that we more than doubled in 2021 was pretty interesting. The other thing that we saw with a lot of what we do is, because we're, we're self funded, as Clara always says, we built everything ourselves from the ground up and we have no investors. So when we make new developments, we pretty much put 'em into the Pro subscription level. We have three subscriptions at List Perfectly: Simple, Business, Pro. We like to put them in Pro to test everything out and make sure that the community is responding. So we actually saw tremendous growth in the Pro plan over 2021. And that was, that was interesting to see that people really were responding to a lot of the new features and developments that we were adding.
Clara:
That is so true. Before our most popular plan, always and still is Business, but we created the Simple plan just to, you know, to make it basic for our segment of customers that want something basic. They don't want bells and whistles. They just wanna cross post, take it from one there to one place and that's it. But it was very interesting to see the tremendous growth of the Pro plan which now has, what is it? 250% has grown. <laugh>, you know, it's like literally more and you see it in the group. It's like the Pro plan that's, that's a way to go. You know, that's what I used. We built the Business and the Simple, just alternatives, but that's what I used. That's what I called the Mandy Lister back in the day before it was List Clothing. Okay. And we were using a different technology. So that was, that was really fun. You know, I really like, you know, all the different versions we had and what we learned through this path.
Liz:
Just kind of going back to what Amanda said your self funded, you created List Perfectly out of a need. You had the Clothing Vault, your own business, selling vintage clothing, right?
Clara:
Yeah. Or anything, anything, even cars. So, oh my God, we sold cars on the Clothing Vault, OK? <laugh>
Liz:
Yeah, but you built this out of need. So, you know, as you're growing your business, you do this for a business…
Clara:
It was built for me, that's it? I was the only customer, and we would be like, for example, she was building a module and we would be like, "oh, it's not reducing returns, tweak it." You know, "let's do it this way." You know? And then we would be like, it was like a whole year, you know, okay. "This one is not reducing messages, build me some…I'm tired of people asking me, centimeters to inches. I don't do that stuff." You know, like it's very complicated to build something that converts it automatically. So I don't have those questions, you know, so, and that's how the process was, you know, it was incredible, and thanks, you know, to all of the marketplaces we were working at that time, especially eBay, because we are like yourself, you know, native eBayerss and they have a big audience. So that allowed us to understand even better what we needed to do in order to grow our business. And at the same token, save a lot of time, reduce our returns, reduce questions, reduce the amount of time I was taking for doing professionally set up pictures. Anything that she could do to save me time.
Liz:
Well, I love that because we were just talking about the 2021 growth. But really when you look at it List Perfectly has been growing since day, one years ago. You know, it's just constantly evolving and adding and growing and adjusting to selling needs based on what our customers need. Really. And I love that so much. So as a seller, thank you.
Clara:
Absolutely. Yeah. Yeah. And we're obviously seeing a lot of growth in the marketplaces that we sell on as well. So List Perfectly responds to those changes. When we first started, we always like to say, we really think about List Perfectly starting when the Clothing Vault started back in 2011, because we were already developing seller tools for ourselves back then. But you know, back then the big players were eBay and Etsy, and you know, I think Polishmark May have been still a very small marketplace at that time. Yeah. What a difference a few years make, I mean, now the landscape for marketplaces is so diverse and they've been segmenting themselves based on niches. And so, you know, List Perfectly responds to that as well. We wanna make sure that no matter what you sell, like, like Clara said, the Clothing Vault sold anything. So no matter what you sell, you have a marketplace to go to for it.
Doug:
So we were just talking about how List Perfectly started, going back to the Clothing Vault, your roots, and recently List Perfectly made some internal changes, and we've talked about getting back to the roots of where you started. So expand on the roots of List Perfectly a little bit for us. And then how are we changing and what can sellers expect from this pivot?
Clara:
What we're doing with List Perfectly, it's always number one–it always is customer centric. 100%. my attention is on you. I'm not distracted with investors. I'm not distracted with reaching goals that are not related to our industry. I don't have a board of members that I have to, you know, somehow follow instructions and so forth. So you guys are driving List Perfectly. You're helping us to drive List Perfectly to even bigger success. Don't forget that when we started List Perfectly, I was dreaming that maybe I would get 150 or maybe 300 of you that wouldn't cancel on me. You know, and overnight I get 1500 of you saying, "we need more, more." So for us growing List Perfectly, staying customer centric, listening to your needs, understanding we have so many different ways you can reach List Perfectly. Just let us understand what you need. And if we don't have it, we'll code it and build it. Okay. So that for me is what is important. We will continue to maintain the customer centric model and what is most important. Also respecting our tech department, a lot of respect to our tech department, never rushing it in making sure they're delivering what our customers are asking and that you can and place a request in our web, in our platform, you can select Contact Us and then you can select Send a Suggestion. You know, you can set a feature request and that's how we know we measure your needs. You can do it on the Facebook group. You can also send an Instagram message, but the best way is to always send us a feature request. And I think that's what is important, ask, getting closer to our audience, not getting distracted.
Clara:
Yes. We're growing. It's beautiful. Oh wow. We're profitable. Okay. Let's leave it aside when you're…and this goes for all of your resellers. Okay. If you focus on your customers and this the same applies, you know, with software or reselling, if you focus on your customers, on your customer's happiness, the money keeps coming. Just keep focusing on the customer. And that I think I wanna stay grounded. That's why I surround myself with pro sellers like Liz, Theresa, anybody, you know, that can bring experience, you know, and help us get grounded with List Perfectly. So Amanda and I can make better things with LP.
Doug:
Sounds good. Love it. Me
Liz:
Me too. I know. I feel like every time you get done speaking, I say, "I love it" every single time. <laugh>
Doug:
You are CEOs of a company that helps sellers succeed because you've been sellers. You speak the language, you know where they're coming from, and Amanda's a programmer, but there are a lot of companies that programmers run the company, or they do the marketing, or they don't have that connection with the seller community that the two of you have because you've been part of it. And you are part of it.
Clara:
Doug, I'm so glad you said that. You touched on something that is really powerful because it very much takes a team of diverse people to create an excellent product that's gonna work for so many. I really believe that. And, and, you know, you have different management styles and, and from 2011, what Calra and I discovered very early on is exactly what you said. Programmers think of themselves as business developers, CEOs, and marketing executives. And not everyone, let me make that clear. Not everyone is like that, but it is really incredible. The many hats that come along with a lot of programmers and I've heard multiple times people saying, "well, you know, you just, you just plant the seed and you, you just let them go and let them develop." And we don't work that way at List Perfectly at all. We don't believe that's gonna give the best for the end user because you know, they're not the end user. They're thinking in a very different way and it's not wrong. It's just different. And so we are very adamant about everything that we do has to come from the seller perspective, not the developer perspective.
Clara:
And that's what makes you amazing. I wanna put the discipline that Amanda, of course we can push stuff automatically to all marketplaces, but you know, guys, the discipline and the amount of hours Amanda is putting on our team to make it stop. So you guys are the one publishing the listings. So we don't break terms of service. That is important. I love your discipline. And I love that. I can trust that we will always follow terms from service and not just develop something that is convenient because we can develop it. And that, thank you, Mandy. I really appreciate that. You're always leading our tech team on the right path. Not because we can build it, that doesn't mean we can release it to the public.
Clara:
Yeah. And you know, sometimes it takes a little bit longer for us to, you know, develop because we have this very important guiding principle that it must make sense for the end user. Otherwise we shouldn't even be building it. You know, things that might seem cool, like little cool features. If it doesn't ease the seller's life, we're not gonna build it. And I appreciate that. <laugh> absolutely.
Clara:
I love it.
Doug:
Well, and it just goes back to you understanding your customer and continually working to understand the customer, their needs, and listening to them, knowing what they're looking for, knowing what they want and then taking that feedback as well.
Clara:
Yeah. Yeah. And you know, the other thing that we really try hard to do is an incredible amount of time testing, you know, we don't want the sellers to be Guinea pigs. You know, that is another thing that's pretty common in the tech world. They'll just throw features out there and let users figure out what the bugs are and then fix them on the fly, but they don't realize how disruptive that is to people. So before we release anything, we're very careful about making sure it's well tested as much as we possibly can. And you know, of course we're gonna miss some things here and there that it's just, it's natural because our users use List Perfectly in so many different ways that we can't think of every possible scenario, but, we do put a lot of extra effort. I mean, we have a whole team dedicated just to testing and that is why we also are very, what's the word I'm trying to say. It's very important to us to have a beta release first because we don't want to disrupt anyone that's on a current version and disrupt their workflow. So we always release in the extension, which is what powers the crossposting. We release first to the beta to ensure, to really double check everything is working exactly as it should. And then we push it to current.
Liz:
And I love that because you're giving users the choice. Like me, I love the beta. I feel like I've been like, I have a really good handle on the platforms that I list on. So I choose to use the beta. And for me, I can find those little things. If you're somebody that just wants to list and go, and everything's great, and maybe you're new at a platform, stay on the current version. I love that. I have the choice. Right. And I love that if I don't need any updates, I don't have to use a beta version. I can just use the current version. And it's like, you push a button and you're done, you go between the two. It's that simple. And I love that option.
Clara:
That's right. That's right. And, and we like to say, anybody can be a beta tester. You don't need special permission. Like just, just download it, it's there.
Clara:
Or, if you don't wanna be a better tester, don't be, you know, just use the current version, let people like Liz test a beta version. They communicate with us. They're excited. And that's what we believe in. This is the mission of List Perfectly. Not imposing a certain way, okay, on our community because we know by heart, it doesn't work that way.
Doug:
You know, it goes back to, to what you said about, "here's what we have, here are your options." And you've got different plans. So you've thought about that too. And the different levels, the Simple plan, the Pro plan, the Business plan and different things that work, work for you. And the Pro plan, It's my favorite, but that's not gonna work for everybody.
Clara:
Yeah because it has the longest form. When you look at, when you come from Business or Simple and you go to Pro plan, you're gonna see the listing form is customizable to your business needs. So if you're not very, let's say thirsty, okay, to see, you know, let me see these features. You're a person that maybe needs more. Okay. Let me be something. I need something that is more alike to what I've been doing with Poshmark, Mercari or something more simple. Right. So then you go to the Business plan. So the form on the Pro plan is, as eBayers, it's a little more inspired on eBay. Okay. And the Business plan form is a little more inspired in Poshmark and Mercari. So we wanna make sure we cater, whether you are just starting to resell, whether you're doing it as a hobby, maybe you're doing as a part-time or full-time, List Perfectly fits all of those segments. Okay. Whether you're starting on your Pro and that's important, you know, all you need when you're gonna pay List Perfectly is a need to grow and get inventory. And Mandy it is not called "death pile." It's called "money pile."
Clara:
Yes. I thought about that after I said it. I'm like, "no, it's a money pile."
Liz:
As a seller that has a money pile. I'm trying to get my train of thought into calling it a savings account. <laugh> like having money in my savings account. I need to cash out my savings account. I am horrible at that. It saved me from a pandemic. Yeah. However, shopping's really good here. I'm gonna get it down one of these days and I'm gonna have a profit pile or a savings account. That's dwindled down and I'm gonna cash it out to work for more.
Clara:
I always said that, save on inventory with Amanda. We always said, you know, we all know as resellers now, what inventory, you know, is trending. Well, sometimes we can expect a TV show, you know, or some celebrity, you know, uses something. We can't predict that. But the thing is that we all resellers know what is our top shelf, if you please, in saving on inventory, for me has been the best thing. I had so much because List Perfectly was funded with the Clothing Vault, in the Clothing Vault. I wanted to make sure people understood. You can have an ugly website and beautiful listings and yes, you can make almost half a million dollars. So for me, it was about making a point in showing different, and being able to fund List Perfectly okay with the proceeds of the Clothing Vault. For me, it was another statement that I wanted to make, you know, is so profitable. When I met Amanda, I had the big misconception of, "oh, she's a reseller." That was me coming from banking, my ignorance, right? Because I come from a regulated industry where you have to prove your W2 or 1099, you know, your license for business and la, la la, you know, the whole thing to see what she built out, just as a reseller. And then going two months on holidays with her mom, I was like, why banking? Hello, reselling! <Laugh>
Liz:
We've talked about List Perfectly and what a great tool it is for me. It's such a great tool for me as a reseller. And there's, that's not the only thing that I kind of keep in my back pocket. It's not the only tool that I use. And clearly over the last year, you have found other tools that are useful for resellers. So in 2021 List Perfectly partnered with WorthPoint, size.ly, PhotoRoom, because I can tell that maybe you might believe in their product. <laugh> So how has this improved List Perfectly, and what was the thought behind these integrations for sellers?
Clara:
Yeah, that's such a great question. We love our partnerships and List Perfectly will only partner with companies that we truly believe are making a difference in the seller community. So these companies who are very much handpicked because of what they offer, let's talk about WorthPoint for a second. You sell in any kind of collectibles category. It's going to go so beyond the traditional pricing that you find out there, price suggestions, because it's gonna go back like 15 years of collectibles. I can't tell you how many stories we hear about somebody picking up something at an estate sale. There's nothing that they can find on the internet that gives them any idea of either what it was or how much to price it at. They go to WorthPoint and they get that information. It's the type of software and platform that auction houses use to get their pricing. And so by offering this to our community who sells collectibles, you work hard to create your listings to go out and source them and find them, and you wanna make sure they're priced appropriately because you're doing yourself a disservice. And so the small membership that it costs is probably gonna make you, if you're selling in those categories, thousands of dollars a month, it's a no-brainer. So there's that one, size.ly, it's great. If you want a picture of your measurements to share, they visually represent your measurements in inches and centimeters. So you can get that global reach when you're selling pre-owned things. And let me tell you, especially in the apparel category, there is massive demand for US brands that they can't get over in Europe.
Amanda:
And so when you have these pictorial images of the sizes, it reduces risk in your buyer. If they're overseas, like, "am I gonna buy something that doesn't fit me? I just shipped it, you know, waited a month for it to get here, had it shipped. And then it gets here and it doesn't fit me." But it's going to, it's gonna tell them, it gives them a better idea if it's gonna fit. So that was, that was a great one that we thought sellers would really benefit and appreciate. And then of course, PhotoRoom, which we've already discussed as part of the image manager, they are the leader in background removal. Why on Earth wouldn't we integrate with them? I mean they're doing it right. They figured it out. They're doing it right. And they're a great company. We love to partner with them as well.
Clara:
Not only because they offer a great service. Okay. But the vision and the mission that they have, it's very aligned also, at List Perfectly. So it's very rewarding for us as a company, to, in ourselves, with other companies that are putting our community first, because we all could be advertising and making, you know, we're like, no, no, no, no, let's be customer centric. So that's a beautiful thing that we partner with companies that are not getting distracted by. It's nice to make a lot of money. Yes, of course you should be making a lot of money. But at the same time, like I said, focus yourselves on the customer, focus on understanding your audience and the money just comes, just comes even faster. That's my biggest advice.
Doug:
And you said something earlier that just reminded me of it: you can have an ugly website and be successful, but you can also have a tool if it's intuitive. And that's what I think about List Perfectly, cuz for me, if it's something that I can't figure out super quickly and use, I'm not interested, but it's a very intuitive tool and it grows. And I think that's part of the lure as well. And then back to the partnerships. So are there any dream partnerships you'd like to tease us with or can you?
Clara:
Yes. All I can say is yes.
Doug:
We like exclusives.
Clara:
So it's something that I think I gave teasers. I think. I don't know if you saw it. I gave a teaser, but all I can say is if you wanna save more time on shipping, List Perfectly coming with a solution this year. That's all I can say.
Doug:
Well like in movies, they call those Easter eggs. <laugh> That's like a little tease in one and then you figure out, you put all the clues together, but that's a nice little tease. We appreciate it. Thank you.
Clara:
That's long term. Sorry, Liz. Um, that's long term. The short term, look at Amanda. She always has this poker face. <laugh> She's about to release a mega super feature. We've been asking like for two years, look, she's getting a little red. Okay, look, I'm gonna say it. That's it, okay. How many of you would like List Perfectly to go and remove your listings after they sell? So you don't, you know, you don't have to remove them yourself, you know, from multiple platforms. So right now we're just giving you some teasers. She's on phase one or two of that, you know, but I'm very excited to say that we understand as your business grows, so does the demand of your products and multiple channels. Because now when we're talking that different marketplaces are segmenting differently and audiences are going through different marketplaces and you might find, as you grow tremendously, your business, that you might sell the same product on two different platforms, maybe within hours or on the same day. So, we understand that that's an issue. Mandy's been working so hard to get the solution the List Perfectly way, making sure we're respecting all marketplaces terms of service, so you can do these as needed without ever putting your account in jeopardy.
Doug:
And you know, we see the term game changer all the time, <laugh> but at some point you move past the game and I think List Perfectly is getting close. Like you can't change the game. I mean, you guys have, and obviously we are, you know, closely ensconced with List Perfectly, and we can be accused of being cheerleaders because we are cheerleaders for List Perfectly because we love it and we get it. But yeah, there's only so many times you can change the game before you move beyond it.
Clara:
Oh, thank you. Thank you. That means a lot. Um, you know, we work hard every day. The entire team does and you know, we're dedicated to our sellers and we just love you. I mean, we are resellers ourselves and we get it. We understand what that's like to live solely on a reseller income. And, you know, sometimes you have good months and sometimes you don't and you sweat it a little. And so we are very adamant that List Perfectly has to be one of those tools in your arsenal to give you that edge.
Liz:
Thank you so much. I can tell you that I am super excited for the teaser you just dropped. And Clara, you did mention something. I wanna say that was a first time exclusive that we've heard about, but you may have dropped that little Easter egg in the Facebook group, and I know you're active in the Facebook group. So let's talk about the Facebook group and really, social media, because List Perfectly is in more places than just Facebook. How important are all of your social media channels to you?
Clara:
They're very crucial. And the reason this was done and I decided to go this way is because in order for me to focus on my customers and truly hear you and not get polluted, you know, with distraction, I wanted to utilize social media channels to reach out and have a more intimate conversation with my audience. And that's what different channels have offered me. And when that works so well, whether it's our Facebook group, okay. Whether it is for a software company, 8,500 people talking daily about our software…that's just incredible. I'm grateful. I got the recognition from so many other software companies, but for us, we chose it's so important that you work as a member of List Perfectly. Try to select one social media channel to communicate with us because we're always listening. I don't have sales teams. I don't do paid advertising. You're never gonna see me with paid advertising or a sales team. Hey, it is what it is. You know, I gotta focus on the segment of my customers that are providing, you know, are active, you know, every day using List Perfectly. As we grow later, you know, I will have those things, but social media has changed for me forever. The way we can keep or maintain our bootstrap status is very important. And it's not only about being bootstrapped because you gotta be very profitable so we can keep financing ourselves. These new features, all the partnerships. Everything is done by Amanda and myself. That's it. Comes from our pocket. Every time we release a new feature, don't forget, we never increase. This is why we're not increasing prices. This is why social media is so crucial for List Perfectly because since we started, Simple plan has been $29. Business plan has been $49. Pro plan has been $69 and we're committed to not changing the prices. Even though we keep adding a tremendous amount of features monthly. So that's what being organic, what being real is. I have no problem asking you. The other day, I said it in front of referral members. "Hey, you know, I'm not all over at List Perfectly." I have no problem saying, "Hey Liz, can we do bulk removal of backgrounds, you know, from a phone or an iPad?" I have no problem. You know, I'm explaining. So it seemed real not trying to know it all or pretend to know it all. And, uh, that's what social media has done for me. And thank you, Amanda, for trusting me. We didn't see eye to eye. She wanted the sales team. She wanted social media, you know, it's like the more traditional way of growing your audience, but I knew that that's not the growth I want, you know, I'm a salesperson. Okay. I wanted sales with a relationship. I'm done selling things because you can sell it. I wanted sales with a relationship so I can understand the relationship and then understand their point, the pain points, you know, and then do something even better with Amanda. That's, that's what we're after.
Doug:
There is a way to grow quickly, but the seller community is such an interesting niche audience that I think the growth is a little more paced, but it works better with the audience. And I think List Perfectly in a lot of ways sells itself.
Clara:
Yeah. The thing is that we're controlling growth. My business development for List Perfectly, the business part, is doing control growth. And the reason I'm doing this to control growth, I think eCommerce is growing really fast. Okay. But the reason I'm doing this to control growth is because there is such high demand for List Perfectly right now, such high demand that I gotta make sure as we grow, you know, and, don't forget guys, Amanda is a reseller. She taught herself coding because for a year and a half, they told us, "No, you're crazy. You're stupid. You will never make it. You will lose all your money, give me half a million and I'll build it." And she built me the first prototype for $30,000. So just wanna say, you know, it's just us, Doug, you know, it's Amanda and myself. Okay. Surrounding ourselves by an incredible team and I think that's where we wanna focus. That's, that's a focus of List Perfectly right now on controlling the growth. So when we have all these features, we don't have any free plans. <affirmative> Thank you. Thank you to every member because we have no free plans. We have a three day money back guarantee. And I wanna say thank you so much because we don't have free plans. So I consider all of our members, our angel investors, and that's why I am committed to just focus on being customer centric before we go and, and try to sell, we're already doing great, you know, and like I'm hiding and the memberships are growing like 200, 300%. So I, I gotta make sure we just stay grounded with you with your needs. That's what is important to us.
Liz:
So going back to social really quick. Facebook, Instagram, TikTok and if we even wanna throw in LinkedIn as social. YouTube. So this is one thing that I see with List Perfectly, and it kind of goes back to what you said, you know, there's no paid advertisements, there's no, you know, sales team. This is what I see with List Perfectly. As I scroll I'm on all those social media channels, right. As I scroll, I get a bunch of sponsored ads because we all know, if you say one thing, you get a bunch of sponsored ads <laugh>. So I see sponsored ads "Buy my product" for all kinds of things, you know, microphones, podcasting equipment, you know, marketplaces. Um, one thing that I see with List Perfectly is not paid ads, but when List Perfectly pops up it's, "Hey, I found a great new tool. List Perfectly. So it's a bunch of sellers, users, my friends saying a testimonial, really, if that's what we wanna call it, I don't really know about testimony. I don't know what the wording is for that, but that's what I see when I see List Perfectly come across my screen. When I'm on these social media channels. But yeah, you're right. I guess I didn't really think about it all that clear until you were talking. So I wanted to circle back around to that.
Clara:
Thank you. Thank you for saying that Liz, you know, and, and we just use the, social, we're very grateful for each social media channel that we chose to the channels that we're selecting. There is a very strategic reason because I want permanent content. I don't want content that banishes 48 hours later. So for me, it's very important that what we say holds us accountable because we wanna stay grounded with Amanda. You know, we've we are we're you guys we're resellers. So we also, like you guys sometimes have to do, you know, your accountability post for those of you that are alone at home listing, and you get, do a Facebook is to hold yourself accountable with the community. Sometimes the same happens to us with Amanda. What we learn as resellers will make you successful in any business.
Clara:
This is all I can say and utilizing social media channels, that today they're free. They're free. We're in an unprecedented time of technology. In 10, in 20 years. I don't know. I don't think this will be free, you know, I don't think so. Okay. So for me, utilizing those incredible tools and saying thank you to these social media channels has allowed us to get so much closer to our audience and keep growing List Perfectly without investors. Not because we don't want investors, it's just, we are gonna focus on our audience before I start focusing on spreadsheets, you know, profit and loss, you know, return of investment, all that stuff that we gotta do with investors, you know. I've been in banking for 10 years, so I just wanna focus on you guys, you know, and we're doing great. So let's keep building, help us to keep building List Perfectly, communicate with us on social media channels, choose the channel you want. We're listening, we're here to help. And it's free <laugh>.
Doug:
And in marketing, even with the biggest companies like eBay, the biggest platforms, user generated content is the gold standard. And it's very difficult to get, and we're getting it from our customers without even asking. They're doing it across the board and we're sharing it and spreading the word, but that's very difficult to get, even for the biggest companies, especially positive user generated content.
Clara:
I approached, when this started, you know, when we started List Perfectly, I approached this on a very, very…I didn't even know how to use Instagram. So I had customers okay. Teaching me, okay, Clara, you can do a Reel with this. And they would send me the messages and they would give me the instructions. And I was very honest. I'm not a marketer. You know, I only know how to use Facebook. The rest, I don't have any idea how to use it. Okay. So <laugh>, I love it that in the beginning, these people were doing content for me, and then they were sending me instructions on how to publish. And to those of you from the early, early, early days, you know, I have to say, and, and all of you that maybe just started and sending us content, thank you. Thank you so much because I don't spend a penny on people to come and do these ads or posts or stuff like that. You know, it's just what I spend my money on, and people that will do their, your relevant content, and then we can share in our channels and then create awareness. So other resellers can have the option, the benefit that you are having. So many people are stuck right now on a job that they think, "oh, I have no other opportunities." So it's important that you use social media channels to communicate, hey, reselling is good and reselling is big for all of us. Okay. No need to get scared. Like Amanda told me, thank you, Mandy. She told me the first day and will never forget this. And, and I, I keep quoting "eCommerce is big enough for all of us."
Amanda:
Yeah, that is so well said. And I just wanted to touch really quickly on the referral program that List Perfectly offers. You know, we launched that from day one that was integrated, that was baked into List Perfectly. And, you know, initially it's funny, we launched with the benefit of you sharing List Perfectly with your friend. And we'll give you six months of the referral income. Well, you know, we quickly saw that a lot of people were creating great content and we wanted them to keep doing that because why are we gonna spend money and send it to big social media channels for digital marketing? We want the money to go right back into the reseller community. We wanna invest in you. And so when we rethought the referral program, and we just said, you know, it's not fair that the benefits end after six months, you did all the work, you created the content, it's still there. So we said, you know what? You get it for life. As long as your referral member subscribes, you will continue to receive a payment from List Perfectly for that. And, you know, we've, we've actually been told from other resellers that it's literally changed their lives, the reseller program that we have. And you know, it's really just them doing what they do and sharing it with their friends. There's no, there's no hard sales. Like Clara said, there's no sales team. There's nothing like that. It's just about, you know, the referral program is open to anyone that's a subscriber. You have to be a subscriber of List Perfectly. You have to be a user. You have to understand what List Perfectly is. We do not engage with people that are just big, you know, influencers because that's not, that's not what List Perfectly is about. So it was really important for us to give back to the community in that way. And so we've had the, we changed the program a couple of years ago and you know, it's just so it's heartwarming to hear how many people say it's literally been life changing for them.
Clara:
I receive messages. Of course, Amanda is more than the technical part, but I receive messages like, "oh my God, this referral program is incredible, please don't cut it off." Or "am I making too much? Am I gonna be penalized? Because I'm making so much" and they send me this message. I'm like, "you're working it." I'm like, "no, you know, you're not gonna get penalized. I'm not gonna take a part of your earnings for anything. Congratulations." So that's, that's very cute to see Amanda I have to be honest, you know, okay. I know I did. I did this much this month. Are you guys OK? And I'm like, "Hey, you are doing okay. We're doing great. <laugh> keep doing what you're doing."
Liz:
Yeah. And two things that you said stuck out to me. So as a user, I love that you said that. And I guess I never thought about it. If you were to open this up to everybody, the competition would be these big, huge people that just have a hundred referral codes, which there's nothing wrong with that, but I'm not competing with people that don't know about the program. If I'm a referral member and saying, "Hey, I use List Perfectly, and this is my favorite feature. If this is something you can use, here's a coupon to save you money." And I'm making a little bit of profit from that because you're paying me basically, instead of paying a big company to advertise, I get that money. And it's not a one time payout. And like you said, I'm not gonna be like in six months down the road gonna be cut off. This is gonna be for as long as that person that trusted me as a user is using List Perfectly because they like it too. So those two things really stuck out because I am like, I have referral codes for other things that I like and use, but it's, you know, a one time payout and there's nothing wrong with that. It's a one time payout. That's what I agreed to, or my earnings end in three months or four months. And that's okay. But List Perfectly, like literally you can sign up three, not sign up, cuz that's not really the goal from what I'm hearing from you. It's, you know, "Hey, I like this. And if people trust me and they like it and they continue to use it, if four or five of my friends do it, basically my subscription could be free." When I look at it, it's like my earnings are gonna pay for my subscription.
Liz:
And that's the way I chose to see it when I started List Perfectly. And I was like, wait, there was a word that was used. And I was like, what is that in perpetuity? I was like, let me Google that. Okay. I'm gonna call myself out. And I'm like, what does that mean? I was like, oh, for a life trip. Seriously. <laugh> um, and I quickly learned that, you know, as people say, "Hey, how do you do this?" And I shared my code with them. I learned quickly that I could just upgrade my plan and get the most out of the Pro plan and use it to its fullest. And that offset the cost. And then if you're a big influencer, well then you're talking like what Clara said, am I gonna be capped? Like I'm earning so much money. Am I gonna be capped? But I love that. So thank you.
Clara:
No, that's amazing. The only thing we ask in return, like you said, is to get content, just do content. You're doing good money with List Perfectly, good for you. Don't be scared. Keep doing it. Okay. Just keep doing good content for our audience. All we ask is to bring awareness to how beautiful reselling is, how empowering. And I almost wanna say how healing. I healed. Okay. It was tough working in banks. Okay. 12 hours a day. I was working even on Sundays. I had to learn-unlearn okay, to work so much because I was a workaholic. And not that you're not gonna be working so much for yourself, but when you work for yourself, I cannot even explain to you if you're not a, you know, a full-time reseller, you know, it's just such an, it's a rush that you get. Every cell is like, it's like a gratitude that you're experiencing. For me it was very healing. And I just wanted to add that.
Liz:
I saw an Instagram post, it said "I'd rather work my own business 18 hours a day than work four hours in a corporate job." Wow. And I was like, wow, that really, wow. You know, when you think about it, it's more joy. I'd rather work my own business, 18 hours a day, 12 hours a day, whatever, versus getting dressed, commuting and doing that for somebody else.
Clara:
Or maybe they like it. You know, maybe you like that structure of going to an office okay, I get it. You know, I was there. I was that person that needed to go to an office. I love corporate America. I really liked it because I'm competitive. Okay. But at the same time, think of the choice, Liz, you know, what about you wanna do both? What if you wanna, you're one of those people I wanna do both do it, do it. So you don't know what's gonna take off first, do it, you know, that's, that's a thing, you know, for those of you that might love corporate America, you can still be a reseller. There is time because that's what List Perfectly is for, to save you time. I have a lot of customers that are teachers, on top of that full-time mothers. Okay. Or, they're very active in the social community. These people also have an incredible YouTube channel. I don't know how they do it, you know? And then they have like these big groups, like I'm talking about like 30, 40, 50,000 people, my group of 1,500 is like compared to them. So for me that's, I just wanna clarify that, you how, how liberating and how empowering <laugh> .
Clara:
I wanted to say one more quick thing about the referral program. And cuz I know we're talking about 2021 what's coming in 2022 and I wanted to share that, you know, part of our referral program is that we love to drop the features that are coming first to the referral members and give them that exclusivity. It's really important for us that you're out there working hard. You're creating content. You should be the first to know when things are coming. So that's a big reason why we don't drop a lot of hints of what's coming. We're very careful about what we announce, cuz we wanna give those members in our program that advance notice. So they know they can tell their referees and, and people that follow them and be the first to know.
Clara:
Thank you Mandy. That's our commitment. Our referral members get everything first. Okay. You get the announcement first and that's very important. We will never compete with you. We will never do it. You know on, let's say Christmas and New Year's, you know, a coupon of 50 or whatever, a discount of whatever you can do. We are not interested in that. We're interested in helping you build your business because when you grow, we grow and our community grows and we all win.
Doug:
And in a lot of ways, those referral members are super users because they're not like we talked about, they're not just sharing the link. They're saying I love List Perfectly. It changed my game. I think you should try it out. Here you go.
Clara:
Yep. And it's equal access for all. Every member of List Perfectly can be part of the program and it's just it's not, there's no favoritism.
Liz:
So Amanda, can you touch on that a little bit about getting that information to referral members, I know you run referral member office hours. Can you tell us a little about that?
Clara:
Yeah. Once a month we welcome every referral member to join us for a monthly deep dive in conversation. It's an open conversation. You can come with your questions and we'll, we're there live to answer them. And we also have some tips and tricks that we share, some new features, obviously we're gonna talk about what's coming, give you first notice. But the other thing that we did and we worked hard on this. This is another 2021 improvement that we made. We are dedicated to improving our communication with every single member. But we now have notifications that go directly to referral members. We're gonna let you know when the meetings are at, we're gonna let you know in a notification, if there's an important referral exclusive that you should know about and tell you where to go to get that information, you're gonna be connected. If you're in the referral program, all you need to do is have the List Perfectly extension installed. You'll, you'll get a little notification right there in the extension or log into your List Perfectly dashboard and you'll see them there.
Doug:
And you're communitizing. If that's a word you're communitizing List Perfectly. So you are giving the messaging right in the experience where the users are, and are gonna be, I mean, we do email marketing and we do notifications, but the best way to do it is communicate with your users where they are.
Amanda:
Yes, exactly. I'm glad that you said that because you know, in the three years that we've had List Perfectly, we did a lot of conversations in 2021 about how valuable email is, are the newsletters that we send via email. Isn't it better that we get you the information that you need right on our site, right in the extension. And by far, you know, we all agreed. It is so much more valuable and, and better, and an easier method of communication, if we can just do it directly to you.
Clara:
Thank you for building that so easy. And there goes Mandy and it's like, "Hey, what if we tried this?" And there goes Amanda and five minutes later, okay. "Do you like this?" And I'm like, "how did you do that so fast" <laugh>.
Amanda:
Yeah. So coming up in 2022, we're only going to improve our communication with you and everyone. We're gonna have, we have a special dedicated section in the referral program where we are gonna have, we're gonna call it resources. And that's going to share, you know, news tips and tricks, graphics, all kinds of things with you. So, you know, you get that up to date information and it'll all be in one central spot, right on our site. Communication is key. You know, we know that marketplaces are always evolving. They're always changing. There will never be a day where List Perfectly is built and that's it like it'll never change. Never, that will never happen as marketplaces improve for a better selling experience List Perfectly has to adapt to those changes. So the notifications are there to let you know when there's an important disruption, we're gonna let you know right on the site. So, we'll always have our current issues page, but when it is a widespread issue, we're gonna pop a notification right there. So, you know, right as you're working, what's going on.
Doug:
And that's brilliant because it's some of the bigger platforms you have to go to, oh, if you want an update, go here. If you want this, go here. If you want this go here. It's like, why can't I go to one spot? It seems like a simple thing.
Amanda:
Yeah, exactly. I mean, that's always been our vision. We wanted you to get everything you need on the List Perfectly platform or in the extension. And this is just part of that, future growth and development that we'll continue to do. I'm surprised at big companies that when you wanna seek out help, you have to go to another site and create a separate login. <laugh> Why? That's just crazy. So that was always really important for us to avoid. We don't want you to have to create an account on another site just to get some help.
Clara:
Let me add to what you're saying, Mandy, because what you built is incredible. Back in the day when we started, you gotta understand. That was me doing customer service and Amanda doing tech support. Okay. That was it. That was the team List Perfectly. That's why I was doing tech support on the Facebook group. But now that has changed. The only reason that has changed is because Mandy has put so many different ways to contact List Perfectly. And the beautiful thing is that 365 days of the year, 24/7, and now I wanna make it official. I have 24/7, a real human being, answering your questions. Okay. There is no automated reply, you know, and as you send your help request, Mandy's asking you some questions so we can narrow down the solution. So by the time you get to us, we already have some proposed solutions and we can expedite fixing whatever is not working for you. And that I'm very proud because that's phase one. When you wanna grow your business to have hundreds of thousands, right now we're in tens of thousands. Okay. But when you wanna grow your business and start speaking, you know, like bigger companies' languages, you know, like hundreds of thousands of members, you have to have that tech support. You have to have that team ready to help and manage that demand. And that's what we're doing first without investing in sales or paid advertising. And that's what is important for us and to protect Amanda's freedom of creating and the technology freedom that she has to say, "Hey, can we try this?" We try so many things. I'm gonna give another hint Liz. You're gonna like this one,.The money is on video. The future is video. And guess what? LP will support video. Okay. And this is gonna help you reduce returns. It's gonna help your buyers to make faster buying decisions. It's proven. This is science. This is not something that we're guessing. Okay. With Amanda, we're always geeking out. Okay. On what makes a buyer click, you know, "buy it now". So that's the future. So Mandy again, thank you for teaching yourself, all these weird things. Okay. And always, you know, she has so many different projects going on right now, but video is something complex, but something that she's working on, very excited among so many.
Liz:
Yeah. I'm excited too <laugh> and I know the community will be excited to hear it too.
Amanda:
Absolutely. Video is the future. It really is. You know, there's, there's nothing better than seeing a video because you know, you really get that 3D experience much more so from a video than you get a photo. You get perspective on, you know, how big the item is or how small or whatever it is. And it's more interactive. It's more fun to watch sometimes. It is the future. There's always gonna be a place for images, always, no matter what, but yeah, video is just a lot of fun. I can't tell you how many times I go to buy something, the first thing I look at of course is pictures. Right? But then after I'm interested, right? I'm getting ready to buy. Let me watch that video. It's the last step that I do before I buy. And that's why it's key. It's key for conversion.
Clara:
And all you have to do is repeat the content of your listing on that video because people, some people like to read, some people like the visual, all you have to do as a seller is repeat whatever you're having in your listing. In that video, you can do it short or long. And obviously it's not gonna let you do an hour-long video. Right? But you know, it's certainly, you know, we're gonna go with the standard of the industry and it's a closer. It closes the sale. It will change eCommerce forever. I'm very excited about that and List Perfectly is on board with that.
Doug:
As always another game changer. Thank you, Clara. Do you want your sound effect for that?
Clara:
Please can I? <Laugh>
Doug:
The List Perfectly sound effect.
Clara:
Thank you Doug . You know how much I love your sound effects?
Doug:
I do know <laugh>.
Liz:
I was waiting for it in the middle.
Doug:
I didn't wanna interrupt.
Liz:
I know. I know. I know. <laugh>.
Doug:
You're on a roll. So Clara, Amanda, we've covered a lot. Is there anything either of you would like to add?
Amanda:
Yeah, I wanna go back really quick to tech support because this is something that we worked really hard on in 2021. I wanna share about that because the trend in the industry with support is just to have bodies give you any response, but it's not the one that's gonna fix your issue. You get the satisfaction of, "yeah I'm in chat and I'm talking to someone," but rarely is your issue solved, right? Normally the process is escalated. And then you'll hear days back. We worked really hard on our system so that if you're listing in the middle of the night and you answer all the questions that we're asking. If you put those right answers in, we've proven 99% of the issues are resolved just by following the tech support before even reaching a person. But when you reach a person, it's more likely that you're going to get your issue resolved. Again, by answering those questions correctly, you're giving our team a sense of what's going on. And so that they have an idea of how to help you. And we worked really, really hard on that. And it's just, it's been proven to work 99% of the time. And I am so proud of the team for all the hard work that they put into it. I want everyone to know that we are dedicated to you. We're in it for the long term. We're not going anywhere. We will continue to evolve this software to save you time and just make your sales increase even more.
Clara:
eCommerce is the future. Invest in eCommerce. It's much better than any other industry. Trust me. I came from banking. <Laugh>
Doug:
Thank you so much, Clara and Amanda for taking the time to speak with us today, to recap 2021 and to preview 2022. We appreciate it. And we know that List Perfectly users and the seller community appreciates it and appreciates you.
Clara:
Thank you. Thank you so much, Doug. It was an honor to be here and thank you for your time, Liz and Doug, asking these questions so we can carry our message. It's our community. Right, Mandy?
Clara:
Absolutely. Thank you guys so much for everything that you do. I know it comes from the heart. I hear it every time I listen to your podcast, how much you care about the reseller community and how much you want this podcast to benefit the community. So, you know, thank you. Not only for having us on your show, we are honored, but thank you for everything that you do.

Outro
Liz:
Thank you for joining us on The Seller Community Podcast from List Perfectly. You can find us at list perfectly.com/podcast. Leave a message or ask a question at anchor.fm/sellercommunitypodcast. You can also email us at podcast@listperfectly.com. You can post a question in the List Perfectly Facebook group at facebook.com/groups/listperfectly. Use the #sellercommunitypodcast. Mention me Or mention Doug.
Doug:
You can listen to us anywhere. You listen to podcasts and be sure and subscribe, tell your friends, and if you're on Apple Podcasts or Spotify, please leave us a review. You can also follow us on Instagram and TikTok. Liz is @coloradoreworn. I'm @snoop.dougie and of course, follow @listperfectly. Also, you can use our promo code podcast, P O D C A S T for 30% off your first month of List Perfectly or 30% off your first month upgrading your plan.
Liz:
All right, Doug. I'll see you next time.
Doug:
Next time.