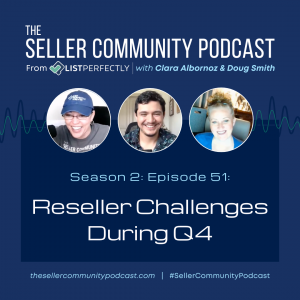 This week, we chat about reseller challenges during Q4! The busiest and most challenging time of the year is here for sellers and Clara Virginia Albornoz (Co-Founder and Co-CEO of List Perfectly and longtime seller), Trish Glenn (longtime seller), and Joshua Gutierrez (New Seller) come together to share their experiences, best tips, and honest advice on how to help you overcome reseller challenges during Q4.
The Seller Community Podcast from List Perfectly is the ecommerce resource for the seller community across all platforms and a hub for information on growing your business. Find out more at thesellercommunitypodcast.com, leave a message or ask a question at anchor.fm/sellercommunitypodcast, or email us at podcast@listperfectly.com.
List Perfectly is the ecommerce resource for selling across multiple e-commerce platforms including eBay, Poshmark, Etsy, Mercari, Kidizen, Grailed, Depop, Tradesy, Facebook Marketplace, Instagram, and Shopify.
Links
Seller Community Podcast on Anchor
Transcript
Clara:
We're joined today by Josh Gutierrez. So happy to have you here, Josh.
Josh:
Thank you. I'm happy to be here. I look forward to asking, picking the brains of both of you because, uh, I feel like I represent some of the watchers who are maybe newer sellers or even maybe existing sellers. Trying to get over the hump, yeah.
Clara:
So many Josh.
Josh:
So I got a couple of questions lined up for you guys, especially Trish. So hopefully we can, uh, get some good information out and, uh, yeah. Figure out how to face some of those challenges in q4.
Clara:
Absolutely. Trish has a lot of experience. So today we have a juxtaposition between someone very experienced and someone that is as well. He's not new to the reselling world but certainly has not sold the volume that Trish has in that's when you're selling throughout the years Okay. In your, and you're selling a lot okay. Of volume, whether it is, whether you do it, you know, on Q4 or throughout the year part-time. Okay. That gives you a tremendous streetwise, if you please, okay? Because there is still nothing written about it. But we certainly have an abundance of groups in the YouTube channels for us to follow and find our success path in eCommerce, because, like I always say, it's abundant for all of us, and it's so abundant that allowed me to fund all of my businesses with my own money. I have no investors. My company's debt free. So I'm excited today to talk about what you should be focusing on today, uh, which is the challenges during q4. And when we say challenges, call it also obstacles, problems, um, you know, insomnia, anxiety, sometimes frustration at work with eBay sometimes, you know, for us that we sell worldwide, okay? At least eBay was one of my biggest channels with the most volume, uh, on top of my website. And Etsy. Trish, which one was your biggest channels?
Trish:
eBay and eBay is still my biggest channel.
Clara:
Awesome. And you Josh?
Josh:
I started on eBay. I didn't even think about, uh, going to Poshmark, Mercari or even Grailed until I heard about List Perfectly and heard about what it was. And then, yeah, so that helped me make that leap. But yes, I was eBay and I actually have a new eBay store I'm trying to start from the ground up. So, we'll see what happens.
Clara:
That is amazing and I love, that you have partnered with someone and then you also have your own store. What an incredible way to take growth, an incredible organic growth path in your journey. And to those of you, he's yes, team List Perfectly. Yes. I would say 95% of team List Perfectly members are required to be resellers. We're gonna be talking about the mistakes that I made, okay? In order to be debt free. Now, uh, the mistakes, I have no debt personally nor my business, but I had made, I kid you not, okay? One of my mistakes, the biggest one, was a $7,000 mistake. And that was, that was just in a, and, and it's like I knew better and I was like, are you kidding me? How could I make that mistake? So let's talk about it, you know, yes, as much as it's beautiful, but sometimes, you know, it comes with the little kind of obstacles and challenges that I hope today we can address that to you. And when you are faced with that situation, whatever Josh or I am gonna say, we'll help you through this journey. Alright? And, just know that we are very experienced with Trish, and Josh is doing the real walk, not just the talk. Hey Josh. Uh, just so we can introduce you to the audience. They don't know you, uh, because maybe they didn't listen to the podcast. Can you tell the audience what you love selling, please?
Josh:
Uh, yes. So I sell anything and everything, but my main passion and love, and focus are on Pokemon cards. I do sports cards as well, but Pokemon is the main thing. Of course, I'll be here to encourage everyone to start adding that to your inventory.
Clara:
Thank you so much, uh, for, uh, sharing that. And Trish, what was your expertise in our reselling world?
Trish:
So, I've always only sold women's used clothing. Okay. I owned a brick-and-mortar consignment store, women's clothing, and then I transitioned it online.
Clara:
So I want to remind everybody that we have two very experienced people. Josh has okay, a seller community podcast episode where he talks about his gaming cards passion. How long have you been using in total List Perfectly?
Josh:
Uh, probably cuz I was using it even before I joined the team, so maybe like two years.
Clara:
Oh.
Josh:
So I still learn new things about LP though, just because whenever I'm selling or running my stores, there are just so many different aspects I come across that I wasn't really aware of before because I didn't have that particular problem in the past.
Clara:
Yeah. With this kind of economy, what do you recommend I focus on and try to get more sales? I would recommend you balance and make time for your family. You gotta be sustainable, so it's important that you work hard okay? That energy, especially about holidays, slows down. Like I always say, despacito, slow down, find balance, you know, make sure you communicate to your loved one. Pause. Okay. That's why I can say this is a very fast season. What would you say to, uh, Trish?
Trish:
So I'm going to take this from a reseller point of view more than a personal one. And I'm gonna say to make sure that you are using all of the tools that List Perfectly gives you and all of the tools that eBay gives you. I'm just gonna focus on eBay cuz that's what I know the best right now. And that is most people's biggest platform. Use listings, use sales, use coupons, you know, maybe bump up your prices a little, maybe do that so you can take the hit on these extra things, but you want to, right now is a great time to sell things people wanna buy who wanna give them the most ways and the easiest to get what they want from you. So maybe offer some free shipping, maybe buy three things, get free shipping, maybe take a little bit of a hit on your amount of profit but sell more so you'll end up ahead. My biggest thing is making sure you are utilizing the tools that eBay gives us.
Clara:
Would you like to add anything, Josh, or…there are many more questions. So if…
Josh:
Yeah, absolutely. So, well from my point of view, and maybe this isn't so much something for Q4 certainly leads into that, but just recession-wise, so one of the things I really struggle with is my pricing. Um, you know, and I, I know that LP typically does preach, uh, have higher prices, you know, get your money's worth. Yes. Uh, but I, I've been kind of just struggling to find that, uh, point for myself I guess in this economy. This is my first awesome time. Yeah. Uh, and I've actually made a couple of sales by reducing my prices to some profit, but maybe not worth the time and effort that I put into that listing and sourcing that particular item. Yeah. So that's kind of something that, uh, I'm struggling with right now. But I have noticed that coming into the holiday season, um, it's that sales are actually picking up for me. Uh, and surprisingly on Mercari and uh, even a couple of sales on Grailed, do you guys notice any tangible change, uh, going into q4?
Trish:
I think sales are an easier thing in q4. I think right now is a time when you can do a lot more promotions. So like the buy, two get one free, the buy three things get free shipping. Whereas maybe during the year people just come in. Now I sell something that people need. Usually when you come and buy used jeans for me, you, you are coming because you need the jeans. It's not a purchase like Pokemon cards that maybe are a want rather than a need. If that makes sense. Yeah. So, I try to incentivize people. Yeah. To be able to buy more. So maybe instead of lowering all your prices, Josh, you lower, if they buy more than one thing, you know, give them a reason to buy two, maybe buy one for themselves and give one as a present or do you know what I mean? Like just in this time period, it really can be in your best interest to take a smaller amount of profit but to sell more.
Clara:
Focusing on selling more is crucial. Um, because at the end of the day we wanna accelerate that be okay of, uh, the rate of sell-through, we call it the sell-through rate. Okay. Is the lapse that it goes between when you list it? Okay. And then when actually seen in that counting. Okay. How many, how many times have you relisted it? Okay. Anything to add, uh, Josh to that before we move on?
Josh:
No, that was excellent feedback. And um, for anyone here who has Pokemon cards, card bundling is actually the best way to get rid of some inventory. So great advice.
Trish:
Who knew I was so smart about Pokemon cards?
Clara:
Do you believe that consistent posting is the way to maintain sales momentum because of the algorithm of the platforms? And I can tell you yes. Anything on any platform. So what I call it, I don't know, maybe this is a term from banking because I used to work in banking but I call it, I used to sandbag my listings. That's where I use, you know, the drafts on List Perfectly. And then I would have, you know, listings ready so I could have it segmented, um, then in that draft category list perfectly and then, you know, push them, you know, because you can list from the drafts as well. So that was, and you can even change those drafts into active listings in bulk. Okay. Okay. When you have, let's say 10,000 of these SKUs, and then we have okay, 10,000 of this one. Well yes, I would say the best idea would be to list, you know, and let know you know, how many units you have and so forth. And then focus on marketing. But for people that we are one of okay, or smaller businesses like ourselves, I highly recommend taking advantage as Trish said of the tools that the marketplaces offer, whether it is free shipping, you don't wanna do free shipping like me don't do it, do a sale and then if you wanna do free shipping, there you go. It's built-in already on the price. Okay. If you wanna do a sale, there you go. It's built-in already on the price. But people love sales, especially around the holidays.
Trish:
I definitely think that having a consistent you, eBay, Poshmark, any of them, they don't say this out loud, but they absolutely reward sellers for having a consistent like a machine. If you're always putting the gas in it, if you're always putting, I would say if you're gonna do 50 listings a day, you know, do them seven days a week and if that's too many seven days a week, do 27 days a week, figure out what your number is, get a couple of weeks ahead and then slowly drip them out every day. Rather than doing this.
Josh:
Regardless of what any marketplace algorithm is, volume is always gonna be key regardless of those changes. And not just in that algorithm aspect but in your sales as well.
Trish:
Absolutely. And so I find when I went from allowing, I have two people who work for me. I figured when I went from allowing us all to kinda like to do what we want, however, the money we wanted a day to have like everyone has a consistent goal. So we were doing the same and anything left over was put on later that actually I saw my sales go up even though I wasn't, I was putting the same amount in monthly, if that makes sense. So I went from you know, putting a thousand in monthly like this to a thousand in monthly like this and my sales went up.
Josh:
And you also brought up the market and I just wanted to say, uh, you know, I feel like this is more of a gig economy. That's what we're headed toward for people my age. So like sure, I'm not saying you should or shouldn't do that, but just know that reselling gives you that same 10 x 50 x, 100 x feeling and I, you know, it's just as good maybe a little more time with your listing and source sourcing. But that's part of, part of the fun.
Trish:
I think. I know not everyone is going to agree with me on this…
Clara:
Of course, of course. But what is your perspective, Trish?
Trish:
Absolutely for my sales, they run every three days because there is a red clock that shows up on your, on your listings and I set up my three-day listings all at the same time for a month in advance. So my store is always on sale but it's always rotating. So I do them in three-day segments and I also do it by price. So if something is $20 or less, I do 15% off, 20 to $40. Maybe I do 20% off 40 or more. Maybe I do 30% off. Okay. But I set these up, I do it on eBay. Sorry, as long as you do it once then you can go through and just duplicate them. And I do it for the whole month at a time. So I have a three-day sale that is constantly going and on that third day, my sales are always up. I do not care what anyone says. That clock helps. If I go in and I'm like, oh I like that sweater. Oh, it's been on sale for a month. I might don't, but, but if it's only on uh, for 20 hours, I'm like, oh crap, maybe I should just buy it now.
Josh:
But while we're talking about doing sales, I'm curious more from the sourcing standpoint, do y'all take advantage of any of the Q4 holiday sales in terms of sourcing?
Clara:
I know Theresa, okay. Smart. So what she does is the next day, okay, she wakes up very early and she goes like literally, she opens, okay, uh, Walmart, okay. And then she goes and goes with everything and she buys everything holidays and she has such success selling holidays year-round.
Trish:
Well, I also think there is a girl, girl in our Facebook group. I think there might have been a man, I apologize, but there was a person in our Facebook group Who posts the other day about going on Black Friday to the Nike store and buying Nikes at a discount and then using like Rakuten to get points back and then using this and that and about getting the most for your money. So I do think there are a lot of strategies if you are in retail arbitrage…
Clara:
I get that.
Josh:
And I do take advantage of those Nike discounts.
Clara:
Me too.
Josh:
Hundred percent.
Trish:
So I am not, I only sell used clothing, so this isn't something that I've ever done. So my sourcing is a little bit steadier around because I don't have those kinds of opportunities.
Josh:
Yeah. And I know, I'm sure you have more lucrative deals than me.
Clara:
Yeah. In the holidays I would send it back Okay? A group of drafts so then I can start dripping them. Okay. Daily. And then on the weekdays, not the weekends. Okay. On the weekdays I would go and I would wait because if you subscribe to Ralph Lauren, they'll give you a coupon for the holiday. So I would, I would wait for all these places, Norfolk or Lauren. I like buying limited editions. I am a vintage seller. I got those limited editions and it was such a great investment with those coupons. So sourcing during the holidays is crucial. You gotta understand the whole morning. Even if you wake up at 6:00 AM you'll be shipping, I don't know you guys, but I was shipping okay. At least. Okay. On holidays. My Mondays were always 40, 50 packages, and then days I would be 10, 20 and my average price was between 150, 200. That was one item.
Trish:
Just try to maybe save a little bit, um, for this upcoming season. Cuz, I do think that we are gonna see a lot of deals and a lot of good opportunities if you're willing to spend some money
Josh:
With Q4 in mind. Uh, you know, cuz that's something I used to, that's a problem I ran into whenever I first started selling, uh, I didn't really have a lot of capital and I know a lot of like resellers make a game out of going to Goodwill with $20, but people who really do build and move in that way, uh, I was one of those people. Is there a time that you start to get ready for Q4 as far as, uh, buying and getting in on those sourcing opportunities?
Trish:
Oh yeah. I think you; we've already should have been there by now.
Clara:
We're, I always say Christmas, I call it Christmas in July for me. For me, July is like if by July I don't have the VIP inventory that I'm gonna have for Christmas, I'm already behind.
Trish:
This is not my forte, but I have friends who are excellent at getting free stuff from Facebook Marketplace, from the neighborhood app, and from all those things. They're able to get it. So if you are somebody who you are having a price crunch, if you are having money issues, think about getting the free things that maybe you don't really sell. Clothing is one thing. Furniture flipping all of these things that you can go on the side of the road and pick up and make 10 bucks, but if you do those 10 times, that's a hundred bucks. So try to think of getting a little nest egg for yourself. And there are lots of ways to do that. And Diane, my friend Diane Lassonde is the queen of getting stuff for free and selling it. So maybe we can have her talk about that sometime. Video is really big right now. So if you're trying to build your brand, I would suggest short form, um, videos doing shorts and then also reels in TikTok. So Instagram carousels are a great way, but also people, people watch the videos longer than they look at the other things. And also carousels, if you do four or five photos in one carousel, um, sometimes the algorithm and Instagram will show that carousel more than once. Whereas if it's just a single picture, you have one shot at the apple, um, one bite at the apple, I should say.
Josh:
And yeah, take advantage of reels because uh, you know, pictures and I'm not trying to discourage anyone from using pictures, but it's just kind of a thing of the past right now. Yeah. Everything is centered around reels because we're competing with TikTok when we're talking about IG, but it's free advertising. Like there's no, I get, there's no cap so it gets lost in the system. Sure. But the more you post, the more success you're gonna have directed traffic to your website and your reels don't have to be, like Clara said, it can be like what's sold or a sourcing day where you're not in it. It can be anything and it should always direct to you, uh, to your store.
Clara:
Yeah. Or a feature of the product, you know, show something, look at these nice stretchy, you know, uh, crewneck, I don't know. Or look, look at how nice the click, you know, and I don't know, just any video count, uh, Josh, I just, uh, I just completed the purchase and I paid, uh, can you expedite a pay for expedited? Can you provide a tracking number? And by the way, I'm in my cousin's house, uh, can you ship it to my cousin's house?
Josh:
I feel like my answer would be no. Did I pass the test?
Trish:
So my answer would be, depending on how much this price point is for me. If the price point, if we're talking about…
Josh:
If that's something y'all do…
Trish:
Yeah. If we're talking about five bucks and this guy's gone out of his, not the expedited, but if he's gone out of his way to say, you know, I'm gonna be at my cousin's house, can you please send it here? And it's a low-cost item, I'll take the chance and send it to him. Because most of the time it would be fine. If we're talking about a high-value item, no way.
Josh:
Yeah, it depends on the card.
Trish:
It's going to where it was supposed to go.
Clara:
Exactly. So it's on a case-by-case basis. So I just wanted to add that. Okay. Don't let buyers rush you. Um, you know, you're gonna find a lot of people, uh, that might come. Uh, I even, gosh, you know, the only people I let rush me was when Ralph Lauren came and bought, you know, $30,000 of my inventory. Yeah, I'll ship it to you right now.
Trish:
You do whatever he wants!
Clara:
Right. You know, I'm shipping, you know, so I'm just saying, you know, you just wanna be picky, you know, and make sure that if you're gonna be complying with these demands, okay? That you're not exposing yourself to great risk, that if you lose that money thing, you're gonna be in a bad situation. Right. You wanna reduce returns. Okay? You can be a seller that is proactive or you're gonna be reactive. All right? You choose. Okay. You're gonna get questions of will this fit me? Um, one, what is it? I'm this height, I'm this weight. I literally, if I had a penny for every, like…
Trish:
How the hell am I supposed to know Lady <laugh>?
Clara:
And I'm like, and I always say, but everybody with the same weight and height, we have different body builds, you know, it doesn't work like that, you know. So…
Trish:
Exactly. And if I have something that's over 25 bucks, that's what I say to them. If they really wanted to go to that other address, I'll say, I'll be more than happy to cancel this for you. We can put it right back on and you can rebuy it and change the address.
Clara:
That's what I always do. And I always let them know that, uh, PayPal, eBay, they let you have multiple shipping addresses, right? Nowadays with technology people, there is no reason why these people don't have the time. You are a small seller. You're not Target, you're not, you can't afford to lose. For me, I cannot even afford to lose, honestly. You know, you know, guys, you know, I'm self-funded, so I always think of my team first and my family first. And, uh, making sure that the risk that we take is something like we can afford. Trish. Thank you, Josh., Any last words of wisdom? Okay, let's think about, you know, okay, people that are shaping right now, maybe they don't have a business partner, maybe, you know, they're not so outgoing. Like you Trish, uh, Josh, maybe they, maybe they don't have a family of resellers. What would you say to them, please?
Trish:
I would say if you were selling a lot and you were worried about your shipping, pull it the night before. Set yourself up for success. It's a short window that we have to be crazy. It's only about six or eight weeks, so just work hard. And if that means you have to pull everything at night, ship them in the morning. If you can't do it all in one day, you can always extend your handling time if you have to. I wouldn't do that until you, it became necessary, but if you're getting overwhelmed, extend by a day or two and you know, it's just these short windows. So keep your nose to the grindstone and get lots of sleep. And Clara's right. Drink water.
Clara:
Josh, what would you say?
Josh:
I would just like to, uh, encourage everyone. You don't have to be into Pokemon cards, just consider it because there was a drop today and it's probably the Q4 drops that are gonna be the most hype drops of the year. They're gonna be hard to come by. So it's just, I see it as easy money if you're an investor, it's definitely something worth investing in, uh, for this next year. So yeah, just a little pro tip there. Uh, I already made my money back on a pack, so I'm really excited about that.
Clara:
Good job. I love it. I love it. So we'll do a live. Okay. And don't forget there is a podcast episode with Josh explaining more about gaming cards and thank you. My advice would be, okay. Okay. Sleep. Okay. Make sure to answer every question from your customers even, will this fit me? That is to sell me more questions. Be patient. I know sometimes we are like, oh my God, just read the listing for the love of Christ. Okay? So just make sure you breathe in. Okay. Breathe out and then reply kindly in my listing. But just in case, here is a cut and paste of that section. Is there anything else I can do for you? All right. Be patient, hang in there. Customer service, even if you sell one of a kind, because okay, they might refer to other families. This is the highest. Okay, this is proven by all marketplaces. Now. People are re-gifting, preloved, re-gifting, preloved stuff. This is unprecedented. It was 60%. These were numbers released by big marketplaces. So don't underestimate even your clothing with maybe stains or holes. Okay? Let's help each other, okay? Uh, if you see someone selling a business, this is, we live in capitalism, okay? We don't live in, you know, other systems. So, you know, if they wanna sell their business and you're there, you have the money, go take it because, okay, what someone couldn't make happen maybe will be your success and maybe that money will help them to go exactly where they want. So no guilt. We're all professional sellers here. We're just small sellers. Thank you, Trish, and Josh.
Trish:
You're welcome.
Clara:
For your amazing knowledge.