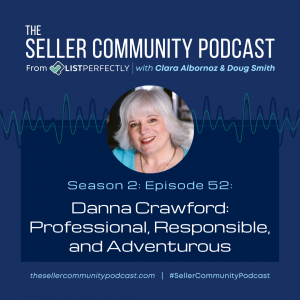 This week Doug is joined by Danna Crawford who shares her experience in the seller community, and her new role at List Perfectly and announces that she will be the new co-host of The Seller Community Podcast from List Perfectly!
The Seller Community Podcast from List Perfectly is the ecommerce resource for the seller community across all platforms and a hub for information on growing your business. Find out more at thesellercommunitypodcast.com, leave a message or ask a question at anchor.fm/sellercommunitypodcast, or email us at podcast@listperfectly.com.
List Perfectly is the ecommerce resource for selling across multiple e-commerce platforms including eBay, Poshmark, Etsy, Mercari, Kidizen, Grailed, Depop, Tradesy, Facebook Marketplace, Instagram, and Shopify.
Links
Seller Community Podcast on Anchor
Show Links
Transcript
Doug:
Welcome to season two, episode 52 of the Seller Community Podcast from List Perfectly. This is Doug, and today I'm very excited to welcome Danna Crawford back to the show. Danna is List Perfectly's new Director of Business Development. Welcome back Danna, and congratulations.
Danna:
Thank you very much. I'm so excited to be here.
Doug:
Here. For those few people probably that don't know who you are, because you're pretty well known in the seller community, can you tell us a little bit about yourself?
Danna:
My biggest thing is people call me Power Selling Mom, and that's my website and that's how I kind of developed my brand. I taught people how to do eBay. I've been on eBay since 1997. Okay. It's been my life. The great thing is that I've evolved over the years, I mean two decades, and now I'm so happy to be a part of the List Perfectly team.
Doug:
That's awesome. Yeah. And, we are happy to have you. What brought you over to List Perfectly, or what attracted you to List Perfectly?
Danna:
Well, the platform, first of all, attracted me and I love social media, so I did notice List Perfectly on social media and I like TikTok. I like watching TikToks and I think that captured my interest I wanted to learn more about how the platform worked. Everybody knows my eggs have been all in the eBay basket. <Laugh>. And I've never ventured out of eBay, so I decided to take that leap.
Doug:
But you have been a List Perfectly user for a bit.
Danna:
Yes, I have.
Doug:
Okay. So tell us what you will be doing at List Perfectly in your role of Director of Business Development.
Danna:
Well, right now I'm still learning the ropes of How List Perfectly works, but I'm excited about taking charge of different projects and I love being involved with the List Perfectly community and also traveling to events. I'm looking forward to being a part of that as well.
Doug:
Okay. Yeah. There will be more coming on that, but a lot of List Perfectly events next year.
Danna:
Yes. And podcasts.
Doug:
There you go. So that's interesting that you bring that up. You have some podcasting experience. So tell us a little bit more about
Danna:
That. Back in the day, I had Power Selling Mom Radio. That was before we called it a podcast <laugh>. We were actually, yeah, it was a blog talk radio and it was a fun platform. I have many, many episodes that I did there, and then we ventured into YouTube. Okay. And I started lots of different shows on my YouTube channel, mostly on shipping. I had the shipping show which was a lot of fun. And then I had a podcast with a company that I used to work for, and we had 20,000 downloads in under a year. It was very successful. And now, you know, rumor has it, I could be, you know, launching another podcast next year. So we'll see.
Doug:
You're staying busy. And we met back when I was at eBay and you've been on, you were on eBay radio. You've been on the eBay for Business podcast many times.
Danna:
Yes. And there's Somebody's or Nobodys or is it Nobodys or Somebodys, there's, there's a podcast out there, you can Google it, and I've been on that one and that guy is awesome. And several other podcasts I've been on, I've been on Good Morning America. I don't know if that counts, but…
Doug:
<Laugh> Nice.
Danna:
Well, I had to say that.
Doug:
That's awesome. So now what, what was that what was that segment about?
Danna:
About making money on eBay. <Laugh> Cashing in.
Doug:
How long have you been cashing in on eBay?
Danna:
<Laugh>I've been cashing in on eBay for a long time. You know, sales are up and down. I, it's like, you know, back in the day you could put anything on eBay and make money. So it's a little more challenging right now. And that's where marketing is, comes into play and is so important as part of your journey.
Doug:
That's a big focus of yours is seller marketing. Correct. And what do you sell? Remind us.
Danna:
I am a consignment seller, so I actually sell everything under the sun. However, lately, I've been focusing on fashion and a lot of my clients are high-end fashion, which I love being a part of. So I haven't had to source or treasure hunt as much. I do miss it, and I do plan to do more of it, but I have a rule. I don't bring in more stuff until stuff is listed. That's been a strong rule of mine. I know a lot of people, you know, talk about dead piles, but you keep bringing in stuff <laugh> and you know, it just keeps building up.
Doug:
Yeah. If you keep bringing in stuff you will run out of room. So that's my problem right now. I have, I took on a bunch of a friend's books and they are piled in one of our closets, so I have to get on that. But I definitely have, you know, one of those piles. It's like stuff I've kept over the years and I just finally got to the point where it's been in a box or been stored away. It's like, do I, and some of it you keep, but do I really need it?
Danna:
No, you don't. Doug,
Doug:
I'll reach out to you, to help with the books…
Danna:
<Laugh>
Doug:
All right. So let's talk about The Seller Community Podcast. So what's your involvement going to be in The Seller Community podcast from List Perfectly?
Danna:
I believe I'm gonna be a co-host.
Doug:
Yes. Danna will be coming on as a co-host, actually starting technic…well technically next episode, but I guess with this episode. But I'm interviewing you as an intro and just, you know, the high-level thing.
Danna:
We're gonna have fun. That's the bottom line.
Doug:
Yeah, we're gonna have fun. I think we already have a good rapport…
Danna:
Great guests lined up, which I'm excited about. I know we're not only gonna have a blast, but people are gonna love tuning into our episodes because the lineup of guests that we have is just gonna be amazing.
Doug:
Yeah, I think so. And you know, definitely looking forward to it. We're gonna ease into December here and then but a lot of big things, big things planned for the future. So give me three adjectives you would use to describe yourself.
Danna:
Well, I always try to be professional…
Doug:
Mm-hmm.
Danna:
And I think that's always important to me to dress professionally, to look professionally professional, and to act professionally as possible. So that's very important to me to be professional, also, to be responsible if I commit to something or I, you know, say I'm gonna do something, I like to be responsible enough to follow through with that. Okay. And I think I'm very adventurous. I've been through a lot of <laugh> and I like an adventure. And, a lot of my friends tell me they like hanging out with me because they're, I always have so much going on cuz there's always some kind of adventure in my life or, you know, places to go and things to do.
Doug:
So what do you think's been your biggest adventure?
Danna:
Which divorce? <Laugh> maybe, I dunno. <Laugh>.
Doug:
All right.
Danna:
There's, there's one adventure with no children, grandma hood now, you know, just, and traveling. I absolutely love to travel. And I just went on a cruise to Alaska by myself and it was not a single to mingle thing, <laugh> it was, it was just to enjoy life a little bit and for a moment. So…
Doug:
Yeah. And do whatever you want on your cruise. And so you're a big cruiser, you have some other ones coming up. How many cruises have you been on?
Danna:
I think it's been about seven.
Doug:
Wow.
Danna:
Seven or eight, something like that. So I'm trying to reach the diamond level on Royal Caribbean. So <laugh>, that's…
Doug:
And what do you get with diamond level?
Danna:
Free drinks.
Doug:
Nice.
Danna:
<Laugh>, free internet…
Doug:
<Laugh>. Oh, that's good. Yeah, that's good too. Cuz they try, they do try to charge you for everything.
Danna:
Yeah, well you get to get in on the line first to get on the ship, off the ship, you know, so it has a few perks here and there.
Doug:
Okay. Okay. Let's go back to eBay a little bit. So you're very known for your association with eBay. What's your best eBay memory?
Danna:
The first thing that comes to my mind is, my favorite part is when I received the Hall of Fame award from eBay.
Doug:
That's awesome.
Danna:
That was an amazing adventure for sure.
Doug:
Well-deserved too. And you were part of eBay's education program, right?
Danna:
Yeah. It's funny how, you know, eBay has evolved. First, I was part of the Trading Assistant program. The trading assistant program. And I can remember being a part of when they rolled out eBay stores. I mean, eBay stores were new. And then we had the Trading assistant program, and then we had the education specialist program. And then the highest level that I went through was the certified business consultant trained by eBay. Okay. Only 29 in the country. Passed that course and made it through eBay University, which Griff was head of…
Doug:
<Laugh>, I remember. Yeah.
Danna:
It was a lot of fun. And that's when I fell in love with teaching and public speaking and, and all of that. So it was like the segue into it all.
Doug:
Yeah. You've seen a ton of change and growth at eBay over the years you've been there.
Danna:
Yes.
Doug:
Speaking of that, how important is it for a seller to be adaptable to changes?
Danna:
You know, I have always been the type of person that embraces change and when change, good or bad, sometimes it's bad and, you know, you have a little depression moment. But I always look at it like it's an opportunity to become bigger and better or come up with bigger, better ideas. Solutions. So I adjust to change very well.
Doug:
And so what's, what do you think has been your biggest adjustment in online selling?
Danna:
I remember the very first big change that eBay did was when they cut out digital downloads. And I was cashing in big time on it.
Doug:
I bet, oh wow.
Danna:
On eBooks. I remember Christmas Eve one year I made like $1,200 on 99-cent eBooks. And people were just ch ching to ching chi ching. They were just, I just sat there going, watching my, you know, amounts go up on my dashboard. It was so much fun. <Laugh> I did really well-selling eBooks back then. So that was my first, you know, it was like, oh my gosh, I can't sell eBooks anymore. Now, what am I going to do? You know, what are we gonna do? And so, the workaround was to sell them on eBay classifieds.
Doug:
Okay.
Danna:
But you need more sales. eBay classifieds were not very popular. And it was like eBay was like, okay, you can go sell 'em over here, but you won't get any traffic and we are not gonna advertise you <laugh>. So I soon learned how to become a marketer and there you go. How to hustle.
Doug:
And why did they do away with that segment? Was it counterfeit, counterfeit eBooks, I would imagine?
Danna:
Yeah. It was not only that there was a lot of porn, but there were also a lot of nasty, nasty kinds of things happening. And so once I actually had the opportunity to go to eBay headquarters and sit down with trust and safety, I actually learned a lot and I had no idea how much was going on. And also the advantage of the opportunity that I had with trust and safety was learning about everything that eBay did to actually go after the bad guys in Nigeria or wherever they were. And the process of the way the laws are per country, per international waters. And it, and it takes, I think one, one case they said took like five or six years. They eventually brought that person, that group of people down for trying to commit fraud on eBay. Wow. But they did it, but the strategy just blew my mind and I became so thankful for the service that eBay provided in the trust and safety area.
Doug:
That's interesting. And one of those things is, you know, eBay does a lot of advocacy for sellers that sellers don't see or even realize.
Danna:
That's right.
Doug:
You know, not just the government relations stuff. You've obviously expanded your business. Where else do you sell besides eBay?
Danna:
I've become a posh, A posher, is that what they're called? Posh?
Doug:
I think so. <Laugh>
Danna:
I'm a posher now. I don't know if that's all right. But yeah, I've had a couple of sales there and I'm falling in love with this posh community and Mercari. I had my first sale at Mercari and I thought it was pretty cool. The process was painless and easy. Grailed, I've, I've ventured out and right now we added womenswear I've put a few things up at Grailed, so I'm looking forward to my first sale with them, but thanks to List Perfectly, of course, I can easily,
Doug:
There you go.
Danna:
Cross promote and I'm having a blast doing it.
Doug:
You also added something to Haul Sale this week.
Danna:
I did. Haul Sale has been a brand new one to me. I've really enjoyed learning about how it works. And I thought, okay, I'm a jump-in girl. When I learn something, I just jump in, and then I figure it out as I go along. I don't study too hard, I just do it. I listed a bunch of shoes. I've got two auctions running now and I'm pretty excited about it. We'll see how that goes.
Doug:
Awesome, awesome. That's great growth. So what do you think in a nutshell is the future of commerce and online selling?
Danna:
Well, I'm, I'm wondering what's gonna go down with the more digital kind of stuff. You know, the art, the art that rolled out. And it's gonna be interesting because the generation is so simplified. As we know the listing strategy just changed on eBay, so everybody was forced into the new platform. I can understand it because it's become so much easier. And it's cell phone friendly, <laugh> big time. Yeah. And I think that I mean, so many, I wanna say kids, you know, I'm an old woman now, but young ins them, youngins, you know, they wanna do everything on their phone, which I don't blame 'em. Yeah. You know, I just have fat fingers and bad eyes, so I'd rather be on my big screen. Right?
Doug:
Yeah. Yeah.
Danna:
I can see just more and more digital, whatever. I mean, pretty soon you can just sit back and talk and you got your listing.
Doug:
<Laugh>. Yeah. Buyers are different. Sellers are different. Everything's going digital. The metaverse, we're all gonna have little avatars soon. Right. With our headsets on, we don't need to leave the house anymore.
Danna:
There you go. I like not leaving the house.
Doug:
Well, you could maybe do something like a virtual cruise or something.
Danna:
Yeah, no, no. I will leave the house for that <laugh>. But I love working from home. I love working from home.
Doug:
Home. Yeah. It's nice. I rarely leave the house. So driving my kid to school is like an exciting part of my day. So I have to work on that. Maybe I'll go on a cruise.
Danna:
There you go.
Doug:
<Laugh>. So obviously you have your website powersellingmom.com. If we go there, what will we see there?
Danna:
Well, right now it is a work in progress <laugh>. Okay. So powersellingmom.com is ready to take a new turn and have a new style all, it'll always be educational and I'll always provide education, educational content as much as possible. But it's gonna go more towards affiliate marketing, which is another huge passion of mine. And I think I'm gonna have more of a focus on that because I was doing the consignment directory and I paid a lot of money to have it set up and I don't like it.
Doug:
All right…
Danna:
So I don't like it and I'm just not happy with it as a directory. But the reason that I'm gonna take a step back now from that directory is that List Perfectly has the Listing Party.
Doug:
Okay. Yeah. With…
Danna:
I've fallen in love with it as well because all of the consignment sellers are available there. It's created a directory that I actually wanted to be involved with. So now I don't have to figure it out. List Perfectly has figured it out. So they have the directory there. So I think it's a great opportunity for its members to add their consignment, that they're a consignment seller, and their terms in the directory. They also have a directory for consultants and VAs and I think it's just the best setup. So I don't need to do it because List Perfectly's doing it.
Doug:
I love Listing Party too. Obviously And you're doing a lot on there too. So, what are some of the things you've done and what do you have planned to do at Listing Party?
Danna:
Well, for those that don't know, Listing Party is a great compliment to List Perfectly for the members. So it's like a community for the members to come to parties, which basically is a Zoom meeting. And it allows us to all communicate. You can be listing at home, whatever the topic is, you can participate in the topic. You can have your screen on, your camera on, or you can have your camera off, or you can have your mic on or off. It's up to you. Some people just come and, and have their camera off cuz they don't wanna, you know, show their face, which is fine. And then they'll unmute themselves every once in a while, to add to the conversation, which is fine. And others will participate the entire time. So it's very laid back, there are no rules. Come as you are and we get together and learn about, we learn from each other. I never stop learning. I'm a firm believer that if you stop learning, you die.
Doug:
Exactly.
Danna:
Well, you know, so I don't know everything and I think it's great that like-minded people that have all the same interests come together and we can all enjoy each other's company and hear from each other. The pros and cons of whatever the topic is. You have some topics.
Doug:
I've done some meeting greets with Theresa Cox. I've done a listing party on sourcing and selling music and we mostly talked about music we did with Stewart White from Franklin Hill Ventures I did a listing party with him on selling and sourcing movies and we talked mostly about movies. And then we are doing a listing party on selling and sourcing books and we'll, like, I have a bunch of books stacked up. I think we'll have a bunch of books all over. We will probably, you know, high level and then talk about books and so, you know, stuff like that. I think mine have been a little more topic based. Yeah. But you do do Cup of Consignment, so that's weekly with Molly and Libby from Consignment Chats. How's that going?
Danna:
It's going very well. It was going very well when we first launched. It's live every Tuesday at 11 Eastern and we have it scheduled every Tuesday. And then I just, I'm launching, Let's Talk eBay and that is gonna be every Thursday night, 7:00 PM I might switch it to 8:00 PM I'm, I'm testing it right now on And the seven, the topic is just, let's talk eBay, bring everything, you know, let's hear about what's happening in your eBay world. But the other thing that's so super cool about Listing Party is all of the members of List Perfectly. If there's a topic that you wish that somebody would talk about, stop wishing and just create your own party <laugh>, right?
Doug:
Yeah. Just let us know.
Danna:
So I didn't have that, that's the great thing that subscribers can create their own parties. Yeah. Then anything goes, you know…
Doug:
Almost anything…
Danna:
<Laugh>. Oh, okay. Yes. Yeah, you gotta keep it…
Doug:
That's right. There are a few high-level guidelines, <laugh>, but no, it's great. It's, you know, it's basically a community. This is version one. So we have a lot of plans for it, but it's, you know, the listing parties are great and some, you know, they're very different and very different personalities and you're big on consignment. And I learned this from actually Libby and Molly of consignment chats. It's if you're a seller, you've likely been asked to sell something for somebody. And I totally agree that every seller should be prepared to be a consigner.
Danna:
That's right. That's right.
Doug:
And don't let people take advantage of you <laugh>.
Danna:
No. And at my workshops, I would always say, when you become a seller, people will, your friends and family will come out of the woodwork and they're all gonna want you to sell their stuff and they think their stuff's worth millions.
Doug:
<Laugh>. Yeah.
Danna:
So that's how it is. So what I learned was, rather than sorting through their junk, you know, because that's what a lot of it is, then what I did was I taught them how to research and look stuff up on eBay so they don't waste my time. And so I taught them how to look stuff up on eBay and then I told them, okay, when you have something worth, you know, $50 or more, call me.
Doug:
Yeah.
Danna:
Yeah. You know, otherwise, I don't wanna sell your Hummels or whatever.
Doug:
<Laugh> Yeah, exactly.
Danna:
Whatever isn't selling.
Doug:
Well, and that goes back to what you said earlier, it is like buyers are different now. They don't want the same stuff. And some people do if you find them, but it's harder to find somebody that's gonna buy the Hummels or buy my mom's crystal or her silver that she collected all these years that she loves.
Danna:
Right.
Doug:
China things or the easy example, I didn't want to go there, but I will Beanie Babies. I mean, some of 'em are worth some, you can get a little bit a couple dollars. It's not what people think.
Danna:
No, it's not. I wish it was back in the day I could get a Beanie Baby on and make a thousand dollars. It was great.
Doug:
Yeah. A relative came to me and she said, hey, my neighbor's got, my neighbor's wife just died and she collected Beanie Babies and he's got boxes and boxes of them in the garage that she saved up with tags. And it's like, I mean, it depends. I mean, I can ask around and see if somebody wants to buy the lot, but it really, really is not what people think it is.
Danna:
No. You can still sell 'em. I mean, I, I see 'em still selling for a few bucks, but it's a lot of work for a few dollars. Yeah. I have three tubs full. <Laugh> Actually, I'm working on a blog series for List Perfectly on consignment selling and my first one's about ready to roll out I do mention how I first started with Beanie Babies.
Doug:
Wow.
Danna:
But yeah, it's not like back in the day
Doug:
eBay was not started based on Beanie Babies. Danna, anything to add?
Danna:
No, I just wanna add, I hope that everybody will tune in at our for our future episodes cuz I'm so excited to be here and I'm honored to be a part of the List Perfectly family. So I'm looking forward to meeting new friends and growing with List Perfectly.
Doug:
Yeah. And no, I'm very excited to be working with you. It's gonna be fun. But thank you for joining us and I am very much looking forward to all the cool stuff we're gonna do. All right. Let's try this and see how it works.
Danna:
Okay.
Doug:
I'm Doug.
Danna:
And I'm Danna.
Doug:
And this has been The Seller Community Podcast from List Perfectly. We'll see you next time.
Danna:
Bye bye…
Doug:
Bye. Thanks, Danna.