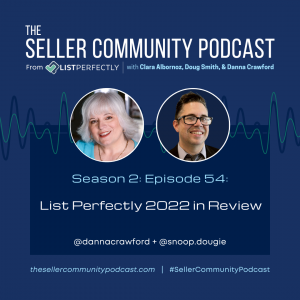 Join Doug Smith and Danna Crawford as they review List Perfectly's 2022 growth, seller events, the Seller Community Podcast, Listing Party, and more!
The Seller Community Podcast from List Perfectly is the ecommerce resource for the seller community across all platforms and a hub for information on growing your business. Find out more at thesellercommunitypodcast.com, leave a message or ask a question at anchor.fm/sellercommunitypodcast, or email us at podcast@listperfectly.com.
List Perfectly is the ecommerce resource for selling across multiple e-commerce platforms including eBay, Poshmark, Etsy, Mercari, Kidizen, Grailed, Depop, Tradesy, Facebook Marketplace, Instagram, and Shopify.
Links
Seller Community Podcast on Anchor
Transcript
Doug 
Danna Crawford, happy holidays.
Danna
Happy holidays to you, Santa.
Doug
Thank you so much. Have you been good this year?
Danna
I have. I have. I deserve everything.
Doug
All right. All right. Are any special things on your Christmas list?
Danna
Actually, what I really want this year are plants that attract butterflies.
Okay. All right. I'll put in a good word for you. We have a fabulous slideshow. We'll go through and highlight some stuff…this was interesting, so this was a suggestion from the community.
We launched two colors when cross-posting to and from marketplaces that offer support of two colors. List Perfectly, Etsy, Poshmark, Depop, Shopify. And do you know what this is, Danna? Because I had to look it up.
Danna
You mean the colors on Etsy? Poshmark. Depop…
Doug
Yeah. So it's basically, and this was actually popular when we launched this, and this was a community suggestion. There are multiple colors in a listing. So let's say I had a hat and a jacket that were red and white.
I could list them and say red and white instead of one color because I guess not all marketplaces support multicolors in your listing. So it's funny to me, initially, this didn't sound like a big deal, but sellers were really excited about it and this was a suggestion, so luck. There you go.
Danna
That's great.
Doug
And yes, the graphics are amazing. We've got some cool little videos along the way. Also, in January we added custom marketplaces for inventory management to the business and pro plan. So basically what this was, let's say you're listing on a marketplace that's not right now supported by List Perfectly, and you want to add that because you use List Perfectly.
You use the catalog; you use it for inventory management. I know a lot of sellers that use List Perfectly just for inventory management. So let's say, Amazon or something like that, you could put it in there to help you with your inventory management.
Danna
Yes, and what I'm so proud of is that List Perfectly listens to the community. When they have suggestions or features that they would appreciate, the team listens.
Doug
Yeah. And along the way, we take suggestions all the time and we've had stuff that we've turned around quickly. It depends on what the development team's working on, but we have a lot of what you'll see today will be based on community suggestions.
Hopefully, everybody's toasty this holiday season. having a good q4. How's your q4, Danna?
Danna
It started off slow. Okay. And it's building up momentum, and I'm excited because. Thanks to LP, I've ventured into Poshmark and I had another sale today.
Doug
Nice.
Danna
I'm so happy.
Doug
Congratulations.
Danna
Thank you.
Doug
All right. Let's move on to February.
Danna
You forgot the photo room.
Doug
The photo room background. That, was that in January?
Danna
That was in January. It increased from a thousand to 1500 a month.
Doug
Ladies and gentlemen, photo room, and the best background remover out there, in my opinion,
Danna
100% agree with you.
Doug
Thank you for that, Danna.
Danna
You're welcome.
Doug
All right let's progress to February. This is a good one. Issues detected, the filter was added in February, so this basically lets you know if there is a potential issue that may raise a red flag. That's a good one. And it just helped with optimizing listings.
And then also in February List Perfectly was recognized as one of the top 10 startups to watch by the Phoenix Business Journal. That was one of our press features. That is super cool.
Danna
That is super cool.
Doug
That was cool. Oh, the crowd loves it, Danna, everybody.
Danna
Be proud.
Doug
That was amazing. A lot of press coverage over there. A lot of big stuff. I think the year before we were in Forbes Magazine, but we had a lot of stuff going on that we always cover in social.
Danna
Another awesome milestone to be very proud of, and I know, yes, you are indeed because of 25,000 downloads on the podcast. That deserves a huge thank you.
Doug
Thank you. Applause. Yeah, 25,000 downloads, just a little over a year in big accomplishment. And then we launched thesellercommunitypodcast.com.
Which is the companion site. You can listen there. We put the show notes there. Every episode gets show notes and you may notice, ladies, and gentlemen, a new face on there, the fabulous Danna Crawford, the new co-host of the Seller Community Podcast. So tell us, Danna, how are you feeling about that?
Danna
I am so excited. I am so excited.
Doug
Yeah, it's gonna be fun. We officially announced a soft launch, I guess this week with a new episode with Danna. So tune into that, but we've got some big plans coming and another big announcement in January. Big growth in that first year, and then you'll see another milestone coming up. But this was a big month for the Seller Community podcast and it's been a big year. We're in the top 10% based on weekly downloads of all podcasts. Amazing. So Danna's gonna help us grow to the top 5%. We are on the road.
Danna
We are on the road.
Doug
Yes. And hopefully, you're all listening to the podcast weekly, and I'm gonna tease this coming up in January. We're gonna have a cool little contest, yes. Clara and Amanda gave a great presentation just about List Perfectly. And then this other video kind of playing at the same time. It was also the launch of the List Perfectly Blog, which Danna Crawford is also an integral part of.
Now, ladies and gentlemen, she's writing for the blog. So that was also in April. Have you used the update feature?
Danna
I have. I really, it's awesome. It updates very nicely.
Doug
So the update button, so that's in your express editor, I believe. And if you want to make updates like let's, you want to update your price, your quantity, your title, your images, your description.
It's a quick and easy way to do that fast, and I think a lot of people will make some pricing changes there too. That's just a great feature for quick updates and that was something that was championed by Theresa Cox.
Danna
Good call Theresa.
Doug
Any examples Danna, on stuff that you've updated?
Danna
I've been updating my sold listings. That's the newest feature that came out recently actually. It's my favorite update. Those sold items.
Doug
Nice. Nice. All right. May new image managed next photo option. This was a big one too. Yes. So a listing optimization thing. I don't know if you've used that, but it just saves more time when you're taking multiple pictures when listing. This was one of those quick turnaround suggestions, and I think it might have come from, might have come from a Friday YouTube live.
Danna
I just love the ease of using it on my phone and you know it time is money so…saves you so much time.
Doug
Yeah, no, that is a great feature and that's when I do list enlist perfectly, I always start with my phone. I start with drafts and obviously take pictures with my phone…I upload photos from my phone and use the next photo on every single draft. Yeah, it's a great feature. And my son actually does my listings for me in List Perfectly. So there you go. And then also in May, perhaps in honor of Danna's birthday, we updated the List Perfectly homepage with a new, little more streamlined look and feel.
Danna
Thank you so much.
Doug
You're welcome. Happy birthday.
Danna
Thank you. All right.
Danna
Oh, this one's a favorite of mine.
Doug
June's my birthday month. This was a cool feature.
I sell, I sell a lot of the same stuff. So books, video games. There's a lot of that stuff that I used to do with just cutting and pasting and before I use List perfectly. Now I can just have a different template for a different category. How about you, Danna?
Danna
What I love about the default, it is automatic. So in case, I forget to switch, because on other websites, you have to always look for your template and it takes time. So now you know that the default one is in action and it's a lot easier.
Doug
Danna, tell us about your listing party.
Danna
Yes. Last night we had, let's Talk eBay Listing Party. And it was a lot of fun. We had several people that were brand new to the platform and Don the Donovan Collection was there, so had lots of good information.
So that's on Thursday nights at 7:00 PM Eastern, and then on Tuesdays at 11:00 AM Eastern, we have a cup of consignment. and that's with all-stars, Libby, and Molly from Consignment Chats. And we also have Theresa Cox that does Listing 101 and she goes over all of the tools at List Perfectly.
And you and Franklin have been really getting some momentum going with listing parties.
Doug
Yeah, we had a music listing party where we mostly talked about music. We did movies, we did books. It was fun and we talked about books the books were super cool because we had lots of different perspectives on there. And an actual seller that used to own a rare bookstore. So that was cool. And Stewart and I, Stewart of Franklin Hill Ventures, have talked about doing a toy episode. Star Wars toys. Star Wars focus. Maybe bleed over it into Star Trek a little bit. I have a good, good friend that's a big toy seller, so I might get him on that.
And he can tell the story of when I shipped him a bunch of Star Wars stuff. Had a slight monetary misunderstanding. I should have shipped it differently than I did. So that was a shipping lesson for me. All right. Back to June. We also launched, and this is a cool feature, the List Perfectly Plan Advisor.
So that's basically an area or a feature on the pricing page, which is where we break down prices, we break down features of each of the plans. Simple business and pro. You can go in and you answer a series of questions, and then you are recommended a plan.
So we specifically have three plans for three different types of sellers
All right let's move on to July.
List Perfectly Video
Did you know that List Perfectly now offers a word alert, extension, and setting with this setting enabled alerts will display if specific words are detected in your description that may cause an issue on certain marketplaces.
Doug
This is a cool feature too.
Danna
Yeah, it's handy. I get alerts cuz I would have Instagram/DannaCrawford on. So on the bottom of mine and on some sites, it wasn't allowed. But yeah, other sites it's okay. But I appreciate the alerts cuz I forget to change them.
Doug
Yeah. And it's good and it's another great option to help you, customize or optimize your listings.
Yeah. And I started on eBay and then expanded to Mercari. But then I noticed at some point that. I was carrying my cutting and pasting my stuff over and on Mercari it would say, thank you for taking a look. Please check my other eBay listings. Not, oh, not good. You can get in trouble for that.
So the word elite alert feature could help with similar situations.
FlipCon. So that was, I think, our first big event of the year back in North Carolina. We went out there, members of the team, Clara and I got on stage, gave a little presentation, and we had a booth there. We were the main sponsor, and that was our first seller event.
Other events followed, but that was a great event and they're gonna do it again. Next. and we are gonna be doing, we don't, we just want to tease, but we're gonna be doing a lot of events, huh Danna?
That's what I hear. I hear that.
Doug
The rumor is, rumor has it…Danna's better at teasing than I am.
Danna
I think we're going on tour.
Doug
We're going to Florida. The first one you've probably seen in the List Perfectly group. Going to see you Floridians in Danna's backyard. Florida's a big state though.
Danna
It is. It is. And this is perfect cuz we're meeting in the middle.
The full extension support for cross-posting and inventory management features, from the Express editor and the sales analytics.
Doug
Yeah. Express editor. Do you use the Express Editor?
Danna
I do.
Doug
It's a great feature.
Danna
Yes, it is. And again, Time saver. That's right.
Doug
That's what it's all about. Saving time. Time is money. As Danna Crawford said yesterday, somewhere. It is. It is true.
Danna
I used the express editor to change over a hundred buy-it-now numbers recently. Took minutes. A hundred. That is awesome.
Doug
That's, yeah, and that's the point.
Danna
That's a good example. Good example.
Doug
Are we ready for September?
Danna
Yes.
Doug
So we attended eBay opens in Texas and in Los Angeles. And then we went to Posh Fest in Houston, Texas. Have you ever been to a posh fest, Danna?
Danna
I have not. And I cannot wait to go.
Doug
It's a great event. It was a lot of fun. It's different from eBay. It's different from eBay open. But it was a lot of fun. And that was our first no, that's not true…List Perfectly second PoshFest. My first. I dressed up a little more, I'm not a suit-and-tie person or a button-down shirt person. So I had to throw something together. So I did that for the poshers, for the posh crew. But two other great events on the slate that we had for this year.
Danna
Yes. Yeah, the eBay Open this year. I thought it was really cool how they had lives across the country and then yeah, I had the honor to be on the recording version.
Doug
Oh, right, that's right. Before we knew that you'd be coming over to the team.
Danna
So I came on board at the end of September.
Doug
That's right. That's right. A slight teaser. I remember seeing you up there saying I know her. But it was a good event. A blend of virtual and online. Do you think they're gonna bring Vegas back?
Danna
I don't know. I think they're pretty happy with the virtual thing. So yeah. It'll be interesting to see.
Doug
I'd like to see it. I did three, I think. How many eBay opens did you do?
I can't remember. I've done a lot. eBay Live. eBay Open, yeah. eBay in person. eBay on location.
Doug
So you did eBay lives back when they would rent out a stadium?
Danna
Yes. Yeah, I was actually a speaker for eBay at several of them and it was a lot of fun.
Lots of. . Yeah. If you don't know, ladies, and gentlemen, Danna is like an eBay legend. Oh, so that's true. Yeah. And the more she and I work together, she'll find that I will tell people the same thing over and over. So I will tell you repeatedly, Danna Crawford is an eBay legend.
Danna
Which means I'm old, so…
Doug
Me too. Me too.
Okay, are we ready to move on to the next month which would be October? I had a momentary lapse there.
BOSS Reseller Remix. A lot of sellers were there. We were the main sponsor and that is where we launched Listing Party. Yes, that was the live launch of Listing Party, technically the very first listing party.
Danna
Awesome.
Doug
Yeah, and obviously we've got some listing party attendees here. We've covered it a little bit. Danna does her eBay listing party and we do others. And I like it too because a lot of us will drop a lot of List Perfectly team members in there.
So a lot of similar events this year. You will be surprised and we're very excited. 2022 was huge. 2023 is gonna be bigger.
Danna
Can't wait. Doug
And I'm sure Danna will be there with us.
Doug
I will. And it'll be my first BOSS Remix, so I am excited.
Doug
Yeah. No, it's a great event. It's my favorite now that they're not doing eBay opens.
But it'll be, and it's interesting for me to be on the other side of these things. But I guess technically with LP, I'm still on the vendor side, so we'll see. Yeah, but I do sell now. All right. You wanna take November?
Danna
Sure support for copied status, linking directly to your List Perfectly catalog listing for faster listing locations and that, oh my gosh, I was using that this morning actually, because I have a hundred and I think I have 196 items on eBay and I was trying to go through where I used to. Yeah okay, look. And then open a screen and look and see, is that one on there?
And now you can scroll down them so fast. And the word copy. Is handy right there. And then you can highlight the top and then just keep scrolling down and, oh, I missed one. Oh, I missed one. Yeah. And then highlight them and then boom, they all moved over and now I officially have them all on List Perfectly, which I'm so happy about cuz I wanna get them over to Poshmark.
Doug
There you go. And so you're importing from eBay? Yes. I imported those from eBay. Going forward, I list directly on List Perfectly, but I needed to move the inventory. It was. Really handy having that. Very nice. Great addition. Yeah, great addition.
It is interesting too because it's something, a practice we highly recommend. So we highly recommend putting your listings into List Perfectly and tracking 'em for the inventory management features for tracking, for the analytics.
And then for big things we have coming, like sales detection. Yes. Which is coming soon.
Sales detection's pretty awesome. it's rolling out. More platforms are coming and we are, and we're rolling out some info and marketing around it. We like that cha-ching.
Danna
Sweetest sound in the world.
Doug
That is a great feature. And yeah, again, I, over the next couple weeks look for more information on that.
And then Vestiaire' s added. Have you listed on there yet?
Danna
I'm in the process. I haven't gone live. I've got my account set up and I'm learning I love learning new stuff, so it's gonna be fun.
Doug
And as you've said, you jump right into things.
Danna
Jump in girl.
Doug
There you go. Jump in girl. You learn as you go and figure it out as you go along. No, that's a good strategy. The seller community podcast's hundredth episode will be coming up at the end of the month and we're working on a little special plan for that. Some cameos, and a little reminiscing. Things like that should be fun.
And then also it was in November when we hit 50,000 downloads of the Seller Community podcast, so we really, obviously upped our pace. So yes, that was a milestone there too. Absolutely. And then Breaking News, Danna Crawford, we just broke a hundred followers on Reddit. So that's another platform we're on.
Danna
Yes, that is breaking news.
Doug
So if you are on Reddit, we are on there as well and we get some really good engagement on there. It's definitely an interesting platform, a little old school, a little kind of community-based type of social media platform. Are you on there, Danna?
Danna
I am, yes. It's a good resource, also news, that kind of thing. So it's, I see some interesting stuff on there.
Doug
Yeah. And what's interesting too is Danna Crawford is very active on one of my favorite platforms. TikTok.
Danna
I love TikTok.
Doug
I do too.
Danna
I just wanna dance. I've got all these songs saved for my dance moves, yeah. Yeah. Hopefully, when I go on my cruise In January, I will do some dancing.
Doug
Yeah, TikTok, you've got 3000-something followers, right?
Danna
Yeah, I've been active there as much as I can. And some of 'em, you're gonna laugh and go, oh my God, did she really do that? Some of 'em are kinda weird, but it's so much fun. You gotta be weird sometimes.
Doug
All right, let's see. Yeah, that is true. I like it. I want to grow there. I want to go live. I want to, I'm gonna be doing some, and I'm gonna get back more and more, posting more across the board in January. Gonna relaunch my music website. Definitely a side project with things like that, so you'll see more from me. But I really like TikTok. I think it's a spot where you can really grow. I really like that algorithm and all that.
Danna
I do too. And what's nice too is you can make a reel on Instagram or, then you can use that on TikTok and vice versa. And it's so fun. I posted today and already it had 248 views and just an hour.
Doug
There you go. Yeah, and it's so interesting because my daughter's 18, my son's 15, and he's, they've got friends that have millions of followers on TikTok.
Danna
When TikTok rolled out, I learned about it at Social Media Marketing World in San Diego. Nice. Speakers were speaking about it and the company that I used to work for. Then I went and made a call and I said, you guys, we gotta get on TikTok. We got, we gotta get the company on TikTok. But unfortunately, nobody was on board. And I thought I'm getting on TikTok. You gotta jump in when these things roll out.
Doug
It's definitely not a Clubhouse, but what's great about, that I do love TikTok. What's great about it's the algorithm is a little different. It's not ad-based. It's more content-based, really what you look into.
Look at what you're consuming. And if you look at, if you look at different things, it will change itself. And the other thing about that is you don't have to have, Danna knows this, it's the early days of Instagram, it used to be easier to get followers. And I think Instagram's very different now.
I think with TikTok, the cool thing is you don't have to have a ton of followers to go viral on the platform or grow quickly. You should post regularly, but you don't have to have a ton of followers. And you can have fun there. You don't have to be all serious. And, but we'll talk more about that next month than our new launch that's coming up.
We should do it, yeah. We'll do a TikTok episode. We haven't done that. With TikTok expert and influencer Danna Crawford.
Danna
I'm thinking of the marketing channel that'll definitely play a big part.
Doug
A former eBayer friend of mine runs a small, medium business over at TikTok.
So maybe we can try and get her on. Find us on TikTok. What's your handle on TikTok Danna?
Danna
Power Selling Mom.
Doug
Power Selling Mom.
Danna
Yeah. But you can search for names as well. That's true. I am Danna Crawford. D a n n a. A lot of people, they'll come back and go, I couldn't find you. And it's did you have two Ns? No.
Doug
That's right. So she adds the extra Ns, so her name's pronounced correctly.
Danna
You follow me, I'll follow you. We'll have a happy following. I think I did a TikTok on that.
Doug
That's good. I'm definitely following you. Yeah. People talking, people going live, and I love anything like that. That just is something where people can be creative and get content out of all different types. Be cool…
Danna
And have fun. Have fun and be silly. It's okay to be silly.
Doug
Yeah. It's important to have fun.
Danna
And so bottom-line Doug. List Perfectly had an amazing year, and I think next year's gonna be bigger and better.
Doug
Yeah, I think, yeah, it was an amazing year. Lots of growth, and lots of cool stuff across the board, with List Perfectly with my babies, the podcast, and the blog. Now we have this child we've adopted together the podcast that we will continue to develop and raise and just yeah, community-based and all the resources and then all the growth and in all those segments, bigger things coming next year.
A lot of events, and a lot of new features coming and, we roll things out a certain way for reasons, a lot of growth in the podcast. I'm dying to announce other stuff for January for the podcast, but we'll wait. Okay. And then, just being there with all our free resources, taking your feedback, supporting the community, being a part of the community, and keeping an eye out in your neighborhood.
We may be coming to see you.
Danna
Absolutely. So thank you everybody so much for your love and support and I'm just really looking forward to a great New Year. All right.
Doug
Yeah, happy holidays everybody. Thanks for attending. I think we'll have another live next week, and then we're gonna take a couple of weeks off to celebrate the holidays, and then we are literally gonna hit the ground running in early January.
Danna
We are. Can't wait.
Doug
All right.
Danna
All right.
Doug
So cool to see everybody next week. Thanks for watching. Thanks for listening.
Danna
Thank you so much. Doug
And yeah, thanks, Danna.
Danna
Bye.