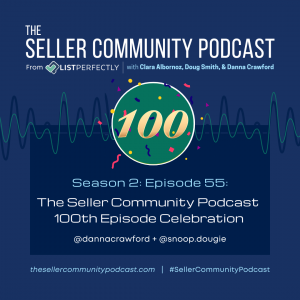 Join us as we celebrate the 100th episode of The Seller Community Podcast from List Perfectly! Doug shares memories and favorite episodes, Danna and Doug talk about milestones and the future of the podcast, Clara thinks back over her year as a co-host, and we share clips from top episodes! Thank you for continuing to listen!
The Seller Community Podcast from List Perfectly is the ecommerce resource for the seller community across all platforms and a hub for information on growing your business. Find out more at thesellercommunitypodcast.com, leave a message or ask a question at anchor.fm/sellercommunitypodcast, or email us at podcast@listperfectly.com.
List Perfectly is the ecommerce resource for selling across multiple e-commerce platforms including eBay, Poshmark, Etsy, Mercari, Kidizen, Grailed, Depop, Tradesy, Facebook Marketplace, Instagram, and Shopify.
Links
Seller Community Podcast on Anchor
Transcript
Doug:
Welcome to this very special hundredth episode of the Seller Community Podcast from List Perfectly, this is Doug. I'm solo right now. I wanted to take some time to go through some stuff, and share some thoughts from my perspective. You know, this was originally my idea that developed into this big thing that's now hit a hundred episodes. Thanks, everybody for listening. Sincerely, I really am proud of it and really appreciate all the support and all the listenership and all the people that have helped make it a success. I had this idea after leaving eBay. I worked on the eBay for Business Podcast, and when I left eBay, I had the idea of an e-commerce podcast that would cover all the platforms. And when I was on the eBay for Business podcast, I learned a ton from Griff. He was a great mentor and the great team on that podcast.
Doug:
Audrey, Brian. Alan, and myself, kind of built it from scratch together. And then again, I parted ways with eBay and I had this idea for an e-commerce podcast. The challenge was, there are a ton of podcasts out there. If you don't have backing, it's hard to get noticed. I wanted to be able to launch a podcast on my own from scratch and literally do everything. What I did is I launched a music podcast from scratch called the Albums That Saved Us, which is still around. You can still listen to it, and I'm going to relaunch it in January of next year. But I did everything. I put it all together, got the graphics done, got it all distributed, recorded, and edited, just so I could do that. My seller friend Liz O' Kane finally came aboard and decided that she would do this podcast with me.
Doug:
And very soon after that, this was a little over two years ago, very soon after that, Liz connected me with List Perfectly. We talked to Clara. Clara wanted to be a part of it. So the Seller Community Podcast from List Perfectly was born. And thanks so much to Liz. You know, she was an integral part of the launch of the podcast. She was my co-host for more than a year. And you know, thank you so much to Clara and Amanda as well, for believing in the idea and backing us to launch it. And our first year was great. We had a ton of sellers on, we had a lot of industry experts on, and we got some execs from eBay, from Grailed, from other platforms. Anda little into season two, Liz decided that she wanted to pull out and focus more on her business.
Doug:
And, you know, obviously we have to support that decision. But total support, total thanks to Liz. And we're still in touch. But she decided that that was the best thing for her at the time. And from there, right into season two, Clara and Amanda came in as co-hosts. Amanda did a couple of episodes, but with the development team and all the development at List Perfectly, she's very busy. So Clara stayed on and was my co-host and has been my co-host throughout this whole year. And the podcast has seen a ton of growth. The most growth in season two. 2022 was also a big year of growth for List Perfectly. And we had a lot of List Perfectly oriented episodes on the podcast. We hit 50,000 downloads about a month ago. Now we're into our hundredth episode. Big things are planned and always big changes.
Doug:
We're pivoting a little bit. I'm excited, as you know, to be co-hosting now with Danna Crawford, the Power Selling Mom, very well-known in the seller community. We've done a couple of episodes together, but we're really gonna hit the ground running in January. Clara will still be in for special episodes and come in for special interviews. So she still is part of the podcast. She still is part of the co-host duties part of the family, but we've got a lot of great things coming. I did wanna take a few minutes though to recognize some of my favorite episodes. So I love doing this. All the episodes are great. Again, we've interviewed a whole variety of people, and had some really interesting episodes. I love 'em all. I love all my babies, but there are definitely a few that stand out.
Doug:
Dave Snyder's, a friend of mine, we met at, eComChicago. We actually met online first talking about eBay, SEO, and music a bit. And then we met at eComChicago a few years ago. So Dave, as you know, is an eBay, SWO expert. So his first episode is one of my favorites. It's our biggest episode. Such an interesting conversation, a little controversial. That delist, and relist is a controversial topic, but Dave put a good spin on it. You know, I really like those episodes and he did a couple more episodes, and here's a teaser. He's coming back soon.
Doug:
Another episode that was very special to me was having Griff on to talk about the seller community. So grateful to Griff and the eBay for Business podcast team. So grateful for my time at eBay and I wouldn't be here, a hundred episodes, two years into this, more than two years into this podcast if it wasn't for the guidance of Griff.
Doug:
Another one, the VERO episode with Julien from eBay. Interestingly, I was really nervous about this episode. Probably the episode I was the most nervous for. I think it's cuz it's such a touchy topic, controversial, you know, we had to do a lot more with eBay for this one. We ran questions by him. We gave him, you know, editing access and, you know, we edited a few things out, but it was a good episode. Julien was super cool. Julien heads up VERO at eBay, and he answered some questions and cleared up some VERO myths.
Doug:
Stewart White of Franklin Hill Ventures is always fun to have on. He's been on a couple of times. We met, I think, in the Facebook group and then met at Boss Reseller remix number one. And since he's become a friend, we've bonded over movies, we've bonded over music. We've done a couple of listing parties together and we're gonna do more. But he's always a great guest to have on.
Doug:
The same thing with Maggie Webber, Refashioned Hippie. She's always, she's hilarious. She's a fun guest to have on. She's been on two or three times. And she also writes for the Seller Community Blog.
Doug:
Now, another favorite, Libby and Molly, the Consignment Chats ladies are always a hoot to have on. They've been on a couple of times; I've been on their show a couple of times. They had me on their hundredth episode. That was very nice. They are always super fun to work with. And they do a weekly listing party called Cup of Consignment with Danna Crawford.
Doug:
Another early favorite, my friend Sarge, Sergeant Red. He and his wife have a fantastic toy store and they came on and talked about selling toys and they have such a cool story. It's one of my favorite eBay stories. Basically selling on eBay helped them adopt foster kids and start a family.
Doug:
I always love the episodes with Clara and Amanda on, especially when they're talking about their roots and how they started the Clothing Vault episodes, the vintage selling episodes, our first times really digging deeper with Clara and Amanda, and just great episodes. So interesting, their insights. And it's part of the thing I love about them and love about List Perfectly. The people running the show are sellers themselves and they've done it all. And, you know, they're so authentic, accessible, and just so down to earth too.
Doug:
Another favorite, how can I not mention this one? Having my wife, Meredith, Mertini Mercantile on talking about building and growing a handcrafted business. She's an online seller. She sells a lot more and has sold a lot more than I do. And it was fun to have her on the show, getting her perspective of really focusing on Etsy handmade stuff and, you know, making, basically making stuff to order as it comes in.
Doug:
I've also enjoyed the Seller event episodes we've done over the last few months. You know, at the end of this year we did a ton of seller events. So we did some coverage with some portable recorders where we were interviewing people on the fly. And we kind of put that into the episodes after the fact.
Doug:
And then obviously our friends, Vikki, Katy, and Theresa, often on together, on together all separately, they're probably our most frequent guests. If we gave away gold robes or gold List Perfectly t-shirts, they would definitely be amongst that club. They're always great and fun to have on. Always a good interview. So they are amongst the favorites as well. And they'll be back.
Doug:
I mean, so many topics, so much experience there. I just wanted to, you know, take some time to say thanks to everyone for listening. And it's good to change. Good to pivot. We're going through some changes again, but they're gonna be good things. We've got a lot of cool stuff coming. We're gonna change up the format a little bit. Obviously, there's a new co-host in Danna Crawford. She and I have a great rapport. It's gonna be a lot of fun. We're gonna tighten up the episodes a bit, kind of focus a little more on seller stories, but there will still be definitely some List Perfectly sprinkled in there. So again, thanks so much for listening. Let's hear from my new co-host Danna Crawford.
Danna:
Hey, Doug, this is exciting.
Doug:
Yeah, it is. It is. Technically you're three or four in, I mean, if you count everything, so, but you're coming into a good time. You and I are gonna launch season three together in January. We've got a lot of plans. We've even got some interesting stuff we won't announce yet. So here's what you're coming into. Again, two years into season three. Based on weekly downloads The Seller Community Podcast is in the top 10% of all downloaded podcasts. And as you know, we've had tons of sellers on industry experts and social media, SEO, employees, and execs from eBay, Grailed, Kidizen, and more. And you've been on the show. So what was it like when you were on?
Danna:
Oh, it was such an honor, like just such an honor and it's fun to share your knowledge with the community and learn from the community. And that's what it's all about.
Doug:
Why don't you help me run through some stats?
Danna:
Yeah. In 2022, you produced 2,283 minutes of content. That's crazy. More than 98% of other creators in the business category are on Spotify. So that is the second highest trafficked platform after iTunes. Crazy. Heard in 25 countries on Spotify in the top 20% of most shared podcasts, top 10% of most followed podcasts on Spotify, on Apple 46 reviews, 4.6 ratings out of five. Bravo.
Doug:
Thank you.
Danna:
Awesome.
Doug:
So Apple by far is the top podcast platform and Spotify's second. And there's a big difference. But those are our top two platforms. And we get reviews on Apple. And you know, we've had good reviews, but Danna and I talked about this. We thought it would be fun to read just a few of the reviews. So this is the time, I guess, to brag. And sometimes it's funny and uncomfortable to brag. But I will brag a little bit about my baby. Our baby. Now Danna, you're like not a stepmom, like a mom. You've adopted. So you're a full mom of The Seller Community Podcast now.
Danna:
The Power Selling Mom.
Doug:
That's right. There you go. It's all come full circle now. <Laugh>. All right, so first review, "phenomenal podcast. I religiously listen to this podcast every week. It is so good that I hope sometime soon it will be several times per week." That would be tough. "The Interviews are very interesting. The hosts are engaging and the information is invaluable for anyone who wants to sell online. I highly recommend this podcast." Thank you for that lovely review.
Danna:
That was a good one. Now this one reads "my favorite reselling podcast," which is I agree with this <laugh>. Thank you. "This Is my go-to podcast for all things reselling, both informing and entertaining. Looking forward to listening to many more episodes of the Seller Community Podcast and learning something new every time. Keep up the good work. Thank you."
Doug:
Very nice, very nice. Here's another: "a great resource for our selling community. I'm so looking forward to listening to the new episodes during my walks. I really appreciate all the great information and tips that you share because they're very helpful and I'm always learning something new." We love that you can walk, exercise, and list while you're listening. I call it list-n-ing.
Danna:
Yes. I like to listen when I'm driving, when I'm there you go on the road. So this one read, "these hosts have a wealth of experience and amazing contacts within the reselling community. It's a guarantee that all their guests will provide great insight into all the different platforms. Plus there will always be the fun back and forth between the hosts as they share their reselling journeys." That's really cool.
Doug:
Yeah, very nice.
Danna:
Cool one. And we have lots to share.
Doug:
That is true. Yeah. And you know, we're both sellers. You're actually, you know, stars above what I am, but we're both sellers. We've both been in the community, so we are still gonna bring that perspective in.
Danna:
Absolutely.
Doug:
But Danna, all the fantastic reviews. Of course, there's gonna be, you know, there's gonna be the occasional off review, one-star review, and those are the ones that, those are the ones you never forget when they come in. So I'm gonna read the one one-star review we've gotten: "the hosts are like a stale piece of toast and have no personality except for when they want you to use a certain product or service."
Danna:
Oh my gosh.
Doug:
And you know what hurts most about that Danna, is I love toast and I love wheat toast. Maybe with a little cinnamon sugar and a little butter <laugh>, or I love toasted peanut butter. So that's, this was a tough one for me because it insulted my love of toast.
Danna:
Yeah, cuz it's stale toast.
Doug:
That's right. I don't wanna be stale toast. Hopefully, I have a little bit of personality…I try.
Danna:
Well that's before for me, so…
Doug:
That's right. That's right. <Laugh>. So now we will be freshly buttered wheat toast.
Danna:
There you go. Croissants.
Doug:
That's right. Croissants. How do you…croissants? What kind of toast do you like?
Danna:
I like bagels. Bagels.
Doug:
Bagels and lox?
Danna:
No lox. Just no lox. Just bagels with butter or cream cheese.
Doug:
Very nice. Yes. Excellent choice.
Danna:
Yes. So let's go over some of the top episodes.
Doug:
So by far our top episode is from season one, episode eight, very early on, eBay SEO Listing Optimization with Dave Snyder. It's the first episode to a thousand downloads, and it's still by far our top episode.
Danna:
Wow.
Doug:
And do you know who Dave is?
Danna:
I don't, I'll have to go listen.
Doug:
Dave Snyder is an eBay SEO expert. So that's his concentration. He's an SEO guy, but he concentrates on eBay SEO he has a lot of big clients and he helps 'em optimize their listings. But he came on and he was a little controversial and some of the topics that he covered, like, you know, don't delist and relist and little tips and tricks. And this was a very popular episode and it actually had a big influence on you know, some pretty big sellers changing the way they think about listing and delisting. And then a lot of little tips and just a lot of lots of little things to kind of think about SEO in your listings, optimize your listings. And there's some information that is applicable across the board. It's mostly eBay-focused and he was on a couple more times, but this was the most popular episode.
Danna:
That's awesome. Yeah. Season two, episode nine, building a half-a-million-dollar resale business with da da da da da da. The Clothing Vault.
Doug:
Clothing vault. Yeah. That was Clara and Amanda's reselling business before List Perfectly. And they go into detail about how they built that out. This was a two-episode series, so very popular, and very interesting. And it was great to go back with them and kind of reminisce and hear them lay that out. And you know, how they built it all from scratch and grew it into a half-a-million-dollar business. And that really laid the groundwork for what has become List Perfectly. Then this is an interesting one because, in season two, episode seven, Turning Your Side Hustle into a full-time business with Kim Rose Kimberly, who's on the team now. So interestingly, we've had a lot of sellers on, and you know, they're popular episodes, but this is the top-seller story episode that we've had so far. And it's a great story. I mean, Kim was in a job that she wasn't happy in and she was debating whether or not to go full-time selling, went to Boss Reseller remix, and that was the influence that kind of pushed her over the edge into going full-time.
Danna:
And Kim's awesome to work with.
Doug:
Yeah, she's very cool, very sweet. And she's doing well with her online selling, so she's happy with the decision she made.
Danna:
Yes. And, I have to give her a shout-out because she has very impressive blog posts for List Perfectly with great information, so…
Doug:
Definitely, definitely. And you too, Danna Crawford, are also pumping out content for the blog.
Danna:
Thank you.
Doug:
You're welcome.
Danna:
So, season two, episode 16, Vintage Selling Sourcing Inventory and more with Clara Albornoz and Amanda Morse.
Doug:
Their story about sourcing inventory, traveling through California, traveling back and forth, kind of how they put things together. They sell you know, vintage clothing mostly, and just you know, a lot of tips along the way. So great tips there. And just another part of the Clothing Vault and List Perfectly story.
Danna:
People love hearing that.
Doug:
Yeah. And, and it's good, it's relatable. And that's, and that's what's so great about them and List Perfectly is, you know, from top to bottom, we're all sellers of different levels, but we all have that experience. We can talk the talk and walk the walk hopefully. All right. Season two, episode 13, A New Way to Purchase and Sell Inventory in Bulk with HaulSale. And you're familiar with HaulSale, they're partners, one of List Perfectly's partners, but this is the highest-ranking partnership episode cuz we've had 'em all on. And Emma and Kat have been on a couple of times. And HaulSale's great. We love HaulSale. Danna just started using them.
Danna:
Yes. I just shipped my first box off and it was great.
Doug:
And are you gonna stick with them?
Danna:
Yeah, I am. I just, I'm more selling individually though, you know. Okay. I'm not a big bulk seller, but I did enjoy it and I wanted to experience it so that I could share information about it and how it works.
Doug:
Yeah. You know, it's a great service. They're doing great things. Haulsale.Com for whole selling needs, buying, and selling. But again, check them out and we are gonna do some stuff with them early next year. So you'll hear more about 'em. Since we have you, let's put you on the spot for a couple of minutes. I mean, technically, as I said, four episodes in, because you've been on before and you've participated in some others, you've done a bunch of lives. But now you're diving into the podcast because you are an all-in lady, all-in girl, as you've said.
Danna:
Jump all in.
Doug:
Jump all in. So and you know, we'll take a little break for the holidays, but then hit the ground running in January. How are you feeling about the podcast and being a co-host?
Danna:
I am feeling really good, first of all, and I'm honored to be in your presence. I've always, I've always admired your work…
Doug:
Oh, thank you.
Danna:
…And all that you've accomplished and how far you've come, and I'm happy to be by your side. So I think that we've got good things coming down the pike for sure.
Doug:
Yeah, definitely. I'm very excited. The feeling is mutual. You were one of the eBay legends when I started. You know, you get them, they have the little list of people you have to meet and I think you were, you were on the list probably my first eBay Open. I don't know, I was super nervous. I felt better in subsequent, but definitely excited to be working with you and we have a great rapport, and great plans. It's gonna be a lot of fun. I think we're gonna grow and expand what we're doing.
Danna:
Absolutely.
Doug:
So what are you most excited about?
Danna:
Well, I'm mostly excited about the new year, starting a new adventure, a new outlook, and growing with List Perfectly. Just being successful with the team, all and all.
Doug:
We've got a lot we're gonna do. It's very exciting, you know, List Perfectly is doing a lot of parties, doing a lot, the podcast, the blog, events, and it's all gonna work together.
Danna:
Absolutely.
Doug:
Okay. So anything to add to the listeners before you go?
Danna:
Good job on a very successful year, so I'm looking forward to many more.
Doug:
Cool. All right, well thanks Danna. and I'll see you next time.
Danna:
Okay, bye-bye.
Doug:
And now Clara joins us, thinking back on her year as a co-host of the podcast and her future with the podcast.
Clara:
Hello, lovely audience. My name is Clara and I'm the co-founder and co-CEO of List Perfectly. And I'm here to give a special message to all of you and thank you. Thank you for a hundred episodes of our incredible Seller Community Podcast. It's incredible. Two years ago, Doug Smith came to List Perfectly with this incredible idea, and he took it off. It was something that we were pioneers in this concept coming from a software company. And that what an honor, not only has it's been two years since the launch in December 2019 you know, we went from guests that we started with friends, okay? We started, you know, you name it, we went with colleagues of eBay, of Doug. Then we went, you know, from new resellers, from experienced resellers, from Danni Ackerman, Vikki, and Katy Zilverberg. Okay. We have, so obviously Theresa Cox, how could I forget?
Clara:
Then we have Sonny Las Vegas. Then we have Sarah, Sarah from Grailed. We have so many people coming to our incredible, incredible podcast. Also, I gotta give a special thanks to Josh Varnell, Ryan, and Lindsay, RNZY. Okay, so many others. Okay. Those of you that I'm not mentioning, please know that I'm honored, I've only been in this podcast since March. I had the honor to be invited by Doug, and he was patient to teach me how to do podcasts. And it's been such a beautiful experience because I never thought it would be so rewarding to get to know you at such a deeper level in creating not only a relationship, but a bond as resellers that changed, okay, and it's helping me to grow my business in the right direction and do all those things that you wanna get accomplished.
Clara:
Thank you for your love and thank you for always listening. Thank you, Dougie, for making this so special. And thank you for guiding us to this incredible, incredible success. And thank you for being you because I couldn't imagine doing this with anybody else. And how could I forget, you know, to thank Danna Crawford, incredible Danna Crawford for coming and taking over the List Perfectly sponsored Seller Community Podcast? It's incredible. I'm so grateful for everything. Whoever I didn't mention, oh, the whole List Perfectly team tech part, the incredible front team that you see, okay? But the people that you don't see the tech part, the tech team, love you all. Thank you so much and thank you, thank you for all the love and support, love you all. Happy New Year and Merry Christmas and Hanukkah, and I'm not sure what else I'm forgetting. I love you all.
Doug:
All right let's listen in on some sound clips from some of our top episodes. Here's Dave Snyder talking eBay, SEO from season one, episode eight.
Dave Snyder:
I started to say to myself, I wonder if I could optimize an eBay listing. Is it possible to do so? That's where the journey started. It was kind of a question out of necessity. I wanted these listings to be the best they could be.
Doug:
Here's Kim Rose from season two, episode seven, talking about her seller journey.
Kim Rose:
I wasn't sure, you know, when I was going to, to leave this job, it was one of those things where I knew I wanted to, and I knew that you know, at a certain point I knew that I wanted to become a full-time reseller. But you know, how, how your gut, even if you really hate a situation, your gut still tells you, no, you need to just hang on, just hang on a little longer. Hang, you know, and you, you keep telling yourself, I don't know how much longer I'm supposed to hang on here. Eventually, you have an aha moment and you go, okay, it's time. I get it now. You know? And, and that happened at the Reseller Remix. I get chills just thinking about it now because it was like, oh my goodness, this is, this is my missing piece. And it literally happened at the meet and greet. I mean, I knew then. It was like I knew it. I just knew it. And I thought, okay, you, Kim, you, it's time to start preparing in your head.
Doug:
Here's Amanda from season two, episode nine, talking about The Clothing Vault.
Amanda:
And there's no one business model that's gonna work for everyone, especially in resale, right? Everybody has their own way of doing things and which is perfectly fine, but I think you could kind of sum it up to you, you either are okay with selling fewer items that maybe make a higher profit than selling volume, where you'll probably still make a really good profit, but it means a lot more inventory, it means a lot more storage. It means possibly hiring employees. For me, I boiled it down to what's gonna work best for me. It's gonna be either of those choices. And I was really looking for a more stress-free way to travel and enjoy my life. So I realized that, okay, I've got to learn as much as I can and sell my items, sell really unique items for the highest profit that I possibly can.
Doug:
Here's Clara from season two, episode 10, talking about The Clothing Vault.
Clara:
One thing that I wanna brag about, we were the first ones to do social marketing as a reseller. You can go and see it on Instagram. Okay? When I started to list also on Instagram, because I saw the possibility, it was incredible. I started to find wholesalers at that time. I was like, wait, what? No, at that time, there was no way that you could buy stuff on Instagram, but you would be like, wait. And I was like, I could call them and just start tracking. So then I was like, okay, let me see. I'm gonna start listing here on Instagram and I would get questions. So that helped my website. So that changed my life forever. Pinterest changed forever the way I did Etsy. For me, Instagram and Facebook business pages changed forever the way I promoted organically The Clothing Vault website.
Doug:
Here's Emma talking about HaulSale from season two, episode 13.
Emma from HaulSale:
We noticed in the existing sort of auction and wholesaling market out there in terms of what you can do online, it's really not accessible to the average person to become a seller on those sites. Oftentimes, you need to be an auction house, or you need to be a major box store if you want to liquidate your inventory online through any type of formal wholesaling channel. And our mission is to make it that anybody, any person, any individual or small business, independent business owner, or even just a person who's looking to downsize, can list their stuff and get it gone in one go. So we really saw a big gap in terms of where the average person could sell their stuff at once.
Doug:
Here's Amanda from season two, episode 16, looking back on her seller journey with Clara.
Amanda:
Over time, you start looking back and it's really, really the story. Vintage to me is a story. It's a story of what was happening at that time. And so it's everything from clothing to the goods that you'd buy to the movies that you'd watch, to the music you'd listen to. I mean, it's all part of that era, and that's what vintage means to me. And so collecting those things is important for a lot of people because it does, it takes you back to that time, makes you think about the things that were popular back then.
Doug:
Thank you for joining us and listening to these hundredth episodes of the Seller Community Podcast from List Perfectly. We appreciate all your support and listening, and please keep supporting and listening. Lots of big things are coming. See you next time.