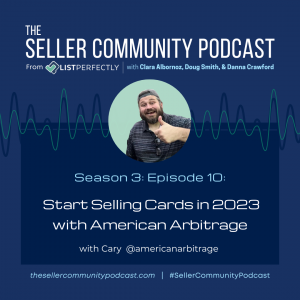 Trading cards is one of the fastest growing categories on marketplaces right now with a card selling on eBay every second! Join Cary Williams (American Arbitrage and American Arbitrage Cards), Joshua Gutierrez (Sold it Better) and Doug Smith as they chat all about reselling cards and discuss how everyone can make money from selling cards online, how to get started, and more!
The Seller Community Podcast from List Perfectly is the ecommerce resource for the seller community across all platforms and a hub for information on growing your business. Find out more at thesellercommunitypodcast.com, leave a message or ask a question at anchor.fm/sellercommunitypodcast, or email us at podcast@listperfectly.com.
Links
Seller Community Podcast on Anchor
Episode Links
Transcript
Doug
I'm super excited to have my friend Cary American Arbitrage here. Welcome, Cary. Thanks for coming to the show.
Cary
Thanks for having me. I'm excited to be here. I'm excited.
Yes. We are gonna be all manly and sportsly today.
Cary
Yes.
Doug
Got Josh here as well. Josh Gutierrez from the List Perfectly team. So Cary, really quick, can you give us a high-level intro? How long have you been selling? Where do you sell? Sure. And then how'd you get into cards?
Cary
I have been selling since gosh, it would be about March of 2011. I graduated from college–I joke about this all the time, but I literally did get three degrees from the University of Utah. I was gonna go back and I realized pretty quickly with a history, Spanish, and political science degree I had kind of narrow options, so I wanted to go back and teach and I was gonna take a semester off. I lost my job that semester and I was off. I remember I was just in the basement. I lived at my house and my mom bought me a sealed Pokemon game from my little sister.
She never played video games, but they had bought her one in the nineties, like a Game Boy and a Pokemon game. And I put it up at like a buck. I didn't know what I was doing on eBay, and it ended up going for like 70-something dollars.
Me and my dad, we were watching Pawn Stars and Storage Wars, and American Pickers. We just got into it, it just, the bug hit us and, and we started going to thrift stores and within I think a year, year and a half, I had my own brick and mortar store and the rest is history. We really got into it. But the card part I'd been into longer. My first sales ever on eBay were cards back in the mid two thousands.
I don't know what I was doing. I was just buying auctions that I thought were good deals, and then I would make my mega collections and then I would start 'em at a dollar on eBay. And, somehow I made money I think every time, but I wasn't even concerned about that. I just wanted to make a collection that I thought was cool and flip it.
There was something in me that was a picker and a flipper that I didn't even understand at that moment. So yeah, I've been selling cards for a long time. I've been collecting since 1990.
Doug
So for each of you, what do you think was the spark that got you into cards as maybe a little kid? Or is it always something you had an eye on or what was it?
Cary
It's undeniable. I have a vivid remember, a memory of…I mixed two words together, memory of how it started. 1990. My older brother is like seven years older than me, so he must have been like 13 or 14. He handed me a shoebox of cards 1990 Donruss the beautiful red paint splattered borders. A terrible-looking card, but very nineties and I loved it at the time and a bunch of, for some reason that, and then nothing in between, and 1977 and 78 football. So it was, both of those cards are, I think I got 'em and then I laid on, on the, in his room, looking through him on the green shag carpeting he had, cuz our house was very seventies. And I would just go through the cards all day. And then I had my dad take me to the card shop every week after that so I could go buy a couple of packs of, at the time it was baseball cards, basketball, and football wasn't as popular. And a little bit of Marvel cards and pogs. It was the nineties. I got a lot of pogs and slammers.
Josh
Yeah, definitely remember pogs. Yeah. And I think for me it was more so like I collected Pokemon and of course, you know that I'm a fantasy football junkie. So that kind of piqued my interest to get back into the hobby.
I'm gonna be honest, I just know more naturally about sports cards than I did about Pokemon. Of course, I love to collect Pokemon and I'll always do it as a collector. But the kind of recently I got back into the hobby because it was just easier for me to kind of identify those values and kind of get and we'll talk about it a little bit if you guys want to get into it, but just kind of how I kind of stack up my collection to sell.
eBay auctions are huge for that right now, and I feel I know the players to buy low on. I'm not saying that my word is the gospel, but I do pretty well that way. So that's kind of how I got started back into it. But I've always collected as a kid, I definitely remember being a kid and having and selling cards for a dollar just out of my packs.
Doug
For me it's like, I had baseball cards in the seventies cuz I was into the Yankees, and then other collectible cards like when Star Wars came out, they really, like in the seventies, then, I still call it Star Wars, but New Hope for the new Star Wars fans.
When that came out, they really dominated collectibles and I had a bunch of Star Wars cards, that was cool. And then I was telling Josh, so I kind of became aware of like the grading of cards and things like that way back, cuz I had a website in the late nineties that was an online music magazine called The Pit, thepit.com.
And at some point I let the domain lax and it got picked up by, and then this was in the early two thousands, it got picked up by a card grading company that's thepit.com. And it was like a stock market for cards. I had no idea there was anything like that.
Cary
I think I've heard of them.
Doug
Yeah. So that used to be my website.
Cary
Oh, wow.
Doug
But now, yeah, it's just insane. So how do you guys price cards? Talk about that a bit.
Cary
It's just like anything when you're a picker when you're, it's, it's a little bit nuanced, and you, you kind of figure it out with time. I'm not like a lot of resellers of cards. I'm not speculating particularly. I'm not buying too many cards and waiting for them to go up. I am a picker. So I am finding underpriced cards in a bargain bin or at a table or at a flea market that is underpriced that is already worth $30, $20, $40, whatever they are. So what I use to price is recently sold listings and current prices, a lot more current prices than I do other types of items.
I just bought a box of 2023. Baseball just came out two days ago, the new baseball product. And the key with that is you want to put your listings up right away because the prices skyrocket at first, people overpay and then they drop.
The lowest one when I posted it two days ago was around 80-ish dollars. So I put my card at $80. The next day the market had changed to like 40 and I ended up lowering my price the next day and selling it for 35 because I knew that if I didn't get that 80, like the first night, it would go down drastically.
So you need to know what the current comps are, especially with modern, when it goes to vintage, Archie Manning's 1977 Topps card is not really changing in value unless something drastic happens. So, it's mostly with modern that you want to check the sold and the current.
There are a lot of apps out there too that help you as well.
Josh
And just to kind of piggyback off of what Cary was saying, so yeah, I kind of figured that especially with this community, that they are kind, it's more. Bin picking, I found this really cheap card stack at a garage sale or something like that.
And I definitely try to encourage people to do it that way. That is, in my opinion, the best way to sell cards as a reseller. Now how I kind of do it is that I definitely speculate on the values. You can see here; I have all of these Giddey PSA tens. Yeah, I feel I got him at a decent price. He's really young. He's not even 21 yet. But of course, a lot can happen. So I, I kind of tend to try to give myself a lot of room for these players to grow. So, maybe he gets hurt or the season doesn't kind of go the way you thought it would. So that's kind of how I price it. And so I bought all of these for between 50 and a hundred dollars.
So I bought like five or six of those. And then so when the new batch of the cards came in, they're really going off of those comps. So it really does change like that. And then, so you definitely gotta be up to date, but personally, I leave myself plenty of room to kind of sell these things.
And Doug, I've already gotten offered like $20, $30 above the asking price. It's really just about closing the deal for me and kind of, I hate saying time to market, but you know, that is a lot of it. But again, it's, it doesn't have to be that hard. You kind of can give yourself a few year's window, so to speak, but not everyone wants to wait that long.
Cary
And just, just to kind of piggyback on what you're saying like if you, I, I feel like if you are gonna speculate and take some, I don't know, speculate might be a kind of an intense word, but if you're gonna, invest in certain players that you believe in and hope they get better, I think a big, and you already talked about that, you're huge into fantasy sports, that helps a lot because you're paying attention to every game.
You know who scored this, who scored that, and then you could see trends sometimes as they are happening or a little bit before they start happening. So, fantasy football has been one of my favorite magic bullets when I look at cards to not even invest in, but that might be underrated because a player could start getting hot randomly and he was nobody, three weeks ago.
And then you go to the bargain bins in a card shop or a card show and they haven't taken out those cards yet cuz it's a lot of work. And then you find him for a quarter or for a dollar.
Josh
Right. And I think Brock Purdy is actually a perfect example of that. I mean, you saw him go from pennies on the dollar to being worth a few hundred and now we don't know. Trey Lance might come back. We don't know.
Cary
Last year, Evan McPherson, the kicker for the Bengals, had a big game-winning kick in the AFC title game. And I had bought a bunch of his parallels and rookies, he only had a couple of brands at that time. I bought some Prestige stuff for a quarter a piece.
I put it up at like three or four bucks. I'm like, this is gonna sell because he's, he's pretty good. And then during the game, as he hit kicks, I took him down and upped the price as the game went on, just out of feeling. And by the end of the game, I think I had sold some for $30. And I'd sold a lot for $10 and I was just kind of going off the feeling.
So yeah, that's kind of the fun of it as well. But the truth of the matter is for every Purdy and every Evan McPherson, if we're all being honest, there's Will Grier or whoever that never panned out and that you might have invested money in, and then hopefully you got out when you didn't lose much money.
Josh
Yeah and kind of hearing you kind of talk about those fluctuations and price values. I kind of feel now, I don't want to get too much into it, but it kind of goes into the new market of NFTs. It's here, it's coming. People are already in, there's already, so Mike so Michael Rubin, he's the CEO of Fanatics, which is a huge trading card, sports memorabilia company. So he's already talked about deals coming in with these, I guess these, with the NFL, NBA, and all of those guys and marketing this to this specific to this community. And they expect it to grow by 6 billion. So a lot of that is going to be resellers, it's gonna be younger kids doing the NFTs.
You already see Pokemon cards going on sale that is NFT only. So you have the physical, but they want to sell it in the form of a digital certificate. So that's what kind of, sort of what that means. and yeah, so the real-time fluctuation is kind of where I was going with that. It's gonna be like, if a player makes a huge catch, he might see an increase, a 10% increase.
Cary
And that really does happen when especially the Super Bowl is probably the most active showcase of that. But I, I've made so much money off single, I mean, not so much money cuz I'm playing in much smaller amounts than most people, but I, I've definitely made a big percentage jump in profit just based off a touchdown in the third quarter of a Super Bowl, for example.
Doug
Wow. The real-time stuff. That's crazy. And yeah, I think it's interesting too cuz I think fantasy football really does tie into it.
Josh
If you want to take it a step further, it's kind of like gambling. I hate to say it, but I mean that is essential to what kind of Makes this hobby so addicting, doing breaks. It is a form of gambling, betting on which players are gonna pop off sort of thing. So I think that's a huge part of it, and that is a little bit of the dark side to it. It can be really addictive. I already get questions from Tiffany, my partner, wondering why there are so many envelopes coming in every day.
Cary
I hear you. I'm surrounded by empty, empty boxes right now. So, I mean, that is part of it for sure, but I, there, there is, I think there is a play for the common reseller, though that maybe isn't super into sports cards, but wants to start learning. And the play is not so much, this is more a high-end, I think full-time uh, sports card flipper stuff where like you're speculating a little bit and you're guessing who may work out and hoping you can make money on the long term.
But you can go and I have, and you can watch my videos from last summer, at least twice or three videos where I found cards at garage sales. My biggest flip ever, and I don't have giant flips, I do a lot of bread and butter stuff, was a couple of Cristiano Ronaldo cards that I got at a, I got at a flea market three years ago now.
And when I bought 'em, this was, this is the funny thing. When I bought 'em, they were, I bought, I spent $12, got like 300 soccer cards. The Ronaldo cards were worth like five or 10 bucks. Then the market took off that next month for some reason on soccer cards. And I. Then for like $250, $260 apiece because people wanted to take him and go grade him.
So there is a lot of stuff out there if you just know what you're looking for. You don't necessarily have to be the fantasy football guy, but if you see an old-looking card and it's Nolan Ryan, you might wanna check that out. Check the date on the back of the card and check it out on eBay real quick. It might be worth your time.
Josh
Yeah. And to piggyback off of what you were saying, what I tell resellers is to think of it in a way as retail arbitrage. If you do want to get into it as part, as far as your business goes, because if you know what the packs that you're looking for, there are so many out there.
I mean, we can get into, , the Select Draft Picks Optic, Optic, and Donruss, right? But the three main ones that you wanna look for, there's a lot of disagreement about this. It's gonna be Mosaic, Prizm, and then Optic. So if you can get your hands on any of those, I mean, a 2019 Optic right now it's $30 retail.
It goes for over a hundred right now on StockX, on eBay, on, whatever marketplace you can think of. So there's definitely if you can kind of invest in that inventory and you're willing to wait a year, there's almost like guaranteed profit factored in it. And even now, these are really hard to find right now, these Mosaics.
You can get $10 for it online if you find it.
Doug
Interesting.
Josh

An extra $10 from retail, not…
Doug
There you go.
Cary
Oh yeah. That's my problem. I find a bunch of them here in Vegas. I just open 'em. That's my problem. So, but yeah, no, that's a, that is a true, a true thing that a lot of people do, and it's interesting, and I think a lot of resellers aren't aware of this.
You go to Walmart, you go to Target, you go to CVS, the Walgreens, and you buy the right kind of box that in a year or two almost always goes up for this reason. It goes up because what could be in the box? It's not what's in the box, oftentimes there's not much in the box.
Josh

Yeah, exactly, exactly.
Cary
But Brock Purdy, right? Brock Purdy is hot right now. His rookie is in the Mosaic. So if, like the big Brock Purdy, rookies are in Mosaic and Prizm. The ones that are going, that, if you get the Genesis or you get the One of One could get hundreds of thousands of dollars graded at Goldin Auction.
Those boxes will be worth more than what you pay. But you have to stay away from, you have to learn, you can't, you gotta stay away from Draft Picks, The Chronicles. And that's all nuanced. And, there are plenty of videos on YouTube, thankfully, talking about the nuances, podcasts, and videos.
But it's if it's something you want to get into, there is a lot. I mean, it's gotta be, and you might know the numbers on this, Doug, more than me, it's gotta be the number one or number two thing sold. Maybe number three on eBay. I know some of the…it's number one?
Doug
Well, I know one's going every second. So, and that's beating out, definitely beaten out watches, purses, and I think shoes, I have a picture of the slide somewhere, but it's pretty, it's pretty crazy.
Josh
Yeah. They expect lots of money to be dumped into this. You can kind of already see eBay transitioning into a kind of trying to set a standard for it. I know other marketplaces are following suit but to me, eBay is king for now.
We'll see what happens. But they have the authenticity program with PSA now, which is gonna be really huge. We don't know how it's gonna affect everything a hundred percent, but it's gonna make it better for sellers and buyers.
Doug
So I'm gonna ask you, but I'm gonna ask you this cuz I saw this yesterday and so let's bring up your Insta. And so we're gonna look at this. So, Cary, 870K on TikTok, 23K on YouTube. He's got his three geek degrees from the University of Utah. I was poly sci too, Cary, but you know where we are now.
Cary
I know, right?
Doug
I wanted to be a teacher too. So I wanted to ask you about the presidential card pack you picked up. So tell us about that.
Cary
So yeah, I'm working a little bit with Coffees and Cards. They actually gave me a couple of boxes. I'm doing some videos for 'em. They're one of the biggest breakers. So that's a whole nother part of this business where people open cards for people and it's fun. But my favorite part of history is probably presidential history. We're looking for autographs, but these are actually pieces.
They're, they make it a little vague in this product. So these are time period pieces. They might not necessarily have been owned by Benjamin Franklin and George Washington in that case. This is Jimmy Carter. This was definitely from him. You could tell it was an invitation cuz it says "your attendance" and then "President."
So that was a cut-up invitation. There are autographs, so you can find it's like $60 a box and you get two items. Most of the ones I find are when I open a few boxes. Like here's a, I think this might be a piece of a dress from Hillary Rodham Clinton, I'm not sure. And then this is, this is, yeah, it's just random.
And then this is this, that piece of the invitation. But yeah, no, people with, like in sports, I know it's weird, but people in sports, they. Parts of the jersey and they'll cut it up and put it in cards. Yeah. So, anybody who's a celebrity, they'll take up a piece of their wardrobe basically, and they'll cut it up.
That's like considered a, a game-used piece or, that's how it comes from the culture of sports cards. So yeah, that's very popular stuff. I love it. I'm big into presidential history especially, so I enjoyed opening that up. I just put it on my main page. I have a card page now, but I put it on my main page cuz it's, I think, fairly broad and interesting for a lot of people.
Josh
Yeah. And those are really beautiful cards too, by the way. Really good condition.
Cary
They are.
Josh
And, honestly, I know we're talking about sports cards, but I mean, you can find cards for anything. And I'm a little bit of an anime geek. I don't like saying that publicly, but it's true. But the card market for that is huge, I mean, arguably just as big as Pokemon and you don't necessarily hear about it, but Dragon Ball Z is huge. One piece like that is like, those are going for crazy prices right now. So if you can find any one piece, I highly encourage you to buy it. Don't break it, and then yeah, sell it.
Cary
Yeah. There are a lot of different types of cards. I think just last week I sold a professional bull riding card. I sell bull riding cards all the time. So the stuff I think it's cool. So I buy it and I flip it.
Doug
Yeah. And there are cards for everything. I know Magic, the Gathering cards are still huge.
Josh
Yeah, I saw, I saw Starr was a Magic player. Yeah, Magic is really huge. If you can get some of those still.
Doug
And then, it's funny somebody did mention this, it's like, the boxes, I guess, that the parents find when the kids move out and sell at the garage sale or something like that. Where can someone find those presidential cards if they're into presidential like you are Cary?
Cary
Online is the easiest way. Okay. So you literally look up, this is the name of the box for this one. The company that makes this style of cards is called The Bar. They've made several different sets every year for like 10 years. These are pieces of the past presidential edition, and then they have, they have ones that, I mean, that's like the fairly affordable one, like $65 I think. And you could find it at a hobby card shop if they carry it.
Depends on how big the shop is cuz it's a little bit, it's not like some of 'em only focus on sports. But, The Bar has ones that are probably hundreds of dollars a box that is guaranteed to have an autograph, for example. So the odds are a little bit better.
The boxes go more down the gamble if you're trying to flip if you're not just doing it for joy. That's why I always think of boxes as entertainment. Like, I enjoy them. I sell everything because that's what I do. But, if I don't get anything, I'm not upset because I enjoyed it and I make content on it too now. So I hedge my bets in several different ways.
Josh
Yeah, exactly. That's kinda how I am, I'm totally okay with adding these slabs to my personal collection. No problem.
Cary
Exactly. That's the way to be, honestly.
Doug
The packaging is interesting. And somebody had mentioned movie tie-in cards. A lot of times they'll do that. Yes. And sometimes, I guess, it depends on the movie.
Josh
Star Wars is still pretty big.
Cary
Star Wars is huge. They have Chrome cards. Autographed Game of Thrones is very popular.
Josh
Then if there are any MMA fans, like UFC cards are blowing up right now. So if you can get optic UFC those are worth checking out too.
Cary
Wrestling, wrestling's huge.
Josh
Yeah, wrestling's huge. There's, yeah.
Doug
Do you mostly sell on eBay or where else are you selling the cards? And then Cary and I know Josh, you're doing some live stuff. Cary, are you doing any live stuff, live auctions, or things like that?
Cary
Oh yeah. I'm doing Whatnot pretty heavily. Okay. We have a Whatnot auction today. We had one on Wednesday, we had two of 'em on Wednesday.
I did a box break, which is a sports card thing where we had a bunch of unopened products and then people got paid for random teams. That was kind of fun. And then I do, yeah, I do a lot of Whatnot. And then for like cards, it's typically eBay and Mercari, which List Perfectly I can use, I post. I know it's not the way a lot of people do it, but I post everything on eBay, then I transfer it to List Perfectly and then I disseminate from there.
But yeah, with the cards I'll put on Mercari, there's a lot of people killing it. Specifically, with sports cards on Mercari, from what I've told, I know a lot of my friends, in the industry that I follow and that follow me on Instagram, that we talked to do really well on Mercari with sports cards interest.
Doug
What about you, Josh?
Josh
I'm a huge eBay guy. It's the best place. So it's a good place to sell if you're into volume, maybe you disagree with what we're saying and you're like, I move volume. Okay. It's the best place to sell, in my opinion, for a volume, and for a buyer.
If you're doing my style of investing, flipping, and reselling it's a good, perfect place to buy. Most places on the internet use eBay kind of as the price guide. It's not the only gospel out there for pricing. But it is a huge influence on the market. So I would say eBay is the best place to buy and sell volume.
And then like, you know what Cary was saying Mercari is a great place to go with those cards once you get 'em at a sweet deal on eBay. They're marketing toward card sellers now specifically with Mercari. So if you're subscribed to their newsletter, you probably saw that they talked about it a little bit.
I get offers from going live. I don't do auctions. I don't like auctions. There's no way I want to sell one of my cards for cheap. But the kind of the buy it now lifestyle is where I'm at. And yeah, it's been working pretty well. I've only been doing it for a week, and so far it's been probably the best way that I've learned how to sell cards.
Doug
So, top resources. What are the top couple resources that you guys use on a regular basis?
Cary
Well, I'm very old school. Many people use different apps to track pricing, especially when it comes to slabs, which is slab if you guys don't know it is a graded card. It's the sling for a graded card by, graded outta 10 or nine or whatever. Those are slabs right there. eBay is the most powerful app. It just is eBay desktop or whatever, especially with Terapeak. Because the sports card market is, I would argue, the most dynamic resale market out there.
If you're following basketball, Cam Thomas recently had like three games in a row where he hit 40 points. He was a rookie last year. His cards, I couldn't give away. And his cards went from, I couldn't give them away to one week later you were getting 20, 30 times the money they were worth before.
If you didn't notice, like, and don't change your prices, you're the guy and we've done it, we've bought it from other people that, sell it too low because they see the market changing, but it's so dynamic like back in the day when I was a kid, it was the Beckett Card magazine. It's a fairly famous price guide, but it can only do so much coming out every month, even to this day. So eBay is dynamic. If you want to see Brock Purdy become a massive card, you could see, you can go track what his prices were 90 days ago.
I think it probably started in the past 90 days. His prices are way different 90 days ago than what they were right before they lost, for example, they lost the NFC title game, his prices were sky high and then they went down a little. So you can really track it. It's insane.
Doug
Yeah, they've just really leaned into it over the past couple of years. Pretty amazing.
Cary
Yeah, the Vault's an exciting concept that a lot of places are doing. There's a website that's been around for 10 plus years called COMC checkoutmycards.com where you would, you would have a box of cards like this is filled with cards in it, and you would send it to COMC and they would list it for you on the website and they'd keep it in their vault.
And now every company, most big companies are saying, yeah, you have those two Josh Giddey PSA cards. Send it to us, we'll handle the shipping. And then it just makes it easier to transact. You can trade cards, you can flip cards quickly. So eBay's getting heavily into it, it looks like they're definitely doing the Whatnot live thing here soon. They're working on that, which could be very powerful. I mean, there are a lot of implications for that, so.
Josh
Absolutely and the thing with the vault is it does kind of open the door, kind of segues into that NFT live market style trading. I personally feel that's where they're going with it. Only time will tell. Also with their program, anything that's, I believe right now it's $250. So if you have a card that you want to sell for $250 or even buy they're gonna guarantee that authenticity through PSA. And they're working towards doing it with kind of mid-grade cards as well. But right now that cutoff is $250 for anyone who's curious about it.
Cary
It's like eBay Global Shipping. You're sending it to another place. You're sending it to a PSA place that is going to check it out before they send it to the buyer.
Josh
And they're not grading it.
Cary
They're not grading it; they're just making sure it's authentic. That's all. They do that with shoes too, I believe, right now.
Talk about box breaks for a minute.
Josh
Just for really quick, a little more insight for getting your cards graded, if that's something that interests you. I just want the best thing to happen is always going to go to PSA. There's Beckett, they're pretty good, but for the most part, people want PSA. Everything in bulk is always gonna be your best route. You don't necessarily need to do that if you're a reseller and you're just trying to get a profit. I wouldn't say that you have to, but if, if you wanna make it worth your time, it's definitely worth it to buy slabs instead of getting your cards graded, because ultimately they might not sell how you expect them to, and you just invested all your money and actually getting the cards graded and not on just selling them. So that's my opinion on it.
Cary
With shipping and the grading fee I think at the low end with PSA, you're probably over $30 with insurance and everything. I think. So, I mean you have to kind of know that it's a great card, in my opinion. Back in the day, a couple of years ago, it boomed grading cards because it was so inexpensive to send the cards in so you didn't have to invest as much.
Josh
I don't have a scanner, but now there are even scanners that kind of will give you an idea of what it could potentially be graded. I haven't personally tried it, but I know that there are resellers out there who are kind of doing it that way.
Cary
So, yeah, that's true. So grading would like a very broad way to explain this to somebody who's probably just new and doesn't know much about grading. If you see a Nolan Ryan like, old card or rookie card or something and it looks really nice, like it's not bent up, that might be worth sending in. There are certain things that are gonna be like no-brainers to send in, but with modern stuff that just came out, like Brock Purdy, I think it's more nuanced and you kind of have to just be involved with buying and reselling for a little bit before you're gonna really know if it's worth sending in or not. I don't send anything in, but that's probably to my own detriment. I buy, I buy 'em graded already, so I don't have the risk
Josh
Yeah. Well, I don't, but I might if I love something enough, for my own personal not to sell though.
Doug
Tell us a little more about the scanners and then let's talk about a card break.
Cary
I use scanners for a different perfect purpose than that. And I don't have one right now, but I am in the market and hopefully gonna get a Fujitsu scanner, which is what I want. Somebody was asking earlier about what it was called Kronos, which is software. So, what I do typically is I, and I joke about this all the time that I sell dollar baseball cards.
I do sell some but most of my stuff is worth more than that. But I do sell some, and the way you can get away with selling that is using a listing program that can get the stuff on eBay really quickly. There's one called Kronos, I think, and the other one that I use is called Card Dealer. And there are a lot of people who will take a stack of a hundred cards, and put it through the feed scanner.
It'll get on your computer, you can upload it to a Card Dealer Pro, and it costs money monthly. And then it will, you don't have to type in what the card is. It finds your card online and goes, oh, this card is Nolan Ryan's 1976 Topps card. And then you just put in your price and go. And you could, you could list some of these big, big, big card dealers, like Burbank, places like that.
I'm sure they're using these scanners and they're going; they're listing thousands of items an hour. Sometimes you can get that fast. That's a nuanced thing. The Fujitsu is the best one to get for that, not the flatbed scanners, but the feeds. And then what we were talking about with the grading is there are scanners who can actually kind of tell you how sharp your card is and, and that it might grade for a certain grade.
Doug
Super interesting. Josh, any input on that?
Josh
Yeah, I personally wouldn't trust using a scanner to grade a card, but I mean, to be totally honest, you could teach yourself how to grade cards with your eye, I mean, if you really wanted to. And then you can kind of market your cards as potentially being PSA 10 or potentially no lower than PSA 9. I've seen some people do that.
Cary
There is a guy that goes around to card shows named Mr. Minty, Mr. Minty. And he will, you will bring your cards to him. He will clean them and then he judges them, cuz he's an expert because he has been doing it this long, I guess.
And he will let you know, I think this is not worth great…
Josh
A lot easier with Pokemon, in my opinion.
Cary
But I would guess, yeah, it's not as many chrome surfaces. That's the problem with some of the modern sports cards.
Doug
Interesting. All right. So tell us, and I know Cary, you do these, Josh, you do 'em too. So tell us about card breaks.
Cary
All right. Yeah. Card break is, there are several different types. I'll, I'll tell you what I do on my Whatnot. I will go get a bunch like this, last Wednesday I got about eight boxes. Retail, not, not the one, see, there's a lot of nuances here. The ones that you can get at Walmart, I got eight of those packs and boxes. The ones you get at a card shop are different. They typically have better cards in them. So I got eight of the Walmart ones.
We'll just say, and then I get a stat. What I do is I call a random team draft, and then people will pay for a spot. In my case, it was like $10 to $20 a spot. And then they pick a number in my little card stack and then I pull it out and they get all the, all the Chargers players out of these boxes and packs or all of the Raiders players.
It's interesting. So like what they're doing is it's, it's, it is kind of gambling, gamblingish because you don't know what you're gonna get, you're gonna get products. So it's technically not, but you don't know what product. So that's the gambling aspect of it. But people are hoping to get the teams that have good rookies like we did in 2021 football on Wednesday, so they're hoping to get the Jaguars who have Trevor Lawrence's rookie card in it.
So, if they paid $12 for a spot and they got Trevor Lawrence's rookie spot, that's great. But then they could also get the Cardinals or a team they don't want. So, yeah. But breaks are huge. I can't emphasize this enough. There are people on Whatnot becoming famous, like, I mean, walking down the street, famous from doing breaks. There's a group called Backyard Breaks that if I saw it, I would probably freak out. They're like, they're like the movie stars of this.
Josh
Yeah. I love Backyard Breaks.
Cary
But the thing is, the interesting business model to it is these guys are getting what they call an allocation of boxes from companies like Panini and Fanatics, and they are breaking cards.
I do not joke, 24 hours a day on Whatnot. All day, every day, no days off except maybe holidays. So yeah, they, they, as I went over, I was down in Los Angeles on Hollywood Boulevard. I went to Cards and Coffee, The Coffee Breakers. I went in and I was talking to the guys who were doing the 6:00 PM to 2:00 AM shift, and they leave at 2:00 AM and people come in at 2:00 AM to 10:00 AM and they do it all day opening stuff. And it's a huge money-making deal right now. And it's a little tricky, but it's fun.
Josh
And I don't really have anything to add to that because you kind of pretty much just explained it perfectly. That's essentially what it is. It's just getting people to pay for a break event. You're making money on running the breaks, not necessarily the value from the cards, so I wanted to show you guys, I did a break my, I got Cleveland Browns as my team. So it was definitely a solid hit. Like I got this Mosaic Amari Cooper solid, and then I got some Nick Chubb stuff. So, that break was worth it for me personally, but it's really just more something that the community does for fun even, or I'm sure you've heard of the ducks, that's kind of another form of like a lesser form of breaking even.
Cary
Yeah. There's, this is like for people, somebody who's mentioning this is like a new language, when we get into the box breaks, there is a culture and just words that they use that you may never have even heard. I mean, there's just so much to it that it's hard to kind of explain, but basically, you were buying into a big product and you get a small portion of it.
It's kind of there, it's very fascinating. There are ones where you can just go in and say, I want the Browns, and you pay $50 for that. But then, the better team is a hundred dollars. There are random ones where it's all chance. There's a lot in between as well.
Doug
I worked in the electronics industry for a while and they've, they're still like unboxings, YouTube people that have done unboxings forever, and it's kind of the same concept. They don't really show their face, they're just unboxing stuff and talking about it. Or a lot of times you'll still, you'll see it with toys too. It's like they unbox it and they talk about the whole experience and they put it together. It's very much a similar concept and super cool.
Gentlemen, anything to add?
Cary
I hope we can do more of these so that we can help. I'm American Arbitrage on Instagram, so feel free to DM me if you have questions. That's the one thing I get the most questions about in my messages is cards. "I have cards to help me figure out how to, how to sell 'em." And, I'm happy to help and give you guys some ideas or at least some videos to watch. It is a very, very active, lucrative, and dangerous niche if you're not prepared because you can lose a lot of money if you're making the wrong kind of decision.
So, there are a lot of people making massive amounts of money on cards and it's something that you can find pretty much everywhere. So it's something that you can get a supply and if you learn, I always, no, no matter where I'm traveling, I always find cards. Always.
Doug
Cary, you've probably done some of these. I love to watch the sourcing videos, especially the garage sales where you can tell the sellers talking to the phone cuz he doesn't want to get seen or heard, but he or she gets super excited when they find a box of cards. It's like, alright, gonna see if they know what they have.
Cary
So, oh yeah, I've done that. I've had several videos like that. I last summer. I got one. It wasn't the high-end stuff, but I got some Luka Donc, who's probably gonna be the MVP this year. Some Luka Donc rookies for 10 cents apiece. Because, yeah, cuz he was, she was, I don't even know where she got 'em, but I, I didn't make a ton of money cuz they were not the high-end ones, but I still Yeah. Made a good, good amount of money and I don't know if she, she, if she knew or if she just didn't want 'em. I have no idea the story behind it, but yeah, at a garage sale.
Doug
I used to collect, and I still do collect books, but not like I used to. But that would be kind of like every once in a while you would hit a used bookstore and find something that they didn't know what they had and then you're like, "I would like this book, please, as soon as possible."
You buy it and then get out.
Cary
First editions and, and all that kind of stuff. You can make a lot of money with books. It's similar, honestly.
Doug
And Josh does, what do you call your little TikToks?
Josh
Yeah, so I'm on TikTok, Sold it Better. I'm on Instagram too, but I prefer TikTok, so go find me there, and follow my journey. You can see firsthand the things that I'm trying to flip and how I'm doing it. Of course, I'm always available to you guys. You can email me at joshua@perfectly.com, or just DM me. Sold it Better.
Doug
There you go. Yeah, American Arbitrage too.
Cary
Yeah, I have, I just wanted to mention this. I have my new channels called American Arbitrage Cards on TikTok, Instagram, and YouTube. I have videos out on all of them. So that's more card specific if you want to watch those as well.
Doug
Okay. Oh, then Josh has got his BOLO series on the List Perfectly TikTok as well.
Josh
Yeah, check it out. Anyone that I'm giving you is people that I'm absolutely buying. Cary kind of mentioned it, it can be a little dangerous. So, definitely do your own research. Take things with a little bit of a grain of salt. Don't get into anything if it feels like too much. This is good advice. If you can find a mosaic if you can find a prism box if you can find an optic box, the three main boxes to remember. You don't even have to waste your time opening it. Just list.
At what you, more than what you bought it for, and let time do its thing. And hopefully, we can get someone started today. So you can see for yourself, it's definitely a lucrative industry. It can be a lot to your business, but it never hurts to kind of discover new things and try new things.
Doug
Check out Cary's all his stuff across the board for it's too many of 'em, resourcing, and all that great resource. And check him out. He does, he goes to seller events too. As I said, I bumped into him. I had no idea you were gonna be there, but I recognized you, obviously, and I, I do get, I do get starstruck a little bit. It's pretty interesting when you see people.
Cary
I appreciate that. It's the Flip Con was the first event, honestly, I'd ever been to that was, oh, wasn't like, like I did some Trash to Cash podcast stuff, but that's very specific. I didn't realize there were as many people. You don't realize how many people watch you until you actually are in person. So that was really, really fun, humbling. And I'm, I'm a very social person, so I'll sit and talk with everybody until I pass out cause I love it. It's fun. It's cool.
Doug
All right, thanks, everybody. Appreciate it and we will see you next time. And keep an eye out at listingparty.com and we'll schedule a card-selling listing party. But thanks for listening.
Cary
Take care guys.