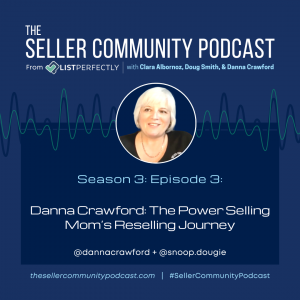 This week, Doug digs a little deeper into Danna Crawford, The Power Selling Mom's reselling journey, eBay experience, social media, ecommerce, and more.
The Seller Community Podcast from List Perfectly is the ecommerce resource for the seller community across all platforms and a hub for information on growing your business. Find out more at thesellercommunitypodcast.com, leave a message or ask a question at anchor.fm/sellercommunitypodcast, or email us at podcast@listperfectly.com.
Links
Seller Community Podcast on Anchor
Episode Links
Transcript
Doug
Danna Crawford is known as the power-selling mom in the seller community. She started selling in flea markets and selling Beanie Babies. I did my research on other episodes you've been on Danna. At some point, she heard about this site called eBay, where she's been selling since 1990.
She's still active in the seller community, is List Perfectly's new Director of Business Development, and of course the new co-host of The Seller Community Podcast. And like I said, Danna's been on a couple of times. I went back and did my research and so today we're gonna dig a little deeper into Danna Crawford.
So welcome back, Danna.
Danna
Thank you so much. I'm really excited. Digging deeper makes me a little nervous. I'll admit, but let's do this.
Doug
This will be a fun chat. I'm sure they're all questions you've answered before. All right, and I know this story, but refresh our listeners as to how you heard about eBay and how you started selling online.
Danna
When I first heard of eBay, I was actually at the flea market outside of Chicago with all of my wares spread all over the parking lot space that I rented, and I had some Beanie Babies and Beanie Babies were hot, so I had them up front and center, and I was selling them very cheap. and then one of the neighbors next to me said, I heard that Beanie Babies are selling really well on this website online.
And I said, really? And I had just gotten a computer and I really didn't know how to use it. and she said, yeah, it's a website called eBay. And I was like, really? I'll have to take a look. And she said, yeah, I have friends that are making money, selling them on eBay, making more money than selling them at the flea market.
So I thought I'm gonna investigate.
Doug
And then so at what point, so you started selling online? At what point did you make the transition to Power Selling Mom and launch powersellingmom.com?
Danna
Power selling mom did not come into play until 2004, and to back up in 1997 when I kicked into eBay in 1990 is when I quit all three of my jobs. And then I started doing eBay full-time and started consignment selling in 98. And then as I went along, more and more people started asking me, how did you do this? How can I do this and teach me? And so I started teaching people how to do it and then, I decided Power Selling Mom.
I came up with a domain name and I didn't do anything with it. I had; I was like one of them buying domain name-free people. So I was just buying domain names and Power Selling Mom came to me one day and I was just sitting on that name, and then I met someone who knew how to write code to develop a website for free auction advertising.
And so I decided I approached him with Power Selling Mom, and I said, could you help me build a website where people could come to my website and put their auctions on my website for free? And that's how it all began.
Doug
Wow. So do you think you're one of the first online auction sites?
Danna
No, it was not an auction site. It was free auction advertising. So if you had an auction, cuz auctions were hot, it was all about auctions and people would come to my website, they would type in or paste their eBay item number. And then it would populate, and I'd have a whole stream of eBay listings on my website with affiliates attached. I made money from people coming there clicking on the auctions and then purchasing on eBay or whatever. So it was a bit of a money maker, but it was also something free that I could offer to the community and get credit for and it just grew from there to where I started teaching eBay and writing blogs about eBay on the site as well.
Doug
Wow. The running theme for me, is the more I get to know you, and I've known you a while, but the running theme is evolution, self-starter. You always say you're a jump-right-in gal, and, but you just seem to evolve with the times.
Danna
I try.
Doug
Now, speaking of Power Selling Mom, so interestingly, you're in a bit of a rebrand right now, so give us a little tease about that.
Danna
Yes, so the website is still about consignment and I'll be happy to direct people to consignment needs. However, the remake of the website is gonna be all about finding the resources, finding tools that you need. It'll be your go-to spot for education. I'm not gonna be necessarily doing all the teaching or the consulting, I'm gonna be sending you to current people and available resources that have received the Power Selling Mom stamp of approval.
Doug
There you go. Vetting potential consignors.
Danna
Yes. Power Selling Mom will become a resource website.
Doug
That is cool. And you are very well known in the consignment community. So at the very beginning, how did you get into consignment?
Danna
Beanie Babies were starting to die out a little bit, and my resources to get them were dying out. It was getting a little harder to get them. And I put up a little ad in the Chicago paper okay, saying, make more money for Christmas. I'll sell your items on eBay. And along came this young lady, young girl, she turned 15. She wanted to buy a car and she brought all her Beanie Babies to me, and asked me to sell 'em.
That was when I did 20% commission.
Doug
All right. Okay.
Danna
What was I thinking? But it was okay because I fell in love with helping this girl buy a car, and it just became so much fun. As I sold more and more, her bank account kept adding up. She bought a used car, of course. It was just the thrill of helping her buy this car.
So that's when it all started.
Doug
Okay. And another thing that stands out for me is you've been active on social media for years since, and I was a big fan of Myspace when that was around. I know that you were a big fan of Myspace as well. So document your social media journey for us a little bit from Myspace up until now.
Danna
Yeah, Myspace was my self-education on social media to learn that the more items from my eBay listings that I talked about or posted on Myspace, the more traffic I would get, and the more sales I would get. From Myspace, it went to Twitter. Okay. And from Twitter, it went to Facebook and I just followed the path.
And now I'm in love with TikTok and Instagram. Instagram is probably my favorite and making reels and just being silly and just having fun with social media in addition to promoting yourself and your listings or whatever, whatever you're selling.
Doug
You are really good at personal branding and building up that personal brand. So for you, where does social media lie in personal branding and then in online selling?
Danna
I feel that you can do it all as long as you keep out religion, politics, and controversial subjects. You keep that out and I've learned over time from experience that it's important to stay clear of that, but people like hearing about a new grandbaby coming or a life-changing event, and people like, they get absorbed and they like hearing about it. I know. I like hearing about it. I follow some celebrities on social media I really like hearing about what's going on in Kate Middleton's life and different people that I like to follow. I understand that You can bring in, it's like the 80/20 rule. 80% fun, educational, some personal in there, and then 20% buy my product or this is what I'm promoting, but you can't all buy my product. And I actually learned that when I took a course. I became a local expert with Constant Contact and I went through their email marketing training and learned as much as I could about social media and email marketing.
Doug
And speaking of learning and products, I love this too, you were also a big part of the eBay education program. So tell us how that came about and where it went.
Danna
As I became more and more active on eBay and people started asking me, that's when I was actually going by Ask Danna cuz so many people were asking me. And so I was teaching eBay on my own. I wasn't in the education specialist program in the very beginning, probably maybe the first year, but I felt that I could do it on my own.
I didn't need to be paid money and to be in a program when I could do it myself. So that was the attitude I had until I went to eBay Live in Boston and I met Meg Whitman and Griff and I met all these people and then I got invited to be a part of it back then it was called Voices of the Community from eBay. And they actually reached out to me because I was so active in the eBay groups, which are like Facebook groups. They were on eBay. And so I was already very active there and some of the people that worked at eBay actually recognized me from the groups and they asked me to be in this program.
And then I learned if you became an education specialist trained by eBay and went through the program, they promoted you. Why am I not doing this? So I realized that the possibility was there to make more money and to be higher ranked. Because now you're backed by eBay directly.
Doug
Yeah. And they eventually did away with the program?
Danna
Yes, and I went through it, they had the education specialists trained by eBay, and then they had a second level, which was pretty intense with a hard test. It was pretty hard to pass, and it was very intense and you had to go through this training. And then you became a certified business consultant trained by eBay, and there were only 28 people in the country that passed that test.
So I was so proud to be on it. So it was great while it all lasted and then all of a sudden, the plug was pulled and we were told we had to bring down any graphics or anything that was current. And it was heartbreaking. Yeah, it was heartbreaking. Very heartbreaking.
Doug
Yeah, I've heard that from some other people that were in the program as well. And it's a bummer, but one of those eBay business decisions.
Danna
Yep. That's when you push up your sleeves. and you go, okay, plan B is around the corner.
Doug
You always have a plan B. So speaking of plan B, you're very associated with eBay, but you now sell beyond eBay, and I think you've sold beyond eBay for a bit. But where else are you selling? What's your favorite platform besides eBay and how has that been?
Danna
I would have to say, Etsy. It's been a little challenging. I've had some experience though new with Etsy, and now I've fallen in love with Poshmark and I've ventured out into Depop, Grailed. I actually even sent some items to RealReal. And so I'm experimenting with different platforms and, now that I'm totally involved with List Perfectly, and I understand how it all works, I'm in love with the strategy of listing my item directly on List Perfectly. I do not list on eBay anymore, and not only does it help me keep track of everything, but sometimes I get that same dress that I've sold and it's really nice to have it as a backup already there on my dashboard.
Doug
Nice. There you go. So back in 1997, if somebody from the future told you there'd be, I don't know how many different platforms to sell on, would you have believed them?
Danna
No, no. I would laugh because some platforms would come out and be like, oh, "they're an eBay wannabe. Here comes another eBay wannabe."
And they failed. They failed, so many of 'em.
Doug
And it's funny too because for a long time, eBay was king even over Amazon. There are still spots in the world right now where eBay's number one. So it's very interesting.
Danna
I did try out Amazon. I did sell on Amazon a little bit back when books were the hot thing to sell. And record albums. And back then it was a really great resource for selling books.
Doug
I tried. It was a little difficult for my taste. I'm gonna try again. But Amazon is challenging in a lot of ways.
Danna
They have a lot of rules.
Doug
Yeah, that is true. That's true. And it's not that easy to list on there.
Danna
No.
Doug
Yeah. All right, so this is a fun one. You've sold some crazy stuff. Remind us of some of your most memorable sales.
Danna
Oh, gosh. Ranges everything from diamond rings to tractor motors, to motorcycles, to smelly socks, all kinds of things. I sold everything on eBay I could think of except my soul and I've sold saints in a jar.
Doug
Okay, there you go.
Danna
I sold the traveling toilet paper roll as just a roll of toilet paper and the most exciting part of, I don't care what platform you're selling on, is when you sell something that even big or small, no matter what it is that someone purchases it, that means so much to them. They've been searching for, or it brings back a memory for them or something like that. Most recently, I sold a newspaper. And it was from 1940, 1942, and it was from The Baltimore News and it had 16 generals, 65,000 of them lost at Bataan. And one of the persons that bought it from me, or a person that bought it from me, had an uncle that was listed in that paper. And it meant the world to him to be able to find something like that. So experiences like that just make it all worthwhile to me.
Doug
That's amazing. What about live selling? Have you done any of that?
Danna
I am ready to try it. I am so ready. Actually, I have tried, I have a bunch of items at a booth locally here in Punta Gorda, Florida. And I am losing money miserably on it. So I got a notice the other day cuz I didn't, I forgot to pay my rent last month. And so usually, it comes out to where I only have to pay a small amount. Yeah. It lasts for a month. It's the full amount. And then now this month's due, so now I'm up over 300 bucks. And I haven't made anything. So I looked at my stats. I have been doing it for eight months and I'm still not making any money. So I messaged her and I said, I'm gonna come down and get my stuff. I gave it a good go, it's not gonna work out.
And I don't have junk down there either. This is stuff I could have put online. But I decided to try it locally. So I'm very disappointed, but I'm gonna, roll up my sleeves, and go pick up my stuff. So I decided when I go to pick up my stuff, since it's all displayed so nicely, I'm gonna take pictures. I'm gonna take all my pictures…
Doug
While you're there before you break it down.
Danna
Yeah, before I break it down. And then I'm gonna bring it home and then find a place to put it, but I don't, I want it gone, so I'm going to definitely go live with that, with those items. I'm ready.
Doug
That's gonna be fun. So I think live selling is the future of e-commerce. What do you, from someone like you who's much more experienced in e-commerce than I am, what do you see as the future of e-commerce?
Danna
I agree with you, and I wouldn't have believed it myself, except that I follow the trends on social media and agree. You can't compete when it's rolling out and I've been looking at the strategies of it and I'm excited on hearing about more and more platforms jumping on board and opening up the door so that there's just not one or two that are doing it. I'd like to see more do it and also, what I love is not being able, not having to ship. So if I can have a local pickup, as often as possible, that's a huge plus. I understand your items are not gonna show up as far in search, when we offer local pickup, we all learned that the hard way on eBay. But I think the opportunity with live auctions, and getting back to the hometown live auctions are exciting.
Doug
As you said too, I think it's, I think local pickup options are gonna continue to grow. Obviously, you've got that on eBay, you've got it on Facebook and then Mercari Local. But I think, yeah, I think it's a great, interesting option to have as well.
Danna
It is. It is. And even if you don't do the local pickup, I think having the flat rate boxes, you know where you have enough items say, okay, the winner is going in this flat rate box and this is how it's getting shipped.
I actually ran my first Haulsale auction. I ran my first one and when I put it up, I got rid of a bunch of shoes when I put it up for auction, I put it in a flat rate, priority mail, large flat rate box, 20 bucks.
And it was easy that way when it was over, just slap a label on it. I didn't mind that. So I think that as long as you simplify your system with shipping, it should be alright.
Doug
I think that's good. Streamline the process. All right. Anything to add?
Danna
Just social media is a great opportunity for promoting your business and I see so many online sellers miss the boat on that. It's because they're afraid to jump into the social media area. And I think that you're missing the opportunity. I'll get people, "are you here? Oh, eBay sucks. I can't make any money." it's "okay, what are you doing about it?"
Yeah, you just gonna. Yeah. Let's go evaluate your titles. Let's go evaluate your categories and it could be you're listing stuff that nobody wants. Those Beanie Babies don't sell for thousands of dollars anymore.
Doug
Not anymore. People still try though.
So what's your top tip for a seller wanting to get into social media?
Danna
Follow the trends. Number one, see what's trending and jump in. So if there's a top sound trending, go add that sound. If there's whatever sound is trending, you have to jump in on that sound. I've learned that. And then you'll get more established.
Do not go buy friends and you know the people you know, that's ridiculous. And when you go buy friends, you can always tell that someone's got 80,000 friends. And they're following 10 people, and you can tell if you go in and you click on their friends and kind of scroll through who all their friends are and if they're all from another country, chances are that they just went in and bought a bunch of friends. And those are fake numbers. So don't fall for it, you don't need tens of thousands of friends to establish yourself on any of the platforms. It just takes time. And because you want authentic friends that are interested in you and wanna follow you.
So I think that's the important takeaway.
Doug
There you go. Authenticity, quality over quantity.
Danna
Absolutely.
Doug
And just jump in. You said again, jump in.
Danna
Just jump in.
Doug
Cool. I always enjoy talking with you, Danna, and thanks for joining us today. Digging a little deeper with Danna Crawford into the Power Selling Mom journey.
Danna
Thank you.
Doug
All right. Thanks. We'll talk again soon.
Danna
Absolutely.