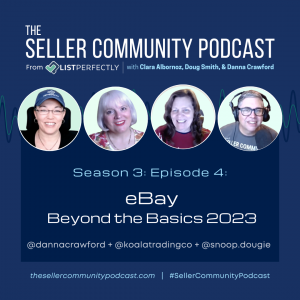 This week join Clara, Danna, Kim, and Doug as they dive deep into eBay and discuss all you need to know about eBay, selling on eBay, and more! Listen in on their chat about what they've learned and the sharing of experiences about everything eBay!
The Seller Community Podcast from List Perfectly is the ecommerce resource for the seller community across all platforms and a hub for information on growing your business. Find out more at thesellercommunitypodcast.com, leave a message or ask a question at anchor.fm/sellercommunitypodcast, or email us at podcast@listperfectly.com.
Links
Seller Community Podcast on Anchor
Transcript
Clara
Dougie, how long did you work for eBay, please?
Doug
About four years.
Clara
All right, incredible. And what did you do with eBay, please?
Doug
So I was on the seller engagement and community team. I worked in the online community and then I did a ton of events, a ton of eBay Opens, and traveled across the country going to in-person events.
Clara
Right in-person, yeah.
Doug
Yeah, in-person events, online events, just talked about eBay. Talked about eBay resources and engaged with sellers. And, advocated for sellers internally as part of my team.
Clara
Danna remembers. Danna and Doggy have known each other for quite a while. Kimmie. Wow. How long ago have you been selling on eBay?
Kim
Oh my goodness. It was about 1998 when I sold my first item.
Clara
What was the first item you sold? Come on…
Kim
It was a clicker, a remote for the garage door opener.
Clara
Oh, that's amazing. And show off your seller community award. Kimberly has our amazing seller community award. You deserve it for years of supporting our incredible community, especially the Facebook group of List Perfectly where you can ask eBay questions. There are eBay executives okay in the group. So please be mindful, okay? We're not about breaking the rules, but we're here how to teach you to make those rules work better for your business. Because what worked great for Danna will not work great for Kimberly. Why? Because we're all different and we're gonna be talking. Dougie. So you've been with us. Okay. Looking forward to joining the e-commerce and then you were able to successfully launch the Seller Community Podcast.
Doug
Yes. Yes. Thank you.
Clara
You made it happen to get eBay executives, to get incredible experienced eBay sellers. So can you tell us a little more about that, please?
Doug
Obviously, I came from eBay, but I still know people over there. People still know me, but just reaching out and asking. And I think that at certain levels, the management and upper, they don't get asked to do this too much and they're happy to do it.
We've had the big one: Griff came on and talked about the seller community. He's always happy to talk about that.
Clara
We love you, Griff.
Doug
We love Griff. I learned all I know about podcasts from Griff. We've had Rebecca Michaels on, she's the director of community engagement at eBay. Another great one, and we'll share the link and go into a little more detail, was Julien who runs the VERO program at eBay. And he cleared up some questions and it was like, is there a VERO list? Technically there's not. Are you sure there's not a VERO list? No, there's not a VERO list. Are you really sure? There's not a VERO list. No VERO list. A company can submit…
Clara
We'll explain the process.
Doug
Yeah, we'll explain the process.
Clara
When it comes to our most powerful episodes, I would say the eBay VERO episode 32, V,E,R,O. That is the Verified Right Owner program with Julien. Okay. That was impressive.
Doug
Yeah, and he puts it out there. He addresses the questions and says, if there are questions, reach out to us. And he understands that there are a lot of myths and misconceptions. His mom sells and he had to talk to her once about the photos she was using. Julian was very open and he runs the program on an international level.
Clara
And by the way, he's the global brand manager. Okay, guys, intellectual property brand protection expert. Okay. So we were talking to the top person.
Doug
It's not super clear. A lot of people don't understand it. So that is a great episode to get that insight into VERO there. Rebecca Michaels is great. She is the director of community engagement at eBay. And so she has given us a preview of eBay Open Online 2021. And so the interesting thing about that is that was their first one back, the first fully online one. And she gave us a preview of that and then just talks about the community a bit and what they do. eBay Open's an interesting hybrid now. We hope they're gonna bring it back, but I think they're gonna have both from now on.
Clara
And then we have the very important, oh my gosh, session. Okay. Episode eight, eBay SEO as in search engine optimization, or aka, also known as listing optimization with Dave Snyder. And please elaborate on that Dougie, because this is the most, is it most listened?
Doug
Yeah. So this is interesting. Dave Snyder's a friend of mine, we met online and then met at a seller event, eCommChicago. And we talked about music and eBay SEO. So he's a friend of mine and he is an eBay SEO expert. He specifically focuses on eBay SEO. So this episode, and we had him on a couple of other times and actually he's coming back soon, so he's gonna be back on to come to update us. Some other questions, but as Clara said, this is our most listened-to episode, the first episode to break a thousand downloads.
And the interesting thing about this episode, as he goes really deep and I always, I do say this about this, some big sellers, I know he changed their perception about certain listings that are still pushed out there. Most specifically delisting and relisting.
Clara
Thank you for saying that. Thank you. We're gonna be talking about whether should I use a magic button to delist and relist. List Perfectly why don't you have that? Listen to this episode. Okay. Watch today's session and see why resellers. Okay. We don't have one magic button. Okay. And believe me, we can build it. It's really easy to do that button, but why don't we have it? Listen to us.
Doug
Sharon McBride. She's since moved on from eBay. eBay has this great program called eBay Main Street. Theresa Cox is a part of it. Danna, are you a part of it?
Danna
Doug
I am. Okay, cool.
Clara
Of course, she is…
Doug
Yeah, of course. But basically, this is part of the eBay government relations team. So they are based and ensconced in Washington and they advocate for online sellers with some of the other platforms. And they're advocating for sellers across the board, which is a great thing at eBay.
And they want that feedback. And it's like I always say like eBay, I believe amongst the platforms is the most connected with their seller community. They do things like this at a level that other platforms Don't do and haven't gotten to yet.
Clara
Yeah, not yet. Not yet. Another one, is Theresa Cox. We have to talk about T Money. I just want you to go and check out this episode for seller mentoring. eBay Seller, school, Seller Resources by Theresa Cox, and of course, interviewed by Doug Smith. Okay. And the List Perfectly team. So that's another session that I highly recommend to you. This was incredible. There are so many other chapters, talking about eBay, but those are the main ones.
Doug
So the seller community blog. List perfectly.com/blog. So this is a sort of eBay-related blog sort. There are a lot of great ones there. eBay related this week, eBay business policies from the fantastic Danna Crawford. A simple understanding, I love this. It's quick and to the point. Why are there so many photos on eBay?
Clara
I'm starting on eBay, or I came from Poshmark. I don't have time to build these business policies. What would you say to a reseller that is in this situation?
Danna
If you're selling on eBay, you probably have policies and you don't know it Because they'll be there by default. So that's why you definitely wanna go in and take a look so you're not stuck with those defaults. As you're getting the ball rolling and sometimes people go, business policies, omg, what? What the heck? That scares me. These words. So I try to simplify this and let people know it's basically your payments, your shipping, and your returns. Those are your business policies, so I've simplified the process for you.
Clara
Thank you. Thank you. And I can't wait to do like a, maybe we can, we're gonna do, we're gonna talk about more of this topic, Danna, because I feel, I don't know how you Doug and Kimberly feel, but is it like, almost like a taboo topic for us, eBay sellers to be or not to be, right?
Kim
Yeah, exactly.
Doug
Yeah. I think it's one of those things it's intimidating having these business policies and things like shipping. These business policies, they're important. And actually, eBay guides you through and helps you do these, but they're important to help you succeed and you can change 'em along the way, but it's important to have these.
Clara
I live by this rule. Okay. Take pictures, as if there is no description, and describe a product like there are no pictures. So if you take more pictures with more quality, you can do a briefer description and refer to the picture which will save you time. Will this fit in my living room? Will this fit my dog? Will this fit my ship on a cloud? Okay. I don't know. Okay. Will this fit me when I'm on an airplane? I don't know. You get those questions, so I cannot even tell you how much this is gonna reduce. Okay? For the amount of work that we shouldn't be doing and good images, please go to eBay Seller School. They give you a guide on how to do the pictures. All right? Why backgrounds are important. Take advantage of List Perfectly. Why a background remover that we have at no extra cost?
One more thing that I wanted to add to the 24 pictures is that it is the future, okay? I know that there are marketplaces like Depop with four. I'm still scratching my head. But, that's just for them to decide. I do believe that what eBay did is the future and supporting video and 3D images for tennis shoes are expanding that to other categories.
Danna
Yeah, I agree.
Kim
There are a lot of other platforms out there that could take a lot of advice from eBay and add a few more pictures. There's just, it's really difficult on some of the other platforms because you don't have that capacity. You can only put maybe six, or seven pictures and it's especially if you have something that has defects or something that needs a lot more, pictures to show different angles and you don't get that. But eBay allows you to do that, so that's super nice.
Clara
Yeah. Yes. No, absolutely. Absolutely. So now anything else to add, Dougie?
Doug
Live selling is gonna be the future. Live interaction.
Clara
eBay doesn't have live selling yet, right?
Doug
They're working on it.
Danna
Cards, some of the player cards. The Pokemon cards.
Doug
There you go.
Clara
Yes, absolutely. And they will expand it to other categories. Thank you for bringing that up, Danna. Absolutely. Now alright, Douggie, thank you so much.
Now people we're gonna talk, we're gonna be talking about another challenging topic. And Danna, do you have a chart for fees or anything? You can bring it up and then I can, we're gonna be talking about fees, eBay fees!
Danna
I'm breaking up my fee charts according to sections. In my opinion, eBay may tell you there are only two types of fees. I feel there are three types of fees. You've got your listing fee, your final value fee, and then you've got your upgrade fees.
So there's more to the fees and eBay has complicated it. I admit. They complicated it because it used to be so simple. But now we have categories where the fees change. And they, you get 250 listings, that's a given. And then once you reach your 250 listings, then it's 35 cents per item on average.
But then if you add like I saw someone in one of our listing parties didn't know and didn't realize they were being charged for the subtitle. And so all this too.
Clara
Oh yeah. Oh no. Everything costs you extra. An additional category I, do they still allow you to list in two categories?
Danna
Yes.
Clara
Okay, good.
Danna
Yes. So the upgrade fees range from everything from promotions. If you're promoting your item with subtitles, remember when we used to have gallery fees? ? I don't know if you guys remember that.
Kim
Oh my goodness. Yes. I completely forgot about those.
Clara
I did pay for those ones. Yes, I did.
Danna
Yes. So even more important, it's wonderful how we have the extra 24 photos, which I am just so happy about, and we don't have to pay extra for them.
Clara
So the key benefits of promoting listings on eBay are ease boost visibility, guided setup, and pay only for sales detail reporting. Now then I have a question for you. Theresa Cox. I believe it's 3%. Three Kimmie, for the promoted listings percentage.
Kim
I don't remember how high you can go. I know it, it starts at 2%. You can't use 1%.
Clara
I think she was at three. Where are you, Danna?
Danna
I do 10% on…
Clara
whoa, I wanna know about 10% going once, going twice. You're the winner.
Kim
Yeah. You win.
Danna
Yeah, no, I do. I follow the recommendations now. Okay. If eBay recommends that I do 8.9%, I will definitely do it.
Clara
And how is it working for you?
Danna
I am a believer that when eBay is promoting something or eBay is suggesting something, you either climb on board or leave you behind. Okay. That's always been my theory and I'm a firm believer in it, it's still that you gotta jump on it.
Clara
Yep. Absolutely. I always have been a little, I was in such, that's it. Okay. To build List Perfectly. Again, still no investors. So I could not afford that 10%. So I relied a lot on social commerce. And what I did is I did, at that time, back in the day, everybody was building websites to steal traffic out of eBay. I did the opposite. I was like why should I do that? Why should I compete? Little me? Okay. Why should I compete with the biggest marketplace? Okay. And with the marketplace that has the most data, more than Amazon, just FYI, right Dougie?
Doug
So they have 20-something, they're the only company to have that much data on buyers and sellers across so many categories, an insane amount of data. That's why I go back with what Danna says is like they make a recommendation based on the data they have.
Clara
That's right. So this is my eBay store as you can see, obviously, now I use it mostly for buying. Okay. But if you go down, okay, if you see all the feedback, and then you can go by pages, you can certainly see, okay. Vintage, fister, the fifties, letter carrier, uniform jacket, large wool, US Post office. Okay? So you see I've, you can see there my whole story, but I just wanted to show you how I built the website a little differently to take advantage of the incredible credibility that being an eBay seller gives you when you don't have a webmaster, right, digital marketing to advertise, your products and so forth.
Danna
People don't realize there's so much more that all have to be a good, rounded type of setup. Yeah. Between your title, your category, your item specifics, and your promotion. So you have to take advantage of every step and all of these things to equal the algorithm. And it's like Google. They're not gonna tell you…
Clara
Because they can't, the way you add an algorithm, what it is just a formula. It's just a string of code. That's what you're adding to the platform. And because this platform has AI, we can, we all know AI is in its infancy. So sometimes they won't tell you. Not because they don't wanna tell you. Yeah. cause they don't know what's gonna happen.
With my Instagram account, I had a uniform name for all of my social commerce accounts. Okay. The same as eBay. And then I would refer to every post I could send traffic to eBay. So that literally worked for me a lot. And I would send people all the time because on Instagram, there was no checkout, there was not back in the day.
Maybe now there is like one that you can check out on the comments and then you can send them to PayPal and so forth. But sending traffic, taking advantage of Instagram, people think about it. It's a whole different audience. Billions of people that you are sending to your legit eBay store. It works. Especially if you're doing an auction. Why would you do an auction? Please don't do an auction. I beg you. No auctions if you're not gonna be promoting that listing in whatever possible way you can, or if you don't, unless you have, like, when you have the grows the, what I call it the hook, right?
The one that is irresistible, that doesn't need Okay. To be promoted. But that's my only suggestion. What do you think about that, Danna?
Danna
I love auctions, so I…
Clara
Me too.
Danna
I love auctions. I run auctions every week and I feel that the more auctions that you run, even if you run one a week, there should be an auction ending as much as possible because it helps build traffic to your other items and it helps you establish, and I also have an auto-feed that sends every time my listing goes live or renews, it auto feeds to Twitter and a Pinterest. So I don't monitor Twitter and Pinterest, but I have dedicated boards just for my eBay listings.
Clara
Yeah, absolutely.
Danna
I think that helps.
Clara
Oh, okay. How important do you think it is to fill out every little Recommended detail description section for every listing? I'm gonna tell you, I don't know what everybody else thinks. I am not selling anymore to pay my bills. Okay? I just sell for the love of, randomly just to stay in the ground. But I can tell you if it is a recommended detail for each one of them. If everyone is recommended and you're not filling in, you're only hurting yourself.
Danna
That's right.
Clara
Now you can go above and beyond recommended. I have a lot of friends who maybe get a little lost and they don't know where to stop if you do too many. Not the recommended, but the details. Now you're excluding yourself for example, if I'm looking for a red poly shirt with an eBay logo.
And you start putting in way too many details. What if it is cotton? Your shirt is not gonna show. So be careful. Just go with the recommendations. Be generic. Make sure people don't use those automated tools because they change the way they list what was black, white, or blue.
Next week is gonna be a whole different way how eBay recategorizes that. And what happens is by using these automated tools to delete and relist, you are perpetuating all listings that have irrelevant content that is gonna get you sent to Siberia and your listing ranking and visibility is gonna be down there.
And you're gonna be like, why? I have an incredible product. My pictures are great, I have 30 days to return, and I'm doing 10%. It's about doing the details that eBay recommends and nothing better than List Perfectly for it because we're gonna show you how you can merge a List Perfectly listing with an existing eBay listing. Now, the beauty of this is that eBay allows you to go shop, you can cherry-pick, okay, you can shop around for sold listings. This is, you're not shopping around, okay, maybe this, I like this. No, go with the sold or completed listings. Then you can do a sell similar, and then you merge your LP listing with the sell similar, but it will have your images, and your main descriptions, and already has all the recommended descriptions. So you don't have to do that work.
I love it. So what other suggestions? Danna, I ask this question. I love asking this question all the time, Danna, okay. I have a thousand listings now. I am selling 50 a month. Alright? My problem is no longer the fees. Okay? I just don't know where to go. Hardcore, basic, should I get a store? Why should I? I don't want a subscription, I don't want a commitment. It's a subscription, Danna.
Danna
I don't usually recommend a store unless you have at least 200 or more listings to make it worth your while.
Clara
For the return on investment?
Danna
Yes. And, but as far as listing with a subscription to List Perfectly. And I know, I am a full-time eBay seller. My mortgage just went up $400. So I'm on a mission right now to sell and get listing more items on weekends. And with a goal like that, I'll be able to offset my needs. And that's what we do as sellers.
So we wanna look for ways and angles that we can make more money and get more listings. And it's not about. Quantity of listings. I don't care. People brag. Oh, I've got, my, my ex-husband used to brag, oh, I've got all these listings, and oh my God, I just sold this. I had it sitting there for eight years, and it relisted for eight years.
Clara
Thank you. Wow.
Kim
Oh, update button. We needed the update button there.
Danna
I'm like, wow, you got a duster. Are you gonna get all the dust off of that?
Clara
We're not collectors. We are sellers, please, people. Okay. And the magic button of delisting and relisting, no, it does not work on eBay.
Danna
Quality listing, not quantity.
Clara
If that would work, eBay would've built that, like that. They have the money, and they have the resources. Poshmark tried. It didn't work. Okay. Yeah, it proved, I knew that it wouldn't work. Okay. It just doesn't. Okay. And we're gonna explain why.
Danna
Yeah, back in the day, you could put anything on eBay and make money.
Clara
Yeah.
So I just wanna put it in perspective. Okay? Careful. Okay. When you're just going in that insanity of delisting and I have people that do it every two weeks.
Danna
Oh yeah. The listing and relisting thing. There are so much, so many theories out there. You hear, oh, this works, you've gotta do it this way. The last eBay meeting, when eBay flew me in to meet with everybody, the last discussion was about that. And eBay shook their heads and said no. It doesn't work that way. And so many people in the community think that it does, and I don't get it. I don't see why they would think that. But what do you think?
Clara
You gotta understand that there are many solutions out there that are being developed by non-resellers. So if I look at it from the developer standpoint, it makes sense, because their job is to expedite okay and reduce the number of clicks. So in their logic, okay, the listing and relisting should be what these small sellers should be doing. The thing is that they're copying the model that they're using for big companies. And that works maybe for big companies because they're having such a different sell-through rate, all right, which is very different from us small sellers. And it's just, I think it's just a misunderstanding. And trying to portray those solutions as a magic solutions. And again, they have advertising teams or sales teams selling you that, and then you hear about it and that perpetuates the misinformation.
Like you said, even eBay executives, no. No. Okay. Believe me, they built that, marketplaces tried it, but it did not work.
Danna
Yeah and I felt sorry for the one person that was a very big seller. He has a team of listers and delisters.
Kim
Oh my goodness.
Danna
Why? Why?
Clara
It's painful. So we'll explain briefly about that, and then speaking about that, why don't we show the audience? Okay. Should we jump into that? Because I know Kim, this is your jam, right?
Kim
Yeah. Bring it.
Clara
Kimmy, what is your situation, what's your perspective, okay with the delist/relist?
Kim
I know there are a lot of schools of thought. Some people do it religiously and they feel that it works. And I'm not, I'm not knocking that. But for me, it's, from what I've learned and what I've heard, what Dave Snyder said, he blew my mind. I've listened to the three podcasts that he's on three times. And I'm still absorbing, I'm serious. I'm still absorbing all of the knowledge that he put forth. But it takes what was it, 40 some days for listening to even get established, for, it takes at least that for it to get established on the platform, get it out there in Google, and the searches, and if you're taking your listings down every two weeks or even every month, it's not even getting indexed. It just, and just blows my mind that the whole mindset is that, is, the thing to do. And it's I don't know where that came from. I don't know. I was one of those people that went back way back, that was what you did. We never questioned it.
But now that the statistics and the data are out there, we can look at it and go, oh, there's a lot of controversy about how this works. It doesn't work. But for me personally, I prefer to go in and tweak, tweak my listing, work around the title a little bit, check, and make sure my keywords are still valid and will still because keywords, sometimes you can I'll go back in sometimes and I'll look at my keywords and go, why didn't I put this one in there? This is so pertinent. And so you can do that. There, you can raise your price. Raise your price.
Clara
Yeah, no need to do the delist and delist with List Perfectly so you don't break the…Okay. Oh, that's a thing. No need with LP, no need, because we have an update button. So think about it.
Okay, but Clara I disagree. Clara, I am selling really well. I have been selling for two weeks and I'm doing really well, guess what? Maybe your prices are too low, just saying because it hasn't even got a chance to go to Google. And that should be your jam. Let, even since you are already paying for it, you're already paying these eBay fees.
That's the advantage. Try to see what happens if you make your listing last for two months. Okay? And even if you're doing auctions, auctions, start at a high price, why don't you try that, start at a high price instead of starting at $20, because believe me, when we're looking for good items, they, we know that the $20 auctions, okay, even though they might go to I don't know, $500 in three, four days.
So I don't know if there are seven days or maybe five-day auctions nowadays, but that's why I wanna explain, maybe your prices are too low or maybe you're selling to other sellers. So that is just my perspective. We're big on optimization and using, instead of the deal list released, if you need to update prices, you could do it in bulk from LP and updates. Send that update.
How many of you have used another service that tells you that they removed the listing and it's still there, but here in the upper right corner you can see that the that's why we give you a tab, that's why we don't hide the tabs so you can see yourself. Okay, that was effectively delisted.
Technology is not there to be perfect when it's automated. Believe me, it's not. I am doing exhaustive product research and that's why we broke it down so you can have confirmation on each tab it's a quick click just to close them up, simple as that. You don't need to close the 50 tabs manually.
Doug
So if you take one thing away from those Dave Snyder, eBay SEO episodes, this is the one thing he said that has stuck with me. If you think your listing is stale, it was stale when you listed it, and there's a big difference between refreshing and delisting and relisting.
You wanna go in and you wanna refresh your stuff and you wanna take a look and you want to try different things. There are people that will always disagree on this because they've seen success with this and you can get a little bump by relisting, but you're killing the long-term SEO, which really contributes to everything—store, all of your listings. And if you are selling a ton of stuff, you may see some success. The most I've ever had listed at once was like a hundred things. If you've got 10,000 listings, you're gonna probably see a little statistically more success. I say believe eBay, they don't recommend the practice. I think that's really important. If you think your listing is stale. It was stale from the start. And certainly, refresh it regularly. Try different things. Again, like Clara was saying, look at the price, look at your title, your item descriptions.
Clara
But no need to delist. No need to delist. Here, and this is the reason why people will tell you to delete and relist because they don't have an update button. If your listing wasn't, let's say, optimized in the beginning, imagine the ranking would get lower and lower.
That's what we're so big on, not delisting and relisting. No need to destroy the indexing and the hard work that eBay is doing to try to improve your watchers and the impressions that you're getting on your listings.
So that's big on List Perfectly so you can sell more and you can through the update button. There is no need. You can test better. Was it the price? Was it the title? Was it the category? You can start playing…and you can narrow. All right. Instead of delisting and releasing the same thing, that's the definition of insanity.
Google it. Okay. The definition of insanity is doing, repeating the same act, and expecting a different outcome. It works in real life, it works in real estate. It works in technology and software. I promise you that. Okay. Otherwise, I would build that. Okay. I would build it like that. All right. Sorry. I get very excited.
Anything else you would like to add to this controversial topic and so important to our community?
Kim
Like you, like you were saying, it's. It's one of those things where, for me anyway, let's list perfectly makes it so easy to go ahead and just update, to be able to go in to make your changes, hit that one button that goes out to all your, all your platforms change.
And if you want to experiment, if you're on the fence or you do the delist and relist and you're not seeing the results that you wanna see, experiment, change some stuff and do an update instead and just see what happens. That's one of the main things that is amazing about what we do is we run what we do.
We are the ones that get to make the changes and nobody's telling us what to do. We can do what we want. And if you wanna experiment, just see what happens, it can't hurt. I don't wanna push anything on anybody.
I believe one way a lot of people don't believe that way. If you're not seeing the results that you wanna see the way you're doing it, change it up.
Danna
There you go.
Clara
So for us, there is no problem with List Perfectly. There is no problem that you let it renew because the link between List Perfectly and eBay will not break.
Okay. I am a big fan of renewing what is it called? Fixed format. Okay good till canceled or fixed format when I'm seeing a lot of watchers and impressions. But if I'm seeing a lot of watchers and impressions and very low offers, okay, that's when I will prevent it from renewing because I know okay that after 45 days it's not the audience, it's me. There is something wrong with my listing. That's just my perspective.
Danna
Yeah. And I just wanted to add that if you're…another theory that works for some and some believe in it, some don't, is if that item hasn't been sold, go pick it up and feel it and touch it, and hold it up to the heavens.
Kim
Yes. That happened to me two days ago.
Clara
I promise you, people, it works. I'll never forget, everybody knows my vicuna coat that I found in an estate sale in Beverly Hills for $150 and I flipped it for $7,000 and it was eight months guys. And you know how I feel about it and I'm like, oh, come on anybody. It's dead stock, it's non news.
What's going on? What did I do wrong? Of course, I touched, I retouched. Okay. I updated the listing because I didn't wanna break Okay the SEO that eBay did. And I realized that removing the brand, nobody cared about the brand of, about that vicuna coat. So what I did, was I moved vintage, I removed the era and I put a vintage vicuna coat overco,at and then I put what is it? 100%? The number? 100%. So you could stand out from blends because literally most nowadays it's 10% vicuna and the rest are cashmere. No. Okay, that's really cheap. That was good. So expensive. So that's what I did and that's when I saw, and that this comes from the trial error that we did as resellers.
I just wanna share those two cents and the reason for our logic with Amanda and behind List Perfectly and consulting with so many pro eBay sellers and community people.
Danna
Yep. And also the category. I had a client come to me once and, oh, I just can't sell, I can't sell these cowboy boots for anything. I went in and looked and they were in the category of hospital scrubs.
Clara
No, let's start number one. Okay. With SEO. Okay. Number one thing. Okay. Is it still on the list? I'm sorry. I haven't listed natively on eBay for a long time, but I believe one of the first things you have to do is select the category. Is it still like that?
Danna
Yeah. Title.
Clara
So there is a reason people. Please take the time. If you are not sure, go to the Facebook group of List Perfectly. What category? Category is the number one for SEO. Then comes the keywords. Okay. That you use on your title. Then comes eBay. Okay. I'm talking about eBay. The item descriptions that are recommended. Alright. Then comes also. Okay. The information that you're providing in the description box, they don't wanna a naked description box. Okay. We're not dropshippers. Even though there is a whole, there are different segments of eBay that you can use for that, but for the segment that we are catering to. Alright, I just wanna address that.
Doug
And I'll just say really quick from working at eBay and, knowing some of this, don't try to game the system. You're not helping yourself, you're not helping anybody because an algorithm takes what's put into it and then puts things out based on the data that are coming in.
So you get a lot of people that try to cheat with item specifics or they try to get listed in categories that they shouldn't be listed in. , you need to be in the proper category for what you're selling. Or you're messing up the algorithm. That's why you see things like issues with item specifics and item specifics that shouldn't be there showing up.
Category is number one, get in the right category, but don't try and game the system. Don't try and cheat. Trust the algorithm cuz it's all data based. Again, a company that has 27, 28 years of buyer and seller data across multiple categories, not even Amazon has that.
Clara
All right. Danna, can you explain what you meant by only filling in required specifics and not filling out suggested items? Specifics if you don't fill out suggested, doesn't that exclude your item in the left hand search?
Danna
First of all, do the required, of course, but, and recommended, required, recommended. And then if you do have that item, that is not gonna show up. There is the option for you to make up your own. Now, I was told by eBay that if you are using the same one, say I have concert t-shirts and I would put the word concert t-shirt as one of my items specifics. And if I wrote it enough times, it may have changed, but the last I heard it was like eight times. If you write that eight times or more and you're consistent, you always have it the same way. Eventually, eBay is gonna add it to the list so you know, your item is specific, if you have a need for it, keep using it, don't switch it up, and then it could get added to the.
Clara
Perfect. That's a great answer. One final question. If I may please, putting at the end of the title on a listing, putting NWT in price helps or hurts a listing. Back in the day, if you were selling only on eBay, right? NWT, everybody would know what that is. So keep it simple, put new, okay. Make sure it's new, right? Not something that is not really new, okay. Or, but make sure that you just keep it simple. And then in the description, you can put new with tag. And then on the bottom, as you go on the List Perfectly, we'll help you to transfer. Okay? Because in the List Perfectly form, we have different, like new with box, and new without box. There's so many options you can choose to determine that. But keep it simple because you are selling in multiple marketplaces and new is new. Okay? Vintage is vintage pricing, in the past what do you guys think? For example, I don't know, crystal glass, MSRP $50, right? And I'm putting it for auction at $10. What do you guys think about that? In the day, people would do MSRP and it did not work well for me.
Kim
To me it doesn't make a difference. I wouldn't, who's gonna be doing a search for that? And that's you're wasting real estate in your title for something that makes no difference.
Clara
The good news is that eBay gives you a gazillion okay characters for titles, right from eBay, and the platforms we support will be eBay and Shopify. All right? That they give you a gazillion characters for your titles. It's very different, okay. In Mercari, Depop, et cetera. In what category do you put those one-quarter zip tops? Oh, sweater shirts or sweatshirts? I've seen them all. Okay. I didn't do good in women's clothing when I tried. What would you say, girls, what would you recommend on this one?
Danna
Put one in each. That's what I was gonna say. One in each.
Clara
I love it. I don't. That's a good one. That's a good one.
Kim
For me I wouldn't go searching. This is me, but there are people out there I guess that would go searching for a quarter zip top. For me, I go, I search for a sweatshirt, I search for a sweatshirt. Yeah. I search. Those are the things that, as a shopper, that's what I would search for. Cuz, I don't really give a hoot about a quarter zip, I don't care if it's it, that's not my thing. But they're gonna be shoppers out there. I guess that would, but that's just me.
Clara
Exactly. Exactly. So I'm gonna do a popular, now, very popular video request. Because I am surprised that more people don't know that if you come from, if. You are an eBay, okay, no problem. But you have those vertical images. Worries not. List Perfectly has the right tool for you. I'm gonna share a quick video, of what we do with your images before we take it, because the other marketplaces we represent with exception of Etsy or Shopify. All of it requires a very specific format that is not compatible with eBay and those other marketplaces I just mentioned. When it comes to image management, that's another number one thing. SEO, go and look at the eBay session that we have had in the past.
We also have eBay, the background remover that is so important, and we'll explain to you why we love your flower patterns or maybe your great background. Set your phones. One time, one ratio, and only take product photos in a square month.
That is so true. Kimmie, what would you like to add?
Kim
Oh my gosh. It's funny because I had never done that experiment where I've cross posted without that setting checked. I was just in awe cuz I'm like, I've never done that without the setting and I didn't realize that they cropped it so badly. So I'm, yeah, I'm in, I'm just mind blown right here.
Clara
This is why we built this. You're working all day, right? Our photo roll is all, you know our inventory and then we go on holidays and you took videos and pictures and they came in one, right? So that's why you wanna let Liz perfectly do the hard work. More eBay. I wanna show one that is important. Okay. Kimberly. What happened with drafts recently on eBay?
Kim
Oh my goodness. Oh, I felt so bad for everybody. So many people lost so many drafts and they lost scheduled listings as well.
Clara
Oh, really?
Kim
All at work. Gone. Oh, we love eBay. I love eBay. A bit that, Ooh, that hurt.
Clara
It happens, but List Perfectly. That's why we're the listing solution to come up to the rescue. So here we go. LP to the rescue. Did you know you can do drafts in List Perfectly?
Danna
Yes.
Clara
You can even convert all those drafts into listings, right to cross post. No need to go one by one. Okay.
I didn't know that. Extended to schedule listings too.
Kim
Yes. I don't know if it was the same ratio. Yeah. But I know that a lot of drafts, and then some people were saying that they had also lost scheduled listings, so yeah. It was ugly.
Clara
I'm glad that you're bringing that up because did you know List Perfectly also can import scheduled listings, so we can input ended listings, active listings, and scheduled listings. Okay. What else am I missing? Ended. Active. Active scheduled.
Kim
Active, unlisted. Active, unlisted, and sold.
Clara
Okay. We import a lot of things from eBay.
Danna
The auctions that I have running the cash register will go off on List Perfectly when my auction ends.
Clara
That's amazing. So make sure, okay, quarterly, you import, okay. Your, be you, your unsold listings that you're having, the most challenges, the ones that you're like, what's going on here? Okay. You, if you choose to relist, that's no problem. Okay? But this is the thing that I'm talking about, the tools for you to optimize leasing and understand what you need to do better.
Kim
So List Perfectly. When you take pictures, whether you do it, on your phone or whatever, and then you drag them into a draft on List Perfectly, or you take them directly into us perfectly, which you can do on your phone. The quality that you take them at, they're going to stay that quality. List Perfectly does not dumb them down.
List Perfectly doesn't compress them. Whatever you put in there is the quality you're gonna start with. If you're starting with a good quality picture and it's going out to all of your marketplaces, those marketplaces are gonna receive it, and you're going to end up with the highest quality like Clara said, if you're starting your listings on Poshmark, you're starting with the worst quality pictures that you can start with. Poshmark is always gonna do that to your photos. So if you start with those photos, you're gonna end up with those quality photos on all of your platforms. And we all know how important pictures are.
Clara
Another thing I'm gonna talk about, something that Kimmy loves to talk about. Kimberly, what do you think? How important are description footers?
Kim
Oh, I knew you were gonna bring that up cuz you know how much I love them. That was actually the tipping point. There were so many. So many, amazing things to go with the pro plan. But that was my tipping point was when I was like, you know what that's what I want. I want those footers really badly. And it's just, since you're, it saves so much time because you're not putting a different blurb or whatever you wanna call it, at the end of every single one of your descriptions, it's automated. Say on Poshmark, you want all of your listings to say, please check out my closet on eBay. You wanna say, oh, please check out my other listings on eBay. Yeah. You can go in, you can do that with each individual platform and List Perfectly go automatically put that at the end of all of your listings. And you're not ending up going to Poshmark with a listing that says, check out my eBay store. And then word alert will take care of that. It'll save you time if you just put it in your footers and List Perfectly will take care of it automatically.
Clara
Kimmie, what do you put on your eBay footer please?
Kim
All of mine, I say non-smoking home, and I don't know if everybody knows about this, but when you ship things to Germany, you have to register and it's something about having to pay a certain fee because any shipping supplies that you send over to Germany has to be accounted for. And I decided I didn't wanna register for that.
Clara
For those of you that don't understand. Okay. When I stopped selling full-time, I saw the declaration form that you have to send to Germany and I was like, no, Germany. And they pay really well. It's just, yeah, I noticed that I have to increase the price so much to make up for the time that I have to do for filling the customs forms.
Kim
Correct. Yeah. So what I do in, instead of, it being a big deal and me having to go in and specifically type in something for Grailed, for instance, I don't have to, I can go down to my Grailed, oh, actually I have it in my Grailed footer, does not ship to Germany. And the thing is with Grailed, you can't specify where you want to ship to or not. It's Europe. You can't go, oh, I'll ship to there, but I won't ship to there. You can check Europe, you can still sell to the rest of Europe, but in your footer, you've got that little blurb there so people can see it and go, oh, okay. So that's another reason I love the footers because it's, it saves me. Yes.
Clara
So important to say pet free, smoke-free, and this is your chance to sell. Please tell me why should I buy from you. I am going to eBay because obviously I don't wanna go to Walmart and get it for $2.99. I wanna support a small business owner. Tell me why am I buying for you? Is it because you're gonna get a scholarship for your kid? Is it for your retirement? You wanna be an entrepreneur? Please support my dream of being an entrepreneur. We wanna see that. Please help us understand. What's your business vision and mission? So we get more excited because we know that you're not gonna be answering and telling us a whole story of why you started your small business. But we wanna know a little about it. This is the chance to put, your restrictions, your vision, your mission,, what you recommend, and maybe, and maybe you can even put an eBay, you can put say see my other eBay store.
Kim
There you go. And that's allowable. That's allowed because it's eBay. It's not you're telling somebody, my Poshmark, it's another eBay. So you're good.
Clara
It's absolutely permitted. Go and see my other eBay. I used to have many eBay stores. Okay. Because I segmented. But that's something that I really recommend.
What a session! Wow. Last, okay, Dougie. Last words of wisdom, please.
Doug
Oh, last words of wisdom. I was thinking about this if, and we've mentioned it, but if somebody asked me what's one piece, it's patient. Cuz I was not patient when I started selling.
Clara
Now I wanna make my, oh my God, it's been twenty-four hours lost. I haven't sold anything!
Doug
I've never had a ton of listings and I didn't lose thousands, but I probably lost a few hundred dollars by being impatient. So be patient and evolve. Be willing to learn.
Clara
Absolutely. Thank you, Danna. That was amazing. Doggy. Thanks. You're big on your shoulder. Okay. Our Hall of Fame, eBay. Incredible. Okay. So what would you say? Words of wisdom for people that have been already selling on eBay, but they wanna take their eBay game to the next level, but it's intimidating. More listings, more things to manage. Ah, can I do it? Should I do it?
Danna
Just do it as Theresa would say, jump in. No. One other thing I wanted to mention, although, it's hard to beat Doug's tip because Doug's tip was very good. Especially if, someone sends you a message and it's irritating. Sleep on it. Don't write back and go when you're angry. Never respond when you're angry. That is one tip that I have.
And the other tip about the photos is to back them up, the photos.
Clara
Sometimes new sellers or not the new sellers that are ready to take the next level, they're like, Ooh, I'm gonna try this percentage, and this the listing and this amount of per, and it's, the things are on the simplicity of answering messages in a timely manner, right?
Because if you think that promotions are gonna do the job, and then you're, answering messages, okay, five days later or you're answering messages after you ship the item, That's a, anyway, thank you. Don't be paying a 10% percentage of promotion and hoping that will increase your sales. Okay. Just wanted to mention that. Okay. That's my 2 cents. Kimmy our incredible LP community leader for our amazing List Perfectly Facebook group, tester, so much more. What would you suggest? Okay. For our audience, please?
Kim
Raise your prices.
Clara
Kimmie, anything else you would like to add besides raising prices? That was a good one.
Kim
Give yourself some grace. Set your goals and don't, and don't set your goals too low, but don't, give yourself some grace. If you have a goal, you don't reach, don't beat yourself up, yeah. We can't do that. We can't do that and be sustainable.
Doug
Thanks for joining today, everyone. We appreciate it. Thanks for sticking with us for this eBay Beyond the Basics Live.