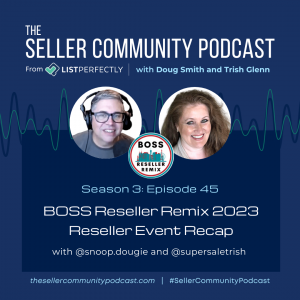 This week on The Seller Community Podcast from List Perfectly, Trish and Doug give their recap of BOSS Reseller Remix 2023, all the details, takeaways, speakers, sponsors, and more. They also spend some time talking about List Perfectly's Pro Plus features and why you should try them right now!
The Seller Community Podcast from List Perfectly is the e-commerce resource for the seller community across all platforms and a hub for information on growing your business. Find out more at thesellercommunitypodcast.com, leave a message or ask a question at anchor.fm/sellercommunitypodcast, or email us at podcast@listperfectly.com.
Links
Seller Community Podcast on Anchor
Doug Smith (snoop.dougie) linktree
Trish Glenn (Super Sale Trish) Instagram
Episode Links
Transcript
Trish: Thank you for tuning in to this week's Seller Community Podcast brought to you by List Perfectly and Listing Party. This week, we're gonna discuss BOSS Reseller Remix 2023. Really excited, Doug. How about you?
Doug: Yes. Three years in. Have you noticed my shirt, Trish?
Trish: I did notice your shirt, Doug. You're repping for BOSS. Good for you. Good for you. I did not have that much thought process this morning.
Doug: This is my BOSS 2021 Vintage BOSS Reseller Remix.
Trish: I don't really think it's vintage yet, but…
Doug: I believe it's double stitched, Trish.
Trish: Gotta wait 20 years, Doug.
Doug: Depending upon who you talk to, I do it to get the shirts. Year two, my shirt was stolen, technically. My bag was stolen, but it was okay.
Trish: Okay, good. I'm glad it was okay.
Doug: I have this one, my special. And then year three, I don't know what happened.
Trish: They didn't do shirts in year three. That's what happened.
Doug: I spoke the first year you spoke the second year.
Trish: Nope. I spoke the first year and the second year.
Doug: I think I was temporarily banned, but the ban was lifted because I was able to weasel myself back on stage. Actually I got on stage last year too. So nevermind. Perhaps I wasn't shadowbanned. I'm just kidding about that.
Trish: Shadowbanned? What is this? What is this? TikTok? You're being shadowbanned by things?
Doug: I'm shadowbanned. I only get 200 views.
Trish: Exactly.
Doug: Which happens, I get like 220.
Trish: Yeah, 200's the number.
Doug: Oh,
Trish: I am sure BOSS got a lot more than 200 views. So tell me Doug, what you thought of this year? I thought this year was great.
Doug: Yeah. Yeah. So anyway, BOSS Reseller Remix was in October in fabulous Las Vegas, Nevada, organized by our friends, Theresa Cox, Katy and Vikki Zilverberg, third year in.
Trish and I have been there all three years. I always love this event. We see so many friends and I think it's always a great event. Always fun to spend a week in Vegas. I thought this year was great. I really liked the programming. We'll talk about that. I really like the setup.
There were some new vendors there this year. I talked to a couple of them. That was great. And again, we saw a lot of seller friends made some new ones, spread the gospel on List Perfectly, a lot of the choir was there.
We had a good time. But we'll talk about learnings in a bit when we go over some of the speakers, but how about you, how were BOSS Reseller Remix 2023 for Trish.
Trish: It was good. It was really good. I had a great time. Diane Lassonde was there. She had her Fearless Living Fund that she started last year at BOSS gave out its first checks this year, which, so it was a little emotional, a little heart tuggy for me. I always find it a little difficult. Diane is, my best friend in the world, so sometimes it's a little… Hard for me, she was wonderful. They gave out three scholarships two to people who are at the blind center and one to our own, Pam. Pam won a thousand dollars for her reselling journey which was great.
And we all make fun of her because she's like the luckiest girl. We know she wins lots of stuff all the time. Pam Arnold. And it was lovely that Pam won, she is such a nice woman, and she helps in the community and she's always there to answer questions. So it's great when somebody wins who you feel really deserves it. So that was wonderful.
Doug: Very nice lady. Wait, hang on. Stop the show. Very nice lady. Her husband is a magician. Close up magician.
Trish: He is. He did a little at the party the last night, little hand, little sleight of hand with some magic tricks card based, I think.
He's nice. They're fun. They're fun. They're a really nice fun couple. So that was great. She won. And the last night that they have a party, the last night and the party this year was inside and outside, which was really fun. I really liked that. They had an outside space. It was great. I really enjoyed that.
Doug: It was fun. So a couple of things really quick. Diane Lassonde has the Fearless Living Foundation. And so that benefits the Blind Center for Nevada in different ways. Lots of fundraising, lots of donations. And we'll have Diane on the show soon. And she's Trish's best friend. We all love her. But we will, we'll tell that story soon, but yeah, Fearless Living Foundation is a great resource.
Trish: I think it's fund, Fearless Living Fund. We will make sure we give you all the right, I'm almost positive it's fund and not foundation.
Doug: We'll put the link, and then we also did a group costume for the party.
Trish: We did. It was you, me, Diane, her daughter Jen, and Casey Parris. And we came as the three sisters from Hocus Pocus. Sanderson sisters, I think. To be honest, I've never seen the movie. And, I know, I'm sorry. And Doug was some kind of, I don't know what you were.
Doug: Billy Butcherson. The zombie, but so here's the story. So Trish calls me probably a month or so back. She's Diane wants to do a group costume for the BOSS party. Are you in? And it's of course I'm in. I was shocked. You had to ask. And then she said, we're doing the Sanderson sisters. And of course I said, who the hell are the Sanderson sisters? I know the Andrews sisters, of course, I know a very obscure old reference and she goes no from Hocus Pocus. I was like, oh…
Trish: I would have known the Anderson sisters. I could have sung Biggie. I could have done that. The Sanderson sisters was over my head. So go ahead. I apologize.
Doug: Did you say boogie bugle boy from Bumblebee?
Anyway, so of course, instantly I was like, which sister am I?
Trish: Yes
Doug: the sister roles were taken. So I had…
Trish: I forgot that Jen was coming, and I was like, Oh yeah, you can be one of the sisters. And then I tell Diane this and she goes there's three women. Jen's coming.
Doug: Oh, okay. I apologize. And of course I would choose Sarah Jessica Parker. Sex and the City, Square Pegs.
Trish: Of course, Square Pegs, I loved that show.
Doug: Yes.
Trish: So you were Billy Butcherson, is that his name?
Doug: Yes.
Trish: And then Casey was a cat.
Doug: Yes, originally, I had chosen the cat because I wanted to learn the accent, because he speaks in a British accent. That kind of comes and goes, by the way.
Trish: Yeah, I feel like I now have to go watch this movie.
Doug: It's good, it's a good, it's a good holiday Halloween film, family film, very popular. but we did that. Also Diane's fund did a great auction. Many things were auctioned off.
Trish: Including a date with Dougie.
Doug: Zoom date with Snoop Dougie, which was won by the fabulous Suzie Eads. I still got to set that off. We'll do some zoom pizza.
Trish: Yes.
Doug: First Date questions, see how it goes. And like I've said, If the first zoom goes well, maybe there'll be a second.
But so this is a great event. It's interesting because it's basically a week in Vegas, which is a challenge. It's down there downtown, it's down on Fremont street. And they tie a lot into it, a lot of social stuff. So first night was what's always cool to meet and greet, to get back together and see, Hey, what's up everybody nice to see you.
Trish: And it was at a new place this year. And we were the only people in there, which was nice. and it was, you just walk down Fremont street, and you can get there, which is good, not having to drive anywhere. So you just walk down, and the club was nice. And Kat the Nurseflipper was there, and she brought her son because last year, he could have gone in the place. So this year, they couldn't let him in because he wasn't 21. Dalton was sitting outside saying hi to everybody. The little prince. He's got these chairs and he's saying hello to everyone who walked in. He was just the cutest. He's the cutest kid. He and I walked down and saw the praying mantis that breathes fire, and he would jump every time the thing happened. It was really cute. So it was fun. You saw people that night, it was a little dark. So every time I went outside, I was like, Oh, I didn't see you.
Doug: You talked to me!
We walked over here together.
Trish: Exactly. And then so that was nice the first night and then the, it started that next day, I think a registration started at 10 or 11 and so that there was some programming, they've added like a half a day of programming instead of two full days, it's two full days and a half.
So that started the next day. And then that night, was that a container park? No, the first night was off. Then the next day, all full day programming. And then that night, everybody goes to this place called Container Park, which is made out of containers.
Doug: Yeah. It's places.
Trish: Yeah. Little restaurants. It was cute. And then we all walked down Fremont, which is always eye opening.
Doug: Yeah, there's always something going on there. The Fremont Night Crawl. Started at the container park with the optional thrifted outfit contest, which was fun.
Trish: Some people really dressed. It was cute. I did not. I did it last year and I was miserable, so I didn't do it this year.
Doug: It does get warm in my blazer.
Trish: Exactly.
Doug: One of the stars of dressing up is always the fabulous Jodi Bagwell.
Trish: Oh, yeah. She always has an outfit on. That girl's dressed.
Doug: Yeah, and even just showing up is so fabulous.
Trish: Yeah, yeah. She's dressed all the time, no matter what it is. Never mind with a theme, then she really dresses. She is always on point. point. And Allison, Big Drift Thrift, Allison, who lives in Alaska, she had on a costume from a, I guess it was like some kind of dinosaur, Tyrannosaurus. Yeah. And she kept trying to eat my head.
Doug: Trish was shocked that no one would run over to help her. I knew it wasn't a real dinosaur.
Trish: Yeah, I know. It was very sad. I have all these photos of me getting eaten and no one was helping me.
Doug: Unbelievable. We knew you'd be okay. We knew you'd be okay. Let's go over some of the speakers, remind people who were there. And then I didn't see a ton of the presentations, but I did see some that I'd love to comment on.
Trish: I saw none. I'm going to be completely honest. I didn't see any presentations this year.
Doug: Not even me.
Trish: I didn't even, no, nothing. I saw nobody.
Doug: Amanda was there too, but I was facilitating.
Trish: Everybody went outside when you did it. Everybody from LP went outside and watched you and Amanda and I stayed at the booth.
And so Leslie and Danna and Josh all went outside and watched, and I stayed at the booth. So I literally, that's what I meant. I literally never saw anything.
Doug: Amanda talked about Pro Plus and I helped facilitate and take questions. That was great. And I'm looking at the speakers, Katy and Vikki, Theresa, the hosts, Dominique Hollins, our friend, was the MC again, always does a great job.
Adam Ireland was their VP and General Manager of the U. S., and he got up there and… Early on, was interviewed by Anna Packer, who loves that we call her the new eBay It Girl.
Trish: She is the new eBay it Girl.
Doug: She's everywhere. And she's got that new podcast with the boys.
Trish: Yep, Hustle Bee and Hustler Hacks.
Doug: Yeah, the Seller Club podcast, which is great. Give that a listen. And speaking of podcasts, our friend Maggie Scivicque was there from the Get Thrifty podcast. That's a great one too. The Arc Thrift Get Thrifty podcast. She did a great presentation on the thrift stores working with you and you working with thrift stores. That was great.
Obviously, our buddy, Kevin Brown, Commonwealth picker had a good presentation. He's always great.
Trish: He was a teacher in his former life. He really knows how to give a presentation. I enjoy listening to him.
Doug: John Dugan, Reseller Rabbit. He stood out. I think he was the one that kind of talked about organizing and, being business minded. I think a lot of people like that one.
Libby, Molly, and Samantha, Consignment Chats, ladies, they're always great. Kristen Lott, Rural Squirrel, they have a podcast as well, the Let's Do Lunch podcast.
It was a year of podcasts. The Mighty Griff was there with the eBay for Business podcast.
Trish: Yep. It was the podcast year.
I Talked to this lady, Tiffany Lundy, Vintage Curator. Talked to her a little bit. She's really big on Whatnot, so I talked to her a little bit about Whatnot.
Doug: And then I did see this presentation, too, with this lady, Tiffany Stewart, TiffyPie, Jill Yank, and our friend Sara Boykan. And they talked about Poshmark and selling on Poshmark. And Tiffany tied List Perfectly into her Poshmark success. and expanding her business to other platforms.
Trish: Yeah, that was great. And what's interesting about that to me is the first two years of BOSS were really eBay focused because Vikki, Katy and Theresa are mainly eBay sellers. They are now all branched out into multiple things. And so because of that, things have changed, there's other platforms, whatnot was there as one of the vendors, Poshmark got brought up a lot. It wasn't so eBay focused. It was more reseller focused. If that makes sense.
Doug: And I think that's a good thing. I think the landscape has changed in the three years, last three years. Our buddies, Angel and Crystal Lowlife LV and Rosie's Closet.
Trish: Yep. They talked about like from a local standpoint; I believe they were on a Las Vegas panel.
Doug: And speaking of Las Vegas, the always smiling, always fabulous hair having Sonny Las Vegas.
Trish: He's adorable.
Doug: He is a cutie.
Trish: He is.
Doug: A couple of people asking about him. Can you introduce me to him? Yes, I can.
Trish: Yes, I can.
Doug: The I'd Flip That team of Joe and Nicole did some reseller showdown stuff. That was cool.
Trish: That went over really well. Everyone who spoke about that loved the reseller showdown.
Doug: Yeah, that was fun. And this is such a nice guy, and she is too. Kevin and Brenda Beeson, KBW bargains. We talked to him a couple times and he's doing a lot of pickleball content on TikTok.
Trish: Really now? Pickleball is like sweeping the nation, man.
Doug: Have you ever played it?
Trish: I have not.
Doug: It's super fun. I have played it actually.
Trish: Okay then.
Doug: And then special appearances by Ken Gitano, the Hustlebee, who did a fabulous whatnot auction at the end, and they raised what was it, something insane, like 10 grand?
Trish: I think 11.
Doug: 11 for the Blind Center of Nevada.
Lots of cool auctions. I think the biggest one was the five, or $5, 500 one of a kind eBay hoodie handmade by a local artist. It was cool. It was cool. And then I did see Wade Coggins, Wade's Ventures there, but he had to leave for some reason. I don't know if an emergency came up or something.
Trish: I have no idea. I never saw him.
Doug: Okay. I saw him one of the nights briefly and I was like, Oh, I got to go say hello to Wade. But it's always Oh, Hey, we got to take a picture. And then you never, you got to say hello. Take a photo. Take a picture right away. Even if it's in a dark club.
Trish: You have not learned this from me?
Doug: You'd think I would.
Trish: You would, because I am really good at, I immediately have that camera out.
Doug: We took pictures in the dark club the first night, and only Trish was lit up like a glow from above. Trish never takes a bad photo.
Trish: Never is an exaggeration, but I do have my selfie game down.
Doug: That's right. And of course, the Seller Community Podcast, eBay for Business Podcast and The Get Thrifty podcast.
Trish: Yeah, it was great.
Doug: And I got to spend a good amount of time with Griff. So we talked about some stuff. So I have an episode on that. I did sit down with. Anna Packer eBay it girl, that was great.
And talked to some other sellers, but we're going to, we're going to have some one-off episodes based on some of the conversations I had as well.
Trish: Great.
Doug: And then like you said too the sponsors. Obviously List Perfectly was the main sponsor. We were there, eBay, a lot of the usual suspects. Brian Burke, of course, was there, Adam Ireland, got to see my buddy, Jonathan Chard, who works on the mobile team up at eBay, Portland.
Trish: And then they brought in growth advisors.
Doug: Yeah. Let's go sit down and look at your account.
Trish: Yeah.
Doug: Whatnot's really expanding into a lot of events right now. So that's good. Cool to see those guys. They're growing.
Trish: My Reseller Genie was there.
Doug: Paul and faith.
Trish: Worthpoint. Eric was there from Worthpoint. Worthpoint in my opinion this year best swag ever was Worthpoint.
Doug: Yeah. They had the little, so it was interesting because they had, I talked to the guy that was there and he was super nice and super enthusiastic and he was like, it's so you work for Worthpoint and he's this is my first day.
Trish: No, he doesn't. Do you know who that was?
Doug: No.
Trish: Oh, that's Danni Ackerman's son.
Doug: Oh, all right.
Trish: Worthpoint was supposed to have two people, and somebody couldn't come. So they wanted somebody who could help Eric sit at the booth. And Danni is a Worthpoint person, and her son uses the product cause he works for her. So Danni's son came every day and he's a 19-year-old guy, I don't know how old he is. He's over 18 and he came every day and sat with Eric, but yeah, that's who that was. And, but Worthpoint had view masters. And then inside the view master was of course a view disc and it was different Worthpoint things, talking about different items and how much they cost and stuff. It was adorable.
Doug: That is cool. I remember the view master from. Back in the seventies.
Trish: I had one. And so my dad started collecting them maybe when I was 40 or so, he got on this view master kick. So I haven't thought about this since he died. There's got to be a box with like hundreds and hundreds of these things. I'm going to have to go find it because he had all different ones, all different view masters, like from when they first came out. But we used to buy vintage views, so yeah, it was fun. I'm gonna have to go find those.
Doug: Yeah, that is super cool. And again, I'm looking at the sponsors here. I also talked to Rebecca Smith from Thrifty and they're super interesting. They're an app that lets you sell and buy secondhand goods through Thrifty managers around the area. The managers are vetted professionals in the community who work with Thrifty.
Trish: So it is, it's an interesting concept and its brand new. I think it's still really in beta. And so you become a thrifty manager and then people drop their things off to you and you have like almost a consignment contract with them, but then you can sell them if you have your own yard sale, if you are big on Facebook marketplace. So it's like local sales. It's not like for selling, for shipping. So it's good for like larger items. So if maybe you're a seller. And you sell but you have things that are too big, and you don't want to ship them or too difficult to ship, but it's a great deal. Somebody like this would sell them for you locally.
Doug: It's a cool concept. And I interviewed her right after she got a call that she had gotten some funding, not a ton, but she was super stoked. So she was a nice lady. Very exciting. So lots of great sponsors, lots of great speakers.
So Trish, I want to ask you, so your three different years, you had different roles across the board. First year you attended, and you spoke, second year you attended and spoke, and I think you were working for LP then, and then third year, logistically, you were running the show, telling people what to do setting things up, all that. Tell us about the differences for you between the three years.
Trish: For me personally, I really did not speak to people this year. I really focused on working for LP and making the most out of that for the company. The first year I like, I think I probably talked to every single person who went, just cause that's how I am. The second year I worked for LP, but I also had already committed myself to do registration for Vikki and Katy and Theresa.
I only worked for List Perfectly, like two days out of the three. And this year I really just worked for LP. So unless you came up to the booth and sought me out, I did not speak to you. And it is what it is, right? It's a job. So you do what you gotta do. But I would absolutely recommend this.
It's a great conference. It is resellers really, helping other resellers. I do think if you're somebody who is new or trying to expand or wants to get better, this is a great conference. I also think it's good if you need the motivation. If you're somebody who finds it difficult to keep motivated, this will motivate you to try to get to wherever you're going.
And meeting people in your same situation, having contacts, being able to call people. It really is. It's a great thing when a reseller can help another reseller, because what we do can be very solitary. You're sitting in your house by yourself. and sometimes you just want to say to somebody else, I did 50 listings today, so somebody else would be like, yeah, good for you. Whatever it is.
Doug: I really do love this conference for a couple of reasons. We did a lot of conferences this year, and obviously Camp LP, I was, was super involved in that, and that's a fav. BOSS Remix is always going to be special to me, because obviously Katy, Vikki, and Theresa are close friends, and for me, It's very relaxed. It's very familiar. It's very comforting. I know a lot of people. It's cool to see so many old friends and like we've done it three years in the same spot. I've got the Blind Center down, like the back of my hand. I do enjoy Las Vegas. So that is,
I think it's spaced out. It's not rushed. And I just enjoy it. It's always good. And I always enjoy the networking opportunities and it's always good to see my eBay friends and always good to see our seller friends.
This past year has been very interesting with seller conferences because it seems in a lot of ways, it was the year of seller conferences because they're all back and especially for you. So we did Listing Party in the USA, the Listing Party in the USA tour, where we went around to a lot of like local meetups. Then we had Camp LP and then we had, I know I'm going to leave something out, but we had eBay Open, we had PoshFest.
We had FlipCon, Reseller Rally. A lot of them were packed into a month or two. So now people are saying, organizers are looking at the calendar and they're saying, we got to space these out.
So BOSS has said that they're not going to do a 2024. They're going to push out into 2025, probably earlier in the year, which I think is good. eBay is probably going to stay where they are September, October. PoshFest, Manish Chandra, the CEO of Poshmark likes to do it in October. I think that's his birthday month.
Trish: Yeah. That's what we heard. So we think that's true.
Doug: Flipcon is up in the air. We're not sure, but so talk about just high level. Your experience with events this year, this is the last one. We're going into the holidays. We're well into Q4, by the way, if you haven't planned for Q4, now's the time to get started.
Trish: If you haven't played for Q4 list as much stuff as you can immediately. So I think there was a lot of things this year. It's amazing how many people went to a lot of them, the same people. There are some people that I saw this year over and over again. Cheryl. Yeah. Yeah. I saw her multiple times.
Suzie Eads saw her multiple times. There were a lot of people who went to multiples, and I think it's interesting now. So we'll see how it shakes out in the wash. I do think that they need to be spread out a little bit more. Because I do think there are a lot of people who would like to attend more than one.
Just like I said at the beginning, when what we do is really a solo thing for most of us. So these really do add a lot to your Bottom line as in like how much education and learning new tricks and meeting people and filling up your cup full of, promises and greatness and this can work, and I can do this and so did it. I can do it. It really helps. So for me, I think high level, a lot of them were too close together. But it is what it is. So we'll see this year if maybe they get spread out a little bit more.
Doug: So Talking about the solitary nature of what sellers do, accountability. If only, Trish, there was somewhere that sellers could go to chat, to get motivation.
Trish: Now that you mention that there is something. So he is making reference to Listing Party, which is a site that List Perfectly started. It's called Listing Party, Listing Party. com. If you are a client or a member of List Perfectly, you automatically belong to this. You just have to go in and create a profile.
It's free. And on there we have different things that you can do. So one of them is I run a mastermind every morning at nine o'clock Eastern. And we started a new thing now, we're doing a different topic every week. And I made the topics up a couple weeks ago for the whole rest of the year.
And that's working out really well. I've been averaging about 35 people a day at the moment and it's going great. But I think the reason we get that kind of turnout is because people need this. You need the accountability. Not everybody, some people. Some people will work till their fingers bleed, and they don't need it, but some of us need to know that other people are going to, wonder how we're doing, or we're going to have to share our numbers or whatever. So Listing Party, but then there's different ones. Doug has one on every other Wednesday. Is that right? Twice a month. That is just like fun. They talk about different topics. Sometimes its seller related, sometimes it's not, there's like eBay one on one there's LP one on one. There's also, I think Theresa is going to have an eBay basics, like for newbies to get some of the eBay stuff down. I do a six-figure mastermind about what you have to do to get into the six-figure club.
And then there are specific, one of the consignment girls, Samantha did one on just Canva last week and she did one on just Photoroom. So it's a place where you can come and learn things. But they're interactive. It's you know through video conferencing so you can talk you can ask questions; You can be on camera or not. You can use the chat. It's just a place that you can really ask your questions And then LP has a 4 1 1 every single day with a tech person. So every single day Monday, through Friday, not on the weekends. There is somebody from tech who's in a room for an hour that you can go in and ask specific questions.
How do I do this? How can I do that? Listing Party, to me, is like a conference that's happening all the time. A little less rigorous as in how much how much content is out there. It's a little less rigorous in that way. But I think if you're somebody who wished you had gone to these conferences, if you're somebody who thinks that you might like them, try Listing Patty, because you really do get a taste of what a conference is like in the sense of the interaction, you can ask questions, you can get things.
I did a presentation yesterday; I made a PowerPoint all on linktree and why everyone should have a link tree associated with their socials and what it would do for you. And so it's great.
Doug: Yeah. It's a lot of those little things too, that add up, but like you said, too, its kind, to me, it's going to the gym, go with a buddy, have accountability. Or in a lot of ways, working honestly, working from home, it's easy to get distracted working from home, so you've got this, you can tune in with these people and connect, and, like me, I've worked from home for many years, Trish, I rarely leave the house.
Trish: I don't leave the house very much either, unless I'm going somewhere but here's the thing. Working from home can do the opposite also. I cannot tell you how many days that my husband has come in and said to me, you've been out here doing this for eight hours. And I'm like, I have? And I'm talking more about when I was listing, not working for LP. Cause when you work for LP, you're doing different stuff.
And you always know what time it is because, you might have a meeting or you've got to meet with somebody, things like that. But when you're just listing and you're working, sometimes you're like, what the hell I've been out here for, when you stand up and your legs are cramped, and it can also help in that way also can help you maybe have a balance a little bit better.
Some people go one way, some people go the other, and maybe we can, help balance in the middle.
Doug: Exactly. Yeah. So that's great. Mastermind and so many other things at Listing Party. com. But to sum up, Reseller Remix, always a great event. BOSS Reseller Remix. All the info is at Reseller Remix. com. There's a Facebook group you can join if you want to get the FOMO. And just keep an eye, a lot of your friends there, a lot of motivation. What else on that to close up Trish?
Trish: And I was going to say, I think the Facebook group is just, if you have a ticket, but everyone should join BOSS, which is business for online seller success. That's what BOSS stands for. That was a Facebook group started by Theresa Cox. And then Vikki and Katy, of course, came in later. But definitely join BOSS. BOSS is a great overall Facebook for online selling. They're very good about people who are new asking questions.
But when you're in that group, you'll hear about Reseller Remix. So if you're interested, please join that. It's a great resource. And of course, join us List Perfectly has a group of their own. You do not have to be a List Perfectly customer to join, but please join. We'd love to have you. We would also, put it in there when tickets go on sale and such.
Doug: Yeah, exactly. Yeah. We help spread the word. We also sponsored pretty much every seller event this year, which was great.
Trish: We literally did.
Doug: We literally did. Yeah.
Trish: No, like literally.
Doug: We did. We totally did.
But before we go, Trish, have you heard about this Pro Plus plan?
Trish: So I have actually you heard about it, Doug?
Doug: I have, yes. So we wanna make sure everybody's heard about it. So we've got basically we've launched this Pro Plus plan and we've got this limited offer that's been extended to February 15th, 2024.
So basically you can get Pro Plus features with a pro plan subscription until February 2024. You pay the 69 a month. And then you get these Pro Plus features basically to try out and we'll go quickly over, but they're game changers. I've heard people say that it's cut their listing time in half or nearly in half, 40%.
Trish: Yeah, it gets spoken about quite a bit at Mastermind in the morning. And one of the things that has really, it's called list assist, I believe. And if you start a title, it will fill in the whole, it will build you a description and build you up. It's amazing. And I've had at least four people tell me they're not going to use VAs anymore.
Because this is a way that it does it as fast. And they don't have to pay for somebody else. Wait, you're not sending somebody photos and waiting and stuff like that.
Doug: Listing assistant uses AI that builds your listing starting with the title, or you can scan a barcode and it builds everything for you, your description, size, color, keywords, and even in some cases, images and pricing suggestions.
Trish: Yeah, if there's images associated with it, if it's a new product and there's images associated with it, it might pop them in too. So it's an interesting thing. You never know what you're going to get when you first start, but it's really awesome. It has been a game changer. Another thing that people seem to really like is the ability to Move the dashboard around so you can customize it. So it's the things that you use. So you're not having to stay within, a certain look. You can move things and change them. So it's the way you list can help with that.
Doug: Add and delete columns in that new customizable listing dashboard. Improved mobile interface. Inventory labels. This is cool for some.
Trish: Yeah. So for people who have real inventories, unlike my lovely co-host here sorry, by the way, I know I'm sorry, Dougie. It will print out a QR code that will have your SKU on it and stuff. And then if you scan that, it will bring up the listing so you can make shipping faster. It can help you with making sure if you're doing inventory, which I suggest everybody do every once in a while, I'm on a rotating inventory schedule. We do so many buckets a week. Or so many letters a week, so you can find things very easy with this new QR code. It's awesome.
Doug: Cause even I'm like every once in a while, I just thought I sold that fake dragon skull.
Trish: Douglas.
Doug: But also shipping status and pull sheets.
Trish: A pull sheet awesome. Monday of this week, I think I had 78 that I had to ship. So being able to put out a pull sheet that combines all your platforms that's awesome.
Doug: But I have five bins that I can picture in my head. So I'm like, but and then a couple other exciting things, multiuser access with distinct.
Trish: Exactly. So if you're somebody like me who has people who work for you, you can allow them to have their own login and then you can dictate what kind of they can do and what they can see. So it's great for, employees, things like that. It's going to be awesome.
Doug: And then you've got increased photo background removals. And then we're also tying in with these multiuser accounts. We're calling it shared limits. So basically, you've got these things, your photo background removal, some of the AI stuff, you're going to have increased limits shared amongst all of your main and sub accounts.
Trish: So if you are the only one who's doing the listing, if you do all of them and the other person, it's not like you can't use both. You can get access to both of them.
Doug: Exactly. Bulk editing tools are cool. Yeah. Save, saves you a ton of time. Sales information is gathered automatically and added directly to your robust analytics.
Trish: Yeah. Analytics are one of those things that anyone who has been around for a while and knows Theresa Cox analytics are her like favorite. She would like is all the information all the time. I don't even pay attention to it most of the time.
Doug: But and then there's a couple, so there's a lot more coming to this, but there's a couple of things in beta and this one thing I know Trish is particularly into is listing sync.
Trish: Yeah. So you can go out and it will tell you I like the link. The sync is good too, but there's two, there's link and sync. Okay. Yeah, exactly. Link is on all accounts. Any level, so link will tell you if it's linked to an active item on any of the platforms.
Doug: Yeah, that's cool.
Trish: Sync will tell you where it is, what it's happening, what links are broken, what's happening. So they do two different things, even though they're similar. but link and sync. I think being able to hit something and to know what kind of state you're in is wonderful. To be able to know, oh crap, I really need to work on this or fix that or how did this happen.
And we all know this. Listen, I've been an eBay girl for a very long time. I love eBay. I will tell anybody in the world. I love eBay, every once in a while, they drop stuff and before List Perfectly you would have to redo that listing., redo it because it wouldn't be there.
You would have the item, you had listed it, it is gone. And eBay says, Oh, that doesn't happen. And but now with, LP, you can just go out and find it again and make it live again.
Doug: Click that link. Then sync. Link and sync. Sync and link. Link and sync. They sound like a little rap duo.
And then a couple other things. So basically, Amanda has said all this has been in planning since List Perfectly started and they've had different steps to get here. An early step in all of this was sales notification, which is great. You get notified on your mobile device or whatever when you have a sale, and you can easily go in and delist. And this is, again, in private beta, but auto delist is coming soon that will remove listings for you automatically, so stay tuned for that.
But basically, so this is Pro Plus, and again, we want to push this, so you take advantage of this. This is basically, like Trish had said, this is basically going to become your virtual assistant.
Trish: Yeah, and it's at the same price right now as pro. So you can opt in, use the features until the middle of February, and then you'll just revert right back to pro. And then you can decide what you want to do. But here's the thing, you could do a lot of work between now and February 15th, right? Use link, use sync, do all the things, get your catalog, get your listings in the best possible position, and then you can decide what you want to do going forward.
Doug: Take it around the block.
Trish: Exactly.
Doug: Try out that nav system, the sunroof. And so yeah, if you're in pro, you can opt into the Pro Plus features from there. If you are in simple or business, just upgrade to the pro plan and you will have access to these features as well.
Trish: Exactly.
Doug: And more stuff coming soon. And keep in mind too, this is a huge opportunity to also opt into the referral program. If you're not doing that, it's so easy to sign up. It doesn't cost you anything. This is going to give you something great to push. And get you some of that referral money. We have some sellers that are making thousands a month in referrals.
Trish: We do.
Doug: Which is pretty amazing.
Trish: We have a couple who make over six figures a year. That's crazy to think about. And with the Pro Plus. The ability to I really think if once you try it, you're going to understand why it's so good. So it's really an interesting thing. It is, it's a great product. I'm really, I'm thrilled with it.
Doug: And then, if you have questions, there's always the Facebook group. We are going to do specific Pro Plus one-on-one listing parties in Listing Party we've got the one-on-one calls where you can go in the tech support, one on one calls.
There's Theresa's call, Theresa's Listing Party. You can ask questions. Cause some people are either nervous to try it or they're like it's too much for me. This is the opportunity to try it out.
Trish: Exactly.
Doug: Here's the deal. If you try it out, basically this week, you're going to have 90 days to try this out.
Trish: Correct.
Doug: This basically, discounted price. And then again, on, after February 15th, 2024, the day after Valentine's Day, Trish.
Trish: Okay, I'll try to remember that, Doug.
Doug: Just look for the roses. Pro Plus features conclude and you don't have to do anything. You'll switch back to your previous plan.
Trish: Yeah, everyone will get switched back. So it's not and you're not going to get stuck if you think, oh I'll never remember or whatever.
Doug: But basically we're saying here, try this Cadillac for three months, see what you think, try HBO for the weekend, see what you think, try Sirius XM for three months, and that's the thing, if it's not for you, it's not for you, we think it's going to be for you, but if it's not for you, we're not going to hound you. No worries.
Trish: No worries!
Doug: But I'd be surprised if you try it out and then, you don't like it.
Trish: It's going to be awesome. I'm really enjoying it. And Doug is really right about the Listing Party aspect. If you're somebody we want to help you, we are only successful when you're successful. We built Listing Party just for this and, please come in, use it. I am under the opinion that Our lowest plan, which is $29 a month is worth the wait for Listing Party alone. You will get more than 29 a month worth of information out of there motivation, information, friendship, fun also, we do have fun over there. So Please, if you're an LP person and you have not joined Listing Party, please do it. Come in, say hello. We want to see you. And if you have not opted into the Pro Plus, I'm going to suggest you do and at least try it out at this price.
Doug: Exactly. And let us know what you think too.
Trish: Yeah.
Doug: And speaking and letting us know what you think. So our website is thesellercommunitypodcast.com. You can go over there, see the show notes. You'll see links from today's episode. You can review all the other episodes, the 140 plus three years in three seasons, we're gearing up for our fourth season, Trish.
Trish: I'm so excited, Doug.
Doug: That's right. And you can even listen there and then you can get some merch if you like there's a contact form there. So if you have suggestions, feedback, input, you can click that and shoot us an email. And we want to hear what you have to say what you like, what you don't like.
We'd love for you to review us on Apple or Spotify. Helps us grow. So just let us know what you think.
Trish: And we'd also love it. If you have any ideas, you have an idea for a podcast, maybe you want to be on, you have an interesting story you'd like to tell, please send us an email. We'd love to hear it.
Doug: Yup. Yup. And you can email podcast at List Perfectly. com or use that contact form at thecellercommunitypodcast. com. All right.
Trish: All right. Always a pleasure, Doug.
Doug: Always a joy speaking with you.
Trish: Always a joy.
Doug: Thanks for recapping BOSS Reseller Remix 2023 with me.
Trish: My pleasure.
Doug: All right. And thanks everybody for listening, watching, all that. And we will see you next time. Can we do that together? Ready Trish?
Trish: What are we saying?
Doug: I'm gonna say we will and then you say see you next time.
Trish: Okay.
Doug: Ready? We will…
Both: see you next time.
Trish: You did it too slow. Do it again.
Doug: Alright, ready? We will…
Both: See you next time.
Doug: Perfect!
Trish: No, do it again!
Doug: Alright everybody, we will…
Both: See you next time.
Doug: Alright, I love it. Thanks Trish.
Trish: You love it! It's gonna be like a blooper reel.
Doug: Yeah, there you go. I'm keeping it in though, you know that.
Trish: Bye Dougie.
Outro
Doug: Thank you for joining us on The Seller Community Podcast from List Perfectly. You can find us at thesellercommunitypodcast.com.
Leave a message or ask a question at anchor.fm/sellercommunitypodcast. You can email us at podcast@listperfectly.com.
You can post a question for us in the List Perfectly Facebook group at facebook.com/groups/listperfectly.
Listen to The Seller Community Podcast anywhere you listen to podcasts and be sure and subscribe, tell your friends, if you're on Apple Podcasts or Spotify, please leave us a review.
You can always use our promo code podcast. That's P O D C A S T for 30% off your first month of List Perfectly or 30% off your first month of upgrading your plan.
Thanks for listening.