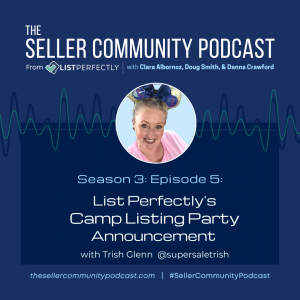 Trish Glenn, List Perfectly's Director of Operations, joins us to announce Camp Listing Party, List Perfectly's first seller event this June in Phoenix, Arizona. There will be speakers, influencers, sellers, networking, the List Perfectly team, smores, and more! Trish will also share more on the currently in progress List Perfectly Listing in the USA Tour. Listen for all of the details!
The Seller Community Podcast from List Perfectly is the ecommerce resource for the seller community across all platforms and a hub for information on growing your business. Find out more at thesellercommunitypodcast.com, leave a message or ask a question at anchor.fm/sellercommunitypodcast, or email us at podcast@listperfectly.com.
Links
Seller Community Podcast on Anchor
Show Links
Transcript
Doug
All right. Today we're welcoming Trish Glenn back to the show, the fabulous Super Sale Trish, a longtime seller, a friend of the show, and a friend of the community. Friend of everyone, and List Perfectly Director of Operations. So welcome back Trish, and to start, please remind us of what you do and what you're doing at List Perfectly.
Trish
So technically my title is Director of Operations, but right now I'm really a glorified party planner.
Doug
All right.
Danna
So what does running events entail?
Trish
Right now we're having this thing called the Listing Party in the USA Tour, and we're going across the nation. We've already been to Florida. Danna was there. We're going to California. We're going to Pennsylvania. We're going to Texas. We're going to the New England states and some other places along the way over the year, and we are gonna meet up with sellers and List perfectly. Sellers, just, anybody, regular, normal resellers also. And we're gonna have a party and we're gonna talk about, reselling. We're gonna network and we're gonna talk about List Perfectly.
Doug
Okay. So the listing part of the USA Tour just launched. So where'd that idea come from? How'd it come about?
Trish
My idea was when I came to work here that I thought one of the things that I always really enjoy is meeting other resellers, and I've gone to BOSS, I've gone to eBay Open, I've gone to FlipCon, all of these great events, and you get such great information out of them. You meet people, you learn something new every time you get with a group of sellers, and you just do. It just happens. And so I, my idea was, let's go to them. So there are meetups all across the country that are reseller focused. So my idea was let's meet with the resellers there and then also have our own like kind of event at the same time, either in conjunction or after or before, and just go out and see what people have to say and figure out what we're doing great, what we could do better, find out what people need. We're a company that's always trying to give people what they're looking for. We have a seller request feature. We want to give people what they need. So, this is a way to figure some of that out.
Danna
So what cities will the listing parties be held in?
Trish
We are planning for the whole year. So right now I can only give you the next couple. So we're going to be in the San Jose area at the end of February. It's the Bay Area reseller group. We're gonna hook up with them. So if anybody's in that area, we'd love to see you. . And then in March we are going to Dallas in Texas, and that's at the end of March. So those two are totally done, and ready to go. The rest of them were still getting exact dates, so I don't wanna give anybody false hope.
Danna
Great.
Doug
Not too much of a tease.
Trish
Exactly.
Danna
I love it.
Doug
All right. What about openness to virtual events? Are any virtual events planned?
Trish
I don't have any right this second to say, yes, we're doing them, but I am so open to that. BOSS who does an in-person event, they do an in a reseller meetup every month that's virtual. And I'm gonna get us invited to that. I'm gonna get us there one time this year. So if anybody has a virtual meetup, Danna, I, and Doug, we'd all love to come. So please reach out to trish@listperfectly.com and I'll be more than happy to make that work. Virtual events would be great.
Doug
Nice.
Danna
Yes. And I know I was in Florida and it was amazing. So what was your favorite part about Florida?
Trish
You know what I thought was really interesting is I think of myself as somebody who knows a lot of resellers and all of these people walked in. I was like, I've never met you. I've never met you.
Like I was so excited that there were new people there because when you go when you run in the same circles and you see the same people whom I love, but it's great when you get new blood. It's great when you meet new people and it was really great cuz most everybody was there this time, it won't be like this all the time, but this time it really was an LP-focused event and there were lots of LP sellers. And so it was great to know how they use the product, what they love. We gave out swag and it was great. It was a great time.
Doug
And Danna, what'd you think? Any more feedback on that Florida event?
Danna
Oh, I agree. I love meeting new people. It's absolutely one of my favorite things to do. And of course, I treasure Fellow resellers. Anyhow, it's great to be surrounded by like-minded folks.
Trish
It's true.
Doug
All right, Trish, so there is a particular reason you are here today.
Trish
Yes.
Doug
And I'm gonna say we teased it a bit back. There's been a bit of mystery, but so tell us why you are here today and let's get it out. Clear up the mystery.
Trish
Okay, so the mystery is no more LP is going to be having its own event this summer. A big reseller event is going to be sponsoring camp, listing party summer camp. Reseller summer camp, there's gonna be smores, gonna be campfires of some kind. We're gonna network, we're gonna drink, we're going to eat, we're gonna be merry, we're gonna learn lots of stuff.
There's gonna be classes, we're gonna have speakers, we're gonna have influencers, we're gonna have business leaders. It is gonna be a really big deal, and it's coming near you if you're in the Phoenix area. So the first Camp Listing Party will be in Phoenix, Arizona on the 27th and the 28th of June.
Doug
That is amazing. All right. That's exciting. I'll be there. Danna will be there. Yes, Trish will be there. Yes. I think the whole List Perfectly crew.
Trish
Everybody in List Perfectly will be there. I think the entire company will be there so it will be great. And we're working on speakers right now. We're working on some really interesting people who are not the usual who go out and speak at all the things. So, I'm really looking forward to it, we are really trying. Some interesting people that none of us have heard from before. Which will be great. And what's going to be a little bit different than a normal reseller function is in it is LP focused.
So when you come, you definitely will learn how to get more out of your LP subscription. You will definitely learn how to take your business to the next level with the tools that we as a company offer. But we're also going to work on business strategy. Of course, it's networking and it's fun, and there's food and we will all have a great time, but…
It is going to be a business conference. We are really going to push the business aspects. We are gonna learn to do things better, and best business practices. We're gonna learn how to do, new sourcing opportunities, new ways to look at things. So we really are gonna focus on some of that.
Doug
And then what about Listing Party? Will that factor in?
Trish
Absolutely. So we're gonna have one giant listing party the entire time. We are gonna have a virtual aspect to this so you can all be involved if you can't come, which will be too bad. I just would like to say, I did not bring my business and myself to the next level until I started attending events with other resellers. What you learn from being in a room with resellers is just amazing. It's hard to put into words. What we do is very solitary. What we do is, a lot of people in our family, in our lives, think like, why the hell are you buying this crap to resell?
Who wants that? So when you get what Danna said earlier about like-minded people, when you get in a room with like-minded people, the power is very palpable. So I think that if you can come to one of these, come. Please make the journey. Make it a business expense. Get your butt there.
It will pay back tenfold. But if you can't, if you have little kids, if you're taking care of your parents, if you have a full-time job that you can't get away from, we are gonna have some virtual listing parties the whole time. So you'll still be able to be involved. You'll still be able to be part of the fun.
Doug
Maybe I'll wear a GoPro on a dog collar around my neck for the whole week.
Trish
I think that would be awesome.
Danna
How much will it cost, Trish?
Trish
I'm still working on that. But I think we are gonna have multiple levels of tickets. We are going to have a VIP plus which will give you an extra day with staff. So that will give you a three-day conference rather than a two-day conference. And you'll also get one-on-one time to learn. So maybe you have specific questions about your business, maybe you have specific questions about how List Perfectly can help you, how you can use the catalog differently or whatever.
You'll get one-on-one time with staff to be able to do that. You'll get dedicated time for a certain amount of, half an hour or whatever. Or maybe you wanna learn about how to brand yourself better. You can have 15 minutes with Annie who does our designs. You could have 15 minutes with her to be able to go over your logos, what she thinks would be better, what, colors or names, or whatever.
The VIP plus ticket will be more expensive, of course, but you'll get an extra day and you'll get lots of internal intensive workshops, things like that. Then we're gonna have a VIP ticket which has more things that you can do, different things.
And then we'll have the regular two-day ticket. All food and drinks are included. So it's going to be a one-stop package. I think it's probably gonna be about $350 for the normal ticket for the two days. But it is all-encompassing. Everything is included.
Doug
That's a good deal. That's, that is there with even around eBay open prices too.
Trish
Exactly.
Danna
All-inclusive.
Trish
Yeah. So the only thing…
Doug
Like a cruise, Danna.
Trish
Like a cruise. Except you don't have to get your own room, Danna.
Doug
Will there be a shrimp buffet?
Trish
There might be. Of course, it's camp theme. So I will promise smores if you come. I'll get you some smores, I dunno about shrimp, but you'll get a smore.
Danna
I love smores.
Doug
What about campfire ghost stories?
Trish
There will definitely be that. We're gonna have some networking opportunities with some that will have a ghostly element. We are gonna have some faux…it's all indoors. Don't worry. There are no bugs. Don't worry. You don't have to sleep on the ground. It's in a very nice Hilton Hotel, you'll all be very comfortable. We'll just have some fun camp elements to just have some fun brought into the whole experience.
Doug
Nice. The Hilton Campsite Resort…
Trish
Exactly.
Doug
So Trish, when will the tickets be live? Where can we find out all the info, all of that?
Trish
So there is right now a live link that's in the show notes, and we also have it up on Listing Party and we also have it up on list perfectly.com and under events. So you can definitely find it.
Doug
And so there's gonna be some crazy app tie in too. How's that all work?
Trish
So there will be an app, so when you are walking around, you can text notes to each other, you can find out where you're supposed to be and you're next. So if you are in track one, you can look and it says track one. Okay. Now you gotta go to the, I feel like saying go to the Lido deck cuz we're going with this cruise thing, go to the Pala room.
And then it will say who the speaker is. You'll be able to have speaker notes in there and then you can text, so let's say Danna is doing a presentation on something and she's gonna open up the floor to questions. You can ask the question right in the app. And it'll pop up so she can answer it and then, find people within the app. So if your friends are there, you can be like, "Hey, let's meet at the Starbucks downstairs and have coffee." And it will also give you the ability, we'll do some fun things with the app. So like maybe some prize stuff. There'll be some other things in the app.
So it's gonna be fun. It will be a really good, interesting element, but it will also have more information. So if Dana is speaking, How to Make Millions. Everybody wants that class. She could have notes inside the app so that you could download them.
Maybe it's linked, maybe it's specific ideas. Maybe it's her presentation that she's already made that's on the screen, but maybe it's in there so you can go home and re-watch it as many times as you want. So the app will be a very interesting aspect to this and it's gonna add a lot of value.
Danna
Anything to add?
Trish
I would like to add that List Perfectly is an extremely generous company and there will be lots of swag. We all know how eBay resellers, and Poshmark people like their swag. We'll have lots of swag. And I hope to see you all there. It's going to be great.
Phoenix is great. We're right by the airport. There's gonna be a free shuttle that'll pick you up so you'll have no transportation. And I stayed at the hotel for a few days before we booked this. It was really a great place. Everyone was sweet and I think you guys will really enjoy it and I hope to see everybody there.
Doug
Awesome. No, this is exciting. Thanks, Trish, and thanks for telling us about List Perfectly presenting the Camp Listing Party conference, the first Listing Party List Perfectly conference.
Trish
Correct. It's gonna be great and please look for us. We'll also put in the show notes where we're gonna be for the Listing Party in the USA Tour. We hope you'll come and find us. We have swag. We're very sweet. We'll be very nice to you, I promise. Don't be intimidated. Come up and say hi. Come and find your people. You will really enjoy it.
Danna
Yeah, I look forward to seeing everybody. Thanks, Trish.
Trish
Yeah, you're welcome. Bye, guys.
Doug
Thanks, Trish.
Trish
You're welcome.