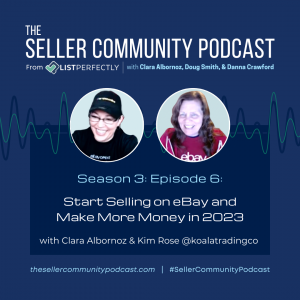 This week join Clara, Kim and special guest Theresa Cox and learn how to start selling on eBay and make more money! Clara and Kim are long-term eBay sellers and experts and discuss tips and experiences to help guide all sellers of any level to succeed on eBay!
The Seller Community Podcast from List Perfectly is the ecommerce resource for the seller community across all platforms and a hub for information on growing your business. Find out more at thesellercommunitypodcast.com, leave a message or ask a question at anchor.fm/sellercommunitypodcast, or email us at podcast@listperfectly.com.
Links
Seller Community Podcast on Anchor
Transcript
Clara
Hello, Kim.
Kim
Hello, Clara. How are you doing this Spring Friday?
Clara
I'm excited. So excited about being with you today because we're gonna be talking about our favorite topic, okay? As you can tell. Okay? Yes. Once an eBayer, always an eBayer. Today's topic is a very interesting topic. How to start selling on eBay and make more money in 2023.
Now, this is ideal, whether you are a new seller or maybe intermediate, or you started to sell because we're gonna be talking about what's up with Terapeak, what's up with Vero, eBay Academy, and many important topics that are very current right now. What's going on with Nike? When you put Nike on eBay, you know what's going on?
Would you like to start really quick? Maybe you're a Posher, okay? Maybe you've, maybe you are a Posh seller. Maybe you are a Mercari seller, maybe you are a Facebook marketplace, or maybe you have a website like Shopify and you wanna try eBay, which I highly recommend.
So eBay 101 Kimmy. So I wanna start an account on eBay. What should I do?
Kim
You wanna go to ebay.com of course. And once you get there, you will want to go up to the top of the page.
Clara
Yes. Get the courage. Go and create that. Do it. Okay. Match the name of your other stores that you have.
Try to have a uniform so we can find you. The shopper that buys on eBay will buy on eBay mainly, and then the person that buys on Poshmark will buy on Poshmark. And rarely does this happen the other way around. Okay? So make sure that you still have a unified presence unless you wanna start playing with prices.
For example, we all know that on Etsy, for example, you can sell at much higher prices, your vintage and your handmade stuff than on eBay, okay? So that's a fact. Okay? And for example, maybe Louis Vuitton or more high-end staff might sell better, and especially if it is a fashion or trend, we'll sell better in Poshmark, for example.
So it is important that you diversify your presence because eBay has the biggest audience of all the platforms we have. That's it. eBay has the biggest audience. All right. So Kimmy, how was the process to create an account?
Kim
It's been 23 years since I've done it, so I had to do a little bit of reviewing, but it actually seems to be a whole lot easier to do it now.
Clara
Wow, I can see you can create the account with your Google credentials, Facebook credentials, and with your Apple credentials. That did not exist back then.
Kim
What you wanna do is you wanna start by going to ebay.com, and right up here you can go over and you click on My eBay, okay. And then go down here and see where this says selling. And once you click on that, you will fill in your name, your email, and a password, and then you'll hit Create account.
They have it done to where it's just extremely easy. You just fill in what they ask, and it looks like it takes maybe two minutes and you're in.
Clara
You will have to receive the email and verify, validate, and enter additional information.
Kim
You'll need to include your social security number and you also will need to, either link your bank account or. So that way when you get paid by a buyer, your money can go somewhere. So you will need to do that. You will also need to connect a credit card so that eBay can charge you your selling fees because eBay needs to have those…
Clara
And we're gonna talk about fees by the professional Theresa Cox. Wait for it. She's coming.
Kim
Yay. T Money. It's a very simple process. It's been so long since I created mine. But I don't remember it being this easy. So you don't have an excuse folks. You need to get in there and get your account if you don't have one, get it created. It's very easy and you will not regret it.
Clara
Question Kim, would this be the same way to start a second eBay account? I don't know, the last time I created a second account was years ago. And it was an even simpler process because you already have the credentials with eBay.
So they will give you the option to include the same bank account. They already have your social or your team number. So it's a much easier process to create and eBay does allow you to have many eBay accounts.
I noticed my customers were asking me, Clara, I love your clothing, but we don't like that you have flawed and cheap items. Also, it makes us feel insecure that maybe the expensive stuff is not high quality. And when I got that feedback, it was not once one buyer, literally, it was a whole quarter analyzing answers and so forth. So that's what I found. Segmenting your eBay presence is an incredible way. You never pay extra with List Perfectly. Never. And I will never ask you to have your passwords. All you have to do is log in to the right account, okay, of List Perfectly.
If you are not using eBay Academy, okay, this is zero extra, okay. What you will learn is to choose from a range of topics, create listings, the perfect listing on List Perfectly, use marketing and promotions to drive sales, ship to buyers, improve your seller performance, manage operations, delight customers, and inspire and return a purchase.
It's the biggest marketplace. If you don't build your brand, you're gonna get lost over there. So here it is, three courses, unlimited, unlimited possibilities fundamentals to kickstart your business.
You know how it works. Okay? You have to obviously be an eBay seller alright, you have to enroll on eBay. But, I wanna put out that resource because whether you are experienced or maybe you're returning, what about people that stop selling and they're coming back because they wanna, that supplemental income that you should be making, you should be making that supplemental income. Kimmy, what else could you say? Starting on eBay, what else could you recommend to our audience, please?
Kim
Oh my goodness. You definitely want to get some business. I've got it over here. The business policies started. Yeah, those make it so much faster and easier when you're going to list your items. Now you're gonna think at first that it might be a little overwhelming. It's so worth getting those in place because you're just templating everything that way. And when you go to do your listing, you just do a dropdown and you can just speed right through. One of the first things you need to do is go in there and get those taken care of.
Clara
What else do you think we need to say about the basics of eBay Kimmy?
Kim
I don't know if it would be considered basic, but something that you would wanna think about after you get signed up and establish yourself a little bit is to consider doing global shipping. Do international shipping. You're missing out on a huge opportunity there if you are not doing international sales because there are just so many people out there across the world that are looking for things that they can't get unless they buy from somebody in the U.S.. And that's something I highly recommend to get in on those international sales.
Clara
Yes, absolutely. And this is from the List Perfectly website. You can go to blogs and then you search, for international shipping. We have a blog post. International shipping, just do it. 60% of my clientele was international because I had a much higher price value because I knew my quality was flawless. I always play on quality. I'm not telling you to go and sell internationally right now. Just put it as a goal. Think big, because if you're selling on eBay and then you're using a tool like List Perfectly, definitely you're thinking of growth and this should be the way you should be growing, right Kimmy?
Kim
Yes. And like you said, don't make it a goal, don't jump in and get overwhelmed. A lot of people do, but you shouldn't. It's really not that big of a monster. Definitely set it as a goal for sure because you will not regret it.
Clara
Anything else we want to add before fees?
Kim
I think maybe we should discuss Terapeak a little bit. Once you get into selling, you want to start doing some comparisons because you wanna know what you are going to price your items at. It's really awesome because it's built-in and it goes back two years now.
And it used only to go back maybe a year, but now it goes back two years. You don't just have to look things up. It gives you statistics. You can use filters to narrow down everything. It's amazing.
Clara
Theresa, I'm confused and new on eBay, or I've been selling on eBay. I don't understand these stores, these subscriptions. I'm overwhelmed, Theresa, explain to me about that, please.
Theresa
The thing that to tell people is eBay, it's a big beast. If you're used to going from Poshmark where you can get something listed really quickly then, or even Mercari, eBay seems to be overwhelming and it's not, it's the same information. They just want more of it. They want you to go down, you can't just say men's accessories, you have to say men's accessories, socks, and then, or whatever. So don't be afraid. And there is a barrier to entry, whereas it's free to list on Poshmark, it's free to list on Mercari. It is not free to list on eBay.
eBay has changed that in the last couple of years to where they make your first 250 listings free, which is great because that gives you enough time to get on the platform Wow. To test things out, to try to get things going, and try to get them sold. Before then you have to start paying for your listings.
Now, some people get, are misunderstood, misunderstand the 250, you do not get 250 a month. Okay. You get 250. And it's easier to say two 50 than 250 a month because you don't get 250 and then you can list 250 more. You get 250 in your store active listings at a time.
Yeah. So once you hit 251, you're gonna have to start paying for those. So what I did was I created, and then eBay has levels of stores and the first you have a starter store, which is $4.95 a month, which gives you like 280, not many more than the two 50 listings. $21 I think is the next level. If you have no store, you get 200 and 50 free listings. And then what this means is how many listings you have before you should upgrade to the next level.
People always ask me, what is this listing cost check? This is the calculation I do on my Excel spreadsheet that says, take this number minus this number times this blah, blah, blah equals this. So I know that at 264 listings, you're paying $4.90. At 265, you're gonna pay $4.90 plus 35 cents. So you need to be up here at this starter store.
Then when you get to the starter store, when you get to 307, then you need to go to the basic store because at 307 listings, you're paying $22 and you're already paying more than the basic store. And the basic store gives you a thousand listings. You get lots of perks. You get the auction listing fee and shipping supply coupon coupons are huge.
Clara
Talk about that. So we sellers get shipping supplies, right?
Theresa
Yes. On the first of every quarter, which is every three months you get a store coupon, you can find it in your store subscription fees. It's a coupon for the shipping supplies and eBay shipping supplies store. And you can buy poly mailers, you can buy tissue. There are all kinds of stuff you can buy. And then, you can pay. I always use it up and end up paying a little bit more. Because it's a one-time use coupon, and so if you only see something for $10, and you buy $10, you lose that other $15.
If you have a premium store, eBay recently increased the premium store up to 10,000. You get $50 a quarter and then for the anchor store, you get 25,000 free listings. And you get this $150 coupon every quarter, which I have an anchor store and I use my coupon maybe twice a year.
Clara
Should I start Basic or Starter Theresa?
Theresa
If you have 550 ready to go, I would start here because it may take you a month to get up to 265. But do the 264, then get your starter store, then do the 307, then get your basic store, and then you're good for a while. It's an annual subscription that you pay monthly, but it doesn't cost anything to go up, it does cost if you want to downgrade. So know what day your annual subscription starts and then go from there.
Clara
One of the biggest things I find okay with new sellers or sellers coming from other marketplaces is literally, okay, I'm gonna cry. Let me pull the tissue. Okay. Is the perceived volume. I'm crying, okay? Because of the value. You guys are pricing things so low. Look, I'm crying. Don't make Clara cry, guys. I can see what you're listing. What is perceived value, Theresa? I need to pay my rent. And you know what you're selling it for $20. I'm gonna put it for $10 because I have rent. You don't understand, Theresa. I have kids, I have rent, and I have a mortgage.
Theresa
There are people that will sort and look for the very lowest price and buy that item. And they don't care. It's just price and delivery. But I am here to tell you and rest assured, there are plenty of sellers out there that do not sort that way. They feel like perceived value just means that, and this is the example I've used for years. if I'm trying to sell the old yellow necklace that I had from 1990, and Kim's trying to sell off the same necklace, but Kim's oh, this necklace is from 1990, it's not worth anything. I'm just gonna list it for $4.99 with free shipping. But I'm gonna be like this was a really nice necklace and I may have only paid $7 for it, 1990, but it's still in great shape and it's beautiful and I, whatever my mind may conjure up, I may decide it's worth $19.99.
And so there is a large segment of the shopping market that will look at the two listings and automatically assume that Kim's is junk. Because there's no way she could sell it at $4.99 if it were worth anything. And they're gonna buy mine because it is $19.99. It must be better. It must be worth more, it must have more value, all that sort of stuff.
Clara
And doesn't have flaws, or it's not the quality that is better for a seller, the quality. And then are you gonna ship it on time? Are you really gonna be careful about shipping it? So I think when you're selling me something for $4.99, you're gonna put it on a freaking envelope.
Theresa
I do a lot of retail arbitrage where you go to the Walmarts and the Ross' and the Targets and whatever store you go to and you buy their items, sometimes I buy them at full price (American Girl). Sometimes I buy them at clearance on January 1st at Walmart and Target. I did a Target run on January 2nd and got everything for 90% off. So there were a ton of $25 pairs of pajamas I got for $2.50 cents.
Now the question is if you had a pair of pajamas that you saw that retail, that target for $25 and you got them for $2.50 cents, how much would you sell them for? I price mine at $39.99 with $10 shipping because they're heavy. These are the larger two. I got all two x three x four women's pajamas. Why can't I do that? Because nobody but you and I know they sold for $25.
Somebody's gonna be on the internet shopping and see these fabulous red and white pajamas, Christmas theme, whatever they might be. And they're gonna go, okay, $40 for a nice pair of pajamas, I'll buy that. I got those listings up. I got them up very quickly.
I've already sold two pairs for $24.99, and pajamas for $39.99 with $10 shipping. It's irrelevant to how much I paid. It is irrelevant. How much I pay for it absolutely determines my ROI. But what I pay for it, what Walmart is asking for in my mind it's irrelevant. I'm selling a bunch of my old stuff. I'm selling clothes that I had in my work wardrobe for five years that I know I bought at Target or Ross or whatever for $10 or $12 and I'm selling it for $40 because I'm asking $40. If you don't ask, you're not gonna get and lemme tell you that one of my favorite things to buy is the Walmart time and true large women's sizes.
I just know the market from experience. But I will tell you that probably almost two years ago now, I bought a thousand dollars worth of vintage sneakers that I didn't know anything about. And yes, I did look those up. I did have to look those up on Terapeak, I looked up the solds on eBay.
It was much more time investment in those things. Cuz I know nothing about vintage sneakers but this kind of stuff, the reason I pointed out is that everybody can see an MSRP on an item at Target or Walmart. And just don't, just because Walmart sold it for $25 doesn't mean it's not worth $40.
Clara
Has anybody asked you if your prices are too high and if you got them at Walmart?
Theresa
People don't ever say that they're too high. People will say "That's a rip off. These are $14.98 at Walmart" and I say, I'll usually say "Great. Go buy them at Walmart."
Clara
All right. We're gonna have Theresa again and we're gonna have more eBay pro sellers. And thank you, Theresa, for being here today.
If you start your listings in List Perfectly, then the AI with List Perfectly is gonna make you the right suggestion. I'm gonna stop talking about this and I'm gonna show you, all right. What can List Perfectly do to accelerate the growth of your reselling business?
The number one thing that I love is that eBay now supports 24 images. List Perfectly and eBay offers you 30 images. Any plan, Simple, Business, and pro. Alright, we will take those 24 images to eBay and I'm gonna explain why you should be using those 24 images, because I know people are gonna be like, oh, I would never use 24 images, but I'll explain why.
One of the reasons, okay, is that eBay is adding more images, okay? A, if you're selling tennis shoes, okay, they have the 3D capacity, they're coming with video capacity.
But most importantly, buyers want more pictures. And I understand where you're coming from, but you have gotta get in the habit that 12 pictures are not enough or okay. If you wanna stand above other EVAs. If Kimmy and I were selling the same touching button, if we're both selling this, the way we're gonna stand out is by providing more pictures. Try to use at least 16 images.
Kim
Having more images also helps List Perfectly protect us as sellers. The more images we have, if there are any flaws, it gives us the opportunity to put those in the pictures. And if somebody wants to contest something you have proof. So the more pictures I have I definitely help List Perfectly that too.
Clara
It just blows my mind, Kimberly, how many people don't know that we're partnered with Photoroom.
Kim
I love them
Clara
So how has PhotoRoom helped you to improve your business, Kim?
Kim
It makes it so easy. Since it's integrated with List Perfectly, you don't have to go outside of List Perfectly to do any kind of image modification, remove your backgrounds, rotate, or brighten your photos. It's all right there. So you're not having those extra clicks and that extra exiting and going back in and importing them after you're done. It's all right there. And just that time saved alone adds up so quickly. And I do wanna add that to the Photoroom background remover. It's amazing. The quality of background removal that you get is unlike anything I've ever tried before.
Clara
You do not have to pay for Photoroom. All right. Unless you want more than background remover. I've tried different backgrounds, okay? I've even put the American flag with the military stuff that I have, okay? I've done any kind of background you can imagine. The thing is that we are evolving everybody to be multichannel and when you're listing on eBay and I think other marketplaces are starting, Grailed and Poshmark as well. But when this, the agreement that eBay has with Google, to promote your listings, it's incredible. The thing is that Google will not promote it with your great background, will not, it will get buried, it will be there, but he will get it, and it'll go to Siberia. You need to rank higher for your items to be visible. So that's something that I just wanted to qualify to just explain, about this situation and, Kimmy it's, what do you think about these people that maybe are resisting the white backgrounds?
Kim
I was one of those people I thought, why would I do that? I don't wanna be like everybody else. I had that mindset, after some persuading and actually seeing that it worked, it was like, okay, it's time to, to not be so stubborn and, and you're not going with the flow. You're going with what is going to make your sales. When I got over that whole stubborn, hard-headed, attitude about it, it was like, you know what, I'm really being ignorant here by not doing that, it's one of those things where if you don't, you could possibly be losing out on a lot of sales because you're not gonna rank in Google search as high.
Clara
Another thing you know that blows my mind, Kimmy, is I get exhausted. You could accelerate your growth on eBay so badly. Please use List Perfectly mobile. I hear people say No, List Perfectly, it's not an app. Where's the desktop? Desktop application? Where is mobile-friendly? And you can go to any phone with any browser and log into your List Perfectly. You cannot cross-post. And you cannot mark sold from List Perfectly mobile. But the rest, it's incredible.
What would you say is your favorite feature from List Perfectly mobile when it comes to accelerating your eBay business?
Kim
I just love the fact that I can start them on my phone. What I do, I take all my pictures and everything. I have it all set up in my basement, so all I need to do is take my phone with me down in the basement. I take all my pictures that go directly into List Perfectly. That's all I need when I go and do my thing. And if I wanted to, I could finish my whole listing on this little device if I wanted to. My favorite feature on List Perfectly mobile is the fact that I can take my photos and they go directly into my listing.
I don't have to take photos then, drag them over or add them later into my listing. There's the next photo feature, it allows you to take a photo, boom goes into your listening, take a photo, boom. You don't even have to store them on your phone.
Clara
List Perfectly is unlimited. It's truly unlimited. Truly unlimited listings with 30 images per listing. With List Perfectly unlimited cross-posting tool, eBay import from eBay, delist from eBay, release to eBay, marking sold templates, images, multiple stores, and more.
Kim
You want to be in partnership with a service that wants you to grow. With List Perfectly, it's so obvious that List Perfectly wants you to grow because they are having everything unlimited.
Clara
You don't have to import your listings to eBay because we can go from Poshmark, bypass List Perfectly and you go directly to eBay. This applies to any marketplace. Once you import to eBay from List Perfectly, you can manage quantities, you can manage sales, and we can give you sales notifications. Sales notification for our customers so you don't oversell. All right.
List Perfectly Video
List Perfectly has recently released a new feature called the Sales Detection Feature. And what this does is it allows users to connect their Poshmark, Mercari, and eBay stores to the List Perfectly extension. And then from there, the List Perfectly extension will review your listings every 30 minutes. To see whether or not you've made a sale. If you've made a sale, then what will happen is you'll receive three different forms of notification. You'll receive a ching noise that tells you you've made a sale.
You'll receive a banner message at the top of the My Listing view, and you will also receive a notification to the List Perfectly extension. When you receive this notification, you can click the List Perfectly icon in the top right corner of your browser, and it will have a link directly to your List Perfectly listing, so that way you can click that and quickly go and end your listing on any of the platforms that your listing is linked to and you can mark it sold.
Clara
So you don't oversell. That's crucial, in managing the different aspects of your eBay stores. Kimmy, what can you say about the new eBay sales notification?
Kim
It's yet another game changer that List Perfectly has brought because it's just another step towards keeping your business in check. Because like Clara said when you get that notification you're ahead of the game. You already know, oh, I made a sale. I can go in right now, click on my extension, click on that link right there in the List Perfectly extension, and it will take you straight to there and you can just take that, take that listing down off the rest of your platforms cuz you just sold it.
Clara
Exactly. So there you have it. The capacity of List Perfectly to help you grow your eBay business. Thank you so much.