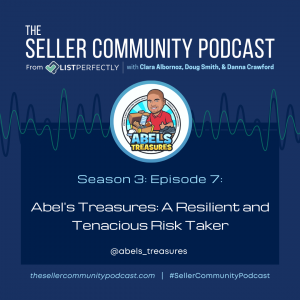 This week we're joined by Abel from Abel's Treasures. Abel is primarily an eBay seller and calls himself an "everything seller." He started selling a couch online, following in his uncle's eBay footsteps, and has grown from there. He says he doesn't have free time, but he has extra time and emphasizes the importance of the community and the willingness to ask for help.
The Seller Community Podcast from List Perfectly is the ecommerce resource for the seller community across all platforms and a hub for information on growing your business. Find out more at thesellercommunitypodcast.com, leave a message or ask a question at anchor.fm/sellercommunitypodcast, or email us at podcast@listperfectly.com.
Links
Seller Community Podcast on Anchor
Episode Links
Transcript
Danna
Okay. Hello everybody. Today we welcome multi-platform seller and List Perfectly user Abel's Treasures to the show. Thanks for joining us, Abel.
Abel
Yeah, thank you for having me on. I'm excited about this conversation. Great.
Doug
Yeah, thanks for being here.
Danna
What did you do before selling online Abel?
Abel
Yeah, that's a good question. What I did before selling online, I actually worked for a financial company, um, where we talked about 401ks, defined benefits, pension, all that kind of good stuff, that boring stuff. I was also a bookkeeper for a small business. And I love that because it taught me a lot about small business, and that kind of takes me to where I am today in reselling. So all of those experiences have helped me build my reselling business. That's what I did in the past was financials and bookkeeping, and now I'm here.
Doug
So what do you sell, Abel?
Abel
I'm an everything seller, but a little bit of background behind that. I started as an everything seller, went to, let's see if it's just shoes and clothing, see if I can really ramp up shoes and clothing, which I like, but at the same time I've had the opportunity to meet some great resellers that are really succeeding and they were encouraging me, don't leave money on the table.
So it's primarily clothing with a little bit of hard goods, like, VCRs, PlayStations, and things like that.
So how did you get into online selling and when did you start selling online?
Abel
I like this story because it's a family thing. My uncle was trying to get everybody to resell on eBay. Pretty much he is like, okay, look what I sold. This is what I made for it, and uh, this is what I paid for. And, as we talk about, as I hear in the community, you know, reselling can be lonely when you're just listing things like that. So I think that was one of the reasons why he wanted some partners in, in crime as we say, you know.
So I started thinking about it, but I have yet to take action on it. And maybe two years later I finally listed my first item and that's how I was able to get into it, as my uncle was continuing, "Hey, you should try," and then I flourished from there.
Doug
And so what is the first thing you sold online? That's an interesting story. So tell us about that.
Abel
The first thing I sold online was when I was dating someone, we sold a couch, and from that couch, it was approximately $30-$35. It's been a couple of years, right? But from there we just continued to build, you know, don't take a loan or don't take money from work. We just kind of built from there. So then we started going to garage field, researching on YouTube, Ralli Roots, all of these different people of what they were looking for, and then that's what we started looking for. Felt overwhelming at the beginning, but that one step at a time really got us there. And then, now I'm flourishing and, and taking it from there.
Doug
Awesome. So that couch built your online business basically.
Abel
The couch built the online business, and I love that story cuz it's just one item. We even put it on Facebook, so it wasn't even eBay from that. Then we sold the first item on eBay was a Fitbit. I remember giving that person a high five, you know, that was the excitement really. We sold something on eBay and now I want to continue to keep that excitement every time I sell something cuz we get complacent. Right? But yeah, that excitement, I want to continue to take in my business.
Danna
So what's your primary selling platform?
Abel
The primary is still eBay, cuz that's where, um, honestly, that's where my uncle started. So to ask him questions and say, how do you do this or that, you know, primarily shipping, right? Um, how do I list things like that? So eBay will always be my primary, and another reason is that they have the largest audience. So the largest audience I want to get in front of as many eyes as possible. So eBay, about 90% is on eBay.
Doug
And where else do you sell besides eBay?
Abel
Poshmark and Mercari. That was about a year after. Again, my uncle had a big influence on me, but now it's time to, um, he might be watching this, but leave him behind and really expand. Right? Poshmark and Mercari, um, and cross-listing from there. At that time, I got List Perfectly first, so it made it easier cuz I wasn't gonna take pictures, retake, and then put it on there. It made it a lot easier just to get everything used and List Perfectly.
Danna
So what kind of advice do you have for sellers just getting started?
Abel
Just do it. Just take action. I mentioned that it took two years while some of that was researching, wanting to make sure it's perfect, right? I wanted to make sure I was getting the right items, all of this stuff. Really the great lesson is when you're doing it, when you're making those mistakes. And yes, they can be expensive at times, but by taking that action, that's how I got to where I'm at now versus being an analysis paralysis and researching too much.
Doug
Okay, so you just mentioned advice for sellers getting started. So yeah, if you go back, what do you wish you knew when you got started that you know now?
Abel
I mentioned shipping. It's honestly shipping. What comes to mind right away is a large vintage dollhouse that we were able to pick up and sell for. I'm gonna kind of make this up, but it was between $100, and $120. Well, because it was so large, we also did free shipping. Thinking we were okay. Oh, I ended up going to the UPS Store. So just to kind of add on to things, going to the UPS Store to buy boxes there, and as we know, those can be expensive. So I got a great learning opportunity there and the UPS lady was so nice too where she taught me how to Frankenstein a box. I never even knew that existed. You know, everything. So it was an expensive lesson, but it was a great lesson. How to ship, and how to pack are the primary things. I'm glad I know now.
Danna
It's helpful to know all that upfront, but I like your theory on, um, you know, learn as you go. I'm a firm believer in that too, so that's a good tip.
Doug
I had one of those costly shipping lessons too, that stuck with me.
Danna
How has the seller community helped you grow your business?
Abel
Multiple ways. And so FlipCon, we were talking about FlipCon before we hit record, meeting all of those people. So one is just being able to see other people's successes. Knowing I can do it really drives me as well. Not comparing, but really drives me. The other thing is meeting some of those people, they actually reached out to me and said, I see your listing this way. I recommend you actually create the board. It'll increase your listing. I actually have a mentor too, and a friend as well that has helped me.
I already mentioned it, you know, I was doing primarily clothing and they're like, don't leave money on the table. And he is encouraging me to pick up some items and we've had a great discussion. I didn't even know the reseller community existed, honestly, two years ago. Now, it's amazing about the amount of people that are encouraging me, and then also I'm able to encourage people to, you know, we can do this and we can do this full-time. So it's, it's just a blessed community and I'm glad I'm in it.
Doug
And what type of seller events have you attended and do you participate online in the seller community? How do you participate?
Abel
The first one was FlipCon. Yeah. And it was amazing. First time I ever went on vacation by myself too, so, I had all kinds of experiences that at that time, I've had a few of those people on my podcast as well, and so those connections continue to build. And the way we connect is via Instagram. People have asked me questions. I've reached out to them and asked them questions, or sometimes it's just a matter of, as I mentioned before, reselling can be lonely when you're listing by yourself. I've had the opportunity to just be on FaceTime or Google Link and list at the same time. Not on YouTube or anything like that, but just list and have conversations and grab little nuggets from each person.
Danna
Wow. You have your own listing party.
Abel
Yeah, and I wanna get into the listing parties. They haven't worked with my schedule yet, but I'm determined to get into the listing party and just listen and take in all that knowledge people have,
Doug
Join listing parties or are you interested in hosting?
Abel
Both. I'm interested in joining first, learning, and then jumping in, and again, I'm somebody who enjoys helping or supporting somebody. Yeah. So yeah, it's a little bit of both.
Doug
Well, we do some nights and weekends, definitely interested in more. Yeah, a lot of 'em right now is, you know, pretty much during the day, but if you wanna do something at night, there are definitely other sellers that are interested in nighttime and weekend listing parties.
Abel
Yeah, cuz I love hearing ideas and I love providing my support to them, or giving my ideas, and let's find out what works.
Doug
Danna will tell you they're great too because they'll have a topic, but they'll usually branch off into something else. So that's the cool thing about it.
Danna
You just start with the topic. But my whole thing is that you keep learning and we learn from each other, and if we stop learning, then we die.
Abel
Yes, I agree a hundred percent on that. The other thing to me is connections with people. Yes, I know. We're over-screened, but truly making that connection with people really matters to me, and that's how that can happen.
Danna
I've never been to FlipCon, so I'd like to know what stood out for you the most.
Abel
Yeah, what stood out for me at FlipCon? It really goes back to the community. I enjoyed, it when they were up there talking about their experiences, but to really walk around and network with each person as much as possible, that's what mattered to me. I was able to see people that I watch on YouTube or have met through Instagram and see 'em face to face. And I may not show it, but I am a little bit of an introvert. But to be able to feel comfortable and then see other introverts and bring them into the conversation really meant a lot to me. And so that whole networking experience is why I'm gonna go back to FlipCon, honestly, is to meet people and reconnect to some old friends now.
Doug
So, I like to ask this question because it gets us a good view of, um, you know, what you think of yourself. So can you give us three adjectives that you would use to describe yourself?
Abel
I'll actually give you all three and kind of give you an explanation on, all right what all three means to me is: resilient, tenacious, and then a risk taker. So I'm gonna start from the bottom. A risk taker is really living in the possibility of what I can create and what I can provide to you, the reselling community, but also to my community here. The funds that come in, I want to make sure, you know, this business builds, but how can I reach out, be in the community and find different ways to do that, because I don't have free time, but I have different time, right? How can I give back that way and how can I give back, to our reselling community?
So that's kind of where the risk taker, the possibilities, where can we grow this? I am a dreamer, but now it's a matter of how I can take action on some of those dreams that I have. Resilient, and tenacious, they are very similar, but it's a matter of I'm not gonna give up. You know, I am going to have those poor months of not being able to make the sales that I need or not find the items that I want.
But that doesn't mean I'm going to start looking for another job or anything like that. It just means you. try harder, but it's not always trying harder. It's reaching out to the community again. Okay, here's where my struggle is. How can, what do you think? How can you help me? Where's my mindset? Different things like that.
Because as small business owners, you know, our time does fill out more, but what choices do we have to be able to utilize the same 24 hours we all have?
Doug
Any tips on managing that time? Any special tips that you have?
Abel
I wouldn't call 'em special. Cause I've, I've gotten 'em from other people. As a small business owner, you know, it's blocking your time out and I took a leadership course recently and this one landed for me living in the both. And so one of my mentors is a reseller as well, and as I call him, he's packing items at the same time as he's having a conversation with me, and he respects me enough to let me know that. But he's able to mentor me as well as complete his activities in his business and he's living in that both and in joy and possibility, things like that. And so time management skills definitely block out your time, but ask yourself, how can I do more with the same 24 hours?
Danna
Yeah, well said.
Doug
Anything you'd like to add?
Abel
Yeah. Um, so much. It really goes back to what we were talking about. What I want to add is to take action and, when I talk about this, it's really a projection of myself, of who I was two years ago, one year ago, things like that. You know, take action. Don't overthink things. It doesn't have to be perfect cuz I'm someone who wants it exactly perfect. So I struggle with that. So what I want to add to people that are listening is just start and reach out. Be vulnerable enough to ask, "Hey, I don't know how to do this. Help me." And our reselling community, cuz I'm a part of it, will help. There are so many people out there that will help you. You just have to find them. So that's what I would add.
Danna
That's well said. Thanks for joining us today, Abel. I really enjoyed this. I think that our community is appreciative right now because you shared some great information. I'm very proud of you and I bet your family is very proud of you too.
Abel
Thank you. Thank you very much. And again, thank you for having me on this. This was a blast, so thank you.
Doug
All right. Thanks so much, Abel, and I'm sure that we will talk again.
Abel
Oh, we will.