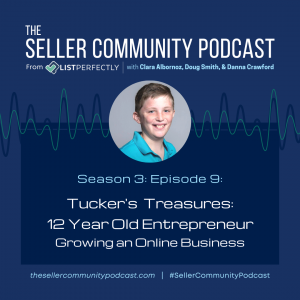 This week we chat with Tucker and his dad Ryan, of Tucker's Vintage Treasures, and learn how he turned selling lost golf balls into a thriving online business. We learn how Tucker followed his passion and turned it into reselling and how he doesn't find the stuff, he finds the people with the stuff.
The Seller Community Podcast from List Perfectly is the ecommerce resource for the seller community across all platforms and a hub for information on growing your business. Find out more at thesellercommunitypodcast.com, leave a message or ask a question at anchor.fm/sellercommunitypodcast, or email us at podcast@listperfectly.com.
Links
Seller Community Podcast on Anchor
Episode Links
Tucker's Vintage Treasures eBay Store
Transcript
Danna
Well, it's wonderful to have a father-and-son team on our podcast. Thanks for joining us, Ryan and Tucker, please share with us, Ryan, how this journey started with your son, Tucker.
Ryan
Well, it started sort of serendipitously with him and his friends just sort of playing in the river, collecting golf balls. And then, you know, he said, "Hey, I wonder what we could do with all these golf balls me and my friend collected" and, he's like, "do you think we could sell 'em?" And so he started doing some research and, and this, that, and the other, and he goes, "put 'em on Facebook marketplace."
I said, sure. And they sold instantly, and the next thing I know, he had like this booming golf ball business where he had sold in the first summer, I think like 5,000 golf balls or something crazy and he is hiring other kids to find more golf balls.
Tucker
I hired my friends.
Ryan
He was hiring his friends to find more golf balls. It was really interesting cuz one of our neighbors was having a garage sale and they were selling their old golf balls.
Tucker
Yeah, I don't wanna clean them. The ones that are in the river are always dirty. It's like, oh, I can go clean them so I don't need to clean 'em anymore so I can go to yard sales and buy 'em. Cuz I'm like, oh, I can just resell 'em.
Ryan
So he goes, "Dad, will you take me to yard sales to go buy golf balls?" And, at this point, I'm like, "sure, if that's what you wanna do on the weekend." We hop in our truck. I've never been yard sailing, none of this stuff. I just hop in the truck. And, and like that first day, it was like, he found like thousands of golf balls and flipped them.
You know, he paid like $20 and sold them for like, hundreds of dollars. Right. My, father-in-law actually has a vintage furniture store. Refinished furniture, as a side thing as being a stay-at-home dad. And so he had been to a lot of auctions and flea markets and things like that.
So he started, while he was looking for these golf balls, he started finding all these things and he goes, "oh, at auction, that sells for a hundred dollars. They only want a dollar," you know? So he starts collecting all these antiques.
Tucker
Yeah. And then you hooked me up with a booth.
Ryan
And so I hooked him up with somebody that he could sell antiques in the booth with, and then, and then what happened Tucker?
Tucker
I outgrew the whole store and the booth.
Ryan
So, the next thing you know, he just keeps getting bigger and bigger. He just keeps taking more and more of this money and keeps piling it into more things and the next thing I know, they're paying him a few hundred dollars a week or month or whatever, and they start inviting him to go to like antique shows and markets, and he's doing like a thousand dollars on a weekend at these markets, and he, just keeps piling this money in.
He's not spending on anything. He's always just reinvesting it and reinvesting it. And finally, at this point, I mean this was a little over three years ago, he goes to me, he goes, "dad, I really need to start an eBay store. I really want to start a store" and that was like when it got real for me, I was like, I don't know anything about eBay.
Tucker
He said I was full of crap.
Doug
Tucker, what was that switch that made you think, I've gotta take this online?
Tucker
I outgrew all the flea markets. I outgrew all the places I was selling. I couldn't even fit all of it into a market. For a while there I was like, I wanna start an eBay store because I saw it on YouTube, but I was like, oh, maybe I could start it. I saw Cincinnati Picker doing it, and I was like, oh, maybe I could do it. And then I just started it. And now I have 2,500 square feet of stuff.
Ryan
He goes to me and I said, "I don't know anything about eBay." Right. I've never bought or sold anything. I have an eBay account, but I never bought or sold anything on eBay. And I said, "but I'll help you out." We'll make a deal, I'll help you do the listings, and you do a little bit of homework here or there, and so the next thing you know, like, what happened?
Tucker
The first item I sold was like a hundred dollars.
Ryan
It was crazy. Cuz you had one thing, remember at the booth?
Tucker
Oh yeah. It was sitting there for like a year and I sold it, you know, red Coleman lanterns. It was in the booth for 20 bucks. Okay. It sold the next day on eBay for a hundred bucks.
Ryan
So it was like, it sat there for like months and months and months and you know, and all of a sudden, he throws it on eBay, and like five minutes later it sells for a hundred, hundred-fifty something.
Tucker
The first thing I sold was the Army suit. That one was a cool one. And then it went to a bell I sold for 200 bucks, one of those old brass bells. Then the big one that really hooked me was a BMX bike. That's the one that hooked me. I bought it for six bucks. Sold it for $500.
Ryan
That one was a little weird. That was before eBay actually. This guy shows up to my house with $500, like hundred dollars bills and hands my nine-year-old them for some broken down, this frame of a bike and I'm like, I, and I'm sitting there, he's at the yard sale, "Dad, I need this," I said, "I'm not fixing this bike."
Tucker
I literally behind his back, "can I have $6" and was right behind his back and bought it.
Ryan
And I was like, "oh, mom's gonna get mad."
Tucker
I said, "I bet you I'll sell it for 500 bucks." And it sold for $500.
Ryan
Yeah. 24 hours later, somebody's handing him $500 and I'm going, "oh my goodness. What's going on here?"
Danna
Well, to back up, when you're telling us about the golf balls, do either of you play golf?
Tucker
No.
Ryan
Not at all. We don't know anything about it, we live near the Potomac River, and all these golf balls wash up from the courses there.
Tucker
You can't even walk without getting golf balls in your shoes.
Ryan
And the kids, they all like to play, splash in the river and collect all these golf balls and so Tucker was like, "well, you know, there's gotta be some use for them. Somebody's gotta want these somewhere some way." And he just did a little bit of research and he is like, you know, "there are people in Florida that make like six digits a year selling these." And I was like, "yeah, I think you're, you know, we looked at it and I said, well, let's, let's try to sell 'em."
Tucker
And then I got golf ball gear.
Ryan
Neither of us can tell you anything about golf but tell you anything you wanna know about a golf ball, but we know nothing about golf.
Tucker
I know nothing about golf balls, know nothing about gold.
Doug
So I used to work in the golf industry, and some of the balls are pretty rare. Some of 'em are pretty cool. Do you have any super rare ones or a favorite?
Tucker
You know those ones that go straight.
Ryan
The Solaire ones.
Tucker
Solaire ones. I got one of those at a yard sale. I sold it for like 20 bucks for two balls.
Ryan
I don't think he has any, rare collectible balls as far as I know.
Tucker
I have a few here and there.
Ryan
There are some funny ones.
Tucker
Can't say 'em cuz they're pretty bad. Some political ones.
Doug
So we want to help people find you too, Tucker. So what's the name of your eBay store and are you selling on any other platforms?
Tucker
Only one platform and it's Tucker's Vintage Treasures look me up on Google and you'll find an eBay store.
Doug
We'll include the link too.
Tucker
That store's pretty big. Almost 1800 items.
Doug
So any plans to expand or are you gonna just stick with eBay?
Tucker
Amazon.
Ryan
So why do we wanna go to Amazon?
Tucker
Because all the resellers are buying stuff from me to sell on Amazon. That's what I'm going to go on Amazon and say, "you're never buying my stuff over again on Amazon."
Ryan
A lot of the media that he sells actually tend to be people, we actually even know that our Amazon sellers just take 'em and flip 'em.
Tucker
I'm like, nothing happening at my watch.
Danna
I have a couple of questions for you Tucker. So, as an entrepreneur, what are your thoughts about marketing your online business and any tips you can share for fellow online sellers to market their online business?
Tucker
I actually do promote listings. Pay for promotions. That actually helps cause the first item that will pop up on your feed is mine, not, not somebody else's. And you can do it by percent, like three and a half percent. 5%. I do it by how many are out there. So maybe I do it 7% cause there are so many out there.
Danna
So that's how you decide which percentage?
Tucker
Yeah, I do percentage usually of like, Oh, there's only a hundred out there and I'm way at the bottom.
Ryan
You're looking at sell-through rates, right?
Tucker
Sell-through rates. See what I'm saying? I'll go all the way up, via an algorithm, not down an algorithm.
Ryan
Did you ever think about marketing outside of eBay or outside of a platform?
Tucker
I don't really like going outside of platforms seriously. I'd like to change platforms.
Doug
Maybe some social media marketing, maybe TikTok, or something like that.
Ryan
He got kicked off at TikTok.
Tucker
I got kicked off cuz I was too young.
Ryan
He was too young, he literally got kicked off cuz they were like, no, you're not 13 yet.
Tucker
And then, then my aunt doesn't want me to go on it too, so.
Danna
Well, you know. Tucker, you could still get all your tiktoks ready and then on your 13th birthday launch, have 'em all backed up in order.
Ryan
We have so much video that's never been seen that he's taken because, you know, it's just one of those things like, the eBay thing really took off. But when he was 10, he goes, look, this is like what I want to do for a living. This is what I want to do and I want to see how big I can get this.
Tucker
He asked me whether I wanted to use social media or eBay. I'm like eBay.
Ryan
He was sitting there and was like, you know because you learned right from YouTube and stuff like that.
Tucker
Then I passed YouTube. There are some secrets I figured out they didn't figure out yet.
Ryan
Yeah, you have a lot of secrets, you know, a lot. How many hours of research do you have?
Tucker
10,000. More than 10,000 hours of research.
Ryan
He has more than probably 10,000 hours of research, figuring out what sells online. So I said to him, "Do you want to do content? Do you want to be a content creator and focus on that or do you wanna focus on reselling?" He goes, "I wanna see how big I can get my reselling business." And so it got really big, really fast and then it was like last year, I'm like, "well, maybe you should start doing some social media again." We had his Facebook page when he was first starting, so you can actually go back and see when he was like nine years old, just first starting to go to yard sales and things, and how it's sort of changed over time. It was just a way for him to try to get his words out and talk and stuff. When eBay took off, we were like, "well, you're not getting paid to do any Facebook videos, so we'll just not do as much." But he still has all that like, kind of pretty incredible video, of things that he's found and different stuff.
Tucker
But there's a lot of stuff I didn't show that I bought in storage units. I bought 10 boxes of trains recently and I haven't shown them yet.
Doug
So Tucker, so I've seen you interact and it seems like you're very confident and very well-spoken, and your dad is there. He kind of keeps an eye on things. Do you have employees? Does your dad work for you or how does, what's that relationship?
Tucker
I have an employee, I originally had another one, but she went to college. Now, I have another one who is working for me right now, he works like 20 hours a week and he lists everything and does stuff.
Ryan
I am a stay-at-home dad that works full-time for Tucker now.
Doug
That's awesome though. Seriously.
Ryan
I honestly do work.
Tucker
It's a 50-50 split.
Ryan
It would be hard for just one person to do it, let alone being 12 years old and a lot of different challenges. But it would be hard for him to do it by himself or anybody really.
Danna
Tucker, where do you store your inventory? And please share your shipping process with us.
Tucker
My mom ships for me. But, for an inventory process, I have two full rooms of listed inventory. And then there are two sheds, like 500 square feet sheds out there, two of them, and then a full 1500 square feet basement. And I got a full two-car garage full of stuff, and a full trailer, and my two rooms upstairs.
Ryan
And then what's the one room upstairs?
Tucker
It's just video games.
Ryan
It's just his video game testing room. It's every video game ever made.
Danna
So how does your mom, with this type of system and you sell something, how does she know how to find it?
Tucker
She pulls it. So we have a Q card, you know, a q, a, kc, kc, A one, A two, A three, A four SKUs. Yeah, four. Four items are just Hot Wheels cars. Like I bought brand new Hot Wheels cars. You can't figure out which, so you gotta put 'em on trays and say this is A one, this is A five, A six, this is A seven.
Ryan
You pull most of the stuff for her, actually. She just ships it. The funny thing is, Tucker and I, when we first started…
Tucker
We couldn't ship.
Ryan
We would ship things and we were so confused that something sold, so excited, something sold. We're like, oh my God, he sold something. Right? And like, he'd run around looking for a box.
Tucker
We used to go in the car and dumpster dive.
Ryan
I'd like to throw him in the Target. "Go find a box, Tucker! We gotta ship this thing out that you just, this antique bell that you just sold." My wife is, God bless her heart, she looked at us like, and you know, we're sitting there like taping each other, I'm sitting there trying to be the good dad being like, "no, Tucker, you know, it's your business. You have to do this, blah, blah, blah." My wife looked at me and she goes, "you know, guys, what takes you guys an hour to do? I can do it in minutes." So, she does the shipping. However, it's getting to the point that we may need to hire somebody to do the shipping because she's like, "all right, this is getting to be a little bit more than I said."
Doug
Like 20 packages a day sometimes.
Ryan
Sometimes it was as much as 60.
Tucker
Sometimes over 60.
Ryan
That's not every day.
Tucker
That's Christmas.
Ryan
Yeah. Christmas season.
Doug
That's a good problem to have.
Ryan
Mom is wonderful and she does that and…
Danna
Is that a volunteer position with mom?
Danna
I pay her.
Ryan
Yeah. Mom and I are officially on the payroll. I work for him, so we're on the payroll. After like the first year, I was like, all right, we're spending a lot of time and we're using our entire house, our entire basement is his. Our garage, has two heated sheds with full electricity. I had a furniture business and I shut it down with Covid. I had both kids home with me full-time. And that was about the same time that he started his eBay business. I remember thinking, after he told me, "this is what I want to do," but I remember thinking to myself, "I'm killing myself" or I was before the pandemic, like refinishing furniture and like the entire room is maybe worth $10,000 and I've killed myself bringing it down the stairs and refinishing…
Tucker
I have a small box of vintage toys worth $10,000.
Ryan
He has this little box of printer ink cartridges that are worth $10,000 he does nothing for. And I'm just like, "Okay, who's got the better business model?"
Doug
You guys got some money hanging on the wall behind you. The Search for Spock theatrical poster.
Tucker
I have five of them.
Ryan
Yeah, he has five of these.
Tucker
I spent 10 bucks on them.
Ryan
It's actually the original one that hung in the New York subway. That's why it's so big. Cuz this was a subway poster actually.
Doug
That's awesome. Yeah. All right. So my son is 15 and I've told him before, it's like, you know, I know sellers, Danna and I know sellers. I've been in this business for a long time. I sell a little. I've always asked my son, I was like, "Hey, do you wanna sell cuz I could connect you with sellers?" He's like, "I don't know." He's like, "I don't think so." So, Tucker, you're super motivated. I'm sure your friends know what you do. Do they come to you for advice? Do they wanna sell online? Or if they do, how do you handle that?
Tucker
They don't understand it. Oh, yeah, "Tucker has millions of dollars of inventory." I'm like, "it's not just that" they fall on the ground when they see everything. They're like, "oh, okay."
Ryan
And, he's in online school now, so like, you know, a lot of the kids he's online with are all over the world and when he was like nine and stuff, I don't think anybody, no kid understood it.
Tucker
One of those kids said, "you're full crap." I'm like, "Okay, come on."
Doug
You don't have time for that.
Ryan
You got that a lot, didn't you?
Tucker
This person's like, "you're lying. You're full crap." Like they said almost every day. It makes me frustrated. And then when he walked into the dungeon, we call it eBay dungeon, they're like, what, what, what, what? And I'm like, "I'm not lying."
Doug
There you go. Well, I want to come to see the video game testing room. Do you have all the old consoles in there?
Tucker
Oh, there are over a hundred consoles. Every system.
Danna
So Ryan, do you have any final advice for parents that have children wanting to become entrepreneurs?
Ryan
For me, it was always just about support. Like when it first started, when he wanted to do this, to me it was like coaching little league baseball, right? Like for me it was no different. It was just like, "Okay, he has this talent and this thing that he wants to do. How do I support it? How do I help him?" I get asked all the time by parents, we actually run a local entrepreneur group for kids. They have vendor events and all sorts of stuff that we do. He mentors other kids as well as I do locally, and I get "help" from parents all the time. How do I get my kid to do this? Or how do I get my kid to be an entrepreneur? And I say to them, I said, this is not something you get them to do. This is something they get you to do. And I think it's true, right?
That, that's what I would say. If your kid has an interest, just support it. It doesn't have to be an entrepreneur. What would you do if your kid said, "I wanna play baseball?" You'd go down and buy 'em a baseball mitt and you'd go sign 'em up for baseball, right? Tucker decided, "Hey, I wanna resell things and make money and find really cool stuff." So I got in the car and started driving the truck around and then it sort of, it just evolved from there, right?
Doug
Tucker, for those kids that are interested and want advice from you to get started selling, what's the biggest thing you think they need to keep in mind before they get started?
Tucker
Follow your passion. Like what kind of item you like to maybe collect. Let's say you like baseball, maybe you sell your old baseball mitts. Maybe you sell your old baseball stuff. That's how I think about it. Follow this thing you like doing and turn it into reselling.
Ryan
You've evolved so much, you went from golf balls to antiques to, what do you really love now?
Tucker
Toys.
Ryan
Yeah, like he loves toys or bikes or whatever. So it never kind of gets old for him. It's kind of crazy too when you think about the evolution of it, well what do you look for now versus
Tucker
Well, my target stores like collections. And back then I was like, "oh yeah, let's go to yard sales."
Ryan
Well, you target stuff, but what do you target now, mostly?
Tucker
I target businesses of all things.
Ryan
And what?
Tucker
People. The biggest thing for me is if I'm going into this, okay, can I go team up with a junk removal person who just gets rid of stuff, you know, around here? It is just like they throw out crazy stuff and, "oh, I need to clear out the whole basement." And junk removal comes, just remove all of it. And a lot of times they find video games, and toys, and found a PS4 one time in the trash. I team up with those junk removal companies to find that stuff. I sent a whole list of stuff I'm looking for and they just call up.
Ryan
It's kind of funny like that, it evolved so much cuz when he first started it was finding golf balls in the river and then it was finding this and finding that, and now it's actually finding people.
Tucker
And now they're finding me.
Ryan
Yeah. So like for him now, it's actually become, yeah, "I get to find all this cool stuff and sell all this cool stuff."
Tucker
I got a call a couple of days ago. He's like, "oh yeah, I have a huge tin toy collection I'm getting rid of." Guys call me up nowadays and like, "oh, I have a train collection."
Ryan
He finds people more so I think now than he does stuff.
Tucker
Right now, people are finding me.
Ryan
The stuff finds you. That's been actually really hard cuz he loves the treasure hunt. Right. But now it's like, we get a call every week with something crazy, "we have half a million baseball cards, that are new in the box. Do you want these?" And they come with a dump truck and dump 'em in our yard.
Tucker
I give them a check.
Ryan
I think a lot of resellers look for stuff, but I think Tucker figured it out pretty early that it's about finding the people with the stuff.
Tucker
Before they put it on Facebook or yard sales. Before that. You wanna get before it. Oh yeah, I'm gonna take it to donation, get it before when they put it in donation, get it before when they're selling.
Ryan
People are more important.
Danna
That's great advice. I can't wait for our audience to hear all of this because you shared some really great information with us today. So thank you so much to both of you for joining us and sharing your story.
Tucker
Thank you.
Ryan
Thank you, guys. Thank you so much for having us.
Tucker
Yeah, thank you.
Doug
Yeah, thanks. This was a lot of fun and we really appreciate it. We'll have to do it again.
Ryan
Yeah, definitely let us know.