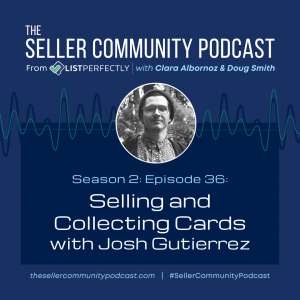 This week Clara and Doug are joined by card collector and seller Josh Gutierrez showing us that all cards are collectible as we discuss Pokemon, Magic: The Gathering, sports card collecting, selling, shipping, and more!
The Seller Community Podcast from List Perfectly is the ecommerce resource for the seller community across all platforms and a hub for information on growing your business. Find out more at thesellercommunitypodcast.com, leave a message or ask a question at anchor.fm/sellercommunitypodcast, or email us at podcast@listperfectly.com.
List Perfectly is the ecommerce resource for selling across multiple e-commerce platforms including eBay, Poshmark, Etsy, Mercari, Kidizen, Grailed, Depop, Tradesy, Facebook Marketplace, Instagram, and Shopify.
Links
Seller Community Podcast on Anchor
Episode Links
Pokemon Go

Magic: The Gathering

Sarge and Red's Toys

Dr. Applesauce Two YouTube

TwicebakedJake YouTube
Transcript
Doug:
We're joined today by Josh Gutierrez. Help me with my double Rs, Clara.
Clara:
You did great. No, you did great. Unless Josh complains about it.
Doug:
Are you complaining, Josh?
Josh:
No, I can't even pronounce the double R so… <Laugh>
Clara:
Would you say your last name, please?
Josh:
I say, Gutierrez. So…
Clara:
OK, thank you. Okay. We'll take it.
Doug:
I didn't Wanna be like on the news where they're like today in Nicaragua…but I'm glad you say it like I do Josh, so that's good.
Clara:
I love it. No, the way you guys. I see, I love…Doug, you crack me up. Okay. Okay. Pokemon, Josh Gutierrez. Okay. Yes, of course.
Doug:
See you did it though.
Clara:
No, I'm not gonna say, I don't do intros. No, please don't do that to me.
Doug:
All right. Josh Gutierrez. Online card seller. So, I don't know much about cards. I remember sports cards, and Star Wars cards from the seventies, which I wish I'd saved. Magic: The Gathering cards and Pokemon cards. I know that Pokemon Go is back. Cards are big again. So I am excited to learn more about cards with you, Josh. So welcome to the show.
Josh:
Thank you. Glad to be here, for sure. Hope to give some good information to the listeners. I'm definitely a big fan of the podcast. I'm glad to be a part of it and yeah, like looking forward to it.
Clara:
All right. I'm so happy to have you here, Josh. Because to be honest, you know, I've never done collectible cards. I have no experience with it. So I'm really looking forward to seeing what you're gonna share with our community. Thank you for being here.
Josh:
No problem.
Doug:
Well, let's get into it. So Josh, what cards do you sell and what cards do you collect? And where's the intersection?
Josh:
Yeah. Okay. So as far as selling, my focus is mainly Pokemon. I do dabble in sports cards obviously. And then collecting-wise, I'll get into anything that I think has a community that I think I could turn into profit basically. And they literally make cards for everything. So as far as collectibles go, I mean, I wouldn't even know where to start.
Clara:
<Laugh> that's, that's, that's a good answer, Doug, huh? Especially since you're such a collector yourself. So Josh, how did you get into selling cards? And is there something, you specifically focus on in the Pokemon collection, something that you really look for or without being so detailed? Right. But let us know. What's your focus, please?
Josh:
So, the short story of this is I had kind of been into reselling for a little while already, before I got into cards, but I was super into Gary Vee at the time. And then before the Pokemon Go craze happened. So it just started an urge to live out a childhood dream as an adult. And yeah, I can go out and collect them all. So that's definitely what started it. And then at this point, my mindset is, okay, I wanna make money off of this. And people are making thousands of dollars off of literally old originals that we had no idea as kids that were gonna be worth this much. And as far as anything that I look for, obviously, anything that's original or reprint of the original now, obviously there's like kind of variations of that. But just generally speaking, you definitely want to be on the lookout for the original cards. And then personally, any new packs that are coming out, a lot of people, they kind of think that it's too late to get into Pokemon cards. But they have so many releases and those releases are super limited. So it's kind of like shoes in that…
Clara:
Oh, really?
Josh:
You, yeah. It's super competitive. So you gotta be on it pretty much. And yeah, so the demand will be so high for the newer packs that you can literally profit that same week. Sell it for twice the amount.
Clara:
Wow. Wow.
Doug:
That's interesting. Super high level, can you break down the different types of collectible cards that are out there? What's popular?
Josh:
They just released a new pack. I actually have it written down…
Clara:
<Laugh> of course they did. OK. Then share with us. Okay.
Josh:
So right now, I mean, basically if you can get your hands on any Darkness Ablaze, which is like a set. Vivid Voltage, so they're like two different sets of the same cards. So there's like very specific cards within those sets that make those entire sets valuable. So as a collector, you're trying to get your hands on as many packs as possible. It's really hard to keep 'em sealed. I always open mine. So like for sure…
Clara:
Ah, yes.
Josh:
Keeping them sealed, that's gonna be the easiest way to sell, but there's always one or two cards that kind of set you apart within, within each drop.
Clara:
Right.
Doug:
And so those are Pokemon sets you're talking about.
Josh:
Yeah. Yeah. So like Pokemon kind of like the general and then there's a bunch of different sets with a certain numbered amount of cards within that.
Doug:
Yeah. And then there's Pokemon, sports cards, and Magic: The Gathering. What else is super big?
Josh:
Right now? So Magic: The Gathering is pretty lucrative and then of course sports cards. But to me, that's a little harder to get into personally. It is just so there are so many different brands, like Pokemon, it follows under, it falls under one umbrella with sports cards. There are just so many different brands and it's there. There's just a lot of it basically. And then so yeah, yeah. Pretty much. And then of course Japananimation or anime.
Clara:
Oh, yes.
Josh:
It is really popular. Like Dragon Ball Z cards are really, they're crazy right now. Like, so it just depends. There's a lot of stuff out there.
Clara:
How do You know about Dragon Ball Z? Do you understand?
Doug:
I'm thinking the same thing.
Clara:
How does he, wow, that just blows, why didn't I keep it? Ugh.
Josh:
Yeah. It's just like a natural progression. If you get into Pokemon cards, you're very likely a fan of Dragon Ball Z, and then yeah. You just kind of see what's out there and then yeah. And see what it's selling for reseller value. You can buy something at reseller value and still flip it for more later. That's how crazy it is.
Clara:
Wow. It's like real estate. Okay. Wow. Okay. Yeah. <Laugh> so, okay. The question that the audience must be wondering themselves and myself is how big is your collection, Josh? Where do you store it? And how big is it? Come on, give us an idea.
Josh:
So compared to a lot of the people I follow, I mean, people have literally entire rooms dedicated to their card collection. Right now I have a shelf full, a bookshelf full. I need to get into some of those and list them. But yeah, I'm at a bookshelf right now. It causes many arguments with my partner, but it's fine. <Laugh>
Clara:
All right. So she is seeing the value of your real estate investment affected by your collection of Pokemon cards. Is that correct? <Laugh> but it's what an investment. I'm very excited. You make me wanna collect some Pokemon cards. <Laugh>
Josh:
I think everyone should collect them.
Clara:
I'm starting to agree with you, especially with Dragon Ball Z. How would you? I'm still…hold on, I'm done. Get me out of this mindset, you know, I'm like I gotta go on, but wow. I cannot believe it.
Doug:
Yeah, that was an interesting one to hear come up.
Josh:
That's only the tip of the iceberg. There's…
Clara:
No, no, no, no. Come on, come on. Don't be a teaser. Give us a little more. Come on.
Josh:
So, I mean, I don't know how in tune you guys are with what's hit, but like there's Dragon Slater. There's One-Punch ManAttack on Titan. They're even starting to make UFC sports cards, which is relatively new. Yeah. Yeah. So there's a lot.
Clara:
That makes sense. UFC. So trendy now.
Josh:
Yeah, it really is.
Doug:
I have a friend, Sarge and Reds, he's a toy seller and he started selling, and they've been on the show. He started selling Magic cards and he got to a point where he was selling Magic cards online and then expanded into collectible toys. And now he's got his own, his dream was to have his own toy store. So he has that, but he bought card filers from libraries. Remember where…
Josh:
Yeah.
Doug:
Clara will remember back in the library when you go and you'd have to look it up in a card.
Clara:
No way back. I remember. And then you would have that little middle container. You could pull it up and then you would have, the fancy one would have like rails. So you could, the cards organized. And then the other ones would be just like in accordion, like, wow.
Doug:
Wow. And that's where he keeps his Magic: The Gathering cards. So he's got so many, he's got, I forget, it's a library catalog file system or something. I don't know what it's called, but it's these giant things in his store. Where do, so where do you sell cards or where, so where do you sell? And where's the best place to sell and buy cards?
Clara:
Yeah, that's what I was wondering. Does he sell them or are you just storing and saving them? So maybe it's for later because I used to save in vintage clothing. Okay. When I said to people, Hey, saving vintage clothing, I get it, Josh. I get it. Okay. But tell us, share with us. What are your plans with that collection?
Josh:
So I sell 'em pretty much every major marketplace. So for me, that would be eBay, Poshmark, and Mercari. There are a couple of other places you can go to sell. But for me, those would be the main things I would, the main platforms I would tell resellers who want to get into it. Definitely eBay. It's just, that it's the biggest platform out there now. Surprisingly, I have had the most, most of my sales on Poshmark. Believe it or not?
Clara:
What? Wait, wait, wait, wait, wait. These Pokemon cards, you just told me that they're selling in Poshmark more than on eBay?
Josh:
Yeah. For me currently. Now I don't want to say that this is what it's…
Clara:
Well, no, no. And we're talking about you, you're reselling. This is…Doug. Are you as surprised as me?
Doug:
That's interesting.
Josh:
And the thing about Poshmark is you always gotta price it a little bit more than what you're actually trying to sell it for and people will surprisingly buy it. I don't know why, but that's just how it's been.
Clara:
Perceived value, perceived value.
Josh:
And that's really important in the card game, for sure.
Clara:
Oh, I get it.
Josh:
So, Mercari, Mercari is so easy to list. I have just, have to list on Mercari.
Clara:
And how is that going, that channel for you?
Josh:
So Mercari is actually really good for electronics. I feel like it's kind of geared towards a younger crowd, maybe more, so people who are in their twenties, or early twenties. And it's just really easy for people to find games, to find something different, like I said, if you're into cards, you're very likely into other things like vintage manga collections or vintage VHS collections, and it's just really easy to sell on Mercari.
Doug:
Yeah. Yeah. I like Mercari as well.
Clara:
Okay. So once I find these cards, okay. So let's say I found these Pokemon, what was it called? Dark something. Okay. <Laugh> so let's say I found that card. Okay. How would I determine the value, the estimated value of that card if I wanna resell it online…
Josh:
The Bible for Pokemon card value is kind of its Pokemon TCG. You can just Google it and it'll take you straight to the page.
Clara:
TCG.
Josh:
Yeah. And it just stands for trading card game. And so, and they'll have a catalog of every set with every card and the base value it'll be worth, which maybe it's like, but you don't have to live by it. That's the thing. So like a lot of basic cards are valued at less than $1, but like, if you have a Pikachu, it doesn't matter if it's basic, someone's gonna buy it for $5 because they want that specific card. And by the way, $5 makes your entire pack back. So you really just need one card to hit.
Clara:
Wow. <laugh> Doug, are we partnering on this?
Doug:
Yeah, I know. It's like…
Clara:
Us okay? So are we doing like, I don't know, Trading Cards, inc, okay? <Laugh>
Doug:
There you go. Carding Perfectly?
Josh:
<Laugh> exactly.
Doug:
Interesting. Well, and you know, that's, that is an interesting point is like you sell one card for five bucks, it's covered your pack.
Josh:
That's, yeah. And that's kind of how I look at it now. It is really hard to get rid of like those really basic trainer cards, energy cards, or you know, if you're into Pokemon, you know exactly what I'm talking about, but I would say the best advice for that is to get a couple of rare cards and include it in a bulk sale. I mean, that's gonna be the best way…
Clara:
Exactly what I did.
Doug:
Nice tip.
Clara:
That's right. That's exactly what I, the same concept that applies for clothing and anything else you have to have, you know like I called the eye-catchers.
Josh:
Yeah. Yeah, exactly.
Doug:
So have you ever used any card grading services?
Josh:
Yeah. So PSA would be the top-tier card minting service. There are other, I guess high-level card grading services, but there are collectors who, if it is not graded by PSA, won't even look at it. Oh, so that's…Yeah. So definitely I would recommend PSA to anyone who wants to get a card minted.
Doug:
And do you ever go to shows or anything?
Josh:
No. No, I don't go that deep. I feel like the internet is enough for me. Yeah.
Clara:
Okay. But when you do this, I'm sorry. I'm gonna go back to your question Doug, that is so interesting. Curious now, especially because we're doing this partnership, I'm sorry. I'm back to the podcast. Okay. Clara. So with the card grading service, how does it work? I have to mail it to them. I have to take pictures of it. How does it work?
Josh:
Basically, with card grade services, you're gonna have to send it in by mail. So it's very important to make sure that you have your bubble wrap ready. You have a soft case and a hard case because you definitely don't want any kind of bend or damage to happen in any way and it does happen when you mail this stuff, but yeah. So definitely don't take shortcuts when it comes to shipping of your cards and they will literally look at, I mean, if there's a tiny little speck of dust on it, it's gonna cost you and that's, you know, at the highest end that's that could be a couple of thousand dollars.
Clara:
Ouch.
Josh:
Yeah. So it's pretty crazy. So yeah, you would, sorry you would mail it in and then they have, so depending on how many cards you mail in and how fast you want it done, it could range from like $50 and it's based on the value as well. So if it's valued at $500, it could be from $50 to $200 just to get that graded.
Clara:
Quite an investment.
Josh:
Yeah. So I would, it's definitely an investment if you're going that route, but I will say that you don't have to do that to be successful. That's just if you're really serious about getting the best value on a rare card.
Clara:
All right. Okay. I was just wondering, I'm like, ouch, I'm gonna be doing that with every card. I was like, <laugh> I'm gonna…
Josh:
Yeah, definitely not every card for sure…
Clara:
Because this is a great segue for the next question I have. Josh, what are some of the unique challenges okay, related to selling these collectible cards?
Josh:
I think one of the most unique challenges in this, I guess, the community is being the first one in line. Because as soon as a drop happens, if you're a day late like it's gone and you might not find that pack for another few months. And when you find that pack, it's not going to be worth as much because obviously there's a restock, a reprint, or whatever that may be. So being the first one to jump on a new pack is very integral if you want to be successful.
Doug:
And then let's go back to shipping. So unique shipping challenges as well. So give us kind of the high level. Let's say you're shipping, somebody's bought a card and you're shipping it out.
Josh:
So it is, it's not anything too complicated. It's just having the necessary materials ready in bulk, because if you're buying single hard cases, single plastic cases, and then of course your bubble wrap and envelopes, and you're doing it that way, it might not even be worth it to sell, you know, one card that you have priced at $7 and then if you spent $5 on all your material. So that's if you're getting into selling cards and a lot of 'em, I would say, buy in bulk and then yeah, it'll pay back later and you, it's not something you have to worry about, but when you're first selling, you're like, now I gotta go buy this hard case that costs $3 by itself.
Clara:
What is advice you could give to any aspiring card seller, whether they have experience with collecting cars, or maybe they're just doing it for their reselling purpose and they don't understand the collections, but they're starting to research? So what would be comprehensive advice for this audience?
Josh:
So…
Doug:
Clara and I are taking notes, so…
Josh:
So…
Clara:
<Laugh> I know. Can you tell me, okay? The partnership? Yes. Oh, okay. Tell us what would be a good answer to become a partner when this… <Laugh>.
Josh:
So I would say at the base level, if I was giving new advice it's if you see card packs, just, just buy it and don't think about what you're gonna sell it for. I would say, just start buying, and build up your collection because at the end of the day, it really is about having inventory and just listing all of that inventory just to keep that flow going, because you're not necessarily gonna sell everything all at once. And anything that you do find that will be worth selling. You might wanna, you might wanna sit on that. You might want to go and get that minted because it's selling for $800. If you're getting like a seven, you know, a seven rating or whatever, you know, cuz they rate it one through 10. So I would, yeah, so definitely just start buying, be a part of the community.
Josh:
And when I say be a part of the community, I don't mean that you have to be someone who's super involved and is well known or some sort of influencer. To me, it's just a matter of being willing to seek information and then, and then be willing to ask questions to other people who are successful. And you can really only do that, do that by being involved and basically going out and seeing what's selling, seeing what's being released. There's no influencer out there right now who has any secret information to this like they are literally just staying up to date on what's dropping and they're gonna be the first person in line. And then of course they'll sell you that news on their YouTube channel.
Doug:
<Laugh> yeah, there you go.
Clara:
But what an incredible thing, I would've never guessed just buy the collection. It makes sense. Like you said, it's like I did when with vintage clothing, it is true. Sometimes you gotta buy the bulk, the pallet, you know, and, and then you'll see, you know, you have some gems that they just one gem just covered for the whole pallet. It's like, wow, I'm having an aha moment. Thank you, Josh.
Josh:
Yeah. So it's definitely a game of inventory and patience, at its most base level. And if you, if you have the patience to never open your packs you're ahead of everyone. It's so addicting cause you wanna get that pull, that one special card that's like could make your entire year. I'm just saying.
Doug:
Yeah, I know. I could see that. So let's go back to eBay for a bit. So eBay, you said, you know, eBay's really good for selling cards. eBay really leaned into trading cards over the past year or so. They've got that card authentication program. So are you familiar with that at all? What's your opinion of that and selling cards on eBay?
Josh:
So it kind of has mixed reviews in the community. So basically for anyone who doesn't know their card authentication program is for any card priced over $500. They're gonna go out of their way to authenticate that for you. And that's not necessarily a bad thing, but people who are high-level players in the game, don't really like that because they're paying all of this money to go to PSA and get that minted, you know, and get that graded. And you know, that kind of acts PSA kind of acts as the authenticator. So for a lot of people, it's like double work and it's still super necessary, but of course, eBay is trying to kind of make that easy on sellers. So in the future, I can see that working because they're actually talking about adding a grading service. I don't know when that's supposed to drop or how it's gonna work and I don't even know how it's going to affect the industry, but it could be trouble for PSA if people start kind of living off of those values, in my opinion.
Doug:
Interesting.
Clara:
Wow. What a perspective, Doug, huh?
Doug:
Yeah. Yeah. No, that makes sense though. It is interesting.
Clara:
Go eBay, because that's giving some sort, am I just seeing this, or is it, am I getting a perception that maybe this organization has a little monopoly at the moment?
Josh:
I feel if they take it a step further and they really dial in on the card grading it would feel a lot like a monopoly cuz I feel like PSA kind of has that monopoly and they affect the market…
Clara:
That's what I was trying to say. I wasn't talking about eBayJosh, but that's what I was thinking about, this organization. Not eBay, but PSA right now has like some sort of monopoly dictating, maybe some somehow not dictating, but honoring the demand and offer, but at the same time, maintaining certain cards, you know? And so…
Josh:
Exactly. And it's really like if you ask me the difference between a nine and a 10 like I wouldn't be able to even spot that difference. Really. This is a difference between five grand and 10 grand, you know? So it's really hard to know if eBay came in and made that process a little easier for the masses, it's certainly a game changer.
Clara:
eBay there, you have it. I know you're listening. We're waiting for your minting process. Well done, you know? Wow. Go figure. What, what a perspective Doug, huh?
Doug:
Yeah, definitely could have an influence on the market for sure.
Clara:
Absolutely. Now Pokemon Go Seems to be big again. Do you play
Josh:
So I did play for a little bit. I kind of, it was cool because so many people were outside and you knew that they were literally playing Pokemon Go.
Clara:
Really?
Josh:
Yeah. It kinda died out for me a little bit, but I have a Nintendo Switch, so I'm literally just like the games are actually picking up. I don't know if y'all remember the Game Boy, those games were huge, but yeah, it's on the next generation now and that's definitely big time for me.
Doug:
Yeah. Interesting. Yeah. My wife and kids are way back into it and they're trying to get me, I'll mess around a little bit, but not as much as they do.
Josh:
Pokemon Go is really good exercise.
Doug:
Yeah. Yeah. We kind of do it in the house, so we gotta expand our… <Laugh>
Clara:
<Laugh> Doug, you can do this okay.
Doug:
Outside. Yeah.
Clara:
Open that door and there is the outdoors. Okay.
Doug:
Leave the house, yeah. All right. So what's the, what's your rarest card that you bought or sold?
Josh:
So this one's actually funny. So the rarest card I've ever sold was actually, a lot of people don't know this about Pokemon cards. Obviously the price is the original, the original set that first came out, but people don't know that they have two different versions of that. So they have a shadowed version and an unshadowed version. So the unshadowed version is like the original, the very first one, ones that were printed. And those are the ones that are like being auctioned off for like 20, 30 grand. And I actually owned one of those. And this was before I even liked reselling, like I just had this in my collection and I sold it for like 300 bucks at that time, without that knowledge. And literally right now, if it was graded, it would be worth like 20 grand. So that's probably like my most lucrative sell when I wasn't even a reseller. My biggest buy is a James Harden rookie card.
Clara:
Wait, wait, wait, James, what?
Josh:
James Harden rookie card. Basketball player.
Clara:
Oh, okay.
Josh:
Yeah. So and so that was probably my biggest buy and it's actually gone up in value a little bit. So I'm kind of hoping he wins a ring, but even if he retires Hall of Fame material, I think <laugh>
Clara:
Okay. Can I, without offending our beautiful audience and my co-host and my beautiful guest, would you mind sharing which teams were with, did they play for, you know, like I'm literally, I'm like I'm blank with those names, okay.
Josh:
So he started off with the OKC Thunder and then he went and played a couple of years with the Houston Rockets and had a pretty successful tenure, short of winning a championship. And now he is kind of older now. So he's kind of moving on to other team greener pastures, but he's, he's one of the top players in the league and he's definitely someone, you know, when you look for, I guess, rookie cards, you want to get kind of like the cheaper ones you want to kind of predict who's gonna have that Hall of Fame career. So for me it was definitely, that was…
Clara:
That was your, that was your plan, your investment.
Josh:
Exactly. Exactly.
Clara:
So Josh, what are some of the card selling communities you participate in please?
Josh:
Okay. So I know you guys are big into Facebook. I'm not necessarily on Facebook–I do have a Facebook. I do get on it, but for actual communities with the best information where you can go and ask questions and not feel like you have to put yourself out there too much, I would say go to Reddit. There's literally a community called Pokemon Card Value. Wow. And there's Pokemon TCG. And then there's one more I had it written down because I really
Clara:
TCG trading card. What was it?
Josh:
Trading card game.
Clara:
Oh, okay. Trading. Okay. I'm learning. See audience I'm learning. Okay. This partnership is gonna work <laugh>
Josh:
Sometimes you can even search in the specific pack names and there's entire communities dedicated to those cards within that set. And then of course I would say…
Clara:
So you don't need to open it. So you could go to Reddit in this community and then see what is inside of the pack and leave it like Josh, resist the urge, do not open…
Josh:
<Laugh>. Exactly. And you can get up to date values and people like these are communities that have a lot of traffic. So your questions will get answered fairly easily. And there's all levels of sellers. Some people don't even sell, they're just collectors and you might meet buyers in that way. That's why I think the community is probably the most important thing when it comes to selling because marketplaces are great, but you might not necessarily make your best sale from a marketplace. There's a lot of collectors who are looking for this stuff and you, you never know when you come across them.
Clara:
Couldn't agree more Josh. Pearls of wisdom by Josh Gutierrez. That was a Spanish accent, okay.
New Speaker:
That's great. Adds something to it, I think.
Josh:
Sorry, and I wanted to just throw it in, therefore anyone who likes to go on YouTube for information, look up Dr. Applesauce Two, and Twicebaked Jake. Just search those guys up on YouTube. They literally, they're not the most informative. I mean, if you want to go down that rabbit hole, you can find plenty of people who maybe work for you, but just go look at their channels and look at their information. They give you step by step guides of how they sell their cards. So, I always recommend like literally my friends always ask me how they, how to sell and that's, that's who I point them to. So yeah. I just, if anyone's interested, definitely go check those people out.
Doug:
Is there a singular card, you're like across, all the different types. Is there a singular card, Holy Grail card you're looking for, you're holding out for, you're hoping for?
Josh:
Yes. I mean, I feel like there's a couple and it always changes. But specifically for Pokemon, the one I'm really looking for is Charizard VMAX Rainbow Rare.
Clara:
Wait, wait. Okay. For the one that speaks multiple languages, chars. Okay. Like your char, like your board is charred like after burning, is that like it?
Josh:
Yeah.
Clara:
Char what?
Doug:
Charizard.
Clara:
Yeah. Okay. And so Charizard.
Josh:
So yeah. Charizard and then like the type of card it is would be V MAX, Rainbow Rare.
Clara:
Oh…
Josh:
Yeah. So there's like different levels of rarity and that's one of the, like, if you pulled that in a pack with, without any grade, you could probably sell it for 200 bucks right now.
Clara:
No, Josh, you cannot tease me like that now. I'm like, what is V Max? Okay. Rare. Now I need to know it. Okay.
Josh:
<Laugh> yeah. There are a few, it's changed since the early days. So they used to just have regular holographics. So at the most basic level, they have reverse holographic and then they have the standard holographic and they'll have like the, it's…so they'll have like a Charizard V but it's not a V MAX and then they'll have the Charizard V MAX, but it's not Rainbow Rare. And, then they'll have the Charizard V Max Rainbow Rare, which is the most elite of the elite. And then, of course, you know, I would like to pull my Justin Herbert rookie card.
Doug:
Me too. That's the…so Clara, that's my favorite, believe it or not, I'm not into sports just into NFL football. And I'm a huge Chargers fan. Los Angeles Chargers. I preferred when they were in San Diego.
Clara:
Oh yes.
Doug:
Justin Herbert
Clara:
Again, you know, as a soccer fan, I am offended. Okay. Yes. I agree with you.
Doug:
Yeah. When they moved the team, but Justin Herbert's their quarterback.
Clara:
Oh yes. I do get that. Yes.
Doug:
Quite the rookie. Well, he was quite the rookie now he's…
Josh:
If you could land one of those when he first came out, it's like, yeah.
Clara:
Wow.
Doug:
You never know. Who knows. You never know.
Josh:
Yeah, exactly. That's why you buy the packs. <Laugh>
Doug:
And he was, not to go too far into this, but he was supposed to be the backup. The starting quarterback, Tyrod Taylor got injured when they were injecting him with something, this, the coaches or the trainers. And they punctured his lung like 15 minutes before the game. And that's how this guy decided that he, he found out 10 minutes or 10 minutes in or 10 minutes before that he was gonna go. And he was playing against the Super Bowl champion defending Chiefs.
Josh:
Yeah. So like, this is a good example of just having that knowledge and knowing when to buy, because when Justin Herbert was drafted, he was a first-round pick, but no one considered him to be elite, like a once-in-a-lifetime prospect. So if you had all this time before week one to literally get that rookie card for peanuts, and now it's almost impossible to get.
Clara:
Offer and demand. Huh?
Doug:
Yeah. That's true.
Clara:
Offer and demand.
Doug:
As you said, perceived value, like you say.
Clara:
Well, the thing is that athlete okay, earned it, you know? So he went from being drafted and being the underdog and now making it to what is it called? I'm so sorry, football fans. Okay. Super Bowl. Is it called the Super Bowl? Okay. Yeah.
Doug:
Hopefully this year.
Clara:
Impressive. And if you invest in that, <laugh>, it's like, you know, it's like, you know, like any investment concept, you know, if you took you, your hunch, your wisdom and you understood the risk and you went for it. So thank you, Josh. You, you simplify the perception for me at least of investing on these cards, you know, and these, but I am curious. Okay, so now you're, you got the algorithm and the formula for game cards. Do you sell anything else other than these cards?
Josh:
Of course. Yeah. So those are my, you know, those are the investments I do for fun. I sell those for fun. But yeah, of course, I sell shoes. I live that thrift life. You know, I do all of that, anything that I can get my hands on, I sell mugs. I sell VHS tapes, VCRs, everything.
Clara:
Really?
Josh:
Yeah.
Clara:
Nice. I just read a review Doug, of a person that sold a VHS machine working and that person, was so happy because they were able to watch their wedding and reception and, you know, anniversary. So it's just, so VHS is so back. I would've never guessed, so wow, Josh, reselling everything from cards, from anything you can flip your love being cards. Doug, where do we go from here?
Doug:
Anything to add that we haven't covered or anything you want to throw in across the board?
Josh:
Yeah, so if you're a reseller, I will buy your cards at reseller value <laugh> and I'll sit on them for two years and sell 'em for a hundred dollars more. So I just wanna remind people that there, if you put the research in you can go and find cards that are being sold at resale value. So on the high end, maybe like 40 or 50 bucks for, and then, of course, you know, you might have to dish out a hundred or 200 for that Rainbow Rare, but you could buy that. And if you're willing to sit on it, get it, even go through the process of getting it minted. I mean, you could 10X your investment.
Clara:
Now, if I don't wanna get it minted and wanna research the value and make the decision, should I invest in this or not? Where should I go, Josh?
Josh:
Okay. So if you're not sure if you want to get something minted, I'll just say that you can sit on something and the value will go up, you know, $20, $30. That might be enough for you. I'm not saying that you have to go and, you know, dish out a thousand dollars to maybe make $5,000. Like, that's just how the game is. You don't have to do that, but to me, if you have that one card that you come across and you know, you know, you look, you see the, you see what it's selling for on eBay. You see it, like, it's not complicated. Just go to eBay, go to Depop, go to Mercari. You see what they're selling for at the full price. And that's literally all you have to do and then decide for yourself. Like, if I put in this $1,000, will it be worth it in two months to sell it for $3,000?
Clara:
Okay.
Josh:
You know, and that's just projecting, it's not necessarily a thousand. It might be $200, it might be $300 to get that.
Clara:
Thank you. Thank you so much. What an understanding of this topic. Thank you so much, Josh.
Josh:
Yeah, of course.
Doug:
Yeah. And you're the first card seller we've had on the show. So thanks for schooling us.
Josh:
I wanted to be as informative as possible. I want people to get into it. I want it to be a normal part of the reseller community. Why not? It's really lucrative. There's no reason not to. It's still super early because you know what? A lot of people don't get into cards because they feel like it's too late. But in reality, it's as early as it's ever been because eventually collectible cards are gonna be part of digital marketplaces. It's gonna be a part of Web3. They're already making NBA digital packs and they're going for like a hundred bucks. So eventually that'll spread to the masses. So, if you can get your hands on any of that for basically nothing right now, like go for it.
Clara:
Exactly. So Josh, please stay online with us. Okay. After we finish this. So we wrap up, okay? Our partnership details. This is very lucrative. I swear, you know, this is incredible. I'm excited. You know, when you talk with someone and like, okay, I wanna do this as a former reseller full-time reseller. You make me miss it so much. And now I imagine those packs that I miss and they were unopened. I would see them on the shelves of thrift stores. And I would see them and you're like, nah, I will put $15 on that. Now you're making me look at them. I'm like, oh, why didn't I?
Josh:
Definitely do it. Definitely, you'll find them in unexpected places. I was grocery shopping at Kroger, and I don't know if everyone has Kroger. Maybe it's a Texas thing. <Laugh> I don't know.
Clara:
Oh no, we have it here in the West Coast, in California, and Arizona. We have it.
Josh:
So typically a pack is like $4. I literally found them just grocery shopping at Kroger for $3 and yeah. And I literally brought up, and there were no sell limits. So I bought up all those cards. I know some people might hate that. Leave some for the kids. I get it, but I am kind of a kid. So yeah. I definitely bought them all.
Clara:
Yes. You're nurturing your inner kid. And that's something that I always say, we were just talking about Doug in the day onList Perfectly live talking about the reward system as a reseller and how healthy it is to set that reward system. And then at the same time, help people to find that inventory worldwide. Right?
Doug:
Yeah, definitely. Well Yeah. Thanks, Josh for joining us. So joined today by Josh Gutierrez. He's looking for a Justin Herbert rookie card. He's looking for a Charizard X Max Rainbow Card. <Laugh> or is it V MAX?
Josh:
V MAX…
Clara:
V MAX. Oh, V MAX. I knew it was that one. OK. I got confused. Was it the Rainbow or the V MAX? Which one? <Laugh>
Josh:
Yeah, both are separate, but also there is a like V MAX by itself. Yes. But the V MAX Rainbow Rare. Yeah.
Clara:
Okay. There you go, audience, find that. Okay. Dive on it. Just get it. Okay. An investment like real estate or even better than crypto at this point. Okay. Just…
Josh:
There are literal crypto coins based on Pokemon cards.
Clara:
NFTs. NFTs.
Josh:
Exactly. Exactly.
Doug:
There you go.
Clara:
That's right. I believe in it. And we'll talk about that in our partnership and move soon to the next <laugh>. I was just kidding.
Doug:
That's right. And Josh says he'll buy your cards if you want to sell.
Josh:
Yes, absolutely.
Clara:
He's ready.
Doug:
All right. Thank you so much, Josh. We appreciate it.
Clara:
Thank you, Josh.
Josh:
I appreciate both of you. I'm glad I got to do this. I would love to do it again and thanks for having me
Clara:
Anytime. Thank you, Josh.
Doug:
Well, Clara and I are gonna put together our questions for our partnership and then we'll have you back.
Josh:
Absolutely. Sounds good.