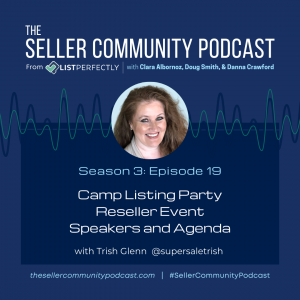 Trish Glenn, Super Sale Trish, joins us and gives us the latest updates and speaker information on Camp Listing Party (camplistingparty.com), List Perfectly's first reseller event, and the first big event of the reseller event season. It's not just for List Perfectly users, it's for all sellers!
The Seller Community Podcast from List Perfectly is the e-commerce resource for the seller community across all platforms and a hub for information on growing your business. Find out more at thesellercommunitypodcast.com, leave a message or ask a question at anchor.fm/sellercommunitypodcast, or email us at podcast@listperfectly.com.
Links
Seller Community Podcast on Anchor
Episode Links
Transcript
Doug: The fabulous List Perfectly Director of Operations SuperSaleTrish is back on the show to update us with all the latest on Camp Listing Party.
Trish: So fun. Happy to be here.
Doug: Trish is back to update us on the fantastic speakers, the agenda, and more. First let's start out, remind us what Camp Listing Party is.
Trish: Camp Listing Party is our first event and it's going to be the first annual event. This is going to be something that we're gonna do every year from now on, so every summer we can all go to camp. It'll be great. Camp Listing Party is a reseller event. It is not List Perfectly centric, but of course, it's sponsored by us. So there will be a little bit of List Perfectly in there, but it is a reseller event, and it's an event that is made to help us bring our businesses to the next level. And I really believe in this. I think that I would not be where I am now without these kinds of events. So I'm really happy to be a part of one.
Doug: Networking is a huge part of these events and it's gonna be a huge part of this one. How long have you been working on this?
Trish: Eight months. So just about as long as I've been with List Perfectly. This was kind of brought up, maybe the second week I was there. This is something that Clara and Amanda had thought about doing pre-pandemic, and of course, because of the pandemic, everything kind of changed and shut down and so it didn't happen.
And when it was brought up, I was like, this is what I wanna do. This is what I would like to focus on. This and our listing party tour across America have been kind of like my two babies, and so I'm really excited to get this off the ground.
Doug: Everything's been amazing that you've been doing, Listing Party in the USA is great, we did some virtual stuff on that, and you're gonna do some more later in the year, right?
Trish: Yeah, absolutely. So we will be on a small hiatus between now and the end of June when Camp Listing Party will happen, and then we will go right back and we will be going to Boston, New York, Kentucky, one of the Carolinas. We are really hitting the ground running. I think we'll probably go back to California. Southern California this time, and so, yeah, we'll be right back at it right after camp.
Doug: Awesome. And so back to Camp Listing Party. So where's it gonna be and when is it going to be?
Trish: So, It is June 27th and 28th. It's a Tuesday and a Wednesday. If you buy a VIP ticket, we can talk about the tickets in a moment, but there are three different kinds of tickets. If you buy a VIP ticket, then it would be Monday, Tuesday, and Wednesday. We have a special VIP dinner and reception the night before, but regular, um, general admission is on the 27th and the 28th.
Doug: What can attendees expect?
Trish: Great speakers, social media stars, within our niche of course, but also real business people. People who make a full-time living from reselling who wanna help you, who are gonna explain what they did to get to the next level. I think that you can expect actionable items. One of the things that I have focused on is making sure that every session, every class is an actionable thing. I think sometimes we go to these and it's a rah rah session, which is wonderful and great and there'll definitely be a lot of that, but it will not just be that. It will be how to get your business, you specifically to the next level.
Doug: Let's talk about some of the different packages that are available.
Trish: So right now we have three tickets. We have a general admission, a V IP, and a VIP plus ticket. Every ticket comes with admission to the program. Every ticket comes with all your meals and your alcohol included. So you are gonna come, you're gonna stay in the same hotel, everything is a convention hotel, so everything takes place there. So you don't have to Uber anywhere. You don't have to go anywhere. And the hotel actually will come and pick you up at the airport if you're flying in, they'll pick you up at the airport for free and bring you right over.
So it's all self-contained. And that's great for a lot of things. I think Doug and I have been to a lot of these. And what's great when it's self-contained is the people you meet at the bar, the people you meet in the elevator, the people that you just bump into on your way to breakfast in the morning, and when you stay offsite, when you're traveling somewhere, you don't get that as much.
And so this is really a place where networking will not only happen in those networking events we'll have but will happen in a natural way. Hey, how are you? What do you sell? What do you do? All the speakers will be staying on-site, so you'll bump into them in the elevator, you'll bump into them at the bar.
It's a great way to get the most out of an event, I think. Of course, you get a swag bag, and then the last night we're gonna have a big gala with dinner and dancing and fun and prizes. So it'll be great.
So then there's a VIP ticket and a VIP plus ticket. With the VIP ticket, you get, an extra night, the night before you come in and we'll have our own reception for just them. And then there's a VIP green room that's open from eight until eight on both days that you could go in and you can grab something to eat or something to drink, and you can just hang out and talk with other people who are like-minded, who feel like this is their business and they wanna bring it to the next level. And it's just a way to get with some like-minded individuals who really take this seriously, and the VIP plus, of course, has all of those things. Plus, you will have dinner with Clara and Amanda and some of the sponsors, and Doug and I will be there. It'll be a small dinner just for us to really talk about you and your business and what we can do to help you.
If you are an LP user, this is a way to get in touch with LP people at the level to be able to say, you know, we don't think you're doing this right. We can help you look, at and use the product this way. Maybe you can try this, maybe you will get more, and you'll have somebody on our tech team who will go through what you do specifically and help you and try to get you to the next level. And also you can speak with them one-on-one when you're there. You can come on the podcast like this if you're a VIP plus, you know, we'd love to have you. Let's talk about what you do, how you do it, what you're interested in, maybe you have a show of your own. Come on, let's talk about it. Let's get our viewers over to be your viewers. So those two tickets, they're a little bit more pricey, but you do get a lot out of them.
Doug: The whole team's gonna be there so you can engage with them. And there's gonna be like you said, a lot of one-on-one stuff. We're gonna do some listing party stuff.
Trish: And that's the other thing. Everyone who works for LP. If you live in the United States, you're gonna be there. So come and talk to us. The girl who does all our designing, she's a graphic designer. She'll be there. Maybe you wanna talk about how to get the most out of your branding colors or design-wise, or maybe you'd like to talk to Tiffany. She's in charge of our marketing. You know, maybe there's something you think that you could be doing differently. Bounce some ideas off of her. We wanna know what you need, how can we help you? So we'll have some one-on-one time, we'll have some open table, round table discussions that you can go in and ask questions specifically of those departments.
And it doesn't have to be LP related. Maybe you wanna talk about branding for your own, like what you wanna do for your own YouTube or your own podcast or whatever. Talk to Doug. Doug's gonna do something on podcasting. You know why you should have a podcast. What can it do, how can it help you bring your business to the next level? Maybe you're somebody who's interested in YouTube. Let's figure out how to help you get where you wanna go.
Doug: We're very informal and, it's like I always say we're all sellers, we're all List Perfectly users, but it's gonna be informal and there will be a lot of influencers there. If this is your first event, don't be nervous. They wanna talk to you too. We want to talk to you too. And if you're nervous or uncomfortable or you want to meet somebody, Come grab Trish. Come grab me. I guarantee we know everybody. We will introduce you. Basically, a couple hundred of us are gonna go take over this hotel.
Trish: That's exactly right. So we will be most of the people at the hotel. So everybody that you bump into, you know, they'll probably be at the event and that is a really great thing. And also, if you're somebody and you're gonna come alone, do not worry. These events are great. You could always go on the Facebook page and say, Hey, somebody wanna share a room. You know, have relationships, and make connections that you did not have that will benefit you personally and your business that you can't even put a price tag on.
Doug: It's all in this hotel, everything's gonna be there. People will be eating and we'll have events, there'll be nighttime events, and sellers at events like this will do their own stuff. They'll be like, let's go sourcing. Let's go do this. Let's go do that. But the nice thing too is it's all there. If you need a break, you can go up to your room.
I love that you get there. It's not gonna be a 30 to 45-minute drive to the hotel.
Trish: 10 minutes you'll be in your room.
Doug: You check-in and you're gonna bump into people. And you know, sorry, if you are not an outgoing person, you're not gonna be able to hide.
Trish: But if you're not outgoing like Doug said, come grab me. Come grab Doug, introduce yourself, and we will be more than happy to make sure we find somebody to help you.
There's a girl who works for us, Kim, she'll be there. And she is the sweetest girl. The first time she went to one of these, she went alone. And it changed her life. And she would be more than happy to take anybody under her wing and make sure you have a good time and you feel comfortable and you have somebody to eat with and you have somebody to sit with.
Doug: A couple of other important questions before we move on. Is the gala a formal event?
Trish: No, sir.
Doug: So I don't need a tuxedo.
Trish: You do not need a tuxedo.
Doug: Do I need to wear a tie?
Trish: You do not need a tie.
Doug: Right. That's good. And then will I have access, cuz ladies and gentlemen, I am also a speaker, so I will have access to the VIP room?
Trish: Yes, my friend. You will. All of the speakers will have access to the VIP room.
Doug: So now let's say, I can't attend but want to attend. What options do I have?
Trish: You have a couple of options. We have a virtual ticket, and we have a ticket for one day, two days, or both days, and I think that if you can't come or if you have never been to one and you're afraid, or you're somebody you just can't travel, please do this. It will be a great option. You'll see everything happening live. Plus there'll be some interactive components to that. So you'll be able to ask questions. And then of course we'll have some things on Listing Party and I think maybe a little couple of YouTube things happening.
So it's gonna be great. There'll be a lot of virtual stuff going on. So if you are not somebody you can get there, please think about the virtual option.
Doug: So you've got that option. And as Trish said, we'll do some listing party stuff. There'll probably be some non-agenda stuff. We'll just go live, right?
Trish: They definitely will be.
Doug: And we'll try and do different things. Listing party stuff again, YouTube stuff. Who knows what we'll be doing, there'll be a lot of options. And, before we get into the speakers and the agenda though, I do want to say that we just started giving tickets away, so we'll have some that we'll give away. We're gonna give away some virtual tickets. We're also doing a giveaway right now on Instagram. We're doing a giveaway for two general admission tickets and your hotel.
Trish: Absolutely. And with the general tickets, it's all included. Your food, your alcohol, your refreshments, all of the speakers, the gala, everything's included.
Doug: Let's talk about speakers. Who's in?
Trish: This list is pretty much done. There may be a few extra popping in, and if anyone else is added, I'll let you guys know. But for right now, this is pretty much it. Of course, people who work for List Perfectly are speaking. Doug is speaking. I am speaking, Theresa Cox, ClubRed97, and Danna Crawford, Power Selling Mom. So we're all speaking. And then, of course, Clara and Amanda, the CEOs of List Perfectly, they'll be speaking and they're not gonna be speaking together. Clara is gonna be speaking about her journey to being a reseller, coming from outside of the United States and coming to America and how it's helped her and how it's changed her life. And Amanda's doing a little bit more of some geeky tech stuff, which should be really fun. So you can go and pick her brain, and ask questions. Danni Ackerman, The Niche Lady will be there. Sarah Boykan. She is a very well-respected Poshmark seller and what I have tried very hard to do is to get people from different niches. Sarah Boykan and Tiffany Stewart, are both coming from Poshmark and they're gonna do a panel and talk about the power of Poshmark and how Poshmark really has changed the game now that you can sell a lot more than just fashion on Poshmark and for people who crosslist, I think that we don't understand how much we can crosslist to Poshmark.
And then we have The Nurse Flipper who doesn't need any introduction really. She is a force to be reckoned with, , and she has done events on her own before, so she brings a really interesting perspective. It's gonna be great to hear her. I think that Kat is no-nonsense. And what I love about her is she's just gonna tell you what you need to hear, whether you wanna hear it or not. And I really applaud her for that. So I'm really looking forward to that.
Mike Cook, Mikey Bags of Money…
Doug: Sonny Las Vegas, his significant other…
Trish: They are both in the Reseller Cartel and, what I love about them is they're really into the reselling community. They both take this so seriously and they want to give out good content and they really try very hard to offer their viewers and their watchers something to learn from. I think it's great and we're gonna get a lot out of listening to them.
And of course, Hustle Bee Ken is gonna be there. Doug, you know him so much better than I do. I'm gonna kind of be like a fangirl when I see him. I gotta be honest.
Doug: He's a super cool guy. We've got a long history. Ken, The Hustle Bee, Glen Hustler Hacks. We've done events together. We met at a reseller event and they hung out with us and they are largely responsible for giving me the name Snoop Dougie to tell the truth. We did eBay open together. I've done their events a couple of times. They tour and do events and just have known those guys for years. E-CommChicago as well. But, Ken is super cool. And he is a well-known sneaker seller. So very excited to have Ken there.
Trish: Brittany Hatcher's gonna be there, and what I love about her story is that she kind of jumped in with both feet after she got laid off. So this is a story of perseverance. And I think that this is an interesting story because she went from a hobby seller to a full-time seller, and I think that a lot of us can learn from that determination and what she had to do and what she had to overcome. So I'm really looking forward to hearing from her.
And then, Matt King. Why So Thrifty? He is a luxury seller, so he's gonna talk about that, about luxury and what to find and what you're looking for and how to resell that. And that's a very specific space that takes a little bit of capital to get in. And so I'm interested in hearing about that. You know, anyone who knows me knows I used to own a brick-and-mortar consignment store, so I do have some knowledge in this area, but I've never really taken that knowledge and put it online. I always sold in person. So I'm interested to hear about this and, and how you can protect yourself and what you need to do. And now you know, eBay and Poshmark, and there are so many authentication services and how those work. So I'm really looking forward to hearing from him.
Casey Parris, the Rockstar Flipper, most people know him, and I gotta say you meet him once. You love him. He is the sweetest guy. He's always fun. He is always down for a beer, which I love about him. We can always meet him at the bar and have a good time. And so he's gonna be there and he has a new service, and he is gonna talk about that. He and I actually are gonna do a panel together talking about using VAs or hiring or how to get your business to the next level by using outside things, whether it be VAs or a service like his, which will do listings for you or hiring people like I have.
Cary Williams from American Arbitrage. He is great. He has a huge YouTube channel. I think they're gonna do some sourcing on their way in or their way out, so that will be fun.
And then, of course, you know, Vikki and Katie Zilverberg, who are very good friends of mine personally. They're coming. They run the BOSS Reseller Remix with Theresa Cox. Katy's gonna talk about t-shirts and about managing the expectations and about the ebb and the flow of, what's hot and what's not, and how to get inventory. And then Vikki's gonna talk about vintage, which she is known for. So both things will be great, to get in on that.
And then, we have a few people that have just signed on, The Roots. So we have Alli and Ryan Roots. Callie is coming, so that will be great. So the three of them will be there. I think that it's an interesting thing because Callie has a lot to offer as somebody who works for them. So it's great to get that perspective, but then it's also really great to have that high-level perspective.
Commonwealth Picker, Kevin, is coming.
Somebody else who's coming, who is more of an industry guy than maybe a social media personality is Michael Swoape. He's the Chief Operating Officer for One4Silver, which is a seven-figure business on eBay. It is a huge operation and he is gonna talk about e-commerce, customer service, and how our customer service not only affects us, but affects everybody across the board and about how to do it well and why we should do it well, and why it matters.
Doug: Trish, you've done a fantastic job. Are there still some possibilities?
Trish: There are. There are a few more that are still coming on board. I have at least three more that I think might be announced. I wanted a cross mixture of people, from different groups. I don't know what you think about this, but a lot of us get into our little silo.
And we know all the people who we know. And we don't know the others. And so I've really tried to break out and get some people that maybe were in different silos than the one that I'm in personally.
Doug: It's not like something where people are gonna be moving around in big groups. There'll be some of that. It's not, not everybody's gonna be in a giant room all the time. There'll be some of that. It's gonna be a lot of one-on-one stuff. A lot of different things. I think a lot of different options.
Trish: We will have some tables set up for one-on-one stuff that are just manned and you can pop in whenever you wish. During a break, come over during a session that you're not particularly interested in, come over. So we'll have certain tables that are always just kind of man, with LP staff, but again, you don't have to be an LP user. But use us for our expertise. Come over, let's open the laptop. Let's look at your store. Let's see what we think. Maybe we could change, or, you know, like Annie, I talked about earlier about somebody who does marketing. She does graphic design. You know, show your graphics, let her look at it, let her give you some feedback. There's gonna be a lot of that.
We will all be in the room for our meals, and we'll have keynotes during those and some fun games. I am really into having a good time with anyone who has never met me before. We're gonna have some open table discussions where everybody can kind of go where they wanna go. But then we'll have breakout sessions, and during those sessions, there'll be two for the regular attendees. There'll be two different topics that you can choose from. And then for the VIP, there'll be three different topics that you can choose from. So, the VIP topics, are kept very small. There are very few of those. So there'll be a lot of one-to-one, a lot of questions, and answering a lot of back and forth. So that's kind of how it's gonna go.
Doug: Certain large marketplaces have used me to host reseller games before…
Trish: They have?
Doug: Yes, I know it's a shocker, but…
Trish: Well don't worry cuz you're already on the list to do it again.
Doug: Reseller Jeopardy.
Trish: Reseller Jeopardy. Okay. Let's talk about that. That'll be fun.
Doug: I did an event with eBay where I was supposed to be the professor and they specifically asked me to have my crazy giant hair. Of course, the week before I cut all my hair off. And of course they weren't super happy, but, well, I did get to say things like, sir, are you gonna share that with the entire class?
Trish: I made a mental note.
Doug: So Trish, as the organizer what are you looking forward to?
Trish: You know, I gotta be honest, there's a lot of things that I'm really looking forward to, just getting everybody together in the room and doing something fun. I'm really looking forward to the whole thing and there are some really interesting panels that I personally am looking forward to seeing. You know, Rod is going to do one on grading inventory, and how that can help bring your business to the next level and as somebody who just sells women's clothing, I never think of these things ever. And I'm also really looking forward to happy hour and networking, of course.
But, I also think, like yours, like, why should I launch a podcast? Like, that's the name of your talk. And I really find that interesting. Like, why should I, why would anyone care what I have to say? I'm really interested in that.
The power of the reselling community, harnessing its power to help you grow your business. There isn't something that I could believe in more than that topic because personally, I wouldn't be doing any of the things I'm doing now if I hadn't gotten involved in the reselling community.
Building a brand for your reselling business, like brand awareness.
We're trying to really branch out and not just do some general overarching things. We really want you, again, to have actionable items.
Doug: This is a reseller event by List Perfectly. It's not a List Perfectly event. There's gonna be a lot of stuff there that will be applicable across the marketplaces. If you have questions, like if you see Theresa Cox and have eBay questions, or Trish and have eBay questions, or Sarah and TiffyPie and you have Poshmark questions.
Or marketplace questions or anything like that, or YouTube questions, it's not just gonna be about List Perfectly. The thing we always talk about when we do things like this is if you haven't been to a reseller event before, you gotta go. It's worth it. It will change your life, it'll change your perspective.
It can be remotivating. We always say it's our family and it is our family because, Like just for me, I've got sellers that before I worked at List Perfectly, that I've known for years. It's just great to get together, and just great to learn and hang out and socialize.
We hear stories too, like you brought up Kim Rose, it changed her life. She was not in a great spot, and she was in a job that she didn't like. She was close to retirement, but going to a seller event was the push that got her to become a full-time reseller, and it changed her life, and I've heard that more than once, going to an event has changed people's lives and just make connections, take advantage of the time.
Trish: The networking opportunities alone are worth it. The ticket to admission, and I think that until you have friends who do the same thing, I talk about this every time I go to a listing in the USA tour, every time I do anything, I talk about how your friends don't get it. Your family doesn't get it. They look at you like you're nuts. Why are you buying more jeans? You got 25,000 pairs of jeans. Why do you need more? Why is this stuff in the living room? Why is your car filled with this stuff? Do you know who gets it? We get it. We understand why those jeans were a good buy.
We understand why you have the stuff in your car rather than bringing it into the house. Cuz who wants to deal with your husband? We get it. And when you can have somebody say to you what you're doing is valid, I make six figures off of doing this, you can do it too. That is empowering because until you meet tangibly, shake their hand, and ask them the questions you have, you sometimes don't think it's real.
You don't think you can do this at that level, and I am a full believer that reselling anybody can make this work. It's hard work. It's work. But the entry is almost zero. It's a zero-entry game and anybody can make this work. And I think now as the country's in a little bit of a more precarious place financially this is the perfect time to do this for yourself because anybody can do it and anybody can do it almost starting from zero, no money. We all have things in our house that we could sell.
Doug: But also, you know, think about it too. If you happen to come upon this and you are thinking about getting into reselling, or you are a part-time seller, this is a great opportunity to go there and just get that motivation. Ask those questions. Meet people that have been doing it for years. Meet the biggest YouTubers, I think we've got the biggest YouTube sellers and the biggest TikTok seller. And ask them questions, start following 'em. Even if you wanna do it part-time, maybe this is the push that's gonna put you over the edge.
Trish: We're all over the edge. If I had gone to one of these earlier in my reselling career, I'd be further along. The things you don't know are amazing and these just give you an opportunity to realize how much there is out there. Where you can find it, how you can harness the power of being able to call up Doug and say, Hey, look, blah, blah, blah. And he says, yeah, I know a guy. Yeah, let me, let me get you in touch with him. Those things help and those things, you know, being involved in this community, I cannot stress it enough. It will help you business-wise. Not just cuz it's fun. It will help your business.
Doug: But a couple of things. It is a lot of fun too. You're gonna work more than you probably ever have before, but it's also rewarding. There's nothing like the seller community. And every time I do one of these, I'm on the other side and I wonder if I'm on the wrong side of things. No, I sell too.
Trish: It's funny cause like I'm on both sides now. I straddle both sides and I get it.
Doug: What's the best place to go for info?
Trish: So listperfectly.com, has an events page, or you can just do camplistingparty.com. They'll bring you right there, it has an events page. It'll show you what it is and we do use a third-party app, which is gonna be great.
So when you buy a ticket, you'll get the opportunity to download the app. And, what it will do is it's an interactive experience. When you're there, you can ask questions on the app. The speaker will get them in real-time, and there'll also be polls and interesting things. You can get in touch with other people who are gonna be there through the app. And if you don't wanna do it, you don't have to. We'll make sure you're in the loop for everything, so go to camplistingparty.com and there you go.
Doug: And let me tell you this. So I'm in the app already and people are already active in there talking about this event that's gonna go on. And they're already connecting. Because this is something else that goes on with these things. Sellers will set up their own mini-events, let's do a happy hour. Let's get together, we, let's meet in person, let's go sourcing. Let's do this. So that's already happening.
Trish: I do a mastermind class every morning on listingparty.com, which is a community within List Perfectly. So you have to be a List Perfectly member. But it's within that. And I do a mastermind class and these guys are already talking about getting together and what they're gonna do and meeting in person cuz they're on this call every morning and so they know each other. It's every morning at 6:00 AM where Doug is. It's 9:00 AM where I am. But let me tell you, people on the west coast, get up every day and go to this call. It has been a really great thing. But these guys are already looking forward to seeing each other at Camp Listing Party so that's great.
Doug: So Trish, seriously, you've done an amazing job with this. It's very exciting putting this all together. This speaker lineup is stellar, probably the best I've seen at an event. And then the Listing Party in the USA Tour is fantastic. You've done some great stops there. You'll be adding some more. Towards the end of the year, there are other events coming up that List Perfectly will be involved in.
Trish: So List Perfectly, we really try to support other sellers and support other organizations. So we're definitely involved. And let me just say this. If we're coming to a town near you for one of these events, we're gonna have a Listing Party stop. So we will have something on our own. We'll get in touch. You guys can come. They're always free. We'll have a little spiel. We'll give out some swag. It's just a way for us to get together and to meet and answer questions and shake hands and look you in the eye. And, It's much easier, I feel, when you know somebody that you can call and talk to, you know? So we want you to come and talk to us. We wanna be there for you. So wherever we are, we're gonna be doing this till the end of the year. So after Camp Listing Party, the tour will continue.
Doug: Well Trish, thanks for coming on, and thanks for updating us about Camp Listing Party. The easiest way to go is camplistingparty.com and that'll give you all the info you need. And then we are on social media at Camp Listing Party on Instagram. And there's a Facebook group as well. All the information will also be on the List Perfectly Facebook page and in the List Perfectly Facebook group at facebook.com/groups/listperfectly. We hope to see you there at, Camp Listing Party in June in Phoenix, Arizona.
Trish: Yep. June 27th and 28th.