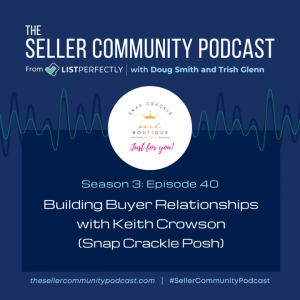 This week we're joined by Keith Crowson, Snap Crackle Posh. Keith turned his life around after a devastating diagnosis and started selling on Facebook Lives, from there expanding to Poshmark and more. Keith's primary focus is building relationships with his buyers, who he calls his "guests." Listen in on the inspiring chat Doug and Danna had with Keith, Snap Crackle Posh.
The Seller Community Podcast from List Perfectly is the e-commerce resource for the seller community across all platforms and a hub for information on growing your business. Find out more at thesellercommunitypodcast.com, leave a message or ask a question at anchor.fm/sellercommunitypodcast, or email us at podcast@listperfectly.com.
Links
Seller Community Podcast on Anchor
Doug Smith (snoop.dougie) linktree
Trish Glenn (Super Sale Trish) Instagram
Episode Links
Transcript
Intro
This week we're joined by Keith Crowson, Snap Crackle Posh. Keith turned his life around after a devastating diagnosis and started selling on Facebook Lives, from there expanding to Poshmark and more. Keith's primary focus is building relationships with his buyers, who he calls his "guests." Listen in on the inspiring chat Doug and Danna had with Keith, Snap Crackle Posh.

Keith Crowson, Snap Crackle Posh
Doug: Today we welcome Keith Crowson, also known in the community as Snap Crackle Posh. Thanks for joining us, Keith. And we want to hear how you came up with that name. But first Ladies and gentlemen, obviously this is a podcast, we do audio, but we also do video. Keith has a special guest with him on his desk. Tell us about your guest first, Keith, and then how you came up with the name Snap Crackle Posh.
Keith: Doug, and Ms. Dana, thank you both for inviting me today. I certainly appreciate it. On my desk is the mascot for Snap Crackle Posh. It was a contest with my guests. And my customers, I call them guests. And there was a contest to name the mascot. And she's a duck, and she handles the unpleasant task for Snap Crackle Posh when there's something unpleasant that has to happen. She can take the fall for things and her name is Her Royal Highness Queen Poshtastic McWaddleton. HRH for short. And so she handles the unpleasant tasks.
And in regards to how the name Snap Crackle Posh came about. In March of 21, I was reinventing myself. And, because I have a background in selling, but it was to other people, I discovered Poshmark and was trying to come up with a great name and something good for a logo. I thought it sounded catchy. Snap Crackle Posh.
Danna: Love it. I love the name so much. I actually remember the first time I saw it and it was during a live YouTube with List Perfectly and you were in attendance. The name is so catchy and fun. And as I remember, you won a giveaway in that episode. So what was that like?
Keith: I did. It was my first time attending one of the events so I didn't know what to expect. I knew there was gonna be a lot of great knowledge in the room based on the amount of people who subscribe to List Perfectly. And so I was excited to learn some of that knowledge and to learn more about List Perfectly. And at the end, they said there was a giveaway and I won a three-month subscription. What a surprise and that was great.
Danna: Yeah, it's amazing. They actually do giveaways during their live shows on Friday.
Keith: That's a great reason to go. Not even counting all the information that you can learn and share with others. And I've promoted List Perfectly. I've got one person who I believe is signed up now. I love List Perfectly. It is a true game-changer for anyone who wants to sell. Even if you're just wanting to sell on one platform. And I can understand someone's reasoning behind that or fear.
I would encourage them to step out of their comfort zone like I did, but it's a true game-changer. It can take you to the next level. I told someone, I said, it's like leaving money on the table. Time is money, and it can certainly Make the things that you want to do go much quicker.
I'm a big fan. I'm not even using it at its fullest capacity. That's what we're getting into now with some things that are coming up with Snap Crackle Posh. So I'm very excited about everything that it can do.
Doug: Thank you. We appreciate that. So now let's focus a little bit on what you do. You're very active on Facebook. And selling items live is super hot right now. People are doing it across the board, but you seem to focus on Facebook. So tell us how you get started on there, how your Facebook live sales work, and how it's going.
Keith: Okay. I'll try and give you the short version. I have ADHD, which I view as a, not a hindrance, but it actually has helped me.
But yes, I began on Facebook. The way that came about January of 21. I was diagnosed with ocular melanoma. Cancer of the eye. It was very quick. I woke up With extreme pain and the Callahan Eye Foundation, a great Eye Foundation at UAB in Birmingham. Saw me immediately and they said I needed to have surgery immediately to remove the eye. There were concerns that it had metastasized because of the size of it. They actually wound up sending it off to the Mayo Clinic for examination and case study because of the size of it. I was very blessed and very fortunate that it had not metastasized.
It happened very oddly. I like to see the outdoors from the inside. I'm not a big one on being outside. But I was outside of the yard for some reason. I don't recall. And somehow or another I scratched my eye and that woke me up with excruciating pain, which prompted me to have to go to Callahan Eye Foundation.
So actually they said that scratching my eye saved my life. And with that then there would have been a problem. So fast forward, to the new normal that was, like I said, in January of 21. And I had to immediately figure out who I am. What am I going to be? What am I going to do in the new normal?
I can't do what I previously did as a full-time professional. And, I've always enjoyed selling and I got started in this by way of having antique booths and working with someone back in, that would have been in 2003. And so it's just evolved.
I've had booths dealt with buying estates. I've done hotel liquidation. And then I thought, okay what do you know? And I knew about my product and my sources. I had sold them in the past to small boutiques by the palette, but I didn't have any knowledge of first-hand selling them. I wasn't even on Facebook because I'm just a very private person by nature.
I'd rather read a book than anything. And so I got on Poshmark. I had no clothes. I didn't have anything. I was looking at my options. So I created a Poshmark account and I believe very strongly about body positivity for women and Building women up. Beauty is not based on your size. And because of my background, I'm very observant of, how would I put this?
I think every woman should know that she's beautiful just the way she is. I'm not being corny, I'm being serious. And so I started posting on Poshmark, positivity memes. And I would choose different categories. Ralph Lauren dress size six Kate Spade, just different categories. And I would post these positive memes.
And I said that my Poshmark closet would be opening soon. And before I even had any clothing, I had 60,000 followers just from the positivity memes. Women loved it and I was thrilled. And then I discovered that there was a lot of work with Poshmark with sharing your closet. I thought, who has time for that?
So I put the clothing in a local consignment place that was primarily a large business with boutique owners inside of it. And clothing didn't sell and I couldn't figure out why. And to be honest, I had the best clothing there. And the prices were great and I didn't know what to do.
And I went all in, I couldn't drive anymore after this, so got rid of my truck, and invested in this. And I gotta figure something out. And I got online and I started googling how to promote my clothing. And I found a woman doing a Facebook live sale, and I was amazed.
And I emailed her, introduced myself. We communicated by email and she lives in Atlanta and I told her that I wanted to learn from her and I would sell to her wholesale if she would teach me how to do this thing called live sales. And it was actually her first live sale herself on a Facebook platform that wasn't her own.
It's just a platform where lots of people sell. So I loaded up and had my best friend drive me to Atlanta and we met and had my first live sale on Facebook on a major platform of 90,000 plus women shoppers. And it was in the thrifting community. There were some who sold new tags, but primarily thrifting women looking for a good deal.
Goodwill to them is a boutique. I had new clothing and I knew nothing about it, and I was scared out of my mind and it worked and I found this audience and that was my first live. That was July 5th, 2021. And then I built a page at that point and I just started having live sales and it grew from there.
Danna: So you've perfected it. I've watched several of your lives and you definitely have perfected it. You're very good at it. And you do make everybody watching, all the women like myself feel very special. And the ones that I watched were Recorded ones. And I'm like, oh my goodness, I wish I could have been there to buy that blouse. There were so many nice clothes there and you have really come a long way. So what tips can you share with our listeners if they would like to get started going live?
Keith: I understand some people have an aversion to it. I was recently approved to do lives on Poshmark. I haven't done that yet. I'm going to but when I do it, I want to have everything as closely perfected as possible.
For me it's about making a good and I'm only speaking for myself, it's about making a good first impression. I understand that there's a need to sell on more than one platform. That's why I'm branching out. You should never put all your eggs in one basket.
But I was absolutely petrified and it has been the most rewarding thing that has happened to me. It's totally changed my life. I've never had this much happiness in my life and it all came about as a result of losing my eye. And it was about building relationships. And I know that sounds cheesy, but I didn't know this community. I was an outsider. I was totally different from what everyone was accustomed to.
And let's face it, everybody's selling clothes. And I'm sure there are people that have nicer clothes than me. And I do the new tags. Buy that by pallets and I do pre-loved. I love doing the pre-loved because it lets me get to tailor it. But I would encourage anyone to step out of their comfort zone and give it a try.
Someone told me one time, they can't eat you. I had to fake it until I could make it. And what I mean by that is I didn't know the terminology. I was a guy trying to figure out how to describe women's clothing and I knew nothing about it.
And so I just researched online and knew that if I built a relationship with my guests the business would follow and I built everything on guest satisfaction, customer service, and it's everything to me. And because of that, I would like to think that the business has grown and flourished and that I've been blessed.
I'm fortunate and blessed to have a wonderful group of followers who will go with me to other platforms that I'm selling on. They know that on Friday nights on my page, unless there's something happening then I'm, that I'm going to be live.
I've always been very transparent with my guests. I've been an absolute open book. Some people may want that separation. I'm an open book. My guests know that I'm in recovery. My guests know about the surgery. They've become family. They really have. They know the new normal for me is every three months getting an MRI PET scan from now on because of the likelihood of the cancer returning and they tell me that their women's Wednesday night church group is praying. They know I collect magnets and they go on vacation and send me magnets. Last week I got a magnet from one guest, one was from Paris, one was from Madagascar and I'm just very fortunate.
Doug: So you have a lot of followers who you refer to as guests. So do you have a lot of repeat buyers?
Keith: I do. I have a saying with my guests. I may not always get it right, but I'll make it right. And I will. I could overlook something on a piece of pre-loved clothing. It goes through multiple checks but I could overlook something. We know in this industry not every reseller is on the up and up, just like in any, you're going to have those. And it was very important for me for my guests to know that I was going to be there if there was ever a problem and that I would, because it's my name, it's my personal reputation and it's the reputation of the business and it's very easy to lose a guest. But it's hard to keep one. So it's just, it's about the service.
Danna: That's good. That's really good. I am curious though. How do you go about shipping? So do you print your labels? Do you do your own shipping? Do you have help? How does that work?
Keith: I use Pirate Ship. I love it. I cannot say enough great things about Pirate Ship. I utilize Shopify to house all of my inventory. I use a scanner and I enter all of my information into Shopify and I can either have the items on the website active, or I could have them not on the website and everything has a barcode.
I present it, I scan it, and it comes up on my large flat-screen TV. It comes up there and gives me the information and that's how I describe everything. And the invoice goes to the guest's Facebook messenger, and then they click on that. They check out and pay their postage. I put in the weight of the information.
And then I get the discounts through Pirate Ship, which saves them money. And that's another thing. I refund my guest's money on their shipping. Shopify calculates it based on weight. So Shopify cannot factor in that Shopify is based on size, not just weight. So the package might not be the prettiest, but I'm working to get the package smaller while still protecting the items, of course, but saving them money.
And my guests will tell you that I refund every penny. If they're owed a penny, they get that penny back. If they're owed $5 they get that back. That's not my money. It's never been my money. And last year we celebrated, it was during a live I think January 2nd, something like that.
The first Saturday in January. And I was able to say that in 2022, we refunded back over $12,000 in refunds. Would I be better off financially had I kept it? Sure. But it's not mine. And I know other people who don't do that and they choose to keep it. Each person has their own lane. And that's just what I choose to do. And it's part of the customer service. Customer service takes a lot of work in so many areas, but it's about growing your guest base. And that's just, my opinion of it. And they know that. And I offer combined shipping.
I'll have my lives on Friday nights, and then I'll have some on the weekends on other platforms so they know that they can shop all those lives. Pay on the first live, they'll check out and pay shipping unless it's over a hundred dollars before shipping. Then it's free. And then all the other lives when they shop over the weekend, they'll message me. I'll modify their invoice, remove the shipping from those invoices, and then combine them all together package them up, and ship them out. And if they're still owed a refund, they still get that as well.
Doug: So you just talked about your system. It has to be a challenge to run all that. Are you completely solo or do you have people that help?
Keith: I have my best friend, Justin, who also at the beginning invested in the business. I never made any qualms about the ladies. He assists in the live sales. We all play a role. My mother is involved and then I have an admin, Tammy. Justin is behind the scenes in setting the racks for the live sale. He's the person who feeds me the clothing. The ladies joke and laugh. They hear him. He interacts with them. He will cut up with them. They love him, but they don't see him. He's like the guy on Home Improvement that was on the other side of the fence. And they've said that and we'll argue with each other in the live or cut up and it's about having fun. And then Tammy, she's there and she's a great guest of mine, and she is looking for questions from the guests because Justin's feeding me the clothing, and I have eyesight challenges seeing what's on my phone. She looks for those questions, and she answers them, and then Justin handles the shipping of the items and the packaging of them. I'm just the guy who just happens to be in front of the camera. My mom is involved, she and Justin handle the shipping. She will assist in folding the items and it could not be done just by me. So yeah it takes a village.
Danna: But you're the superstar.
Keith: I'm not. I'm still in awe over it. And I'll say this, you never know what's going to happen in your life and what will change your circumstances. I never expected to get cancer. I never expected how it would change my life, but Great things can come out of something that you wouldn't expect.
Danna: That's true. That's so true. So what kind of marketing do you do to advertise your lives? Do you advertise them anywhere or do you need to at this point?
Keith: It was never in the budget. It was never in the budget to do any type of advertising. So it's just posting on my Facebook page when the sale is. We know that there's an algorithm with any, whether it be Facebook or with Poshmark, the more information you put on your Facebook page puts your information out there to more people.
For me, it was just about it was sink or swim. So I had to figure it out. I decided, after I realized that I loved what I was doing I had to figure out how to grow it. So it was just about constantly being on other platforms getting my face out there, so to speak, snap, crackle, posh out there and promoting it.
I would go on large platforms and then I would have what I call an after-party on my page where the sale would continue, doing promos like giveaways in the lives. I've given away a Michael Kors purse before. Every live I'll do $5 off shipping to two people. That's really my promoting it. There wasn't a budget for anything else.
Danna: It keeps them coming back. I love the idea of the after-party. That's so cool.
Keith: And then it's a lot more relaxed because I'm on my page. When I'm on someone else's platform, I pay to be there. And so I'm as we call it, slinging clothes and focused on that. But on my page, it's very relaxed and laid back and it's also about having fun. Some people might not like that. I'm not everybody's cup of tea. And that's okay. But you gotta have fun while you shop.
Danna: That's it.
Doug: There you go. All right. So obviously Posh. We've talked about Facebook. And you have your website. So what other platforms do you sell on? Can you tell us a little bit about how your website works into it all?
Keith: The website snapcrackleposh.com, when people shop there when I have items there, which in the past has not been that frequent because I'm having the live sales and I sell a lot of clothing over the course of a weekend. If it's one live, it might be 100 items, 70 to 100 items. If it's three lives, it might be 200-plus pieces of clothing that were sold over the weekend.
So with the pre-loved, I would have to take photos. And have that on the website. I don't have time to do that. But with some new products that are coming in they're going to be launching on the website. I also put new with tags on there when I can, but a lot of that is changing with some stuff that's in the works right now. So there'll be more items on the website. We're really getting to launch on Poshmark as well. I've signed up for Vestiaire and I want to start putting the clothing there.
I've been selling on eBay since Maybe 2004. It's my least favorite, but that's just simply because I haven't done it enough to become comfortable with it. When I've sold there, I've done well, I still have a hundred percent positive feedback there. I'd like to get into that. I want to get on eBay, but I want to do eBay differently than what I've seen anybody else doing. So it's something I'm looking forward to as well. But the main growth is going to be, or where I'm focusing my energy is the live sales, The website, Poshmark and I'm working on something now where I'm going to be able to start doing live sales actually from the website which will be a great way to get my guests to become more familiar with the website.
Anytime you want someone to go somewhere to shop, you've got to give them a reason. They come to my live sales. Why do I want my guests to go to the website? What's the benefit of going there? What's the benefit of going to Poshmark? You've got to give your shoppers, and your guests a reason.
Danna: That's really good. I am curious, if you don't mind sharing where you're from, but also, do you have experience in sales?
Keith: I'm from Chilton County, Alabama. That's where I grew up. It's halfway between Birmingham and Montgomery on 65. And. As far as my background, I was one of those who tried lots of different things. I wasn't sure what I wanted to do in my life. I didn't want to go to college. I tried it. It wasn't for me. So my first real opportunity after getting out of school was working for Delta Airlines. That was in sales. That was my first adventure with that.
And then I did well at that. And I began doing training for those classes for new hires. And it's just, it seems like everything that I've done has always had a sales background to it and customer service.
For somebody who wasn't on Facebook, when I did my first live on my page I think I sold maybe 70 to a hundred dollars. And I was just amazed. Wow. And I'm still amazed. I don't ever want to take it for granted that people come and shop with me. I have the most amazing guests. I could not ask for a better group of ladies who shop with me. They have fun when they come into their lives, they laugh. Some come into the room during the live show and they say, Hey family.
And it's just clothes. They're never going to quit making clothes. It's just like anything, it's stuff. They're never going to quit making stuff. There's always going to be more stuff. So they have a choice about who they shop with. I don't take that for granted. I value them and their business. Whether they purchase or just come to the live show to hang out and laugh or give some words of encouragement, everybody's finances are different.
But the fact that someone takes time out of their day to either come to a live sale or even take time out of posting, making a comment, they had a choice. I would probably sell more if I wasn't always responding to messages, but I don't have that good work-life balance yet, but I'm working on it.
My guests worry that I work too much and they tell me that I need to rest. Last year I had five days off that I counted when I had bronchitis. I'm always working. Always. I've never been so tired in my entire life. But I've never been so happy. Snap Crackle Posh is a baby. It's in its infancy. Relating it to a child, when you have an infant, you're not getting any sleep. You've got to feed that baby, you've got to change it. There are things that you don't know, maybe don't know as a new parent. And that you have to learn.
I just consider all of this as growing my baby. I will rest when my body tells me I need to rest. But… If I work seven days a week, I work seven days a week. If I work 16 hours a day, then so be it. It's my livelihood and it's my honor and privilege to assist my guests, but I've got to grow the baby. I've got to keep looking at different ways to grow it and nurture it. And, I'll get some rest later.
Doug: So you just talked a lot more about your guests and that's your mini-community that you have. Have you ever been to any reseller events outside of your guests?
Keith: I have not. As far as out at a brick and at a brick and mortar location, I have not, I've attended the List Perfectly podcasts, and webinars but other than that, I have not. And I would very much enjoy that. It's great to be around like-minded people that you can learn from and share your knowledge with. It doesn't hurt to help lift somebody up. If you have a little bit of knowledge that you can share. Of course, still taking care of your business but there's all kinds of information. There's stuff that I don't know about List Perfectly and just using List Perfectly. For example, when you go to Facebook they're sharing information. People are answering questions. So it's about lending a hand when you can.
Danna: So reseller events are absolutely refreshing to attend. And like you said, it's amazing when you surround yourself with people who love reselling as much as you do. So do you receive a lot of support from your family? It's amazing that you work with your mother though, I love that.
Keith: I do. She is involved with the shipping, the folding of the items, and putting them in bags. I have a very small family. It's my mom, myself, and then stepsisters, but steps are what you go up your front door to your house. So they're not actually stepsisters, they're sisters. My pops always said that.
So I have lots of people who are there for me mentally, and emotionally. Some are involved physically. And then I have mentors who have taught me, who I've learned from. One was someone who reached out to me when I first started and who had recently started doing live sales she was an accountability coach and she was helping me.
She sent me a dictionary for women's fashion. She and I got to meet last September for the very first time I flew up there. She lives in Baltimore and I flew up there for our joint birthday celebration. And we did a live sale together. It was the first joint live sale on a major platform.
And You meet so many wonderful people doing this. I wish I could meet everyone that has been a guest. I attended a thrift ball back in December. I was nominated for best male seller in the community because some other males came in to do a little bit of selling.
And so there was an actual thrift ball and everyone dressed up. It was formal. And I got to wear a tux and it was in Atlanta and people came from all over the United States. And I got to meet people who had shopped with me. I got to meet sellers that I communicate with that I'd never had the pleasure of meeting. So I love that opportunity when you can connect with people like that.
Doug: And so connecting virtually is important, too. And then, obviously, that's a little easier. But List Perfectly has Listing Party, which is our new community where sellers can connect. And it's been awesome. If you haven't been in, we'd love to have you pop in sometime. Have you heard about Listing Party?
Keith: A little. And the way I understand it, a Listing Party could have a theme or a specific subject matter. There might be some that don't have per se a subject matter, but it's just like-minded people joining together and brainstorming. So I know a little bit about it.
Danna: I learn something every time I attend a party. And plus you can host your own party. And I would love to attend a party with you about live selling. I think our community would love to learn more. And I think that you'd be an amazing person to explain it and share your wisdom and what you think. It's exclusive to the community at List Perfectly. It would just be something special for the subscribers to come together at Listing Party. So think about it.
Keith: I have thought about it. I've actually had a couple of members of List Perfectly mention that I should do that and I was very honored at the suggestion, but I just maybe changed the conversation a little bit.
I would have to bounce ideas or find out what the List Perfectly community would like to hear. I've set other people up doing if you want to use the term liquidation or buying pallets and reselling I actually did one where I actually found the property for the woman, found all of her, set her up, found the property set up all the sources, found her the forklift to unload with. I've done stuff from concept to completion to opening the door. For someone to just do pallets to the new me, which is what I'm doing now. And if I can help someone, I would be glad to.
Doug: You mentioned the List Perfectly community. List Perfectly community is very supportive. The seller community is very supportive internally and externally. And, we shop from one another. We boost each other up. But, we want to know, too, Keith, what's next for you and Snap Crackle Posh?
Keith: I want to give a shout-out. When I first joined List Perfectly, I was just, I love to read and I was just scrolling here and there. And when, because of my ADHD, I can go down into a rabbit hole reading and just Because I believe in research and that the more opportunity you have to do better. But I came across Ryan and Lindsey with RNZY shoes, I believe where there was an interview with Ryan, Doug, that you did.
And I was just amazed at his story, his and his wife's story, and their background. And I was like, I get it. He was talking about how they decided to just see what they could sell that was in their home and see if they can make their ends meet in that first month. And he was talking about how somebody could ask a question about a bowl.
It's a bowl. What's there to ask about in a listing about a bowl? I found it really funny and I just started watching more of it and doing some research on them. And I've decided to branch into shoes because of Ryan and Lindsay. I've always had the opportunity to purchase shoes from my suppliers, but I've never done so.
My admin and I actually went in on a purchase together, which is supposed to ship on Friday. I've got my tracking number on it. So I'm just waiting for it to ship. I think that's about 125 pairs of shoes. And I went ahead and ordered another one on my own that's about 85 pairs of shoes.
And so we're taking it up a notch. We carry pre-loved. And then we do new with tags like Ralph Lauren, Vince Camuto, Cache Styling Company, INC different brands. Women love shoes. That's the research that I've found.
And so we're gonna be doing like Stuart Weissman. Lots of great shoes, and great sizes, and we're putting that on the website. We're going to be pushing that on to Poshmark and I'm going ahead and getting those drafts set up in List Perfectly now so that I've got my manifest. And then once the items arrive, I can just double-check to make sure that's what I've got so that I can launch those.
The more items you have on Poshmark, the better you do with that algorithm. So we're transitioning now to branching out a lot beyond Facebook live sales, and that's what getting more on Poshmark, my community may buy shoes. They may not, I hope they do, but if not, I'm still planning on growing the business in other places. And I'm hoping that the shoes are going to be the catalyst with careful planning and marketing to be able to get a healthier work-life balance. And I'd like to grow that end of it tremendously, which would allow me to cut back on the amount of live sales that I do on other platforms other than my page.
I will never not do live sales on my page, as long as Facebook allows it. I will. It's where my heart is, but I have to look at other ways and we all have to rest and you have to find ways to be able to get to that point. I'm really excited about that.
And just a big shout out to Ryan and Lindsay. Thank you for doing the interview with Doug. Thank you for your YouTube channel. You encourage people when you are not even aware of it. So thank you. And I took the plunge because of you guys. So thank you so much.
Doug: RNZY are great. And thank you, Keith, for sharing the breaking news with us. We appreciate it.
Danna: This has been really great. I'm so happy that we were able to work out for you to come on. And it's just wonderful.
Keith: Thank you both again Doug and Miss Danna. It was an honor. It was a privilege. I don't know if I shared any insight that is beneficial or helpful to anyone. Each person's takeaway from something is different from the other. But I'm Honored to be a part of List Perfectly. Live sales, that's my home, that's my community. List Perfectly, I'm not in there as much as I'd like to be because of the amount of work that I do. That's also a home because I know that's where there are people like me. I'm very thankful for the founders of List Perfectly and for the sellers who use List Perfectly, I believe in you whatever you're doing. If it's not working back up, get someone else's opinion. Believe in yourself. Every day is a new opportunity. And like I tell my guests, just keep shining bright, just shine bright.
Doug: Thanks so much for joining us, Keith. We appreciate it. But before we go, can you give me this kind of a bonus question, three words you would use to describe yourself?
Keith: Three words that describe me. Tenacious. Humble. And caring.
I am very tenacious. But I'm going to say blessed. When I'm doing a live sale, I try to be fun and upbeat, but I'm just so blessed and fortunate to be able to do what I love and to have found that at 51. I'm 53 now. And you never know when you're going to find your calling your mission or your passion in life. And I'm just humbled. I'm very appreciative.
Doug: That's amazing. Thanks. And so nice to meet you, Keith. Really appreciate it.
Keith: Likewise, Doug. Thank you for your time. Miss Danna, thank you as well. Thank you both so much and much success to both of you in all of your creative endeavors.
Outro
Doug: The Seller Community Podcast is sponsored by List Perfectly and Listing Party. Find more information at listperfectly.com and listingparty.com.
Thank you for joining us on The Seller Community Podcast from List Perfectly.
You can find us at thesellercommunitypodcast.com.
You can leave a message or ask a question at anchor.fm/sellercommunitypodcast. You can email us at podcast@listperfectly.com.
Post a question in the List Perfectly Facebook group at facebook.com/groups/listperfectly.
You can listen to The Seller Community Podcast anywhere you listen to podcasts and be sure and subscribe, tell your friends, and if you're on Apple Podcasts or Spotify, please leave us a review.
You can always use our promo code podcast. That's P O D C A S T for 30% off your first month of List Perfectly or 30% off your first month of upgrading your plan. Thanks for listening.
And we will see you next time.